Welcome to the portrait of Mike. Barry, from Australia, emailed me to find out if I would be able to draw his dog called Mike.  Mike passed away very suddenly and Mike was devastated. He was a true and loyal friend to Barry and was a very special dog. He wanted to have a portrait of him to remember him by and felt a pencil drawing would be perfect.
The drawing was a 16 x 12 double portrait of Mike. We use one photo of mike as a puppy and also another of him when he was an adult. So the drawing will be a lovely reminder for Barry and his family of a very special dog.
Barry very kindly had a photo taken of him with the portrait. It's fantastic and I can't thank Barry enough for doing this for me.
If you would like to see the portrait of Mike in detail, head on over to my post all about him Dog Pencil Portrait of Mike. It will definitely be appearing on my website in the coming weeks! So we hope you like it too!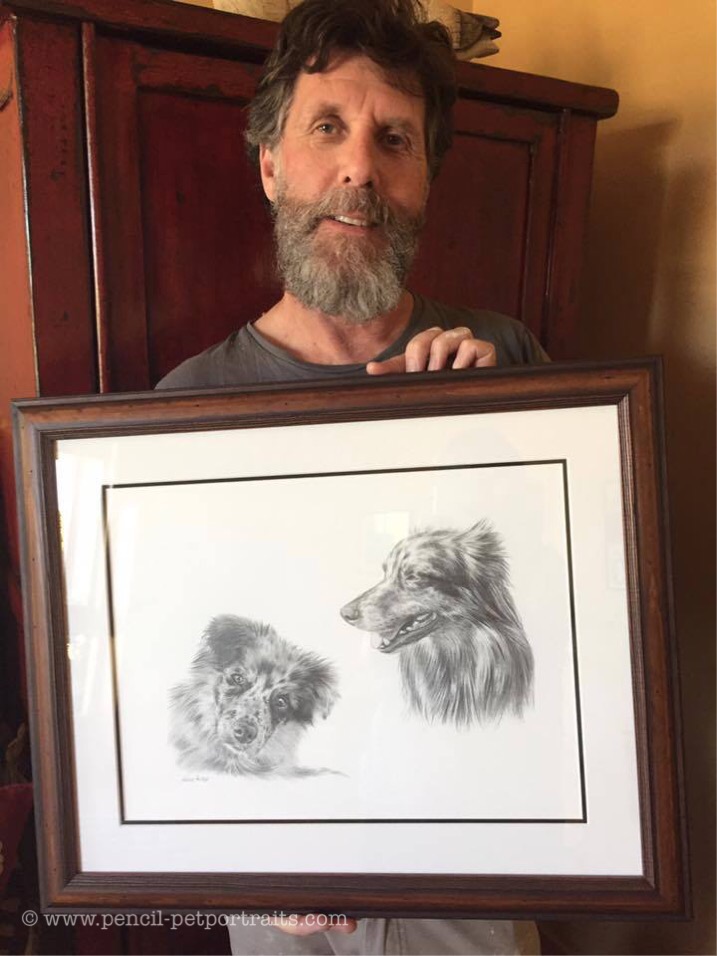 Finally, we hope that you have enjoyed viewing our Art Studio Blog. Why not sign up to our Monthly newsletter accessible at the bottom of our website which comes out on the 1st of each month. You can catch up on all of the portrait stories and news from our Art Studio! Please don't forget to subscribe to our Youtube Channel too, share, like and follow our social media and you are more than welcome to comment below, we love hearing from our readers!