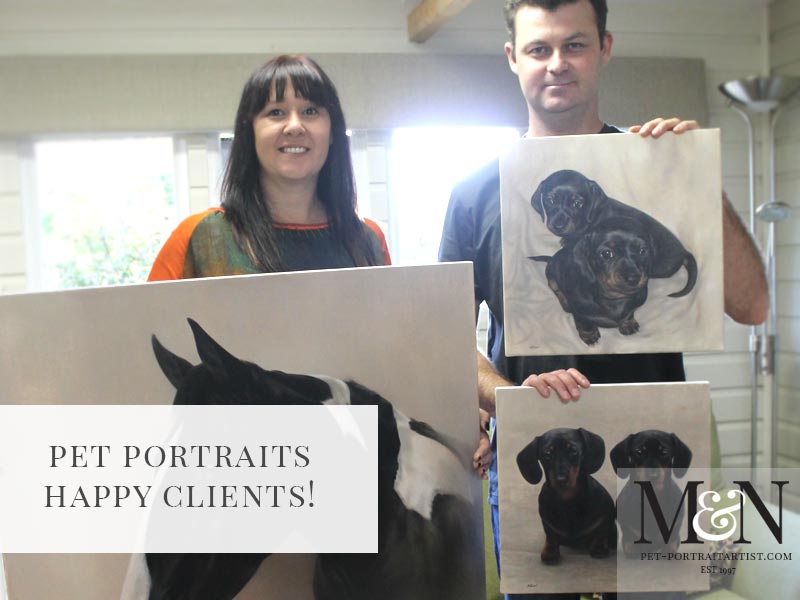 Jack, Mia and Harry and a Happy Client!
September 11, 2014
Here are Jack, Mia and Harry and a Happy Client Nicola! Nicola commissioned the portraits of Jack the horse in 2014. Also she commissioned two smaller paintings at the same time of her Dachshunds Mia and Harry. We were thrilled when Nicola visited our Art Studio to collect her portraits. Nicola lives in South wales so its not too far for her to visit the art studio. She often brings her dogs to have a run around the garden which is really lovely for our dog Lily.
You can see a lovely photo of Nicholas and Nicola with the oil paintings below. We are looking forward to painting the next portrait for her in the coming months. Clients are always welcome to visit our studio to collect their paintings or drawings. Just drop us a line to arrange a time.
Finally, we hope that you have enjoyed viewing our Art Studio Blog. Why not sign up to our Monthly newsletter accessible at the bottom of our website which comes out on the 1st of each month. You can catch up on all of the portrait stories and news from our Art Studio! Please don't forget to subscribe to our Youtube Channel too, share, like and follow our social media and you are more than welcome to comment below, we love hearing from our readers!
You May Also Like
February 18, 2015
August 31, 2019
September 27, 2019