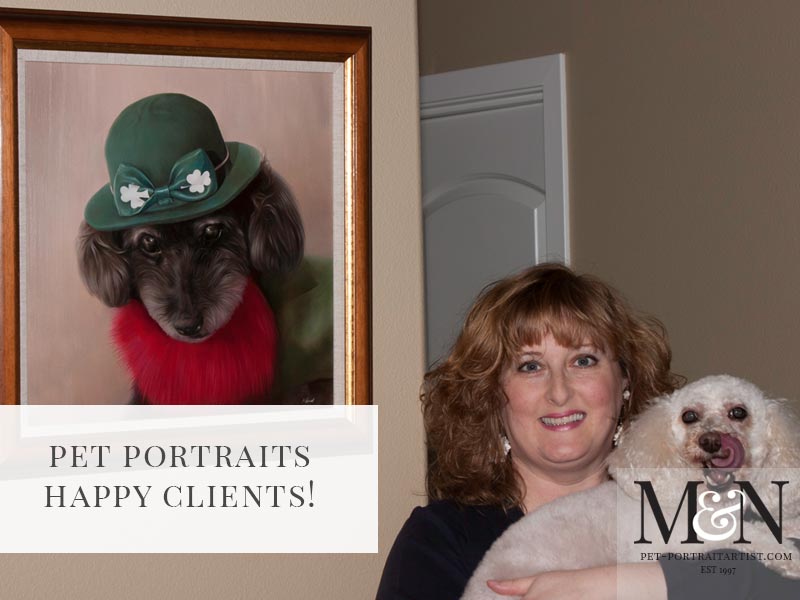 Happy Clients Curly and Tracey
November 14, 2014
Here are happy clients Curly and Tracey. We have received the most beautiful letter accompanied by two fabulous photos from Curly's family of Tracy with the portrait of Curly and their dog Sarah.
The portrait of Curly was shown on our previous version of our blog so its no longer here. So to recap, Nicholas painted Curley in 2013 for client Tracey who is based in the USA. Traceys Initial email is very comprehensive and it gives a wonderful overview of how amazing Curly was.
Dear Melanie and Nicholas,
I've been searching for an artist to paint an oil portrait of my poodle, Curly, when I found your web site. My dog, Curly, a poodle mix, will be 23 years old this October (yes, its true). I'd love a portrait to celebrate her life. Curly is a rescue my husband and I adopted when she was 10 years old. The rescue group told us because of her rough life, heart issues and senior age, we shouldn't expect her to live very long. However, 12+ years later she's still going strong! I've always taken photos of Curly every year for Halloween (she's been a wonderful model).

So to celebrate her 22nd birthday last year, I photographed her in various costumes. I put together a 2013 calendar for our family and friends. Attached are several my favorite photos of her from that calendar. I'll like your input on whether you think her portrait should copy one of her costumed shots.
I look forward to hearing from you soon.
Sincerely,
Tracy Maguire
Sadly while Nicholas was painting Curlys portrait, she passed away. It was so very sad and Tracey emailed this to us..
Yesterday morning our special little dog, Curly, passed away – two days after we celebrated her 23rd year of life. Curly had just finished breakfast and was sleeping in my arms, her head resting on my shoulder while I read the paper, when she passed away. To lose her has crushed me; but to have had her sleeping in my arms when she passed away was, I believe, her last gift of love and I'll never forget it.
We were so very sad to hear tracys news and we know how devastated she feels having lots pets ourselves. The thought that Curly was with her right to the end is wonderful. We sent our heart felt blesses to Tracey and her family.
Once the portrait was completed, Tracey email dus some lovely photos of Tracy holding her other dog Sarah. We are so thrilled that Tracy and her family are delighted with the painting and we cant thank them enough for sending the photos. They have made a great addition to our website. We hope that our clients and readers enjoy viewing them too. I have added a dedicated page for Curly in our Testimonials section on our website and added a snippet of Tracy's email along with the photos below.
Dear Melanie, Nick and Lily,

….As you know, we received the portrait just two weeks after the day marking the first anniversary of Curly's passing and receiving the portrait was extremely emotional.  When I opened the package and saw Curly's face, so lovely and warm, I was immediately overcome with tears.

I thank you so very much for creating a stunning portrait of Curly.  My family will cherish this portrait for the rest of our lives.  You've also created a portrait which everyone who knew Curly. From our extended family of friends to the women who runs the rescue organization in California (The Brittany Foundation), that brought Curly into our life, can appreciate and admire forever….

Tracy Maguire
We hope that you have enjoyed viewing our Art Studio Blog. Why not sign up to our Monthly newsletter accessible at the bottom of our website which comes out on the 1st of each month. You can catch up on all of the portrait stories and news from our Art Studio! Please don't forget to subscribe to our Youtube Channel too, share, like and follow our social media and you are more than welcome to comment below, we love hearing from our readers!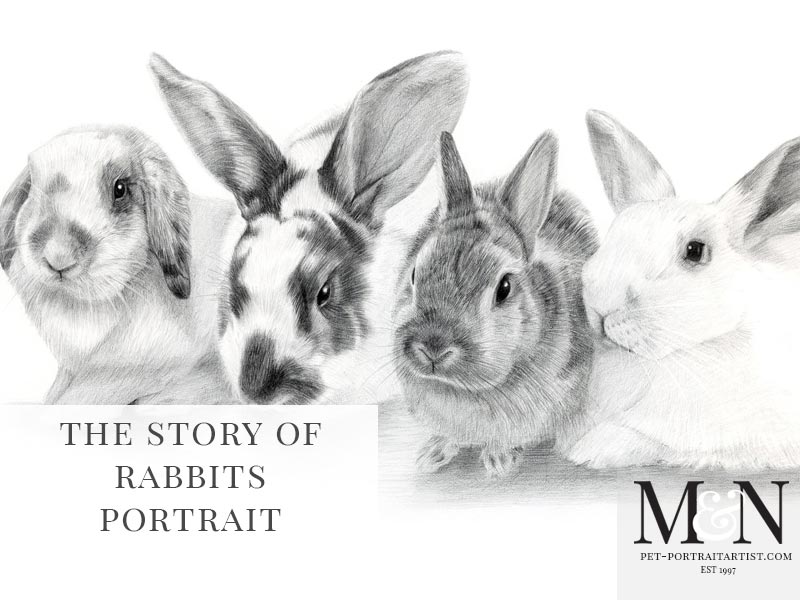 You May Also Like
May 27, 2014
January 28, 2019
September 6, 2018