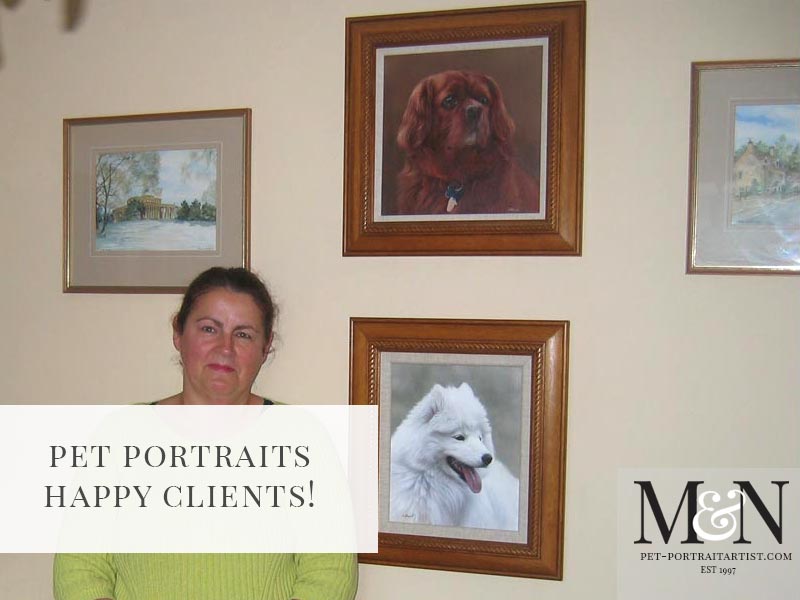 Julie Johnson is a Happy Client!
March 15, 2015
Julie Johnson is a Happy Client! So this is the most recent testimonial to arrive in our inbox from a lovely client of ours called Julie Johnson in the UK.
Nicholas has painted both of Julie's dogs over the last few years. The first oil portrait was Charlie, which Nicholas painted in 2013. The most recent was Kara which he completed this year in 2015.
The paintings were framed by our framer using the now discontinued Honey Rope frameBoth had an inner linen slip which worked so well for both paintings.
We can't thank Julie enough for allowing us to use the photos on our website and blog for all of our clients to view, just perfect! I have added one of Julie's emails below as a testimonial….
Hi Melanie and Nick,
Arrived first thing this morning. It's brilliant.
My husband to put it on the wall in the dining room under Charlie's portrait straight away. I took a picture of the two portraits and then got my husband to take a picture with me. They look great together. Even though Kara's portrait is a different size as you can see in the photos there look good hung under each other.
KARA February 1984 – July 1995
CHARLIE June 2002 – June 2013
It's great having lovely portraits of both my old dogs hanging in the dining room. They were such a part of my life when they were around and consequently are both are sadly missed.
Julie
Finally, we hope that you have enjoyed viewing our Art Studio Blog. Why not sign up to our Monthly newsletter accessible at the bottom of our website which comes out on the 1st of each month. You can catch up on all of the portrait stories and news from our Art Studio! Please don't forget to subscribe to our Youtube Channel too, share, like and follow our social media and you are more than welcome to comment below, we love hearing from our readers!
You May Also Like
November 12, 2015
July 2, 2023
June 4, 2023