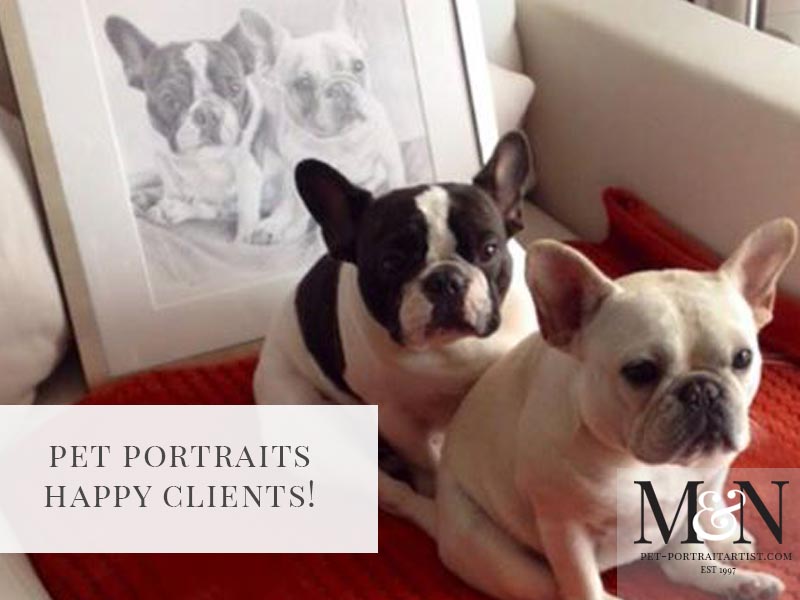 Junji and Daisy Framed!
May 12, 2015
Here are the portraits of Junji and Daisy Framed. My clients too sa range of fabulous photos of Junji and Daisy sitting beside their portrait. It is now framed and hanging in situ in Hong Kong. We can't thank Wendy and Malcolm enough for taking these photos for our website. They have been posted on both ours and their Facebook page which is superb. Quotes from the pages are below also! Why not head over to Jungi and Daisy's pencil portrait on my pencil pet portraits website too.
Facebook – We finally got around to framing the drawing that you did of us! Here's a photo of Daisy checking it out, she looks well chuffed! We'll get our humans to take a photo of us both beside it and send it to you soon! Thanks so much! Wendy and Malcom

Facebook – Thankyou for our portrait, we love it!!! Wendy
Finally we hope that you have enjoyed viewing our Art Studio Blog. Why not sign up to our Monthly newsletter accessible at the bottom of our website which comes out on the 1st of each month. You can catch up on all of the portrait stories and news from our Art Studio! Please don't forget to subscribe to our Youtube Channel too, share, like and follow our social media and you are more than welcome to comment below, we love hearing from our readers!
You May Also Like
March 30, 2019
August 1, 2023
March 3, 2018