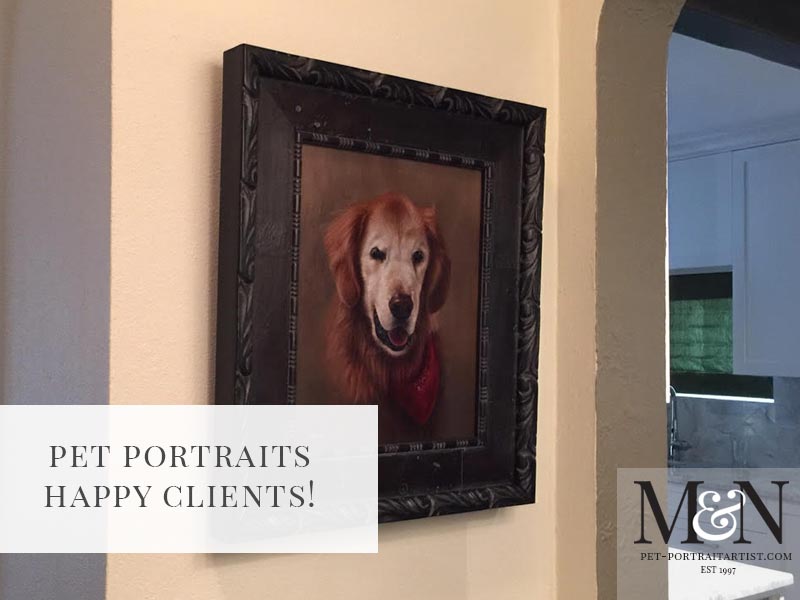 Duffy Home & Framed
July 16, 2015
Welcome to our post all about Duffy Home & Framed. The portrait Nicholas recently painted of Duffy has now arrived safely to our clients. It's framed and is now hanging in situ in our clients home. Beth very kindly took some photos of the painting and we can't thank Beth enough for doing that for us! We absolutely love the frame, a beautiful chunky dark wood, with detailing around both inner and outer edges. The natural colour works extremely well with the painting and I will be adding it to our testimonials page very soon!
We love our picture of Duffy… It looks so much like him, I cried when I put it up. Duffy is now right back in the middle of our house, so you can see him every time we pass through to our family room, master bedroom, kitchen, and dining room. It is the perfect place as this is where Duffy always stayed when taking down time… Allowing him to keep an eye on all of us as we went on our way.
Thank you!!!
Beth
We hope that you have enjoyed viewing our Art Studio Blog. Why not sign up to our Monthly newsletter accessible at the bottom of our website which comes out on the 1st of each month. You can catch up on all of the portrait stories and news from our Art Studio! Please don't forget to subscribe to our Youtube Channel too, share, like and follow our social media and you are more than welcome to comment below, we love hearing from our readers!
You May Also Like
July 29, 2018
December 3, 2015
January 2, 2017