Happy Pet Portraits Clients
February 15, 2016
Here are our very happy Pet Portraits Clients Kris and Kevin. They took the most wonderful photo of them with their portrait. They posed with the painting also with their children holding the portrait of Maggie and Max.
Kevin commissioned Nicholas in 2015 to paint their Dachshunds as a surprise birthday present for his wife. The photo below was taken on Kris's birthday and we have added the painting of Maggie and Max onto our website and you can see the full painting here – Maggie and Max Pet Portrait >>.  Kris emailed us the most wonderful testimonial which you can read below and we would like to thank both Kevin and Kris for taking the time to email it to us!
Hello Melanie and Nicholas!!!
It would be impossible to convey to you my complete happiness, awe and gratitude for the truly magnificent painting my husband, Kevin, gave me for my 50th birthday. It not only captures my beloved dachshunds perfectly, but our home as well. Now I know that my dogs will live forever and this time in my life has been captured so beautifully. It's SO beautiful!!
I am truly in awe of your talent, Nicholas. So incredibly grateful to you for doing this work of art for me. I still can't believe it's mine and was made for me. It will be an heirloom for our children as it portrays our home and precious pets so perfectly. Check out the picture showing me and my family on Christmas Eve, my birthday, when I opened this amazing gift.
Thank you!!!
Kris Fitzpatrick
If you are thinking about commissioning an oil painting of your dogs, do let us know. Perhaps you would like to email us your photos and let us know your ideas. We can come up with a design for you too. Nicholas and myself look forward to working with you soon.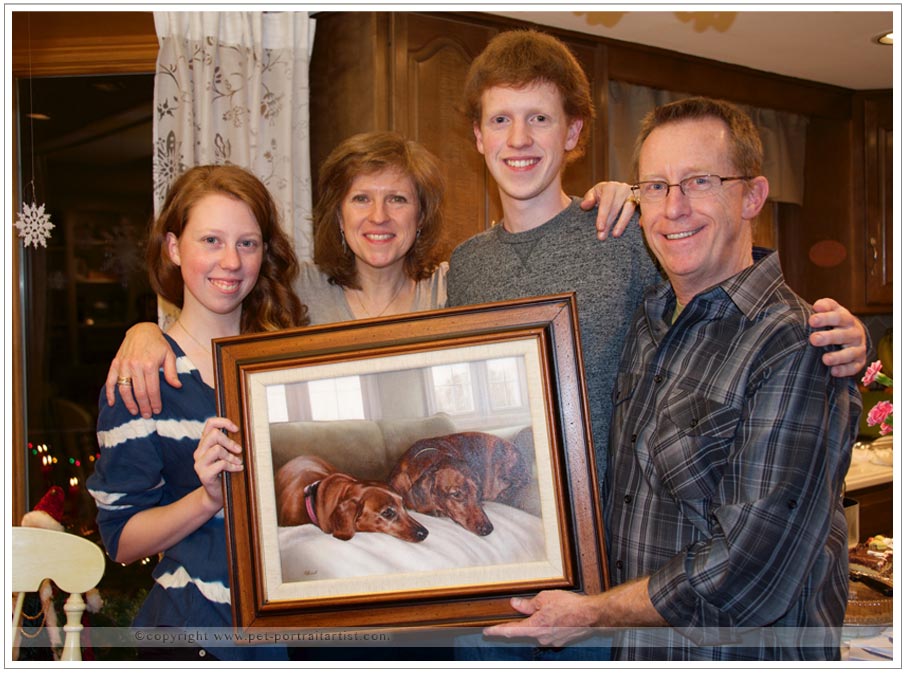 We hope that you have enjoyed viewing our Art Studio Blog. Why not sign up to our Monthly newsletter accessible at the bottom of our website which comes out on the 1st of each month. You can catch up on all of the portrait stories and news from our Art Studio! Please don't forget to subscribe to our Youtube Channel too, share, like and follow our social media and you are more than welcome to comment below, we love hearing from our readers!
You May Also Like
December 16, 2015
May 30, 2018
February 18, 2015