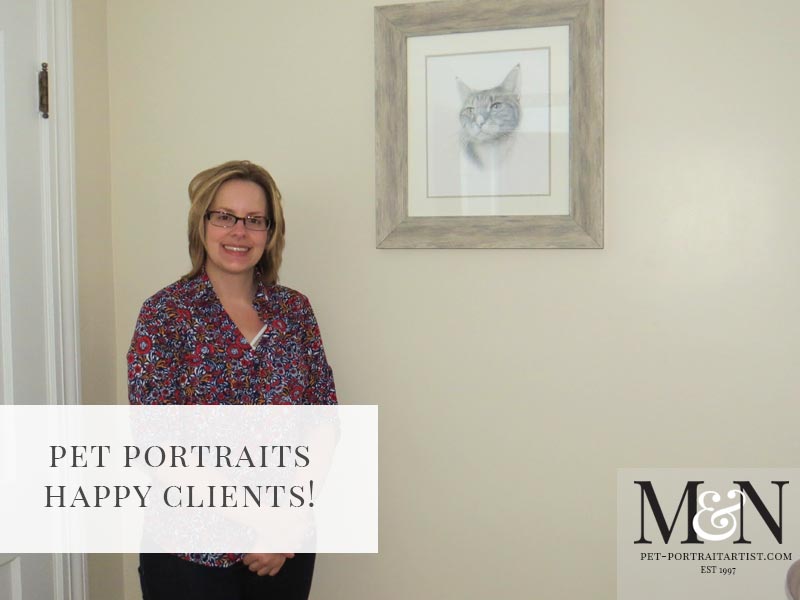 Cat Pencil Portraits – Happy Clients
July 20, 2016
You may remember Tyson, one of my recent cat pencil portraits, which I posted about a month ago. It was a pencil drawing at 12 x 10 size framed using our Windsor Wash frame. Consequently, Kim, the owner of Tyson's portrait, rang me all the way from the USA to thank me for the portrait. I love speaking to my clients on the telephone as I don't often get to meet them in person. We had a really interesting chat about all sorts of things from current affairs to movies which was fantastic!
A few days later Kim emailed me some lovely photos for me to use on my website and blog. The photos below are wonderful and I have already added them to Tyson's page on my website. He has his own page and you can view his cat pet portrait on my pencil pet portraits website.
Updated and photos!
I have been updating my pencil pet portraits website quite a bit recently. It feels really good to get some of my more current portraits into my gallery. Also I am in the process of updating the other sites too. Although I'm catching up on blog posts and emails first. I have another happy client photo to follow, so stay tuned!!
We hope that you have enjoyed viewing our Art Studio Blog. Why not sign up to our Monthly newsletter accessible at the bottom of our website which comes out on the 1st of each month. You can catch up on all of the portrait stories and news from our Art Studio! Please don't forget to subscribe to our Youtube Channel too, share, like and follow our social media and you are more than welcome to comment below, we love hearing from our readers!
You May Also Like
December 25, 2015
October 3, 2017
April 28, 2023