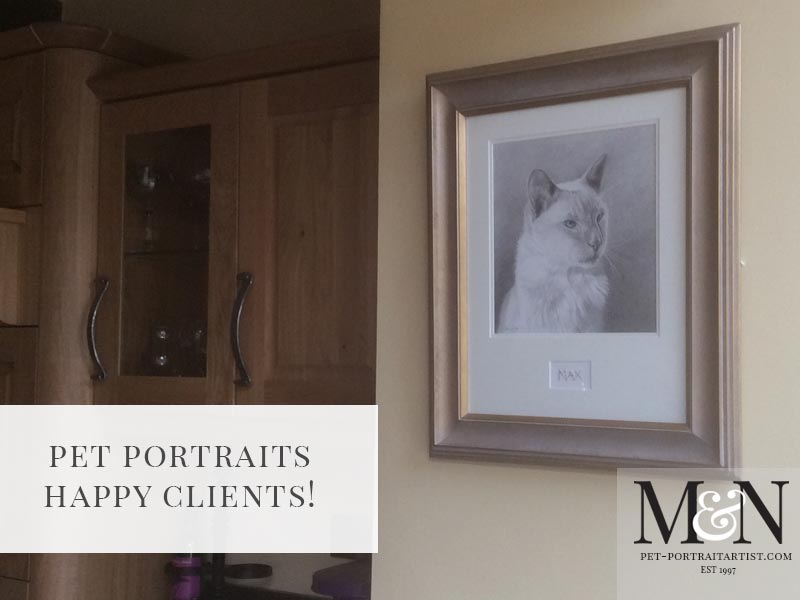 Max Framed and in Situ
January 16, 2017
Welcome to Max framed and in situ in my clients home. So these photos below are of a portrait I drew last year of a very much loved and missed cat called 'Max'. Some of our readers will remember his portrait from previous blog posts. I drew him with a fully shaded background and created a watercolour wash and coloured pencil mix for his beautiful blue eyes.
Rebecca also asked me to use some of Max's ashes to create his name under the portrait. I'm not sure if you can see in the photograph below, his name is just below his portrait. I also attached one of his whiskers to the drawing. This isn't visible in the photographs, you would have to be standing in front of the portrait to find it! It is a fantastic idea and looked brilliant.
Max was also framed using the Westminster frame. The colour of the frame was aged gold with lots of amazing tones within the frame itself. It's one of my favourite frames and it looks fantastic with the portrait. Consequently, it is one of our clients favourite frames too.
Rebecca very kindly took photos of Max in situ displayed on the wall in between the kitchen and extension. I have also added an email that Rebecca sent along with the photos below. I'm thrilled she loves the outcome and I really enjoyed drawing him.
Melanie
Here is Max…..pride of place with his discerning look!!!! Friends came around last night and couldn't believe how real the picture looked!! At distant shot….gives you a sense of how he stands out. We spend all our time in the extension off the kitchen and now he is with us!
Cheers
Rebecca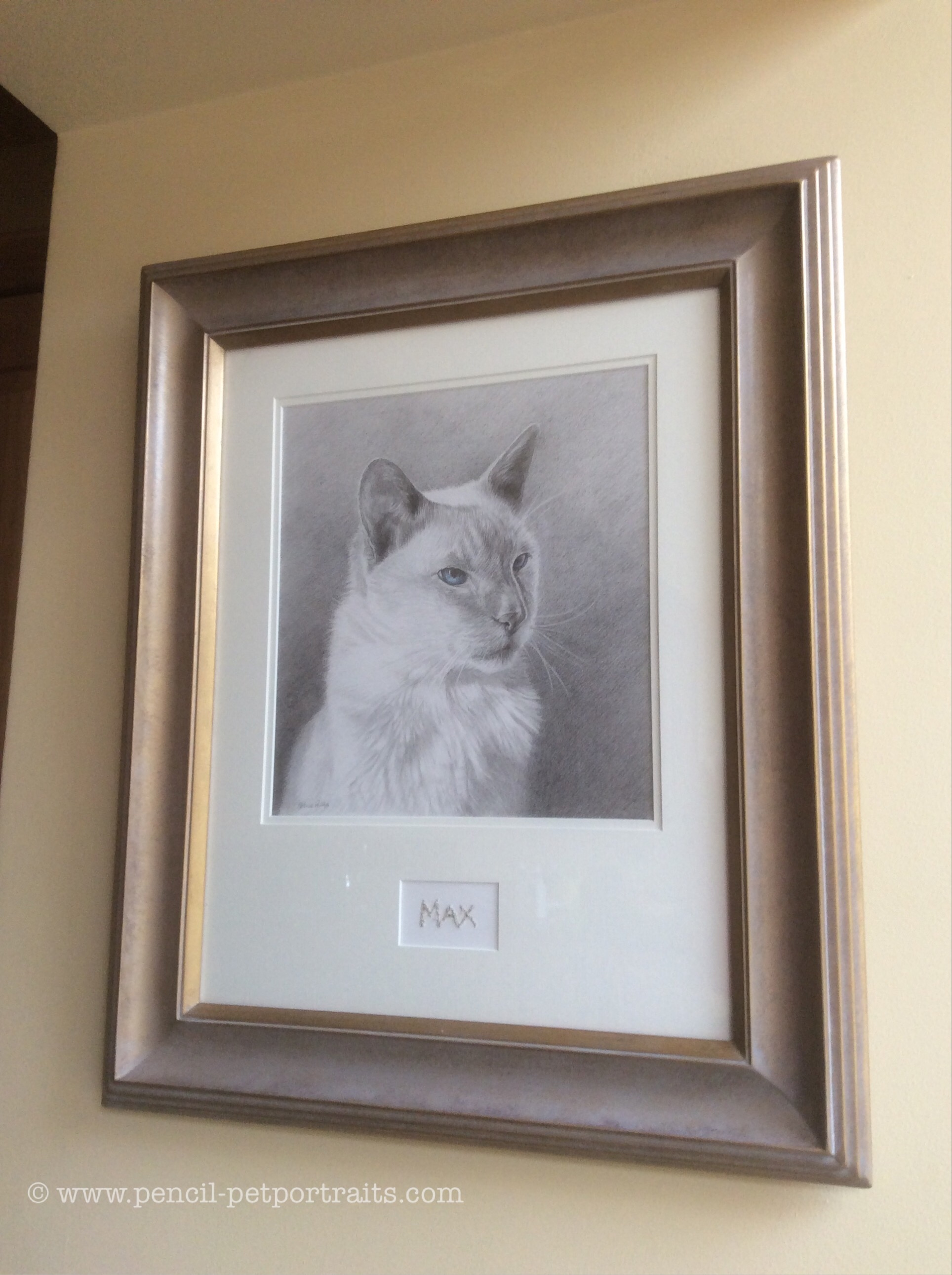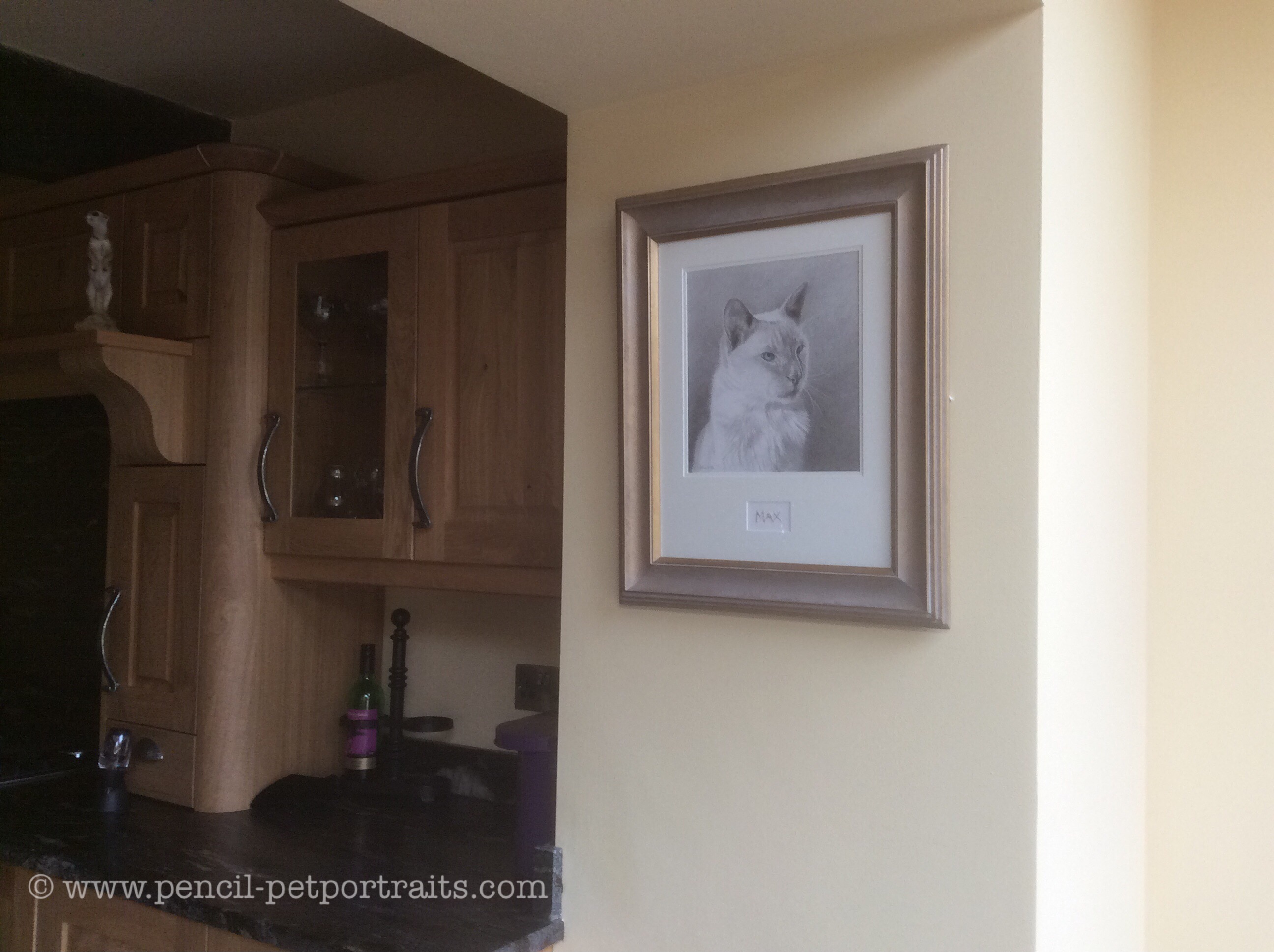 Finally, we hope that you have enjoyed viewing our Art Studio Blog. Why not sign up to our Monthly newsletter accessible at the bottom of our website which comes out on the 1st of each month. You can catch up on all of the portrait stories and news from our Art Studio! Please don't forget to subscribe to our Youtube Channel too, share, like and follow our social media and you are more than welcome to comment below, we love hearing from our readers!
You May Also Like
October 30, 2019
June 1, 2019
March 15, 2017