Horse Oil Portrait of Kewlia
November 2, 2015
Welcome to the beautiful horse oil portrait of Kewlia. Rosemary called our studio to find out if Nicholas would be able to portray her daughters horse as a surprise birthday gift. We were delighted to speak to Rosemary on the phone and asked for photos of Kewlia via email. We received lots wonder photos although Rosemary had one particular favourite that she wanted us to use.
The portrait was traditionaly hand painted by Nicholas Beall at 14 x 14 size on Italian Linen Canvas. If you scroll down further you can see the portrait all framed and a video too…
Horse Oil Portrait of Kewlia – Framed
Here are the photos of Kewlia in the Chelsea Frame. We have added it to our range as we absolutely love it. It is a mid gold with decorative corners. The back has been built up to cover the entire depth of the canvas so that when the painting is dsiplayed on your wall, looking from the side you only see frame and not the canvas behind. (The bottom photo illustrates this well). We really hope you like this one, we think it looks stunning!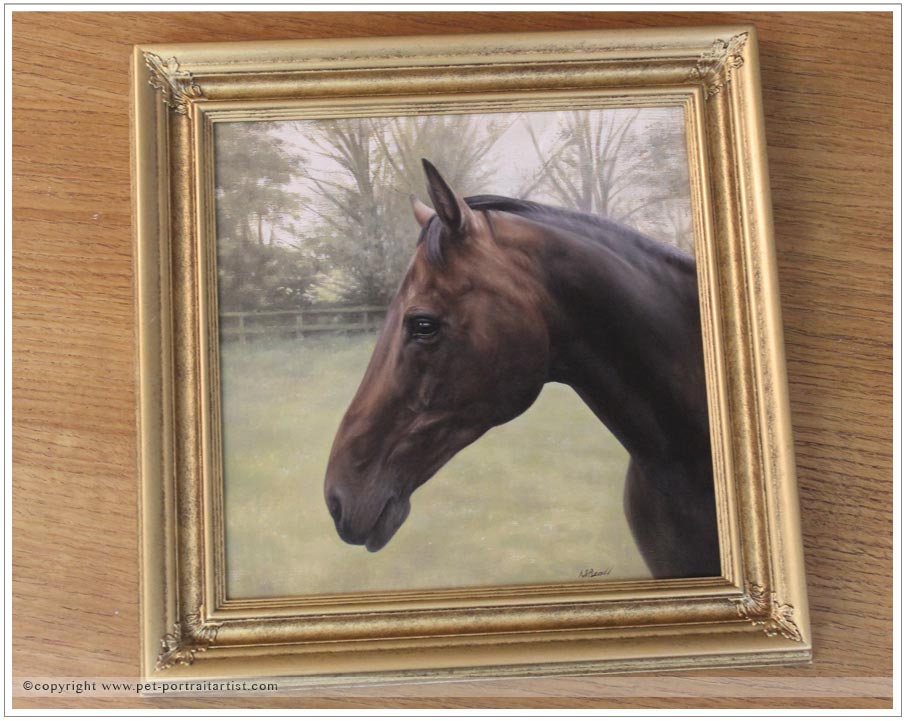 Horse Oil Portrait of Kewlia – Video
Here is the video I took of Kewlia's painting framed.  Our client emailed the quote below. We hope that you love the painting and enjoy the video!
Hi Melanie and of course Nicholas
She arrived safely and I can't tell you how much I love it. You have really captured Kewlia, i can't wait to see my daughters face when she sees the painting. She has no idea, but her husband who sent the photo that you used has been following the progress and thinks it's magnificent as I do, I can't thank you enough. I will let you know her reaction and send you a photo of it certainly when it is in situ.Thank you so much I just love it.
Rosie xx



We hope that you have enjoyed viewing our Art Studio Blog. Why not sign up to our Monthly newsletter accessible at the bottom of our website which comes out on the 1st of each month. You can catch up on all of the portrait stories and news from our Art Studio! Please don't forget to subscribe to our Youtube Channel too, share, like and follow our social media and you are more than welcome to comment below, we love hearing from our readers!
You May Also Like
September 5, 2023
November 5, 2018
October 3, 2015