Horse Pet Portrait of Ariel
December 16, 2015
Welcome to our Horse Pet Portrait of Ariel. We received a wonderful email from Eleanor who asked if we would paint a portrait of their horse. It was to be for her mums Christmas gift. You can read one of Eleanor's initial emails to us below.

Melanie and Nicholas,
I've been looking for someone to do a portrait of my horse Ariel as a Christmas Present for my mum and came across your website. I've had a look at your gallery and your service is just what I've been looking for! Ideally I would like an oil painting of the head and neck and would be interested in looking at framing, an engraved plaque…..

Eleanor emailed us lots of photos of Ariel. One in particular stood out form all of the others which was Eleanor's favourite photo too. It was perfect for an oil painting. We worked out the best size for the composition of the painting would be 16 x 13 inches. We have our canvases and frames made bespoke so our clients can have any size canvas to fit their needs.
As you can see the portrait turned out beautifully. nicholas traditional hand painted all fo the oil paintings and he really thoroughly enjoyed painting Ariel. Scroll down to see more photos and video. Also pop over to our blog post with beautiful photos of Elenor and her mum with the oil painting Happy Clients with their painting.
Horse Pet Portrait of Ariel – Video
Here is the video I took of Ariel before packing the paining. We hope you like it!

Horse Pet Portrait of Ariel – Framed
Well…all we can say is – wow! We absolutely love the Knightsbridge Gold Frame and we feel it works so well with Ariel's portrait, we are thrilled.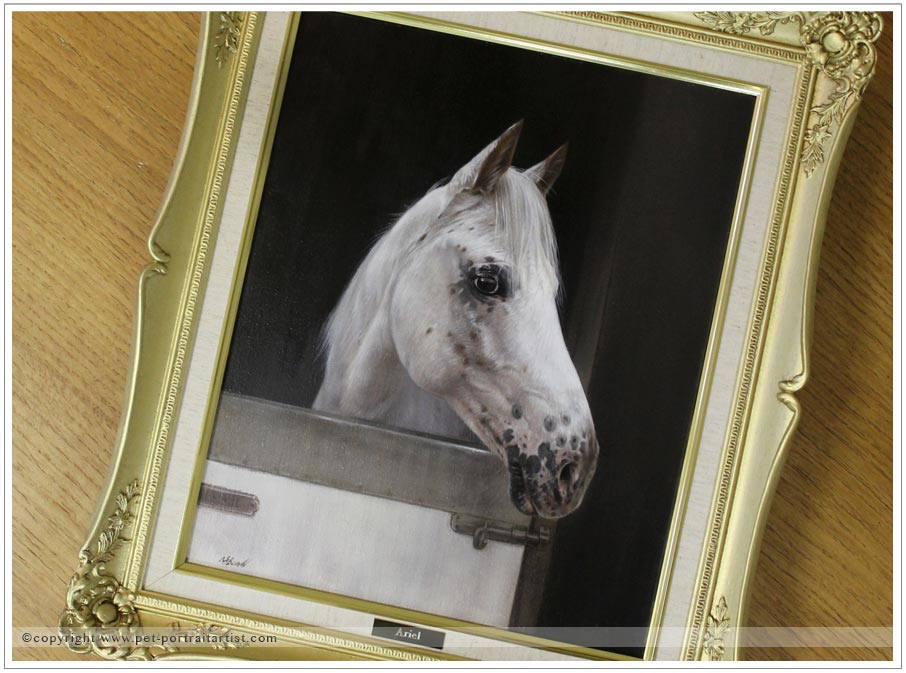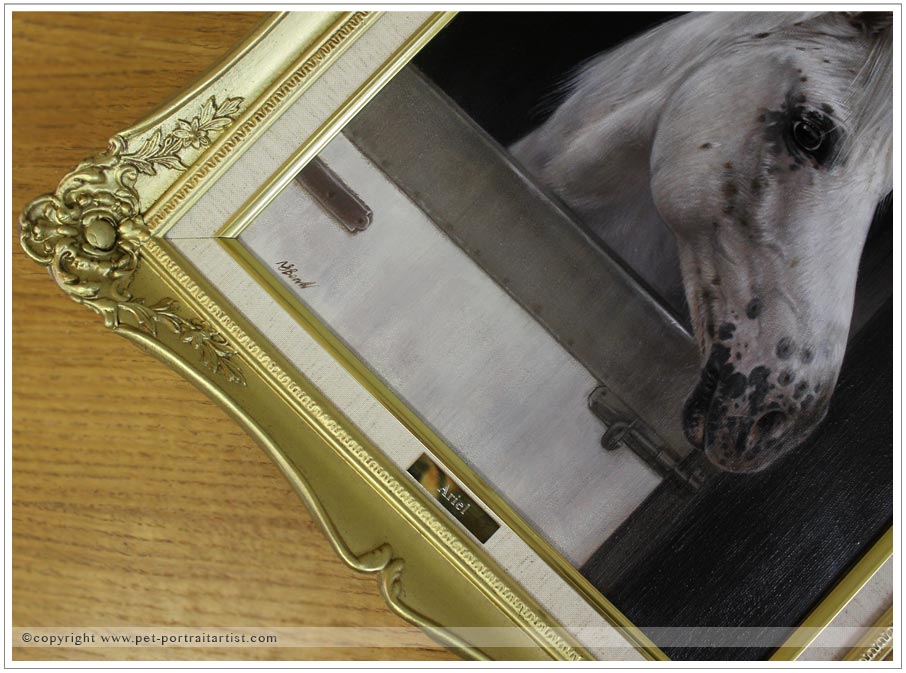 Finally, we hope that you have enjoyed viewing our Art Studio Blog. Why not sign up to our Monthly newsletter accessible at the bottom of our website which comes out on the 1st of each month. You can catch up on all of the portrait stories and news from our Art Studio! Please don't forget to subscribe to our Youtube Channel too, share, like and follow our social media and you are more than welcome to comment below, we love hearing from our readers!
You May Also Like
January 28, 2019
January 29, 2017
March 19, 2018