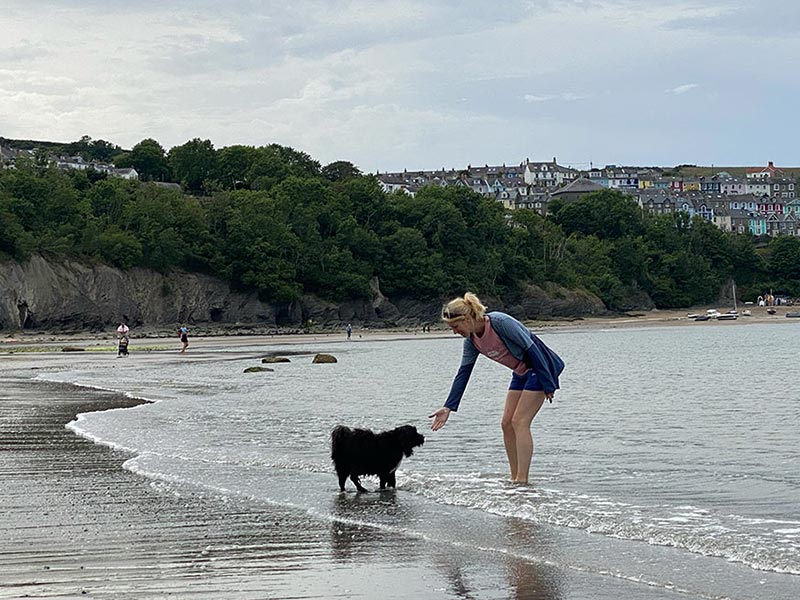 Melanie's June Monthly News
June 27, 2022
Welcome to Melanie's June Monthly News, and here we are in yet another month that has flown by. We have been busy in the studio, but have got out and about this month when the weather has allowed. We have had some very warm days here, but equally some very cold and rainy days too. West Wales pretty much gets the brunt of the weather. So we have to make the most of our dry days!
One such beautiful day was an afternoon we took Lily for a walk on New Quay beach. It was still quite breezy, but it was warm enough for a paddle. We even saw a dolphin! Lily is quite hesitant to go into the sea. She will come in a little way but as soon as a wave comes along, she makes her way back. If you view the photo below, thats about as far as she will go in!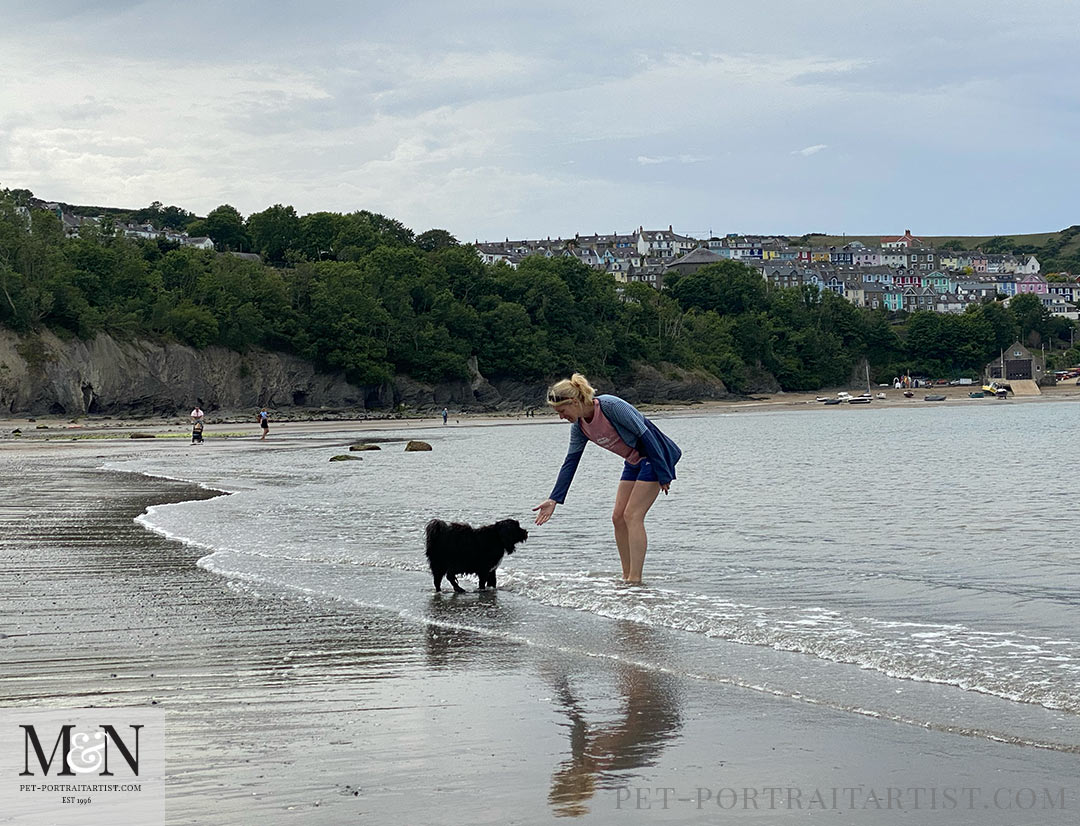 It would have been lovely to have had bright blue sky, but it wasn't a bad day. And the tide was out so far, it was simply gorgeous.
Oil Painting of Patton
Nicholas has been working this month on a beautiful painting of a dog called Patton for a client in the USA. It was a stunning photo and it made for a stunning portrait. It's just left our studio with the courier this morning and will be with them by the end of the week. Gene messaged when they saw the final photos which you can read below…
My wife wept. Nothing needs to change. It's perfect. Gene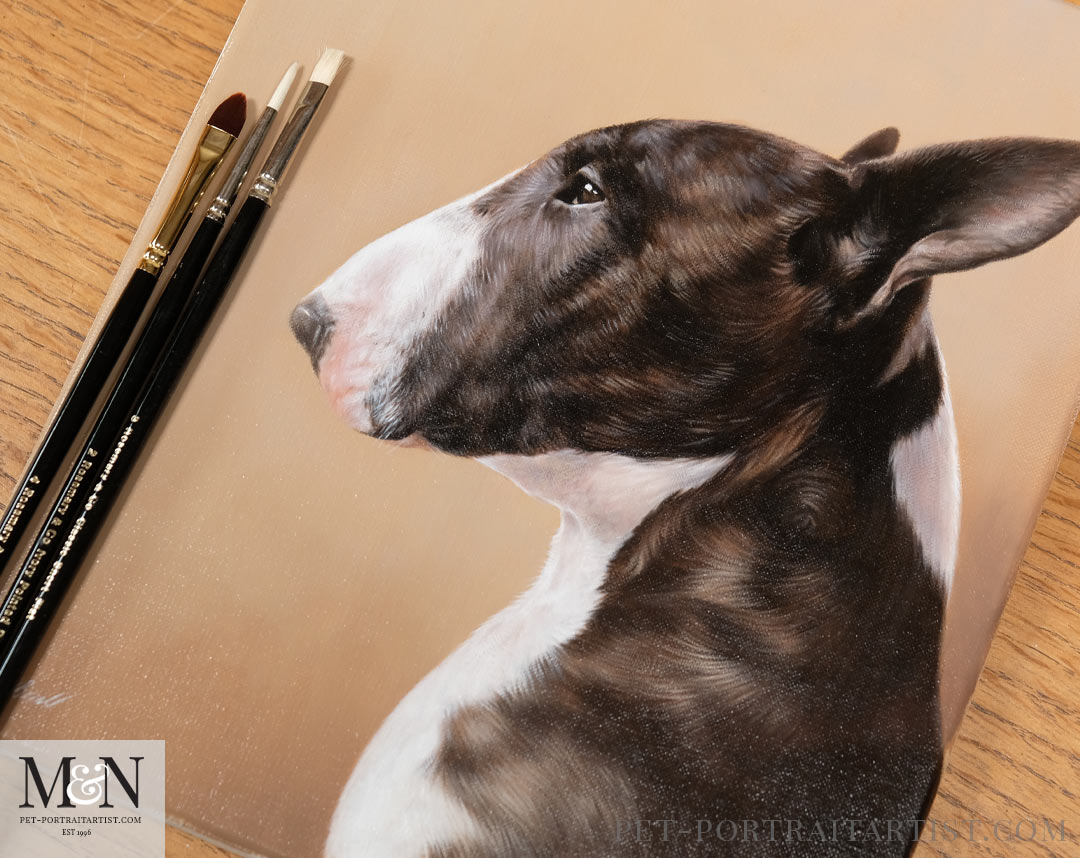 We have finally received our new packaging for the oil paintings. They will now be packed in our black presentation boxes with cellphone, a rich purple tissue paper and ribbon. I have made new flyers and a new thank you letter to go along side. So all of our packaging matches now between the oils and the pencils, apart from them being different colours of course.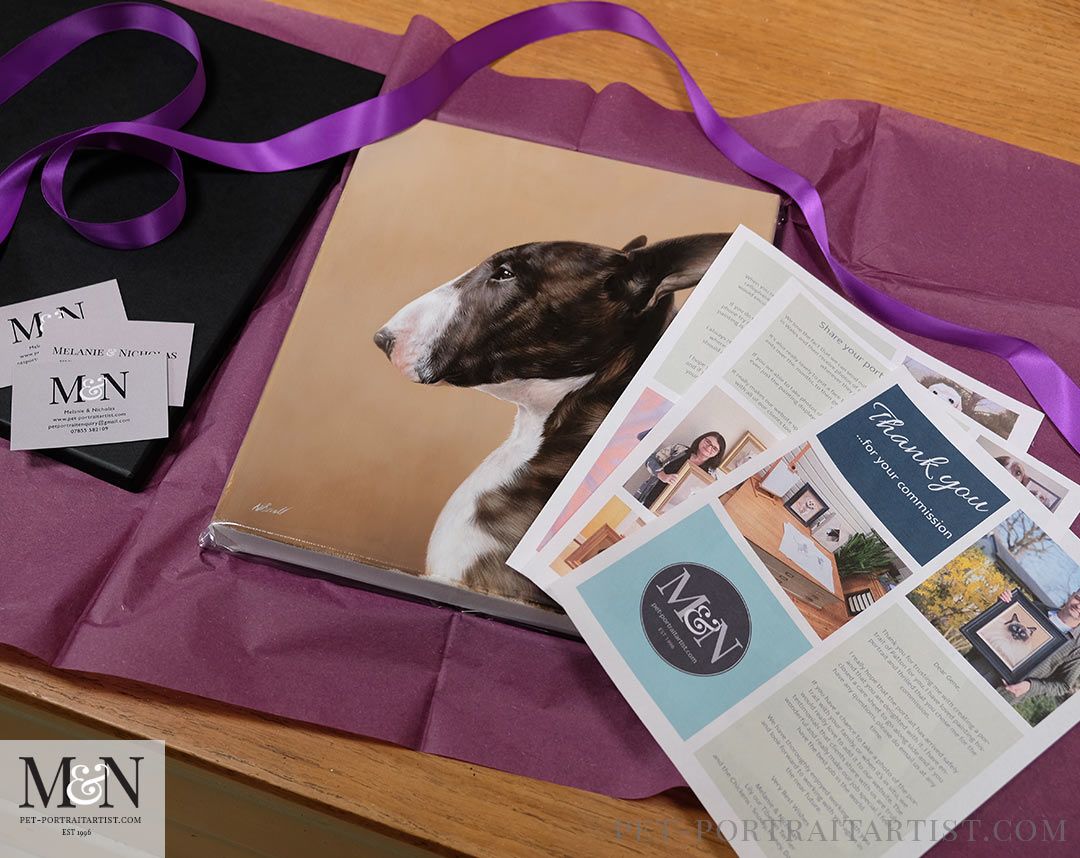 The photo below shows the portrait in the box in the tissue paper, ready to be wrapped with the ribbon.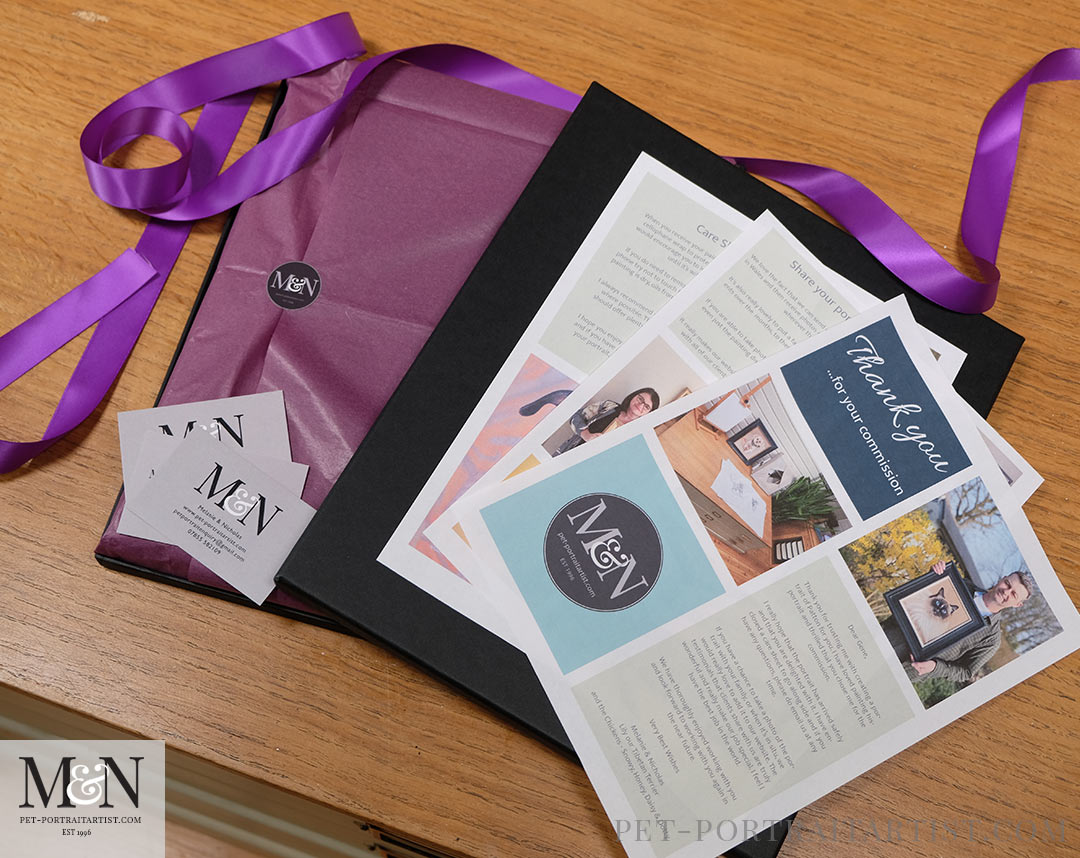 Finally the portrait is all wrapped up and ready to pack. I usually add some foam wrap and then place it in a cardboard box. The larger portraits will still have hardboard in but this one was a 12 x 10 and so everything was very sturdy and safe.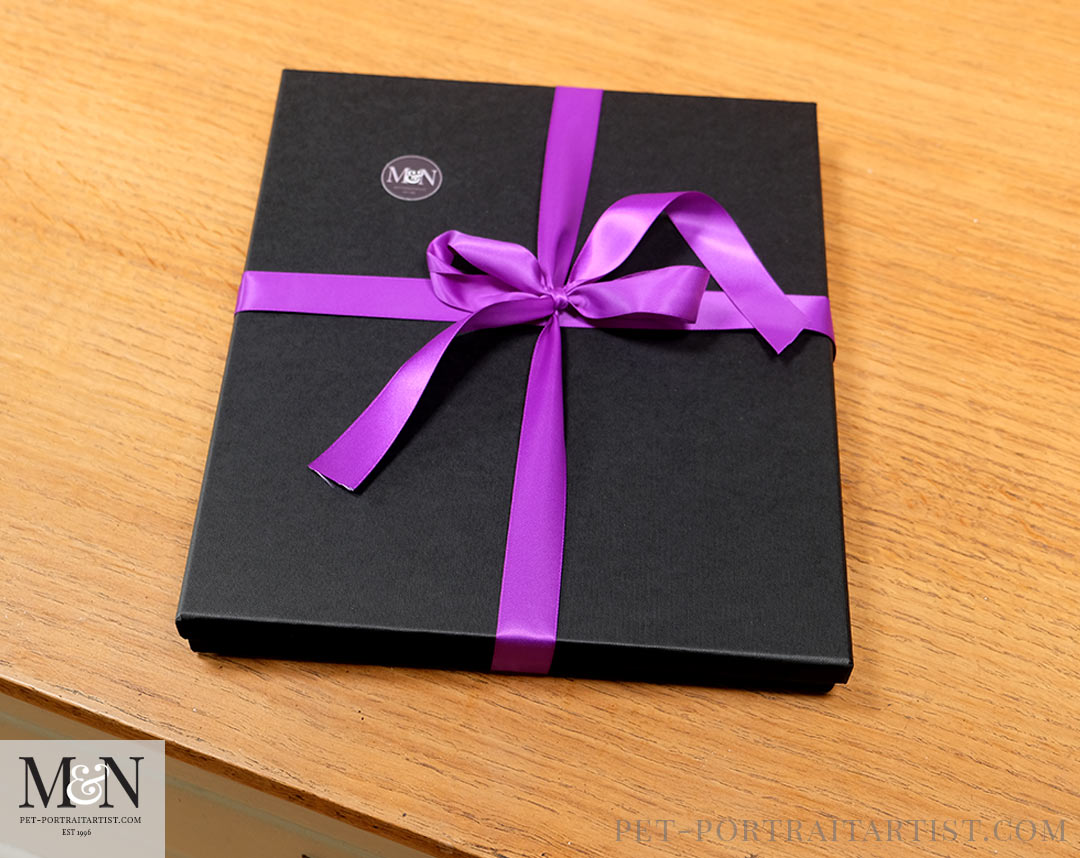 Melanie's June Monthly News – Pencil Drawing of Kegan
This month I have been working on a beautiful drawing of a dog called Kegan, for Fathers Day. It was for a family who had recently lost their beautiful dog, Kegan. Their daughter Daisy commissioned a pencil pet portrait of her, for them all to remember her by. Her soulful eyes are beautiful and she was an absolute joy to draw.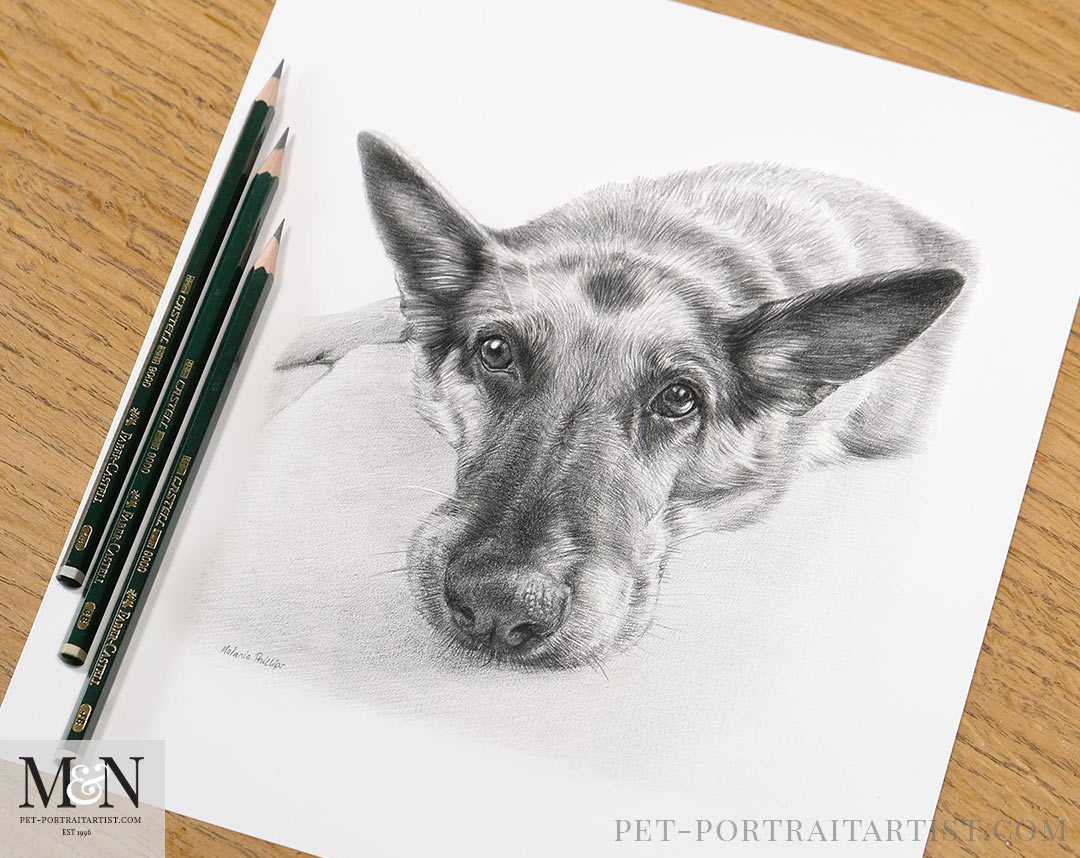 Daisy very kindly sent me photos of her parents when they received the portrait. The photo below is before they knew what it was! Have a read of Daisy beautiful email below.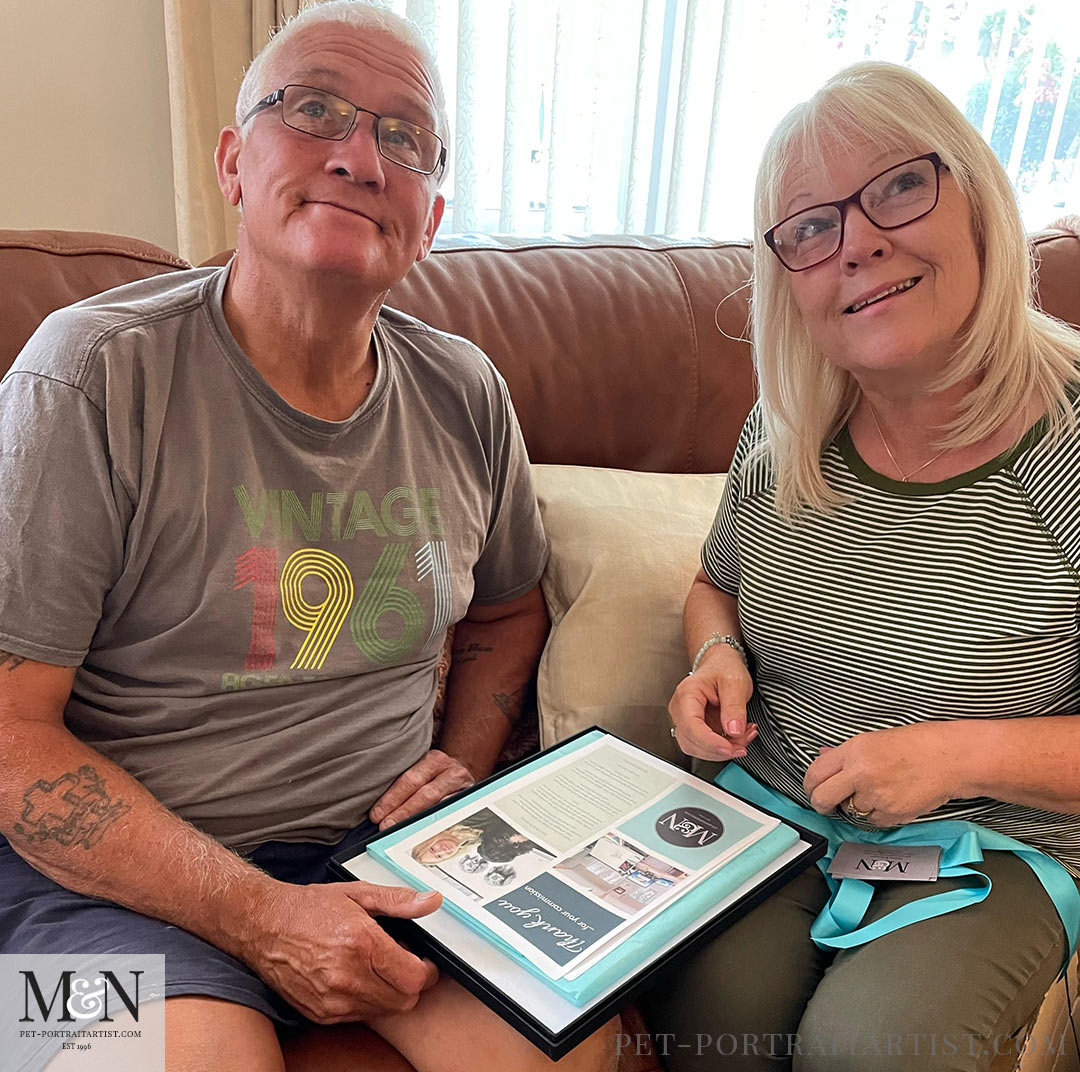 Hi Melanie,

They are blown away by your drawing of Kegan, they can't believe all the details within and her signature sad eyes. There were lots of tears shared, they are still really struggling without her but that picture means more than words can say.

The first photo is them still clueless but smiling and the second was seconds before the tears started rolling. Thank you so much again.

Best wishes, Daisy Solomon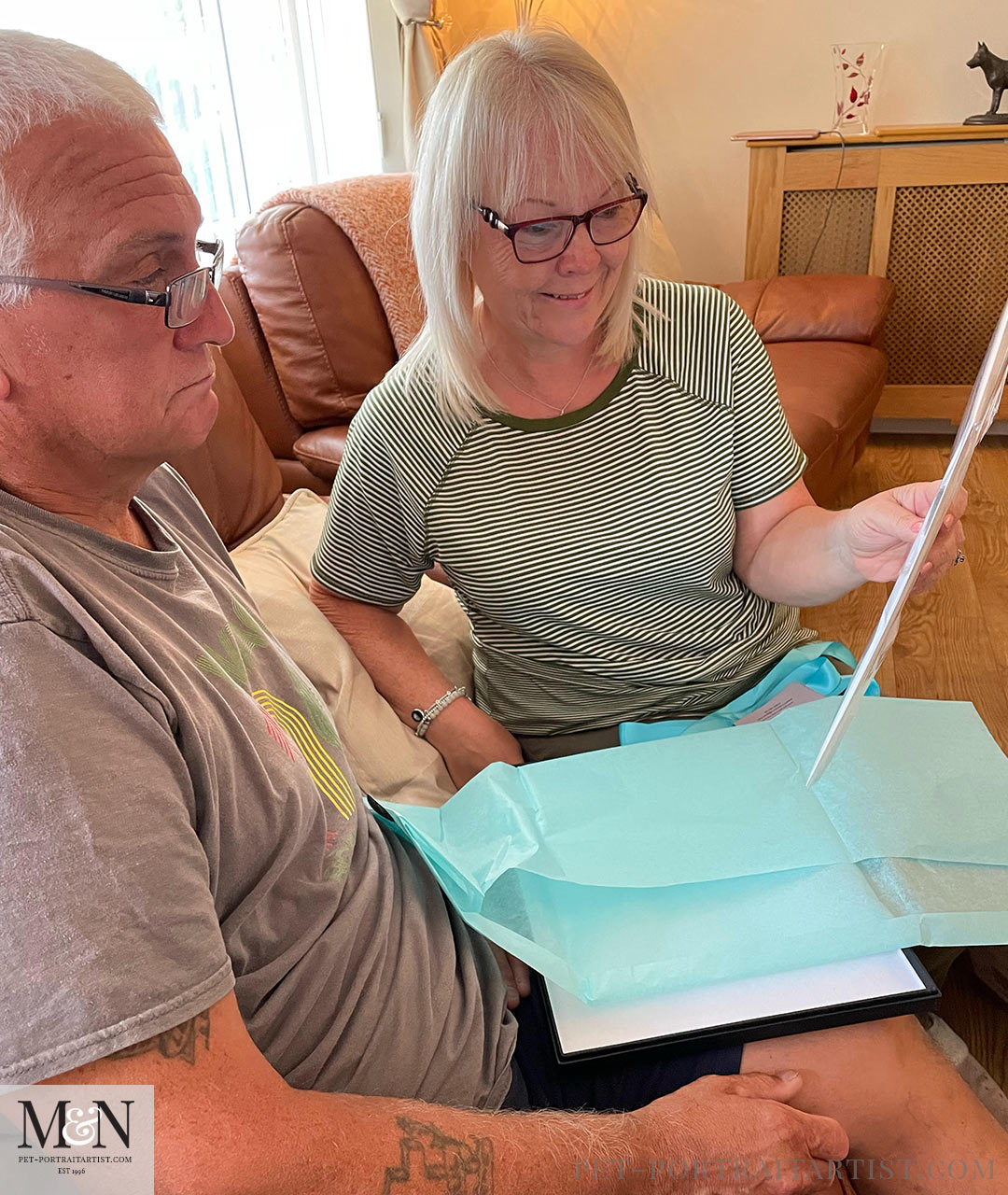 Here is another photo of Kegan with my pencils to show scale.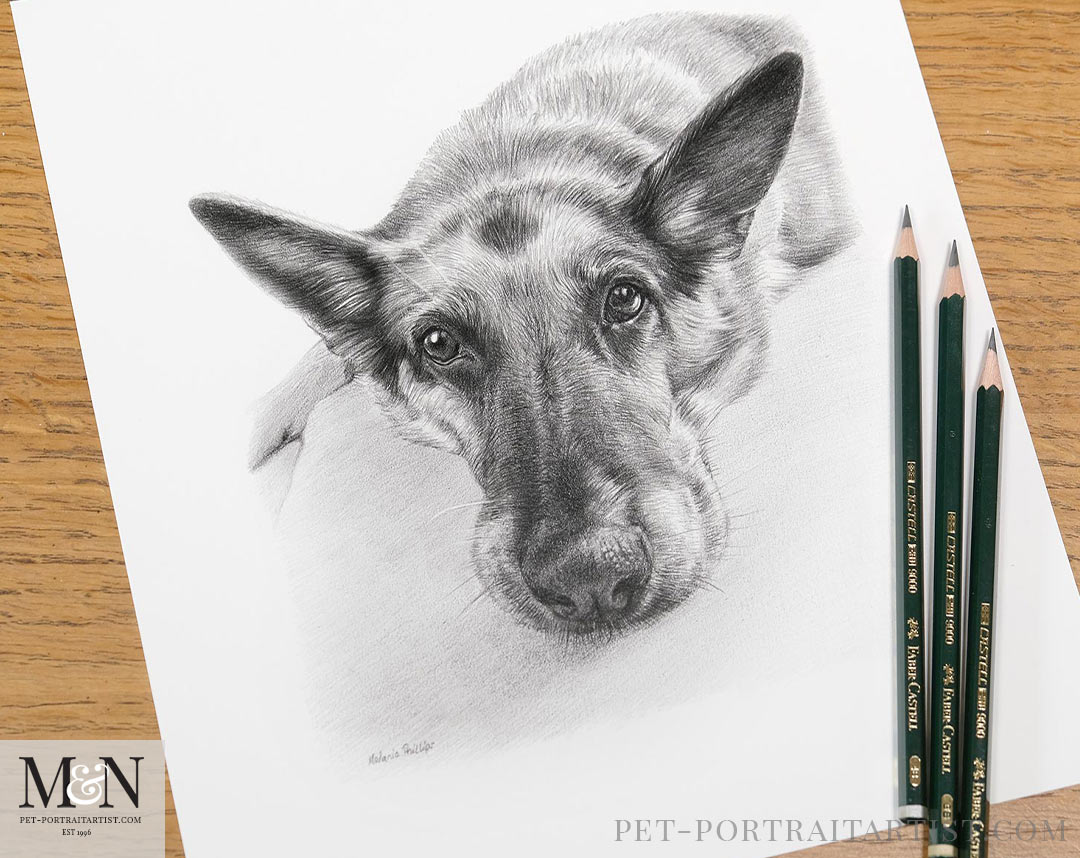 And finally a quick photo of the portrait with the packaging.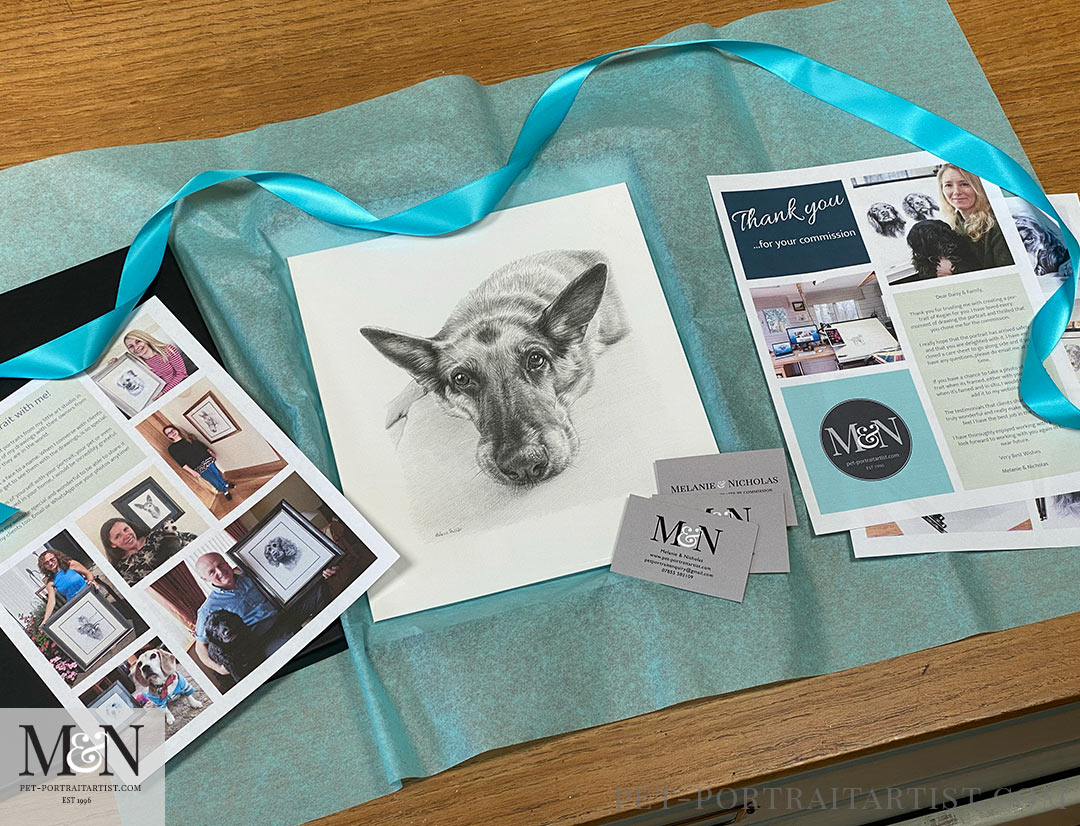 Melanie's June Monthly News – Poorly Lily and Beach Walk
The photo below is quite deceiving. We were on our way for a beach walk and it's through a little woodland at the start. It's so beautiful especially when the sun dapples through the trees.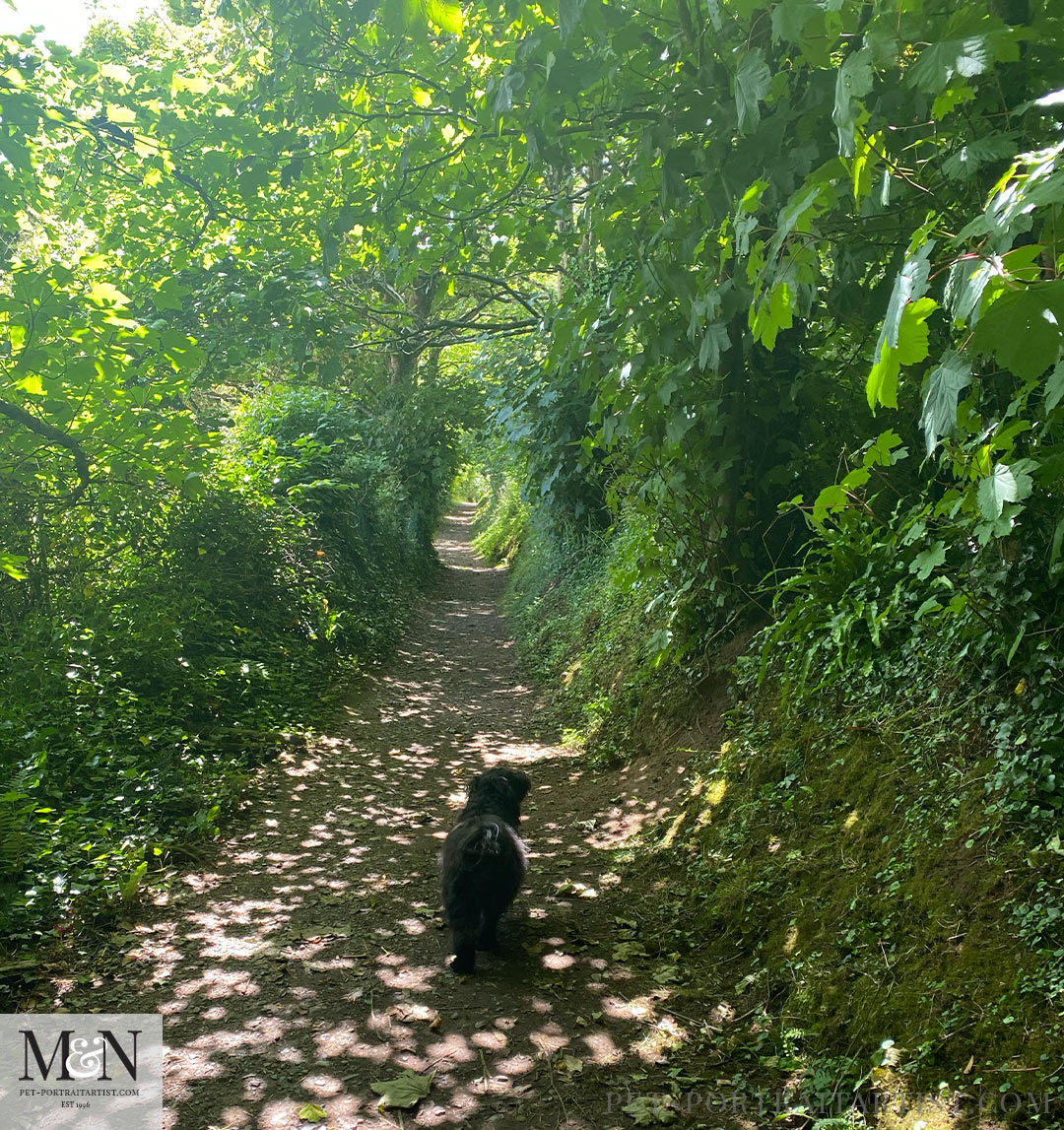 Lily has been a little poorly of late, she is getting better now, one last vet trip hopefully this week. After the vet visit, we took her to the beach to cheer her up. She enjoyed trotting through the woodland. When she got on the sand… after having a drink from the stream.. proceeded to burry her nose in the sand! So the camera came out of course!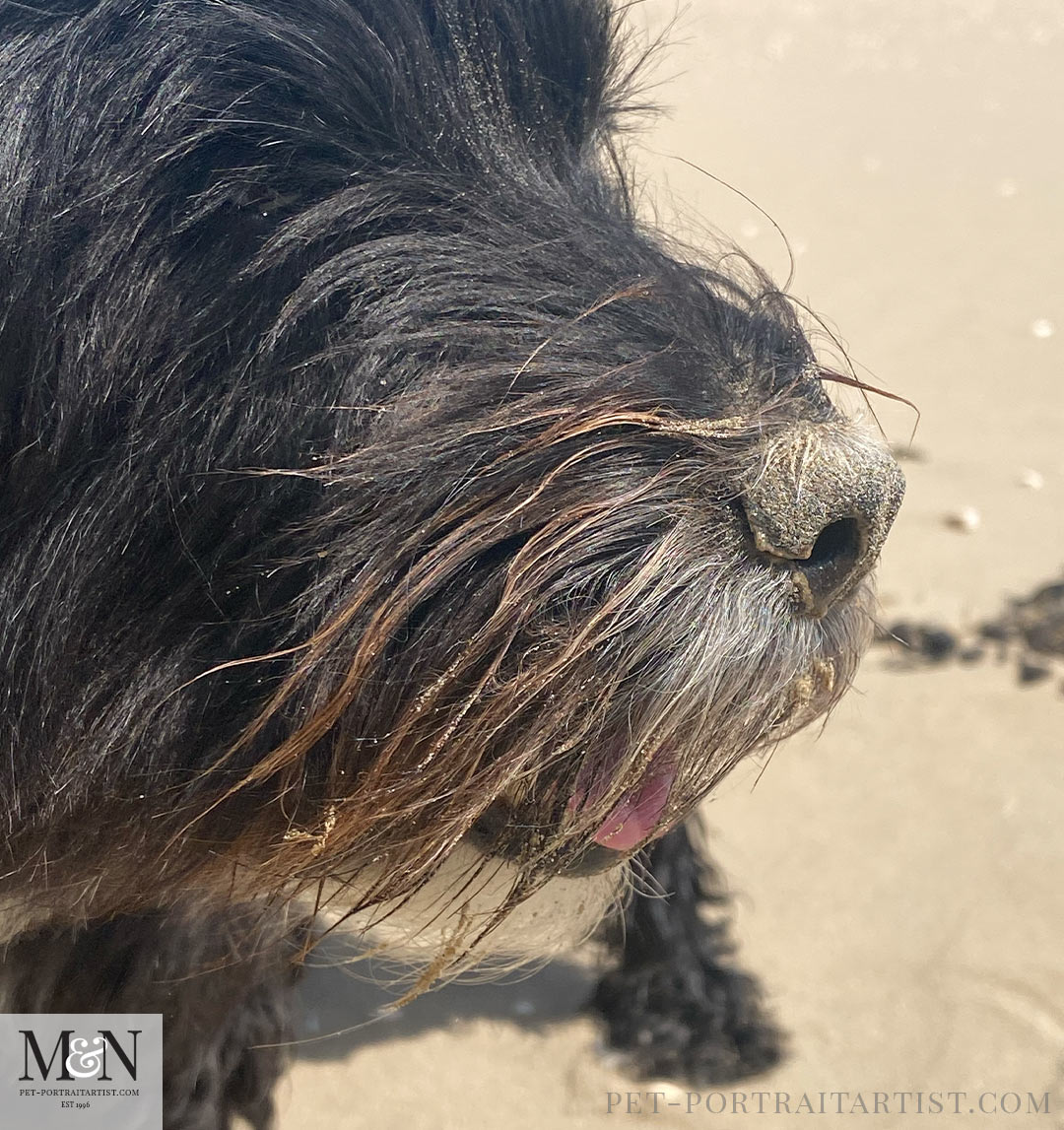 Thankfully the tide was out and it was a lovely day, we actually had blue sky!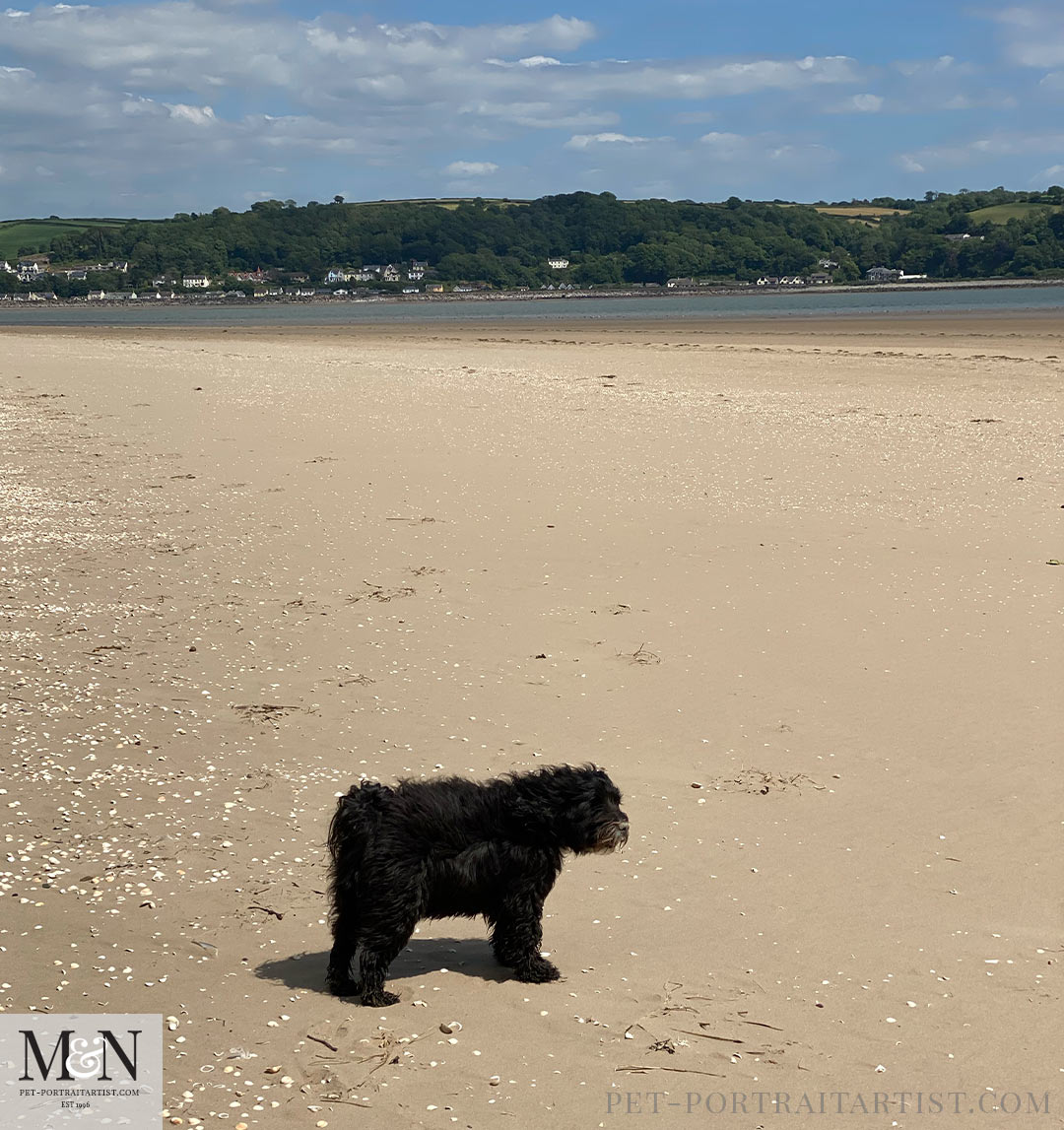 A rare selfie of Nicholas and myself. What a really lovely day, it was like a holiday as it was a work week day! We even treated ourselves to chips and ice cream. Of course as Lily had been under the weather, she had a chip or two as well.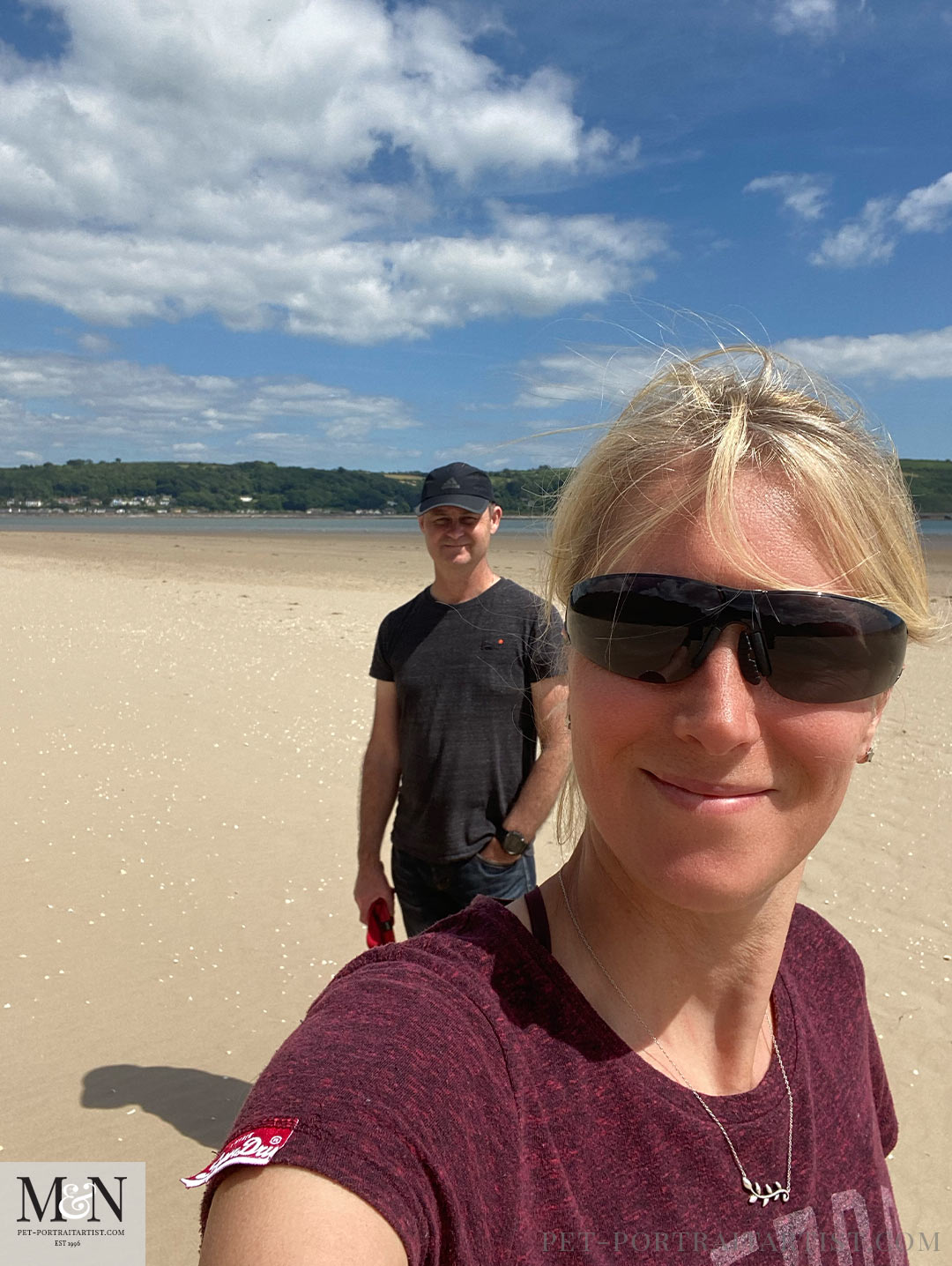 A view from the woodland over the inlet to the other side of the bay.
Still Running – Swansea Half Marathon
And finally! The moment we have all been waiting for this year. The Swansea Half marathon. We posed for a photo at the start, I think we all look a little apprehensive.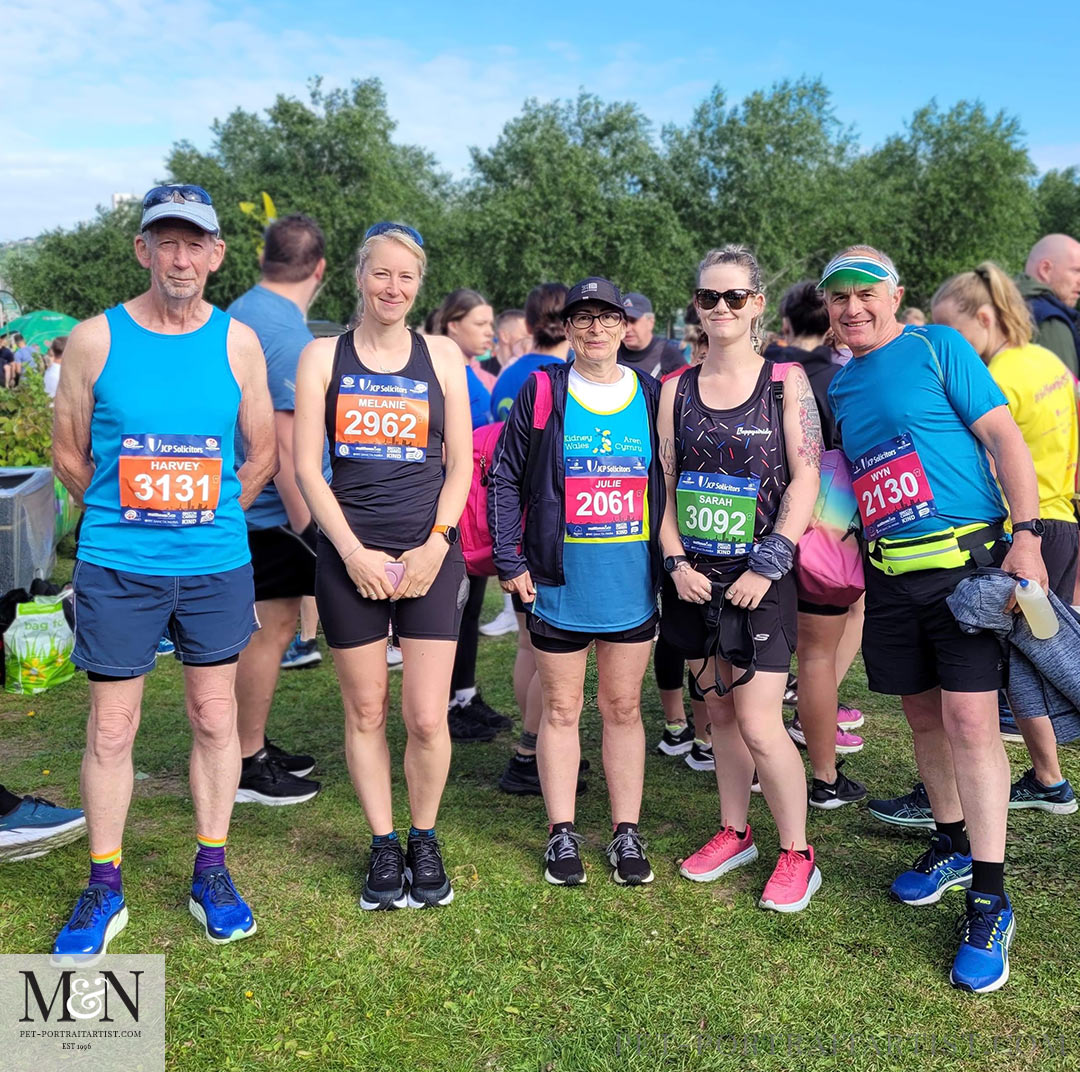 We had a group of friends in the crowd and this photo was taken right at the end, as soon as I saw them I headed over for some quick high fives and then off to the finish line. It does look like I was flying below. I did the half which is 13.2 miles in 2hrs 24mins. I now have a time to beat. Swansea is the flattest course. We are all booked into Cardiff Half in October in which I have heard talk of a 'hill' there. I can also imagine the weather will be a lot cooler and possibly rainy, but we shall find out!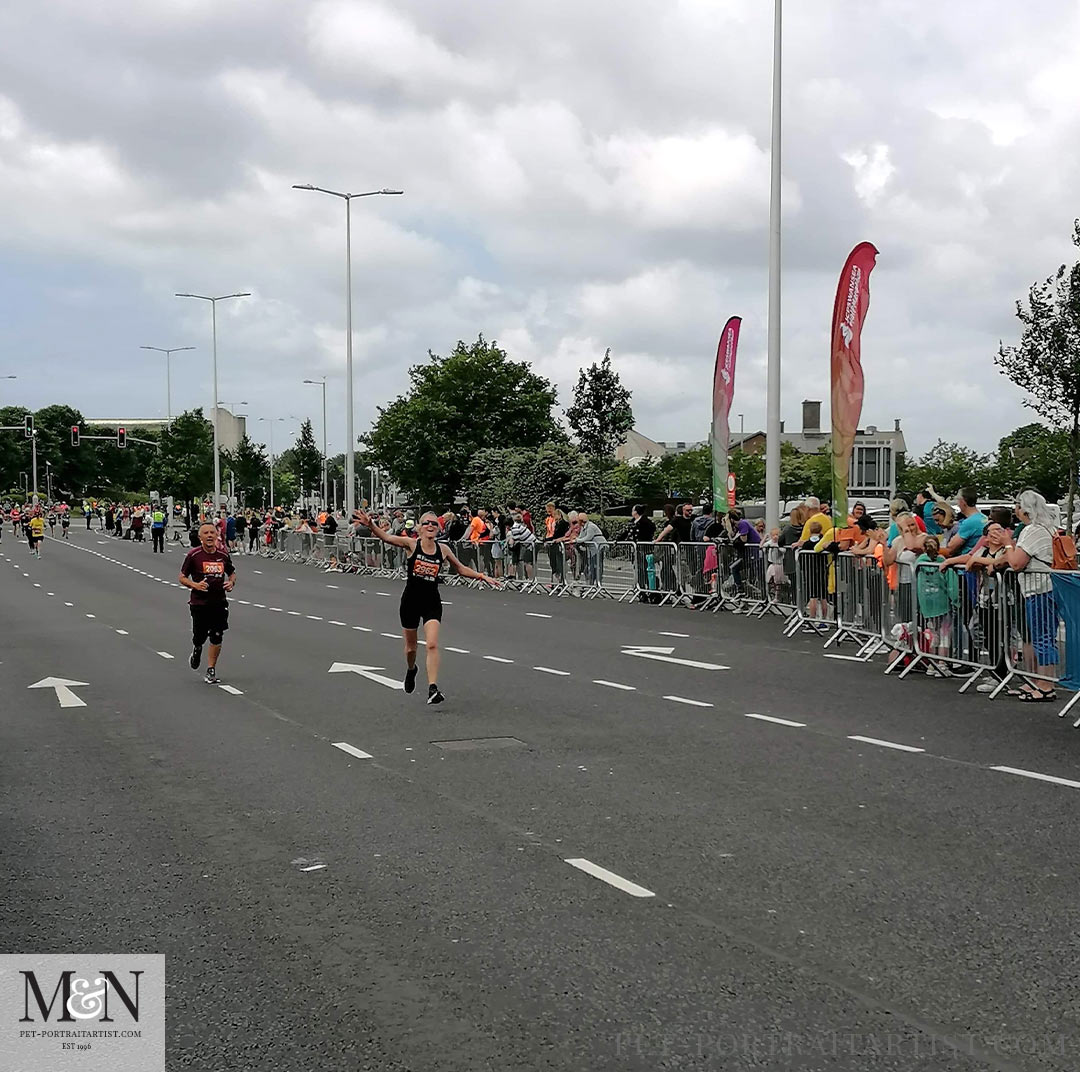 Here we are at the end. There were a couple of us missing from each group photo, but we were all very happy with our efforts and times. Especially Julie in the middle who did it in 1hr59!!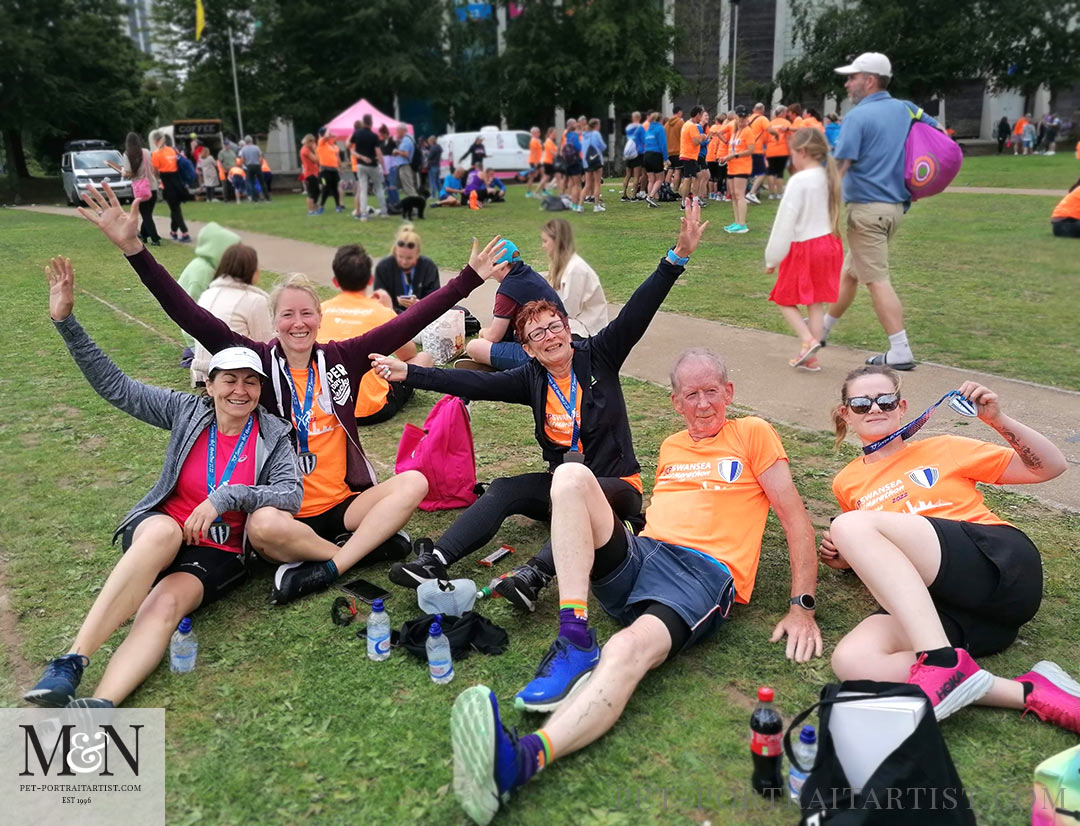 We all received a T-shirt and medal. It's pretty bright! It will be good for winter running to be seen along the roads.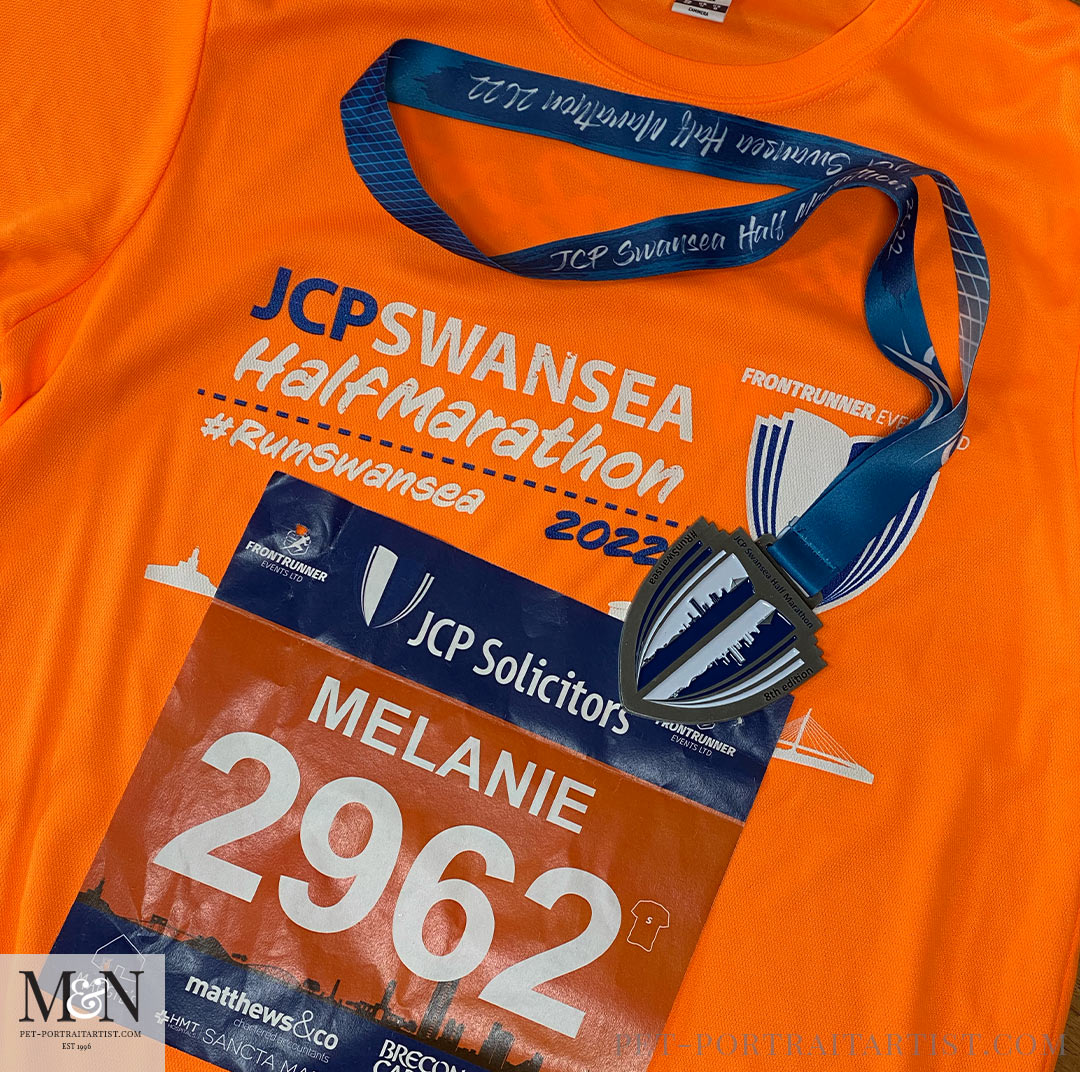 We really hope that you have enjoyed reading about what we have been getting up to here this month. If you missed last months news head on over the Melanie's Month May News and take a look at the chicks photos. They aren't so chick like anymore! I will have new photos of them next month as they will have grown even more. Have a wonderful month everyone and keep safe!
Why not sign up to our Monthly newsletter accessible at the bottom of our website which comes out on the 1st of each month. Catch up on news from our Art Studio! Please don't forget to subscribe to our YouTube Channel too, follow our Instagram @petportraitartists and Facebook @petportraitartists . You are more than welcome to comment below too, we love hearing from our readers!

You May Also Like
October 24, 2018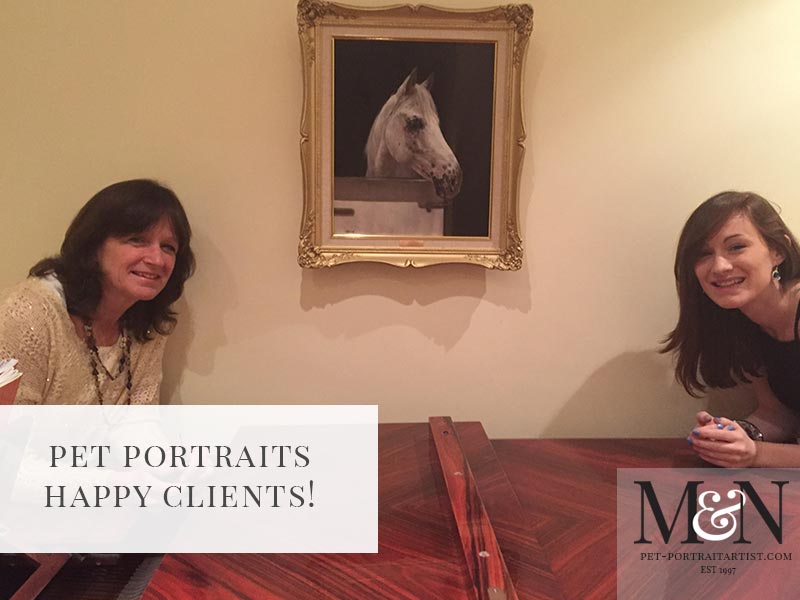 February 16, 2016
March 15, 2017