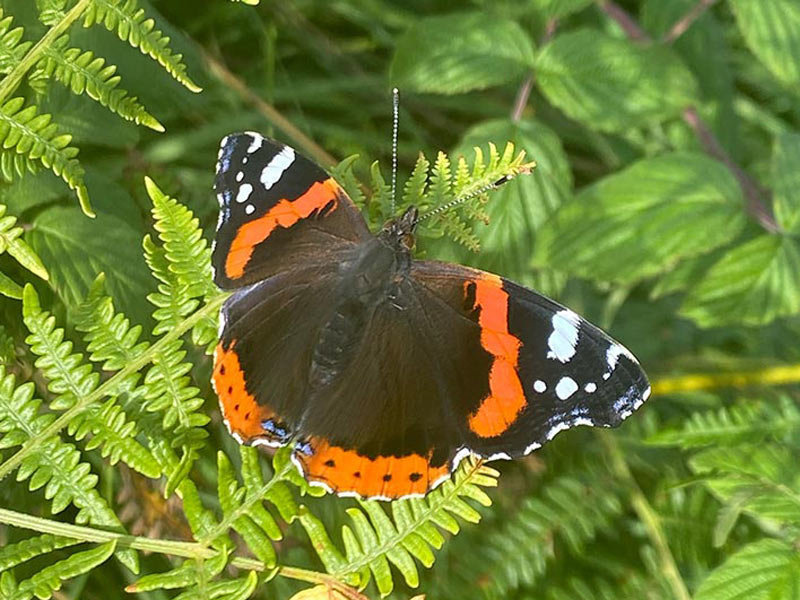 Melanie's September Monthly News
September 28, 2022
Welcome to Melanie's September Monthly News where another month has completely flown by! Nicholas has been working on a surprise portrait which will will be able to share in the not too distance future. He has now begun a beautiful oil portrait of two dogs. Hopefully to be shared soon. In the mean time we can add plenty of photos of what's been happening around here along with two lovely pencil drawings too! We hope you enjoy reading about our September!
First of all, as you may know, we have a gorgeous Tibetan Terrier called Lily. She has never been a destructive dog and so has kept the majority of her toys since she was a puppy. We try not to buy toys for her so much these days, as storing them has been quite an issue. Until this week!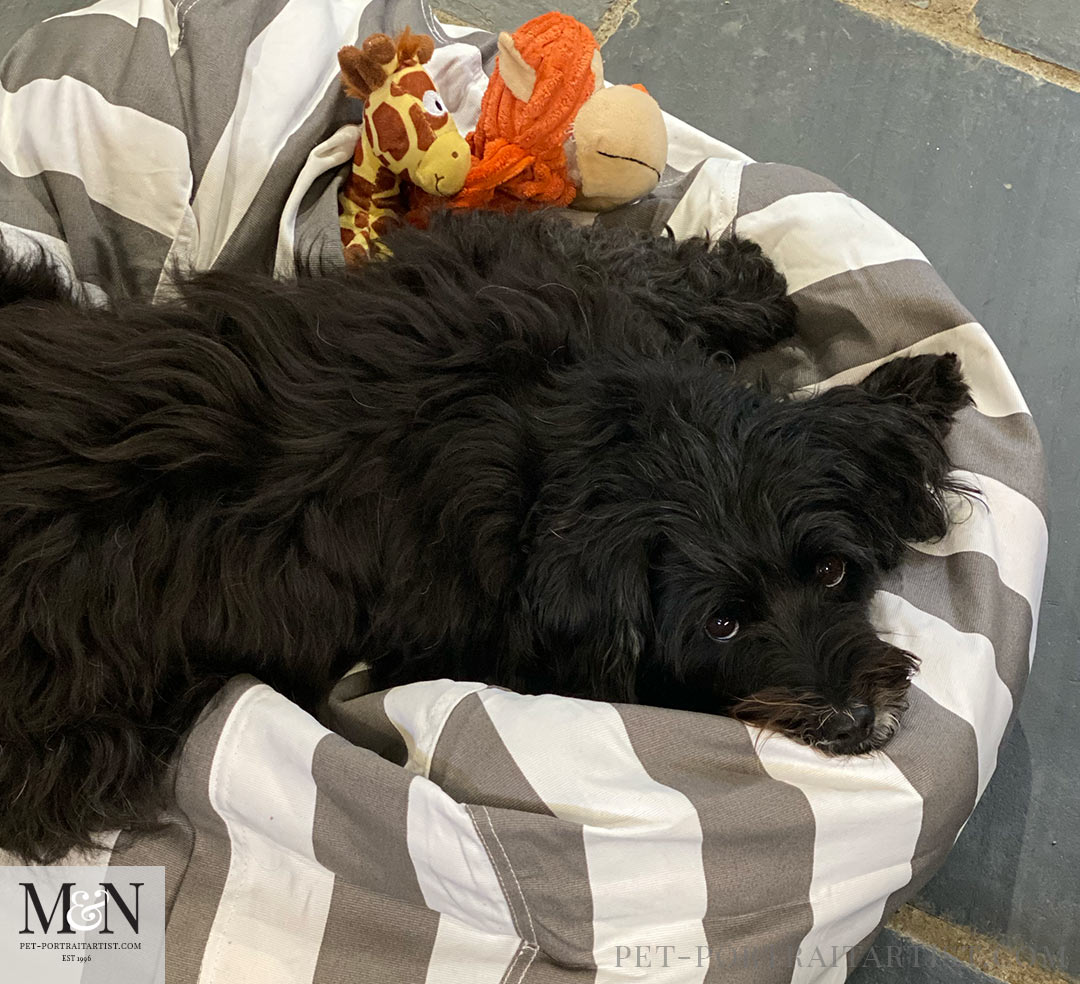 I found a wonderful storage solution on Amazon. A beanbag made especially for children to fill with their cuddly toys. They can then use it to sit on and get them out when required. Perfect for Lily!! It was such a good idea, so much so, that my friend bough one for her daughter once she saw ours! All I need to do now is to teach Lily to unzip the zip….!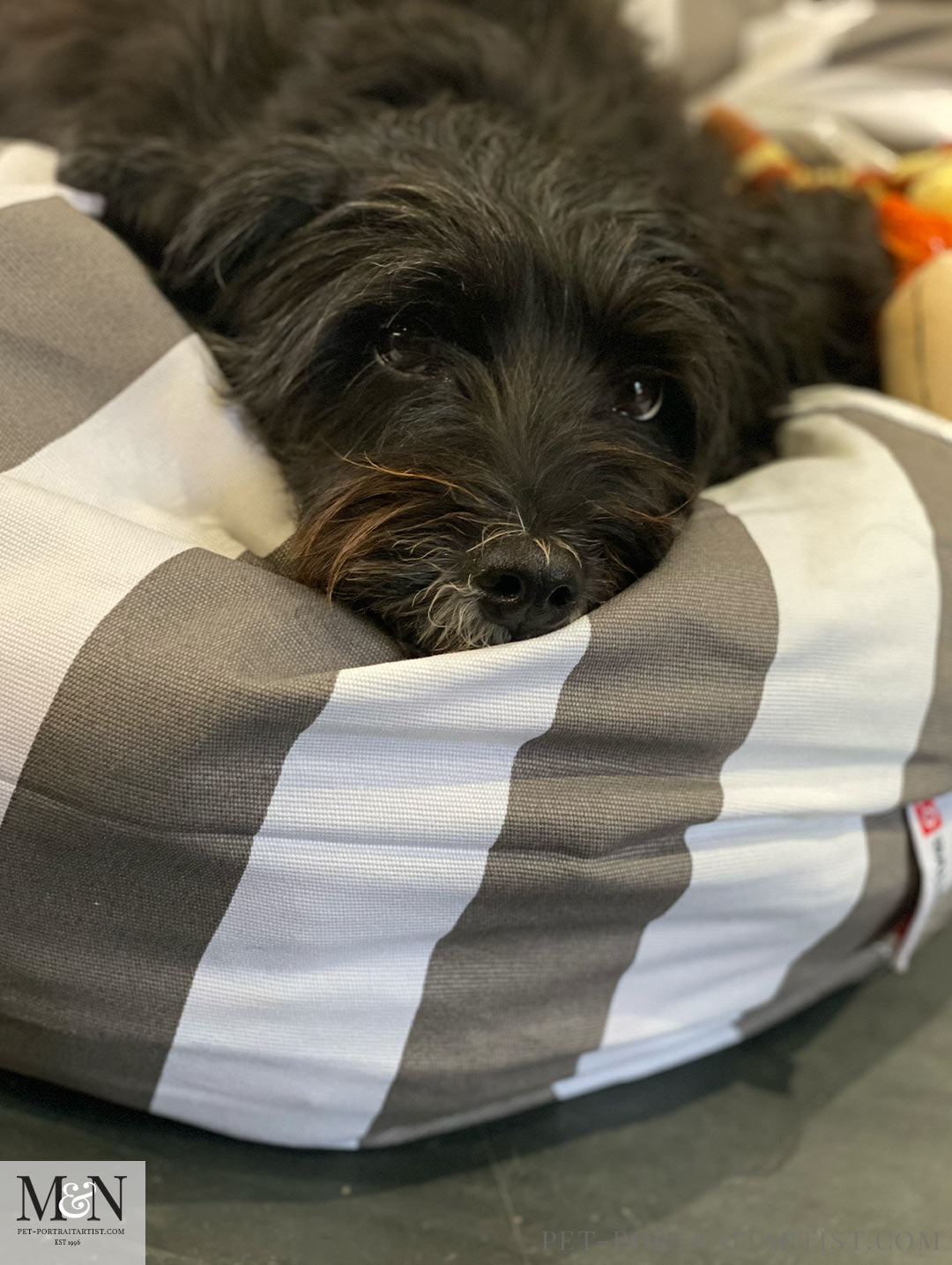 Melanie's September Monthly News – Dad's Garden
We visited my parents this month and Dad has been working hard in his amazing garden. He picked me a bunch of Sweet peas and a collection of veggies.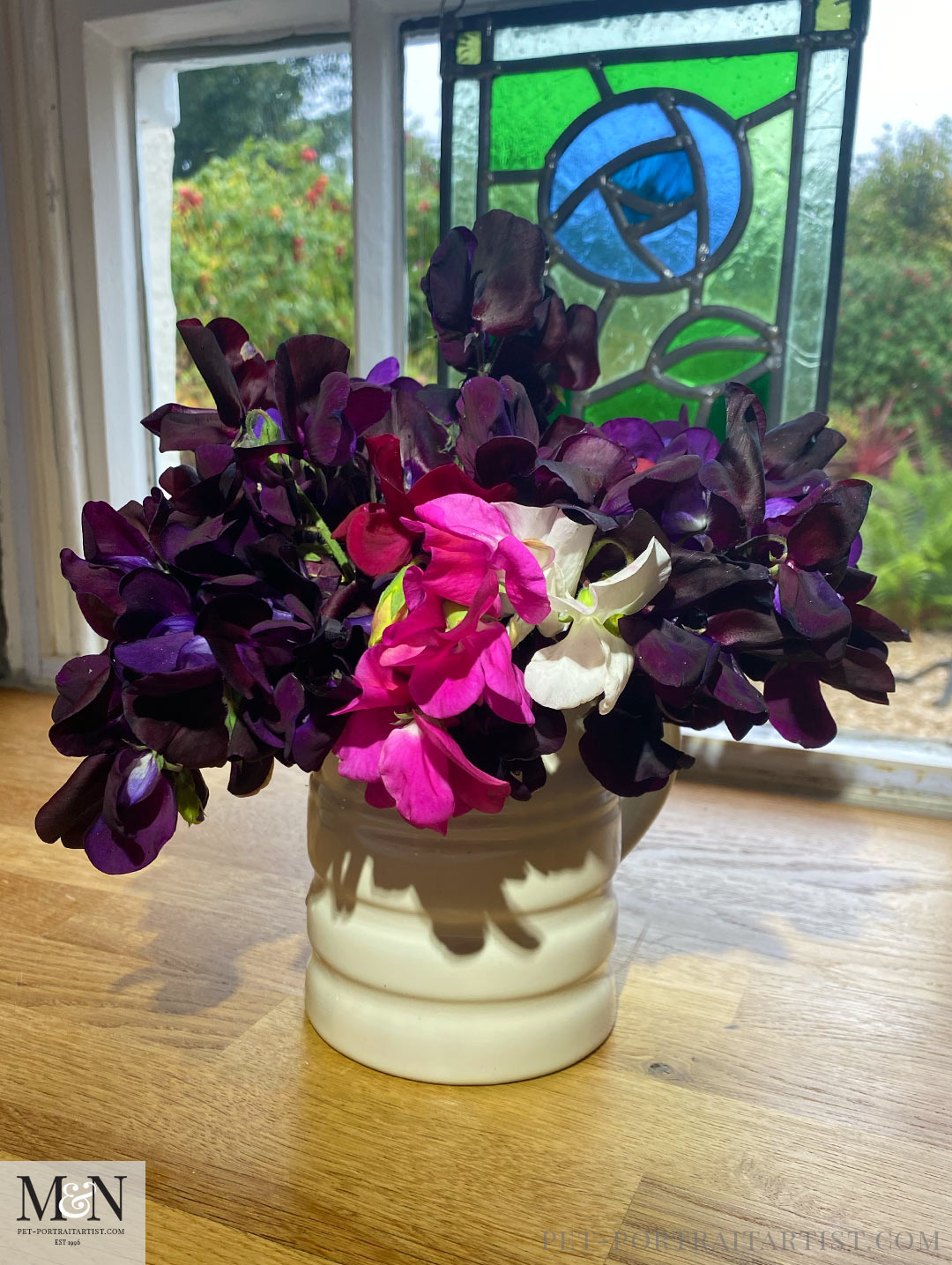 Dad always grows tomatoes galore and some of them are huge! His runner beans were delicious. He has a pollytunnel to grow the tomatoes and peppers, and then he grows beans, potatoes, leeks, carrots etc outside.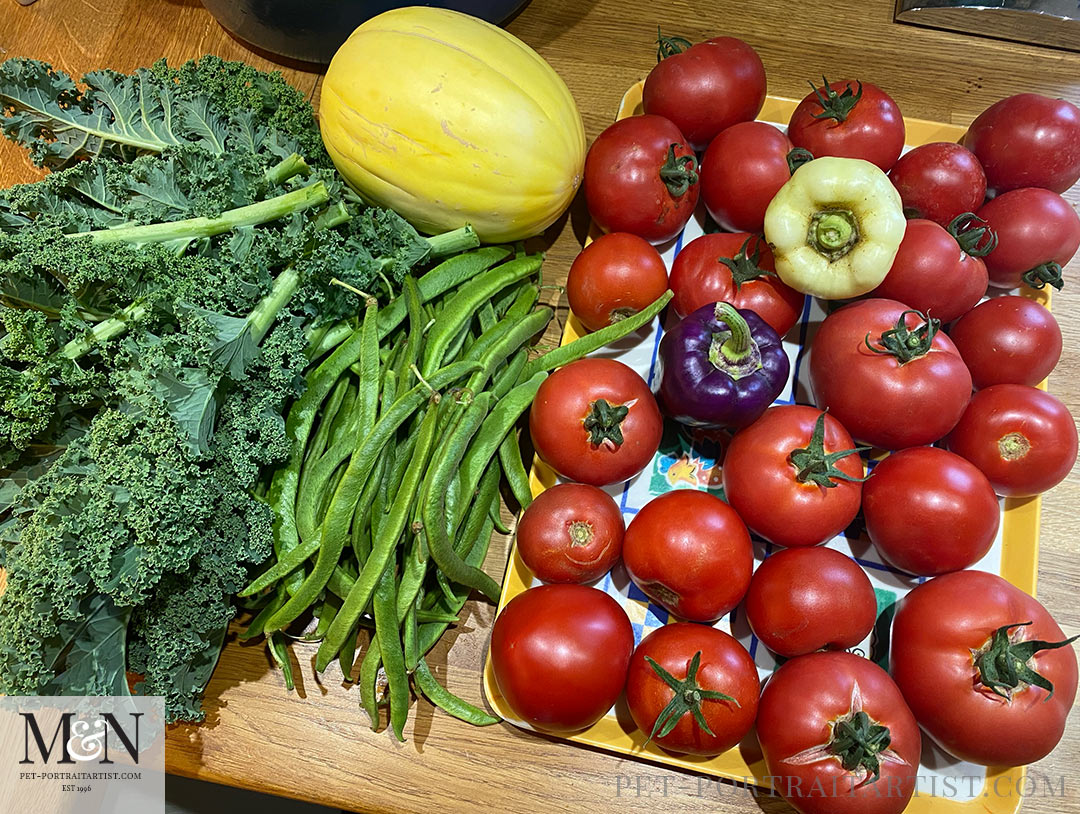 The colour of this pepper was incredible. An artists dream to paint. I'm not even sure there would be a paint colour or mix to do it justice. It's so iridescent and tasted very nice too!!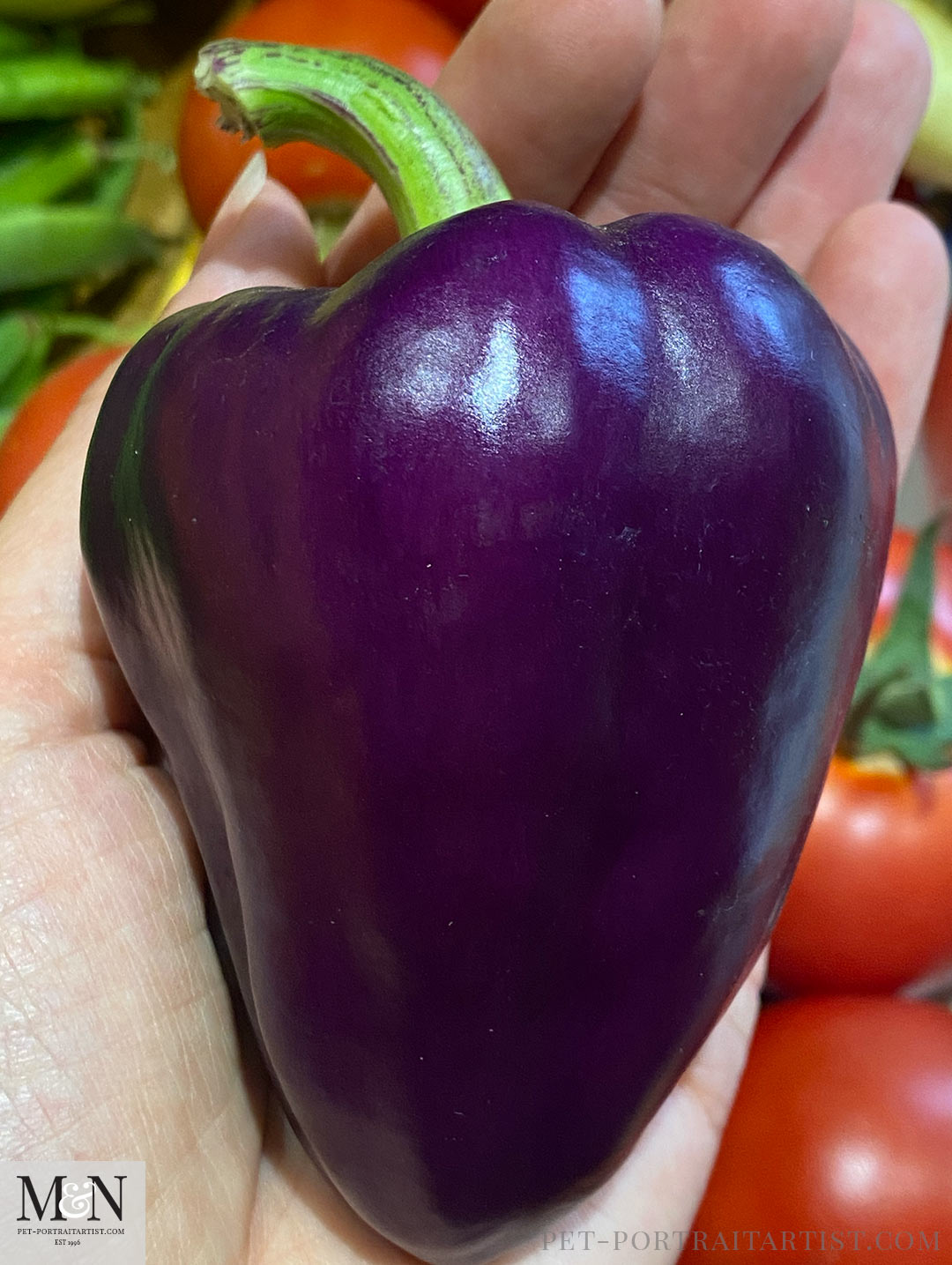 My favourite had to be his melon though. Eating from the fridge was so refreshing. Keeping a garden, as he does, is such hard work and takes a lot of dedication. He loves it (as my grandfather did before him) and my mum loves the produce and cooks with it all. So it's good team work. Apart from the melons… mum doesn't eat Melon so they are all for dad! Well why not, if you have grown them!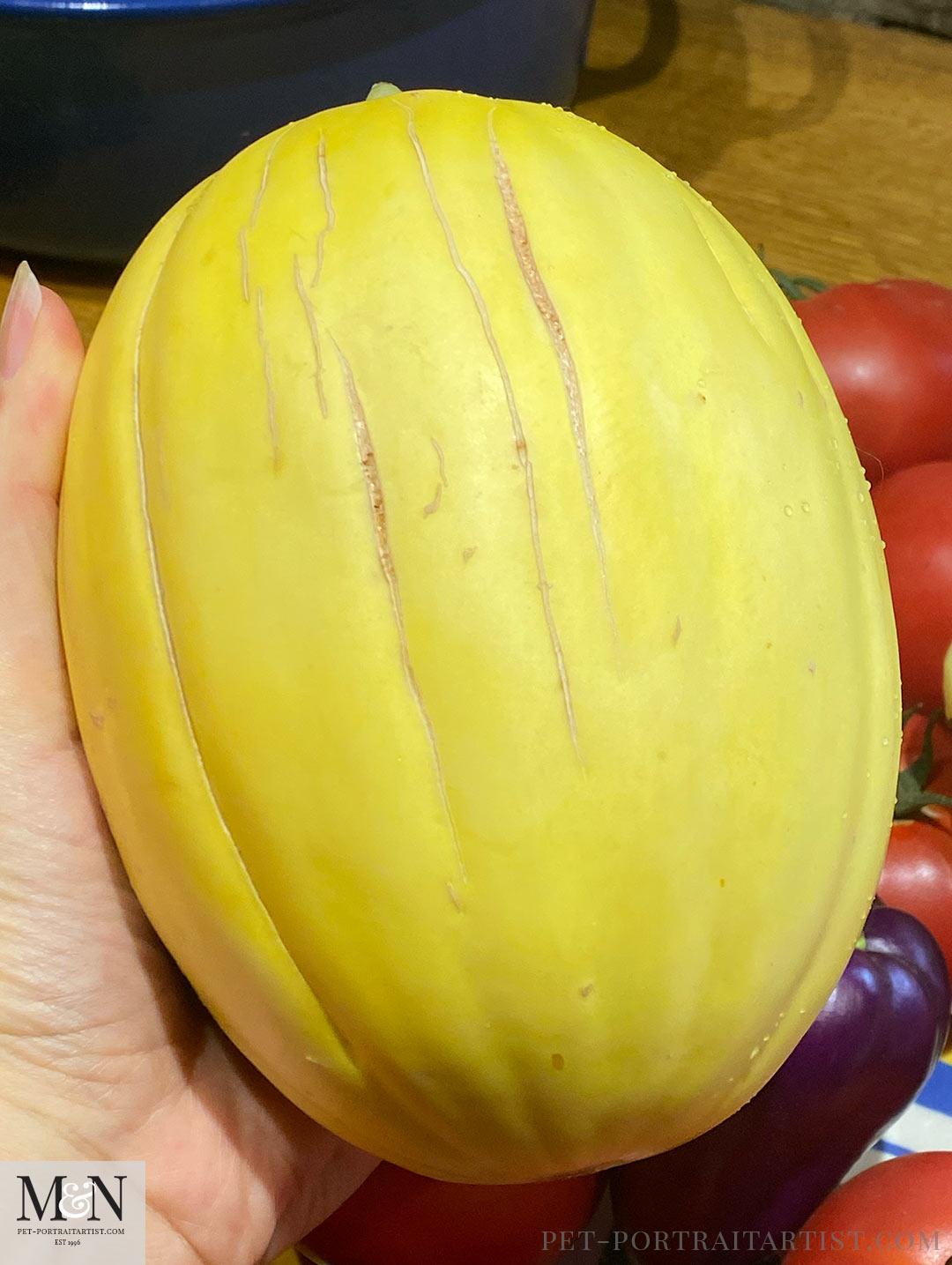 Melanie's September Monthly News – Evie's Portrait
Returning clients Baz and Leanne asked if I would be able to draw their beautiful cat called Evie. Sadly Evie passed away earlier this year and so they wanted a wonderful memory of her as a pencil drawing. I drew Evie on a 12 x 10 size and emailed Baz and Leanne some photos for them to see. There was a lot of light on the top of Evie's head and face which had lightened up her fur quite a bit and so Leanne wanted me to darken it a little. I am always happy to create tweaks to the drawings, they have to be 100% perfect before they leave the studio. Baz and Leanne were delighted with the changes. They had the portrait framed which you can see and read their email below.
Hi Melanie,
Evie is home from the framers – just though I'd share the attached photo
Thanks again for drawing her and the tweaks – it really captures her well
All the best
Baz and Leanne
Melanie's September Monthly News – Swansea 10K Race
I am still running. September is the month we all gather in Swansea to complete the Swansea 10k. I went for the first time last year and was amazed at the atmosphere. It was electric. So it had to be repeated this year. As you can see our little gang gathered for the event.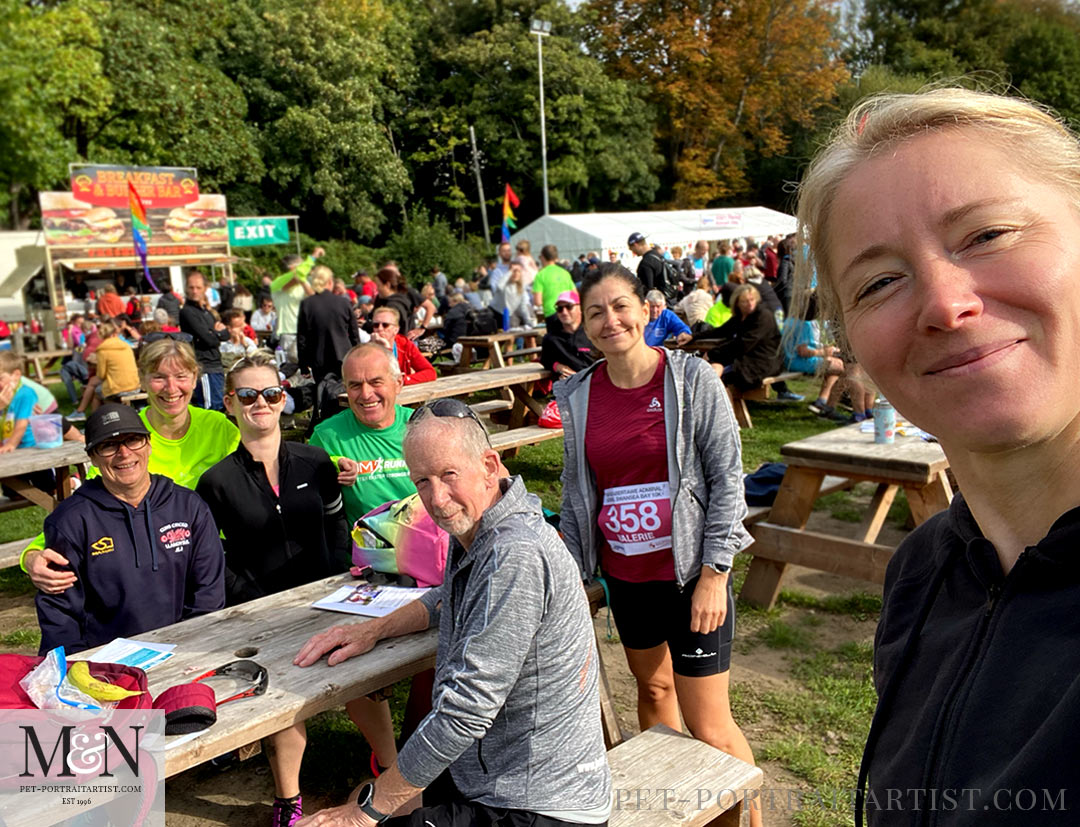 I completed last years 10k in 1.06 minutes and this year I did it in 56.17 so shaving a good 10 minutes off of my time. What was I doing last year for an extra 10 minutes?!! I was pleased with my time and have definitely improved. I know I can do better, but self improvement is what it's all about.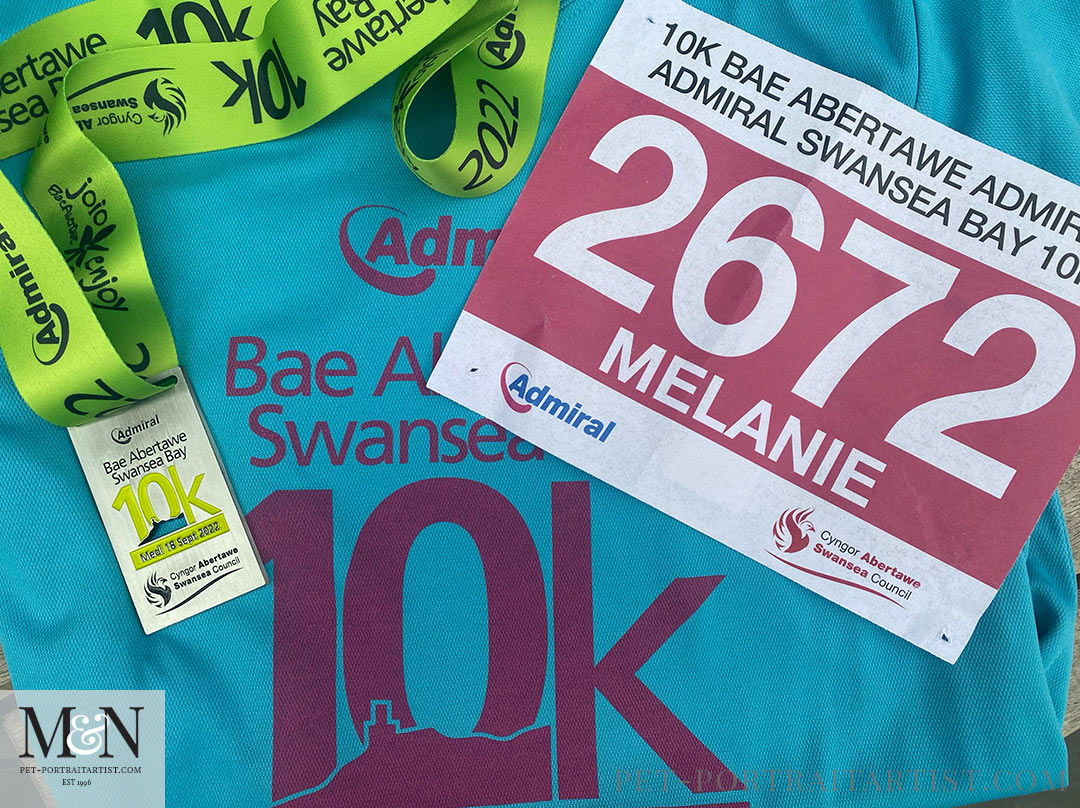 We all received a finishers t-shirt and medal. The medal is really heavy and amazing quality. The colour of the t-shirt is lovely, much better than the luminous pink of last year in my opinion!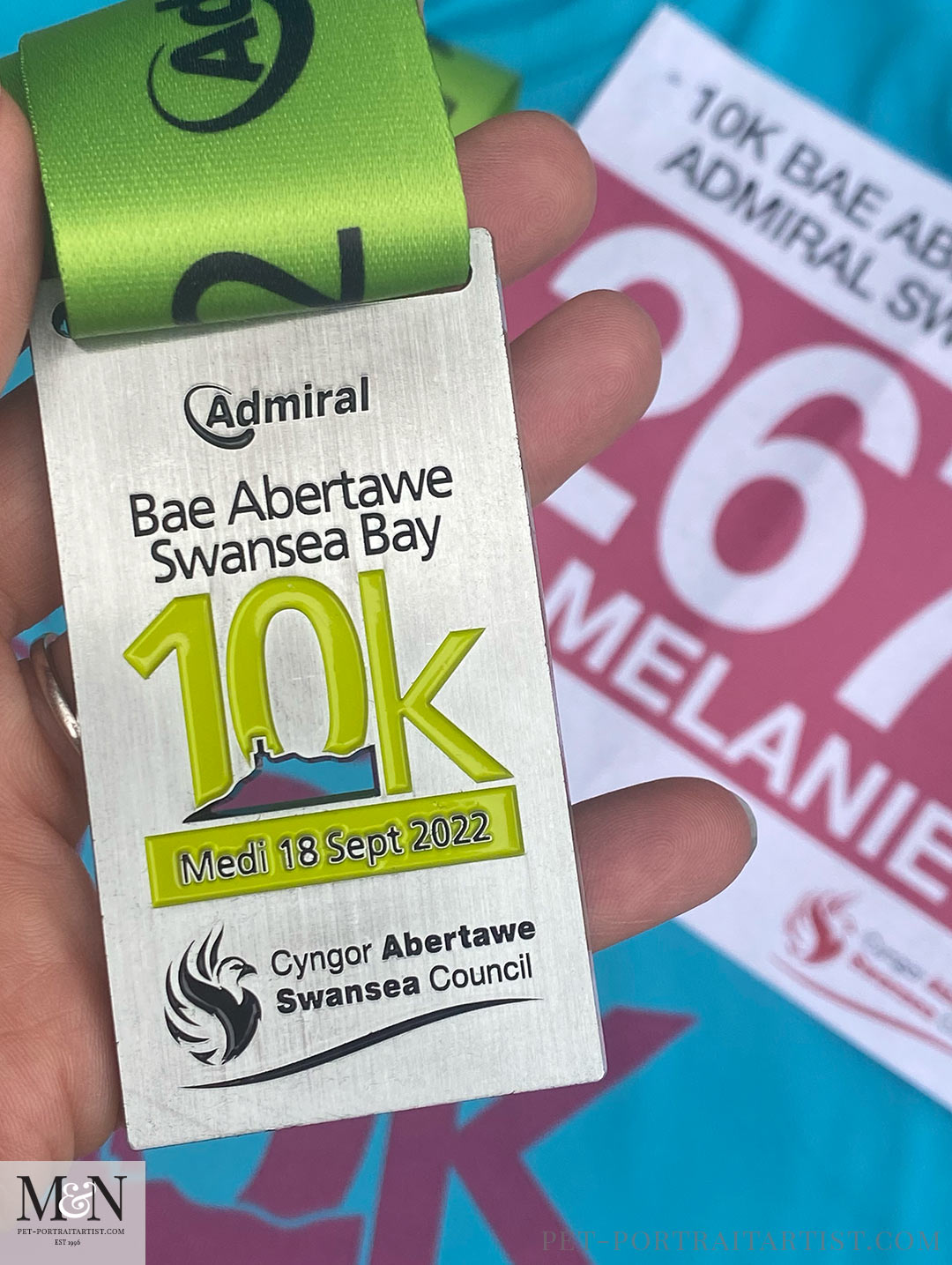 Here are a few of us after, all elated and on quite a high, everyone got PB's so we are all very happy with our achievements.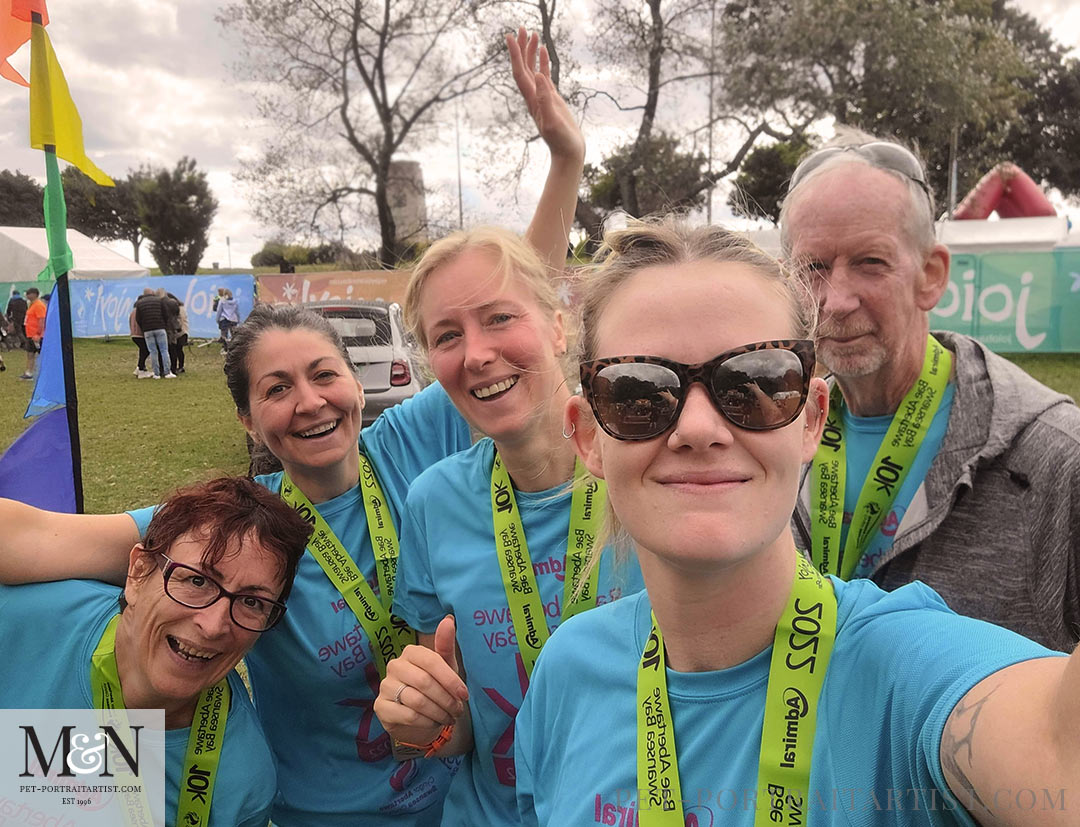 And of course afterwards we always eat! We are known for our running and then eating cake. However this time we were all quite starving and so all ordered food! The Beach and Kitchen Bar in Swansea is highly recommended by us all! Roll on next years 10k.. I'm looking forward to it already!!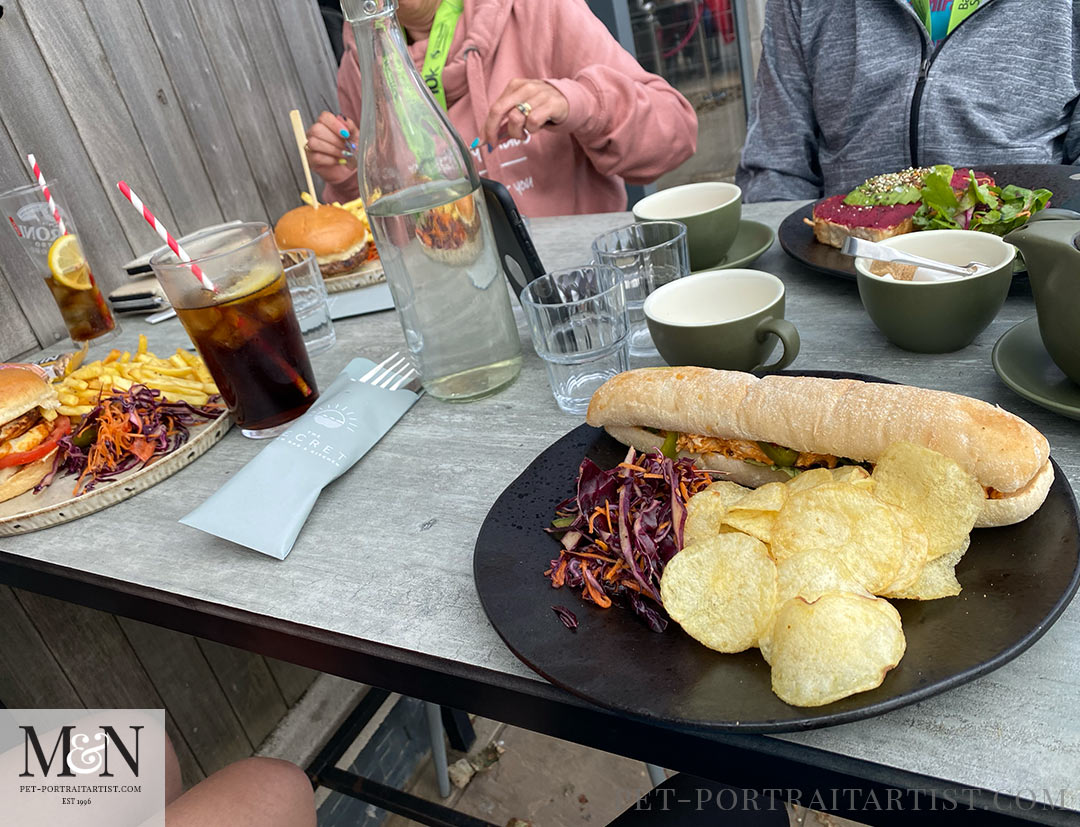 Melanie's September Monthly News – Saundersfoot
We had a little day out last week and took Sunday off to pamper ourselves. We went to Saundersfoot which is very near Tenby, in Pembrokeshire and took a walk with Lily and had lunch there too. The weather was just about perfect, as we are well into Autumn now so we were very lucky with clear sky's and no rain.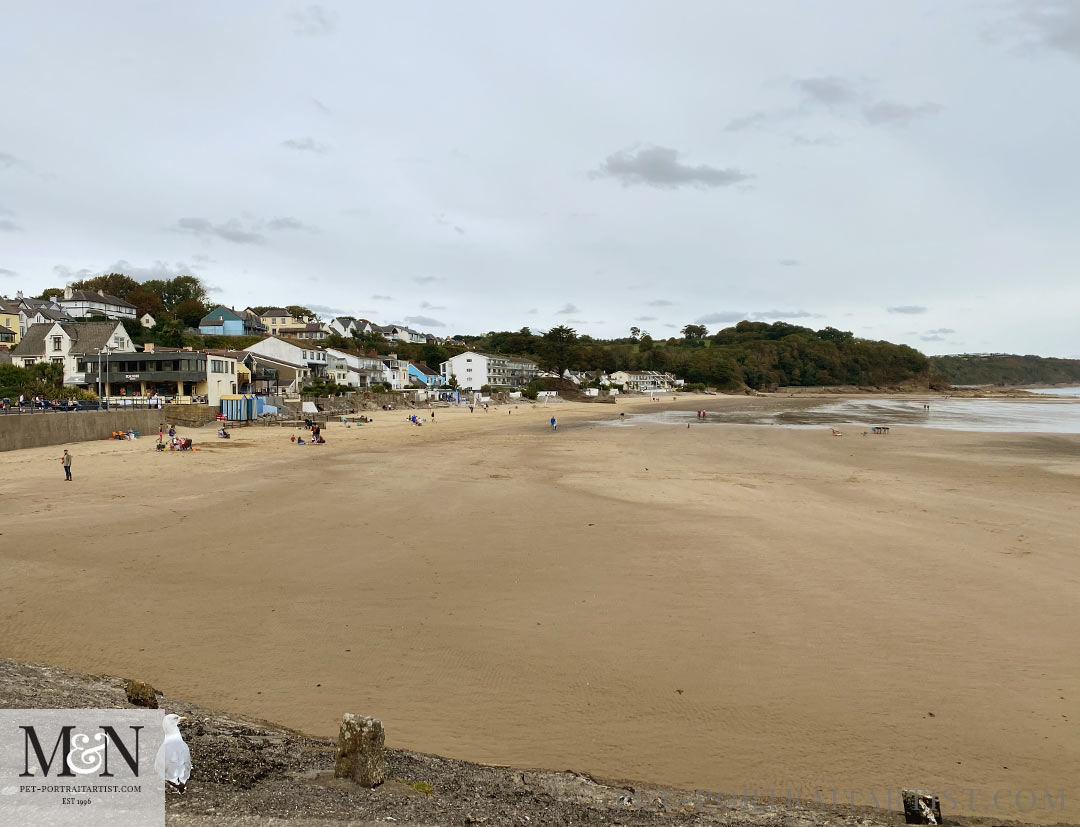 Lily gets admired a lot when we are out and about. Although she really does need a bath! She is little a little unkept at the moment! But she enjoyed looking at the view…..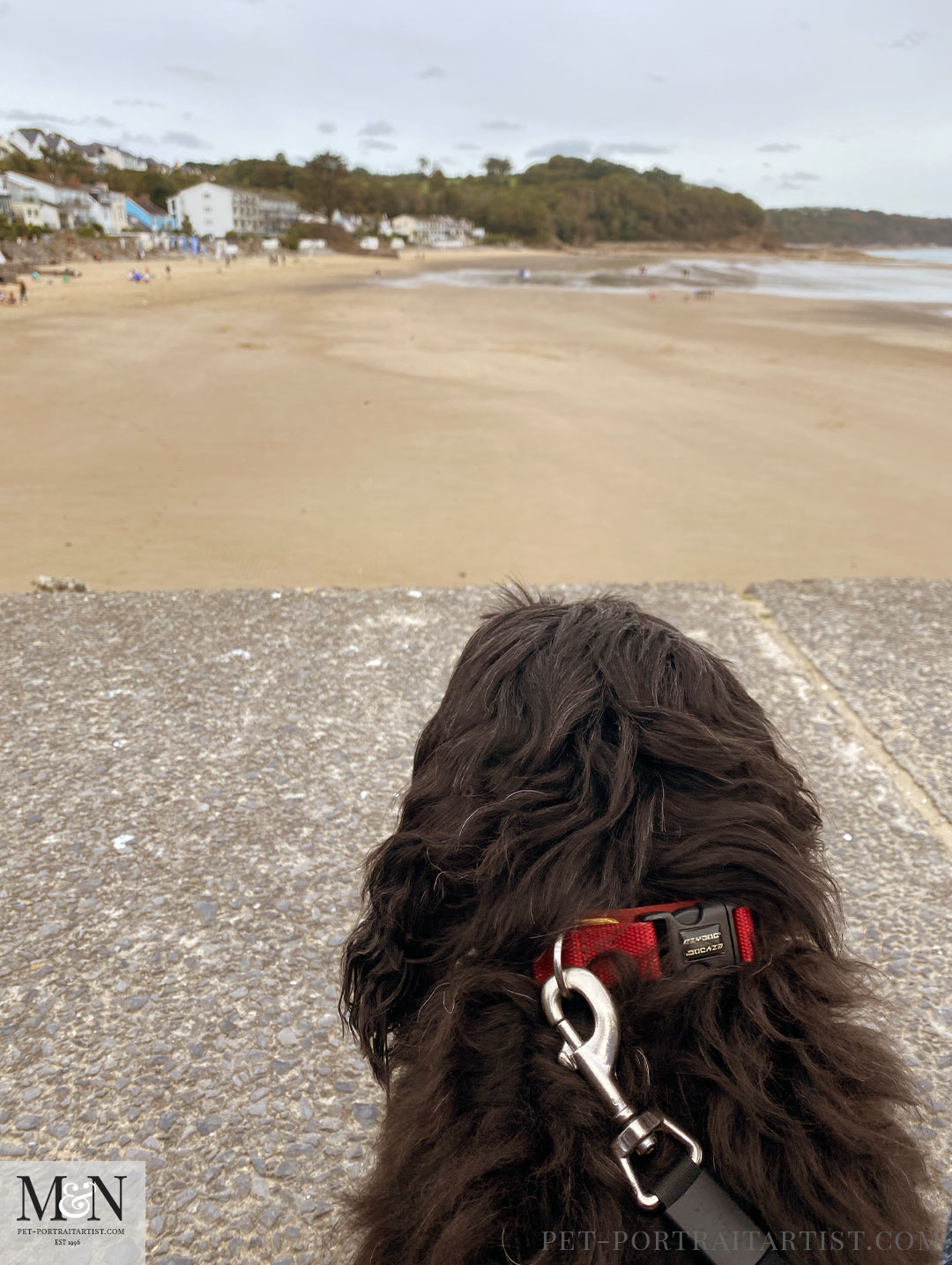 … and then looked back at us as if to say… why are we not walking!!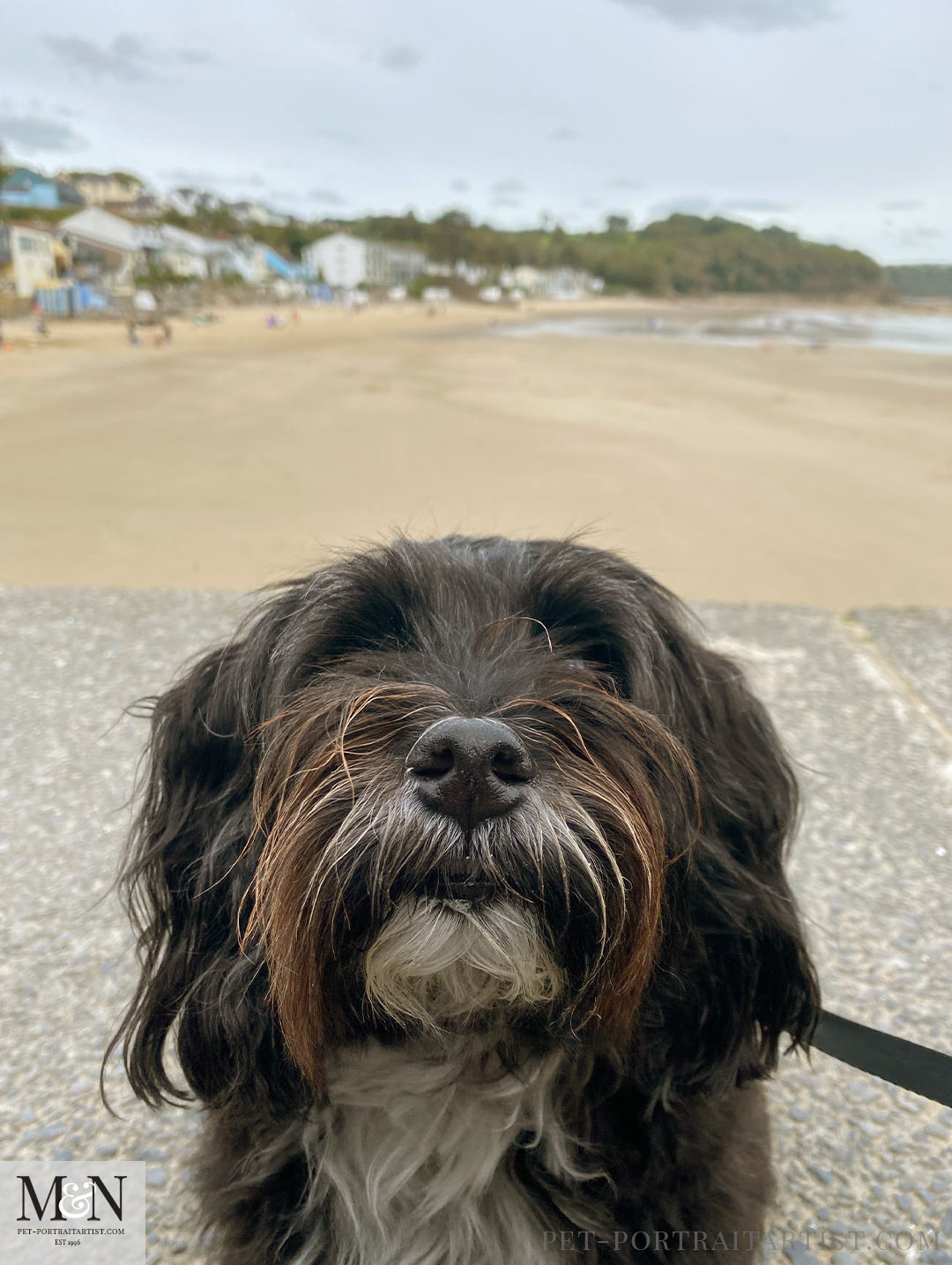 The views there are beautiful and the rock formations at stunning. We try to visit Saundersfoot a few times a year. For those who are heading to Wales for a holiday it is highly recommended.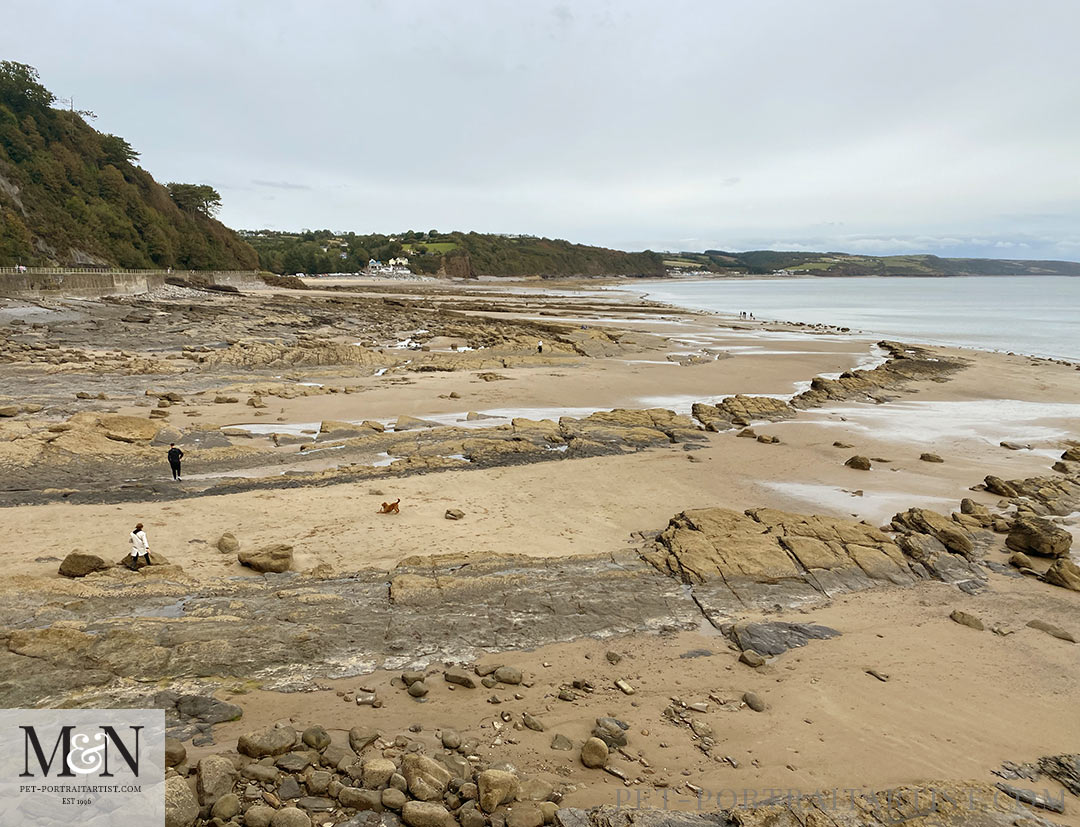 Ava the Poodle Pencil Drawing
Meet Ava! A lot of thought went into the design of the drawing of Ava, especially with regards to the background. We finally settled on a simplified version of the sofa Ava was sitting on. Backgrounds can work well as long as they don't distract too much from the subject. After all, everything here is about Ava and her beautiful face. I drew the portrait for a 100th birthday surprise, so I hope the recipient loves it.
Trail Running
My running buddy Harvey and myself are still doing our trail runs. We try to go once a week and have found a fabulous place to go where mountain bikers frequent. It's quite a tough path and you need to have a fair amount of energy to get around, but it's a lot of run. The loop is a good 6 miles and has undulating paths for the mountain bikes to go up and down, which we enjoy running on. So much so, watch the video below, one of the paths was perfect for playing aeroplanes on…..
We like to have a light hearted run, we like to eat cake after and enjoy life. What could be better!
Lily Walks and Butterflies
Nicolas and myself have enjoyed walking Lily along our little lane this year with all of the insects and wildlife to watch. It does feel very autumnal now, but happily we spotted a Red Admiral on our walk a few days ago. We decided it was so stunning it was worth of being our featured image this month.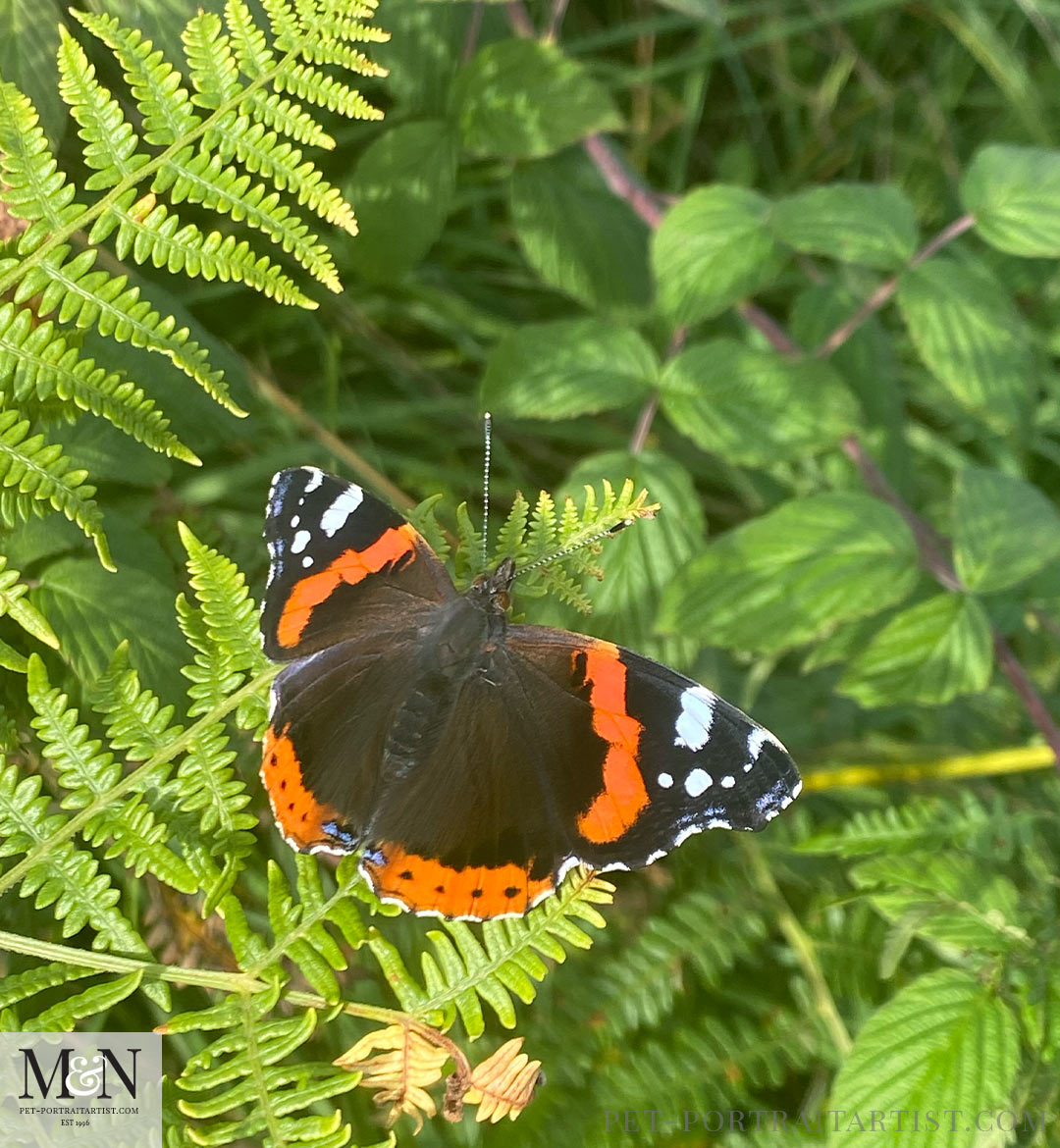 We hope that you have enjoyed our Melanie's September Monthly News and if you missed last months, please visit it here – Melanie's August Monthly News. We also hope that you have a lovely October and we will see you at the end of it for another roundup!! Stay safe everyone!
Why not sign up to our Monthly newsletter accessible at the bottom of our website which comes out on the 1st of each month. Catch up on news from our Art Studio! Please don't forget to subscribe to our YouTube Channel too, follow our Instagram @petportraitartists and Facebook @petportraitartists . You are more than welcome to comment below too, we love hearing from our readers!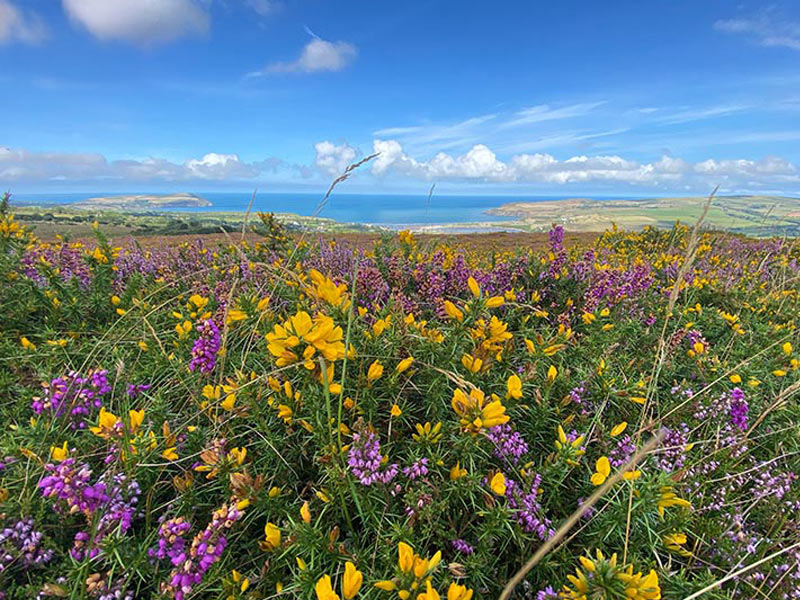 You May Also Like
March 8, 2015
December 3, 2015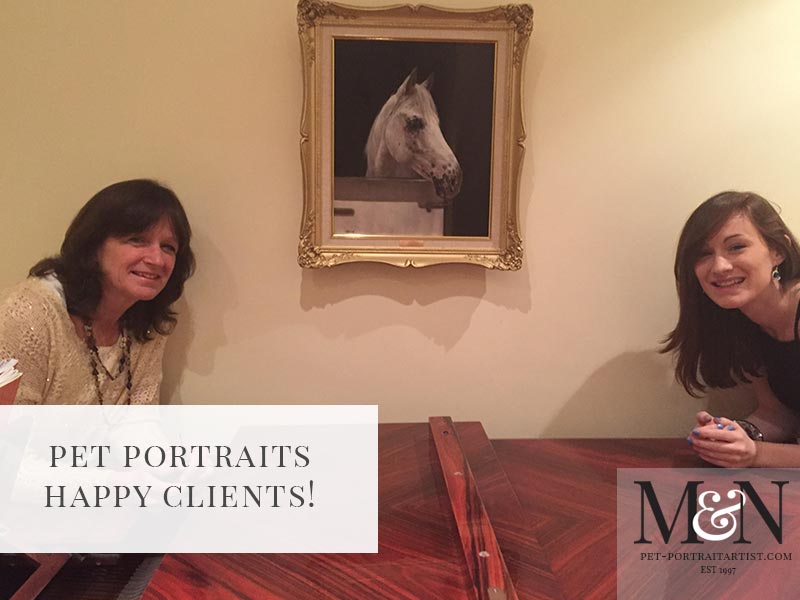 February 16, 2016