Welcome to Melanie's May News which, this month has all been about ponds, frogs, toads, water snails, newts, bees and flowers! Oh and a naughty cat! The photo below shows what the pond looks like as of today! Sitting pretty in the corner of the top cottage garden with its plants… Read on to find out more!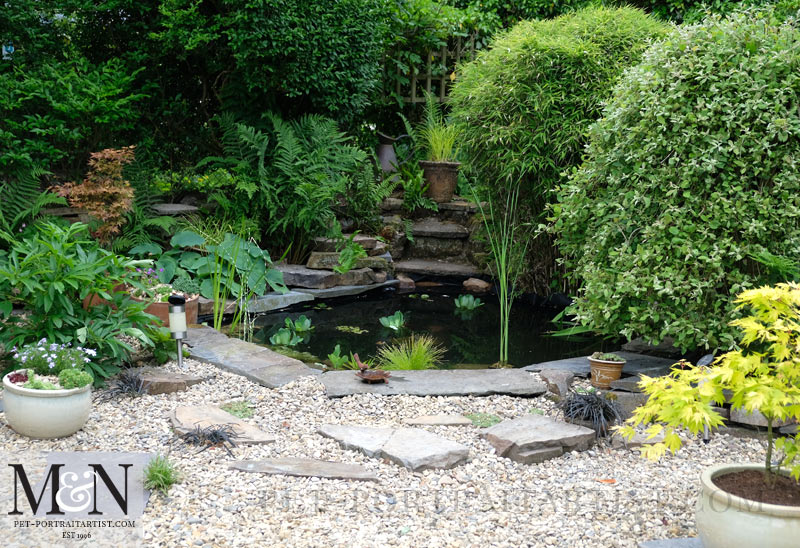 So earlier this month, we had some lovely weather, so I took the opportunity to do plenty of gardening while the going was good. Starting up at the top by the cottage, I began weeding and got to the pond. Our pond has been looking in a sorry state for a few years now. The pond irises have been progressively taking over and as you can see from the photo below, the root system on them is crazy!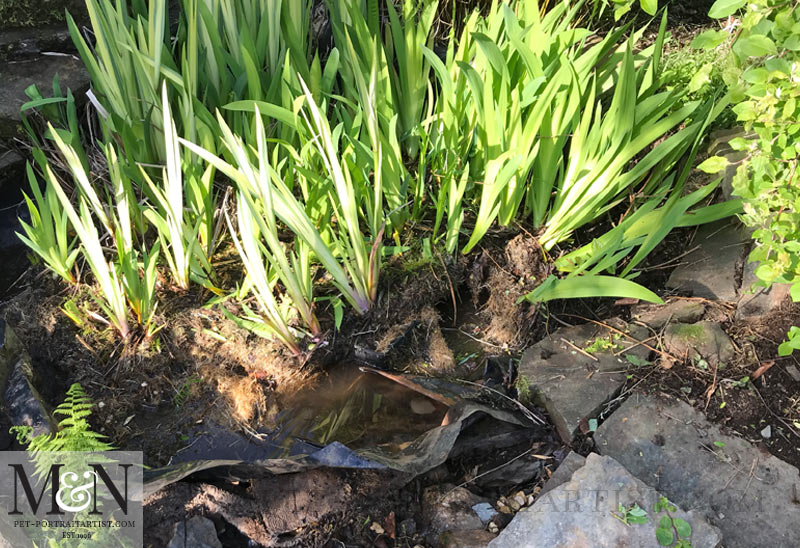 I started chopping back the roots trying to get the Irises out a little at a time, however the depth of the roots were so deep and waterlogged. It was nigh on an impossible task. Even with the help of Nicholas, we just couldn't get them out without ruining the pond liner. So after an afternoon of chopping with an axe and a pickaxe. Plenty of hard work, we managed to get the irises out to sort them. The root system was three foot deep in places.

So out came the pond liner and we had an old liner in the shed. It was possibly from a number of years ago, it wasn't all that thick, although it was big enough to triple layer. So laid it all out, water back in, plants in and stones placed around the edge.
At this point we were very pleased with our results and even did a road trip to south wales to an aquatics place called The Water Margins to get some new pond plants. They were fabulous and very helpful, we would definitely got back, although it was quite a drive from here!

Everything was great…for 3 days! We believe a cat must have knocked a piece of slate in from the steps behind the pond, into the water. When we woke up one morning it was dug into the liner like a sword! Oh dear! We did try to fix using an underwater pond glue and patch, however sadly it didn't work. We admitted defeat and purchased a new thicker, super duper, rubber liner online at pond superstores. They were fantastic and sent the pond liner really fast, considering we had quite a leak! We didn't want to loose too much of the water of course.

So as soon as the liner arrived, the water went back into the waterbutt, plants taken out, new liner down and time spent on replacing the edge stones. We designed it all a little differently the second time around. Even raising up the edge to make it slightly deeper at the front. The birds drink and bath but we didn't want them to eat our water snails as Blackbirds will! So we raised the front and placed larger slabs there to make it all safe and secure.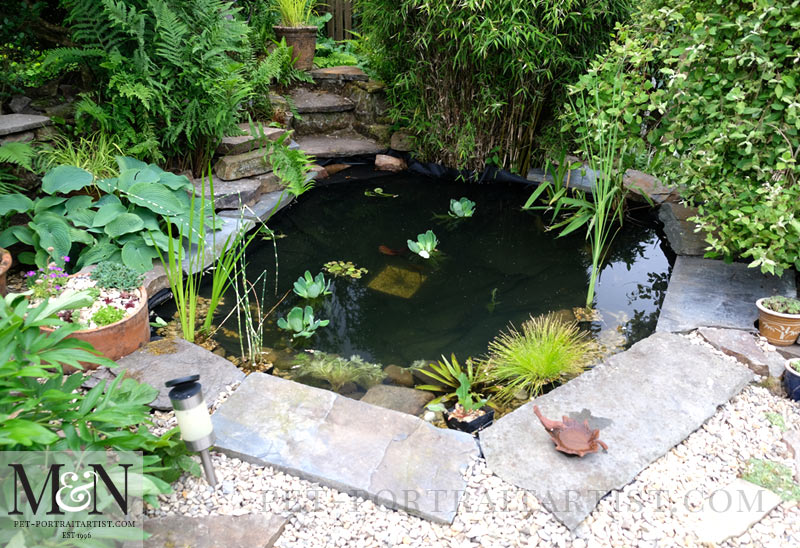 As you can see below, all of the little alpines are doing well in the tubs. The peony is in full bloom – albeit a little heavy for the stalk due to it's amazing flower!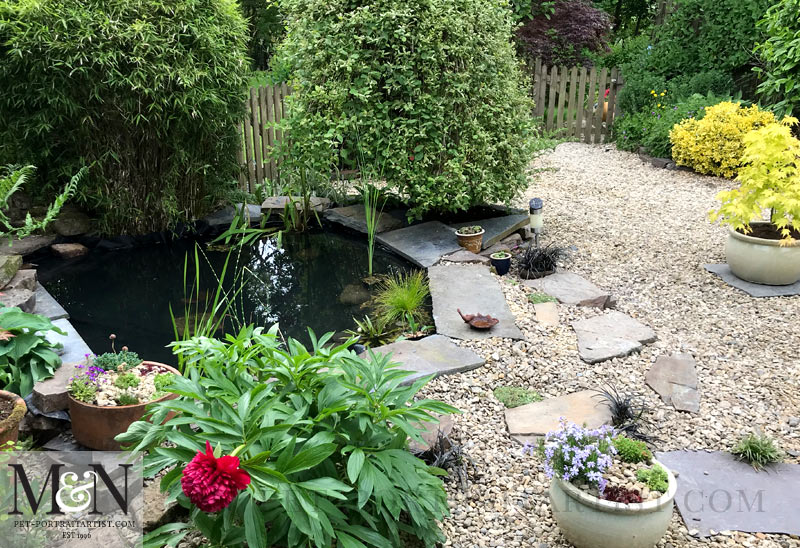 The floating plants are lovely and we picked a few more up today at our local garden centre. The Lily and the tall bull rushes you can see were from the aquatics place. So all in all a great project! Although it probably took us twice as long, we have come up with a lovely wildlife pond again after all these years. The frogs and toads are happy now. There was so little water left earlier this year they could hardly lay their frogspawn. The newts are happy as we have seen those. Plus of course the snails – all called Brian after Brian the snail in 'The Magic Roundabout'!
Other plants are coming to life gradually in the garden, although its quite showery and overcast at the moment, the wet and warm weather is good for growing. Everything is very green which is great.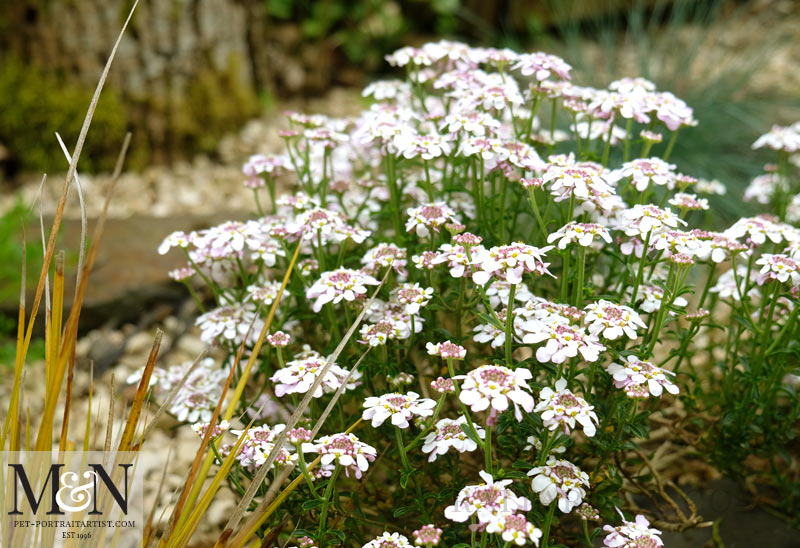 The photo below – always such a happy plant which flowers most of the summer!
We have an abundance of bees here this year and I actually managed to capture a few in the photos below. The White Tailed Bumble Bee on his way in…..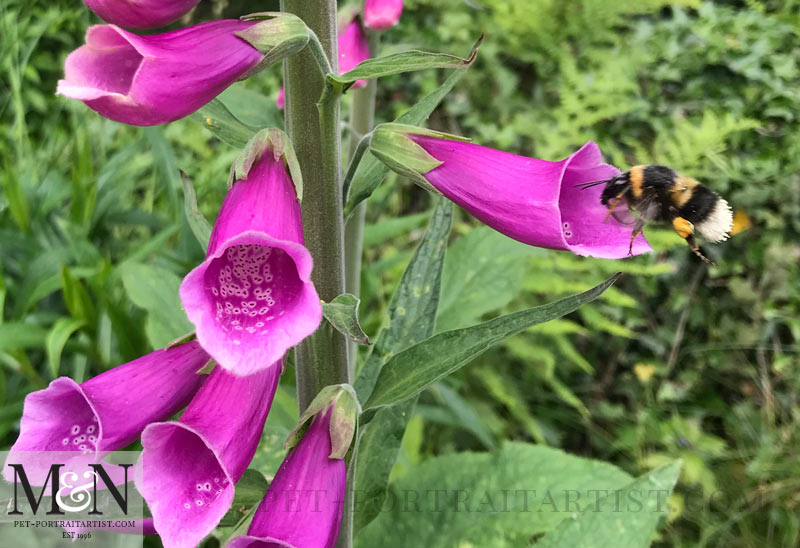 …and actually in the tube on a lovely Foxglove covering himself in pollen.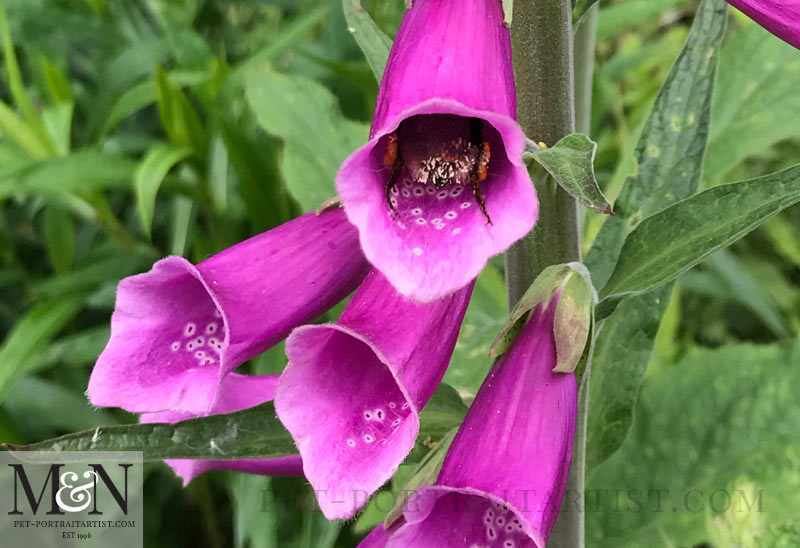 The bee in the photo below on the Sage is a Common Carder Bee.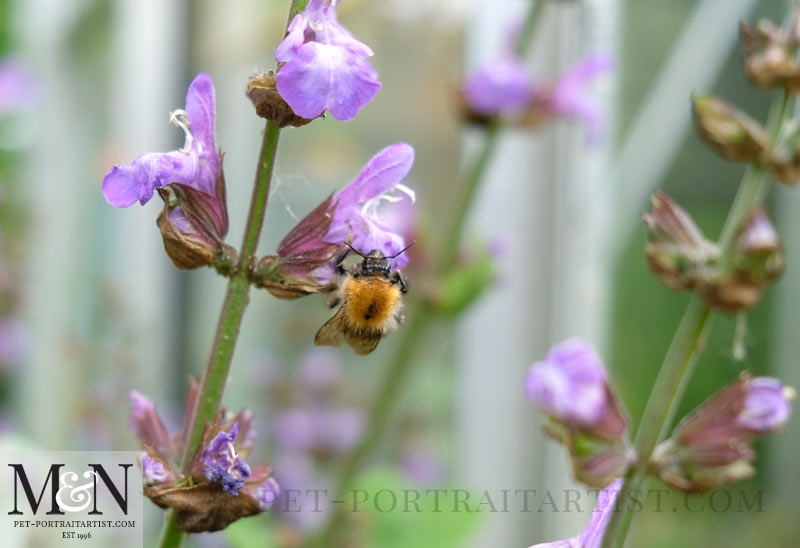 Lastly here is Lily posing by the pond. Yes I made her sit there. I believe she is just putting up with yet another photo taken of her…!! I hope that you have enjoyed our Melanie's May News and we hope you stop by for the next one in June!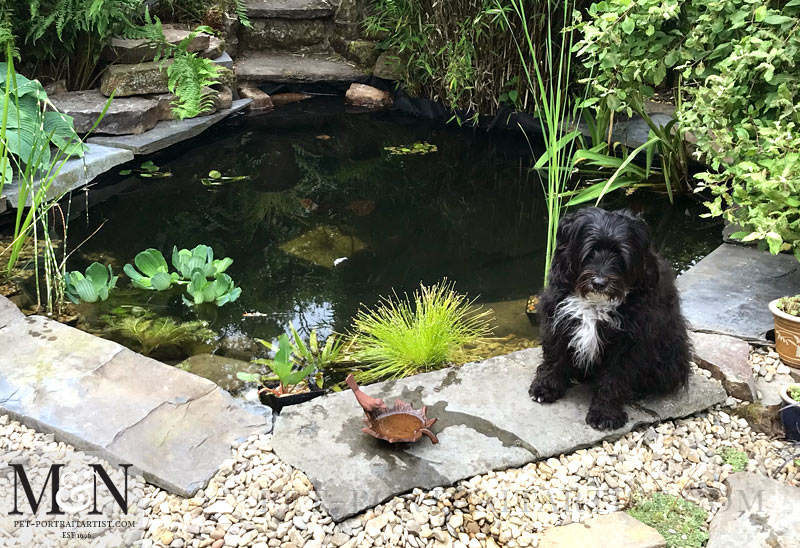 Finally, we hope that you have enjoyed viewing our Art Studio Blog. Why not sign up to our Monthly newsletter accessible at the bottom of our website which comes out on the 1st of each month. Consequently this means, you can catch up on all of the portrait stories and news from our Art Studio! Please don't forget to subscribe to our YouTube Channel too, share, like and follow our social media and you are more than welcome to comment below, we love hearing from our readers!