Oil Pet Portrait of Boo The Pomeranian
May 31, 2019
Welcome to Nicholas' latest oil pet portrait of Oil Pet Portrait of Boo The Pomeranian! Our client Sienna Mason Davies called our studio to chat about having an oil painting of her boyfriend's Pomeranian called Boo. Sienna didn't have any photos that were perfect for the portrait, so we helped guide her in taking the perfect photo of Boo for the painting.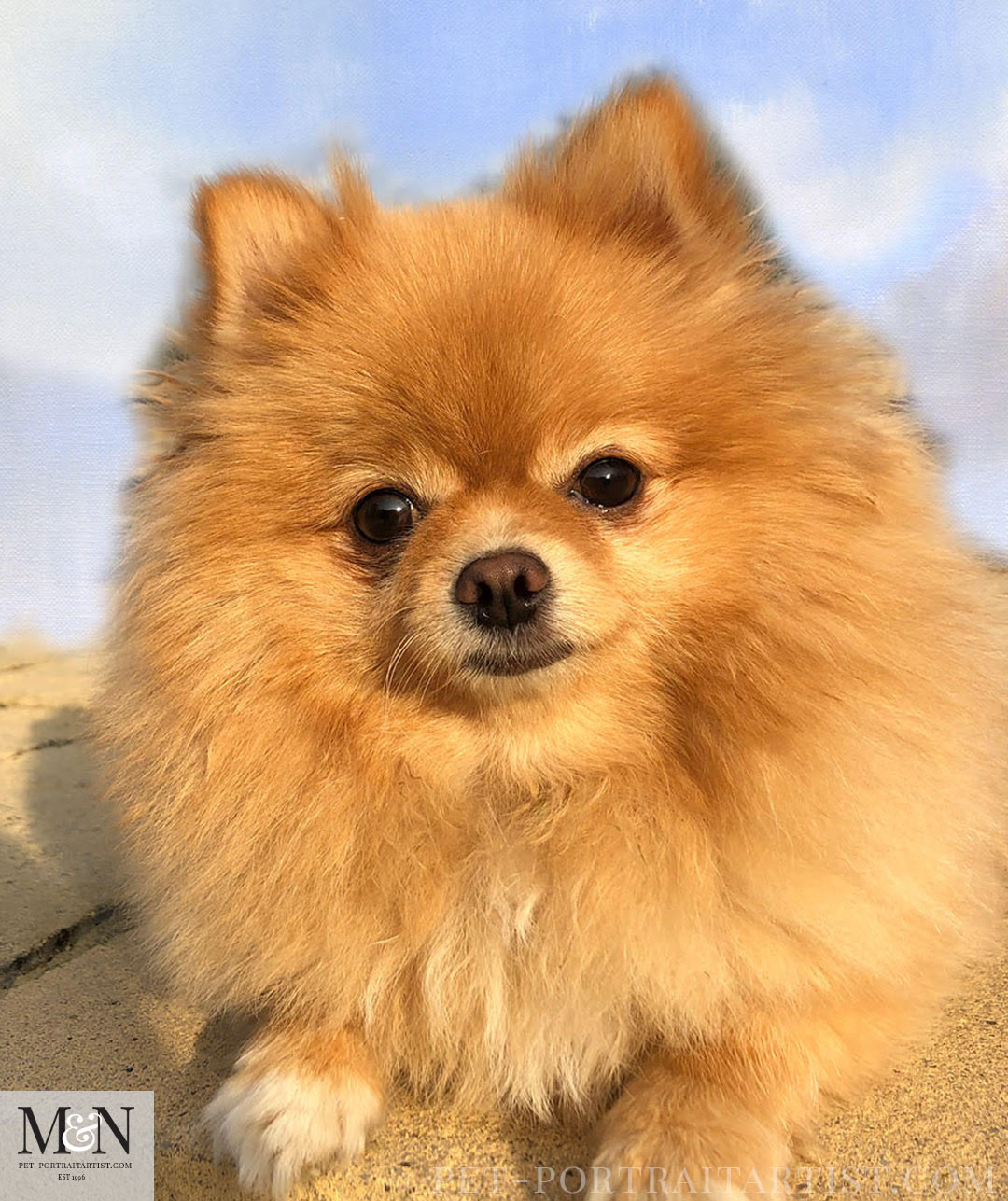 Because Pomeranian's are quite small, it's often best to put them on a higher surface – somewhere safe of course. So that you can take photos of them at your eye level much easier. Clients have often placed them on a picnic table or in Boo's case, Sienna placed Boo on a wall with grass behind the wall which was a completely safe place for Boo to sit. You can see the original photo in our mockup with the blue sky background Sienna requested on the left.
Sienna decided that she wanted Boo's portrait to be a 12 x 10 inches oil painting which was the perfect size for Boo. Often you want the portraits to be either life size or a little smaller for the dog. So this is a really good size for Boo. You can see the final painting below and if you scroll down further you can see the painting in progress and the final painting framed.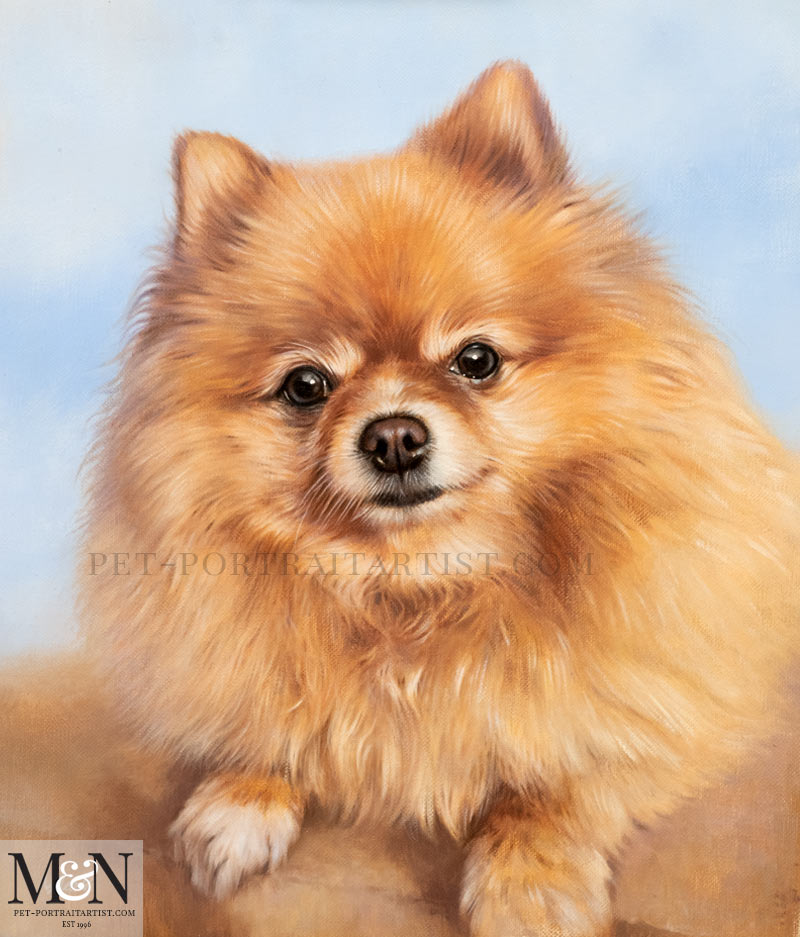 Oil Pet Portrait of Boo The Pomeranian in Progress
Sienna sent the email below when she received some of the work in progress photos of the portrait!
Thank you so much for your email with the stages so far. Omg I have goosebumps looking at Nicholas's painting so far of Boo. He is so wonderful. Thank him so much from me please and a huge thank you to you too. Have a wonderful day and enjoy the sunshine. Lots of love xxx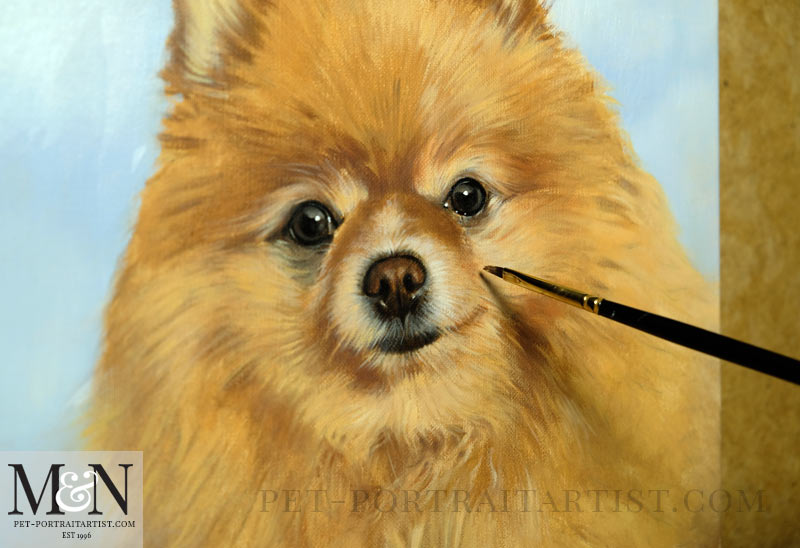 The photos here are just a few taken while Nicholas was creating the portrait in our studio. He traditionally hand paints all of his portraits and works for many hours standing at his easel.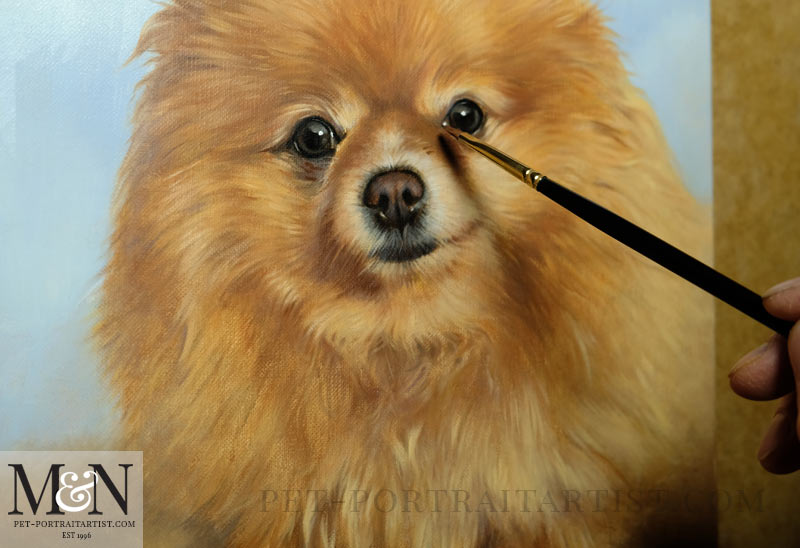 The few stages below show a good progression of how the portrait developed. Our clients often receive all of the stages via email to watch and keep for posterity. It allows them to really feel part of the process.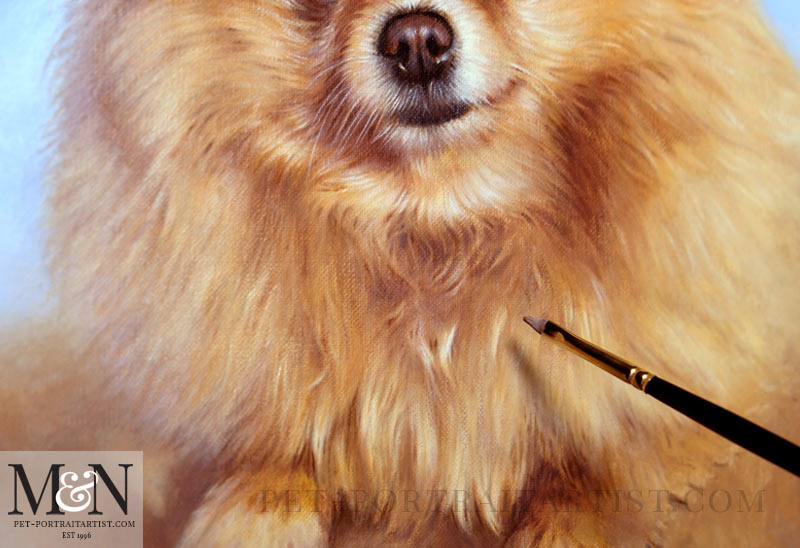 Watch the video of Boo's Painting!
In addition to the photos below, here is a very short video of the portrait taken just prior to packing. My gimble's batteries need renewing so it is just a hand held video, however we hope it gives you a good idea of how the painting looks in real life!
We collectively felt the Regent Frame would be best for Boo's portrait. It is also the perfect size for a 12 x 10 inch portrait. Our framers are complete craftsmen. Hand finished and hand crafted, our frames including the Regent are all simply stunning. The framers also taper and curve the back of the frame too. This means it both covers the depth of the canvas and looks lovely and delicate too.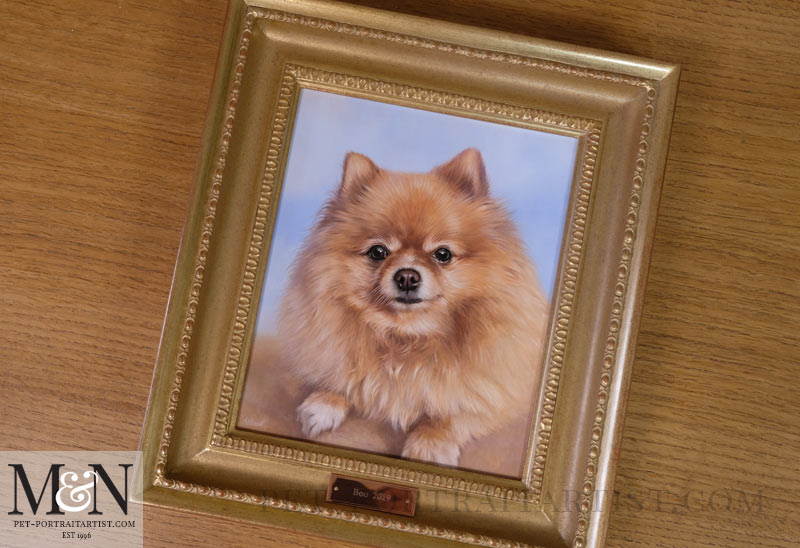 Commission your own Pomeranian Oil Portrait
Nicholas absolutely loved painting Boo for clients Sianna and her family and really enjoyed bringing Boo to life on canvas. With his delicate touch and experience in painting in oils, he captured Boo the Pomeranian's personality and character beautifully.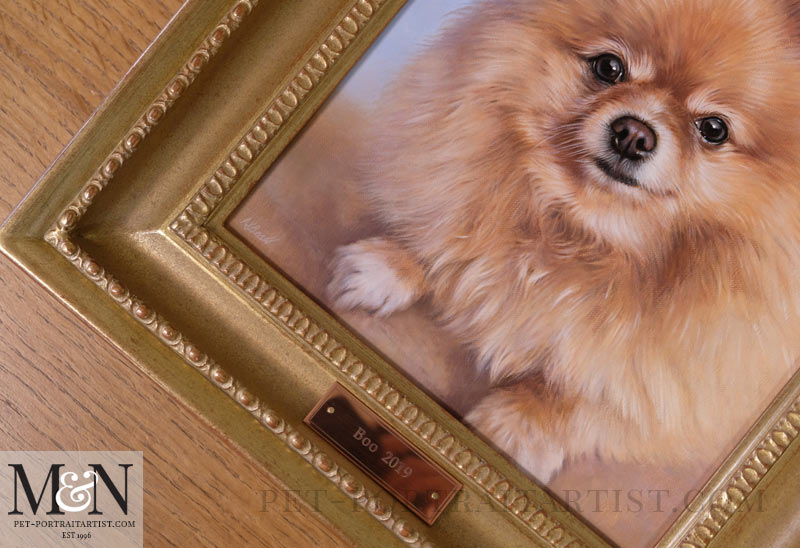 If you're a proud Pomeranian owner and would love to have a custom oil portrait of your pet, don't hesitate to get in touch with us. Wed love to hear about your Pom, send us your photos and we can give you some idea of how your oil portrait could look.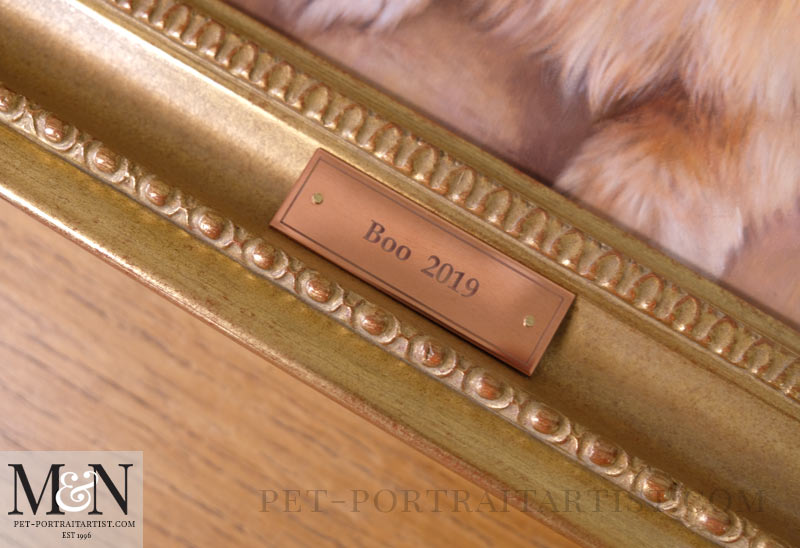 We always create a mockup for our clients, just like we did of Boo for Sienna. This means you will always be able to see exactly what your portrait will look like before putting brush to canvas.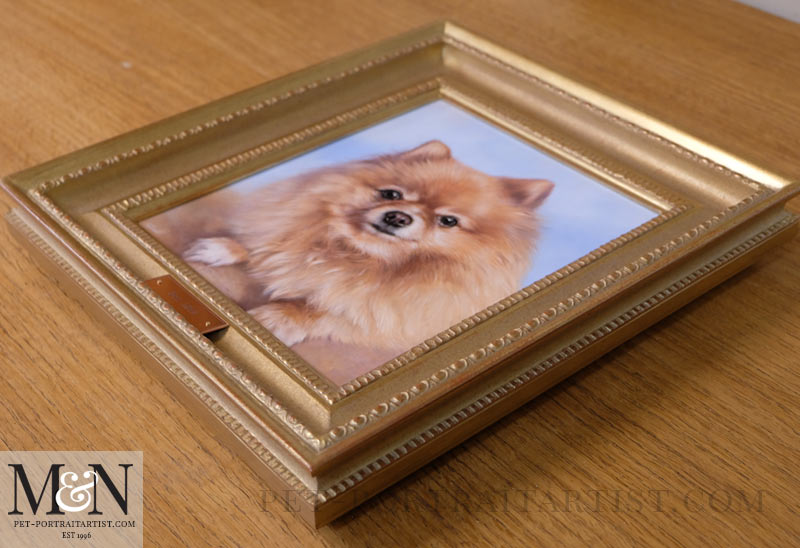 Try to take plenty of photos of your Pomeranian to capture their personality and cacahter in your photos as this will then shine through in the portrait. The key is to take photos of them in the daylight, preferably outside if you can. If this isn't possible, taking photos of them by a window or glass doors in mid day sunlight should allow enough light to make your Pomeranian's coat sparkle.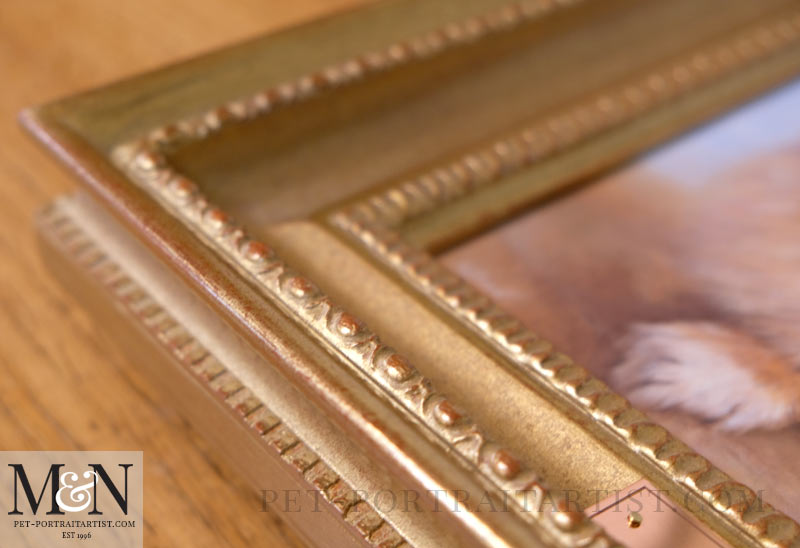 We very much look forward to hearing from you and hope that we can get you into our commissions list to save your space for an oil painting as soon as possible! Especially if you need the painting for a special date.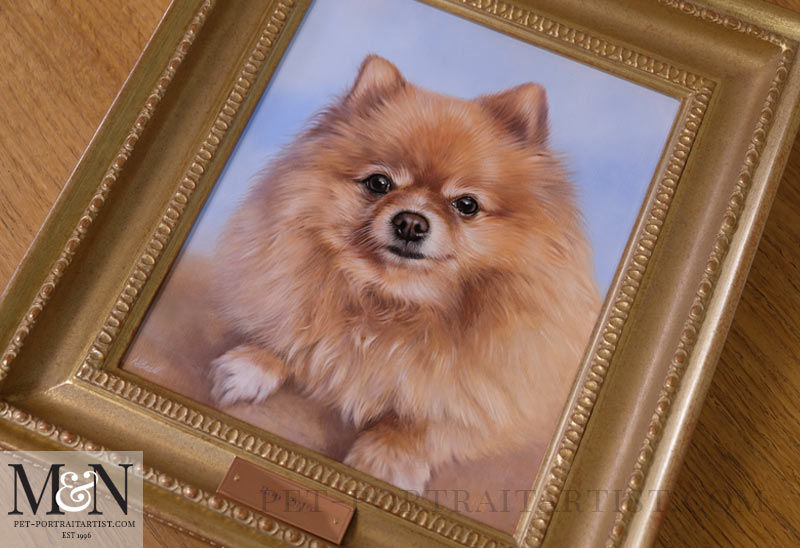 Are you enjoying our blog? Why not sign up to our Melanie's Monthly News, which comes right into your inbox each month! You can sign up at the bottom of our website or at the top of the blog. Please don't forget to subscribe to our YouTube Channel too. You are more than welcome to comment below, we love hearing from our readers!

You May Also Like
December 23, 2017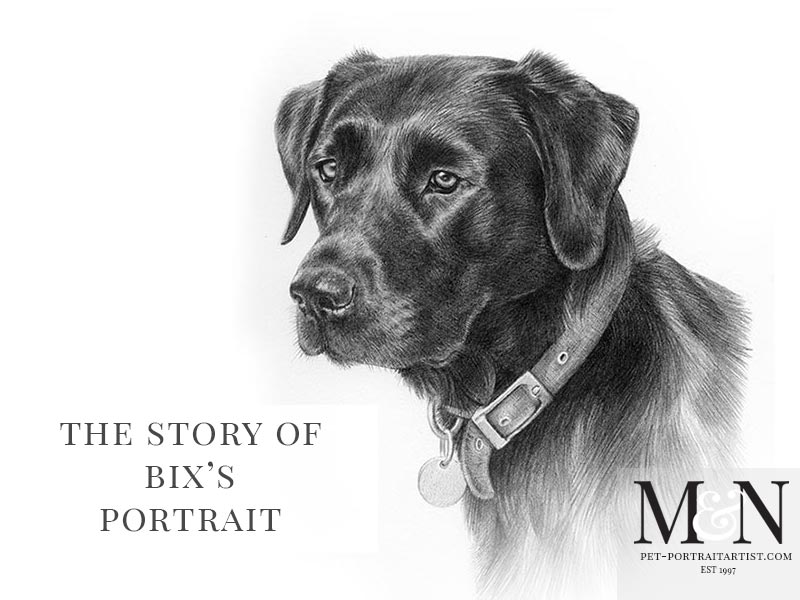 February 19, 2015
November 26, 2014