Yorkshire Terrier Pencil Pet Portrait
May 31, 2019
Welcome to my latest Yorkshire Terrier Pencil Pet Portrait of Chloe! Returning client Bob commissioned the pencil pet portrait of Chloe his Yorkshire Terrier. We have also actually met Bob and Jennifer! They came over to the UK visiting family and took a trip around Wales and came to see us. It was wonderful! They previously commissioned the oil portrait of Lance which you can see here – Oil Portrait. Bob commissioned Chloe as a surprise for Jennifer. He emailed when the portrait arrived…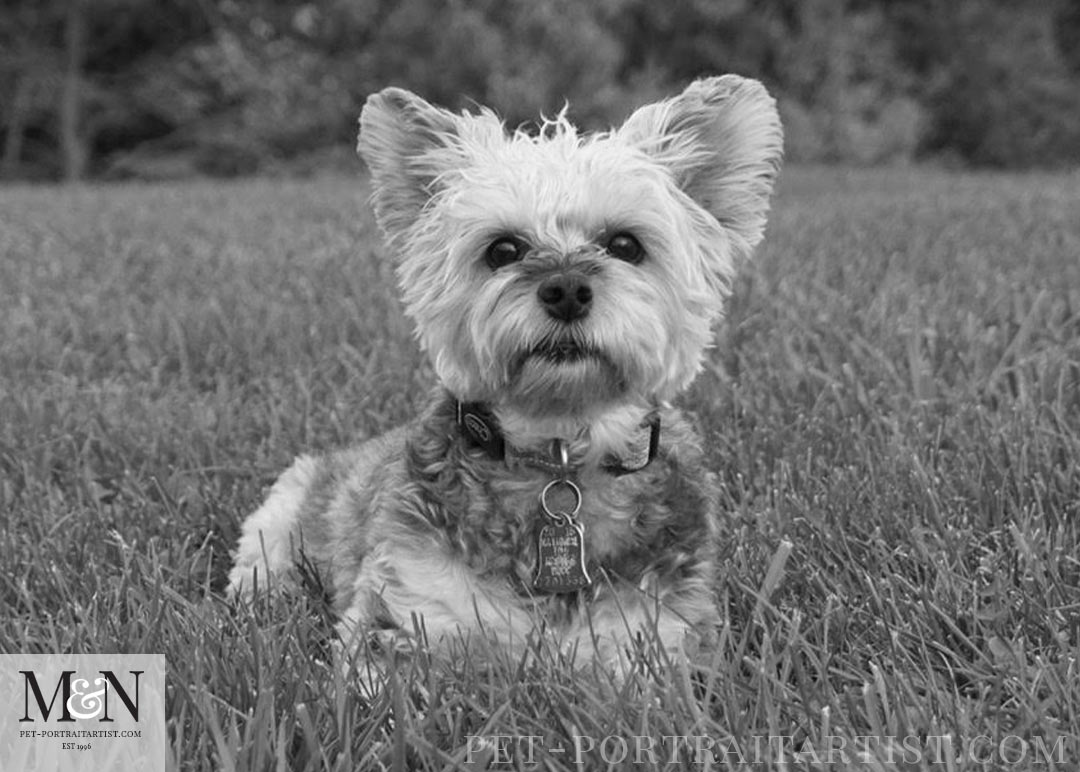 Melanie,
Chloe arrived today a few days early. It was great because I don't leave until tomorrow for a trip. I surprised Jennifer tonight. She loves the drawing! She actually began to cry a little. It looks amazing. We've got Chloe sitting next to Lance on the mantle until the new house is finished.
Thank you so much!
Bob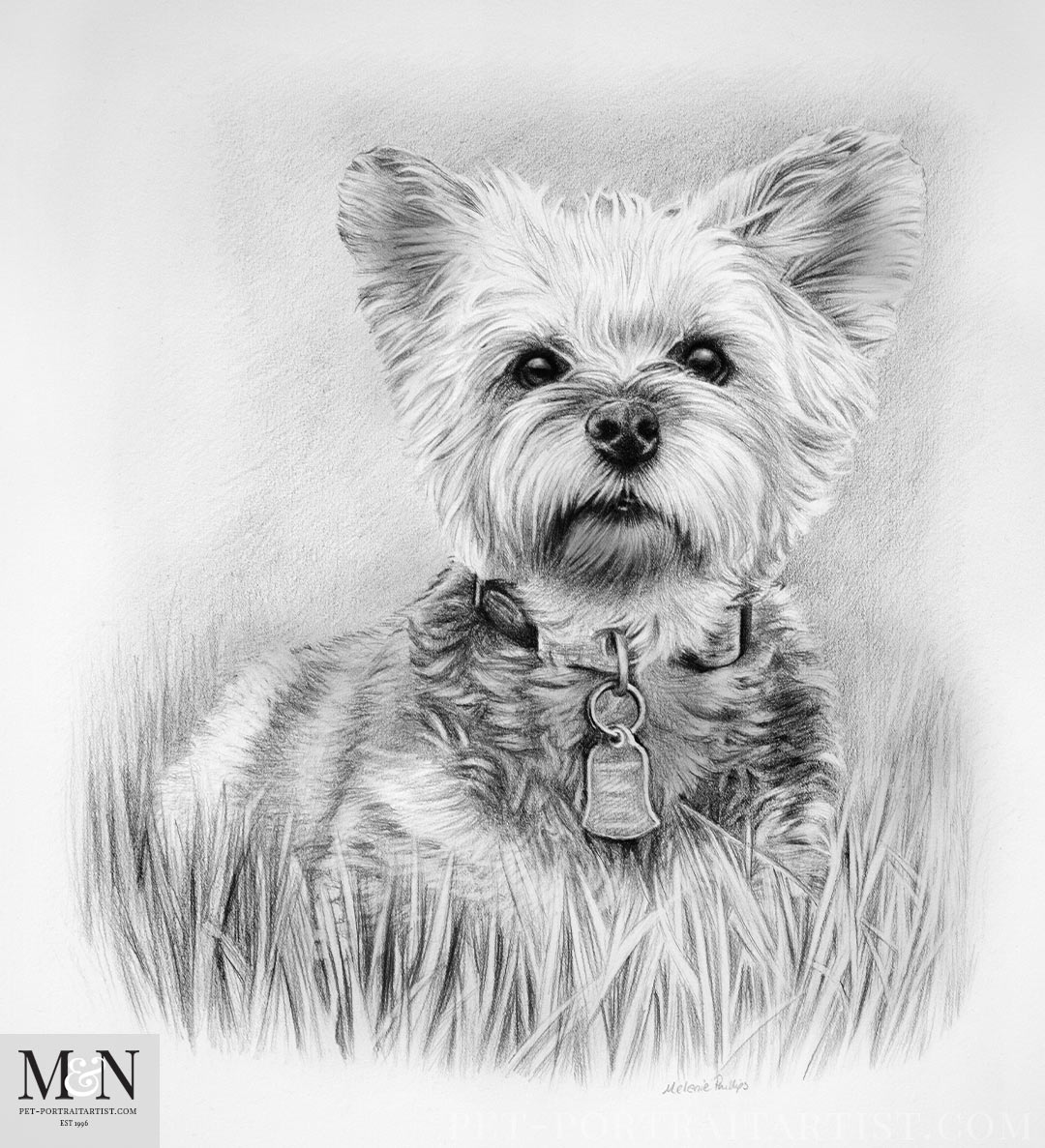 Yorkshire Terrier Pencil Pet Portrait Candid Shots
I have added some photos of the portrait below with my pencils to help show the scale. I like to take a few photos of the portrait on angles so that clients can really get a feel as to how the drawing looks. Just in case they require any tweaks at the end. The portrait was a 15 x 13 inches drawing which of course is a bespoke size.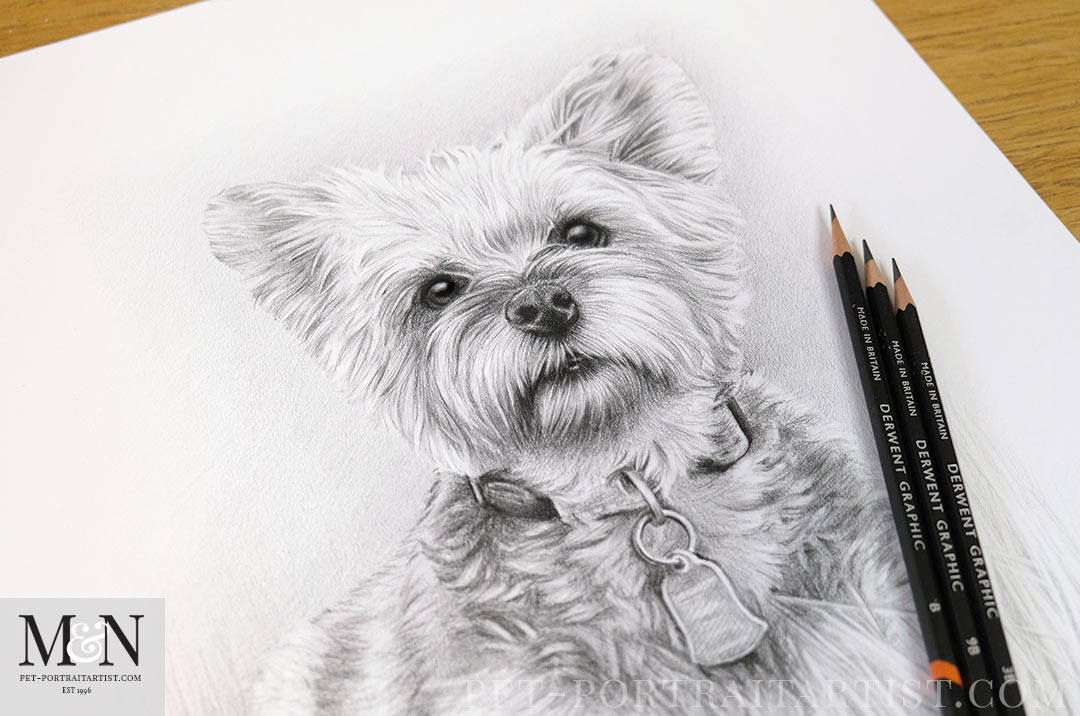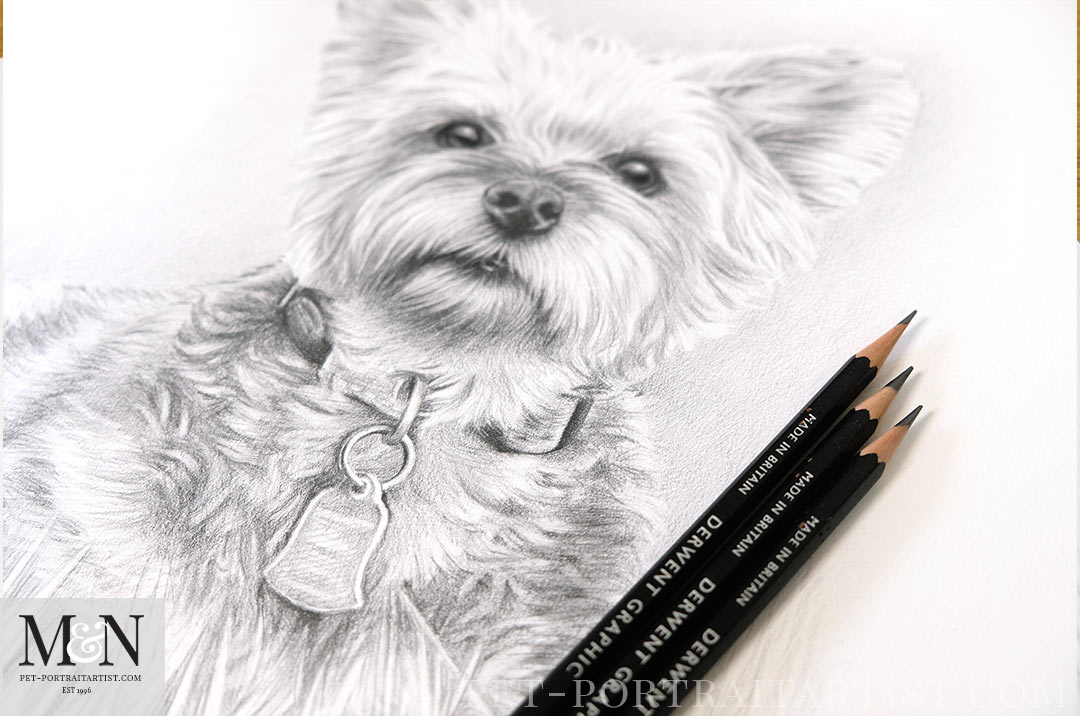 Yorkshire Terrier Pencil Pet Portrait Framed
Here are a few photos of the Yorkshire Terrier pencil pet portrait framed. If you've recently commissioned a pencil drawing, it's essential to know how to properly frame it to preserve it for years to come. Pencil drawings need to be mounted and framed under glass to protect them from environmental factors like dust and moisture. When you take your drawing to your local framer, they should offer a variety of options for mounting and framing.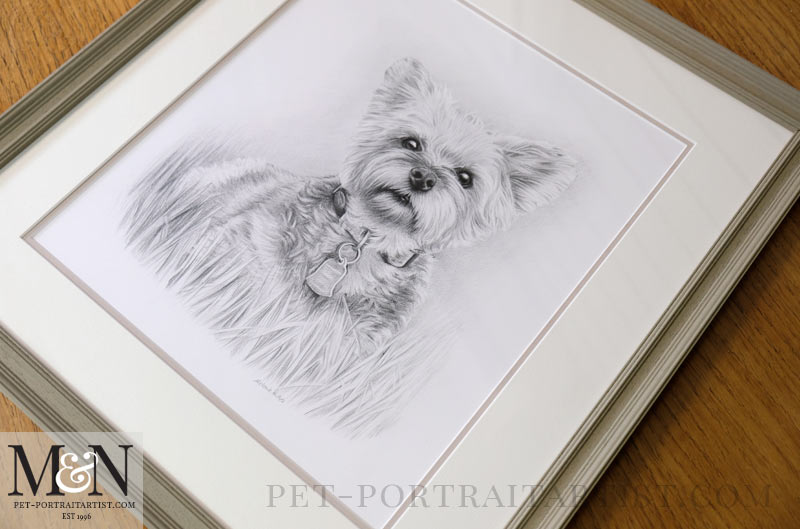 Your local framer should be on hand to help you every step of the way through the framing process, giving you guidance on what would work best with your drawing and where you would like it displayed.
Choose the right mat: The mat not only enhances the look of your drawing but also keeps the glass from touching the artwork. Acid-free mats are recommended as they won't damage your drawing over time.
Select a suitable frame: The frame should complement your drawing without overpowering it. Your framer should provide a range of styles and colors to choose from.
Consider UV-protective glass: While more expensive, UV-protective glass can help prevent your drawing from fading due to exposure to sunlight.
Ask for a sealed back: This can provide additional protection against dust and insects.
Remember, don't hesitate to ask your framer for advice—they're there to help!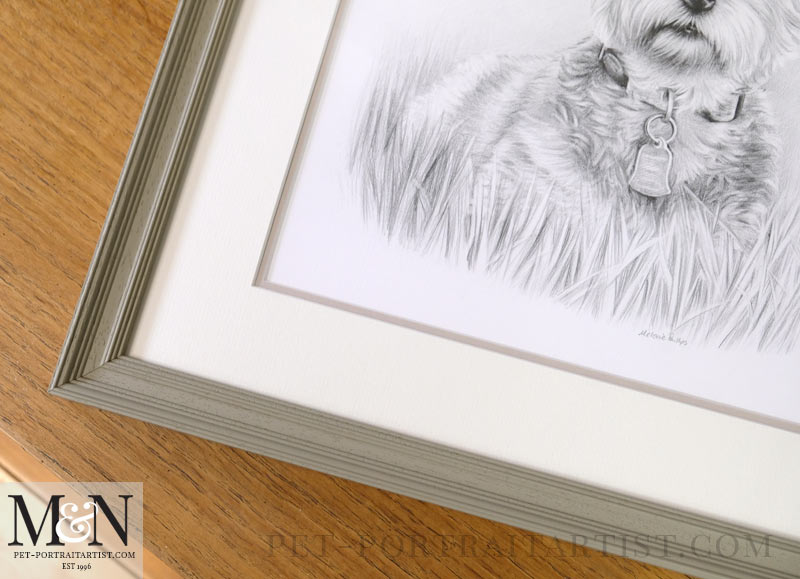 We are always happy to speak to your framers on the phone or via WhatsApp if they need to ask any questions about the artwork and how best to proceed. Just let them know our details and we are usually available during normal working ours to chat.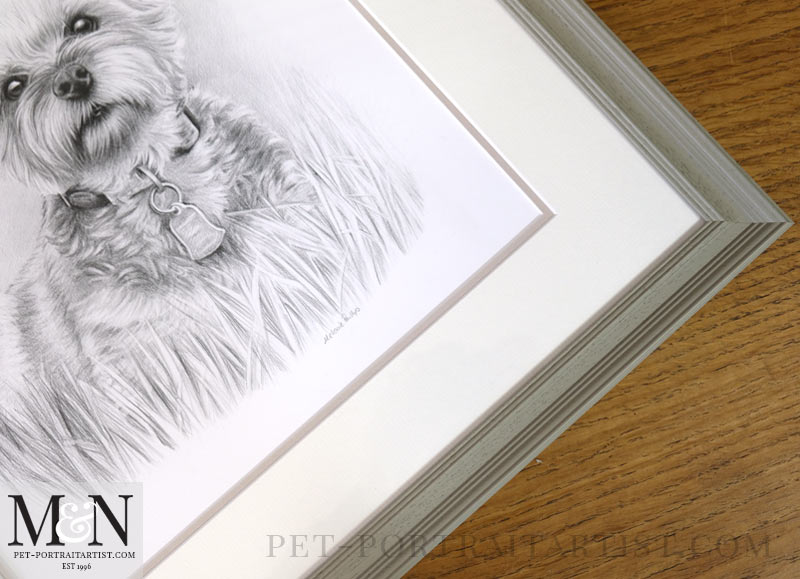 I hope that you have enjoyed viewing the Yorkshire Terrier pencil pet portrait of Chloe and if you would like your Yorkshire Terrier drawn or painted, please do get in touch with us at any time.
Are you enjoying our blog? Why not sign up to our Melanie's Monthly News, which comes right into your inbox each month! You can sign up at the bottom of our website or at the top of the blog. Please don't forget to subscribe to our YouTube Channel too. You are more than welcome to comment below, we love hearing from our readers!

You May Also Like
May 11, 2015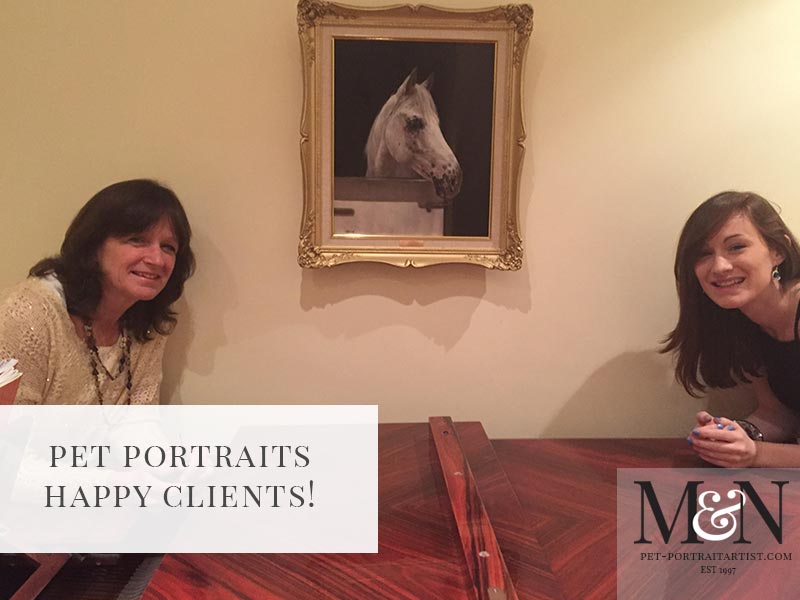 February 16, 2016
April 21, 2017