English Bull Dog Pet Portrait
January 29, 2014
Welcome to our English Bull Dog Pet Portrait of Remington! The portrait of Remington is a beautiful painting, traditionally hand painted by Nicholas. Pattie and Tom from Hawaii commissioned the painting as they wanted to commemorate their beloved Bulldog, Remington.
Remington, affectionately known as Remi, had sadly passed away very suddenly, leaving a void in the family. To capture Remington's essence, Pattie and Tom provided several wonderful photos of him. One particular photo stood out to us all which just had to be the chosen as the reference for the portrait.
The final piece is a 16 x 16 inches painting, featuring Remington against a natural olive-colored background. Nicholas used traditional oil paint on linen canvas. The portrait beautifully captures Remington's personality and likeness, making it a cherished keepsake for Pattie and Tom.
Upon completion, I carefully packed the painting and sent to Hawaii on an expedited service. Pattie and Tom were thrilled with the result. They even sent over some photos of the framed portrait displayed in their home which you can see below. This portrait of Remington serves as a beautiful tribute to a much-loved family member.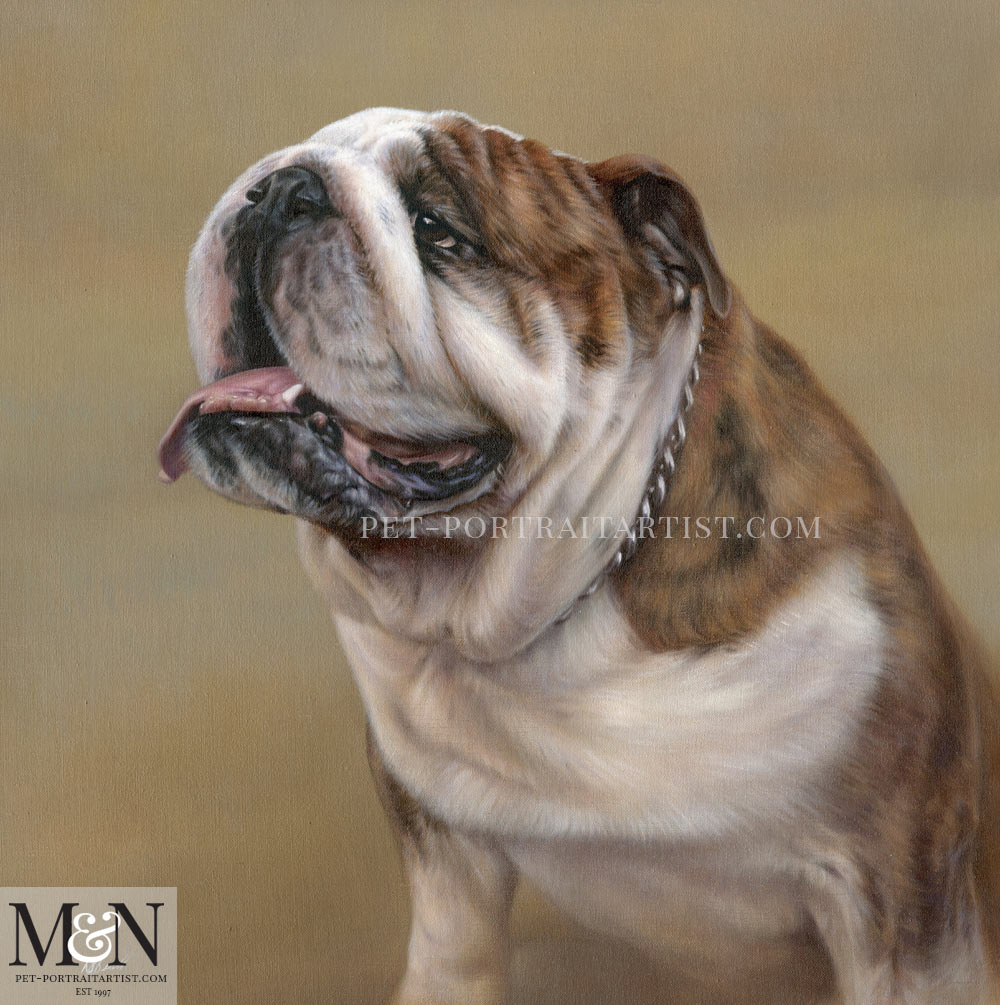 English Bull Dog Pet Portrait in Progress
Here are a few stages of the oil painting in progress. Nicholas stands at his easel working daily and I try to take photos when I can so that I can update our clients. It's also interesting to see how the portraits are created. Nicholas uses varying techniques, so sometimes he tackles the paintings differently depending on the subject, the lighting and the photo.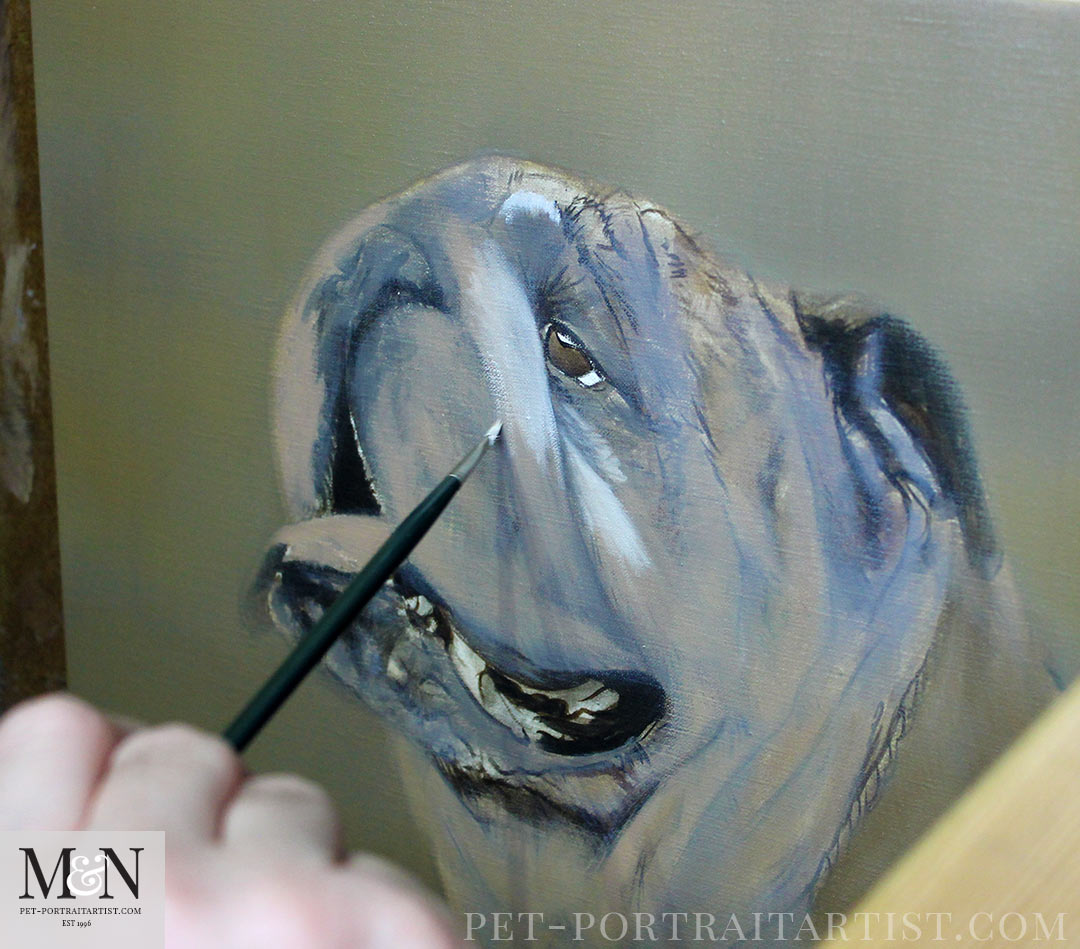 As you can see the overhead photography light Nicholas has on his easel has shone on the painting, but hopefully you can see how three dimensional the painting is looking already.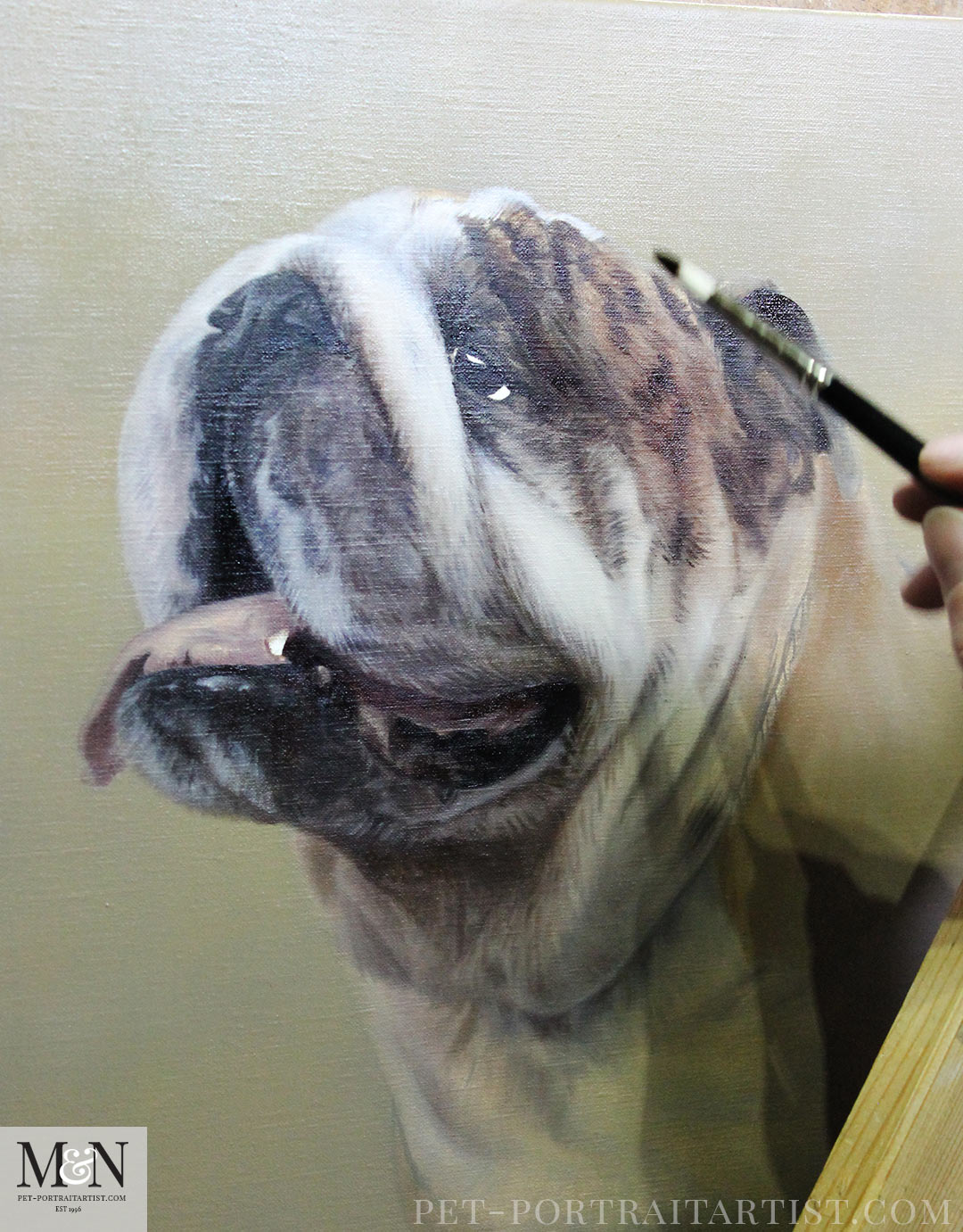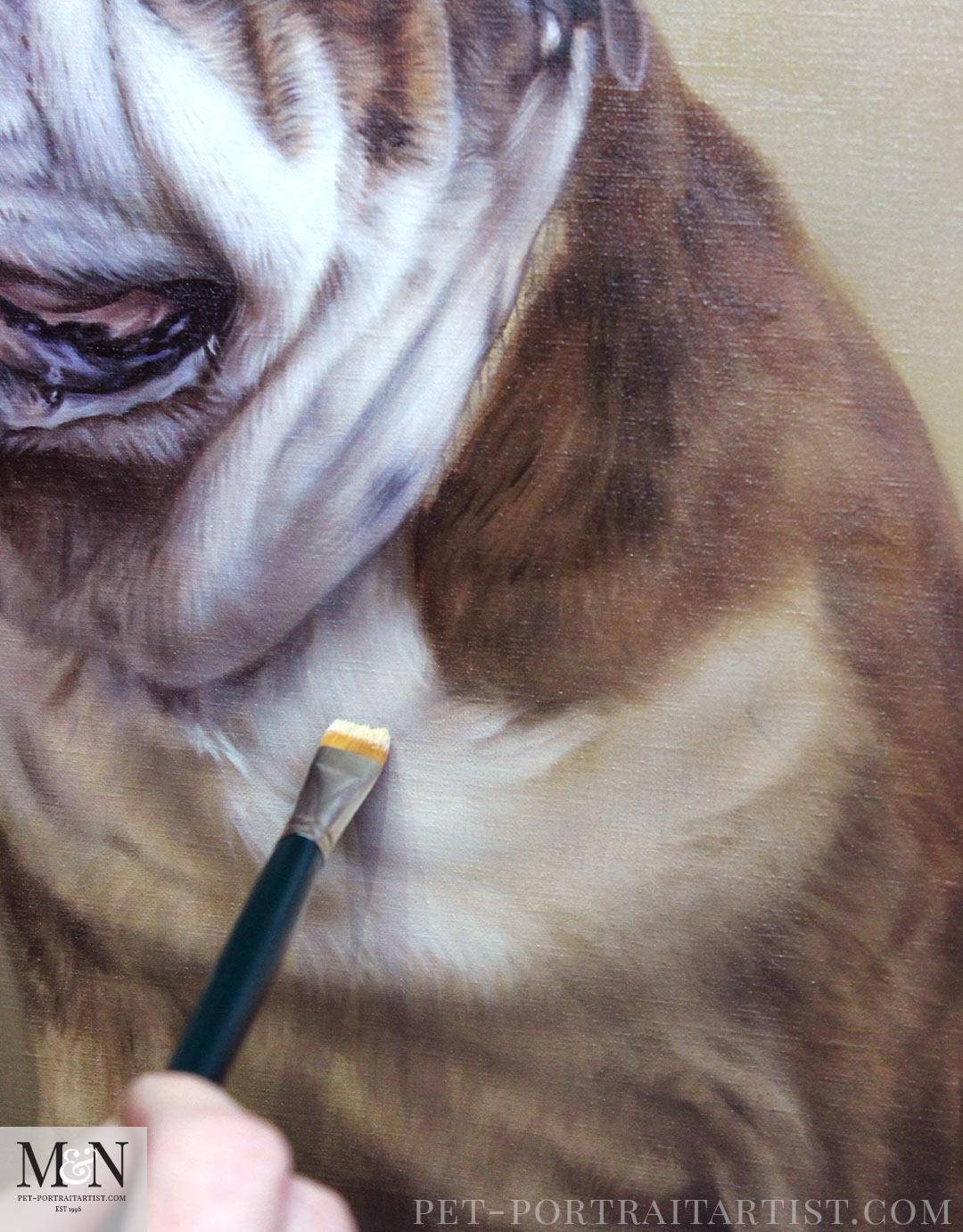 Pet Portraits Happy Clients
Here are some happy client photos! We would like to thank Pattie and her husband for taking them for us. Also their new dog Baxter of course! Pattie, pictured below said…
You have captured his essence, his spirit, and most importantly his noble character…..Thank you so much…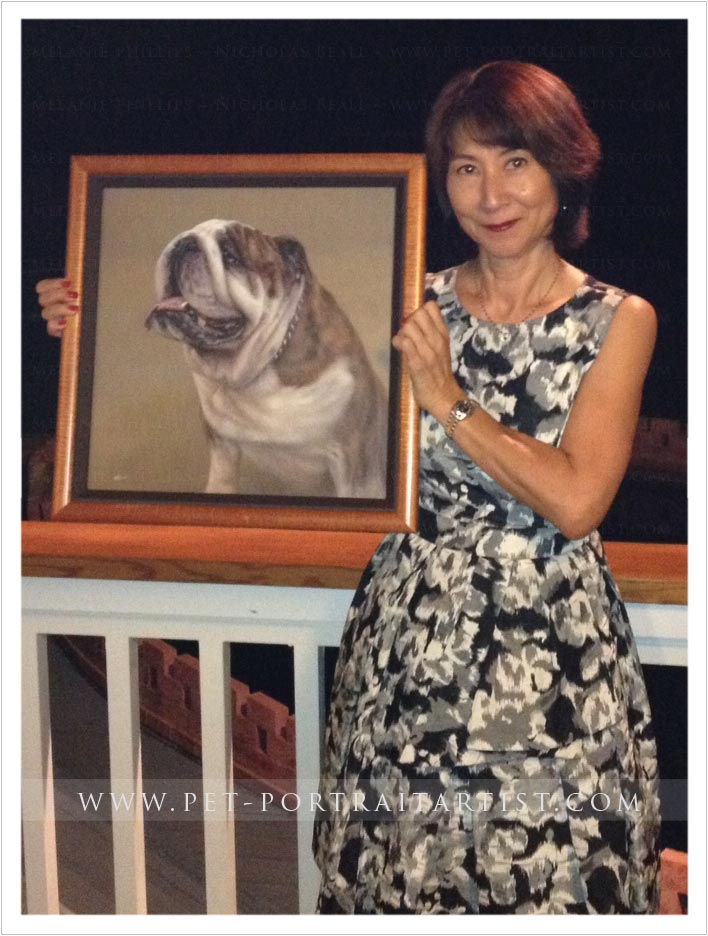 English Bulldogs are just adorable and we love portraying them, whether it is in pencil or oil, they are an amazing subject to paint. With their distinctive wrinkled face, short legs, and sturdy body, they're a breed that's hard to miss. But it's not just their looks that make them stand out. English Bulldogs have a personality that's as unique as their appearance.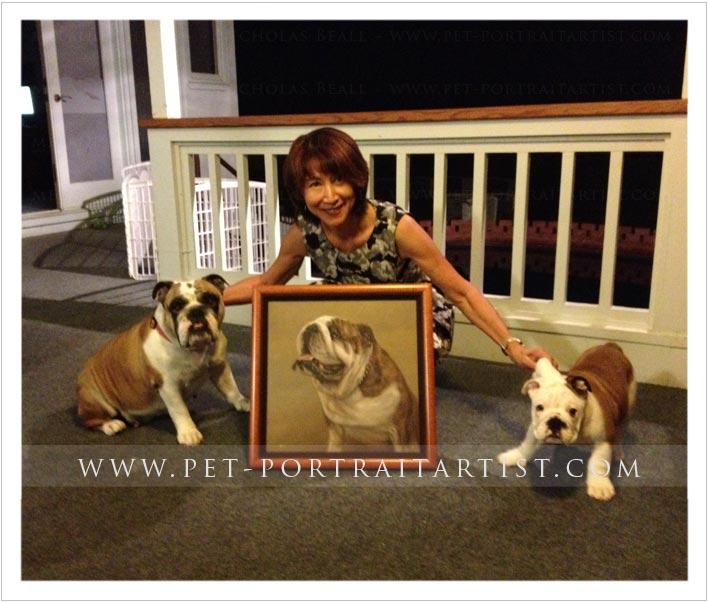 They're known for their calm and friendly nature. They might not be the most energetic of breeds, but they more than make up for it with their loving and loyal disposition. They're the kind of dogs that would happily spend the day lounging by your side, enjoying your company.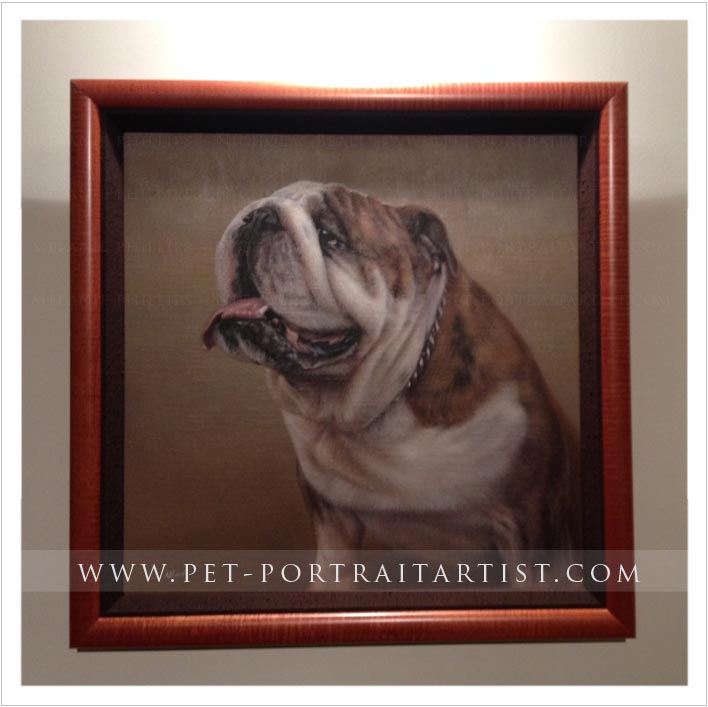 Despite their somewhat gruff exterior, English Bulldogs are incredibly gentle and affectionate. They get along well with children and other pets, making them a great choice for families. And while they can be a bit stubborn at times, with a little patience and a lot of love, they can be trained to follow commands.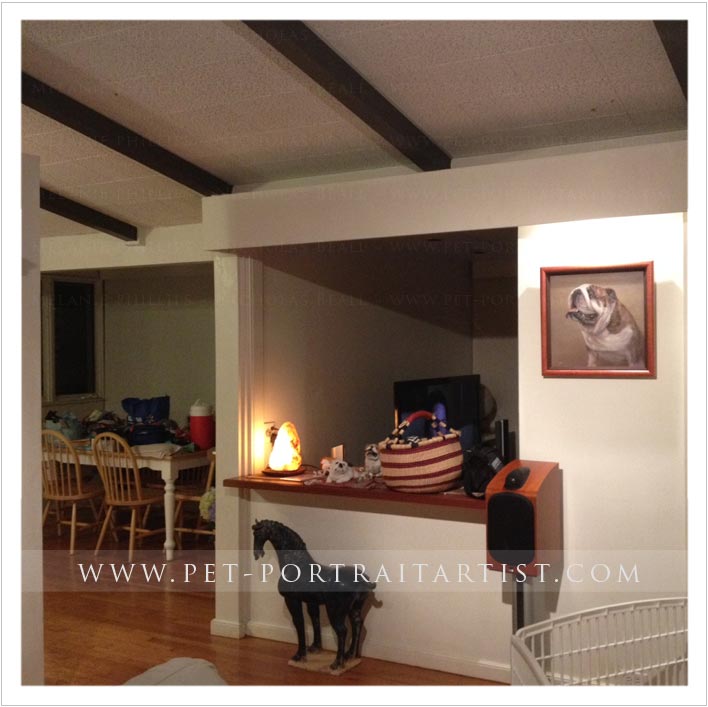 Commission Us Today
One thing's for sure, if you're looking for a pet that's low on maintenance but high on love, an English Bulldog might just be the perfect fit. They're the kind of dogs that will fill your home with warmth, love, and a few snores! Once you have your beautiful English Bull Dog, don't forget to come back to us for a portrait… commission us today!
Are you enjoying our blog? Why not sign up to our Melanie's Monthly News, which comes right into your inbox each month! You can sign up at the bottom of our website or at the top of the blog. Please don't forget to subscribe to our YouTube Channel too. You are more than welcome to comment below, we love hearing from our readers!

You May Also Like
January 29, 2017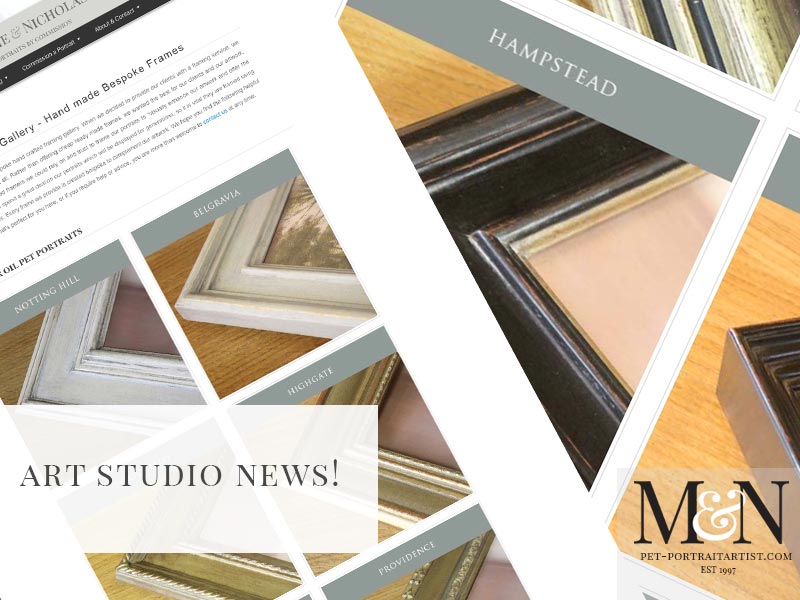 February 13, 2018
February 24, 2019