Boxer Dog Pencil Portrait of Milo
December 1, 2014
Welcome to my Boxer Dog Pencil Portrait of Milo. Returning client Catherine Cave commissioned a pencil drawing of Milo in 2014. Sadly Milo had to be put to sleep so Catherine thought a portrait woudl be the perfect gift for her husband on his birthday. This was Catherines first email…
Hi Melanie,
I am very keen to have a pencil drawing done of our boxer dog Milo. We sadly had to have Milo put to sleep this year at the age of six due to an aggressive inoperable tumour. I would love to get a pencil drawing of him as a surprise for my husbands Christmas gift. I love the look of your work and I'm very excited. Look forward to hearing from you.
Catherine Cave
The drawing is a 12 x 10 on Italian paper and I have also added photos fo the portrait with my pencils below. Catherine emailed when she saw the final scan. I hope you like it too!
Hi Melanie, wow – thank you SO much it's perfect! How very talented you are! So excited to see it! Catherine xx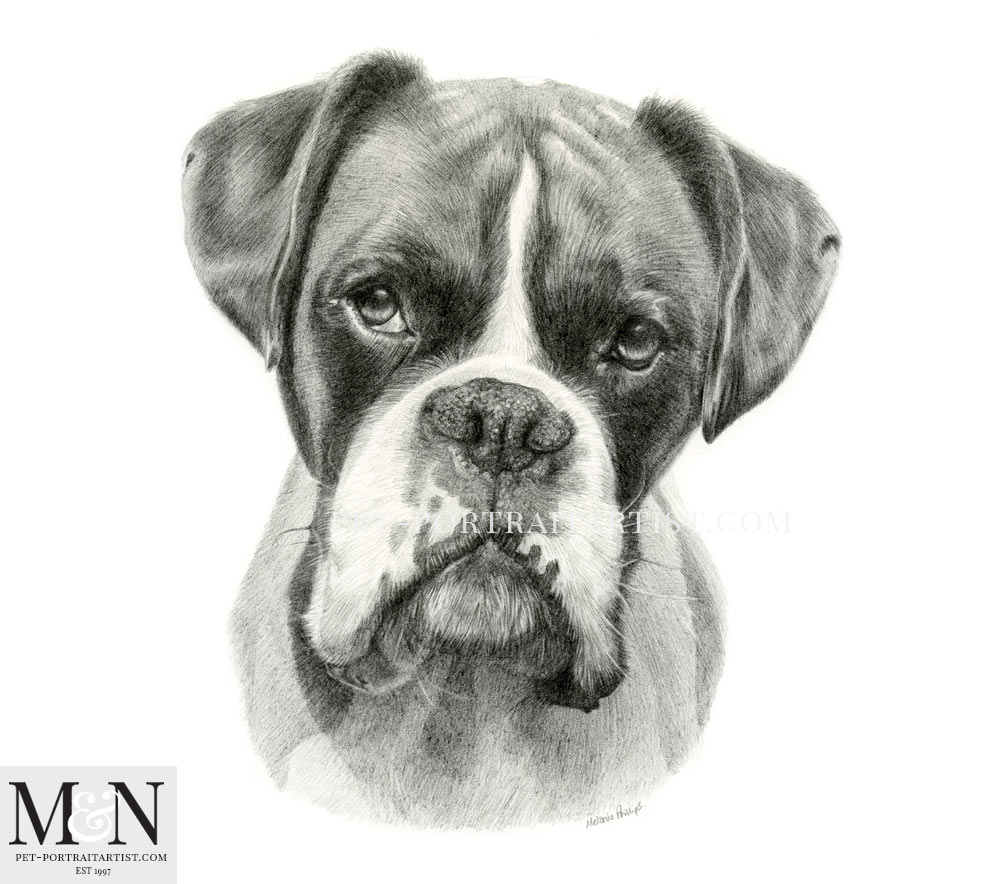 Boxer Dog Pencil Portrait of Milo – Photos
here are a few close up photos of Milos pencil portrait, also with my pencils on to show scale. The portrait was a joy to create and I always feel the photos show my portraits far better than actual scans.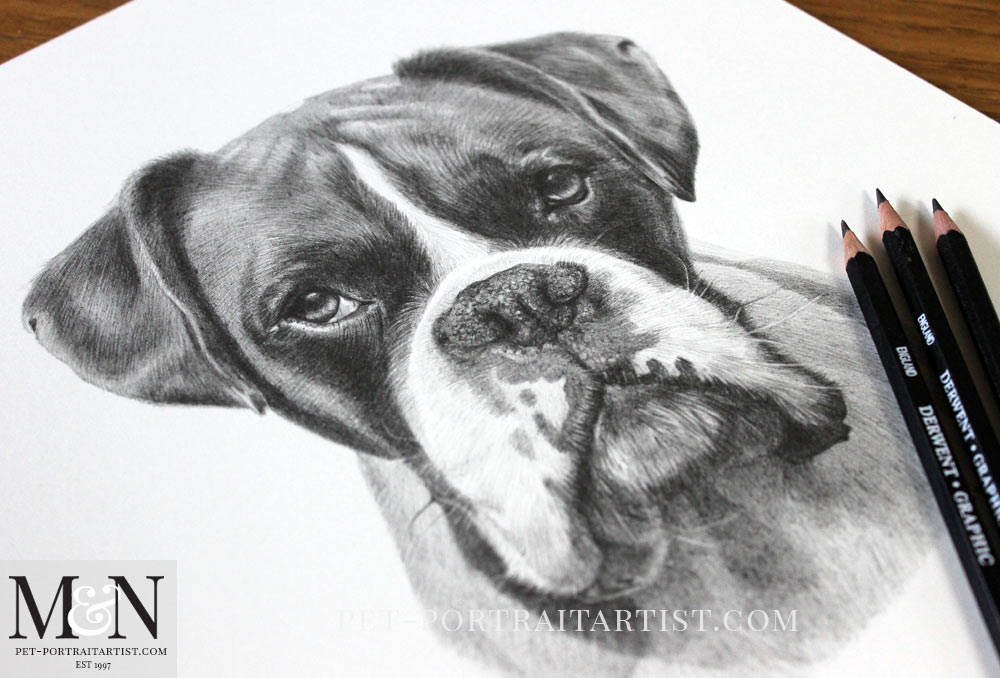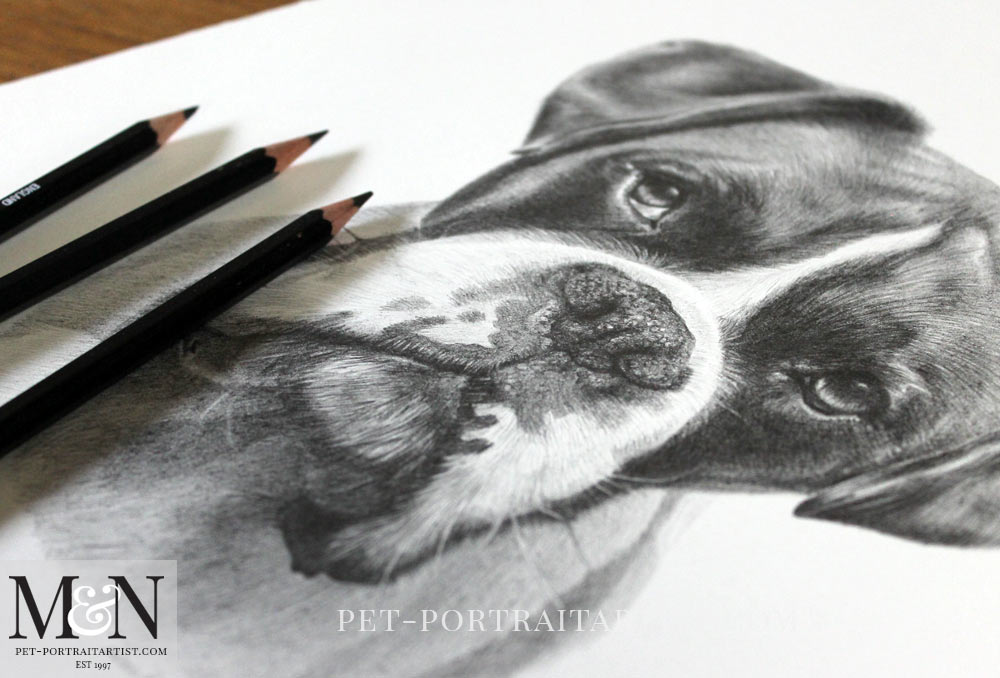 Finally we hope that you have enjoyed viewing our Art Studio Blog. Why not sign up to our Monthly newsletter accessible at the bottom of our website which comes out on the 1st of each month. Consequently this means you can catch up on all of the portrait stories and news from our Art Studio! Please don't forget to subscribe to our Youtube Channel too, share, like and follow our social media and you are more than welcome to comment below, we love hearing from our readers!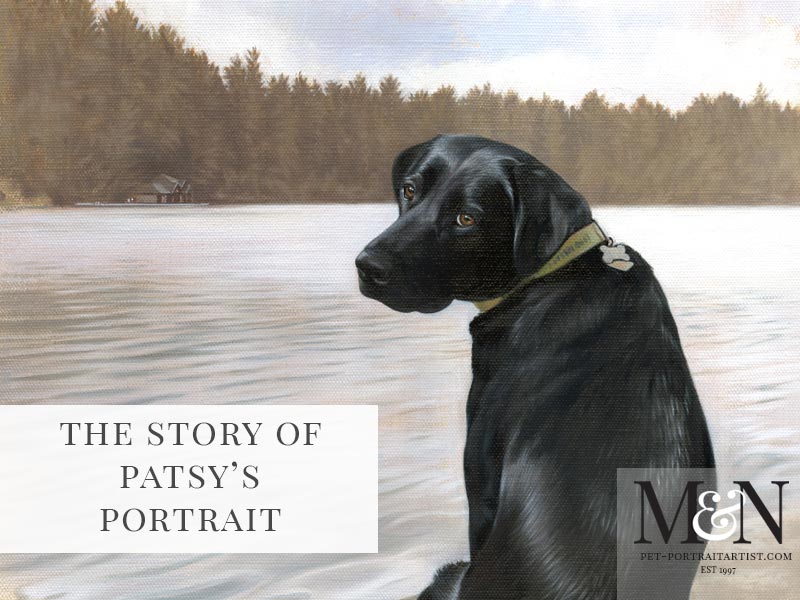 You May Also Like
October 29, 2018
September 29, 2019
October 7, 2016