Pencil Pet Portrait of Daisy
November 2, 2015
Welcome to my pencil pet portrait of Daisy. Mary contacted me to see if I would be able to draw a portrait of Daisy for her daughters birthday gift. Her favourite photos were on a CD which she sent via Fedex with notes of her favourite photos. I always love seeing plenty of photos of the pets I draw. Especially to have lots of choice as to which ones to work with. As a result my chosen photo was perfect! Furthermore Barnes and Noble had used that particular photo of Daisy in a calendar which sold in their books stores too. I drew the portrait to the size of 20 x 16. Mary emailed when she received the portrait and you can read a snippet of her email below..
BREATHTAKING! The gentleman at the framing shop couldn't stop looking and bragging about your work.  You are a very talented woman.  Left one of your cards with them.  I couldn't be more pleased, because your work is superb.
Pencil Pet Portrait of Daisy – Happy Clients
We would like to officially thank our client Mary for taking these beautiful photos of my pencil portrait of Daisy, in addition now she is framed and standing on the display easel in their home. The frame that has been chosen is fabulous as it shows off its stunning black and antique pewter frame. It works really well with the drawing. The framer has done a marvellous job! We really love to receive photos like this from our clients as it allows us to see what our portraits look like in their forever home 🙂 Thank you Mary!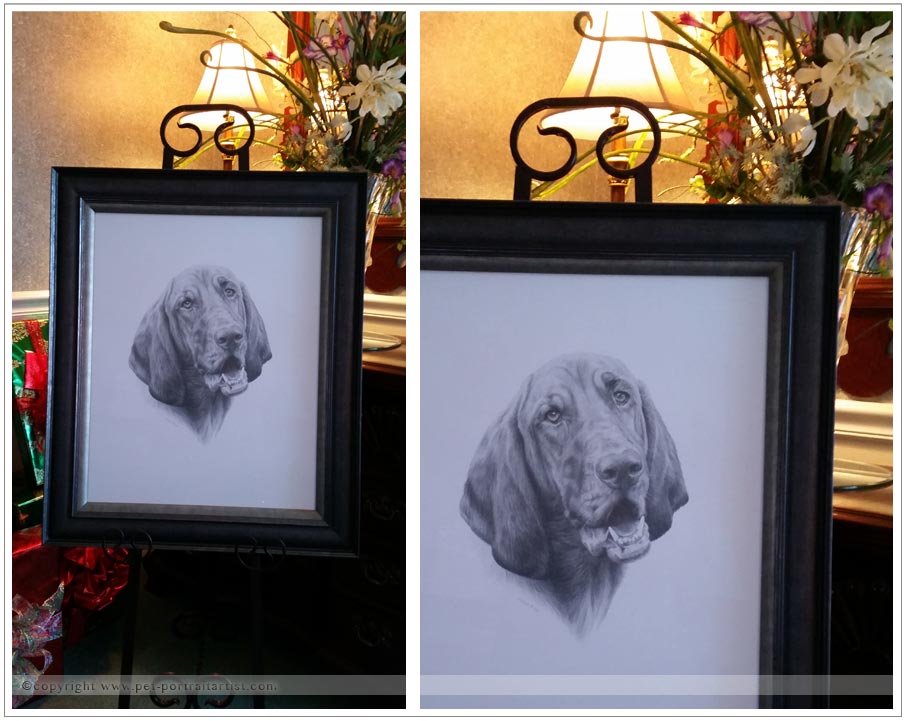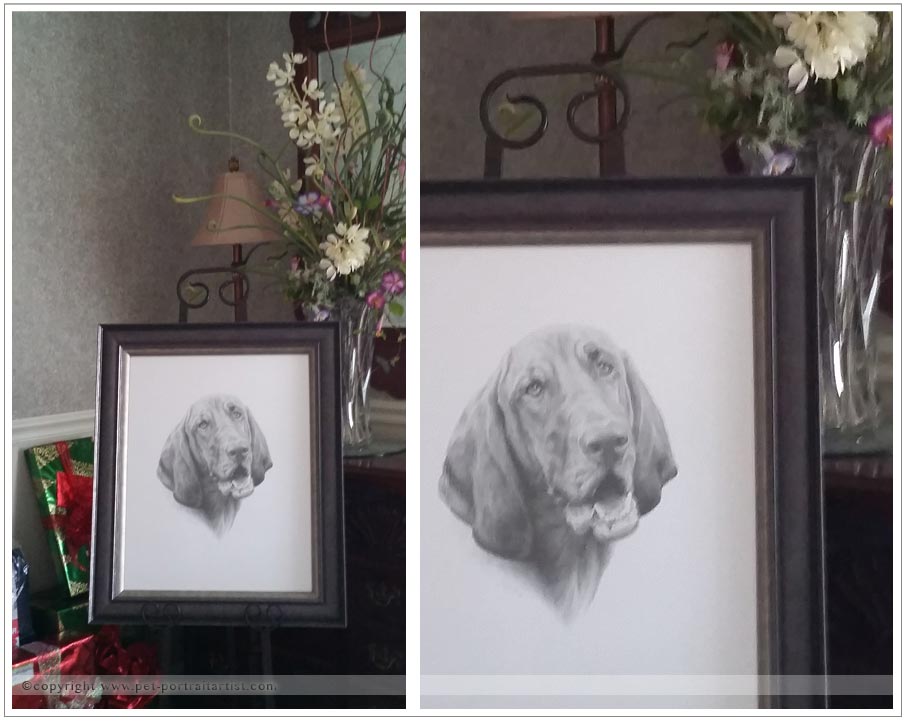 Finally we hope that you have enjoyed viewing our Art Studio Blog. Why not sign up to our Monthly newsletter accessible at the bottom of our website which comes out on the 1st of each month. You can catch up on all of the portrait stories and news from our Art Studio! Please don't forget to subscribe to our Youtube Channel too, share, like and follow our social media and you are more than welcome to comment below, we love hearing from our readers!
You May Also Like
March 10, 2018
January 21, 2017
June 13, 2015