Cat Pencil Drawing of Rufus and Floyd
December 16, 2015
Welcome to my Cat Pencil Drawing of Rufus and Floyd. Sebastian emailed me to find out if I would be able to draw their two cats Rufus and Floyd as a family gift. We always love hearing how client find us.

Dear Melanie and Nicholas,
Having looked at the works of various artists, I would very much like you to produce pencil portraits of my recently deceased cats – Floyd and Rufus. I am gathering digital copies of photos now.
I look forward to hearing from you.
Yours,
Sebastian

Sebastian emailed lots of photos of his cats. Sadly Rufus and Floyed had passed away so Sebastian emailed all of the photos he could find. We really dont mind how many photo clients email us, we have a large inbox and are used to dealing with photos coming through.
Sebastian and myself spent a lot of time working on the design for the portrait, many mockups went back and forth. Working out which photos of the cats would work best together and the overall design of the portrait. I think we came up with a lovely composition – and a very peaceful one too. They were drawn at 16 x 12 size.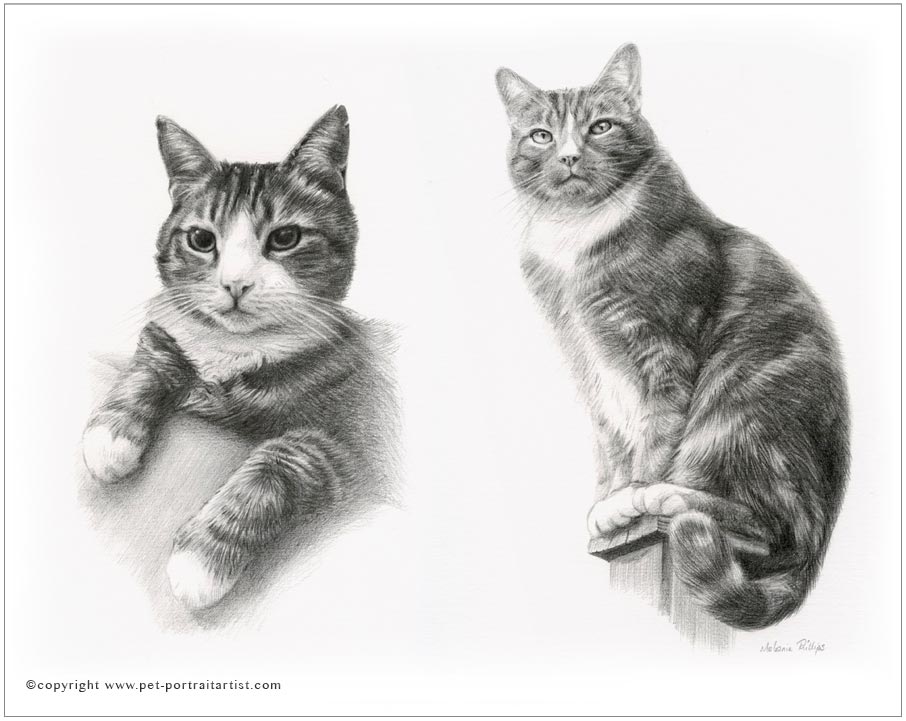 Cat Pencil Drawing of Rufus and Floyd – Happy Clients!
Sebastian and his family were delighted with the portrait and Sebastian emailed once they had received the finished portrait. You can read his email below…

Dear Melanie,
It looks amazing, I am delighted with it.
You've done such a fantastic job, thank you ever so much.
Yours,
Sebastian

Finally we hope that you have enjoyed viewing our Art Studio Blog. Why not sign up to our Monthly newsletter accessible at the bottom of our website which comes out on the 1st of each month. You can catch up on all of the portrait stories and news from our Art Studio! Please don't forget to subscribe to our Youtube Channel too, share, like and follow our social media and you are more than welcome to comment below, we love hearing from our readers!
You May Also Like
February 6, 2017
May 31, 2019
November 9, 2016