Dog Oil Portrait of Ted
April 20, 2017
Welcome to the latest dog oil portrait of Ted. Nicola, a returning client from Cardiff, commissioned a portrait of Ted the Dachshund in oils on canvas. She wanted it to match portraits she commissioned of her other Dachshund at this age.  The portrait is 14 x 14 size on canvas. It was the perfect shape to work with a photo Nicola had taken of Ted on her sofa.
Ted's eyes really melt our hearts. They just followed us around the studio. We just wanted to pick him out of the canvas and cuddle him.
I have added the final scan below and a photo of Nicola and Nicholas with Teds painting. Nicola came to visit the studio to collect the portrait. You can also see photos of the portraits stages and read more studio news below too!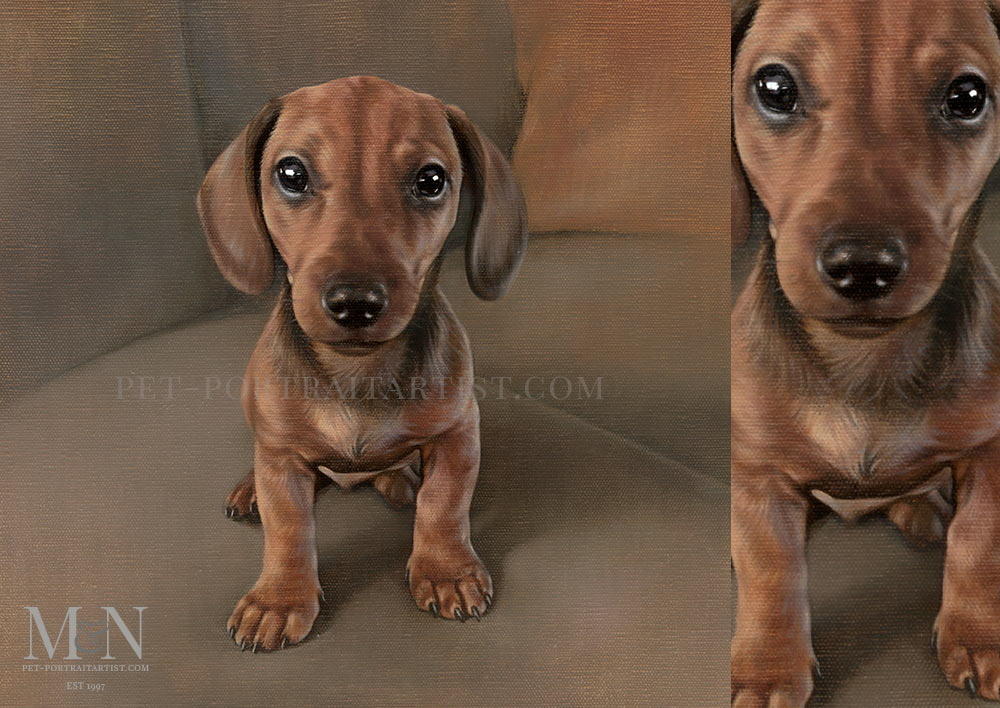 Dog Oil Portrait of Ted – Happy Clients
Our client Nicola came to collect her portrait from our studio. It was a beautiful sunny day so we took photos out side in front of the studio. You can see both Nicola and Nicholas with the painting below.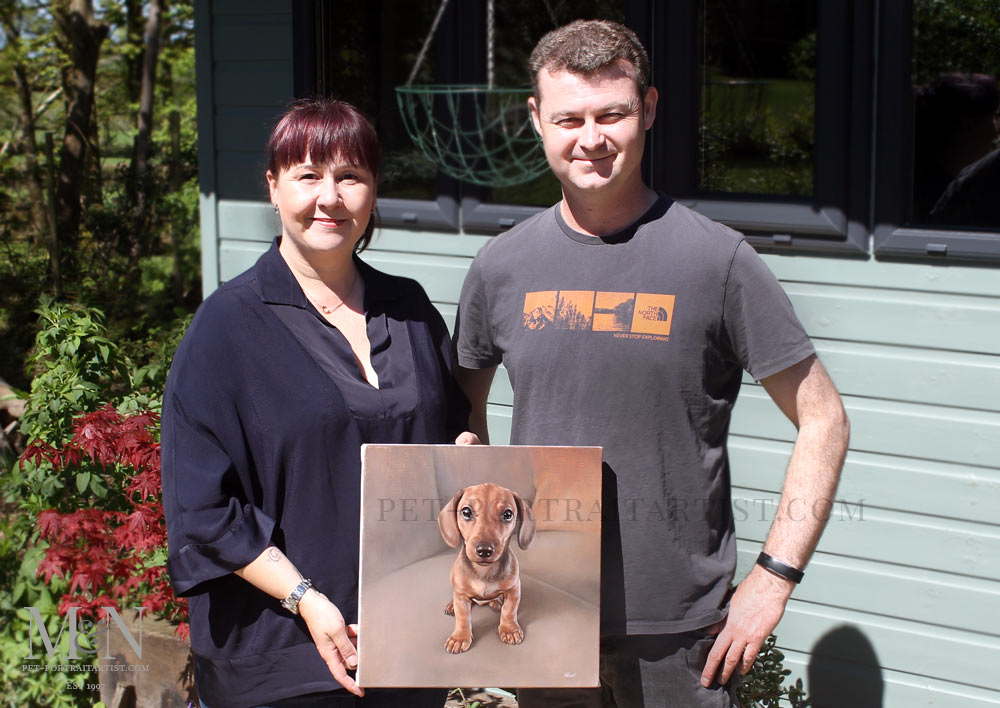 Studio News
Leigh our lovely roofing chap has been here working on our studio. He is to put a new layer of felt over our roof and make a few alternations. He will complete the studio tomorrow and then move to our toolshed roof which has been leaking over the winter. I took a photo which you can see below. Now the spring is coming, I really need to try to get some time out in the garden. It needs the leaves cleaning and a tidy. We are so busy in the studio though thats the most important! We are thrilled with the way its looks and much prefer the colour as it matches the windows. I have just taken a photo so you can see how its coming along.
They have also started to install Superfast Broadband. It's possibly taking longer than they thought. Both us and our neighbours are very excited at the prospect!  I am very much looking forward faster speeds! We are currently at 1.7mbps speed and we will hopefully go at 30mbps and above!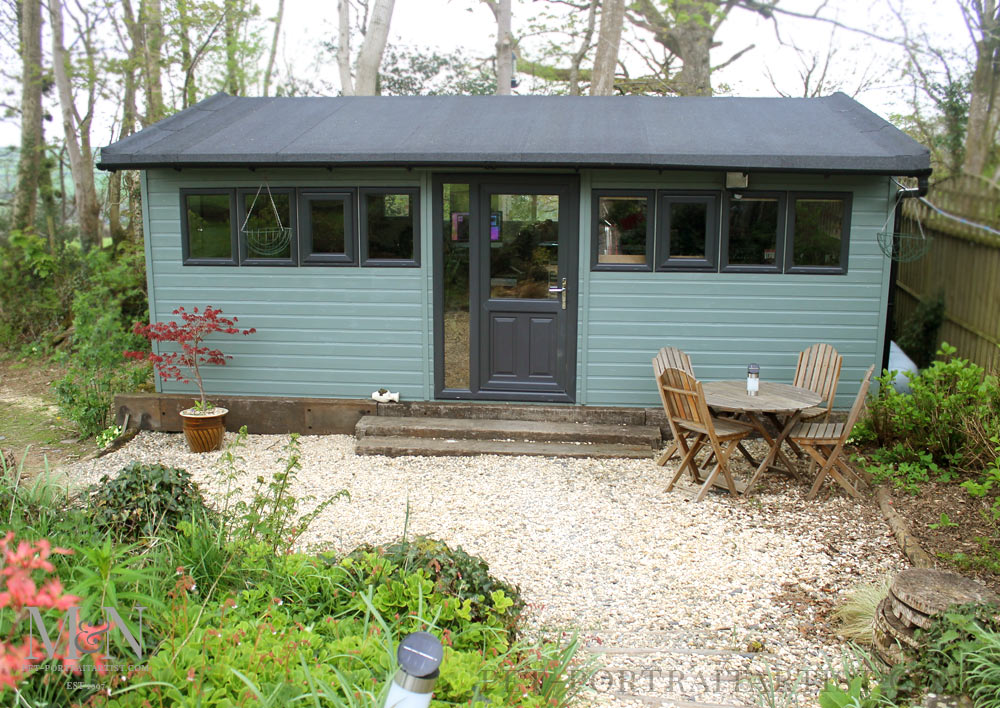 We hope that you have enjoyed viewing our Art Studio Blog. Why not sign up to our Monthly newsletter accessible at the bottom of our website which comes out on the 1st of each month. You can catch up on all of the portrait stories and news from our Art Studio! Please don't forget to subscribe to our Youtube Channel too, share, like and follow our social media and you are more than welcome to comment below, we love hearing from our readers!
You May Also Like
March 8, 2018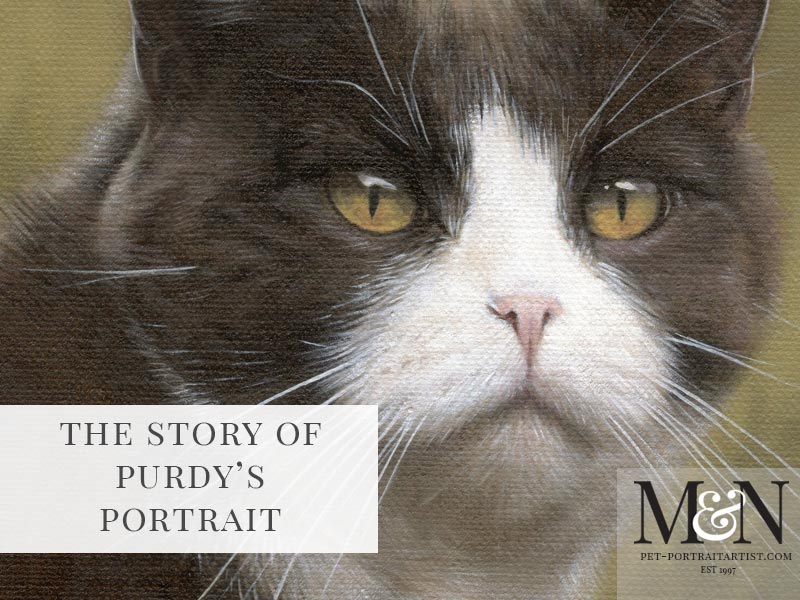 August 28, 2014
November 2, 2015