Cottage Oil Portrait
May 4, 2019
Welcome to our latest Cottage Oil Portrait with Stella. Our client Richard, had one particular favourite photo he wanted to use for the portrait. This was his dog Stella in their garden with their cottage in the background. Nicholas painted Stella's portrait in oils on Italian linen canvas at 20 x 16 inches, in good time before the birthday surprise. In addition it was framed by our framer in the Highgate Frame. You can also see a video of the framed portrait below too!
Hi Melanie and Nicholas,

Absolutely fantastic you have captured Stella perfectly ! I am so excited to see the painting. I will struggle not to give it to Sally Anne before her birthday!

Regards Richard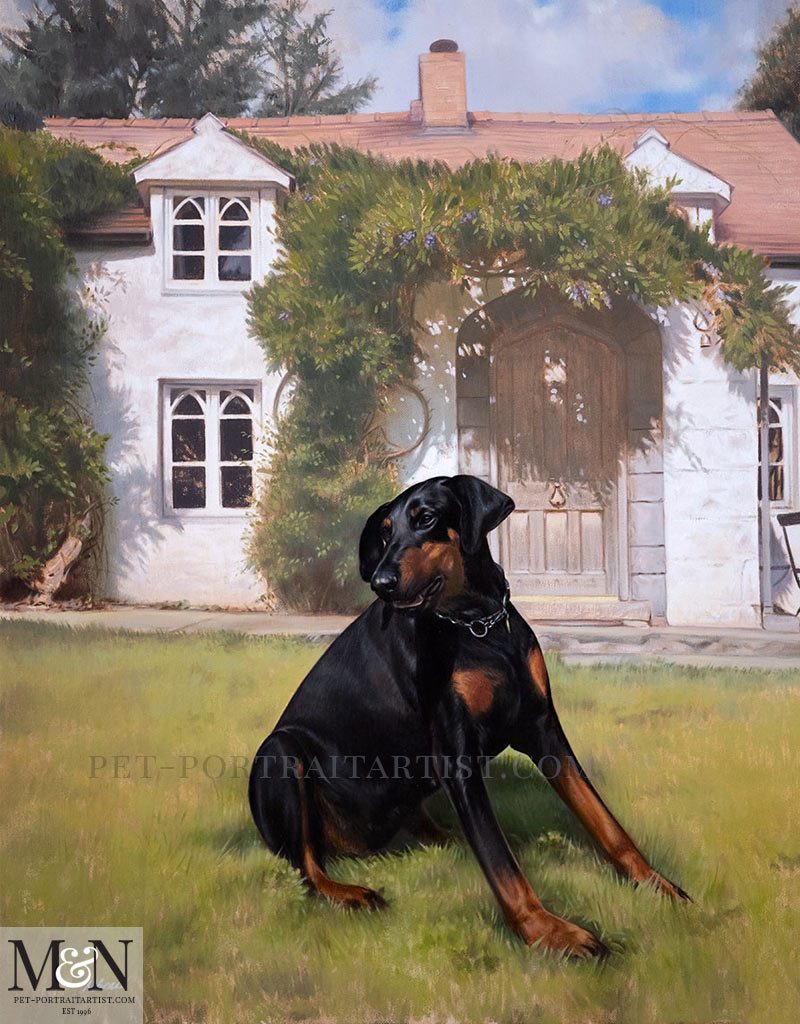 Cottage Oil Portrait – In Progress
Here are a couple of photos of Nicholas painting the portrait of Stella. Nicholas created the undertones in sepia to cover the canvas. He also draws the outlines and basic tones in this way. Nicholas started with the beautiful bright blue sky with clouds behind as you can see in the first photo below. He then continued down the painting with the trees, the roof and then detail on the cottage. Then the final details were added on the Wisteria which you can see below.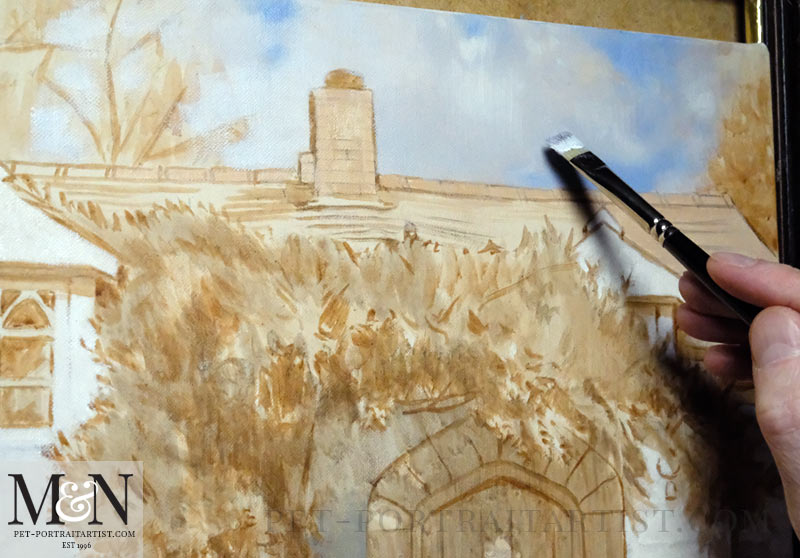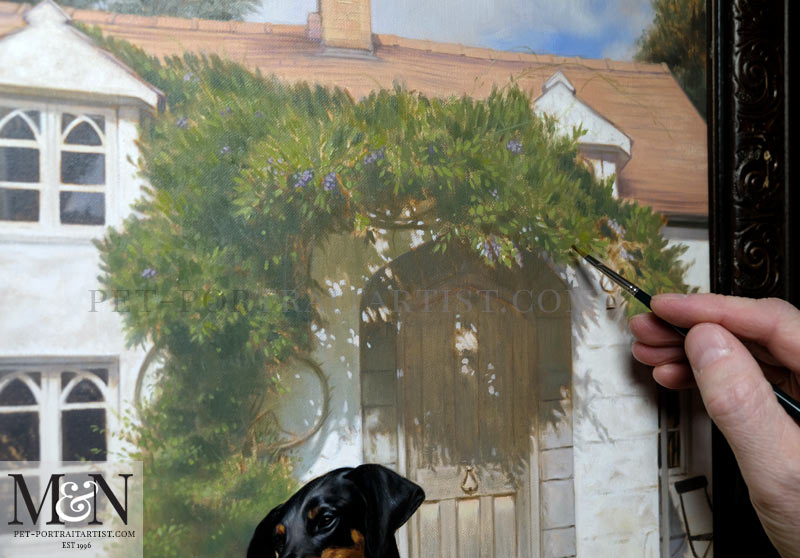 Video of the Portrait
The video below was taken just prior to packing the portrait. We hope you get a much better feel for the frame and painting this way. We also hope you enjoy viewing it and don't forget to subscribe to our channel too!
Framed with Engraved Plaque
The portraits frame is absolutely gorgeous and works so well with the natural grass colour in the painting. Our clients also asked us to commission an engraved plaque from our framer and we chose the bronze coloured plaque which matched beautifully.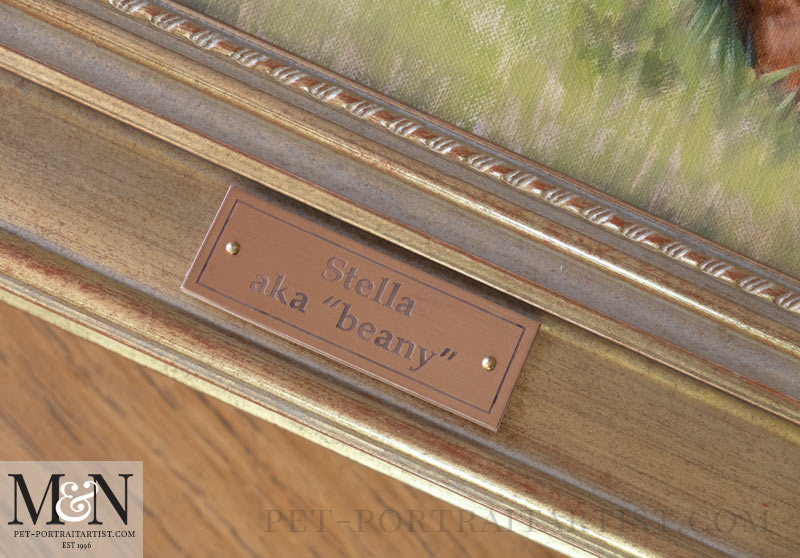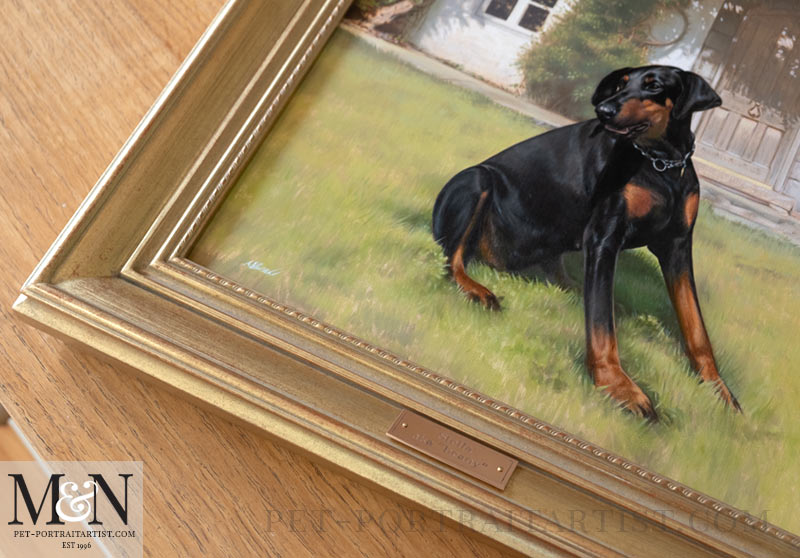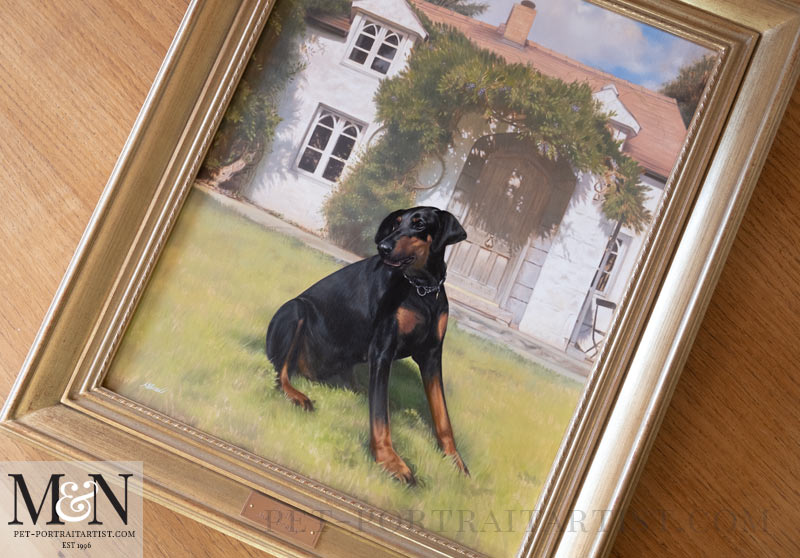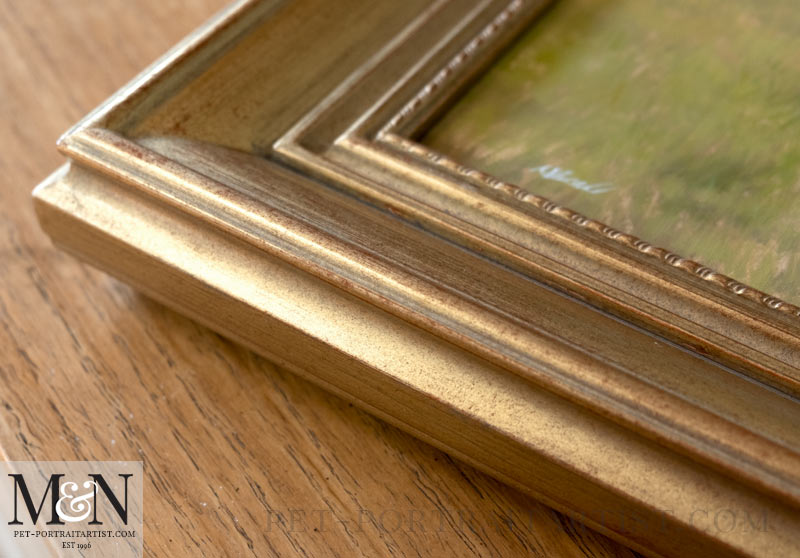 Why not sign up to our Monthly newsletter accessible at the bottom of our website which comes out on the 1st of each month. Catch up on news from our Art Studio! Please don't forget to subscribe to our YouTube Channel too, follow our Instagram @petportraitartists and Facebook @petportraitartists . You are more than welcome to comment below too, we love hearing from our readers!

You May Also Like
May 3, 2017
May 17, 2017
October 28, 2018