Staffordshire Bull Terrier Pencil Drawing
May 4, 2019
Welcome to my Staffordshire Bull Terrier Pencil drawing of Ellie commissioned by returning client Jo and her family. I have been working with Jo's family for a number of years. You might have recently seen the Cuddly Toy of Piggy drawing she commissioned for her niece just before Christmas. Jo's niece loved her portrait by the way! I received a beautiful photo of her and her portrait for posterity!

The Staffordshire Bull Terrier pencil drawing of Ellie was commissioned by Jo's for her brother and his wife. They wanted a pencil drawing of their gorgeous Staffy both as she looked today, but also as she was as a puppy. This is where pencil drawings come into their own. A montage or a bespoke drawing can work so well in this instance.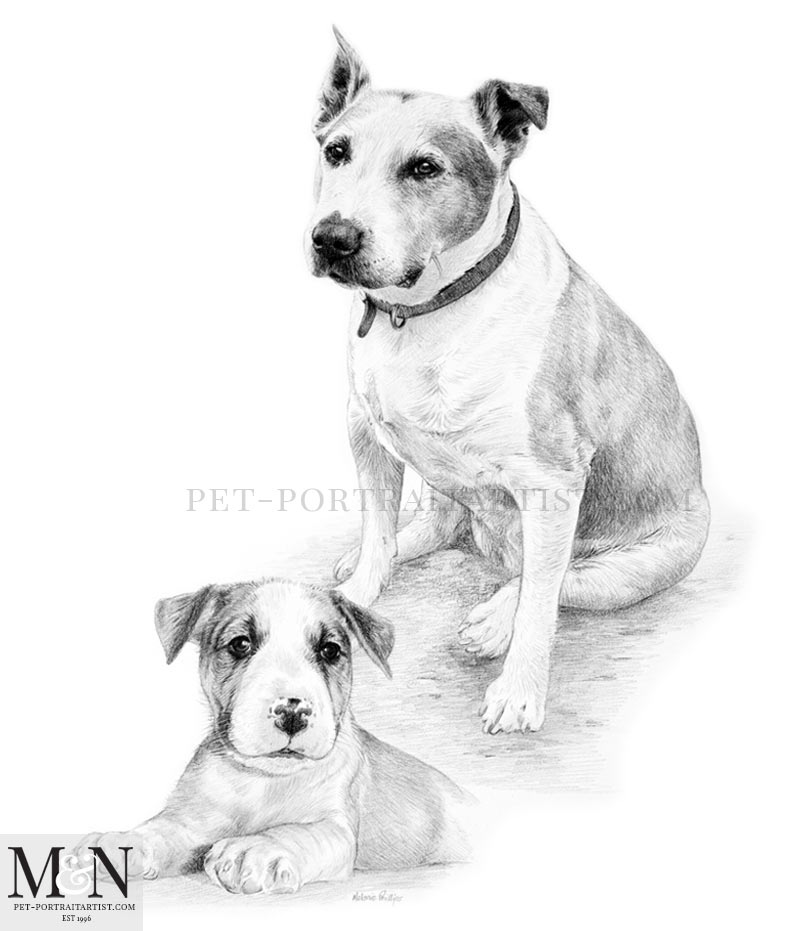 Staffordshire Bull Terrier Pencil Drawing Photos
The photos below are of the Staffordshire Bull Terrier drawing with my pencils on my plan chest in the studio before framing the portrait. They tend to show the portraits in a more natural way. The drawing was a 16 x 12 pencil on Italian Fabriano paper which is definitely my favourite paper to draw on.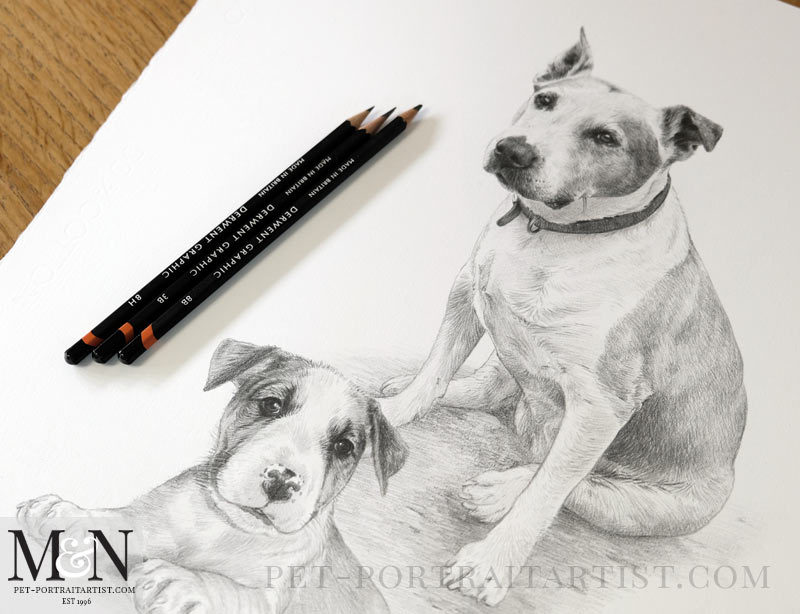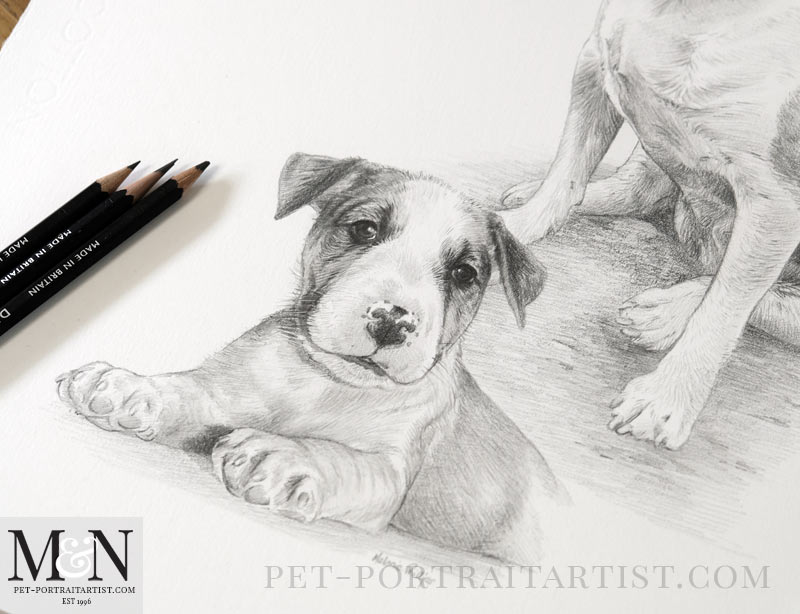 Staffordshire Bull Terrier Pencil Drawing Framed
This frame is one of our favourite frames for pencil drawings. Hayseed and mushroom colour mounts also really complement the frame well. The mushroom colour mount really enhances the pewter frame, as the colours vary within the frame itself in different light. Ranging from silver to a warm silver bronze colour, it really catches the light well. Hopefully the photos below show the frame well, so you can see how pretty it is.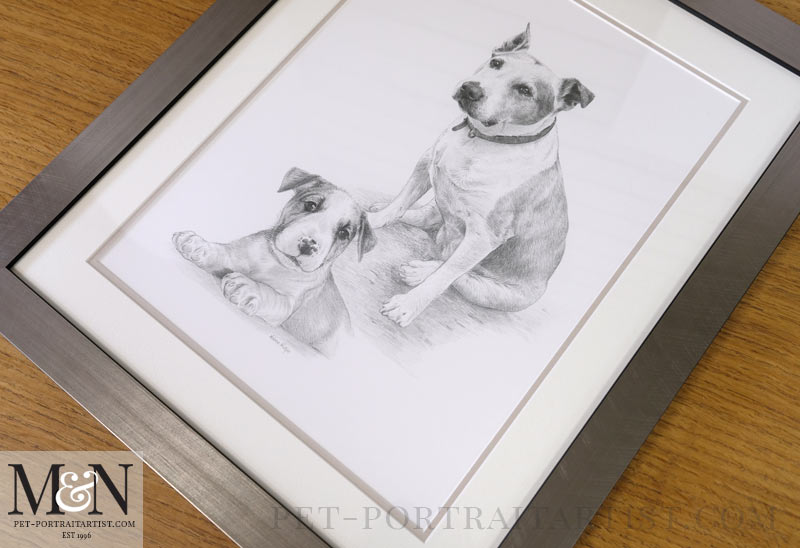 Pencil drawings are a lovely and very classic way of capturing most dogs, but Staffy's are one that the medium lends itself to. It allows me to really capture the spirit and character of this beloved breed and I am please to say, happy clients too!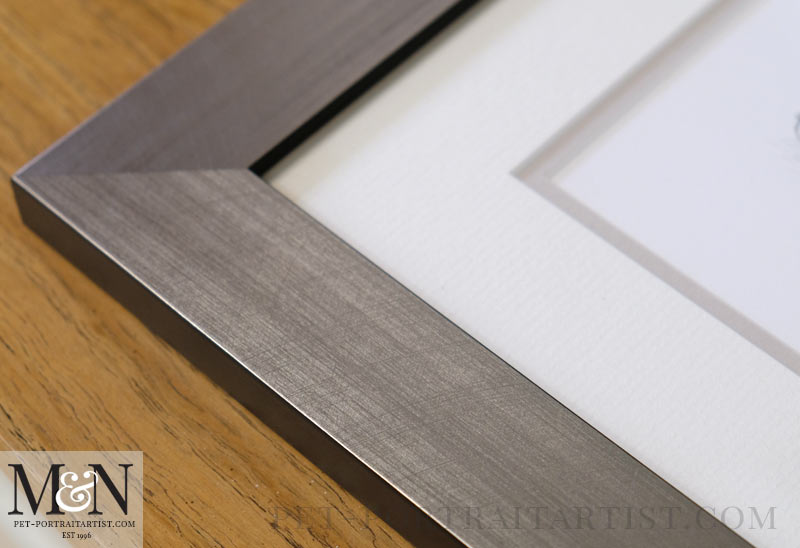 If you have just arrived here on this page, I am the artist who has created this drawing and I specialise in creating lifelike drawings that not only depict the physical attributes of the subject but also the pets unique personality and character too.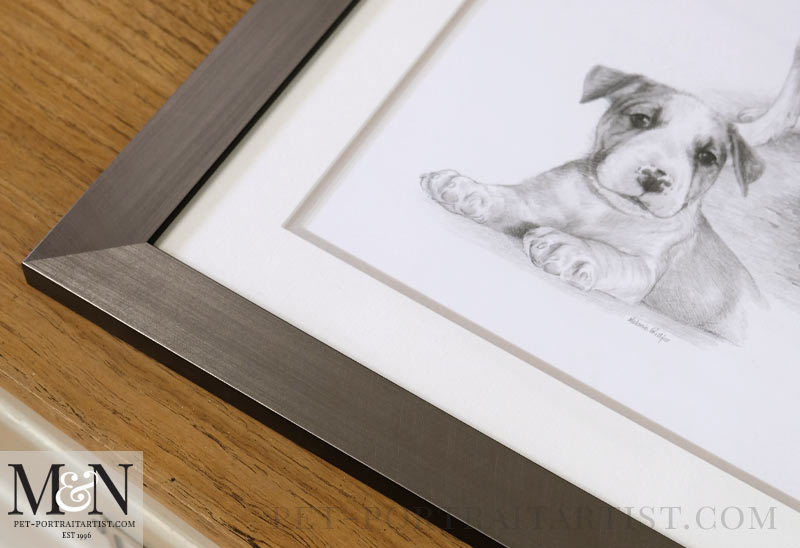 When you commission a piece from me, you're not just commissioning a drawing of your pet; you are investing in a work of art that has been created with care, dedication, and a deep appreciation for the subject. Each stroke of the pencil is deliberate, contributing to a final piece that is as unique as the subject it represents. If you would like to commission your Staffordshire Bull Terrier pencil drawing, please do drop me a line at any time, have a look around our website and contact me via email or WhatsApp.
Are you enjoying our blog? Why not sign up to our Melanie's Monthly News, which comes right into your inbox each month! You can sign up at the bottom of our website or at the top of the blog. Please don't forget to subscribe to our YouTube Channel too. You are more than welcome to comment below, we love hearing from our readers!

You May Also Like
March 9, 2016
December 1, 2014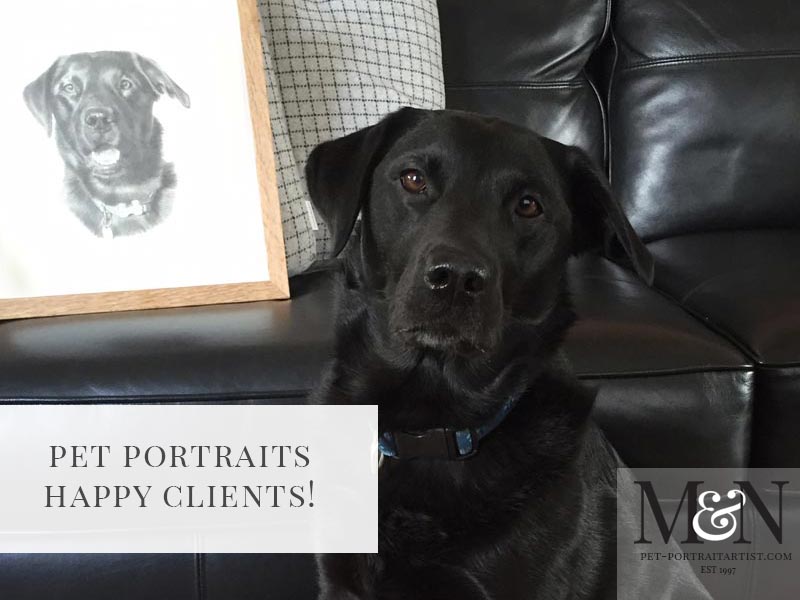 June 21, 2015