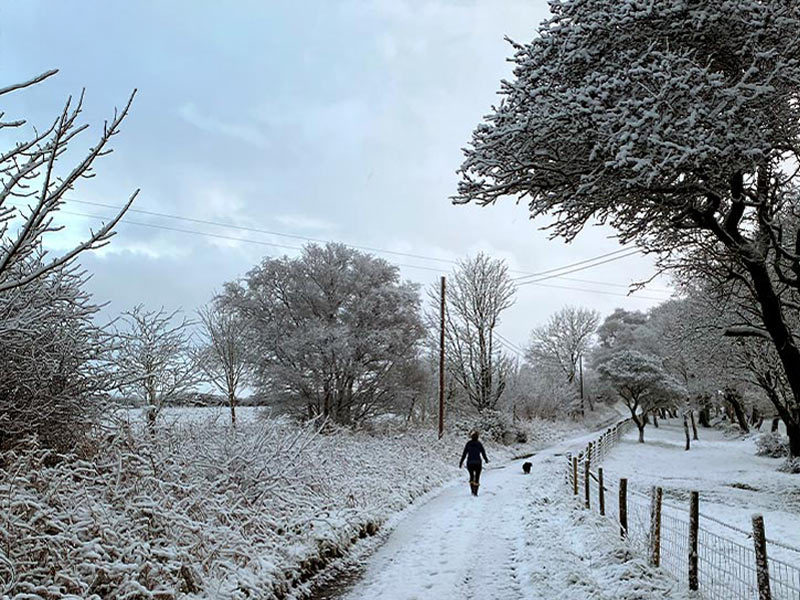 Melanie's December Monthly News
December 31, 2020
Welcome to Melanie's December Monthly News – the last blog of the year! I'm wring this on New Years Eve and I think if you ask most people today, they will surely say, let's hope 2021 will be a better and healthier one for us all. It's been quite a year and although we are currently in lockdown here in Wales, there is hope for the future to go back to some kind of normality with vaccines.
The stamped artwork below was completed by myself just prior to Christmas to wish all of our friends and family a very Happy Christmas and New Year. I love using stamps and inks, don't get the chance often, but I hope you like my efforts this year!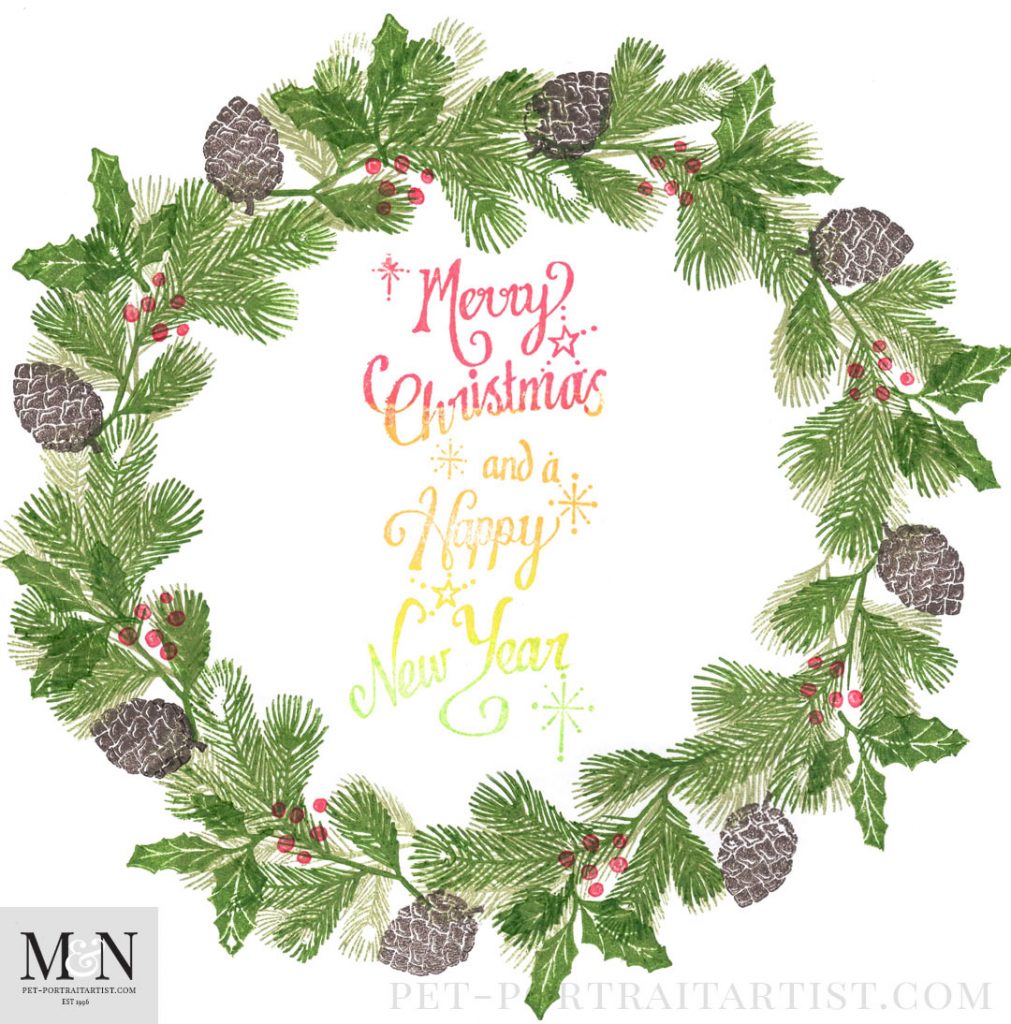 Melanie's December Monthly News – Christmas Holidays
Sadly our Christmas plans were thwarted at the last minute. I had booked a holiday cottage for Christmas in Somerset for us and Nicholas' parents, back in January (Pre Covid), however it was cancelled two days before as we went into lockdown.
So our Christmas was a very quiet one, we hadn't put up decorations as we knew we weren't going to be here, nor did we have a tree! We did however have plenty of food, a warm roaring fire and of course our own cosy cottage to 'cwtch' down in over the festive season. We did indeed have a snowy one this year as you can see from our little cottage photo.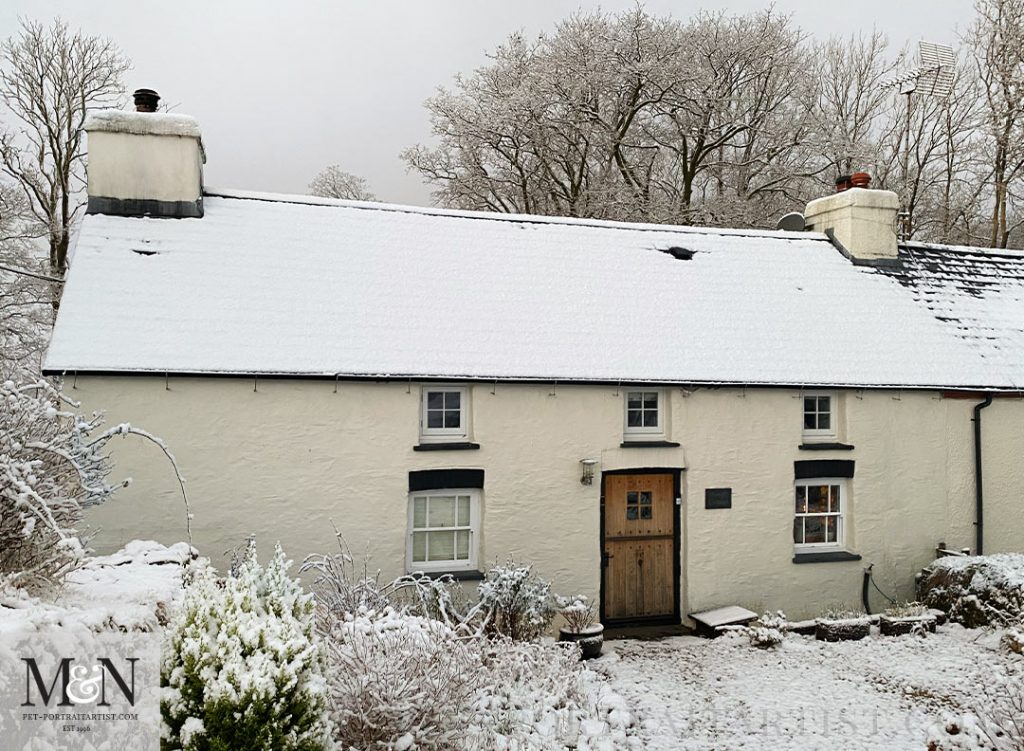 The fireplace did its job in keeping us warm with our cosy fire. Just a shame we were unable to share it with friends and family. Hopefully we will next year!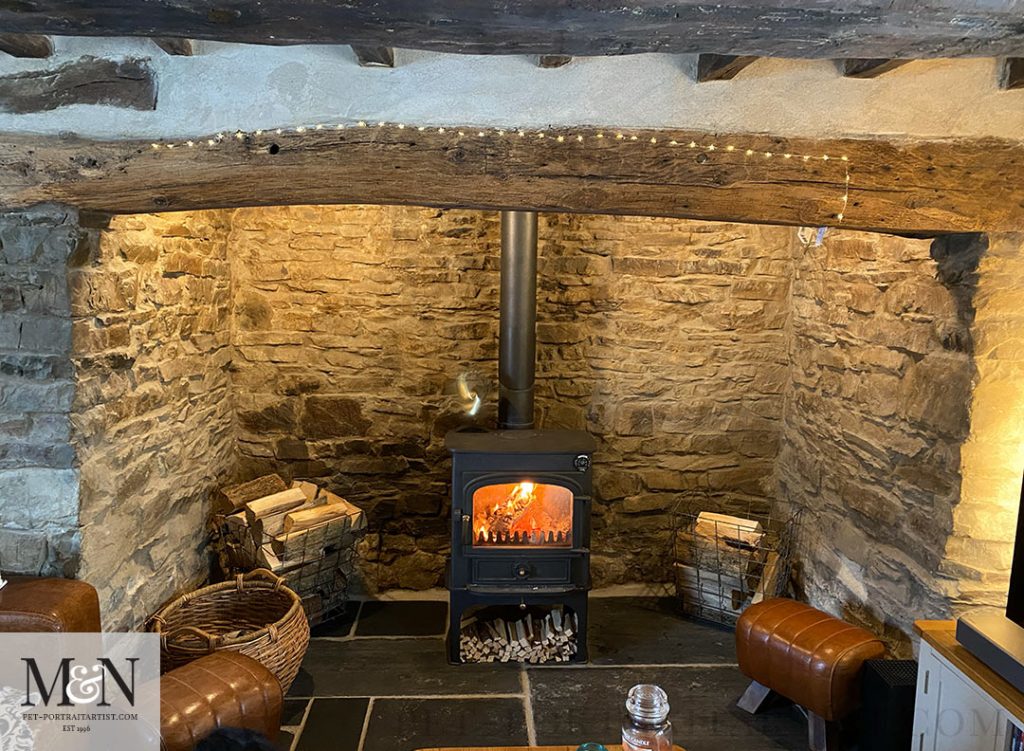 Snow!
The snow was absolutely beautiful and I love heading out early in the morning in the lovely light for photos. The photo below is my favourite from the selection I took on that morning. I love the way you can see the snow falling against the more distant dark clouds. The trees with their snow covered branches look so crisp. I have added a few more photos for you to follow my trundle down the lane with Nick and Lily.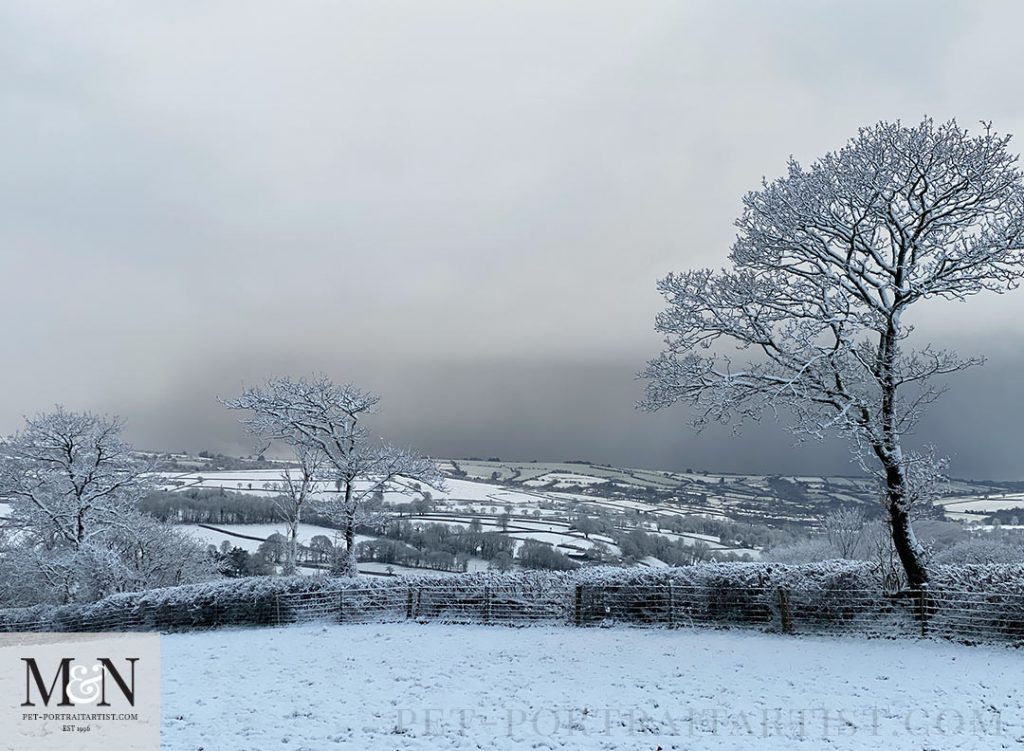 This view is the start of the walk along the lane. As we got to the woodland track the sun was just rising. I peeped over the hedge to take some photos, the sky was beautiful!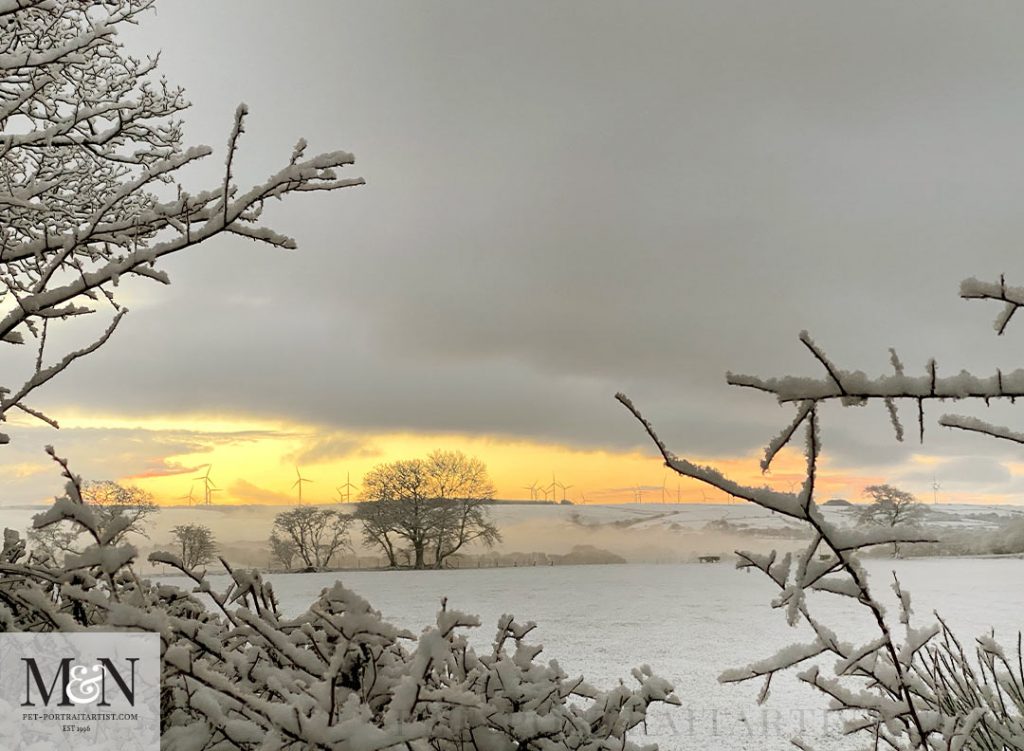 This is our usual little woodland track that we walk down, it looks completely different covered in snow, so very pretty.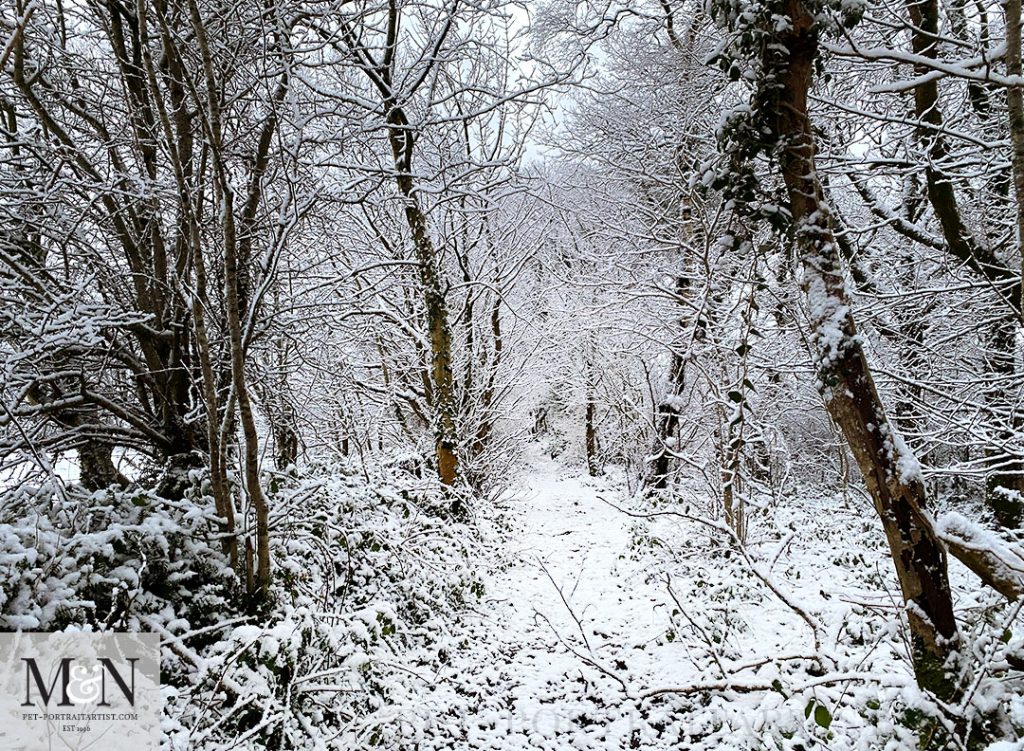 We headed right up onto the top of the hill to walk along the footpath and the sky was amazing as the sun came up more, beautiful colours too. You can see Lily in the field too, she had so much fun.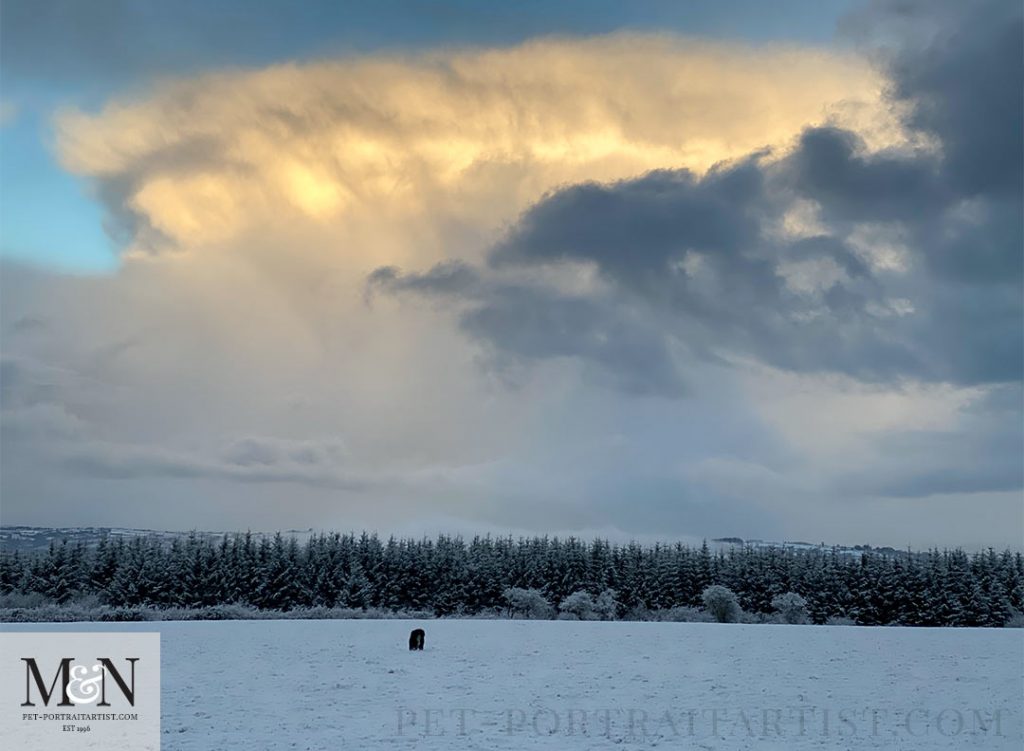 The photo below is of Nicholas standing in the field with Lily. The sky again in this one is incredible. It often feels as though you are on top of the world when you are up there.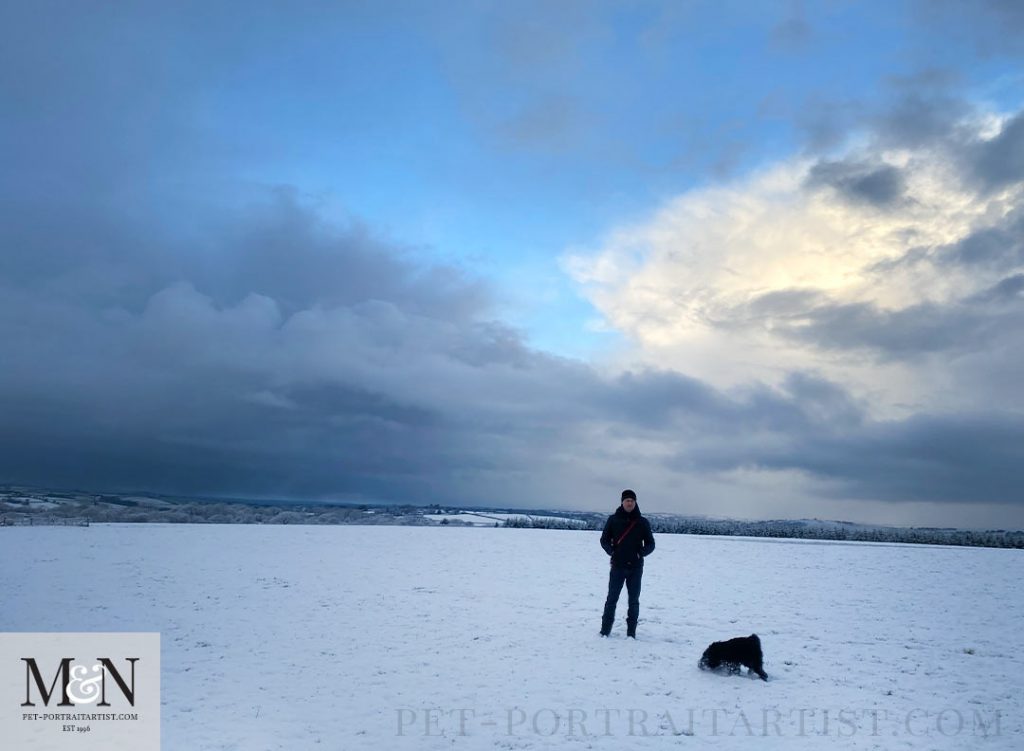 Walking home when the sky was brighter, but the clouds were just as amazing. This was taken on the lane along from our cottage.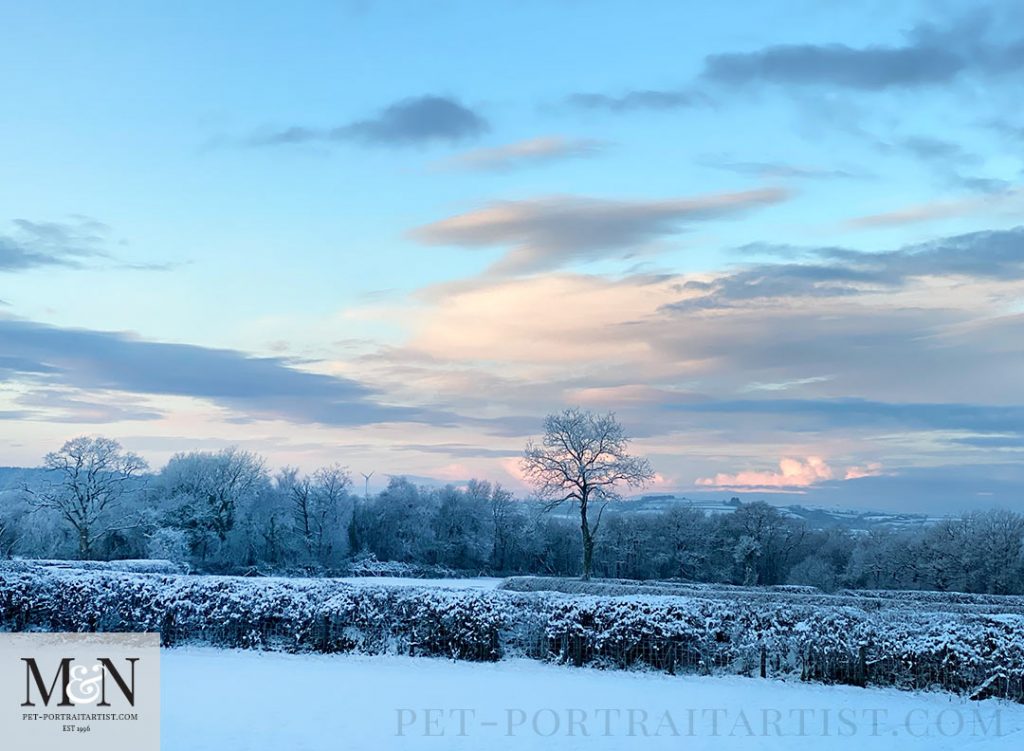 And finally a photo of Lily covered in snow! A very happy dog!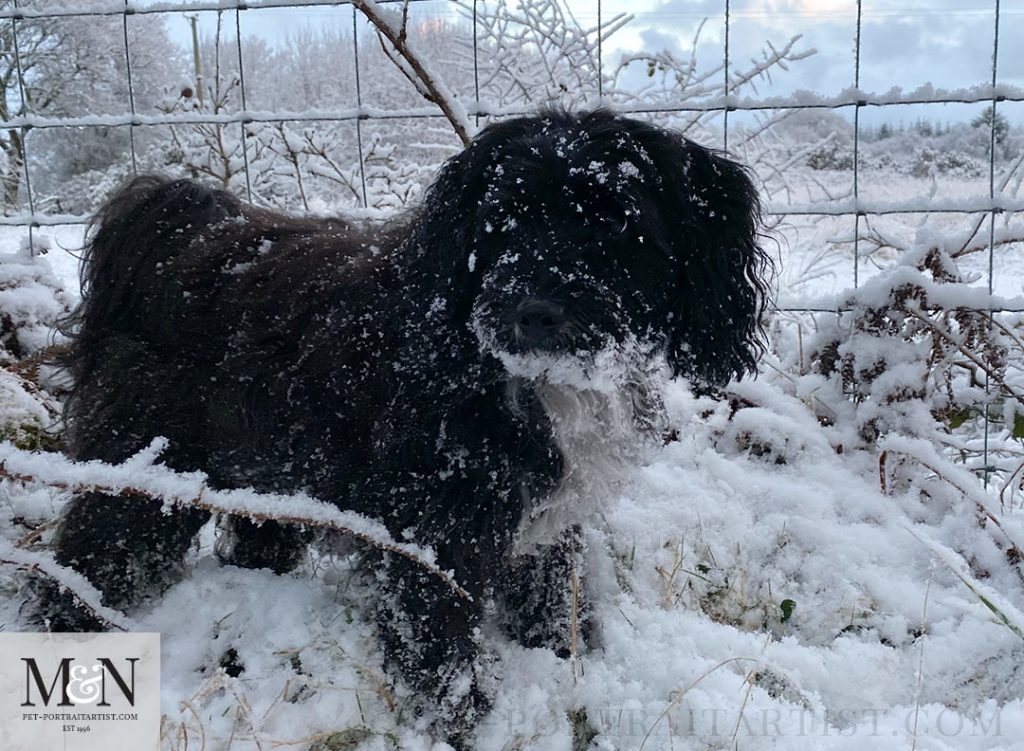 Rainbows
Before the snow, we had a lovely afternoon of fairly mild weather with the promise of snow clouds. We thought it was going to snow, but it was just rain, but with a beautiful full rainbow. Never far from my phone, so here are a couple of photos. The weather and the elements never cease to amaze me. Every day there is something different to see.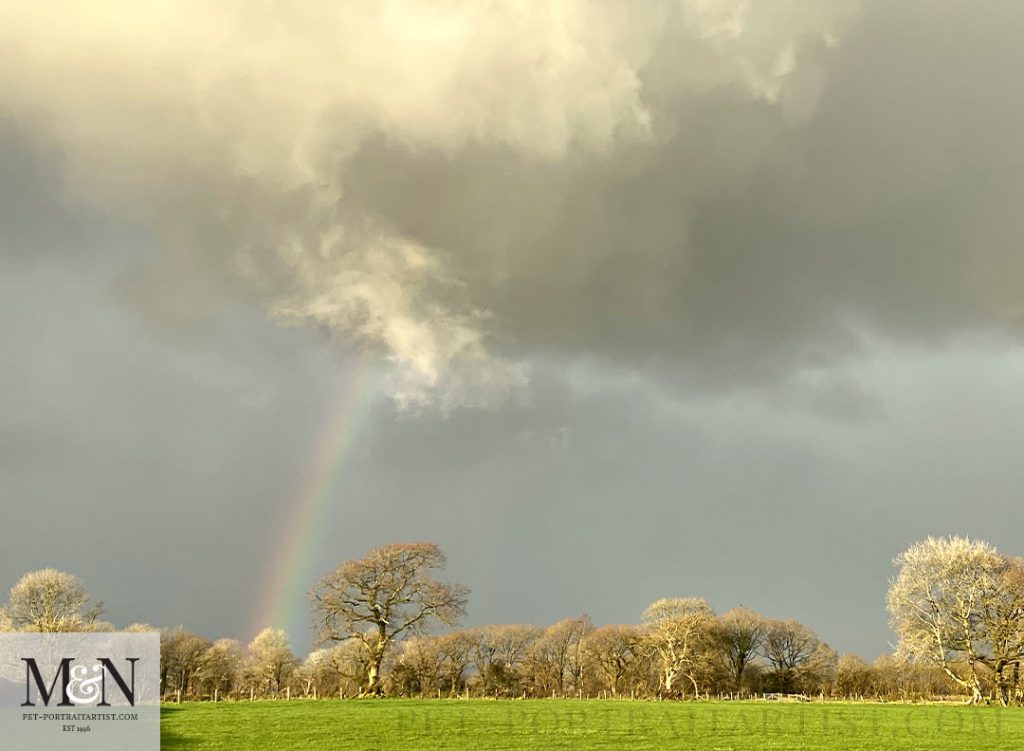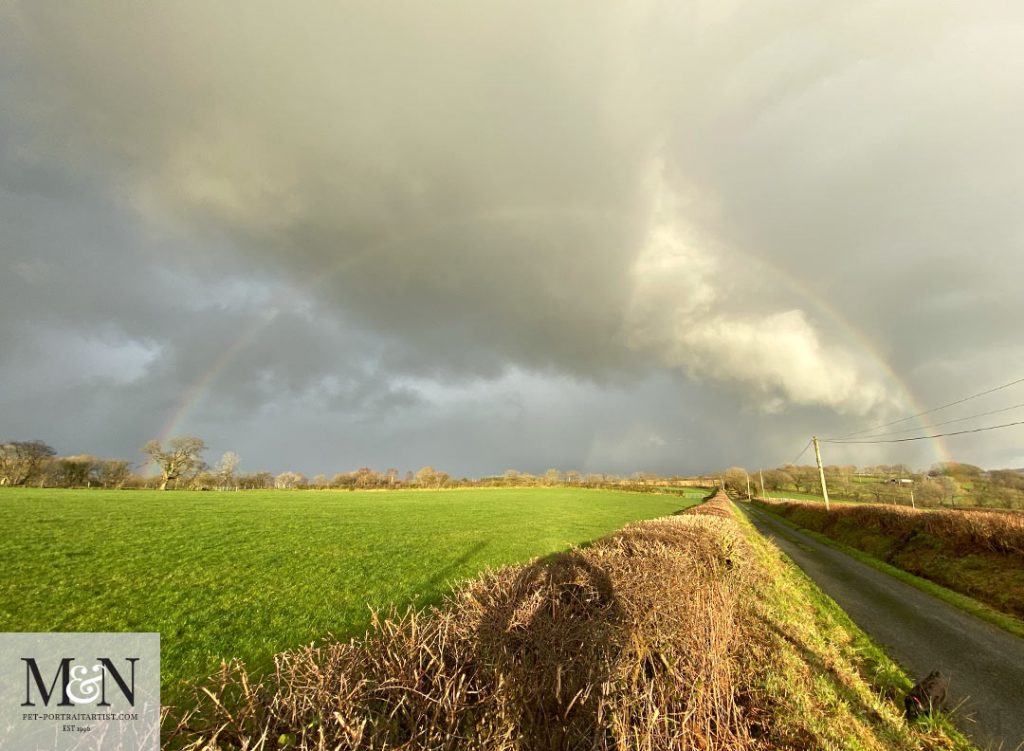 Aberaeron Visit
We took a short trip to the coast for a takeaway on my birthday which was lovely. The weather was amazing, we were very lucky for it to be dry and bright. The sky was pretty dramatic and again, as with most of my photos that I take as snaps on my iPhone, I don't really photo edit them apart from making them smaller or a bit brighter. The clouds were out of this world over the town and the sea, I hope you enjoy viewing them!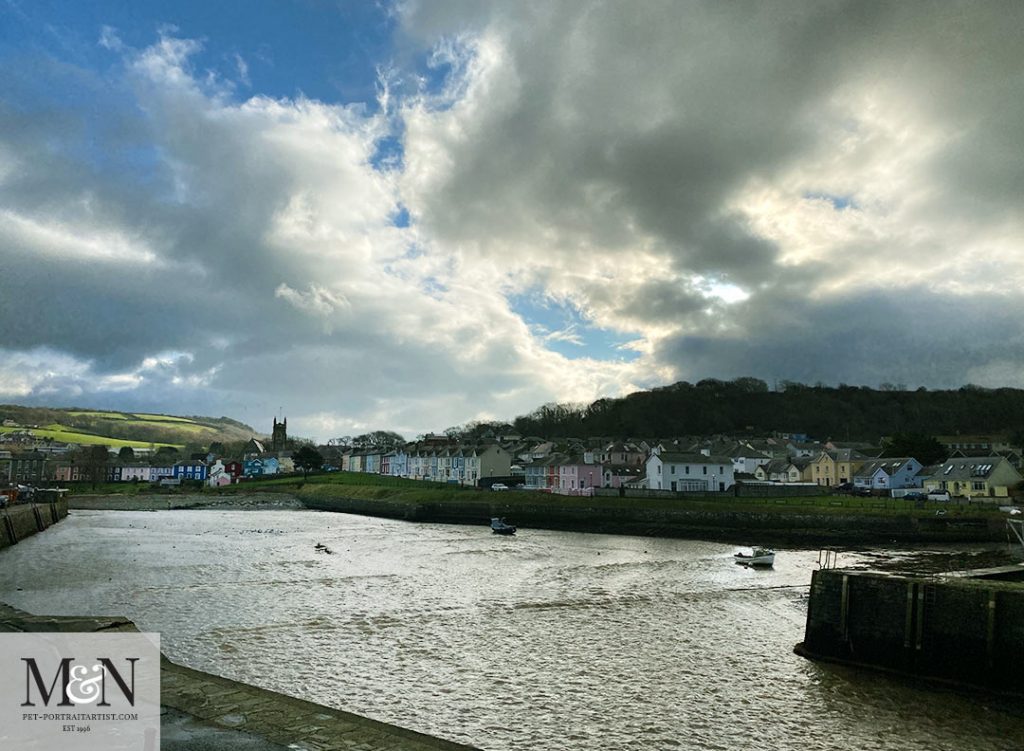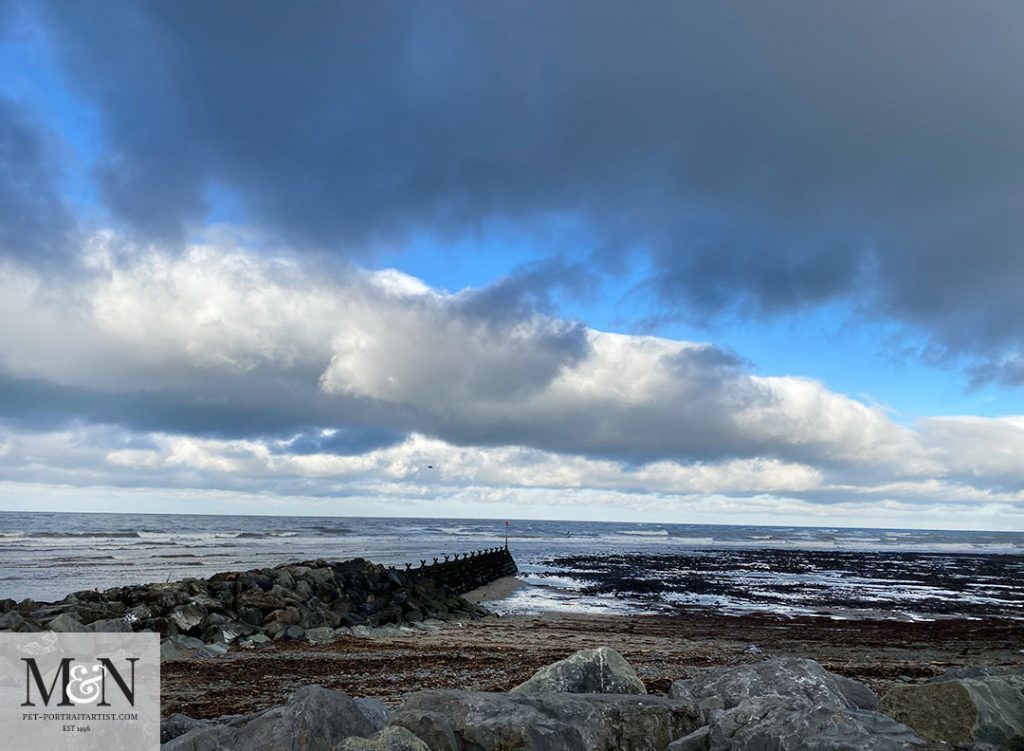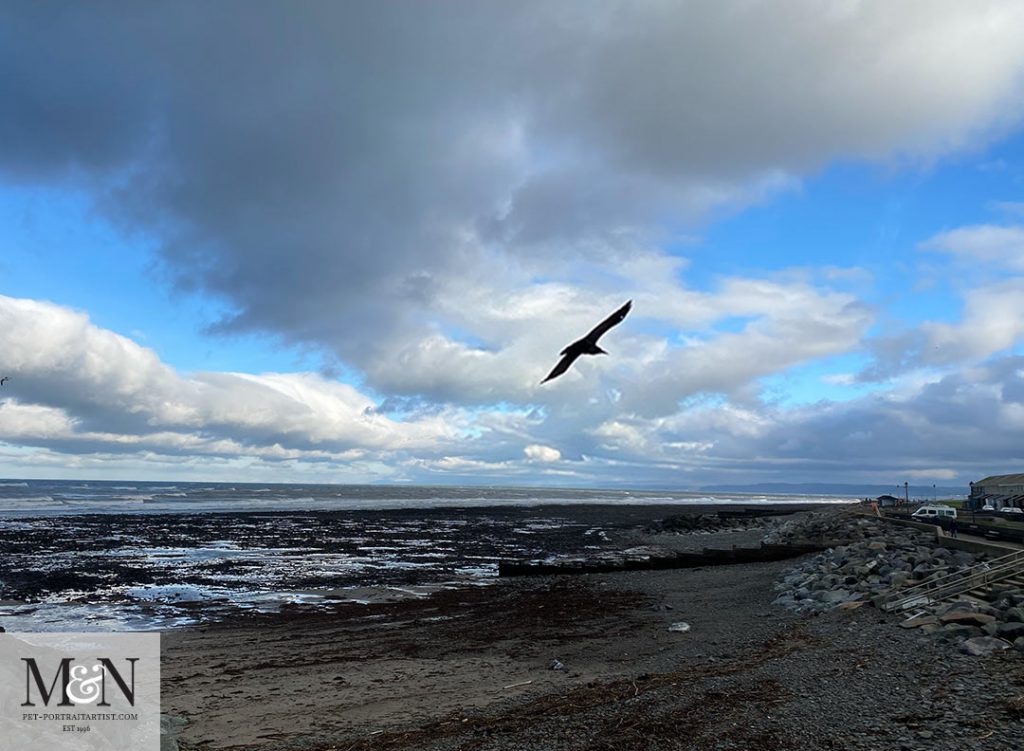 'Crumble' – Pet Portrait in Pencil
Both Nicholas and myself were busy in the lead up to Christmas with portraits and this is just one of the drawings I completed. It is of a gorgeous Spaniel called Crumble which I drew at 14 x 11 size. If you would like to commission a drawing, visit my prices and contact page at any time. Crumbles owner was delighted and you can read Sarahs reply when she saw the finished drawing below…
Dear Melanie,
It's amazing – you have caught her perfectly – thank you so much. I shall be getting you to paint a few more of my dogs over the coming year! So thrilled. Wishing you a very Happy Christmas.
Best wishes,
Sarah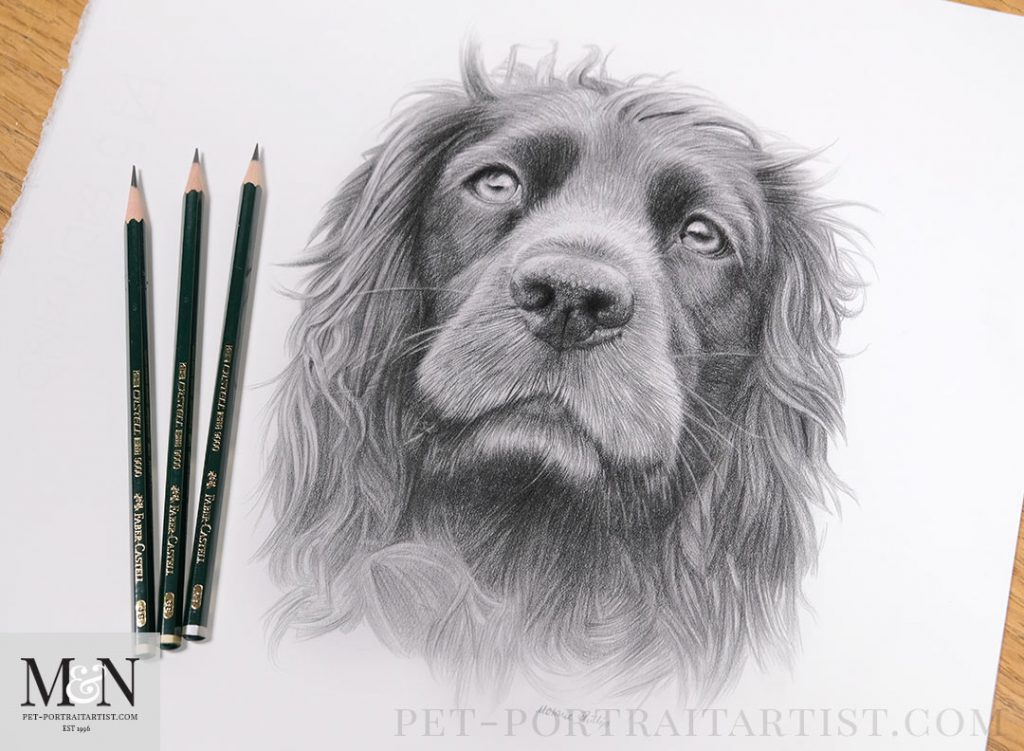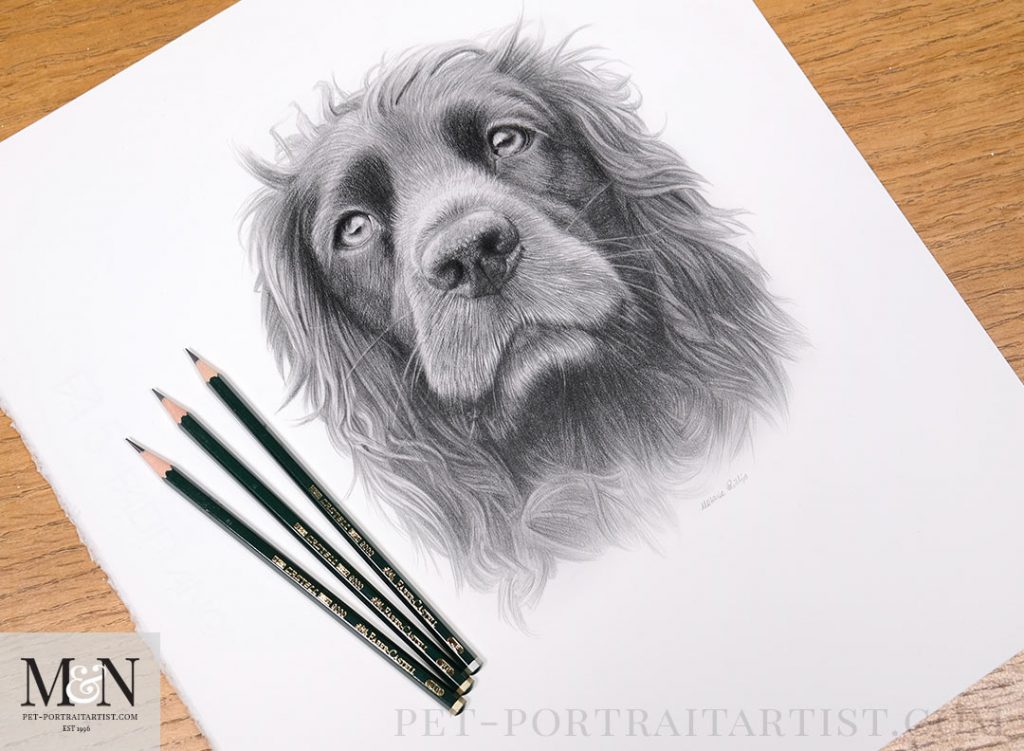 Melanie's December Monthly News – Jackson's Oil Painting
Amy, a returning client, commissioned Nicholas to paint a portrait of her sisters Beagle called Jackson. Amy was not able to see her sister this Christmas. So I wrapped the portrait for her and send it direct. Amy was thrilled, see the portrait below, plus some photos of it being wrapped in Christmas paper.
Well that kind of wraps things up for the year! I hope that you have enjoyed my Melanie's December Monthly News! It's been a difficult year for us all and let's hope that we can all put our best foot forward, keep abiding by the rules, keep social distancing and respecting each others bubbles and we can get back to some kind of normality. If you missed last months blog post head on over to my Melanie's November News. We wish you all a very Happy New Year and I will be writing another blog post in January! See you all soon!
Why not sign up to our Monthly newsletter accessible at the bottom of our website which comes out on the 1st of each month. Catch up on news from our Art Studio! Please don't forget to subscribe to our YouTube Channel too, follow our Instagram @petportraitartists and Facebook @petportraitartists . You are more than welcome to comment below too, we love hearing from our readers!

You May Also Like
January 4, 2017
December 10, 2017
October 31, 2014