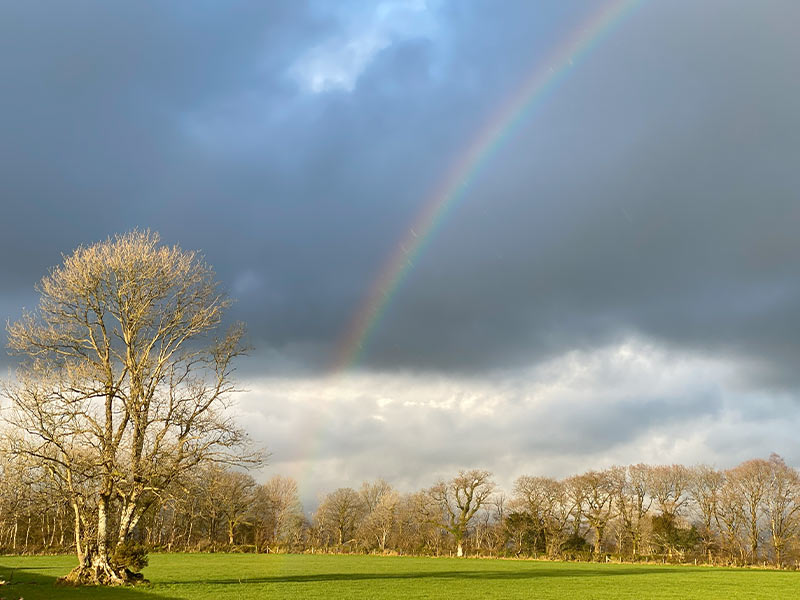 Melanie's January Monthly News
January 23, 2021
Welcome to Melanie's January Monthly News and another month has whizzed by. Well I say whizzed, we are still in lockdown and so haven't really been anywhere exciting….. well anywhere really! Our weather has been pretty bad, we have survived Storm Christoph and I haven't seen as much water for a long time. The town where I do my shopping has a beautiful river meandering around it which burst its banks, yet again. The road was flooded and closed so two supermarkets were were inaccessible, but thankfully one was fine, so we didn't starve!

We have been trying to get out on our lane walks regularly and incredibly timed was this beautiful double rainbow as we walked outside f the cottage. You can just about see the second rainbow on the left hand side in the photo below and I tried to zoom in on the photo below that. Oh… and yes it did rain!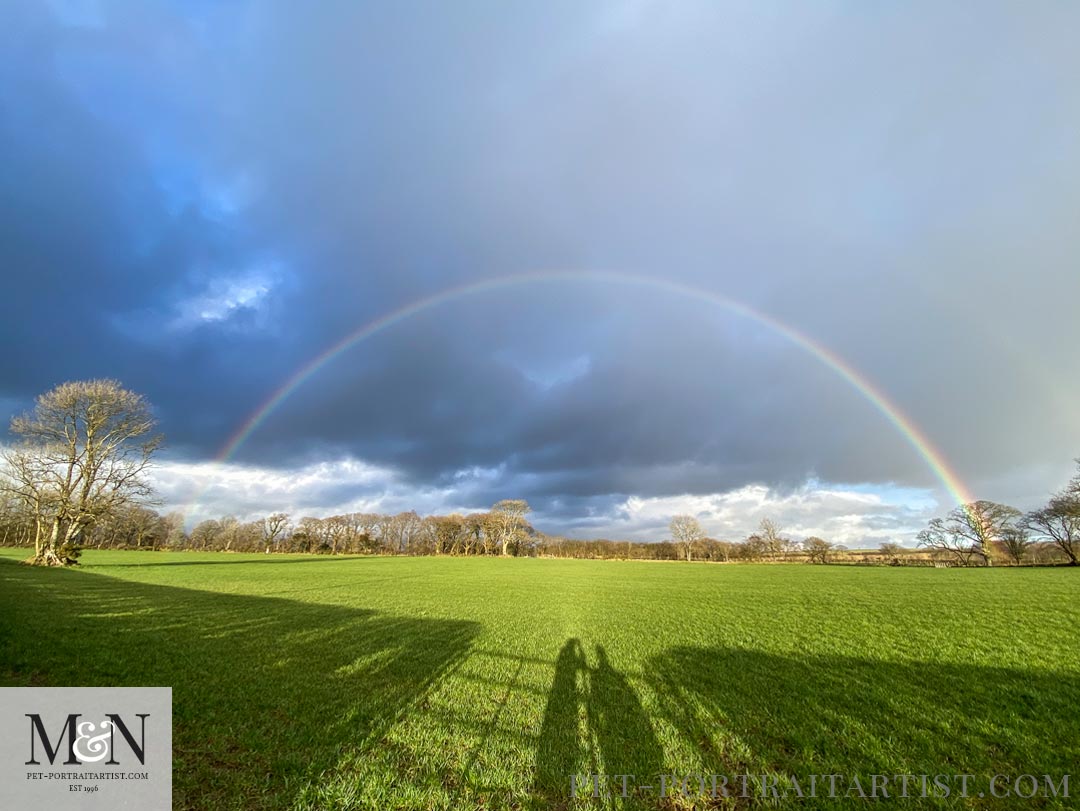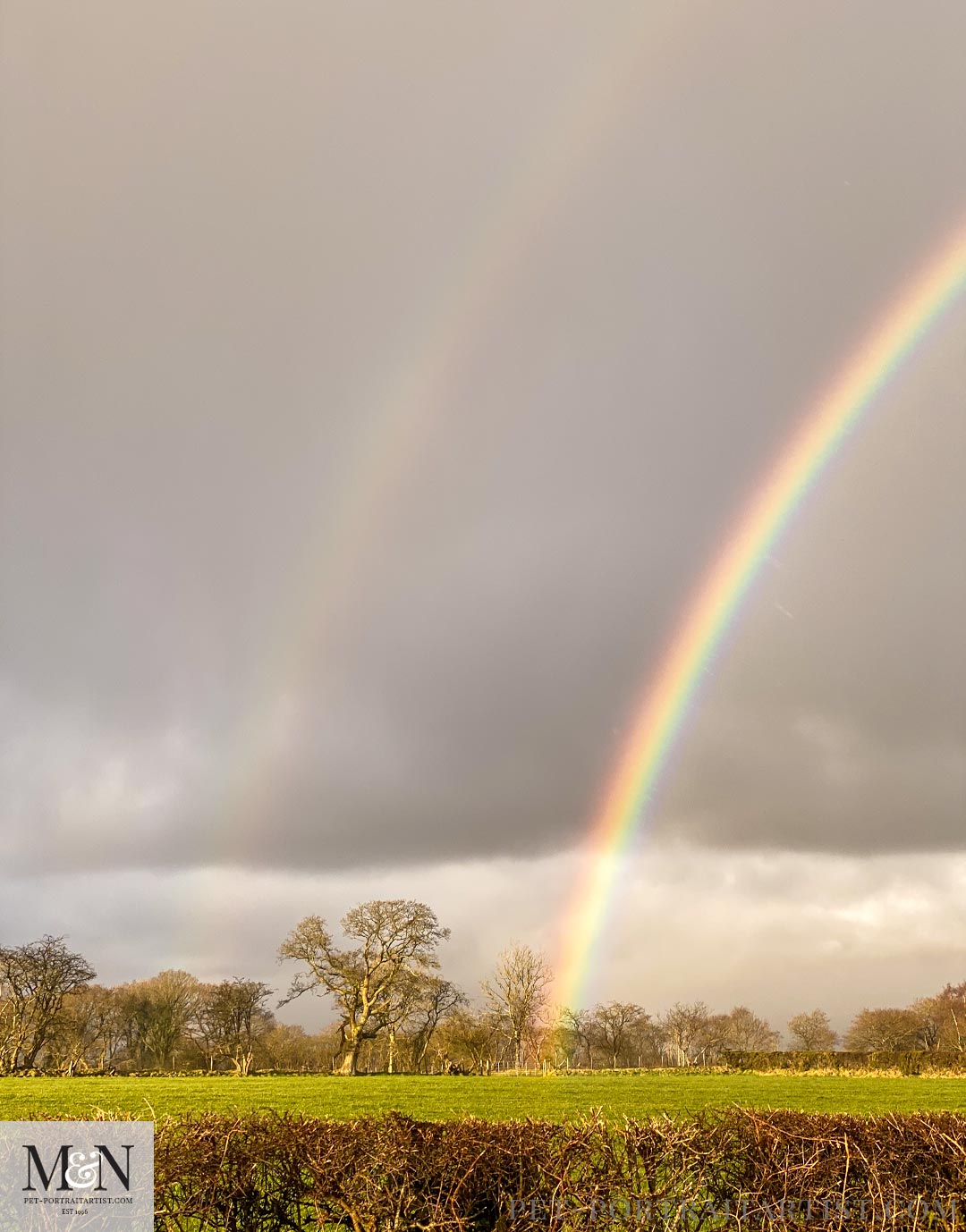 Melanie's January Monthly News – Llangrannog
In the New Year a few days after the snow had melted we headed out to get shopping and on our way home trundled down to a little coastal village called Llangrannog. it is beautiful, particularly in the summer months and the windy drive down around some hair pin bends is pretty good fun I have to say. Of course with the weather being so bad and lockdown we only saw a handful of people there, so it was lovely to have the place to ourselves pretty much. In the summer months you can hardly even park. I took a couple of photos which you can see below. The wind was very below but happily it had stopped raining for a while so Lily enjoyed a run on the beach.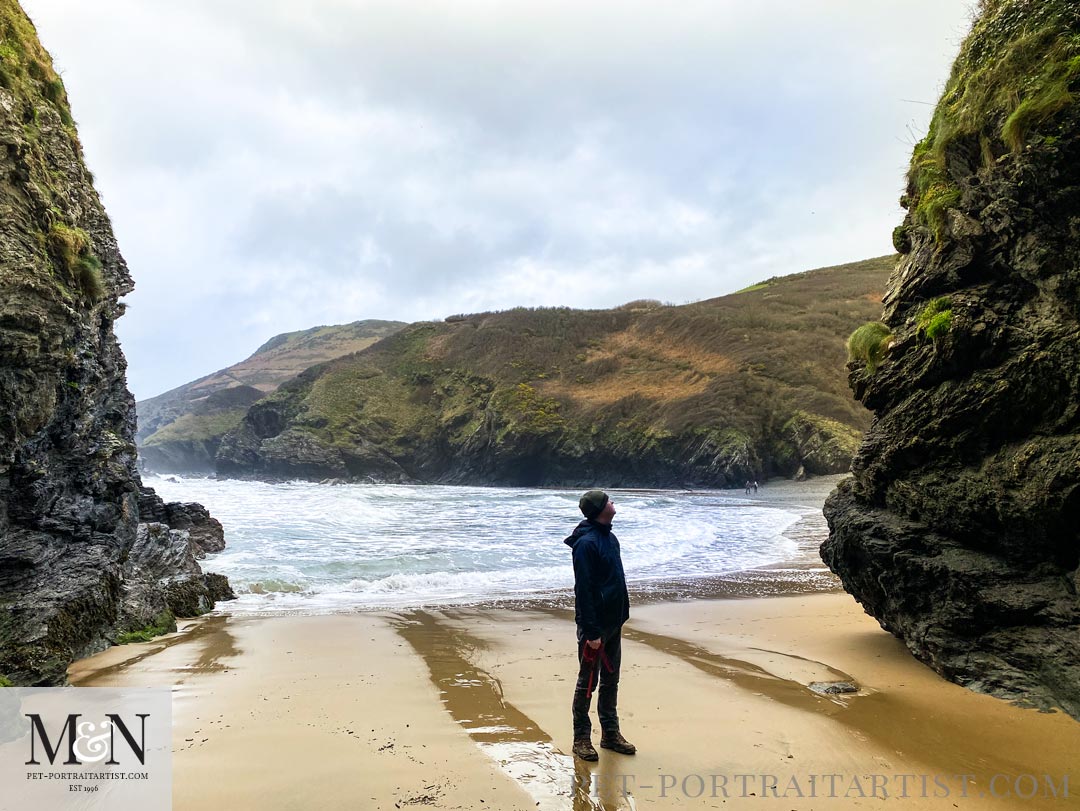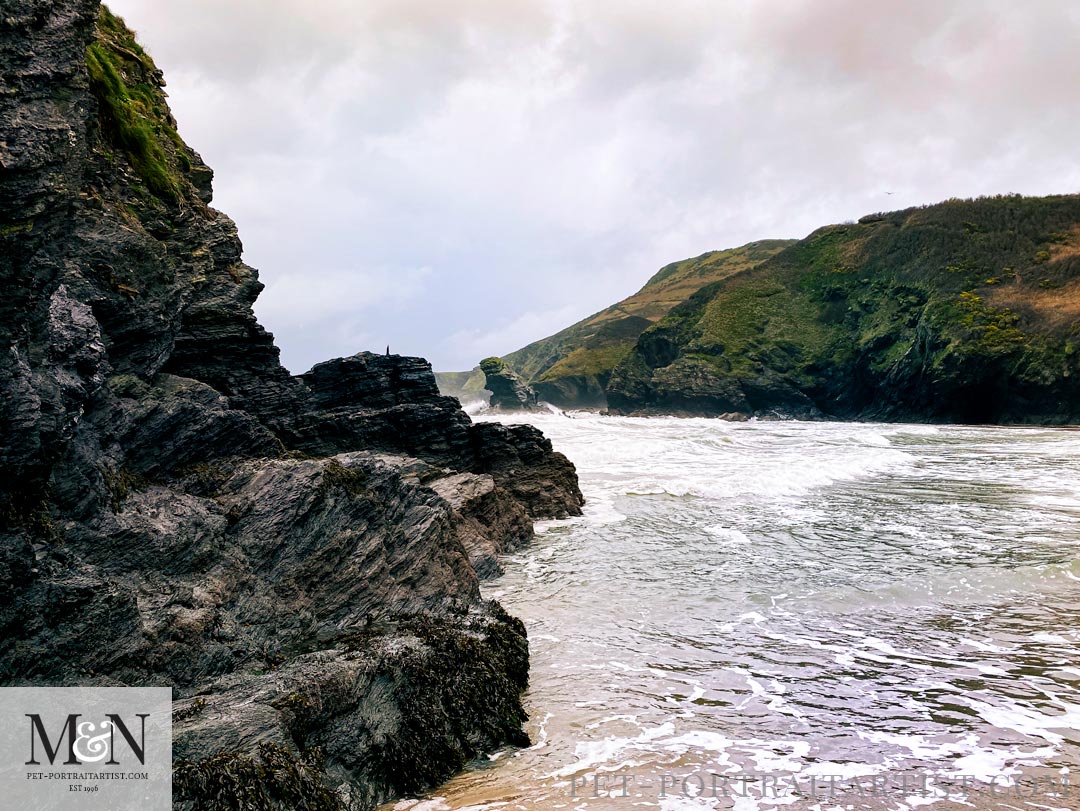 Evening Sun and Landscape Views
The best times of the day for taking photos is early morning and later on in the afternoon just before the sun sets and I have added a couple of my favourite photos take this month, along with a blue sky photo. Unbelievably yes here in Wales we saw blue sky this month. Not for long…but it was there!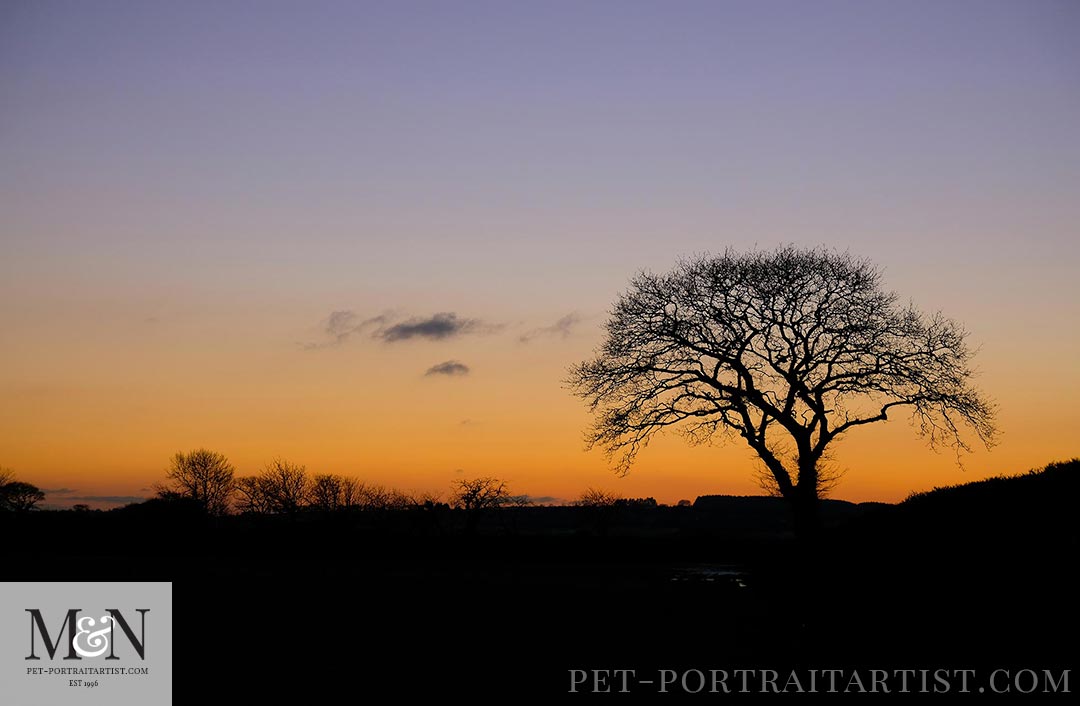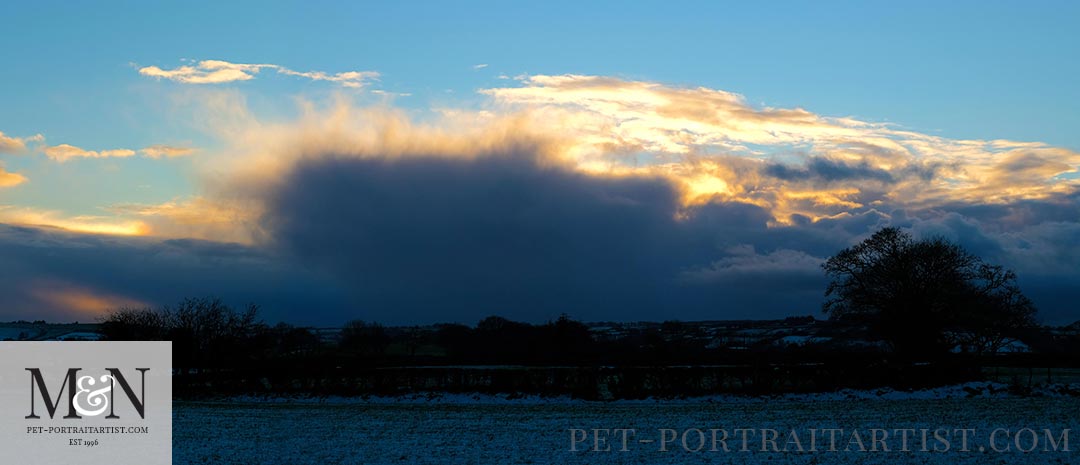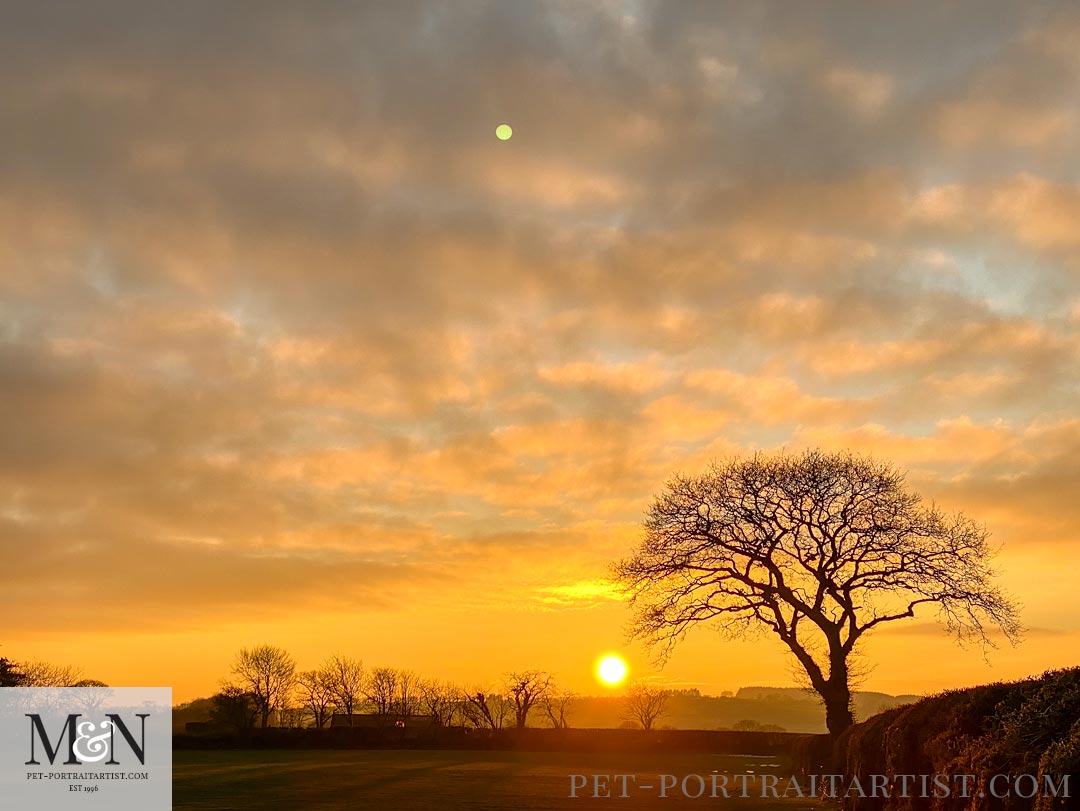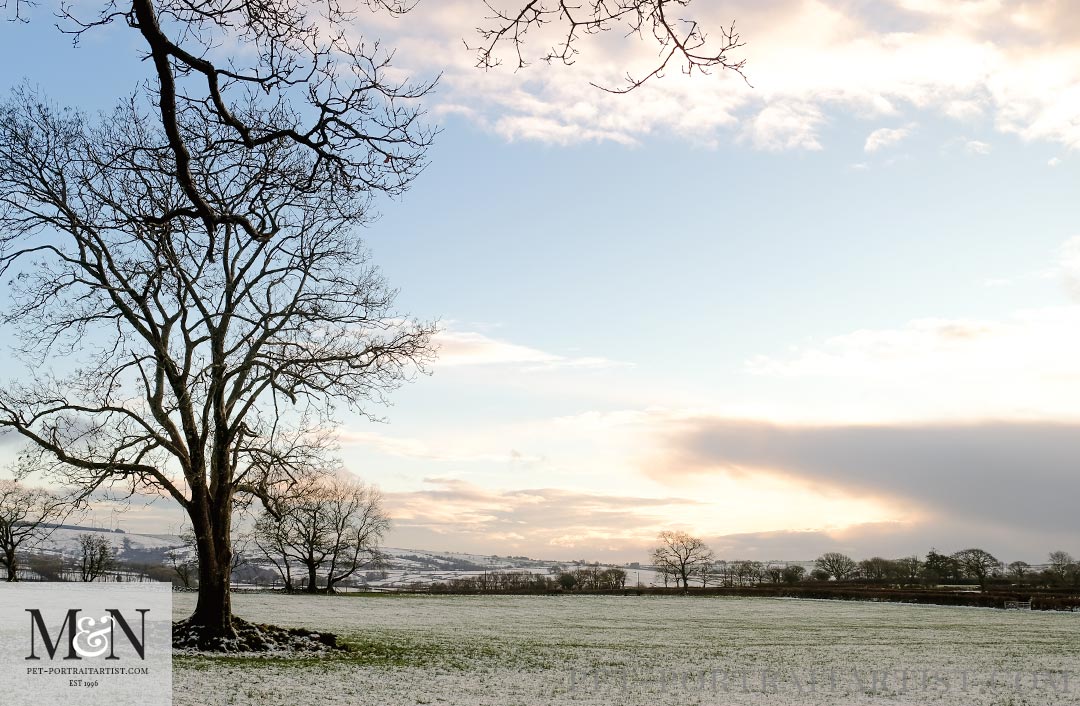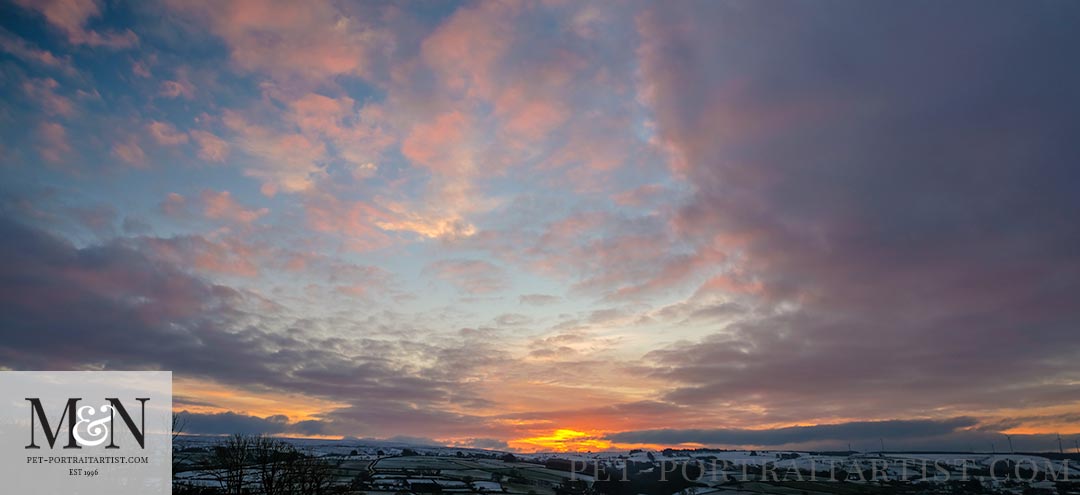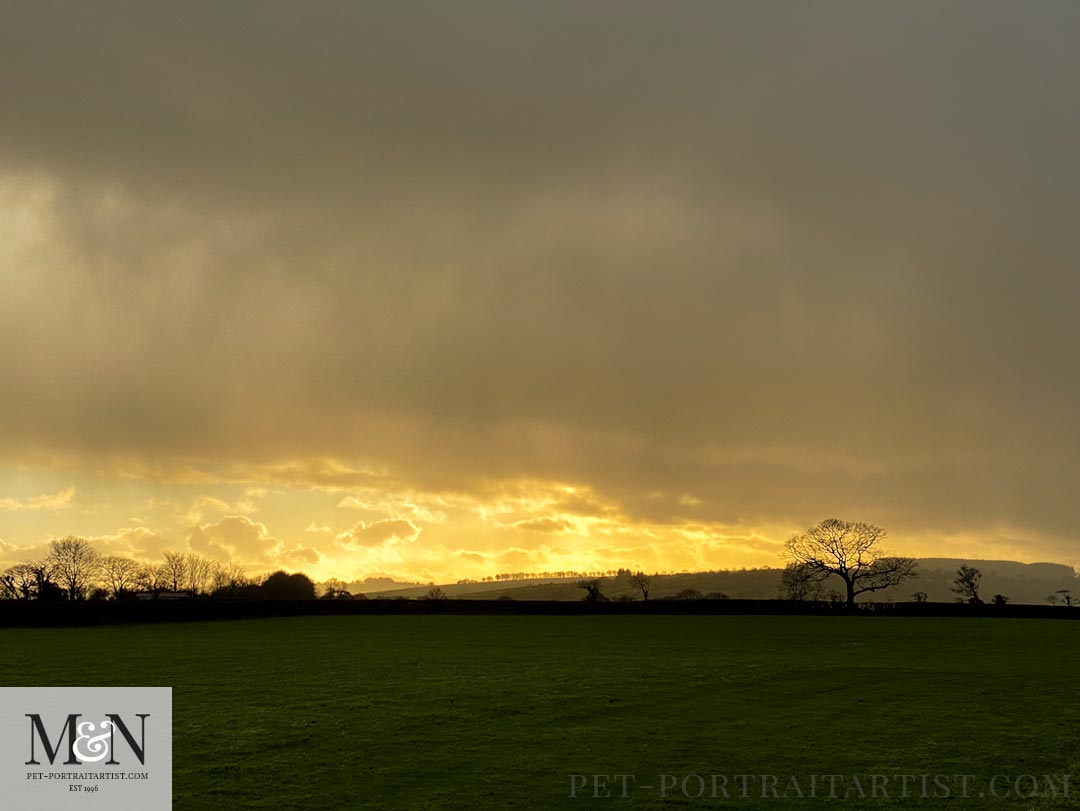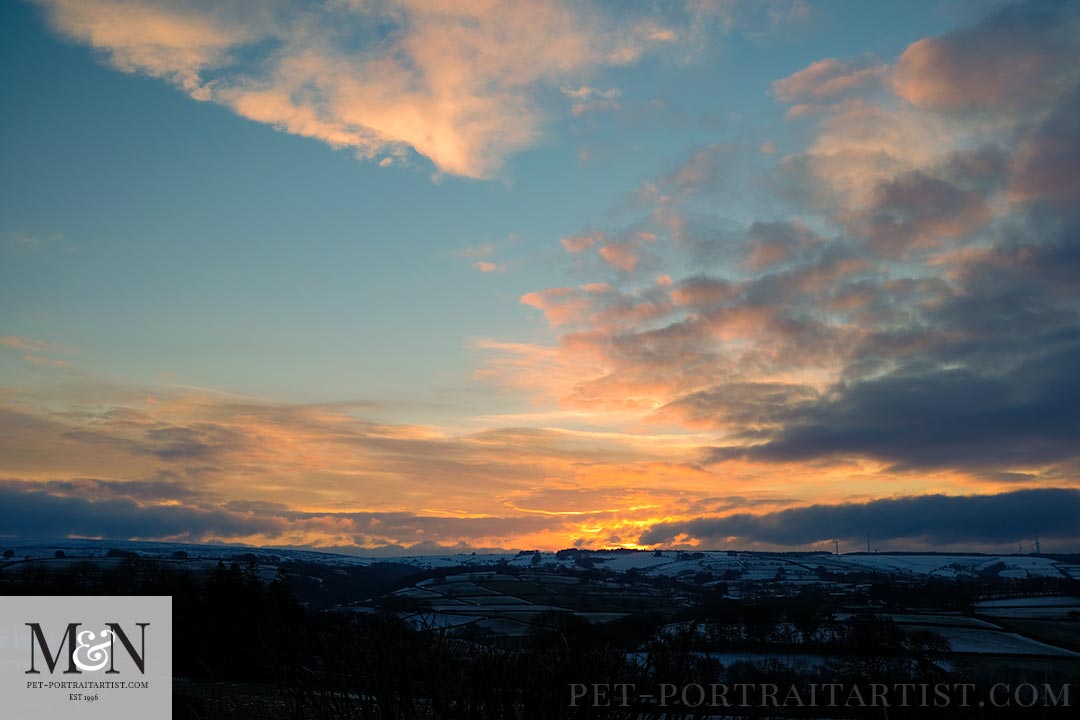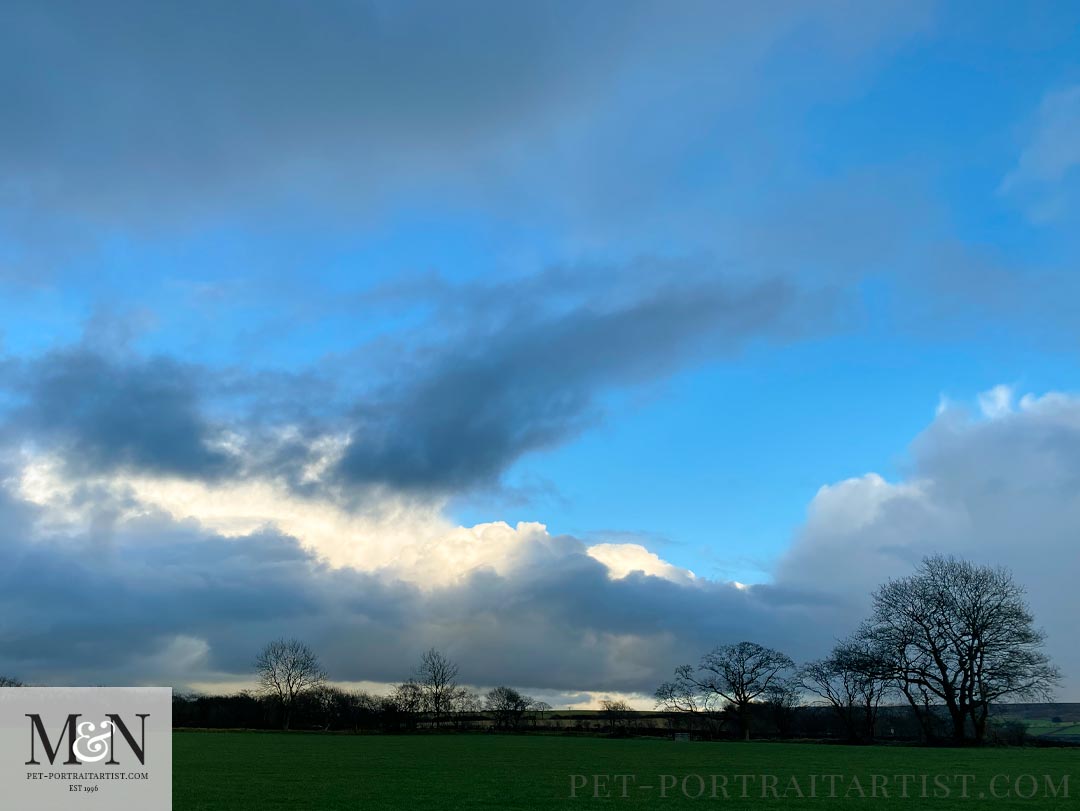 Oh..and it snowed again!
We had an overnight snowfall and so took the opportunity to head out and about in the snow, first along the lane with out footprints which is always fun. It was pretty cloudy so the sunrise wasn't all that great but I took the photos below which came out well. I hope you enjoy viewing them.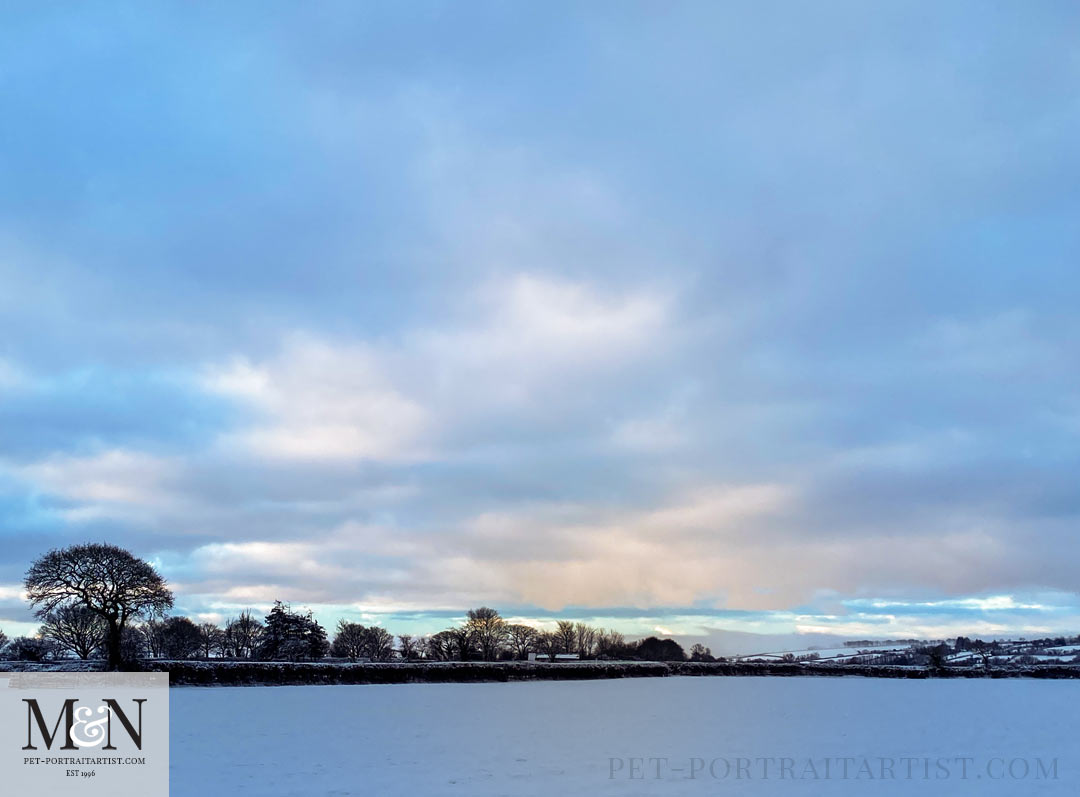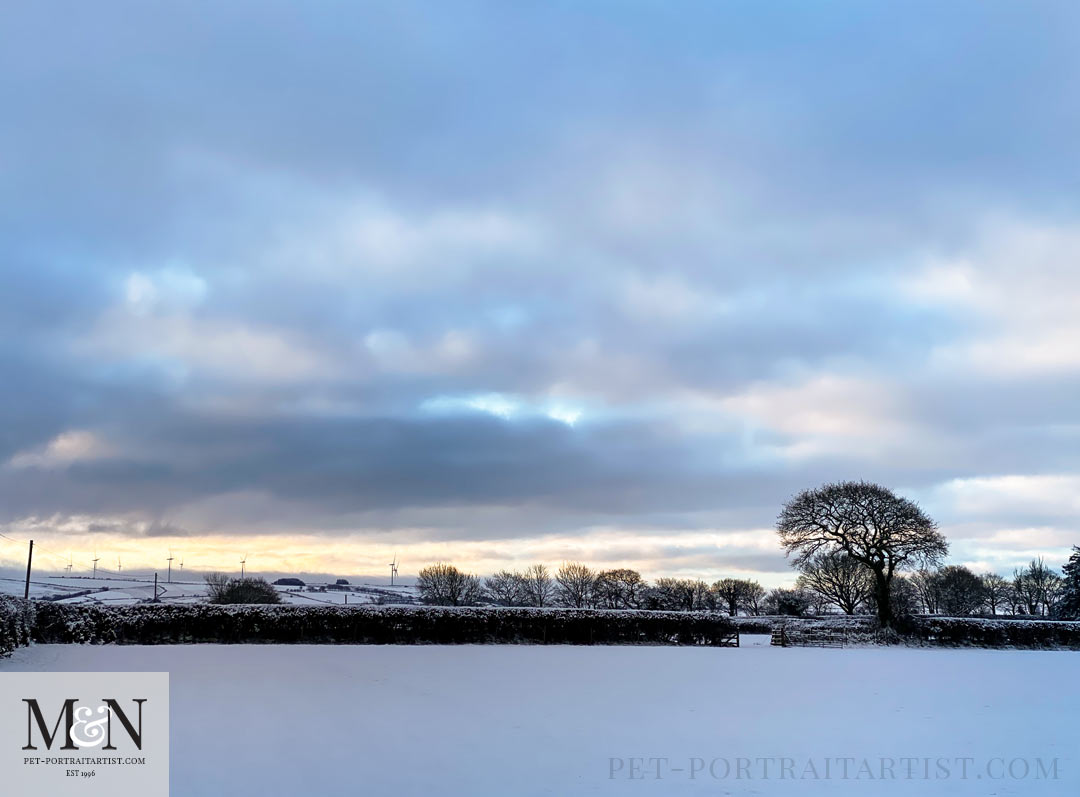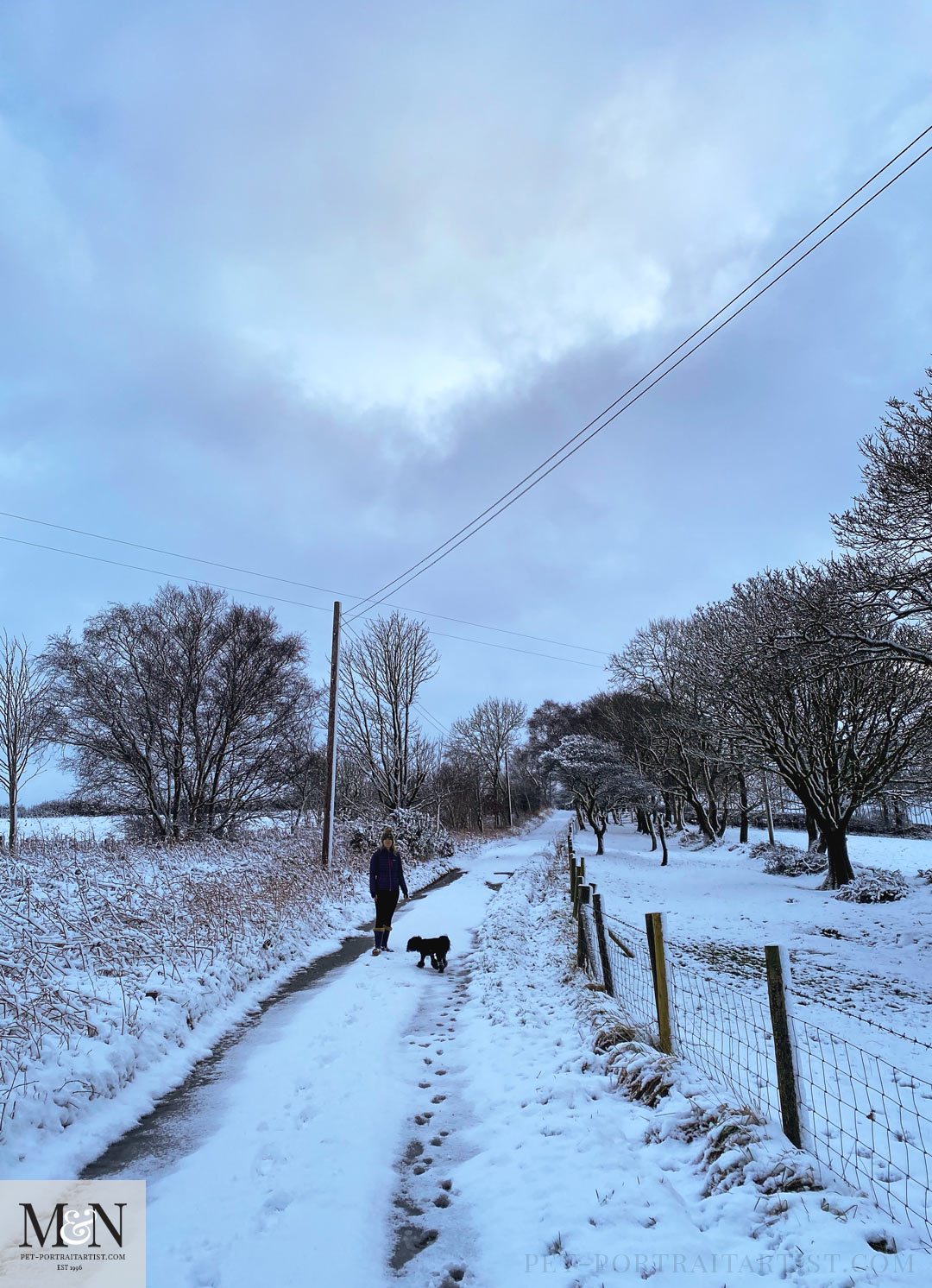 Website Updates!
At the start of the year I took some time away from my drawing to overhaul our websites. I hadn't had a design update for a few years and our navigation was a little heavy, we had a little too many pages of information which could be consolidated and easier to get around. So I lightened, brightened, shortened, amalgamated and updated! New work, new navigation, new photos and similarly some new artwork.

Id like to think I did a good job, considering im still old school and do everything by hand in Dreamweaver with HTML code, opposed to these new fangled, blog style, template driven up to the minute instant websites. Whether I'm right or wrong to stay as I am doing it, the sites look better, I hope people can get around and find what they want easier. So we will go with it for a while longer.

Its funny when you do these things, its probably because you notice it more, but my inbox over the past week has been inundated with web design and search engine optimisation companies telling me that my site needs updating and would I like them to take over. With all of the hours of work I have just done on them..ummm… no! Coincidence, or …… had my changes to my sites made them more prominent…so people like web design companies could find them?… Who knows! 🙂

If you have some time to look around our websites id love to hear what you think! We have 5 websites in total and I will add links to them below!
---
Our Main Pet Portraits Website
This is our main website with most of the general advice about commissioning a portrait from us, which shows a variety of portraits of cats, dogs, horses in pencil and oil. It is our oldest and most established website. Pet-PortraitArtist.com
---
Our Dog Portraits Website
We found that we wanted to branch out with dedicated website, some good 10 years ago now. Amazing how time flys and so we bought the dog, cat and horse domains. The website below is dedicated to dog portraits in pencil and oil and you can visit it here – Dog-PortraitArtist.com
---
Our Horse Portraits Website
Our Horse website is a very popular one as horse lovers, really love to look around knowing that they will only see previous commissions of horses and everything is dedicated to them. You can find our horse site here – horse-PortraitArtist.com
---
Our Cat Portraits Website
Our cat website is really a lovely place to look around. You can see some of our cat paintings, plus some drawings really close up. Cat-PortraitArtist.com
---
My Pencil Drawing Website
Finally I had always wanted a place to call my own. So I have a website dedicated to my website drawings. This houses all of my work and detailed information about commissioning a portrait. Beautiful photos plus of all the frame options available too. I hope you enjoy viewing it! Pencil-PetPortraits.com
We hope that you enjoy viewing all of our websites and reading our 'Melanie's January Monthly News'. Next month we will have some artwork to show. We haven't quite finished any artwork yet, we are waiting on framing and such. They will be revealed before long, so if you missed our snow photos from last month, please do checkout our December Monthly News. See you all in February!
Why not sign up to our Monthly newsletter accessible at the bottom of our website which comes out on the 1st of each month. Catch up on news from our Art Studio! Please don't forget to subscribe to our YouTube Channel too, follow our Instagram @petportraitartists and Facebook @petportraitartists . You are more than welcome to comment below too, we love hearing from our readers!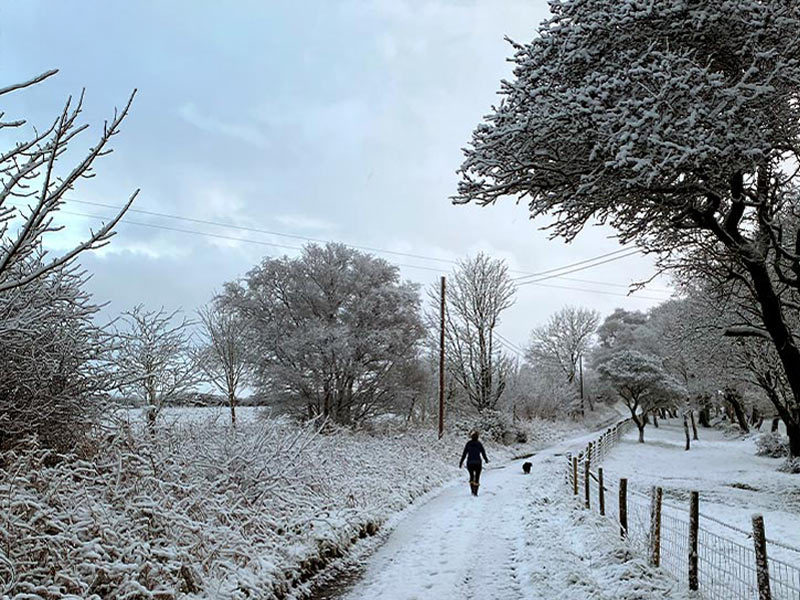 You May Also Like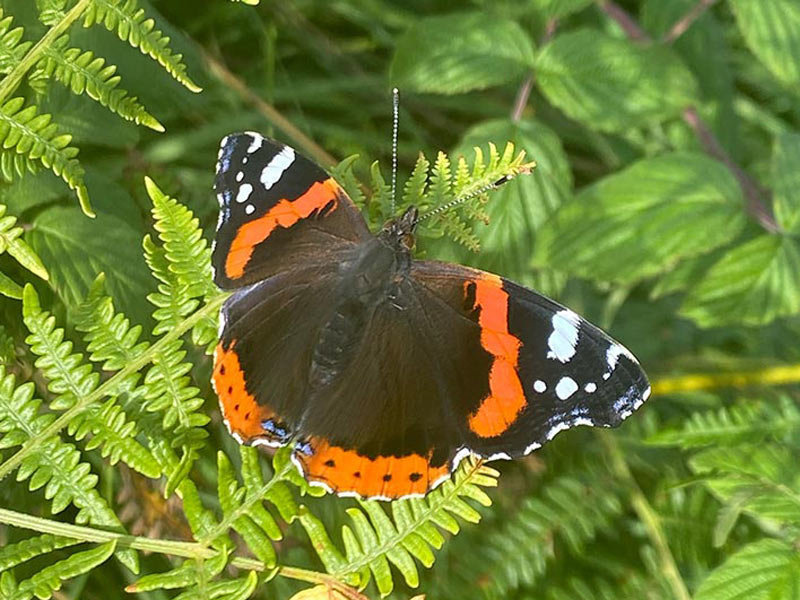 September 28, 2022
May 31, 2019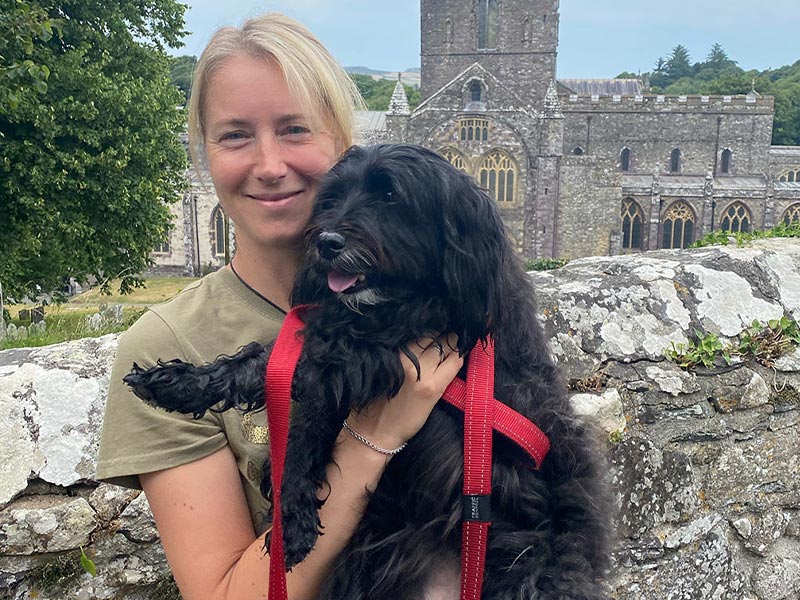 July 31, 2022