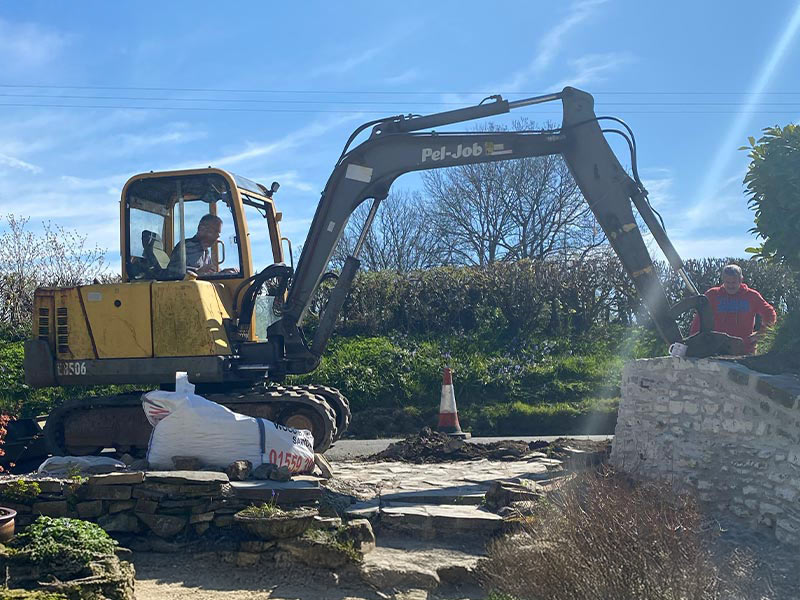 Melanie's April Monthly News
April 28, 2021
Welcome to Melanie's April Monthly News where we have been a little further afield this month. All thanks to the relaxing of restrictions, plus we have been pretty busy to boot too! Cute photos of Lily to start this months blog post. I came home one morning early from running and Lily greeted me at the door as per usual. She then went trotting off into the kitchen and laid down with her paws in Nicks slippers. What a photo opportunity, so funny, and her eyes are so big and shiny too!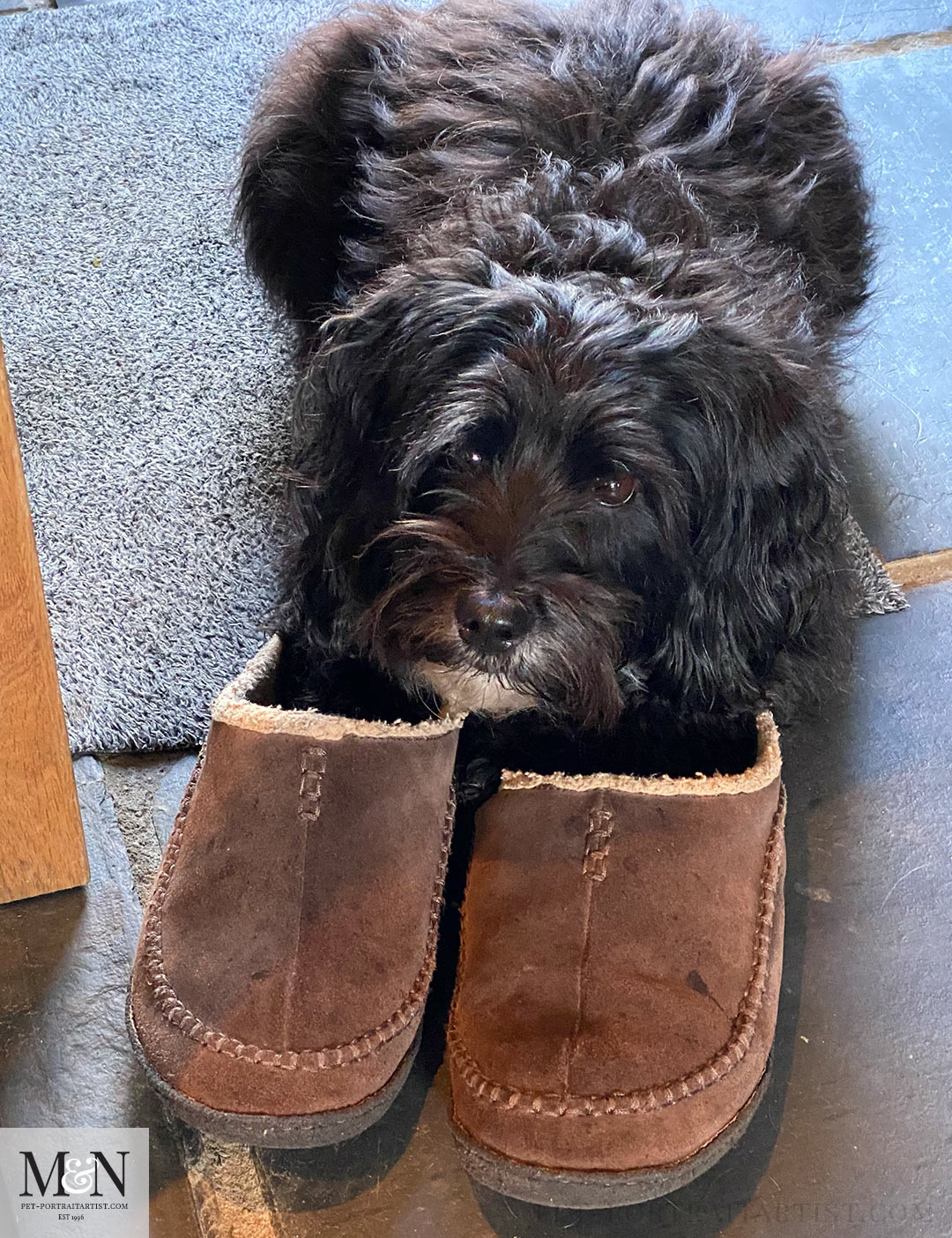 I also bought a new bed for her crate and you can see she loves it below. She has to have her teeth cleaned at the vets this week. She has some gum disease at the back, plus she has bad breath too so they are going to do a procedure and check to see if any of the teeth need extracting. They will also take blood to check as she has gastritis bouts more often now. I will keep everyone here updated of her progress.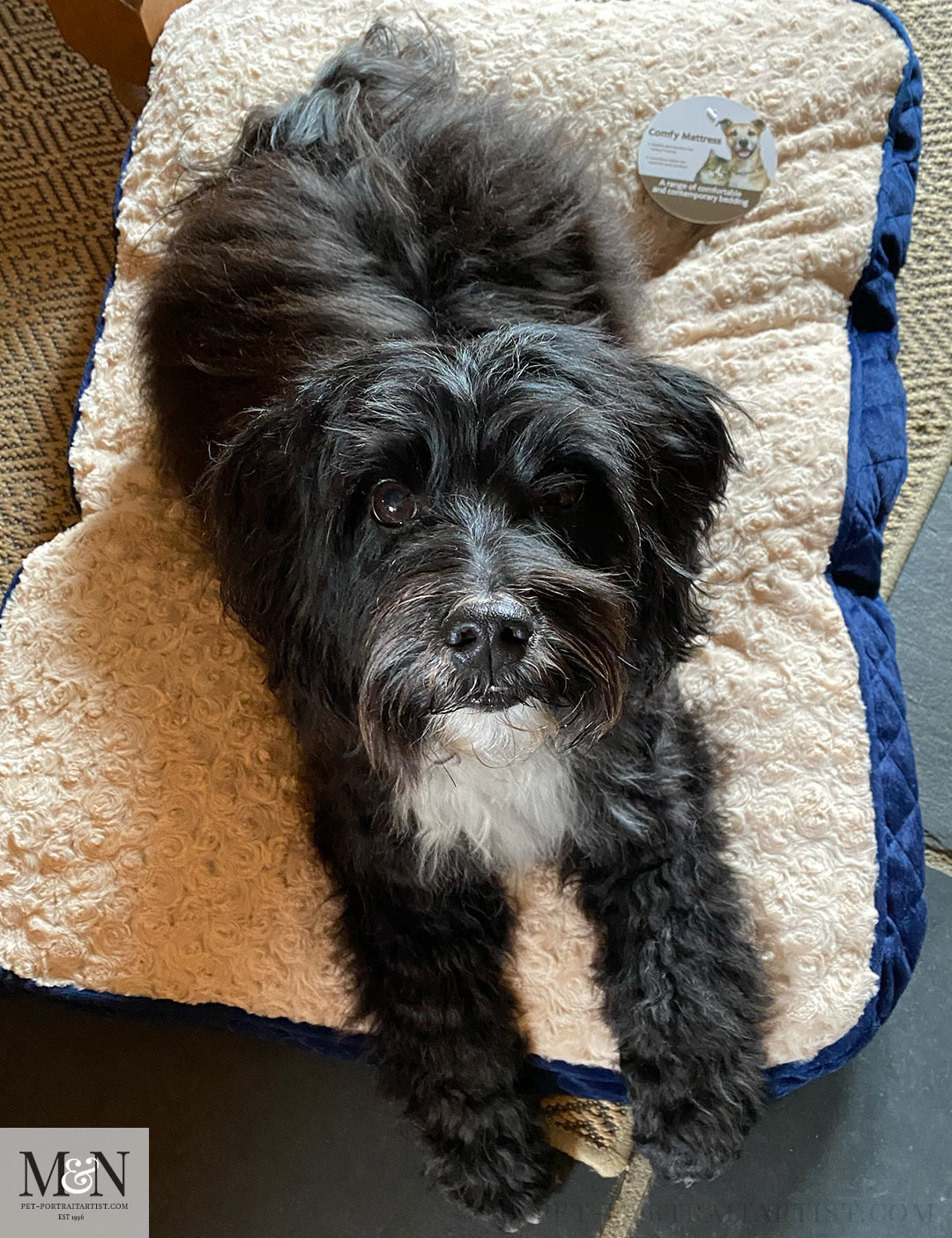 Final photo of Lily laying in the sunshine. We have had quite a few lovely warmish days and this one picks out her shiny coat beautifully.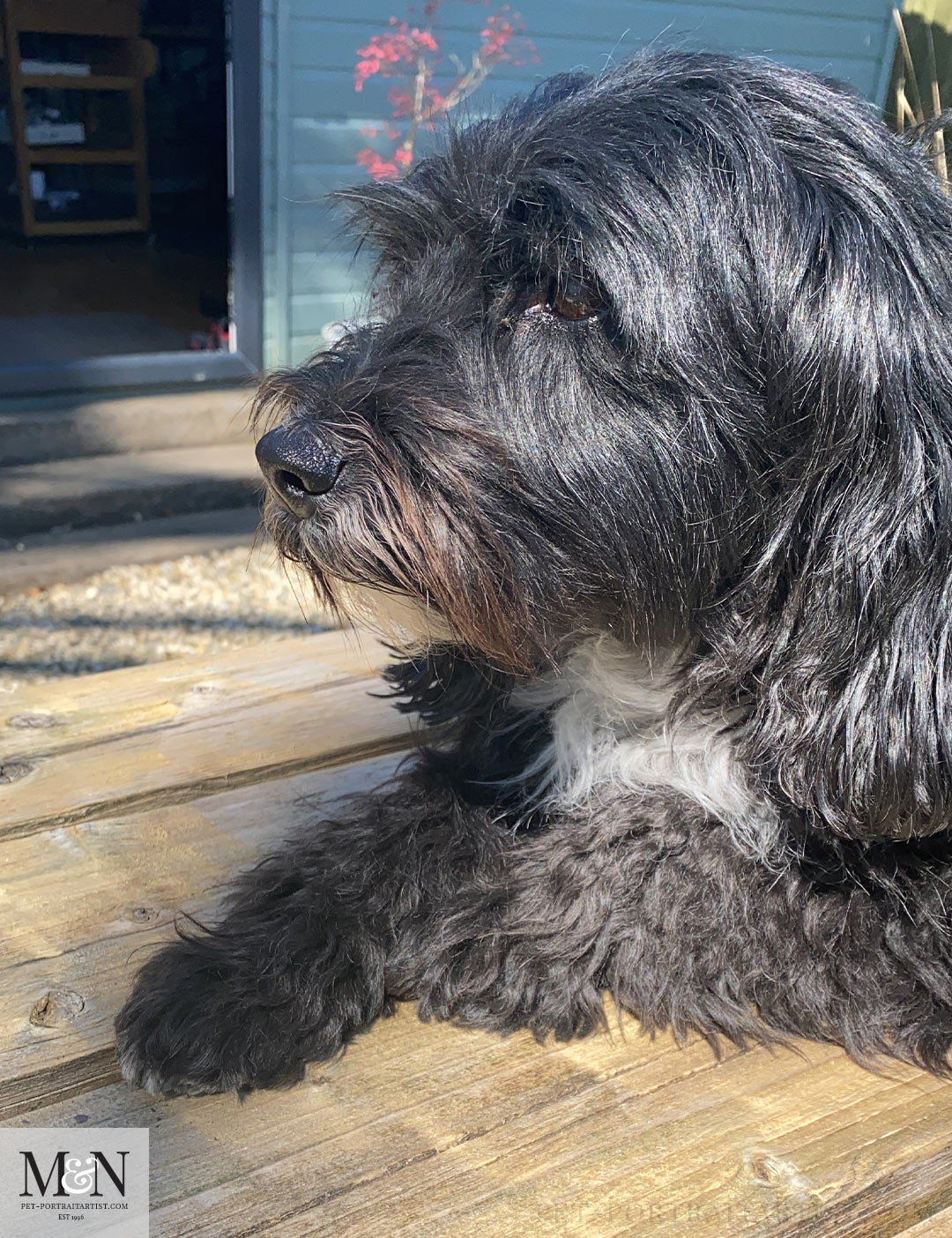 Digger News!
As you may have read in our last blog post we have had work done on the front garden wall. I will post photos next month when its complete. We are having more work now on our little drive by our house, along with next door. We are both having kerbs put in. This will stop any rainwater coming down our steps to the cottage in the winter months. Our neighbour Paul was the digger driver, our other neighbour was in the tractor taking away soil and his son Gary and I were sweeping and shovelling! You can just about see the main man in charge, Huw, under the hedge there too!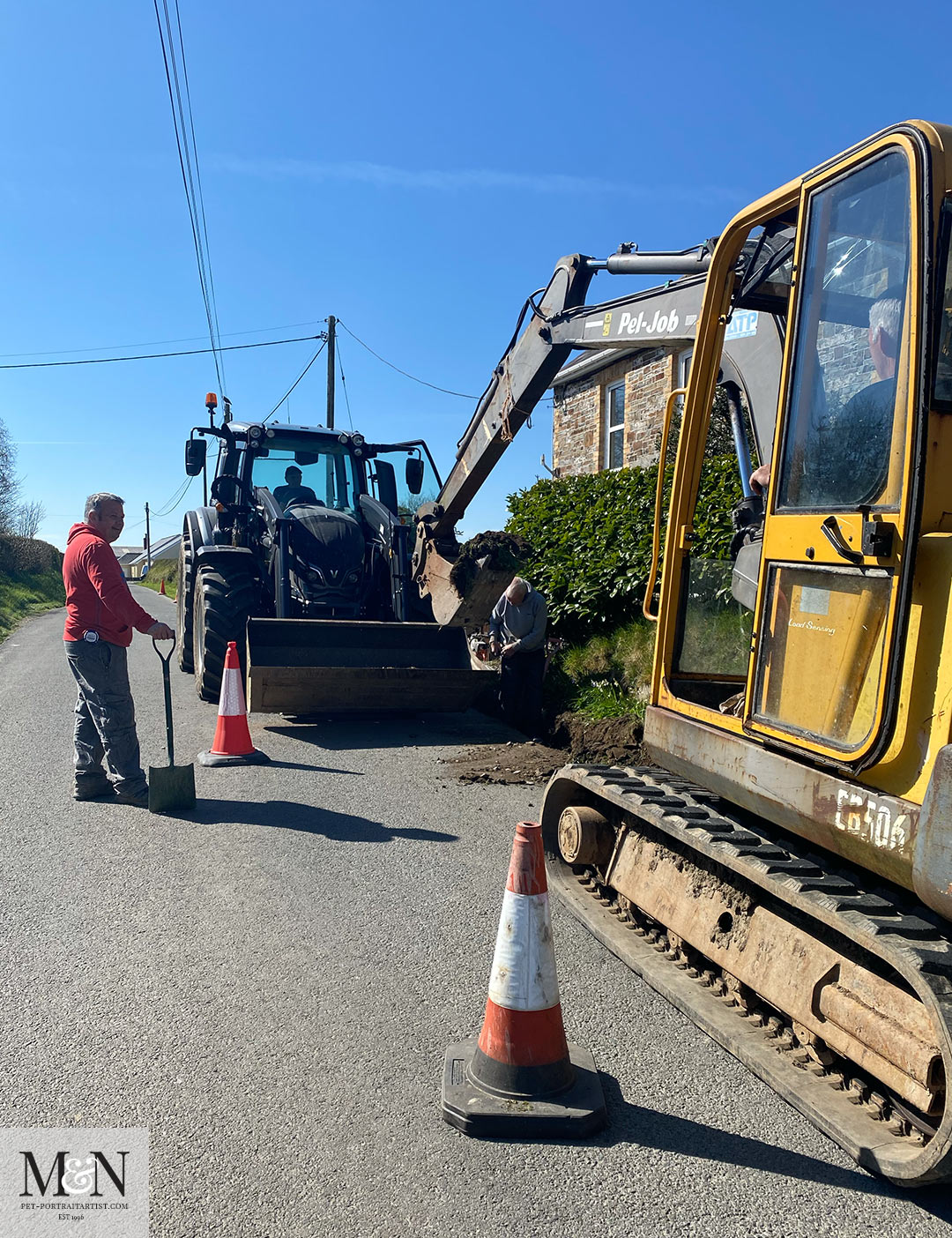 This shows the trench dug ready for the kerbs to be laid in the coming weeks.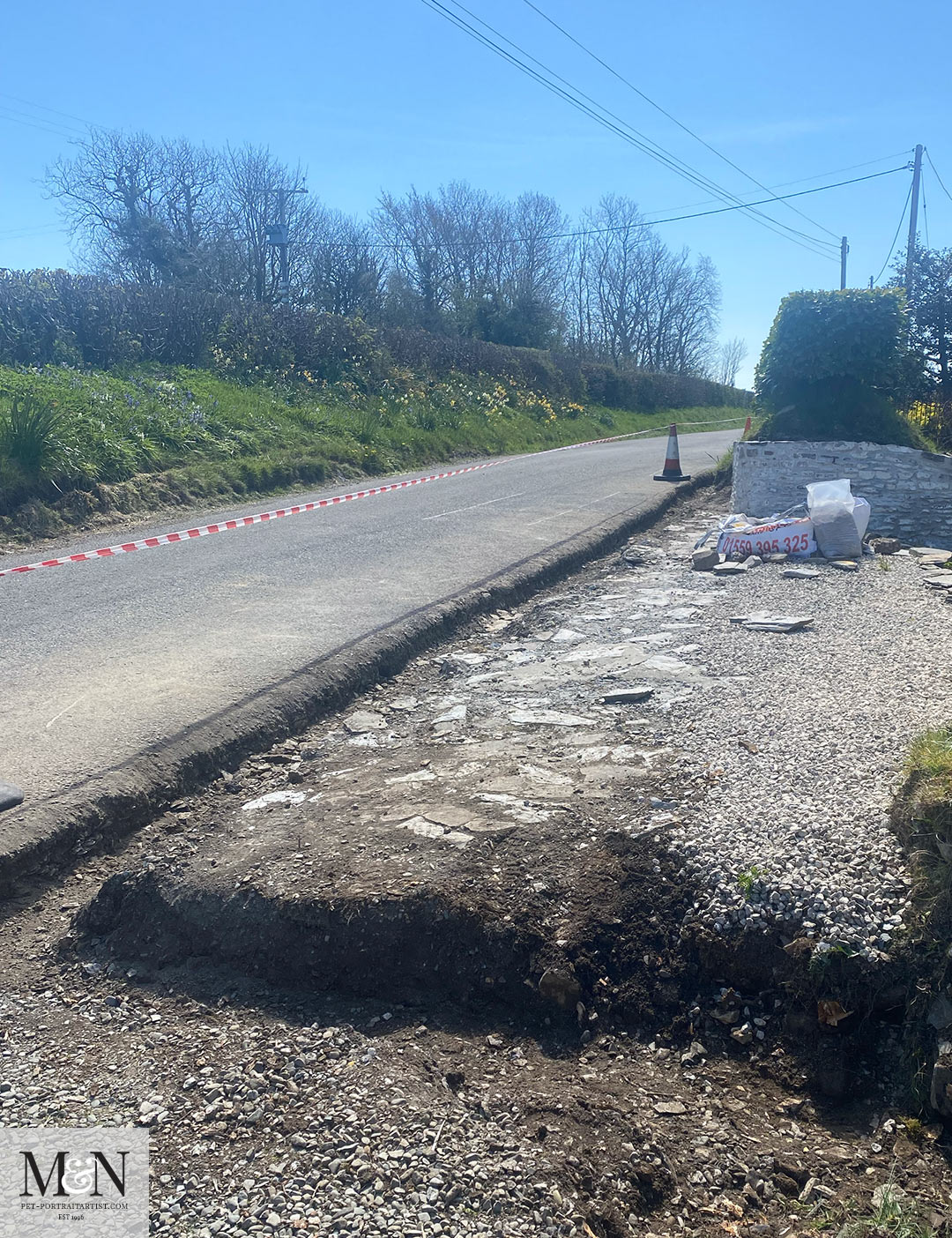 My pal Paul in the digger, as you can see concentrating hard!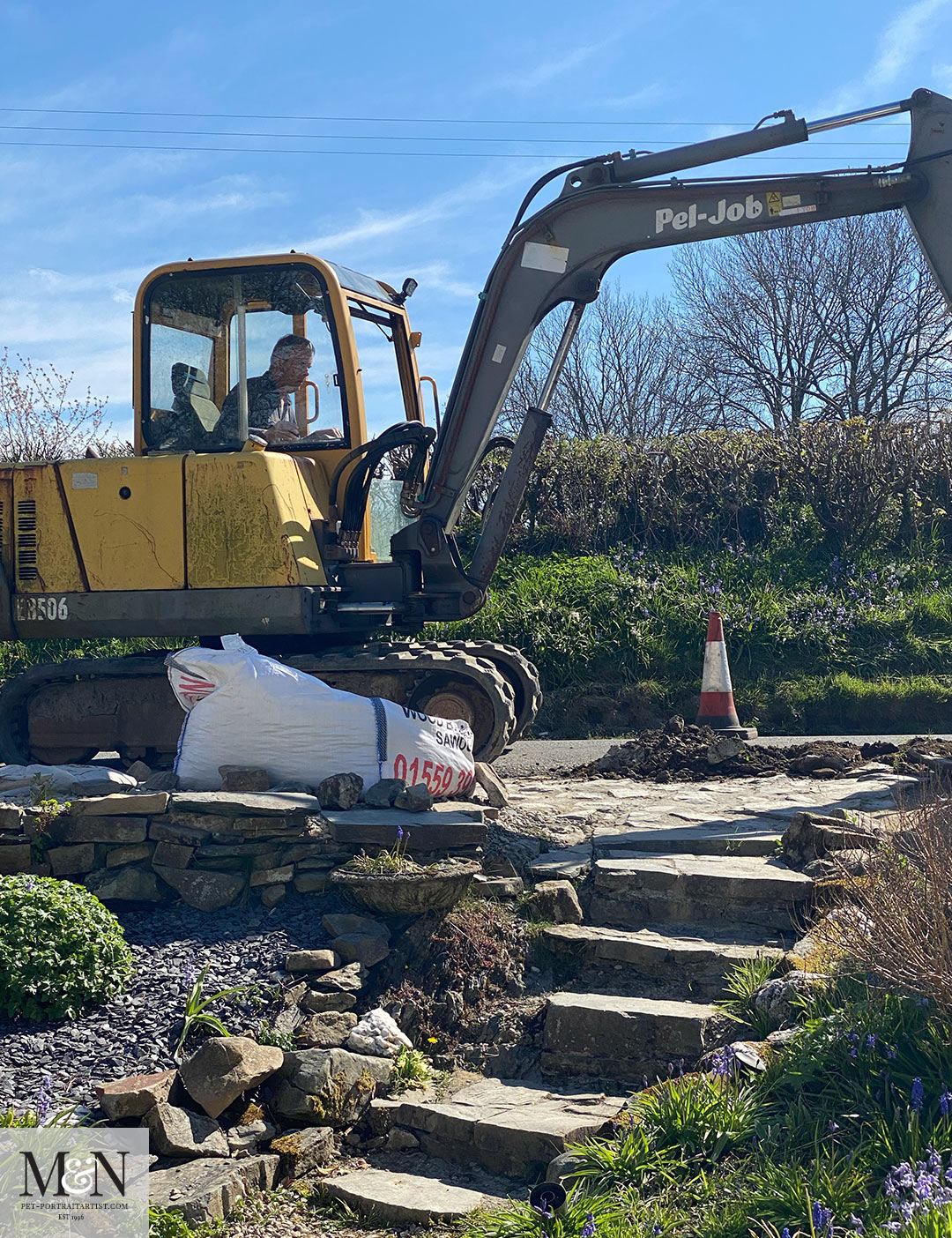 Melanie's April Monthly News – Chicken News
We have had some up and downs recently with the hens. Snowy and Honey are fine thank goodness. However we had a visit from Mr Fox in the middle of the night a couple of weekends ago. The perimeter of our garden has electric fence netting and the chickens have a section of garden inside. The fence has been up for many years and due to it being mended over the years it has degraded a lot. So the current running through it wasn't that strong.
So Mr Fox decided that he could put up with the small electrical current. He chewed through the wire and got into their pen, he then tried to get into the henhouse but lucky failed. Lily woke us up barking when she heard the foxes paws on the gravel when he came up to the cottage. We let her out and she saw and chased him down the garden where he promplty escaped.
So our job on that Saturday was to source some new electric fencing which we did luckily. By using the new fencing in a circle solely for the run it will be more powerful and secure. Then we used the old fencing and doubled it up on the perimeter un electrified. We will add a few strands of electrified line around the perimeter to try to keep them out. This again will be much stronger and hopefully a deterrent.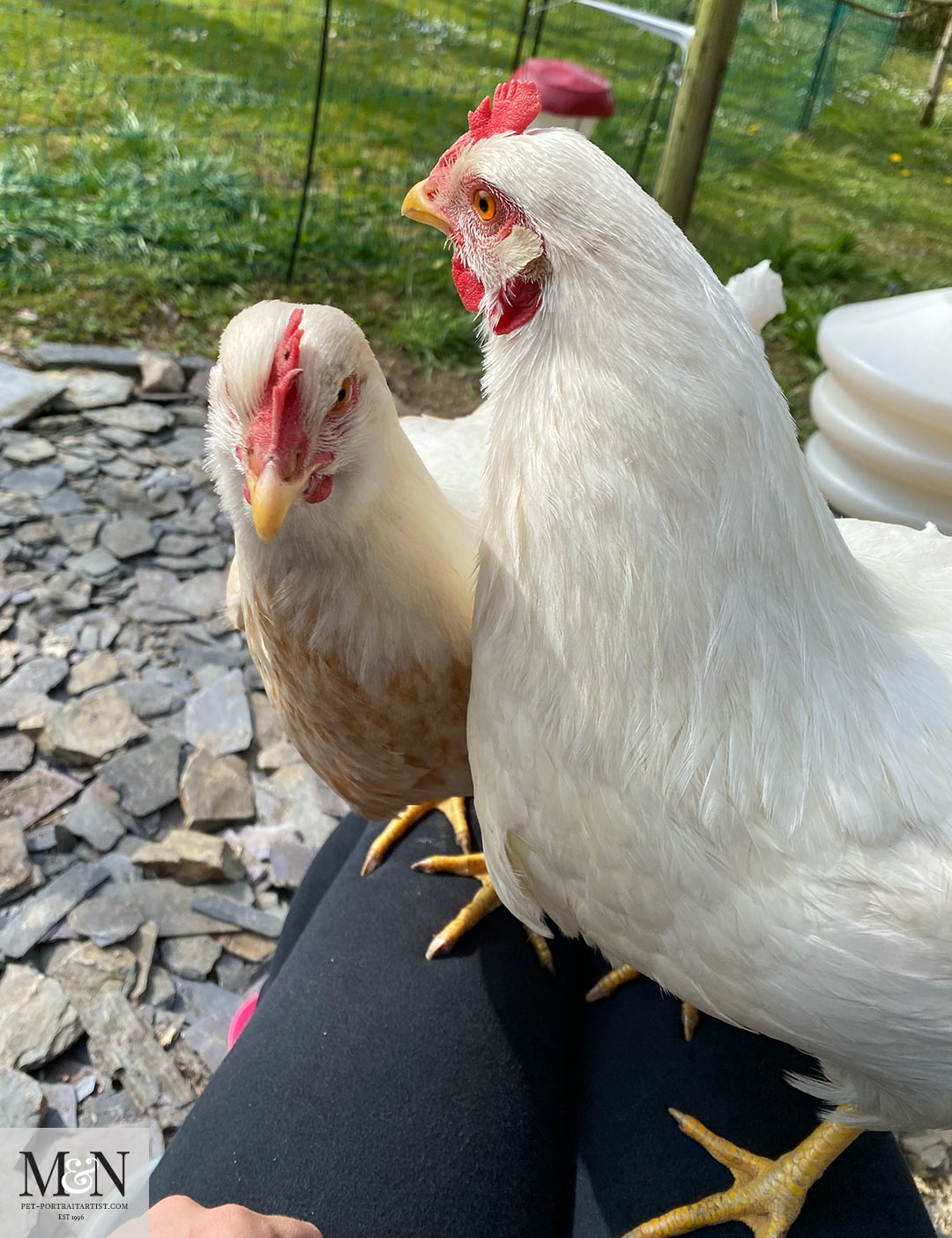 We have ordered a new hen house too, which should be arriving any day now. The new house should be completely fox proof, waterproof, heat and cold resistant. I will take plenty of photos and explain all about it in my next blog post. The hens have been having fun though as I have been working out in the garden more due to the lovely weather. So they have been having an amazing time looking for worms and grubs.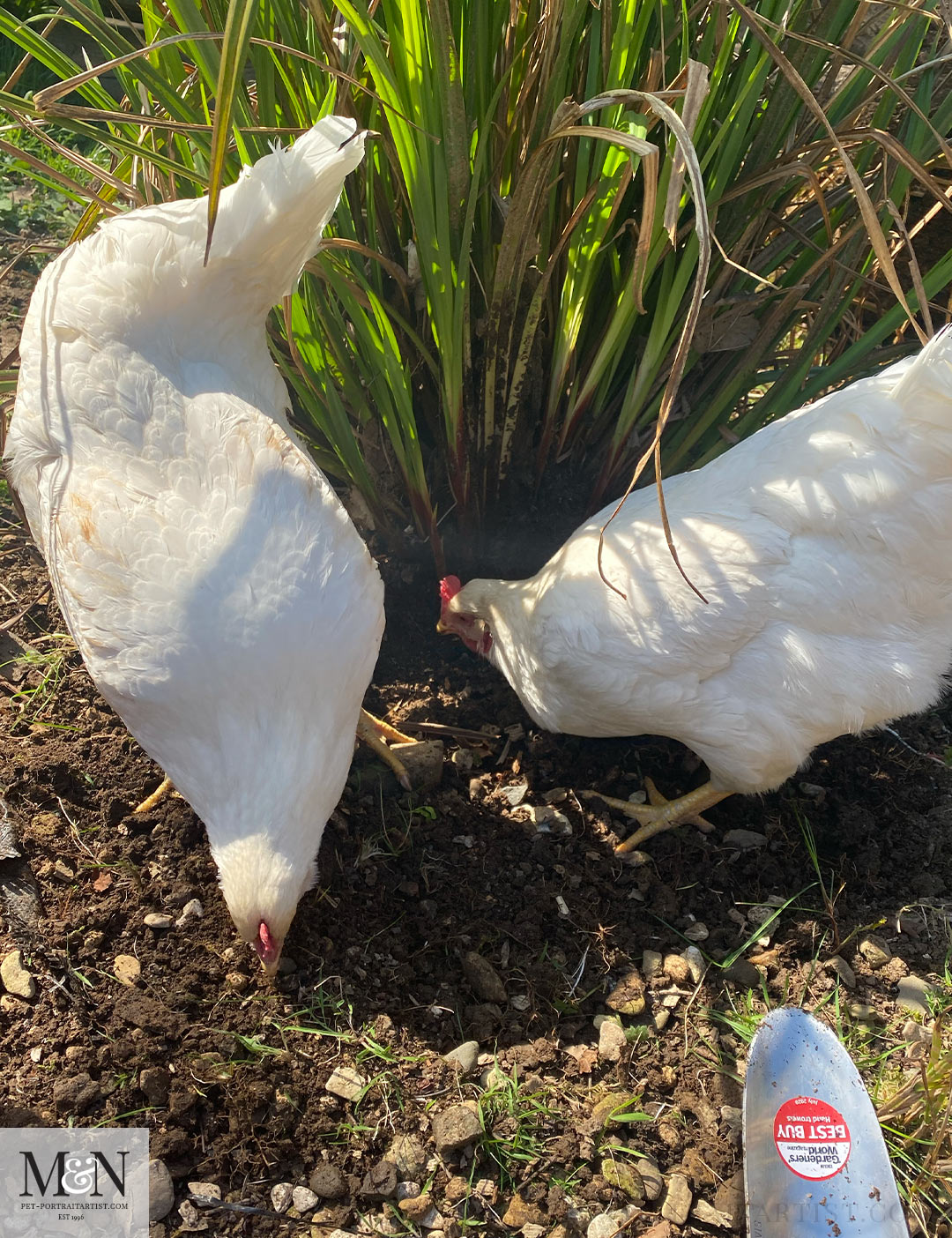 Tree Felling News!
We have also had the tree surgeons in this month to take three Ash trees down behind the studio. It was quite an exciting day and we managed to take a few photos from inside the studio. Derek Harris is the owner, a lovely chap who you can see wearing orange in the photo below.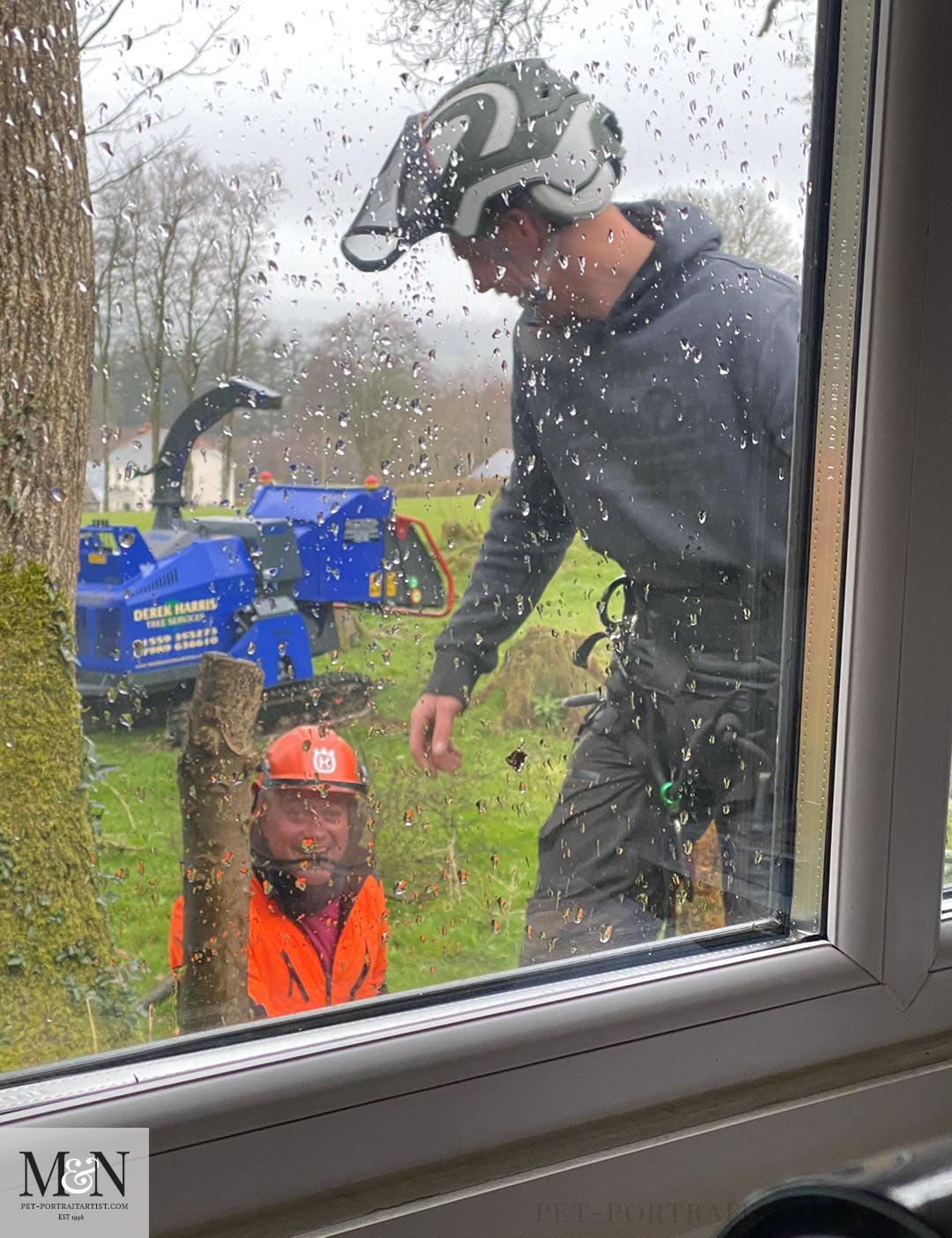 The photo shows the tree surgeon heading up the tree……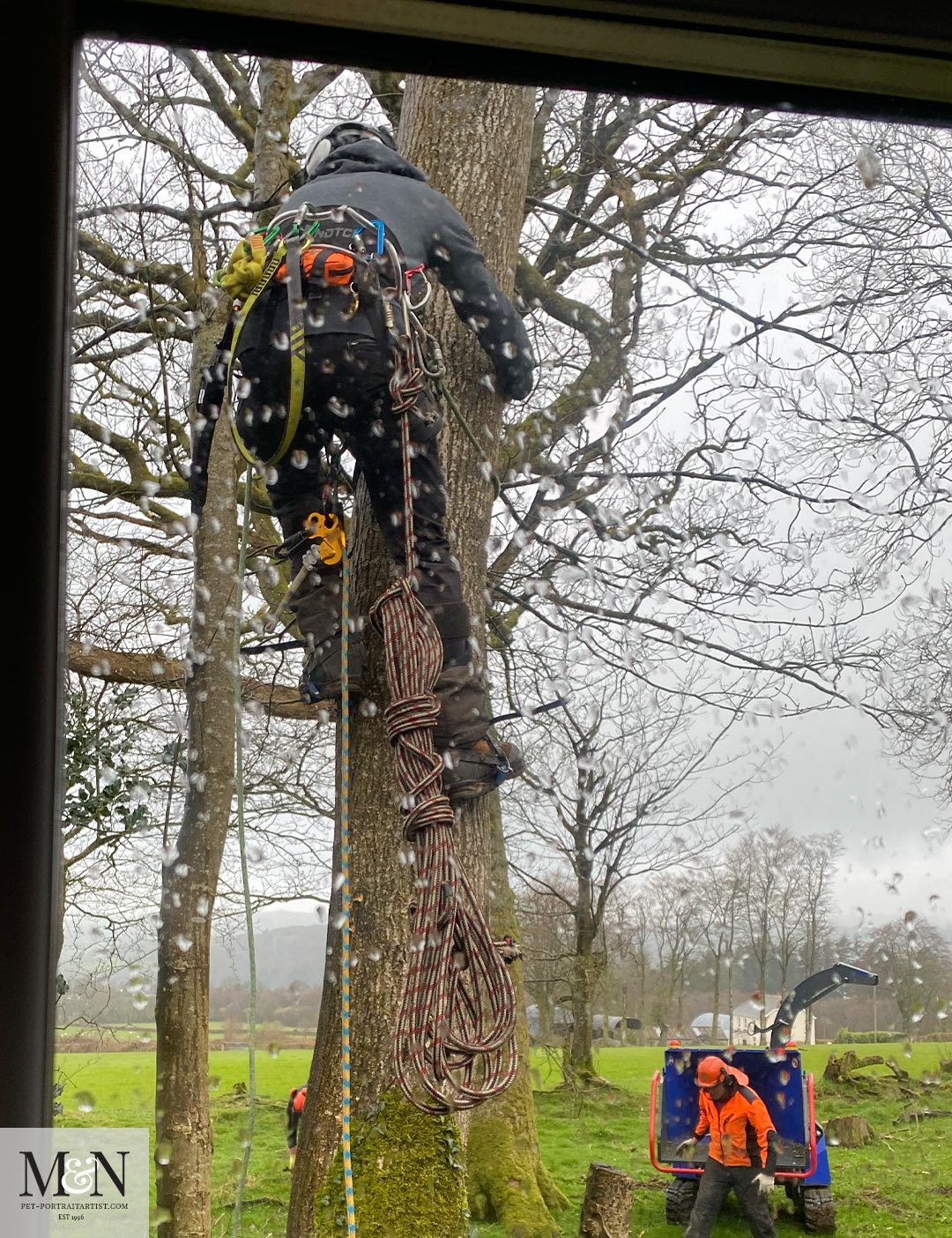 and it was soon down…..!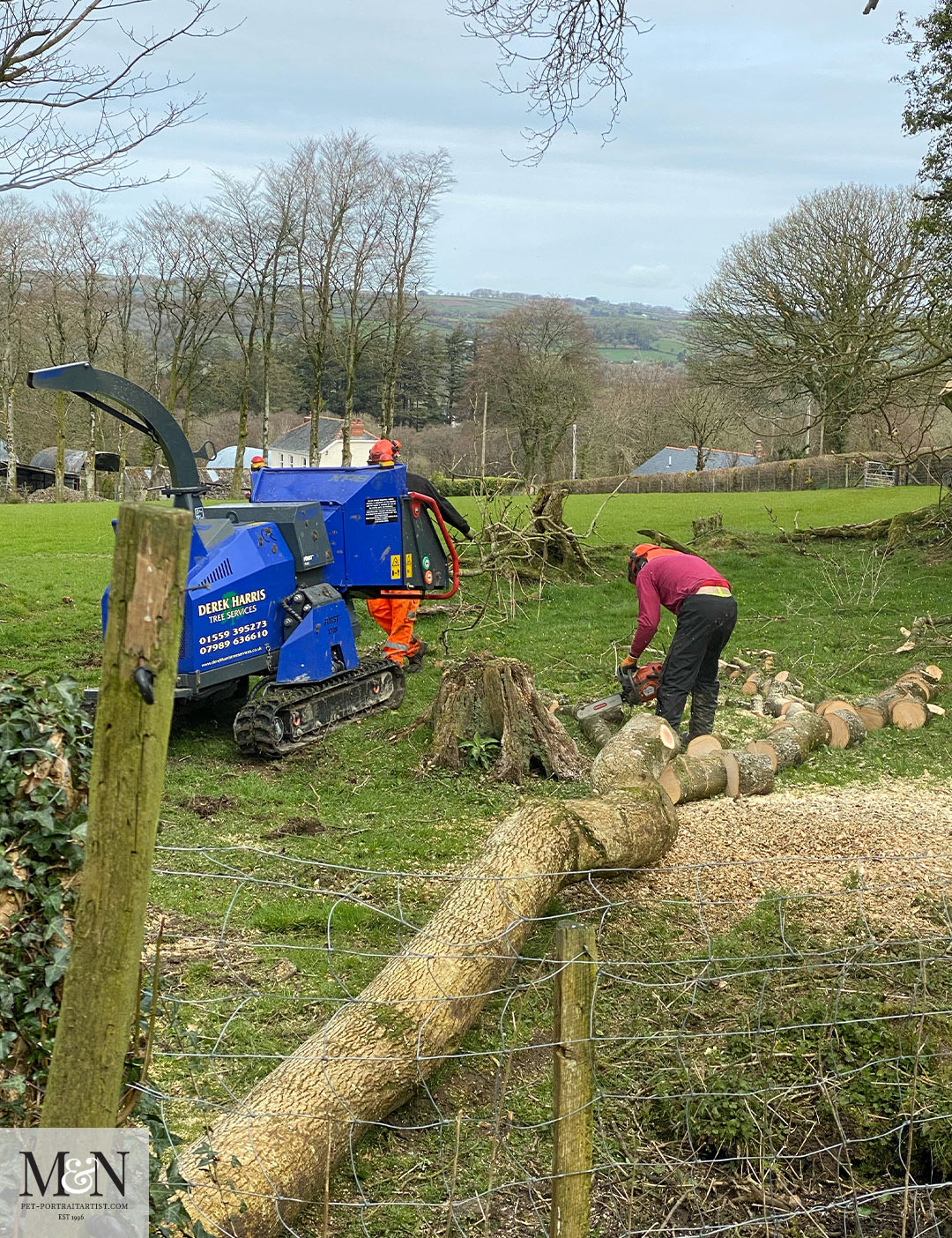 I caught the next tree on camera just as it was falling…..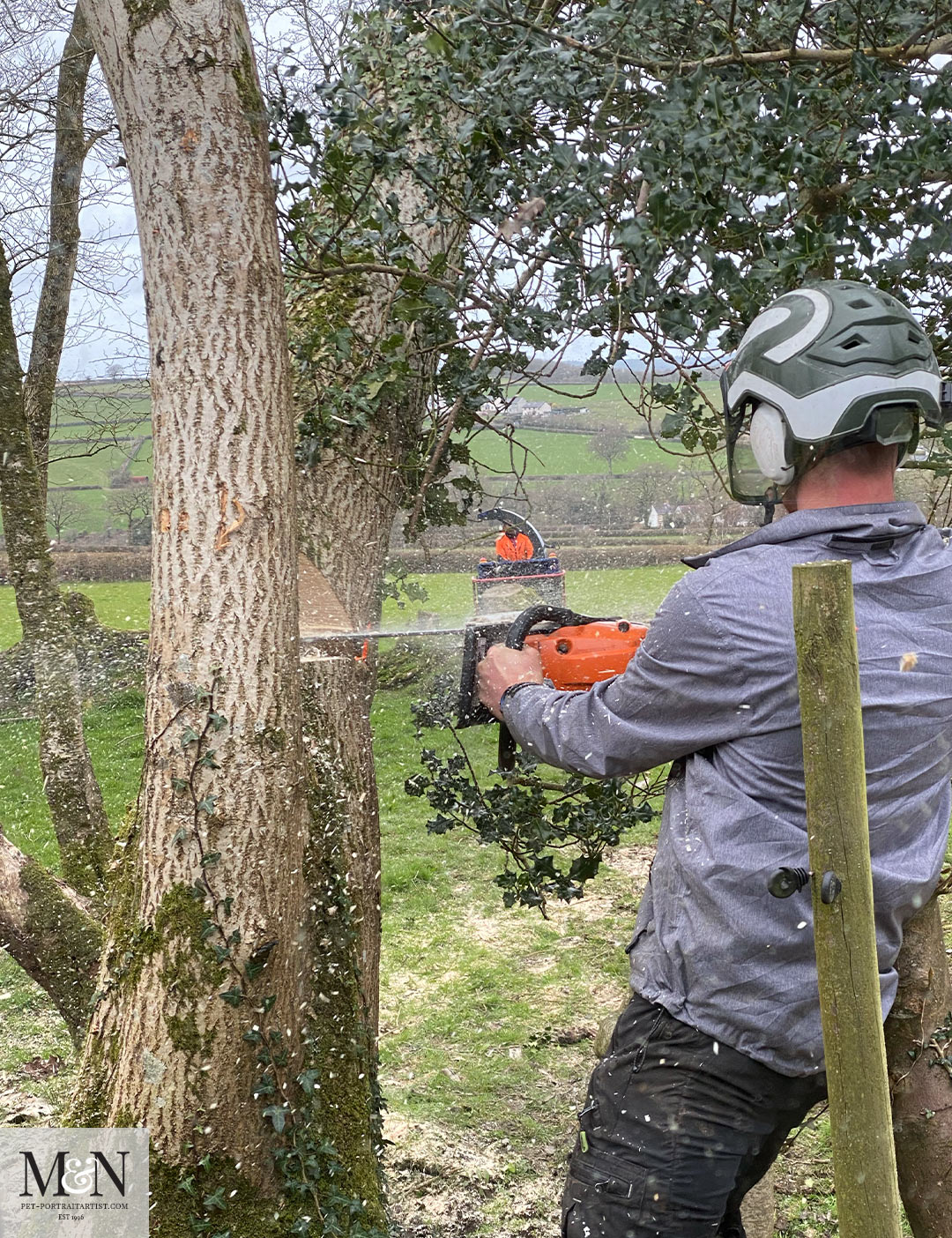 We have invested in a wood splitter for ease this year. We tested it with one of the rounds when it arrived – absolutely magic! It worked brilliantly.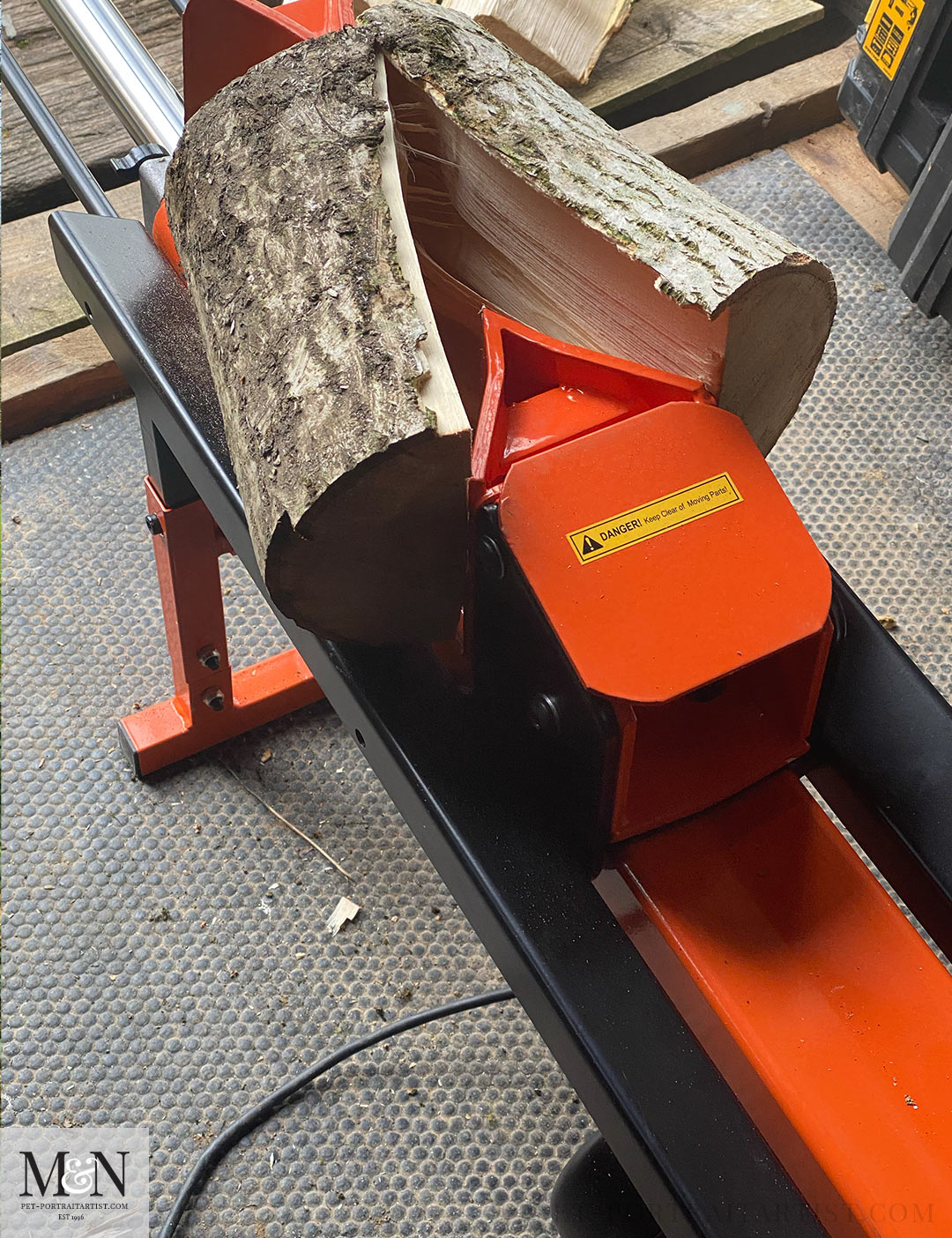 Nicholas has only done a portion of the logs at the moment and has started to stack them in the garden. They will stay outside for a couple of years before we stack them in the shed.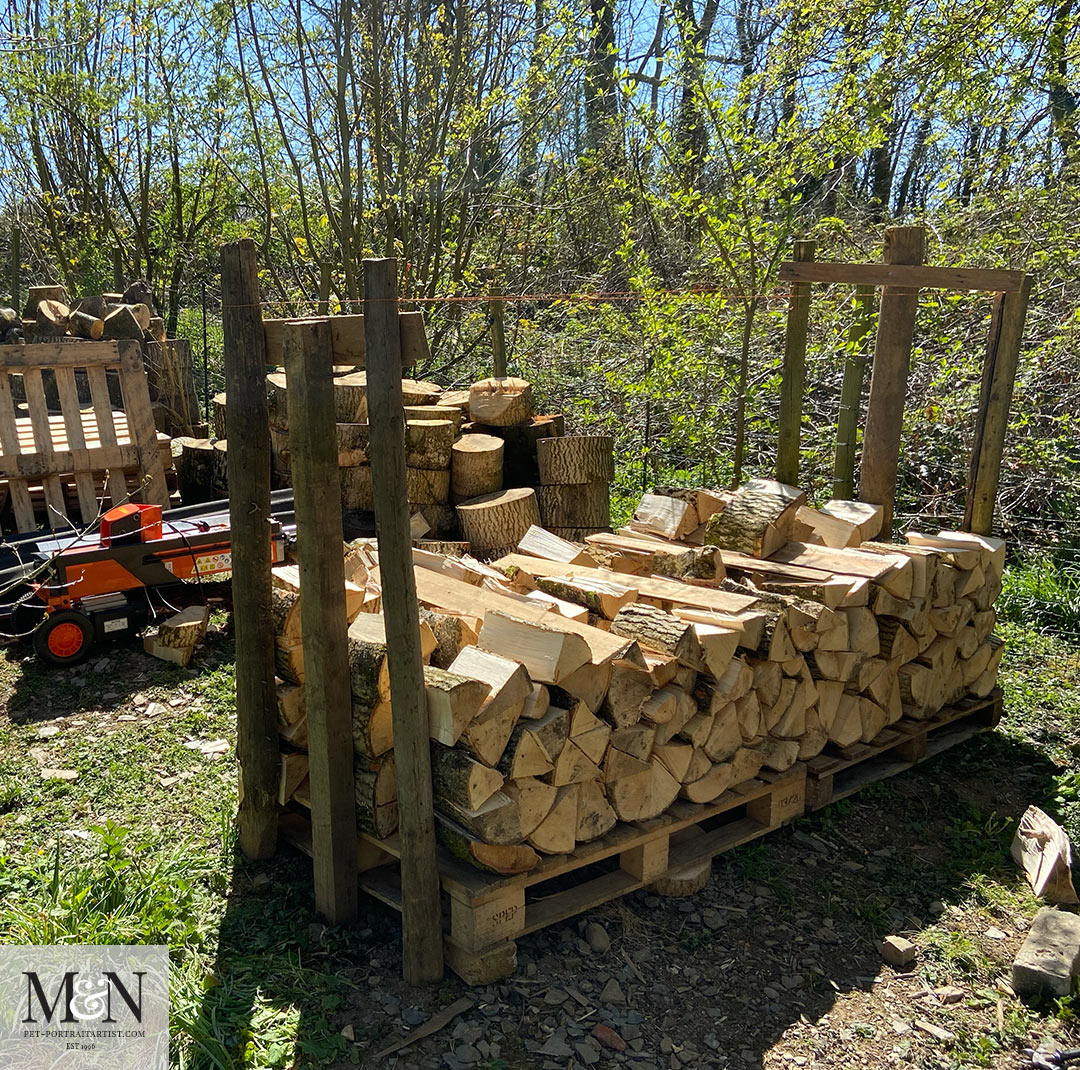 Melanie's April Monthly News – Holiday in North Wales
We were extremely lucky to be able to go away only a few days after the restrictions ended for Nicholas's birthday. We headed up to north Wales and stayed in an Air B&B. It was a lovely few days break and felt amazing to be able to drive to see different views and landscapes too.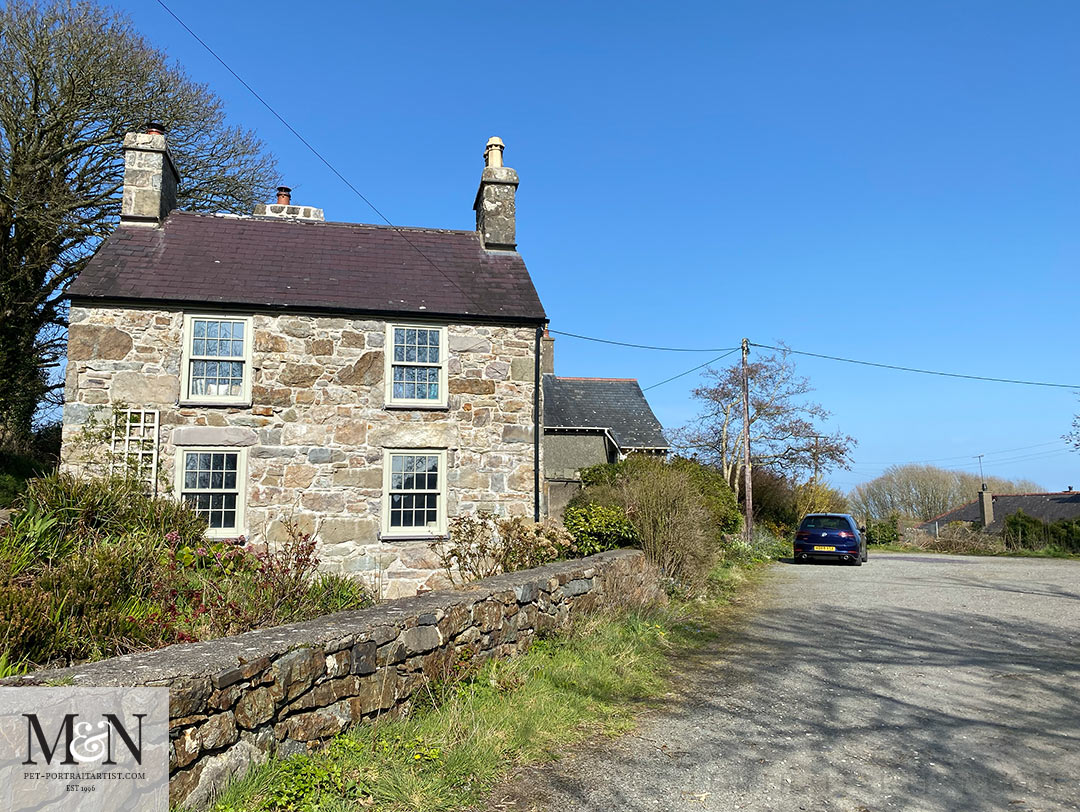 Outside the little back door was a seating area and it was just about warm enough to eat outside. We were very lucky with the sunny weather as you can see from the photos, the weather broke on the day we went home.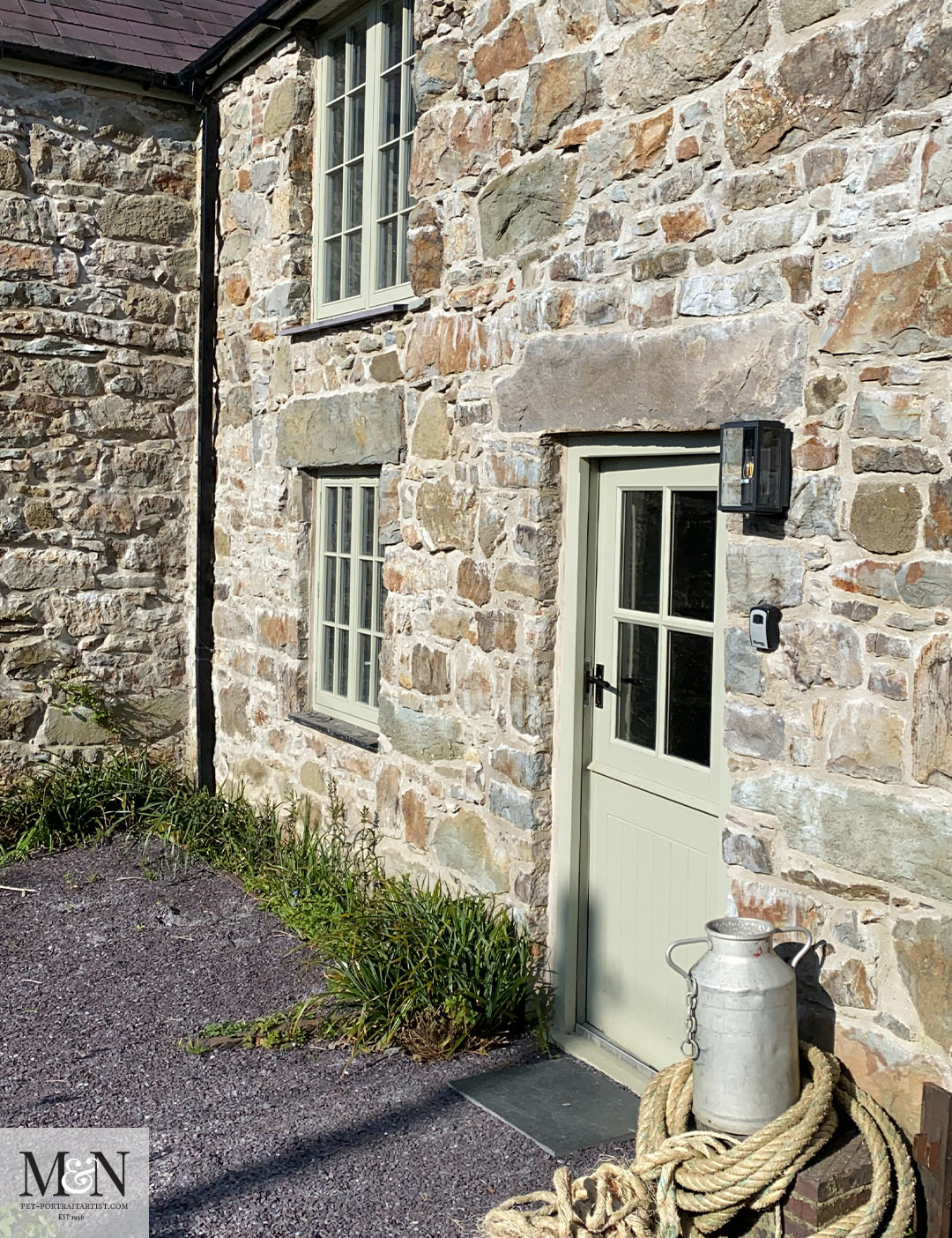 Our nearest little village was Abersoch and you can see a photo of the inlet there below. Great place for fish and chips. Sadly all of the shops were closed but it was still nice to have a wander around.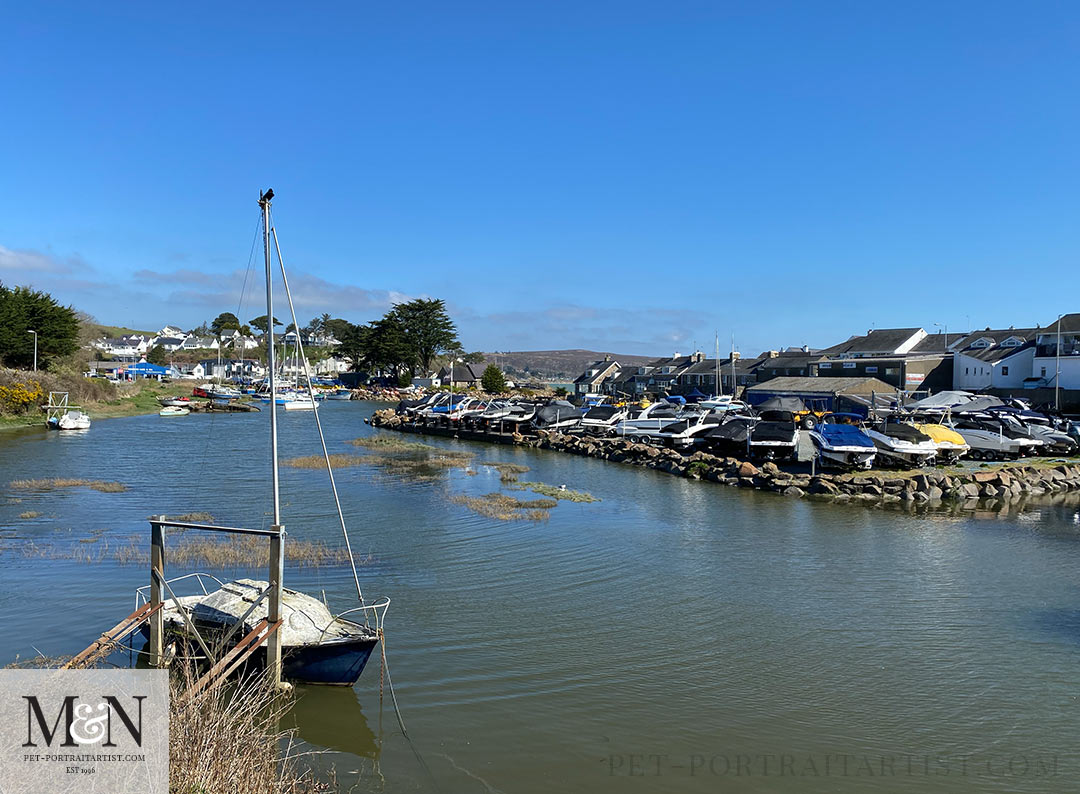 Just down the coast a little was a very pretty beach and coastal path, perfect for running and we scoped it out on the first day we were there so I could plan my run the following day.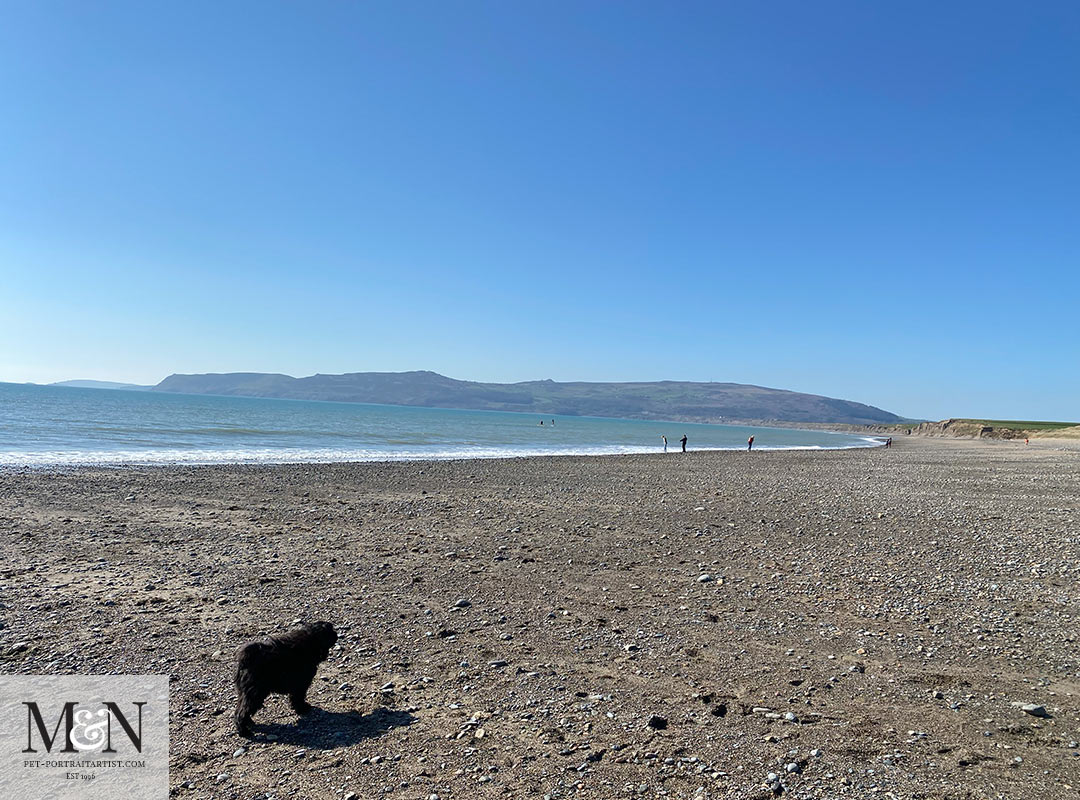 You could see for miles and had both sea and coastal walks. A great place for holidaying.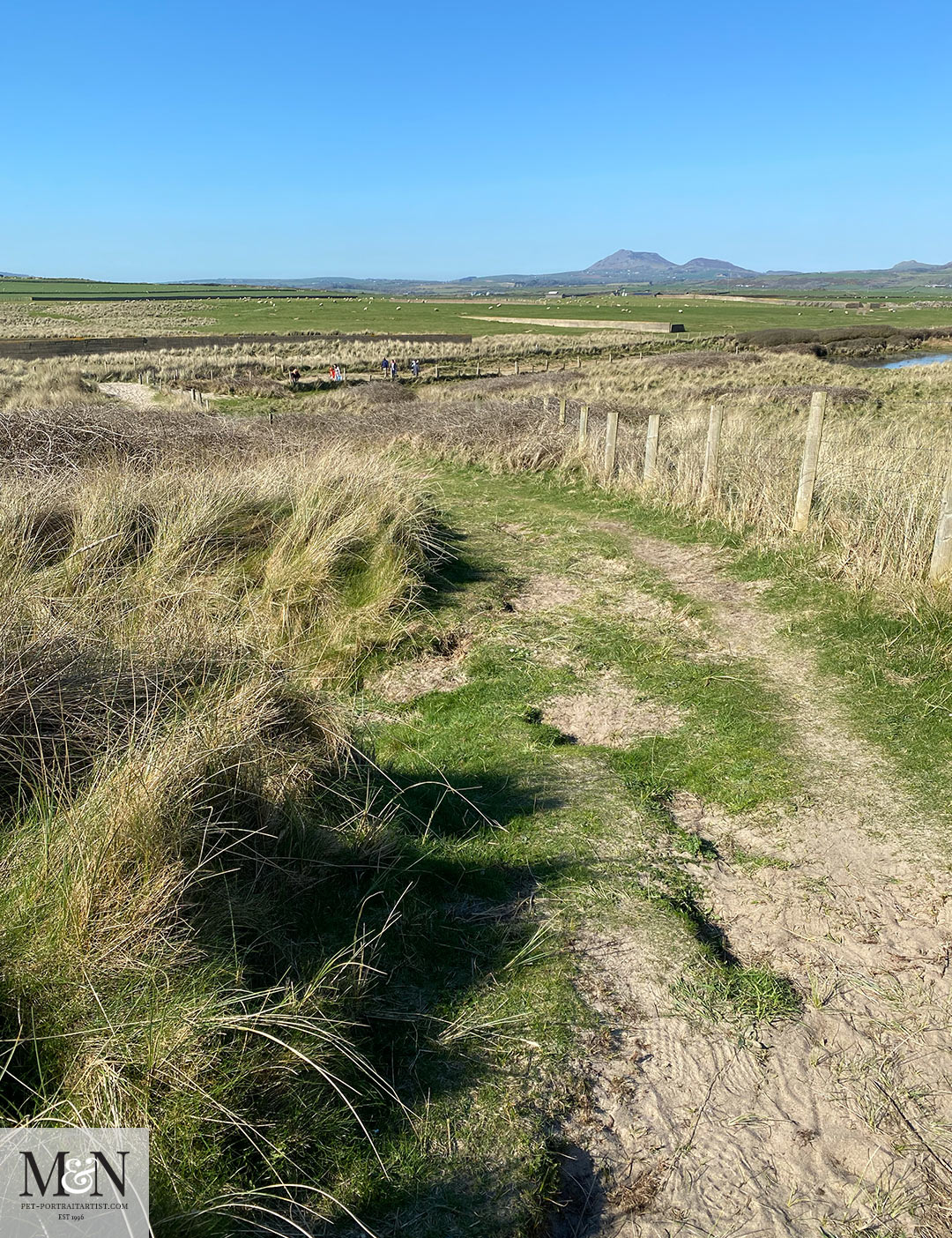 Holiday 10K Run
So once I knew the direction I was heading I got up early the following morning and headed off from the cottage and ran to the coast and along the coastal path and down on to the beach. I hope you enjoy the little video below.
These are a few photos I took on my run. Good job I wasn't being timed really as I was running and enjoying the scenery along the way.
I saw these sheep on the way and on the way back too and neither of them were scared of me. The little lamb just watched as I trundled by and the mother carried on eating.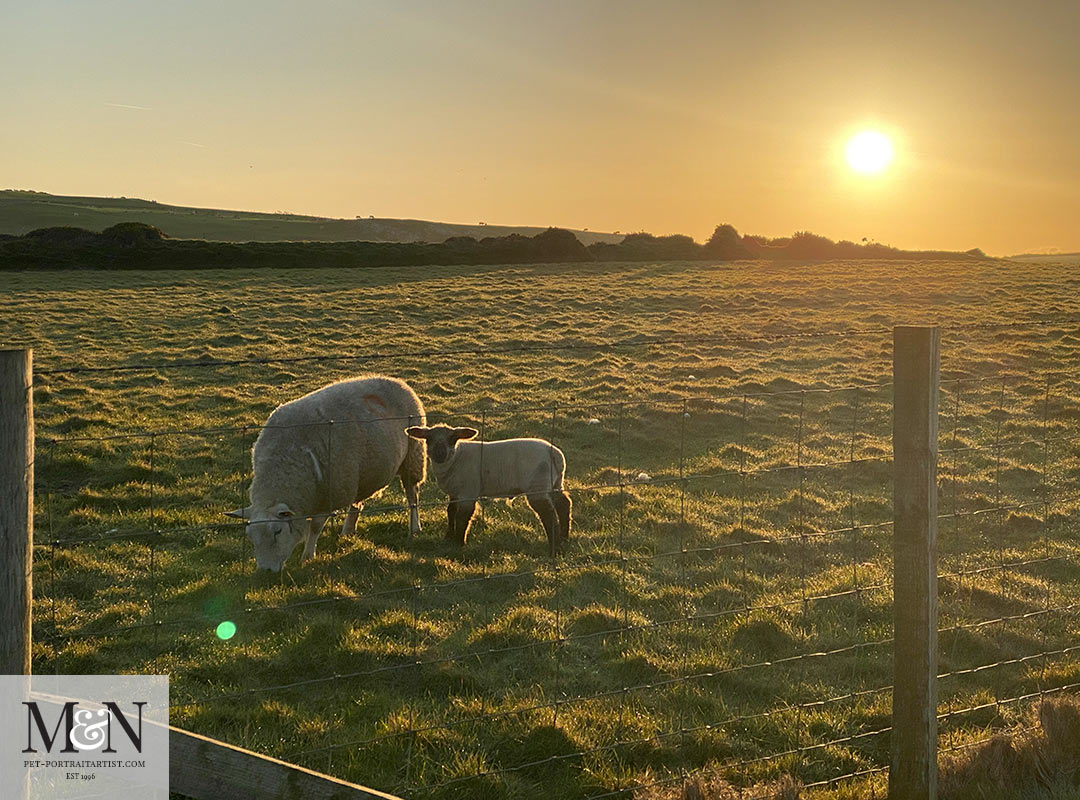 I love running when you get to a point in the path where you have to decide… left or right???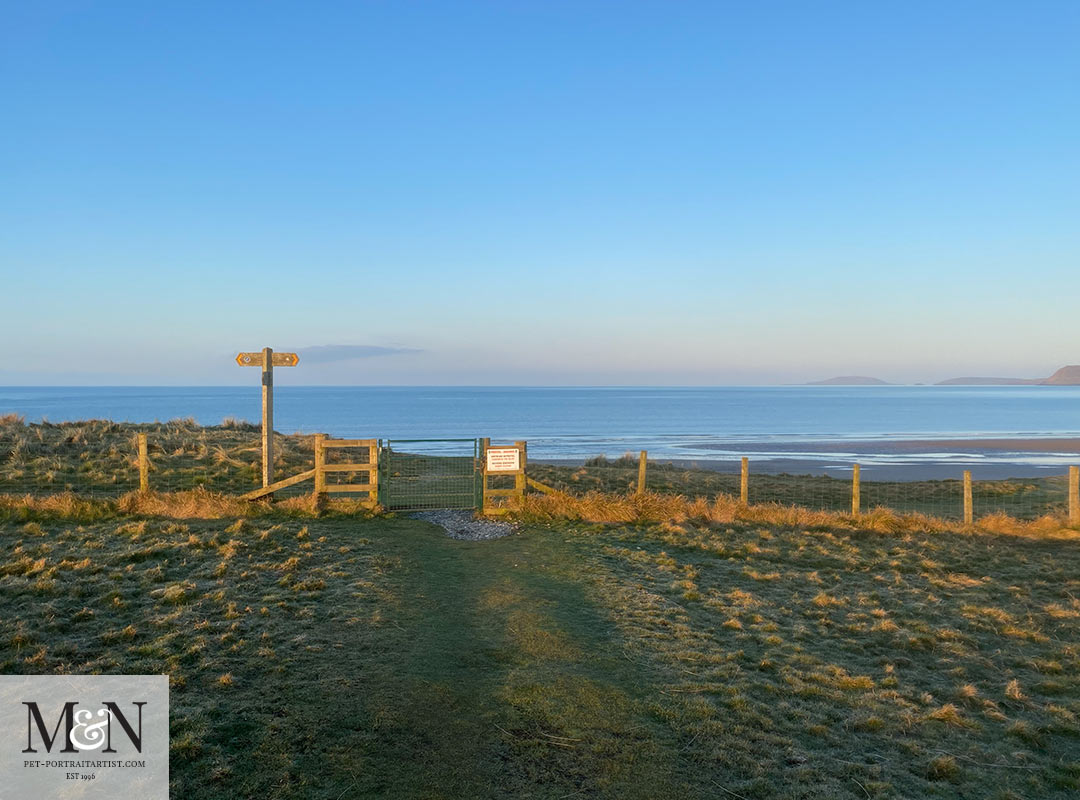 I turned left and only got a couple of K's down the path when it stopped at a small ravine and inlet so I had to turn back. Even so the views were spectacular.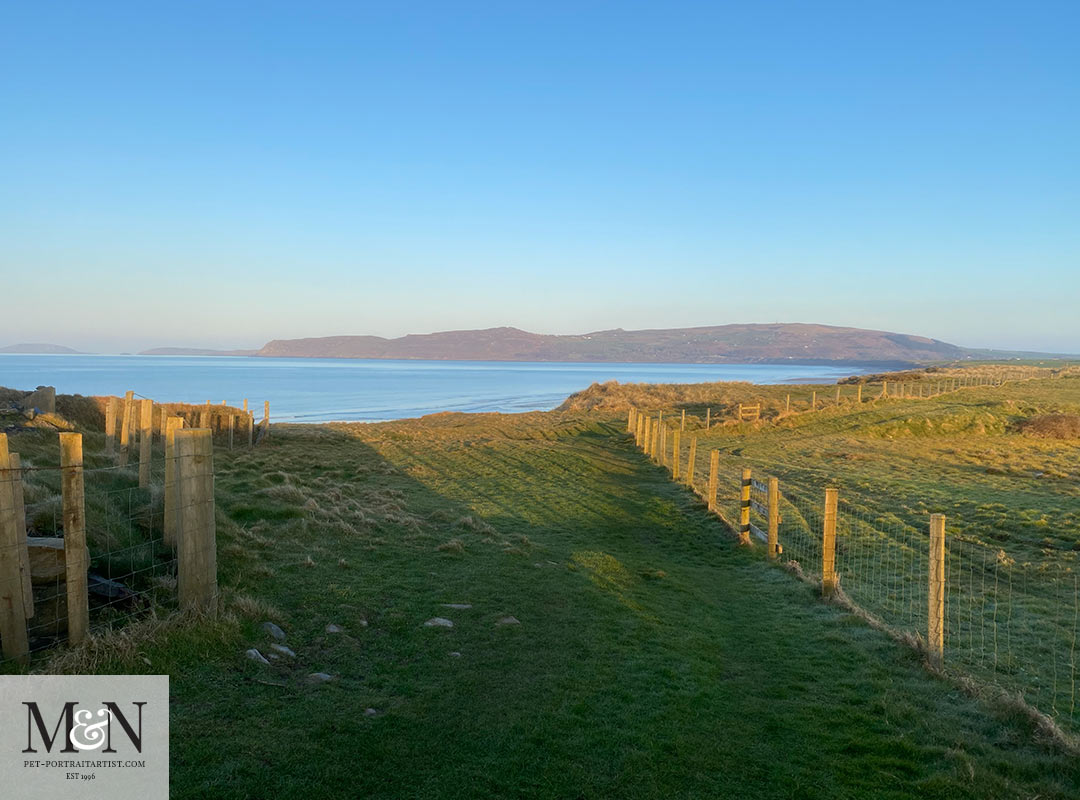 I headed back towards the beach and ran along the beach…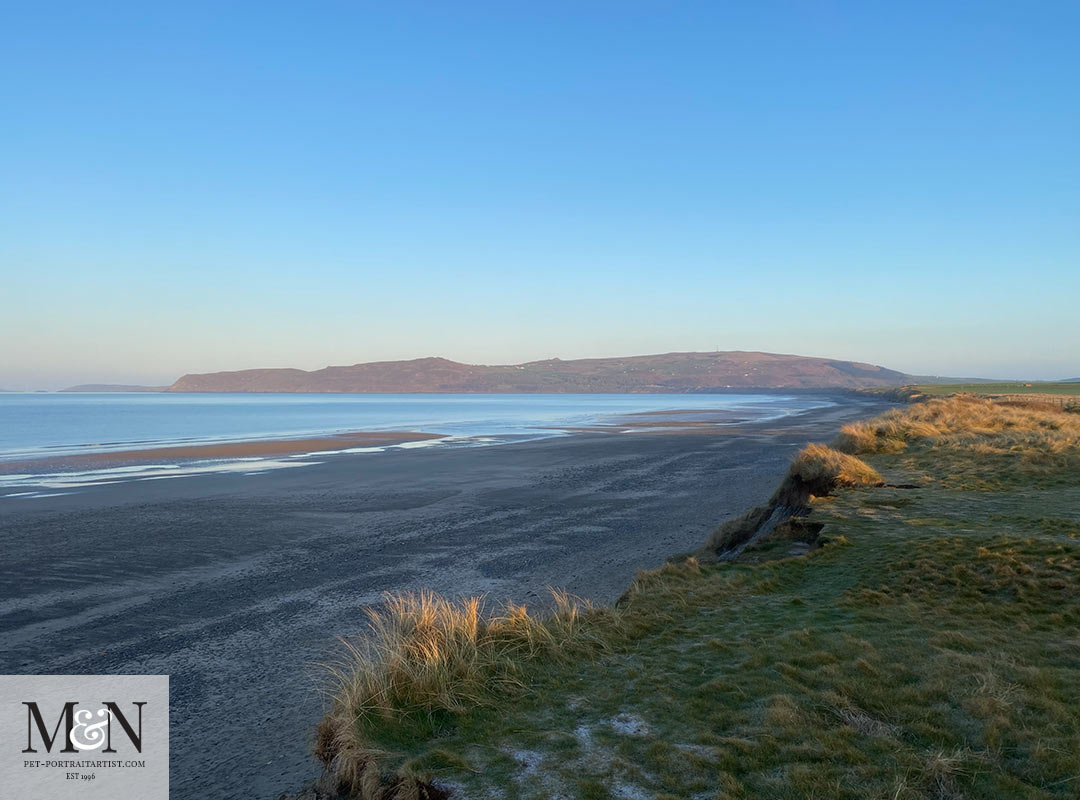 The sun had pretty much come up fully by that point and what a beautiful morning it turned out to be.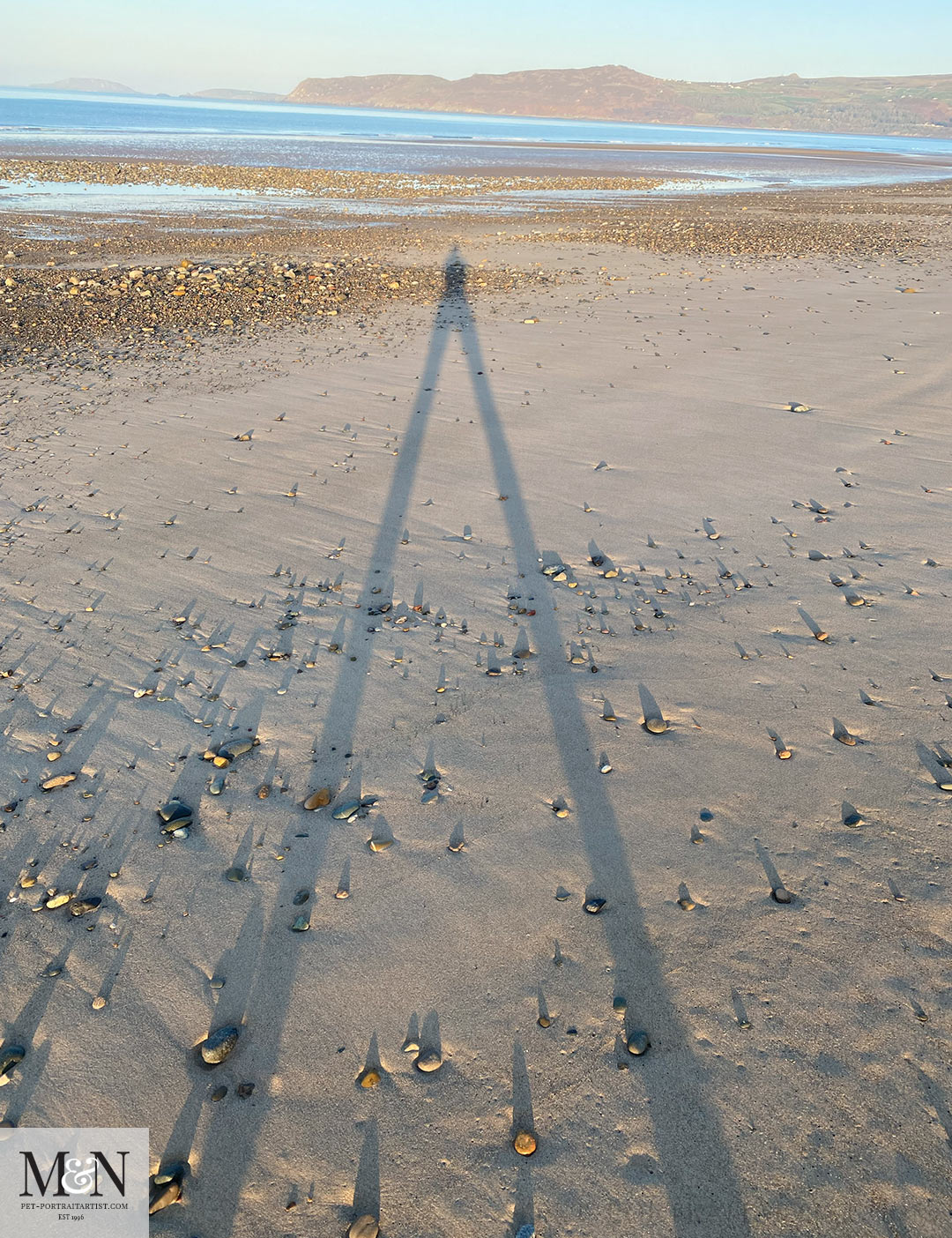 Melanie's April Monthly News – Aberdaron
On one of the days we headed to a lovely place called Aberdaron which we have visited before and eaten at 'Y Gegin Fawr' (The Large Kitchen). Sadly it was of course closed on this trip but you can see a photo of it of how it looks today below, and if you follow this link, Y Gegin Fawr History you can see some old black and white photos from many years ago.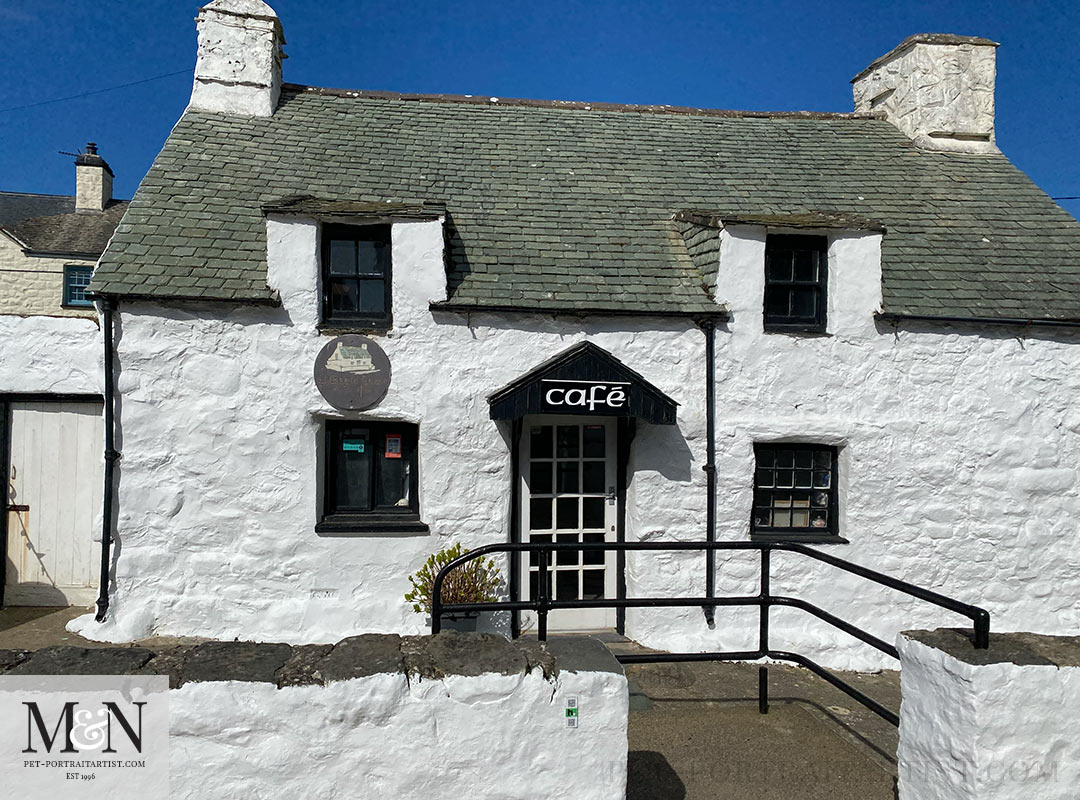 We took a stroll up along the coastal path and the views from up the top looking across were beautiful.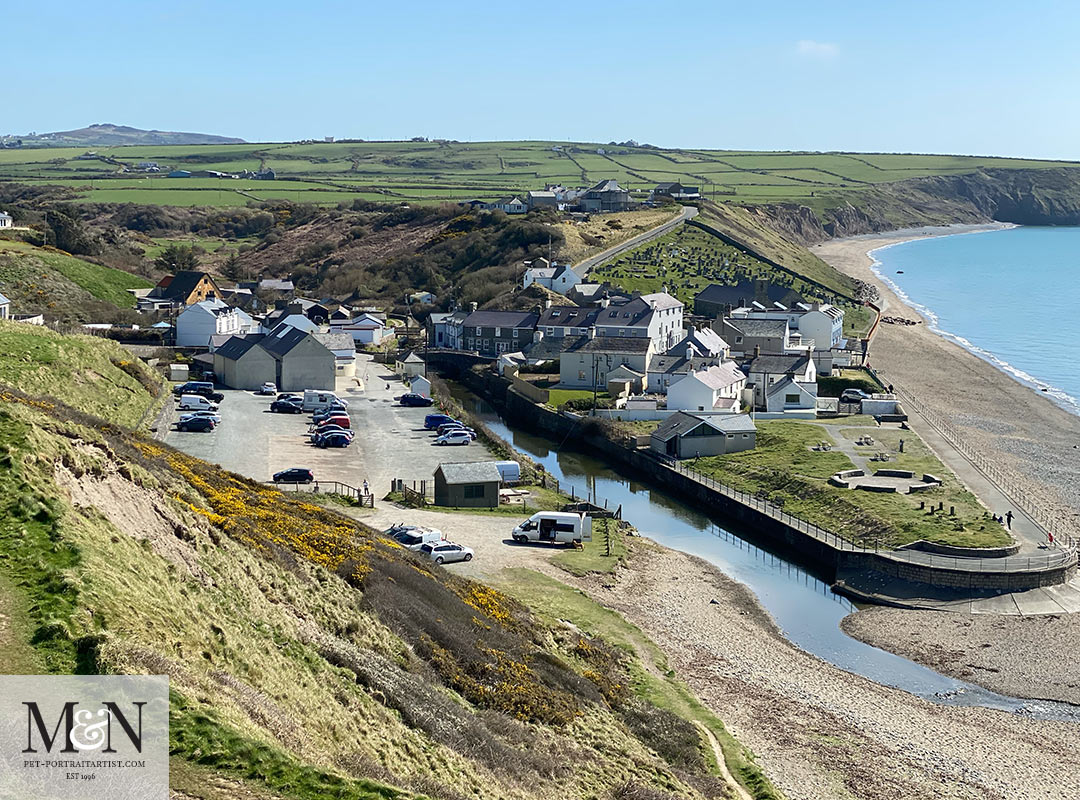 It was a bit up and down and the steps were fabulous! Lily loved it!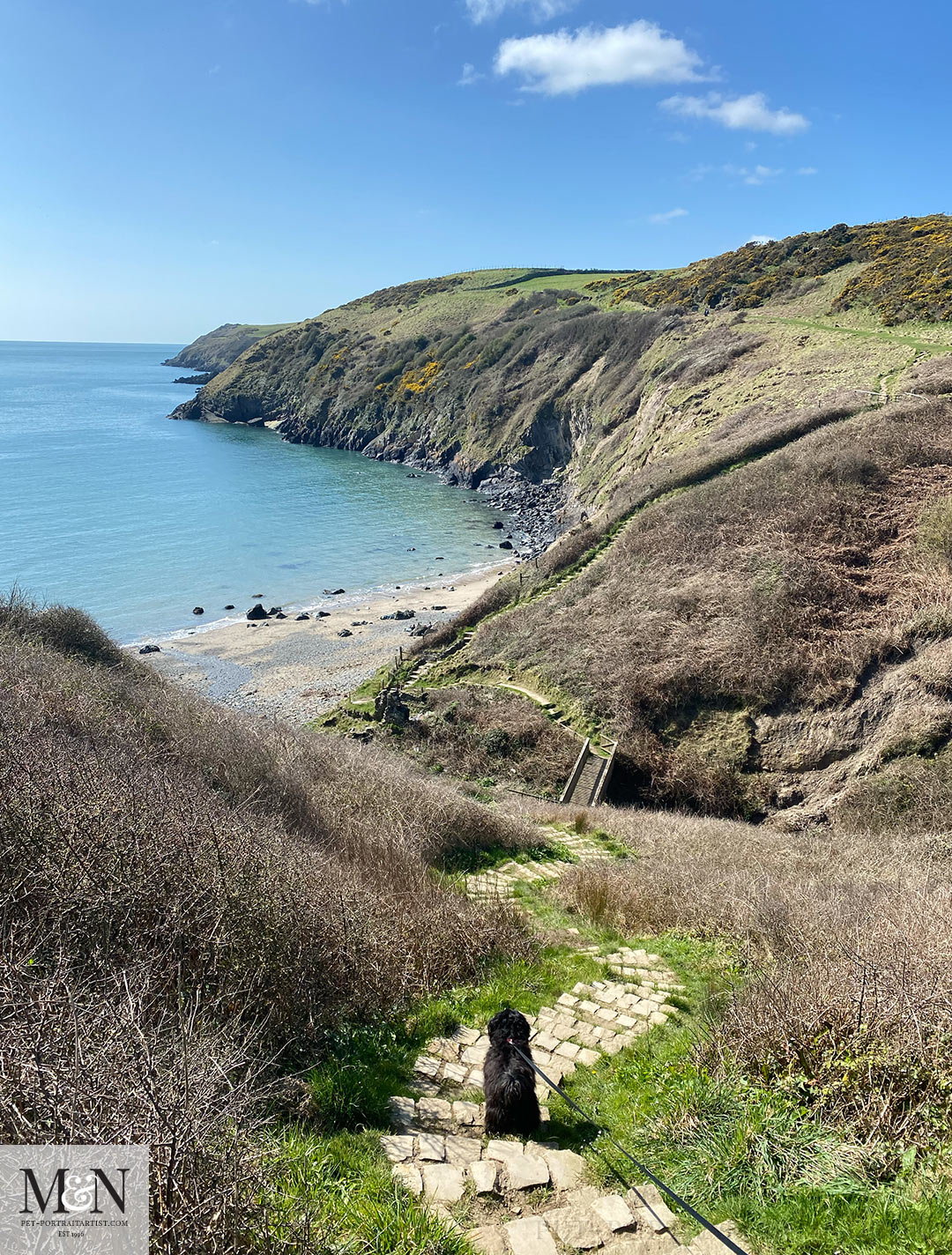 We sat right up on the top and had a bit of a picnic lunch and then headed back down.
Morfa Nefyn
On the final day we headed to a different part of the coast, right out on the end of the pointy tip called Morfa Nefyn where they had an Iron Age fort 200BC. I took a photo of the information board to add to our blog so our readers around the world could view it.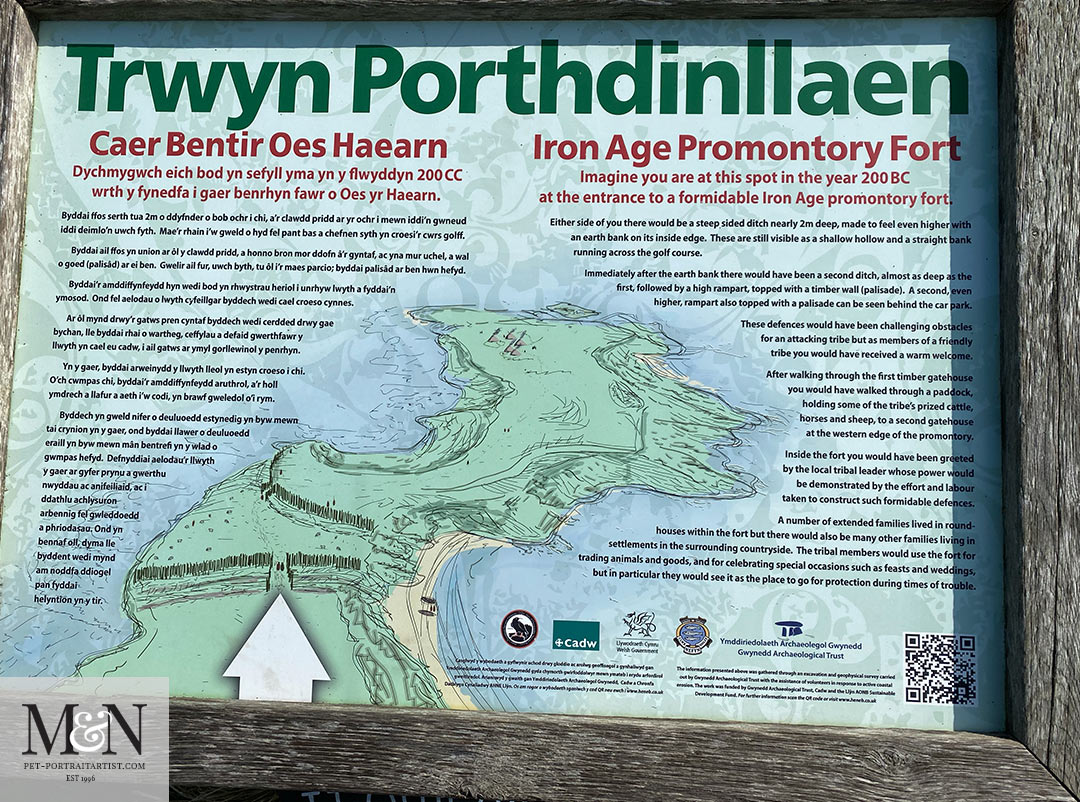 It was extremely windy that day and you can just about see Lily is being buffeted around quite a bit in the photo below.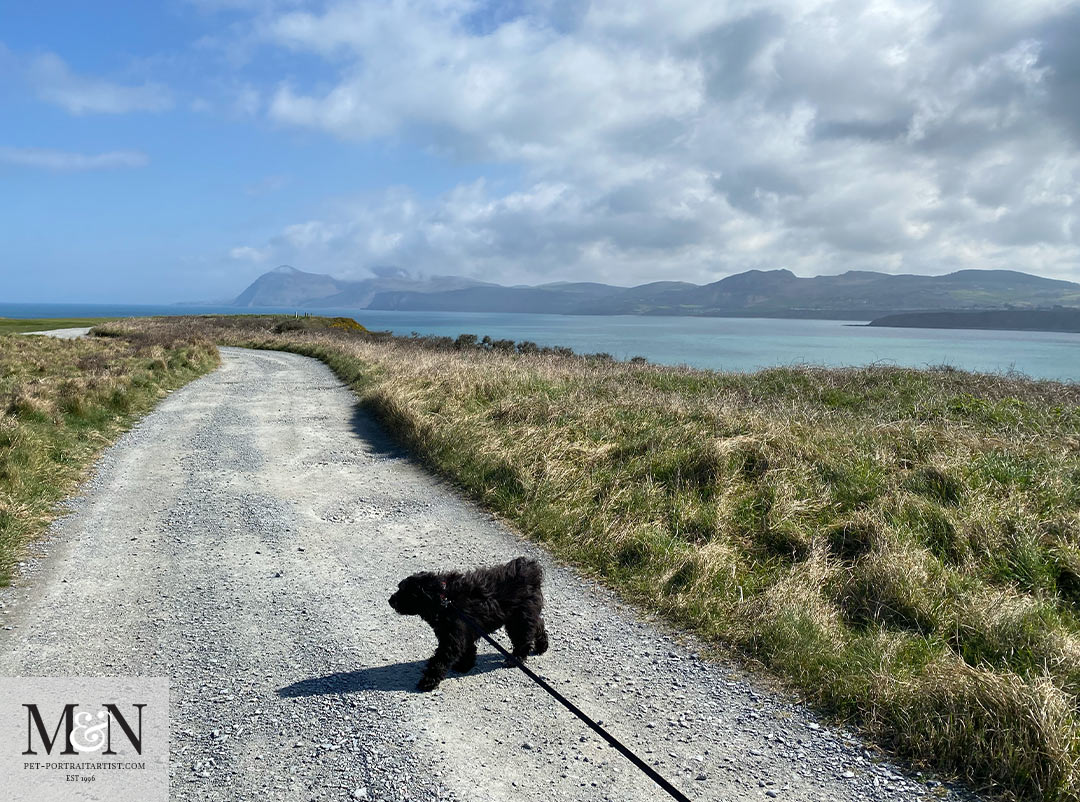 This is a closeup of the view looking across the bay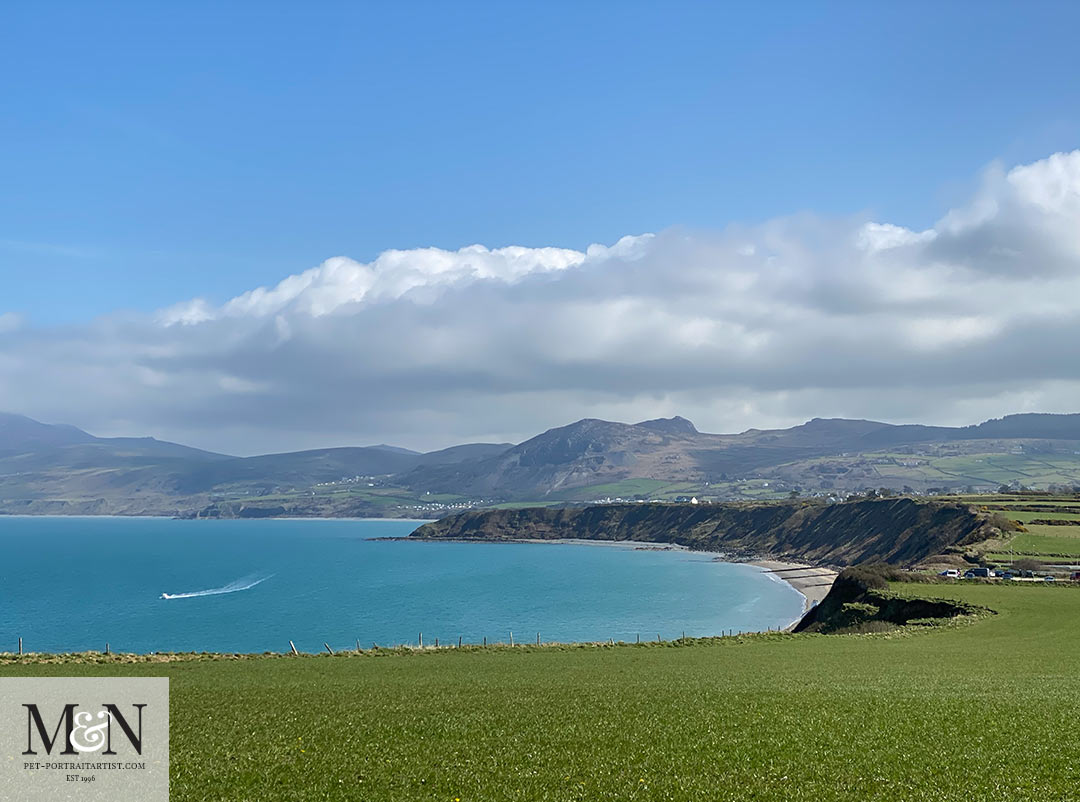 We finally got to the tip and it was so pretty. All in all we had a wonderful few days up there, being only a 4 hour drive from where we live, its a little too far for a day trip. However to stop over for a few days, there is plenty to see and do and lots of amazing walks. Very much recommend it if you are in the area.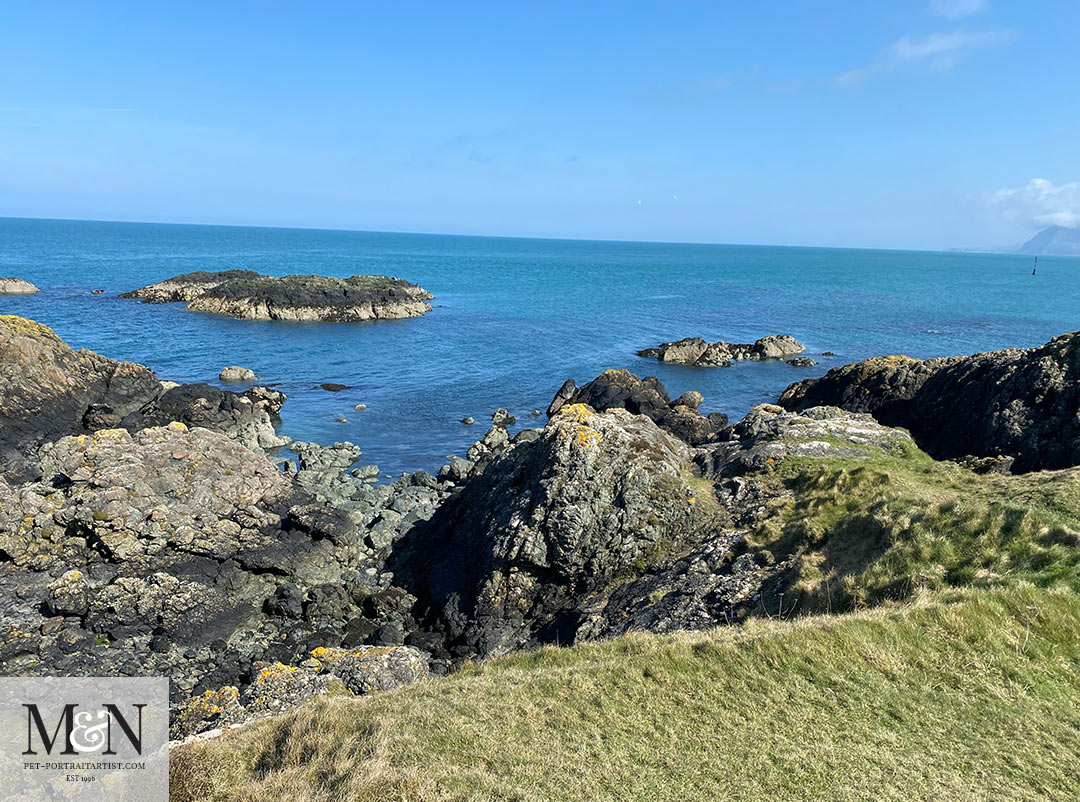 Gus & Pippa's Oil Portraits
Returning client Harlan Crow and his family commissioned both of these portraits for Christmas 2020. Nicholas was fully booked but has now completed them for the family. They were sent off a few weeks ago. We are very much looking forward to seeing them framed. They usually have elaborate carved frames for their paintings so as soon as we receive the photos I will post them here for everyone to see! We hope you like them!
Finally, we hope that you have enjoyed Melanie's April Monthly News and if you missed our blog post last month, why not hop over to our blog post Melanie's March Monthly News and have a read of what we did last month.
Are you enjoying our blog? Why not sign up to our Melanie's Monthly News, which comes right into your inbox each month! You can sign up at the bottom of our website or at the top of the blog. Please don't forget to subscribe to our YouTube Channel too. You are more than welcome to comment below, we love hearing from our readers!

You May Also Like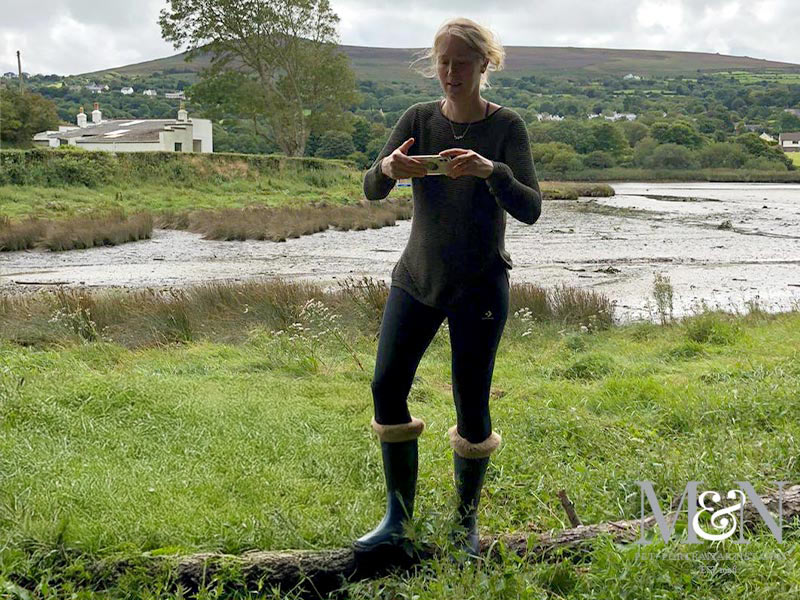 September 1, 2020
November 30, 2023
March 19, 2018