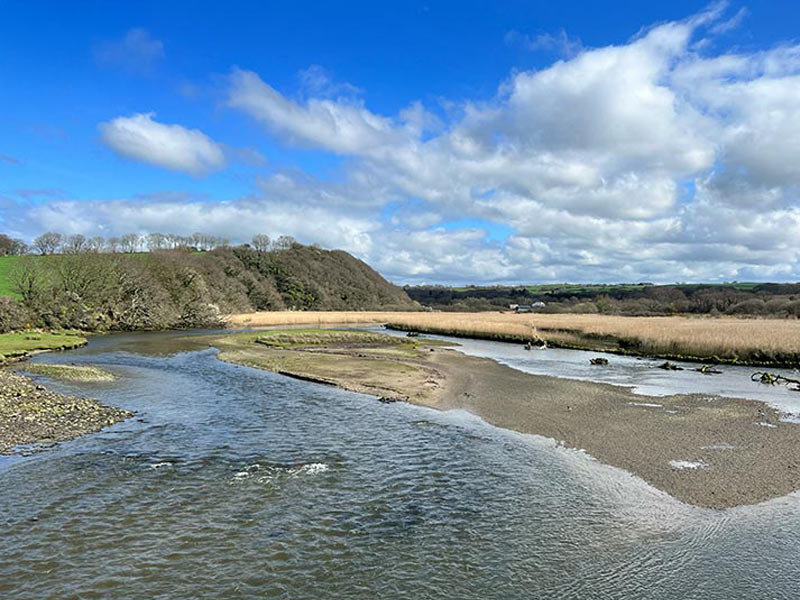 Melanie's March Monthly News
April 4, 2023
Welcome to another Melanie's March Monthly News. Thankfully things are a little happier here. Dad is home from Spain and recovering well, the car is still poorly (read last months blog post to hear about big dent in door!) but is due to go into the repair garage just after Easter and Nicholas had an April fool Birthday! So Nicholas and myself, including Lily headed for a day out in Pembrokeshire.
I took a few videos of Lily and the scenery and have amalgamated them together in a bit of a ditty. I hope you like it. It would be lovely to get the time to do a video a month to go along with our blog. Of course this is time dependant but I will try, especially if you all enjoy this one.
Newport Photos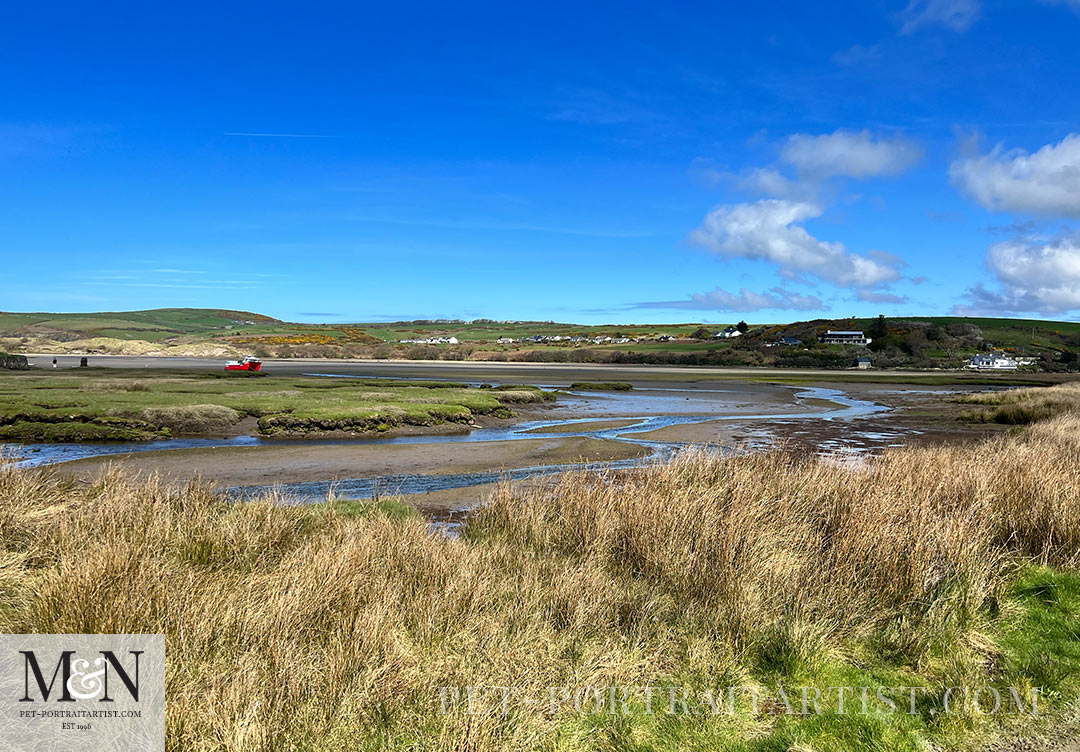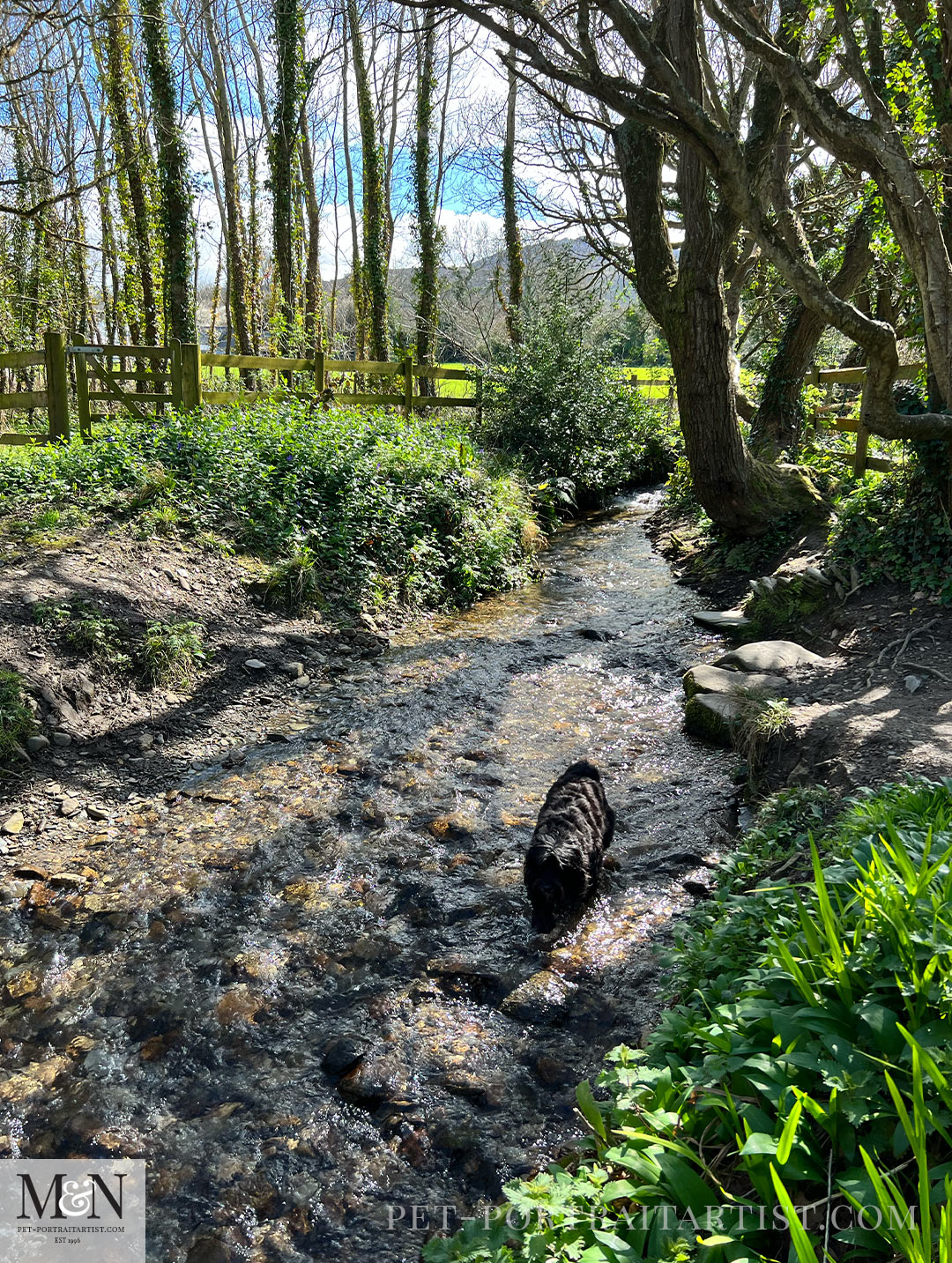 Studio & General News
It's been busy in the studio, not just drawing, but also some much needed general business maintenance. During the last three years, starting with covid, things seemed to stop still. Nicholas had Covid in March 2020 before lockdown and it rocked us all quite hard. He was ill with it for a long time and had a number of relapses. During the first year or so, we only did the things we needed to as Nicholas was unable to work for a while. Like many from that first wave it has left lasting effects.
So our priorities were to make sure clients were looked after and happy, getting artwork out on time and scaling things back a little to allow Nicholas to rest and recover. Covid was a difficult time for many and things will never really be the same. While Nicholas is generally well, symptoms still linger, like a hidden illness. But life goes on and our business has to thrive. So it was time for a spring clean and refresh of the websites and some new stationary.
Our Pet Portraits Websites
We used to have 5 websites dedicated to different animals for our portraits, which was A LOT to maintain. We have had them for many years but it was so much work. So we have scaled it back to two sites now. Our main Pet Portraits site and my dedicated Pencil Pet Portraits site. I have added new work, new pages, updated galleries and a brand new navigation. I am quite old school when it comes to websites. I'm not sure why I don't join the rest of the world and create Squarespace or Wix site, but I guess I am hanging onto the old ways of working. So I make our sites by hand and struggle with HTML and CSS code…. with the help of a good pair of glasses!!
We would love for you to visit our sparkly updated sites, a preview below and if you see any mistakes please let us know! Main site – Pet Portraits My Pencil Pet Portraits site.
Pet Portraits Stationary
The next change was to radically redesign our stationary and have it professionally printed. This will save time when packing the portraits too. Plus of course it looks much more professional. I had them printed at Moo.com and here is a video of us opening the package! We are very impressed with their printing and service and hope you like it all too!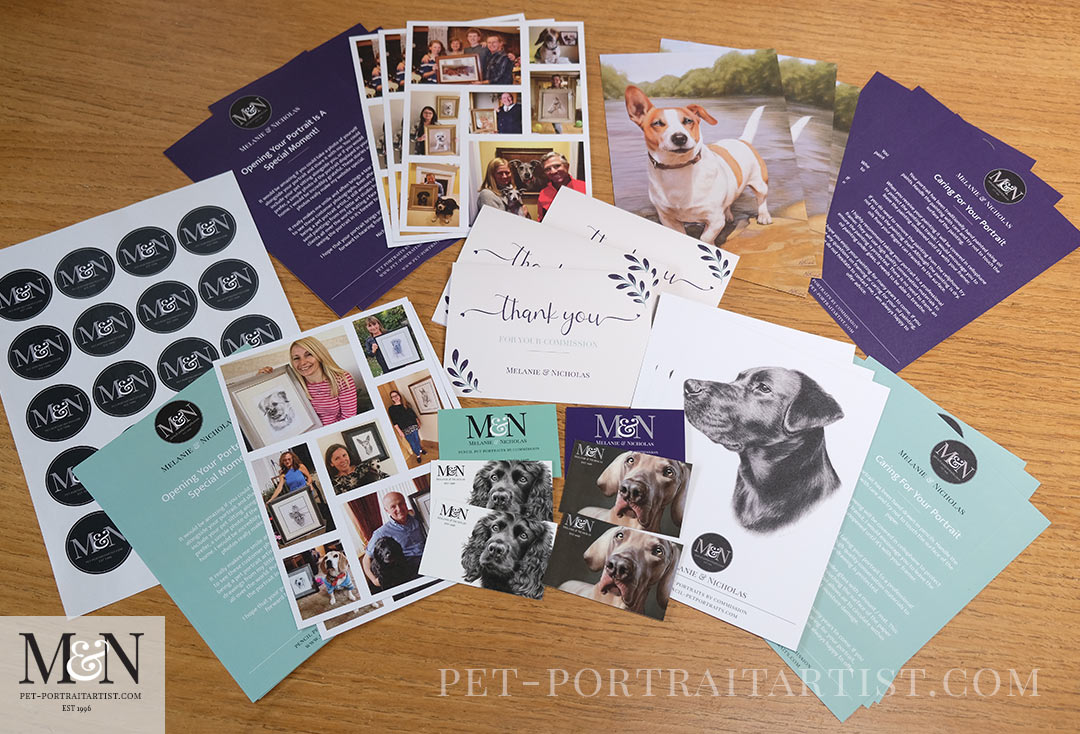 Patreon
Nicholas and myself have also been having a number of chats about Patreon in the last few weeks. We have been trying to work out how we can share some of our experiences with our art based readers. We used to teach, we have written online courses for The London Art College and we have taught for them for many years, however we stopped teaching about 10 years ago, and don't really want to teach as such. Our lives are so busy and our work hours are so chaotic and limited. Being tied to posting 'how to' videos and tutorials rigidly on a monthly basis will inevitably take us away from painting and drawing.
Having said this, we have wondered if there were artists out there who perhaps might want to see step by step of our work, perhaps a few painting clips, showing the materials we use, mixing of colours etc, perhaps that might be one area we can look at. Other areas? Well you tell us! We are all ears and if we can implement them in our day to day routine, we will try our very best. It is in the very early thought process stages at the moment, however message us direct and let us know your thoughts or ideas.
Oil Painting of Ella
The portrait of Ella was a lovely one for Nicholas to produce. The painting was commissioned as a Christmas gift in December 2022. We arranged the full portrait with our client including photos and got them into our commissions list as soon as we could. We then sent the recipients a gift voucher card with Ella's photo on the front explaining their gift. It was a lovely portrait and was very well received.
We packed Ella's portrait up and presented it beautifully so that the recipients would have a lovely experience when opening it all. Nicholas created the painting on a 16 x 12 canvas. We hope you like it!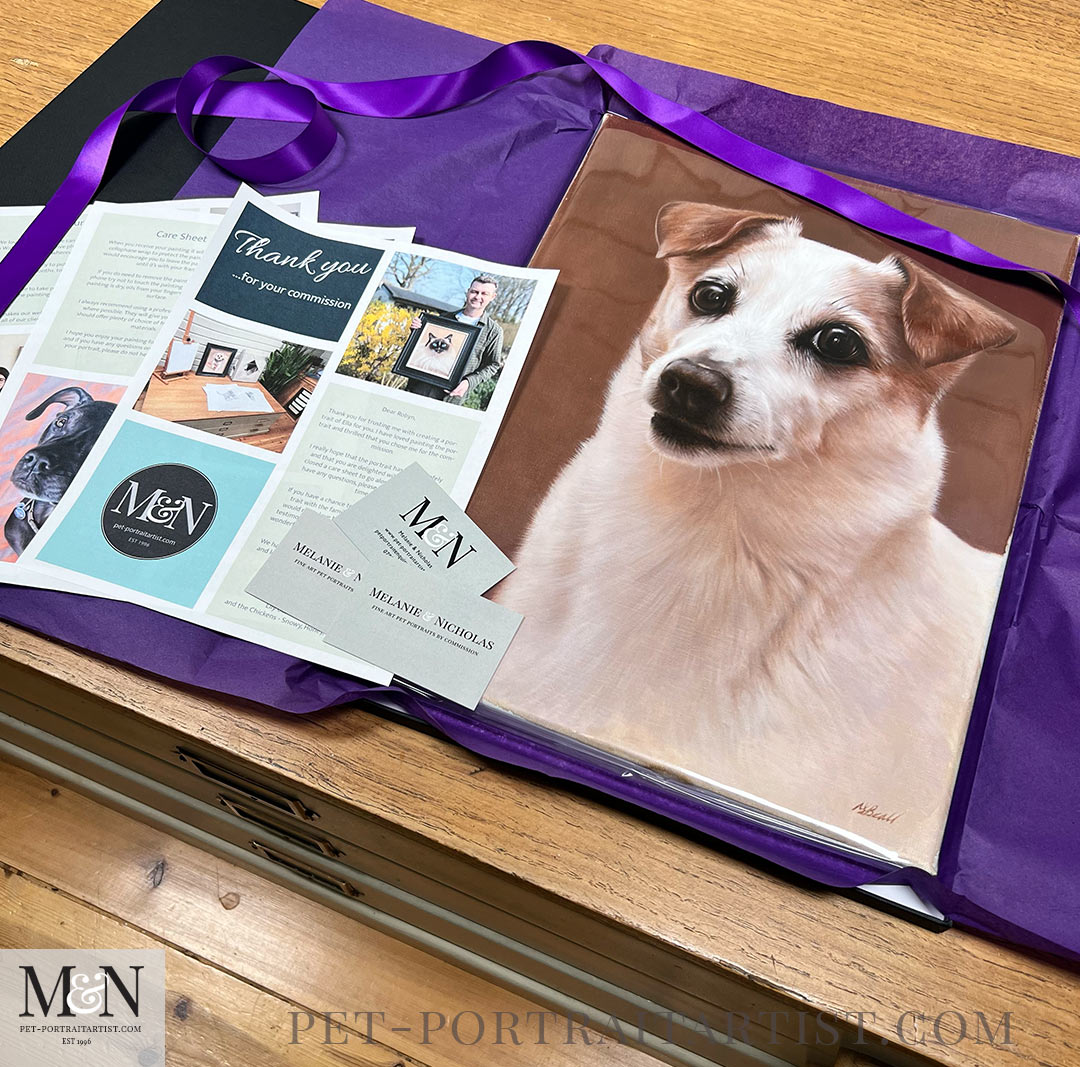 Pencil Drawing of Betty
Betty was an absolute pleasure to draw. I created this portrait at 12 x 10 size and you can see below packaged in our usual packaging. Amy messaged to say that her mum was delighted with the portrait!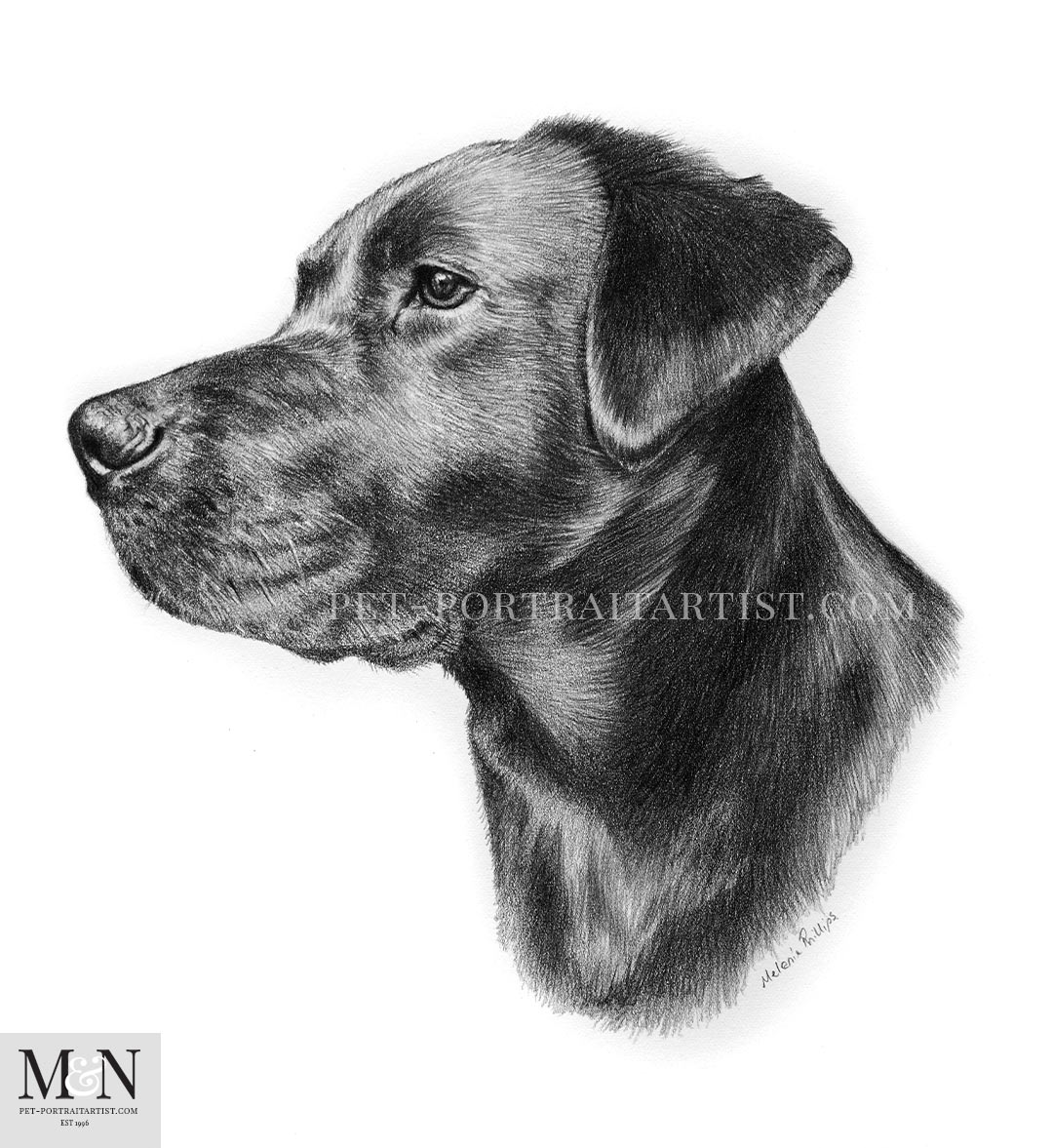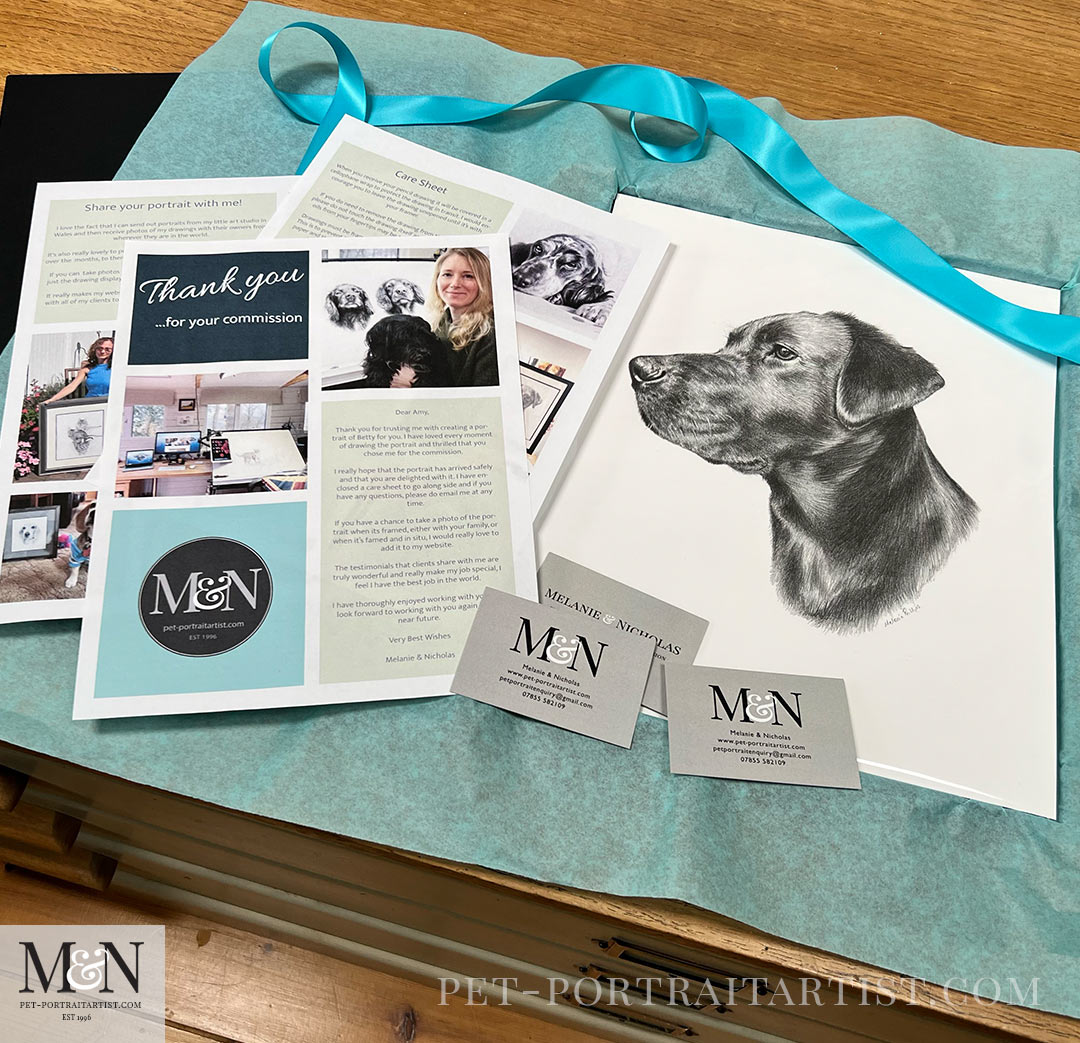 And finally we hope that you have enjoyed this months Melanie's March Monthly News, if you missed last months, head over to our January and February News, where you can catch up!
Why not sign up to our Monthly newsletter accessible at the bottom of our website which comes out on the 1st of each month. Catch up on news from our Art Studio! Please don't forget to subscribe to our YouTube Channel too, follow our Instagram @petportraitartists and Facebook @petportraitartists . You are more than welcome to comment below too, we love hearing from our readers!

You May Also Like
August 29, 2016
March 19, 2018
November 9, 2016