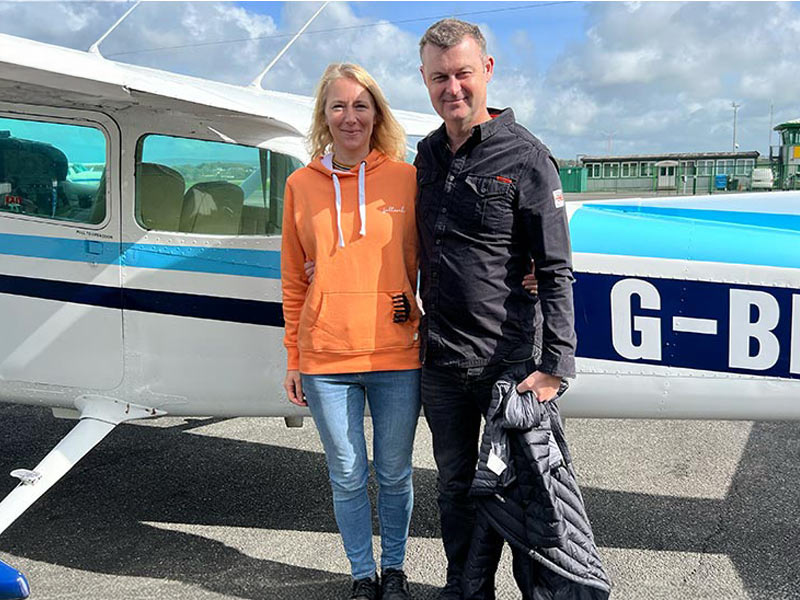 Melanie's Monthly News in September
October 4, 2023
Welcome to Melanie's monthly news in September and before we dive into our antics, we have had a bit of a poorly Lily. She went to the vets for routine vaccinations and the vet, who was very thorough, found an abscess. She had not been off her food and she had still been eating her crunchy fishy treats. So no vaccines, we had antibiotics instead! The vet booked Lily in for extractions the following Monday.
It was such a long and worrying day. We were at the vets by 8.30am, they said they would do bloods first and then do the op. The phone rang at 3.10pm and I thought, great, we can come and collect her! They hadn't even started. The bloods showed up some abnormalities in her liver, kidneys and urea! So they would give her fluids through the operation to help her organs and were about to start.
Both Nicholas and I waited for the phone to ring but by half 5 we couldn't wait any longer! We decided to head down to the vets to find out how she was. By the time we had got there, she had just come out of surgery and gone into recovery. It was a long and tricky op, she had 5 teeth out, but she was ok!!
We were told to come back at 7.30pm to collect her. When we did she was so pleased to see us, she was pretty het up, even from having the anaesthetic. Apparently they had given her the pre-med quite early in the day as she was 'lively'.
The Next Day…
The photo below shows her having a really quiet day the following day. It took her a few days for the aesthetic to get out of her system.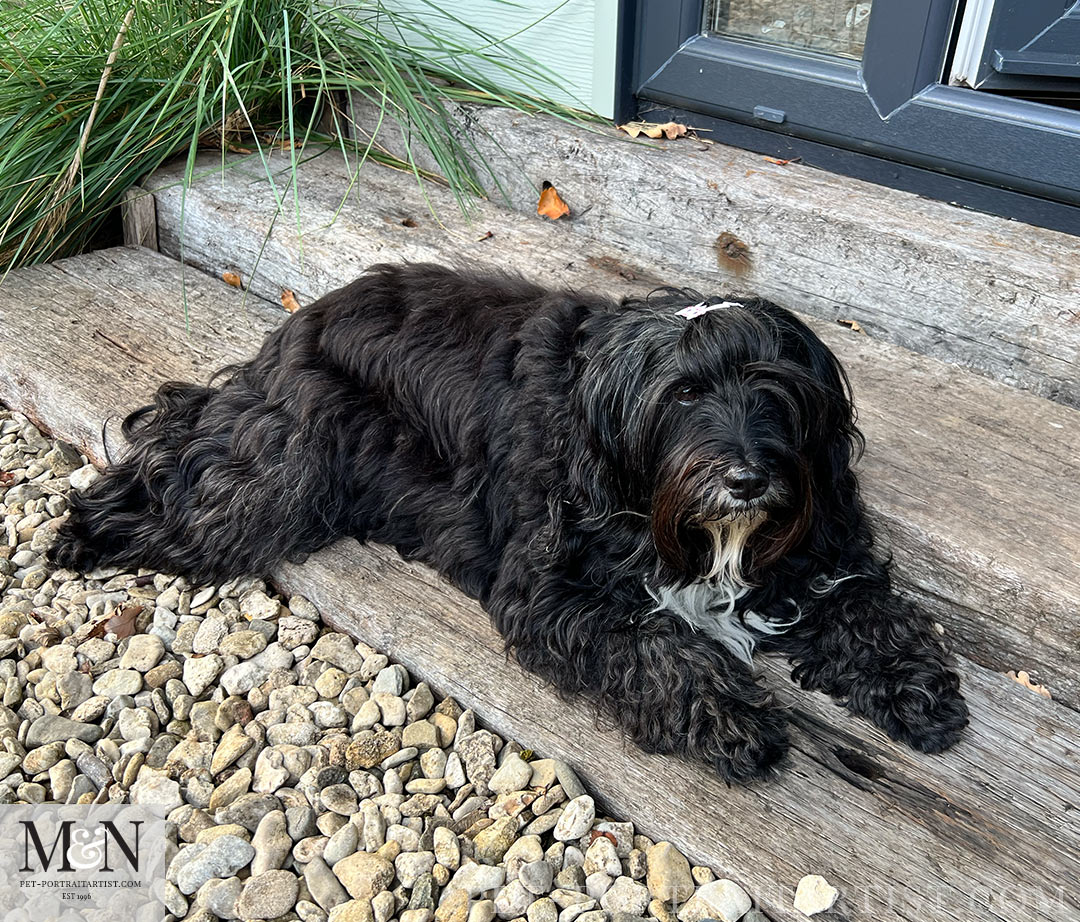 She is with us 24/7 so has some kind of anxiety if she is apart from us. But that's what Tibetan Terriers are like. They want to be with their humans, or want to know where they are all the time! They will follow you around all day. When I'm cleaning in the cottage, I will leave her in the kitchen, go upstairs and do something. I walk into a room and, as if by magic, she is sat there looking at me. She knows where I am more than I do!! This was another photo of her the day after, sleeping it off.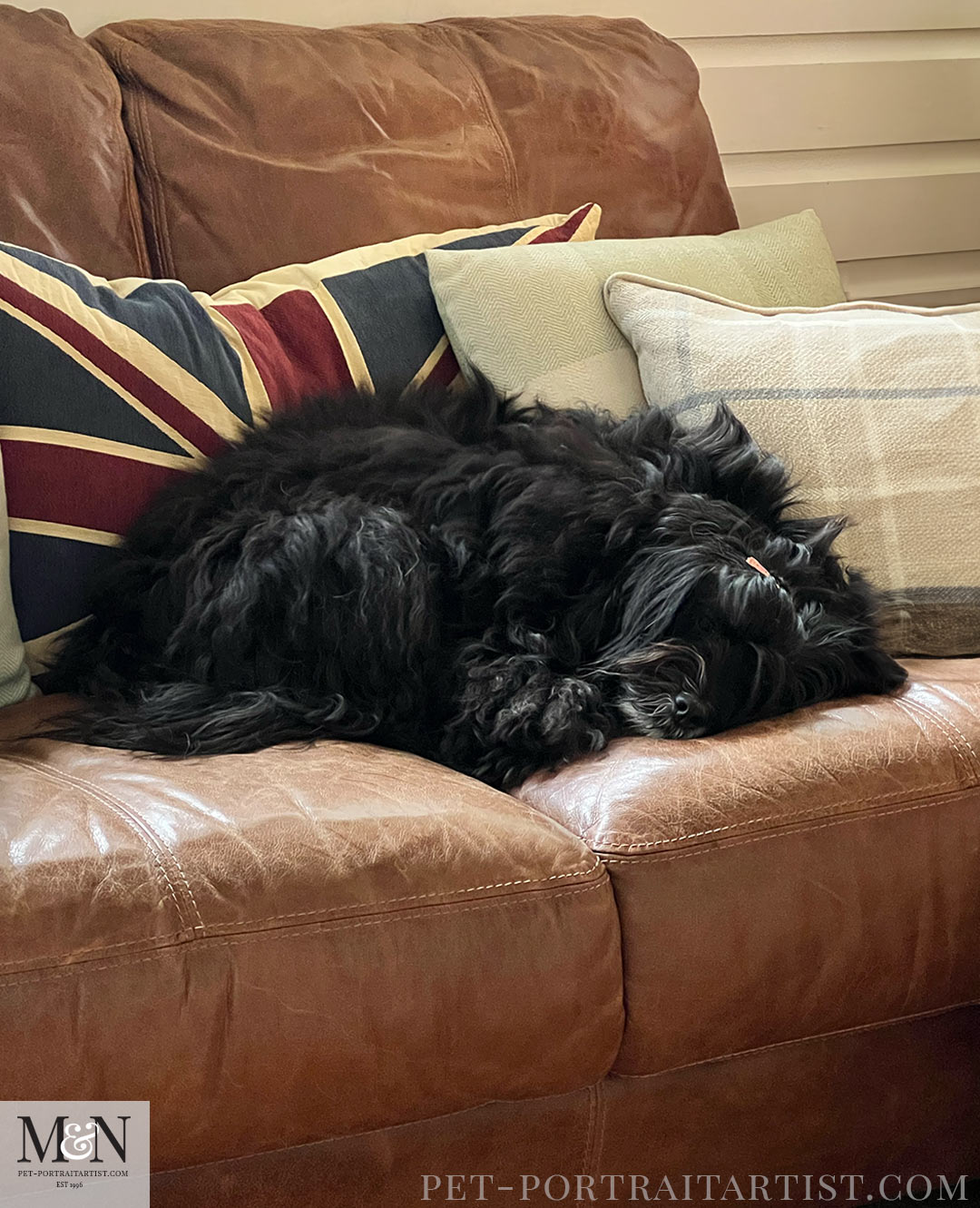 New Pink Harness
While we were at the vets they suggested we got her a harness instead of a collar. So we invested in a lovely pink one with a new lead. At least people will now know she is a girl, opposed to saying, 'Oh isn't he lovely'. She is sporting her rainbow clip too, we are growing her fur so it keeps it out of her eyes. She wears it when we go out and it really makes people smile, especially kids, which is so sweet.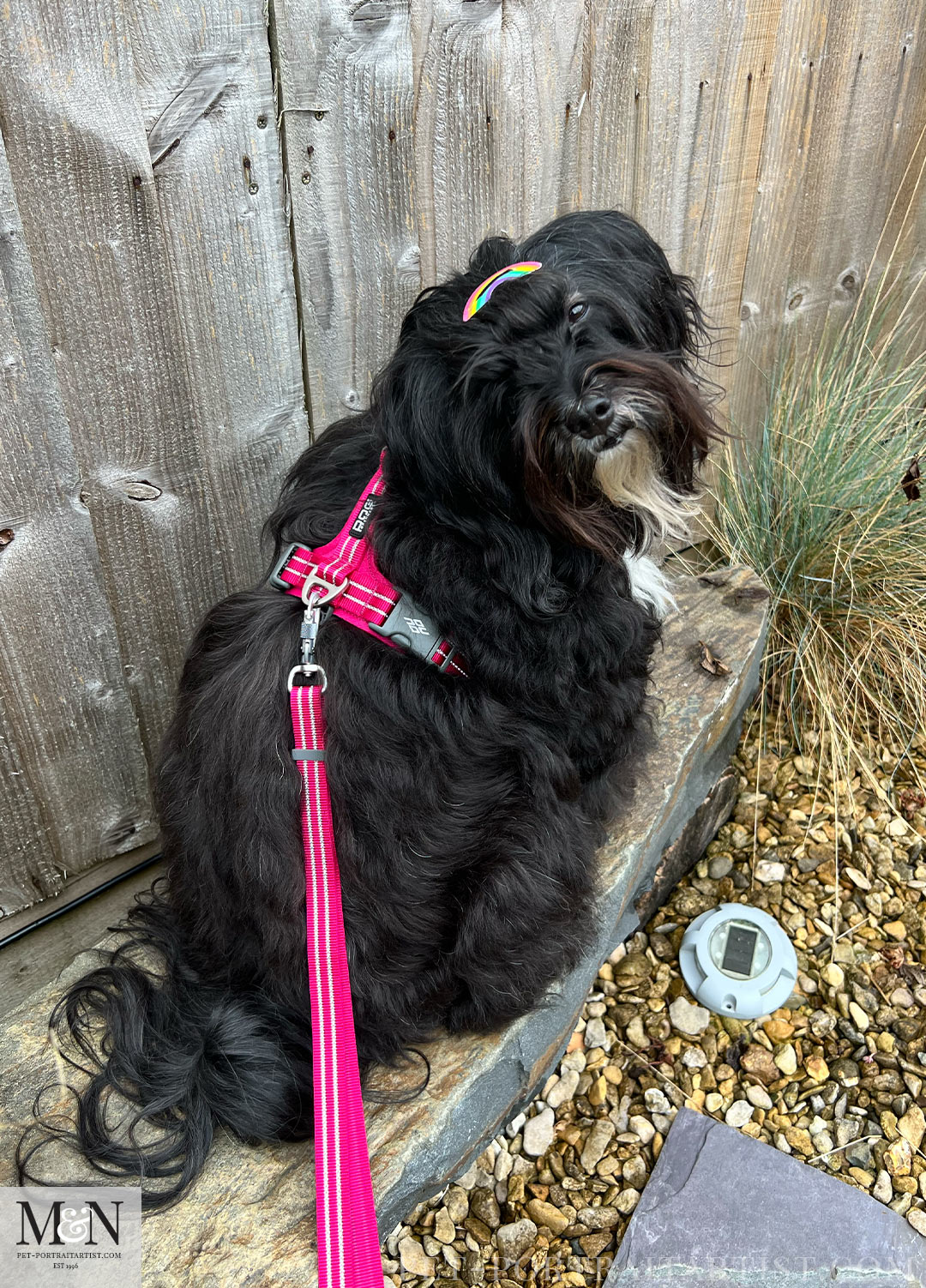 Oil Painting of Flynn
Nicholas has recently completed a beautiful painting of a dog called Flynn for a returning client in Switzerland. The clients absolutely loved the painting and they will soon be commissioning another portrait of their chocolate lab called Candy. We will of course add it to our blog when it's completed next year!
Hi Melanie and Nicholas, Yesterday I received the painting. It is simply beautiful, we both love it.

Peter and Family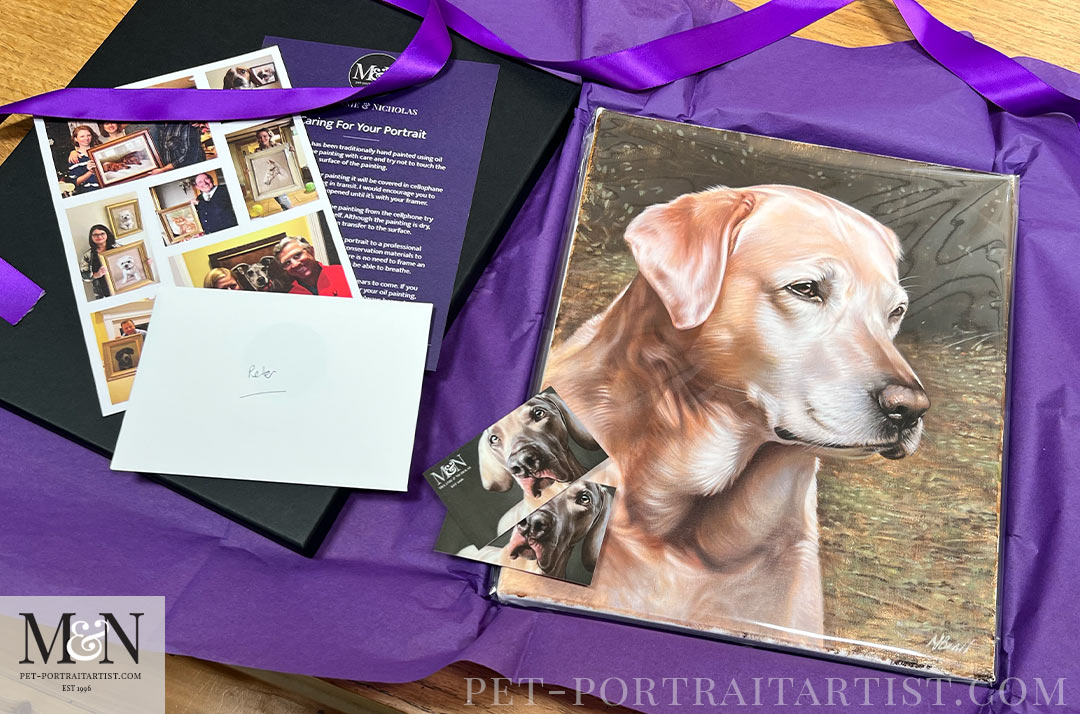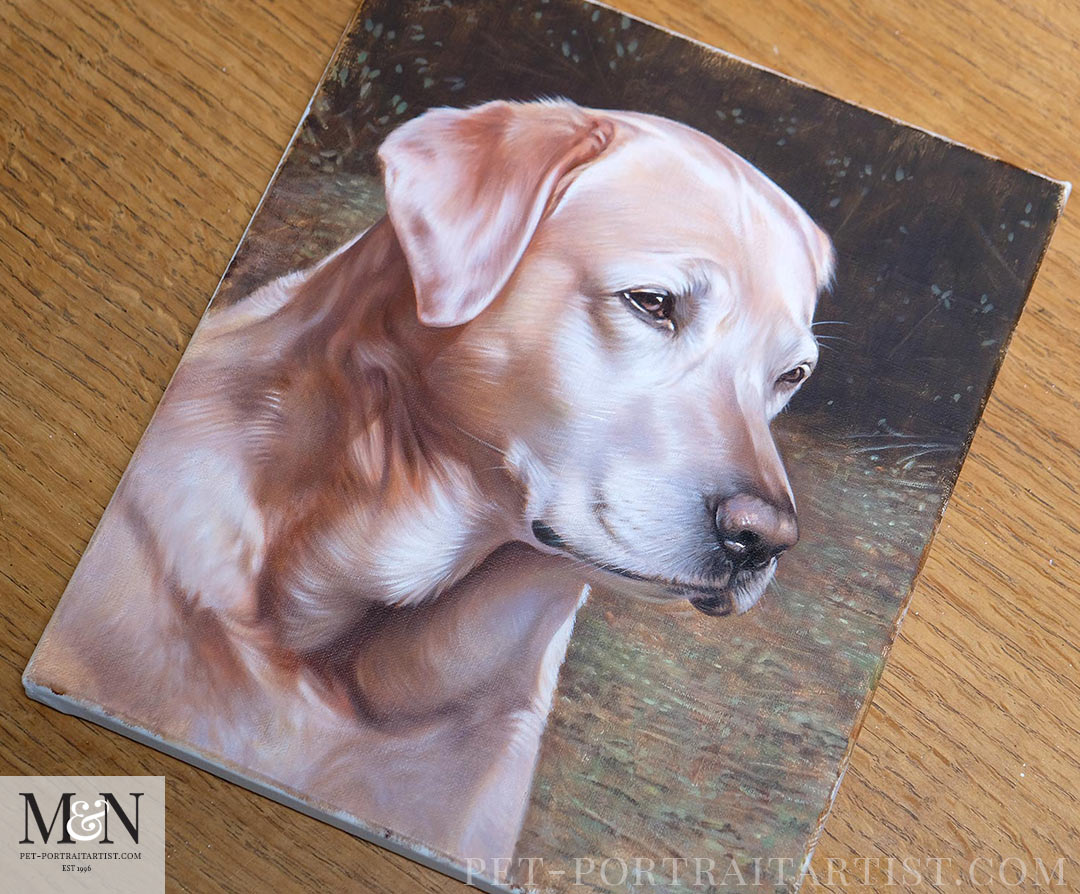 Melanie's Monthly News in September – Swansea 10k
For the last 3 years I have been running the Swansea 10k trying to beat my times. My first 10k I managed 1.05. The following year I knocked quite a bit off at 56.17. This year I managed to do it in 54.26. I was aiming for a number 53, however it was absolutely pouring with rain, huge constant puddles and a side wind along the promenade. I wrung the front of my shirt out twice while running. As runners we are never happy with the weather! It's either too hot, too humid, too cold, too snowy, too wet…. But I feel the weather did hinder me a little. It was my first race in the rain so it was an experience. But this only makes me more determined for my next 10k.
Our little group soon dissapeared to our respective cars to get changed. So sadly there were no actual photos of the day. We were absolutely soaked through to the skin. So here is a photo of the t-shirt and medal.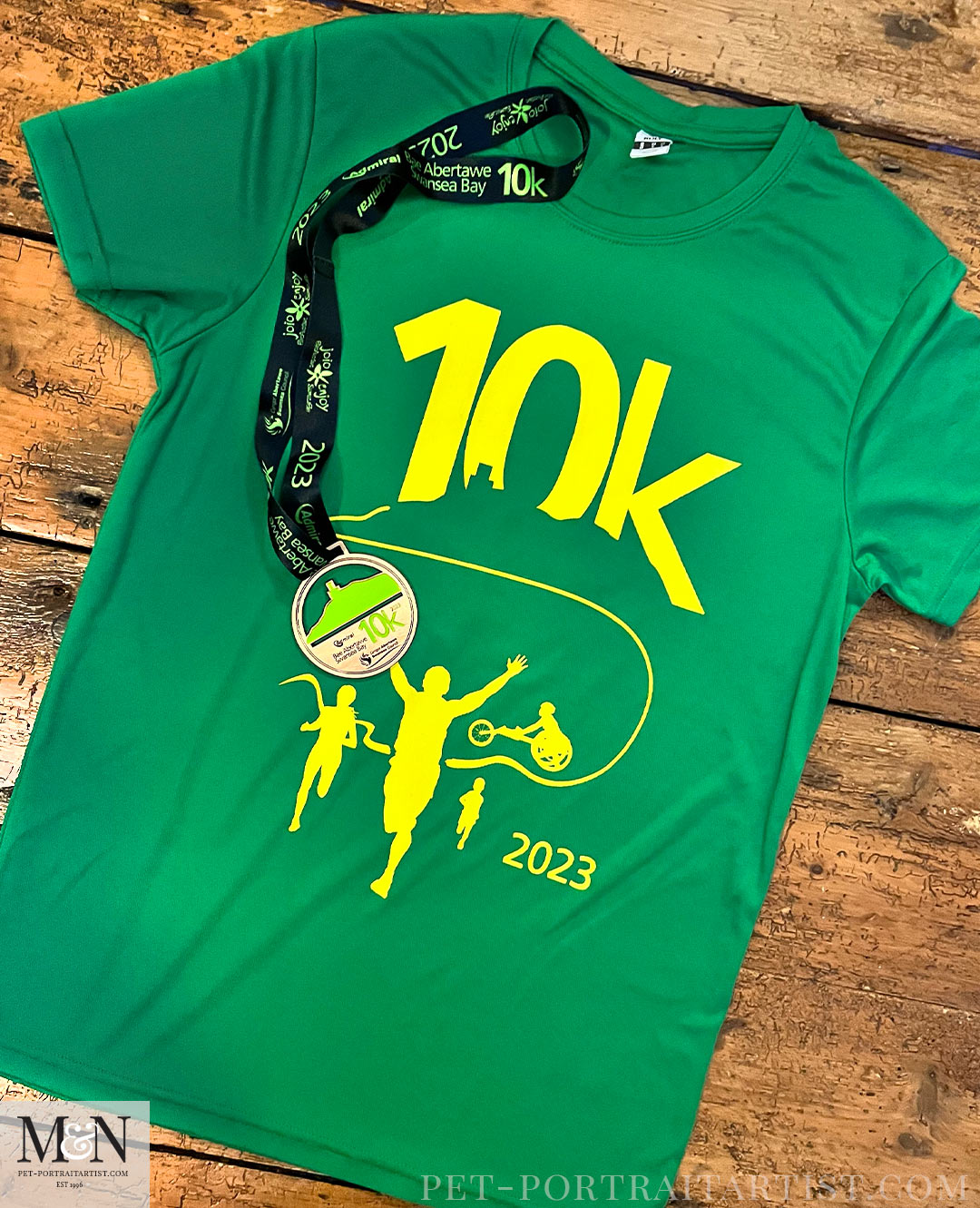 New Quay Afternoon Out!
We have been trying to make the most of the last of the nice days when we can. We have had some stormy weather, so as soon as it turned lovely again, we headed to New Quay for some fish and chips on the pier. Lily was a happy girl as she did get some tiny chips with her tea, but you can clearly see a missing tooth there now.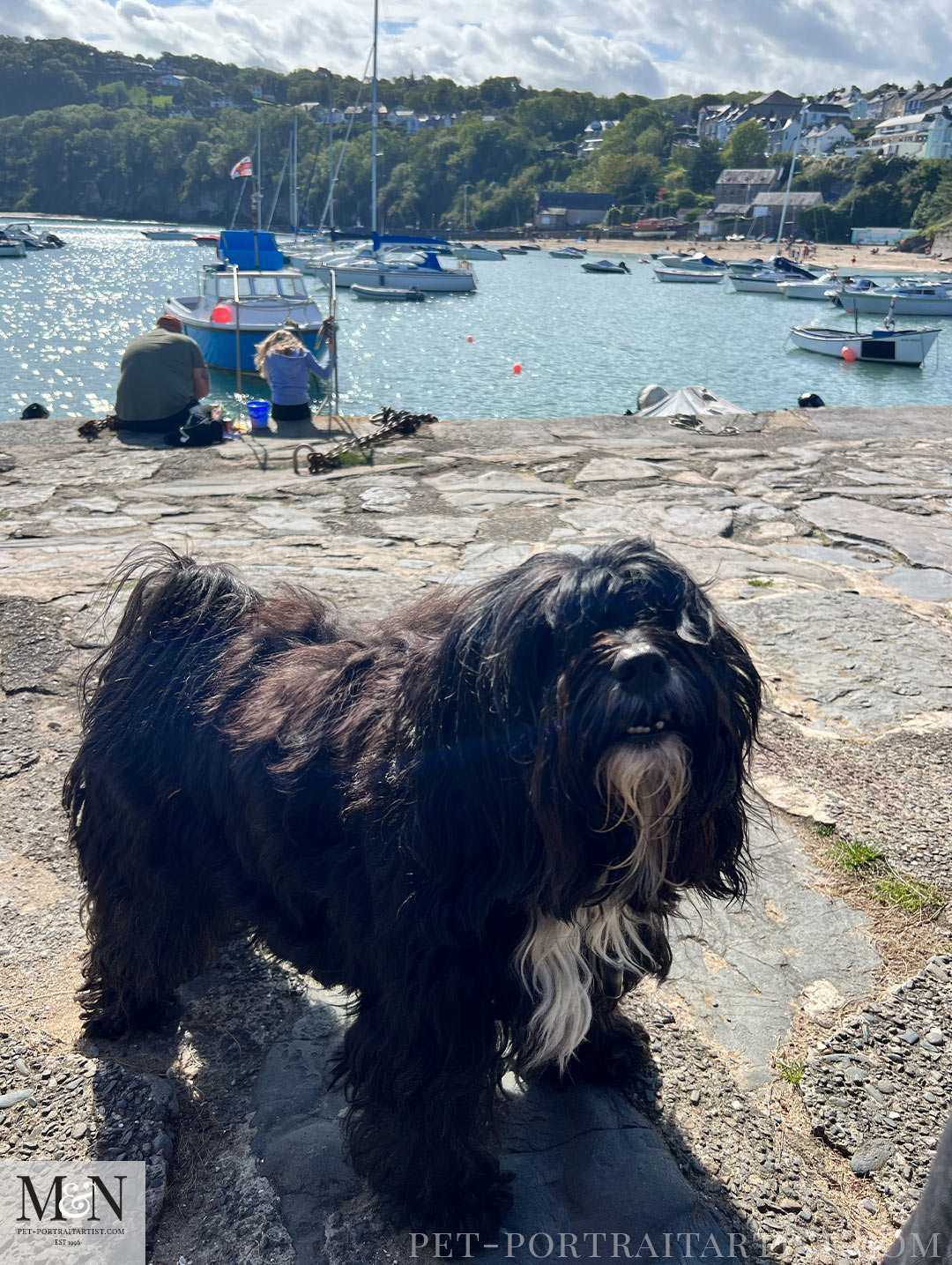 We were proper tourists and sat watching the world go by even indulging in an ice cream. I can't quite believe how expensive ice-creams are these days, I think it cost us £6.90 for two, but as a treat it's ok I guess! I remember as kids, they were about 50p a go!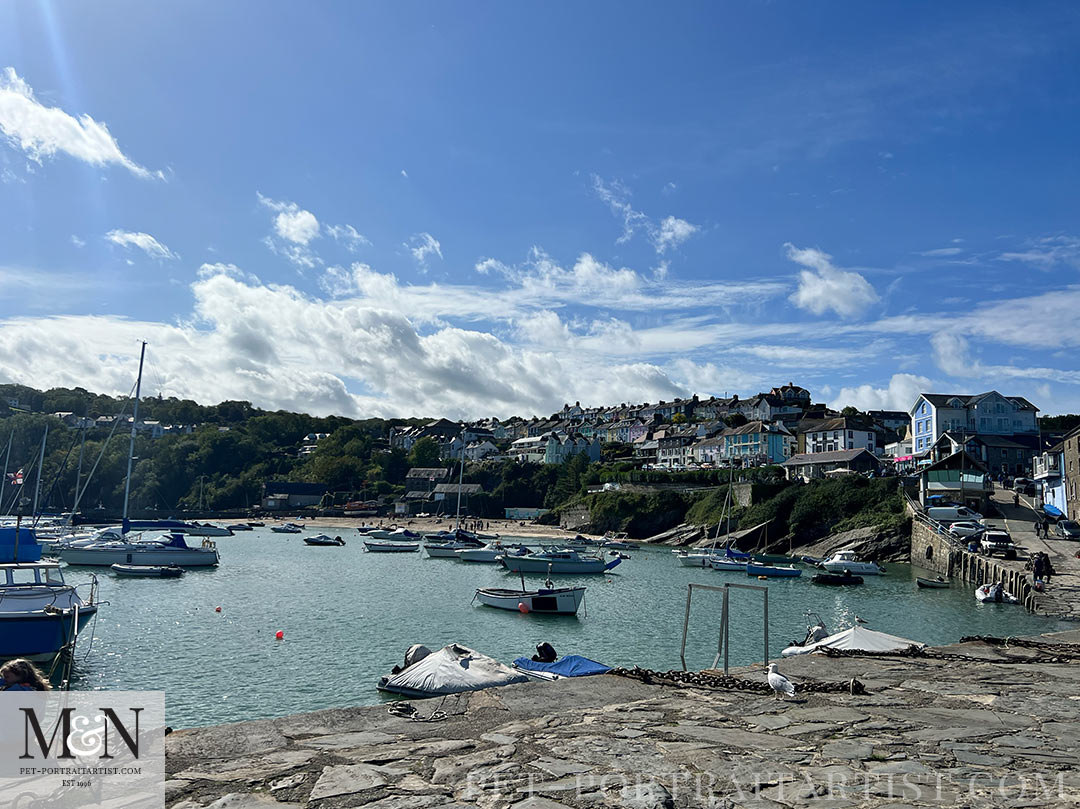 Sadly we didn't see any dolphins, but we did see kids crabbing and everyone generally having a lovely day.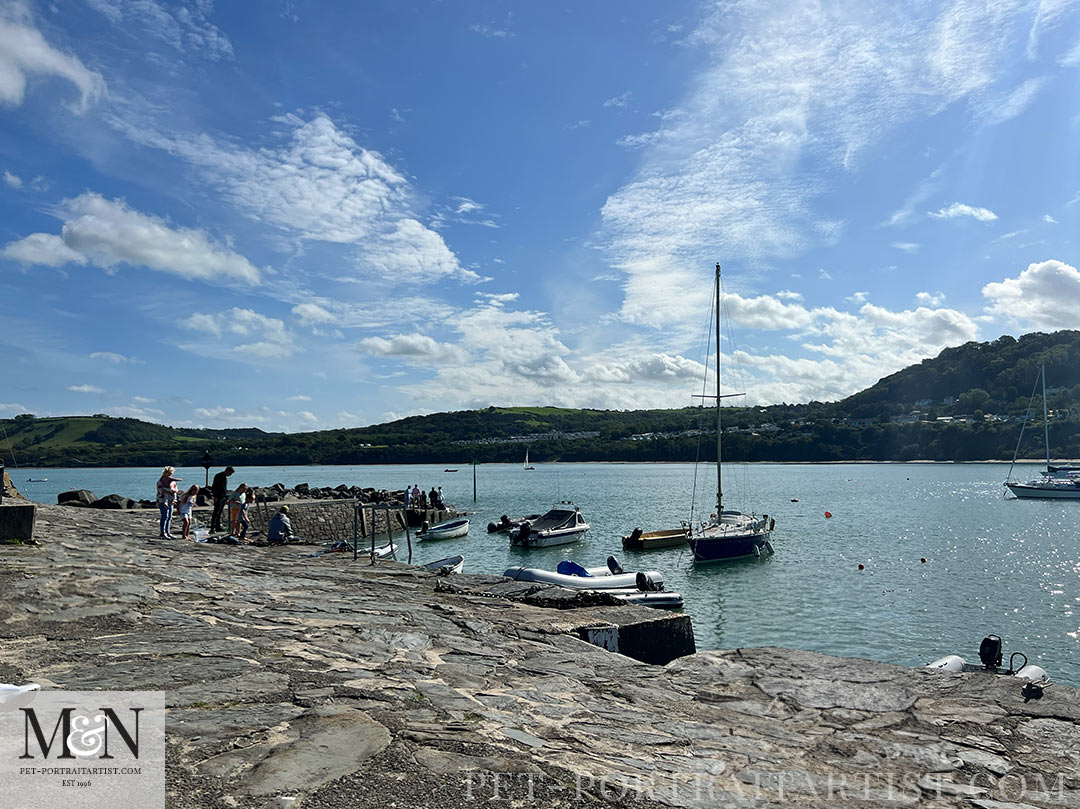 Melanie's Monthly News in September – Ruff and Tumble
I recently came across a company online called Ruff and Tumble. Their advert came up on Facebook. It was one of those businesses you see and think, wow thats a good idea, but never see again. It took me ages to find them. I'm so glad I did though. Lily has a double coat so therefore when we get caught out in the rain she gets soaking. She escapes from a towel so this is perfect. It goes all around her, under her middle and over her head too. It's really well made and easy to put on. Well done to this company for creating something that not only functions effectively and serves a practical purpose, but also is completely cute too. We have been saying she looks like Little Red Riding Hood!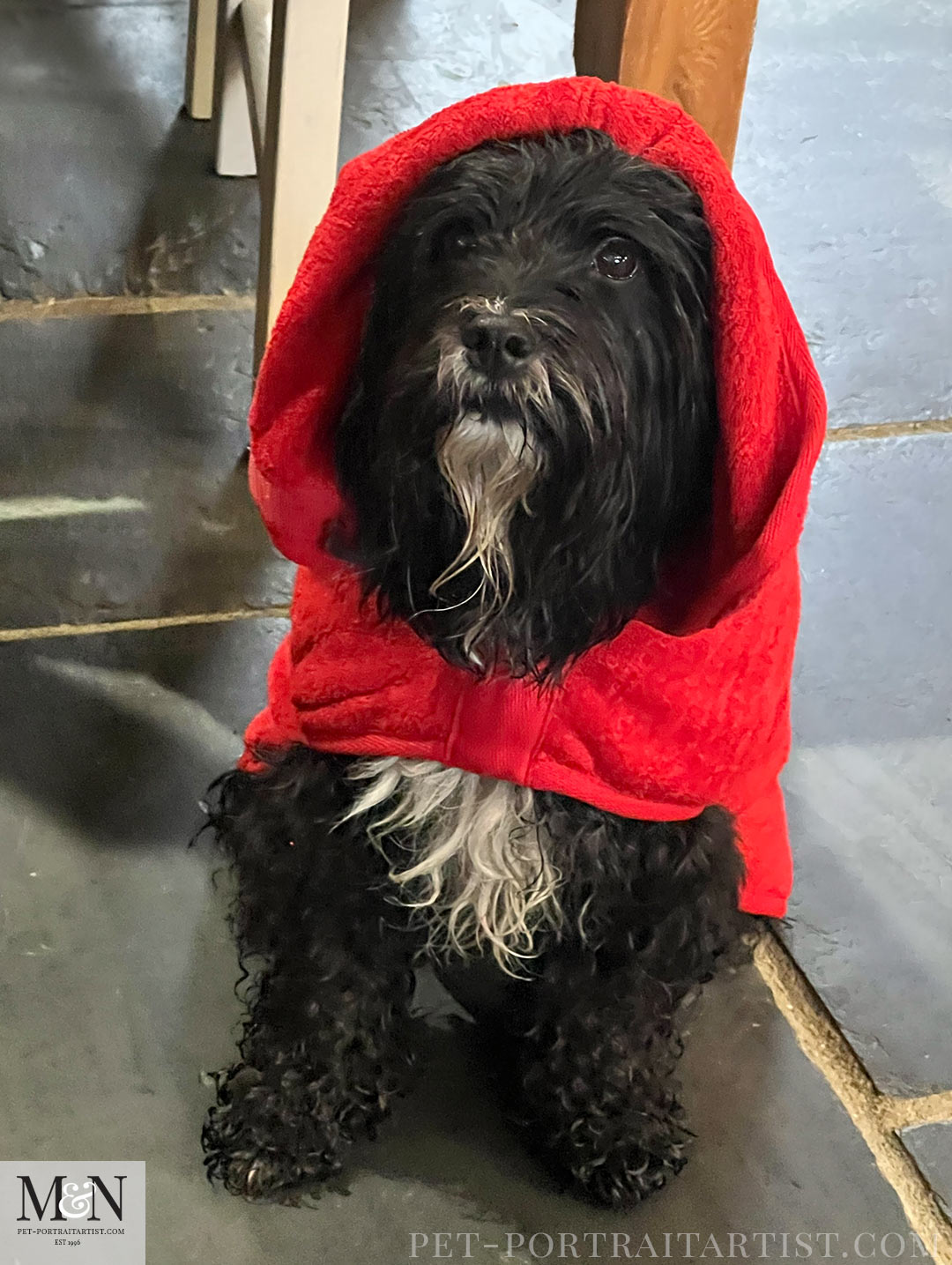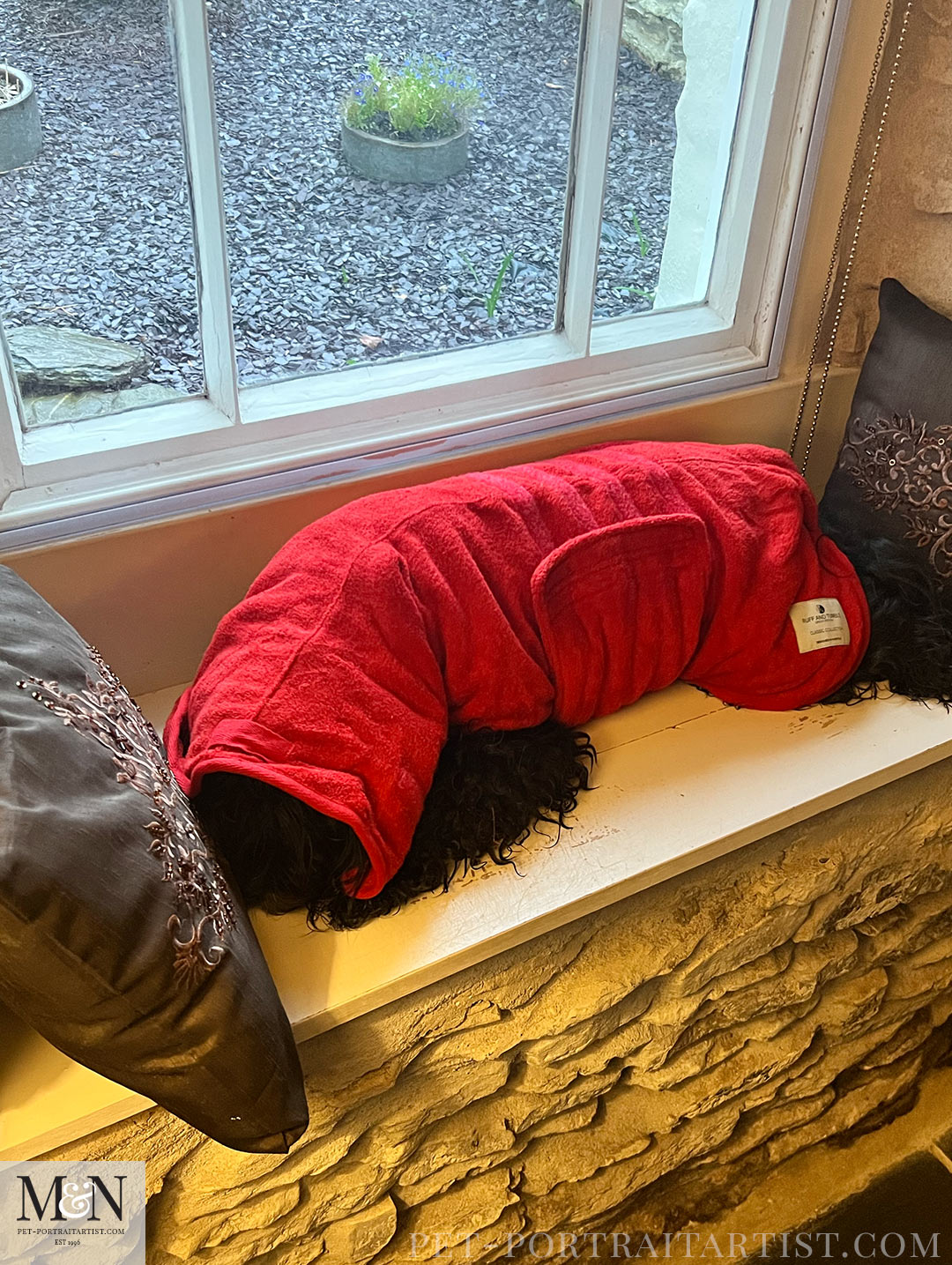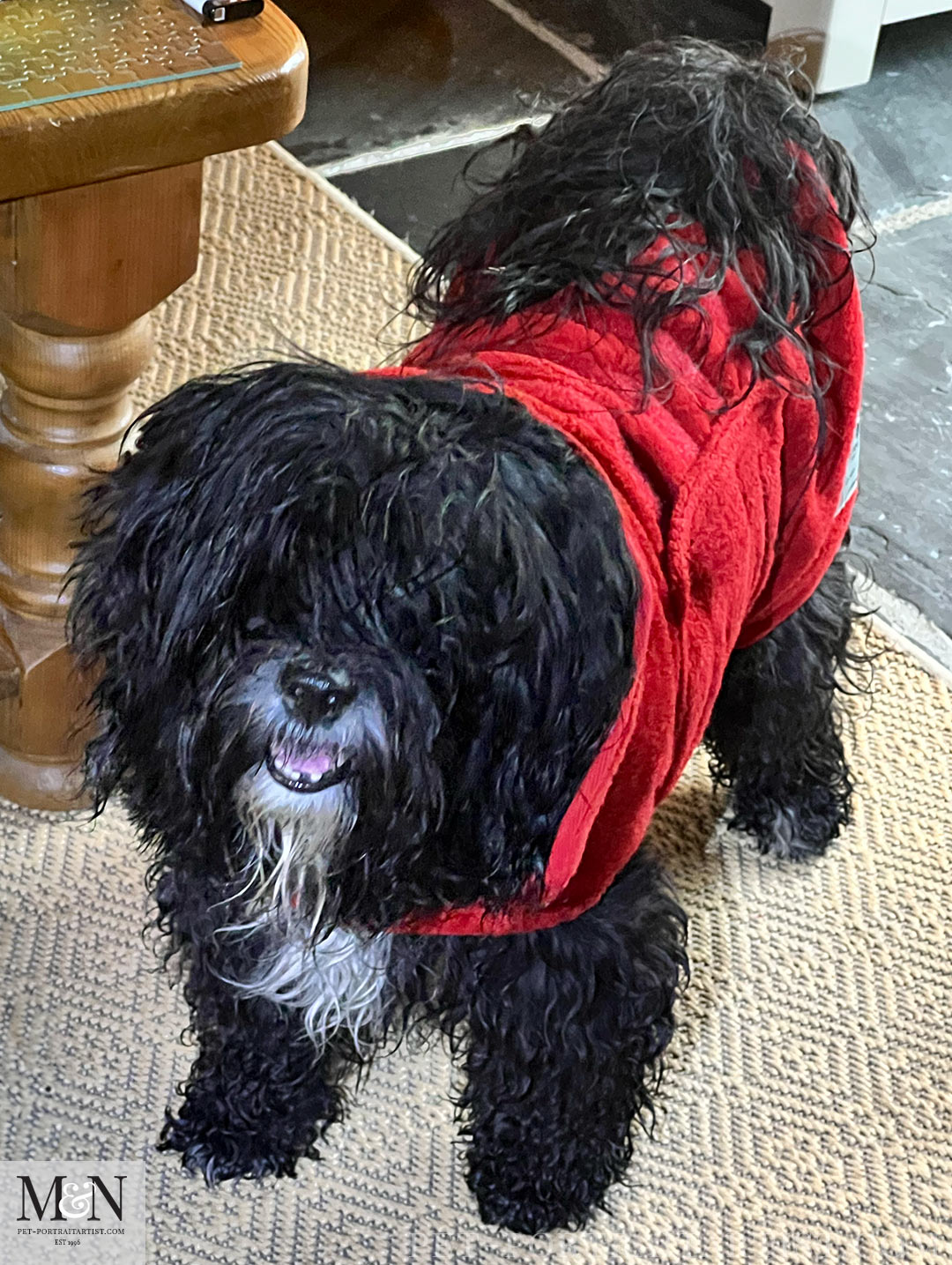 Birthday Pleasure Flight Over Pembrokeshire
Now to our biggest news of the month and that's our little pleasure flight over the coast of Pembrokeshire. Nicholas bought it for me and we have been meaning to take the flight since my birthday but the summer has just flown.. pardon the pun! We went with pilottraining.org.uk and did an hours flight over the coast and it was amazing. We flew in the plane pictured below. It always amazes me how small the wheels are!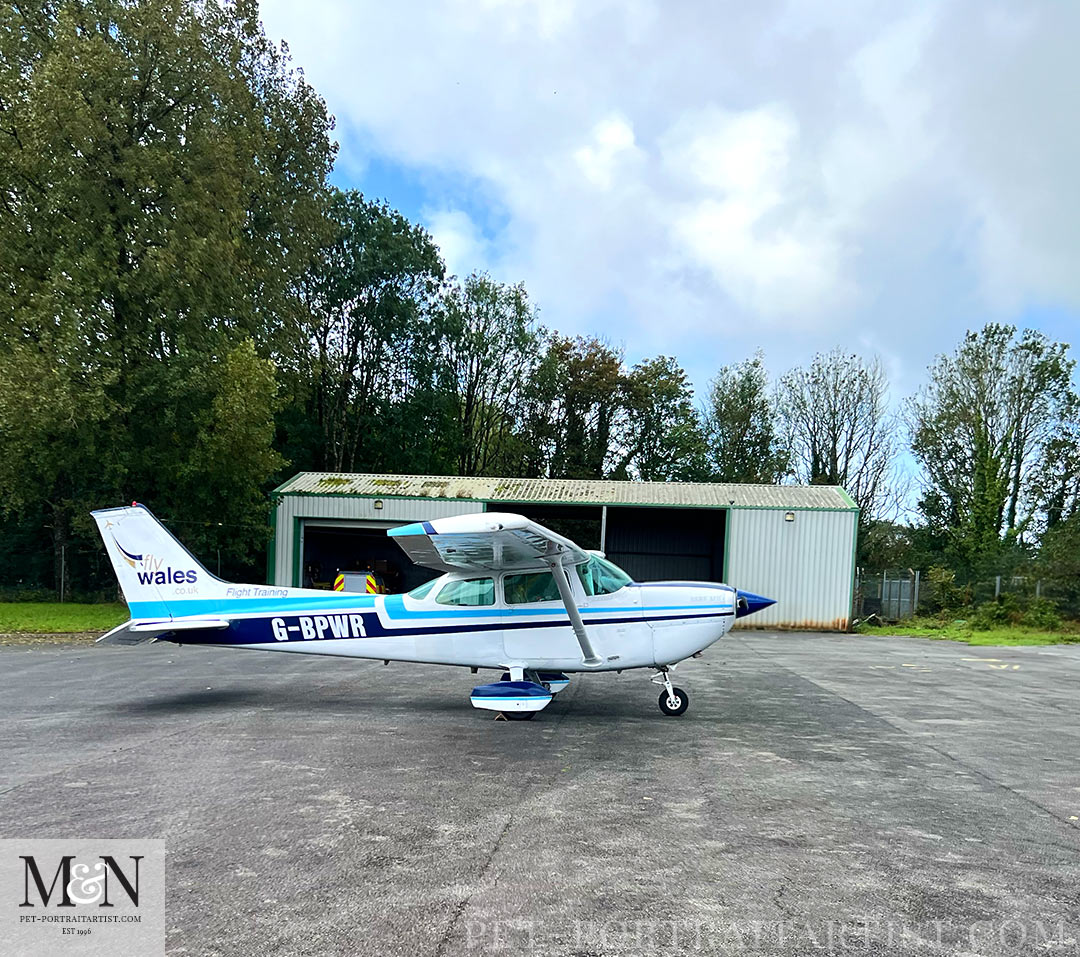 The photo below is of Nicholas and I next to the plane ready for the off….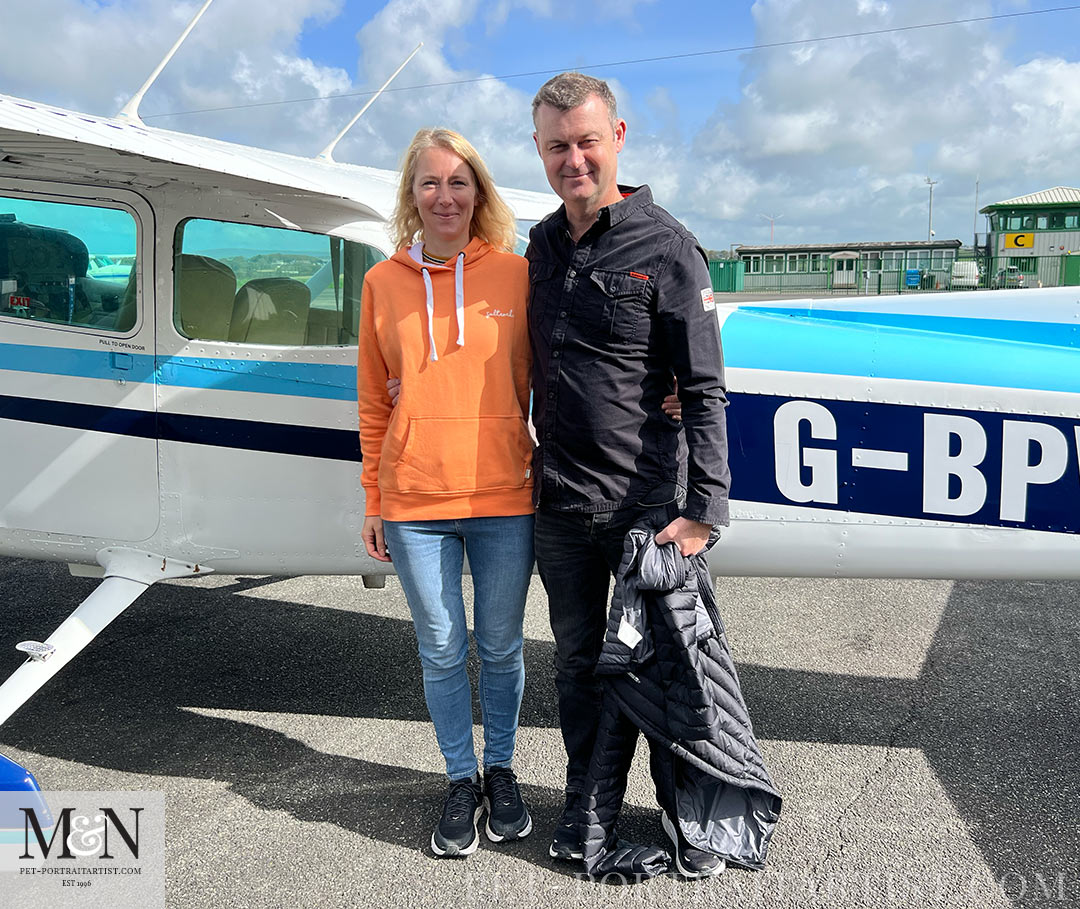 Sitting in the plane, it was smaller than I had envisaged, but felt completely safe and cosy. Viewing all the controls and dials and finding out what they did was completely fascinating.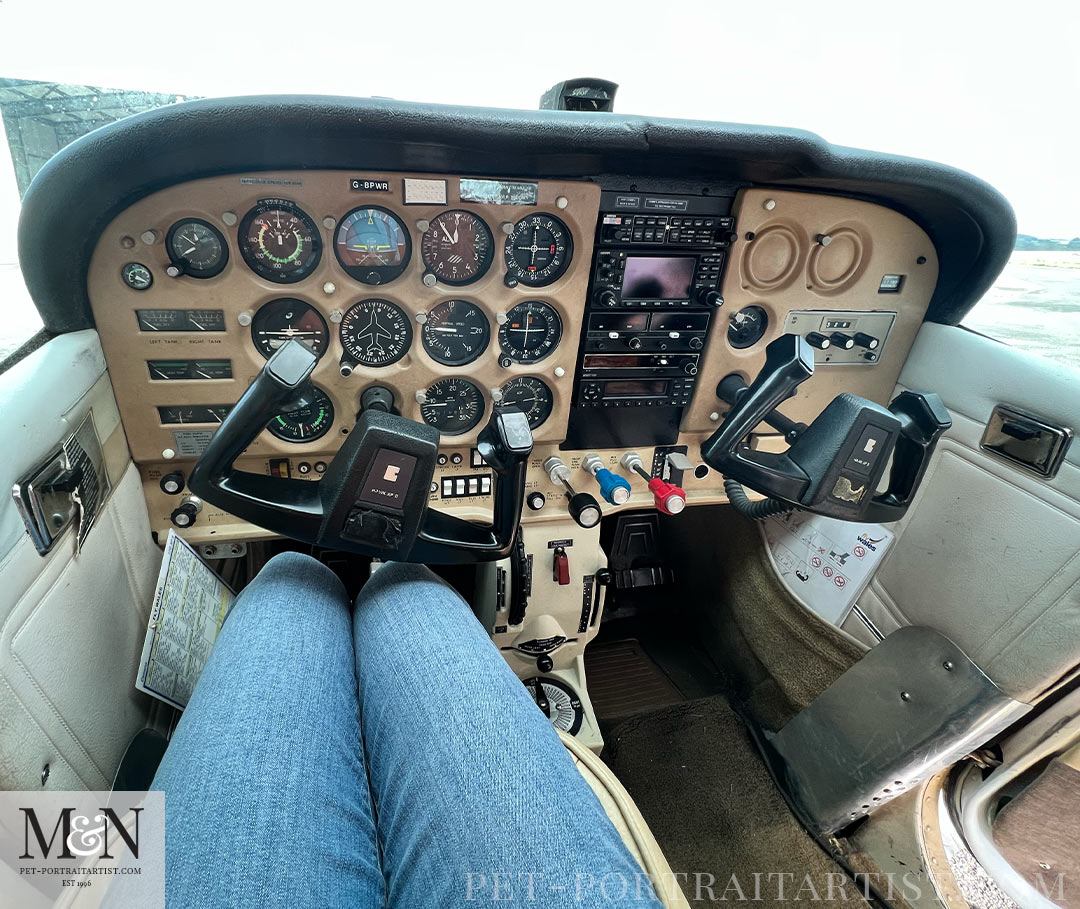 We had some time for selfies just prior to take off! Nicholas sat in the back ready to take photos and I sat in the front… ready to fly the plane!!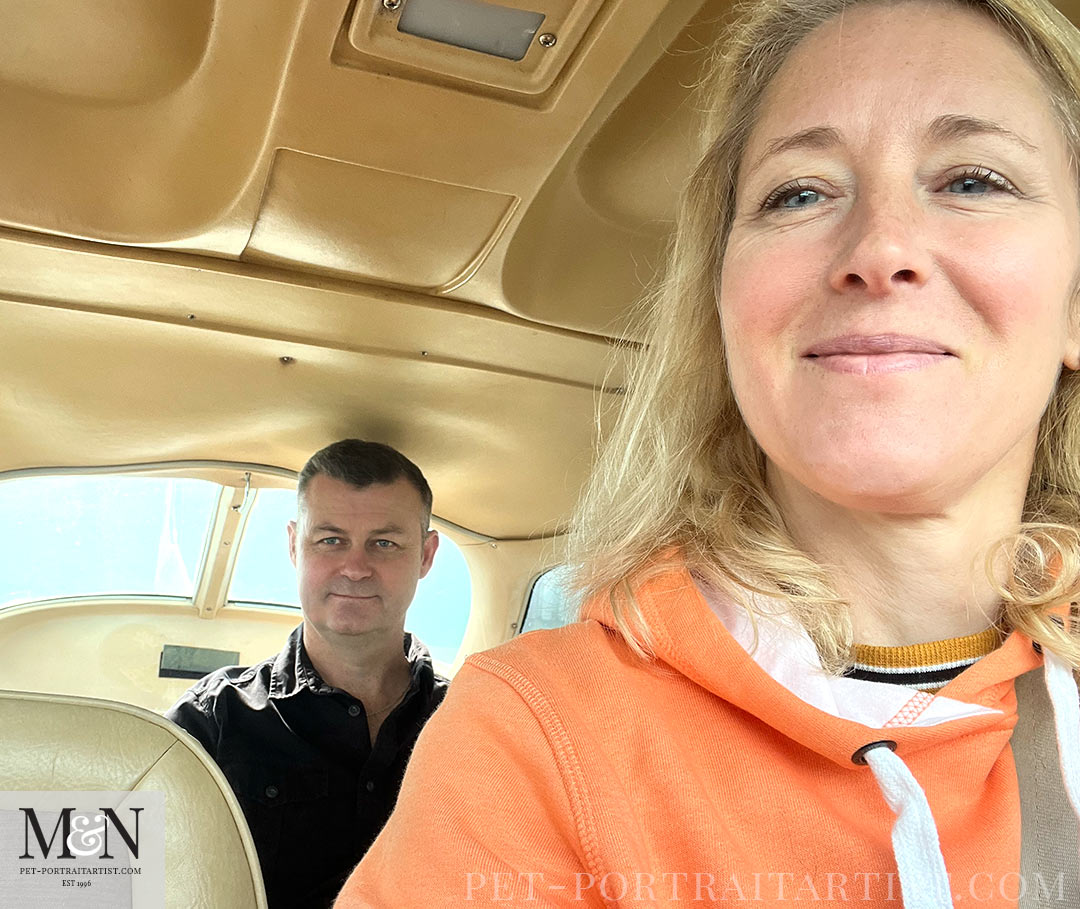 Flying Over Pembrokeshire
With a graceful takeoff by the pilot, we were up in the air before we knew it. We climbed up and up and up and within minutes we were at cloud level, heading over the picturesque patchwork of fields and hills below.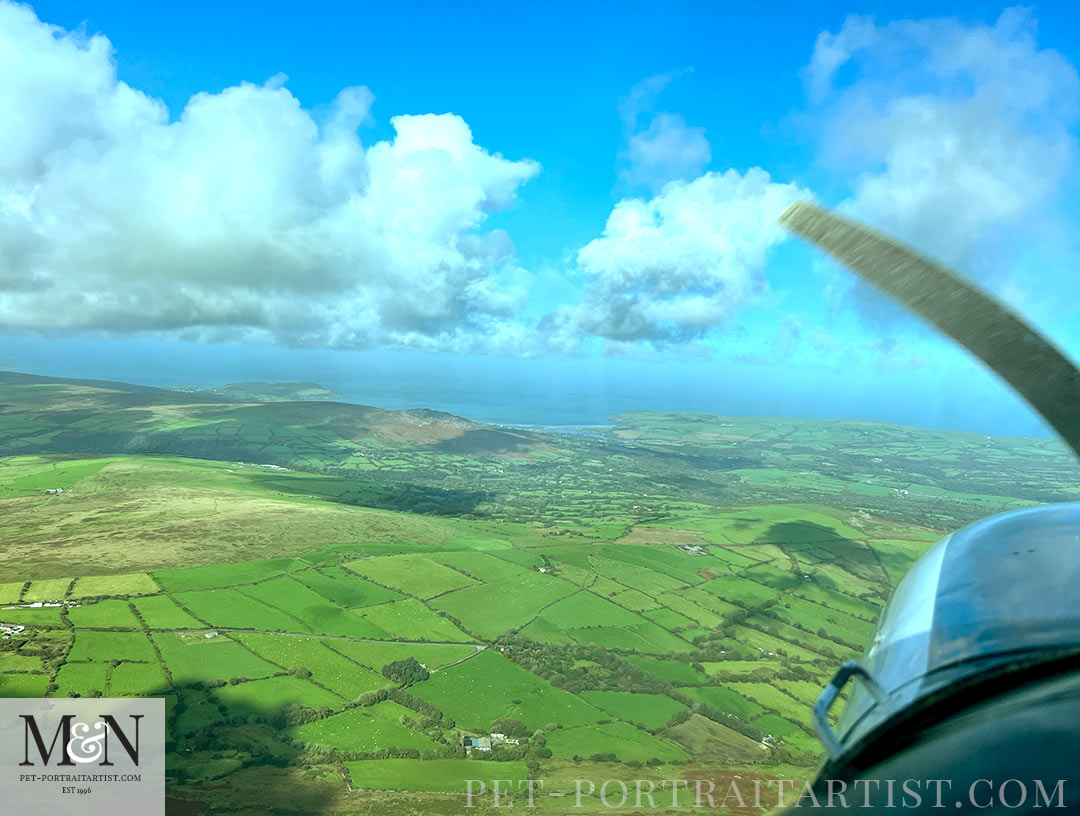 As we are so familiar with Pembrokeshire, it was amazing to see all of our favourite places from the sky. We could recognise the little beaches, coves and villages. Even saw Carningli, which we love walking up in Newport. The photo below is flying over Abereiddi and the Blue Lagoon which we haven't actually visited yet, it's on our to do list. It is a National Trust area and you can read about it here – Abereiddi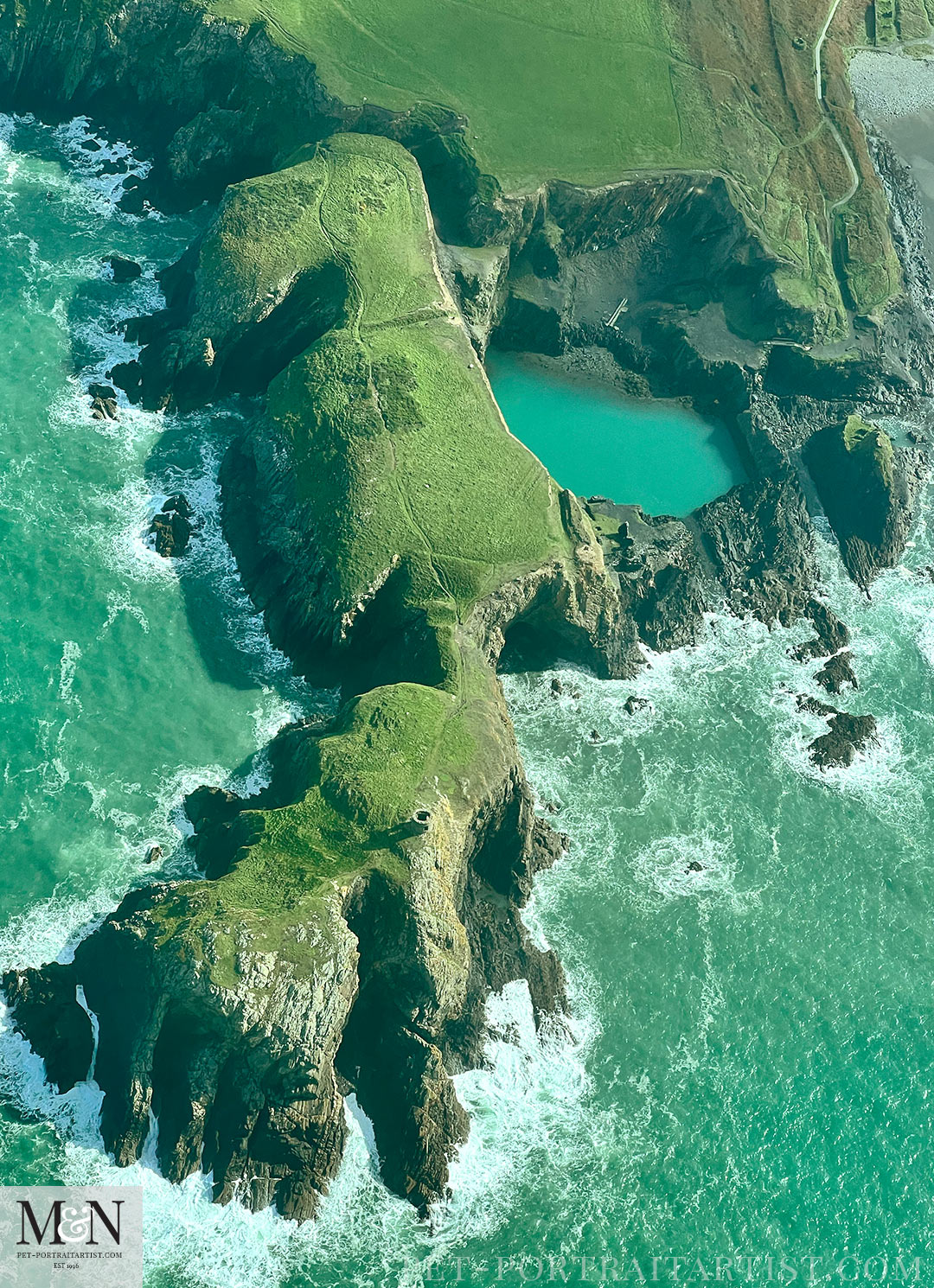 Heading over the sea away from the clouds, being able to look down on the beaches was so amazing.
Druidstone beach is a secluded and difficult to get to beach. However once you are down there, it's incredible. As you can see by the sea, I don't think it's a great place for swimming, but amazing none the less.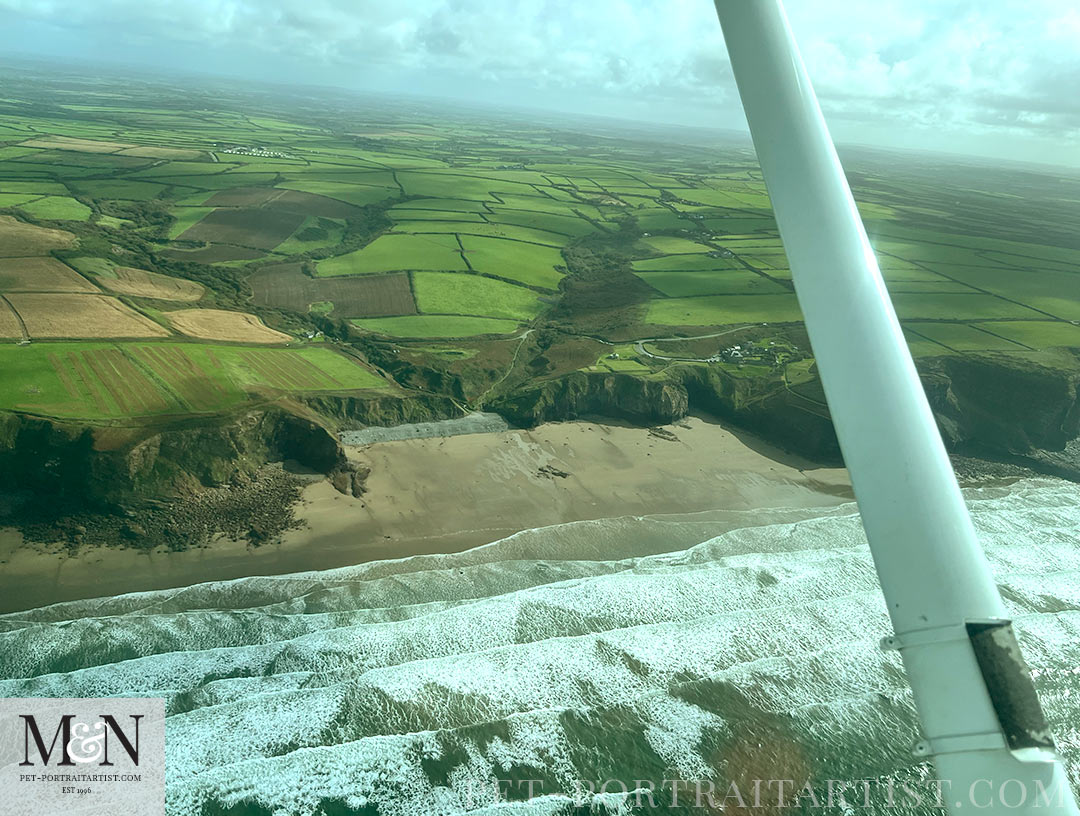 The two photos below show a tiny village called Cwm-yr-Eglwys which translated means, church in the valley. Sadly St Brynach's church was washed away in a storm in 1859. There is only one gable end remaining. We often walk around Dinas Head and end our walk at the little church.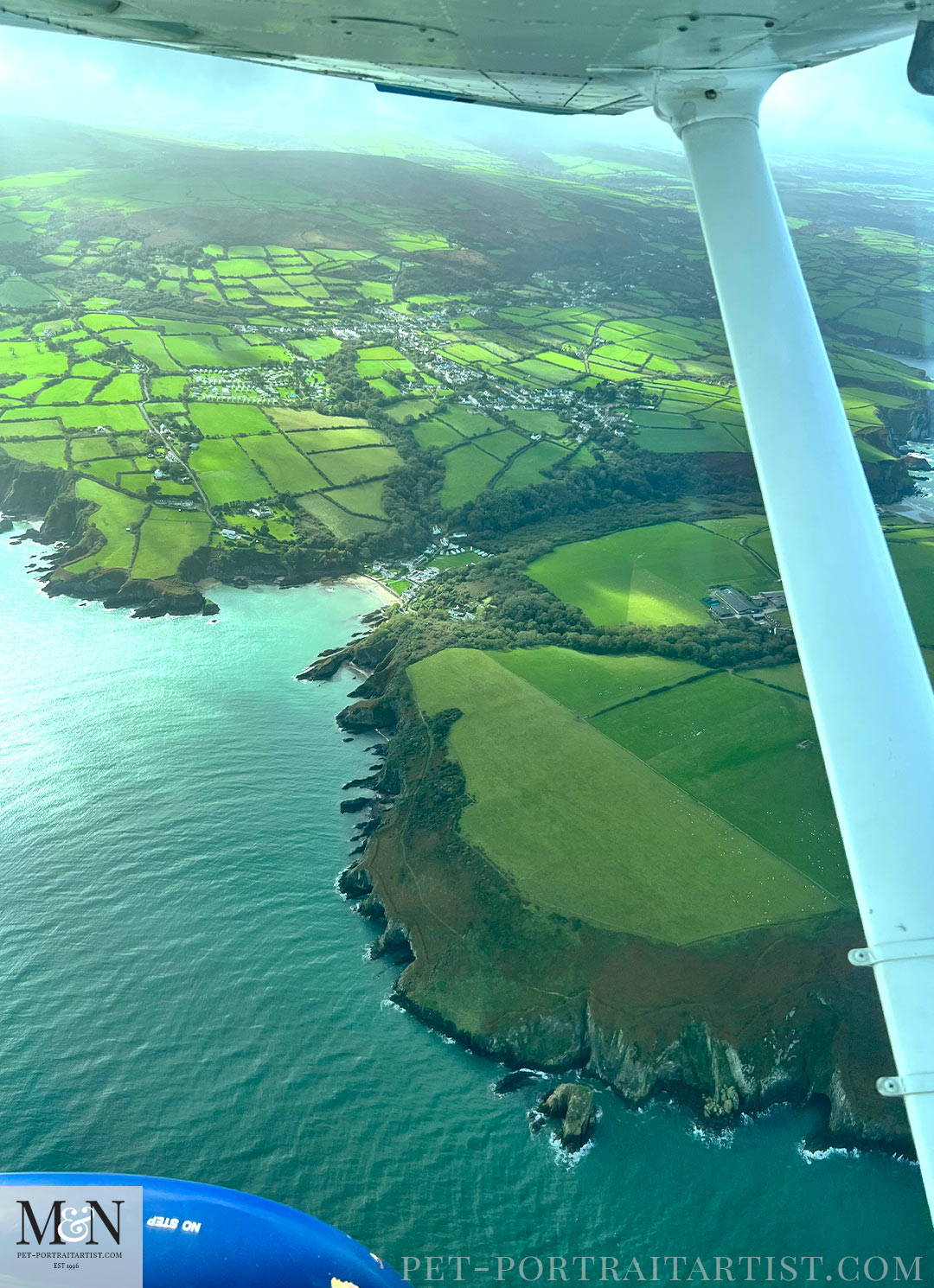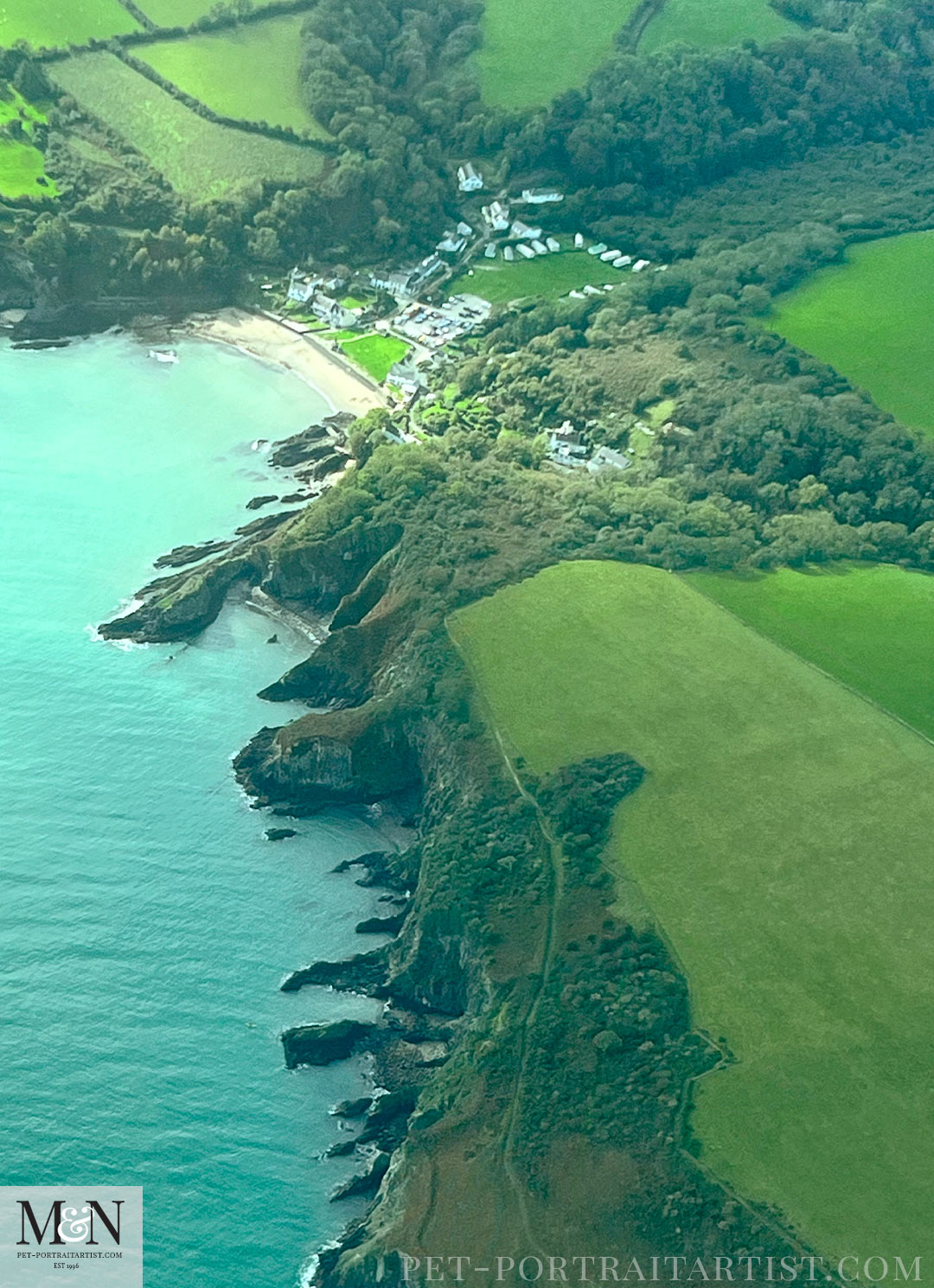 Pembrokeshire from the Sky
Flying up high really gives you a sense of the coastline and how narrow Pembrokeshire actually is. Looking at this photo you can see both coastlines. This little bay is called Sleeping Bay and the hamlet there is Sandy Haven. You can also just see the historical landmark called Little Castle Head Lighthouse too.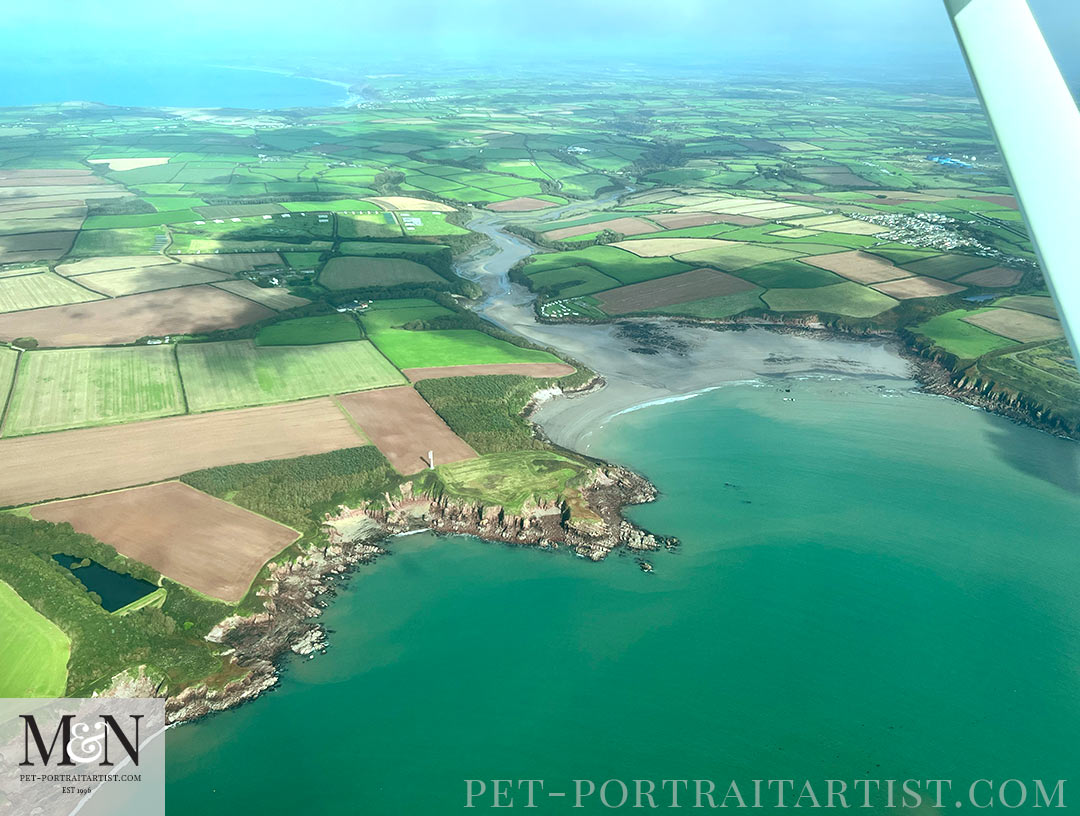 This is a fairly high view of St Davids, one of our most favourite places to visit. You can just about see the St Davids Cathedral on the left of the town. It's Britain's smallest city and the cathedral is 12th century but built on the site of a much older structure. We used to camp down here quite often when we were younger, right on the coast, and head to St Davids for the day.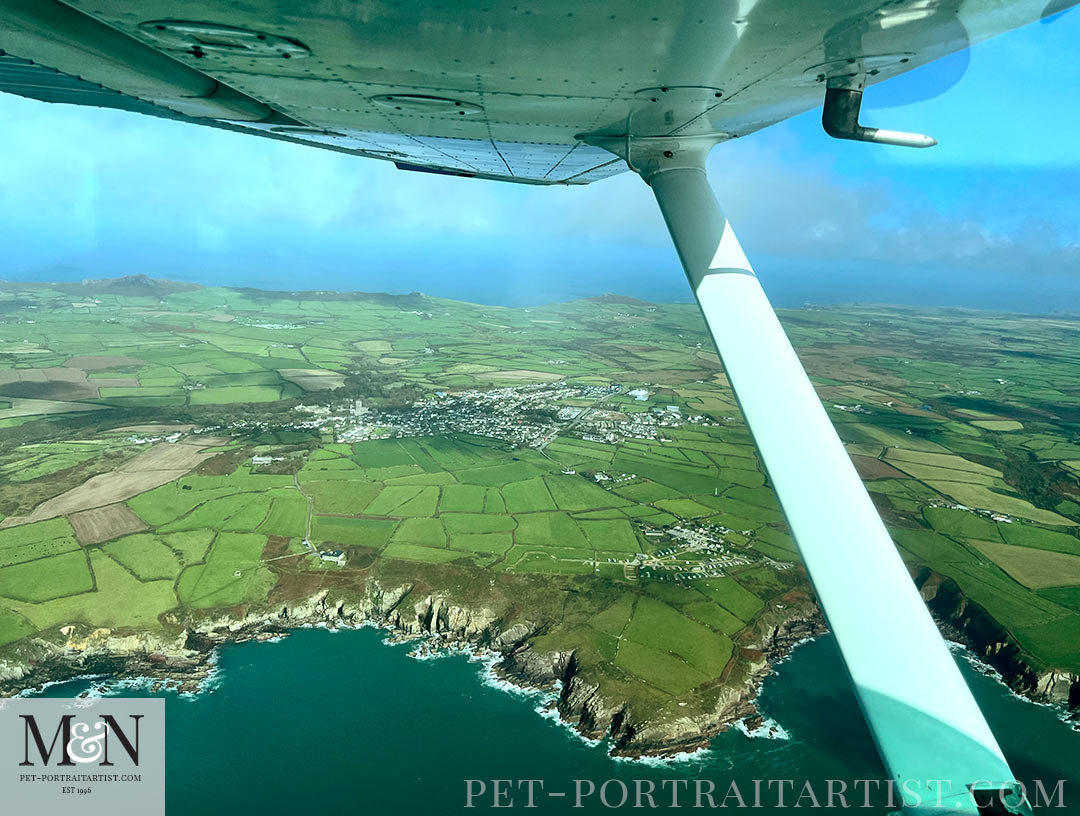 The next two photos are of Milford Haven. A much more built up area but actually very pretty from the sky. If you go to the link you will read about how Milford Haven's history tracks back to the year 854, when Chieftain Hubba chose the haven as the wintering ground for his fleet of 23 ships during the Viking era. That was just the start. Have a read, it's really interesting.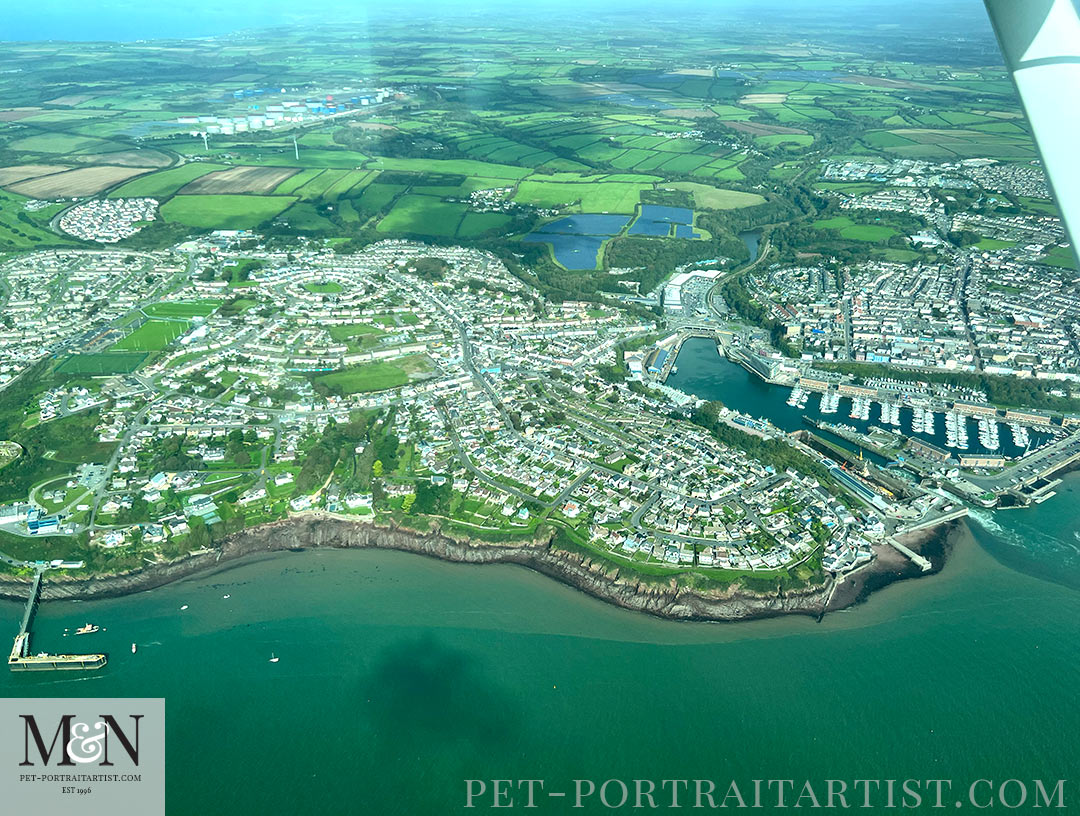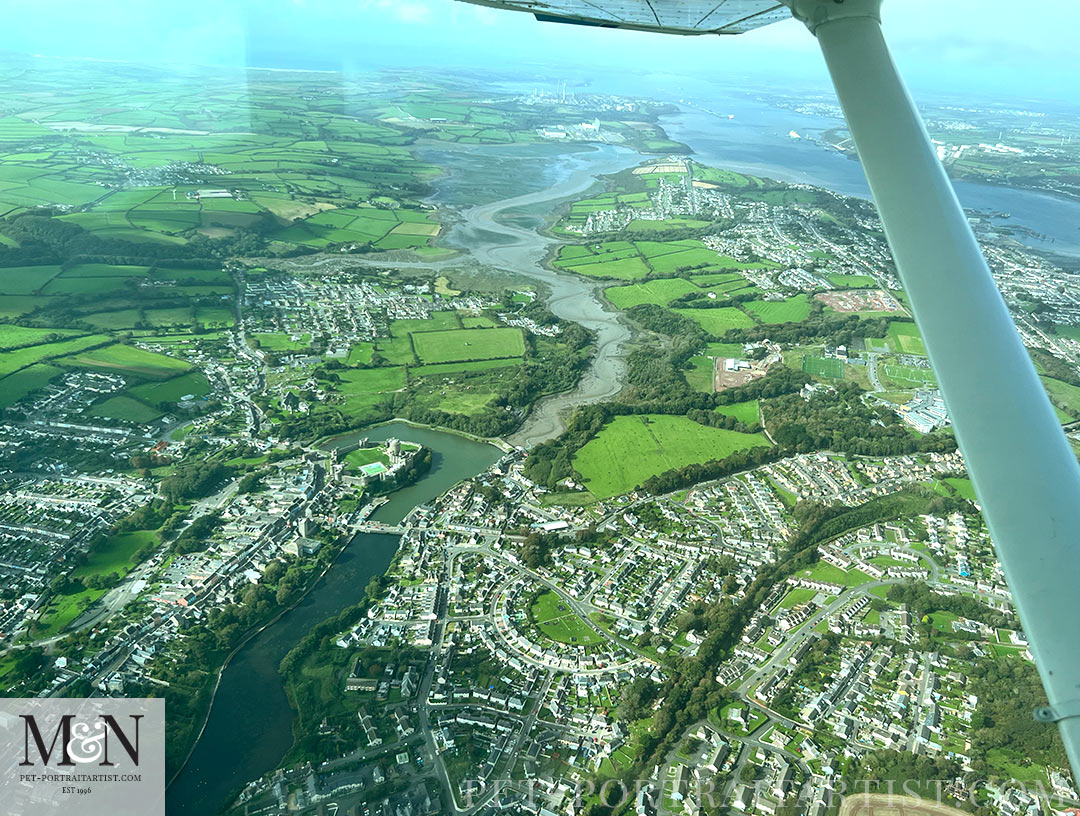 Melanie – Fly us Home!
I took the photo below heading back to Haverfordwest Airport. The pilot told me to look at a point in the distance and fly us home!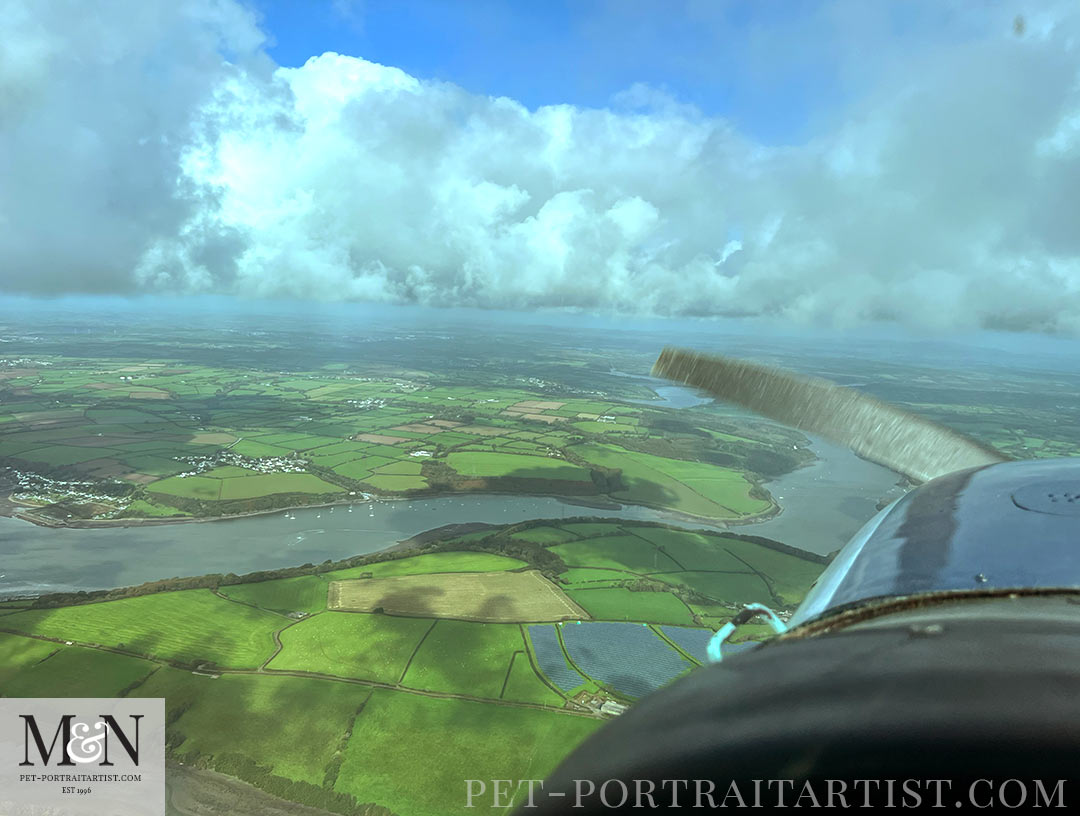 It really was the best experience ever and one that I wholly recommend to anyone. Even if you are a little scared, as long as you choose a clear, non windy, dry day it will be a good experience.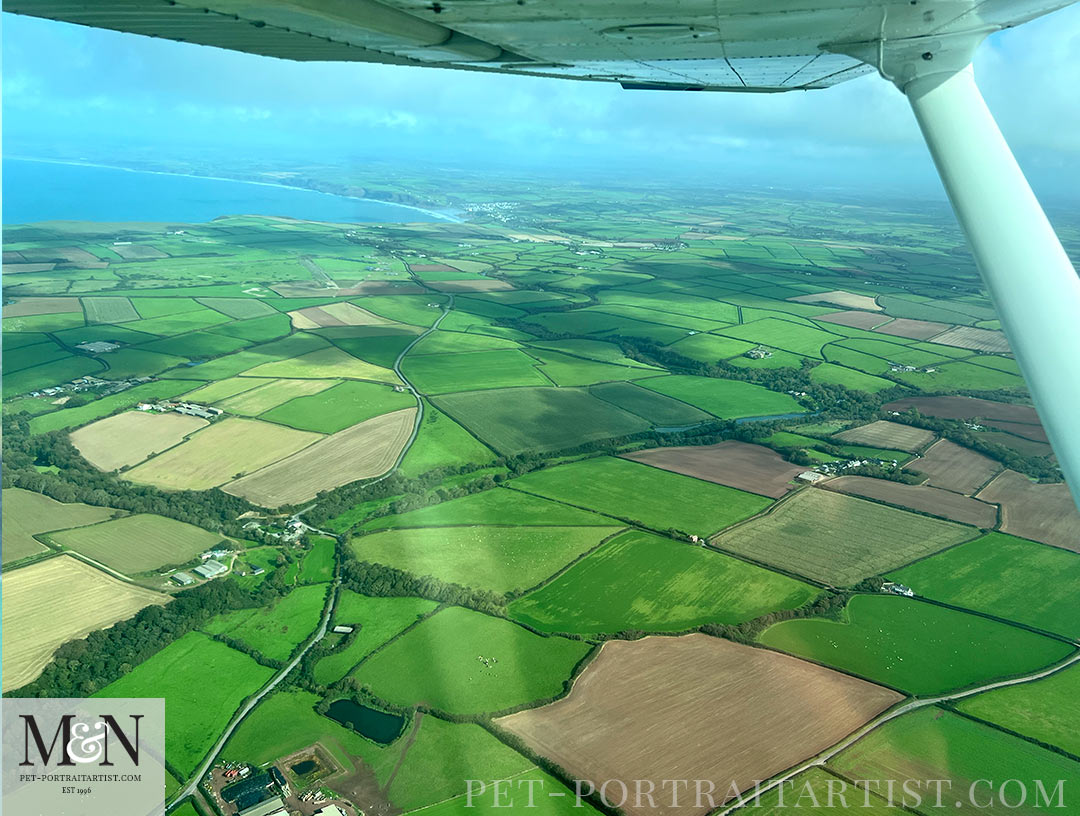 I think the only time I was a little nervous was when we had just taken off and it was a little bumpy getting up to the right height, but it's just knowing what happens and getting used to it.
Melanie's Monthly News in September – And Finally…
We really hope that you have enjoyed reading our Melanie's September Monthly News. If you missed our last one, head over to Melanie's August Monthly News for a quick catch up and to view some of the artwork we did last month. Continue to stay safe, enjoy your October and we will see you back here soon.
Are you enjoying our blog? Why not sign up to our Melanie's Monthly News, which comes right into your inbox each month! You can sign up at the bottom of our website or at the top of the blog. Please don't forget to subscribe to our YouTube Channel too. You are more than welcome to comment below, we love hearing from our readers!

You May Also Like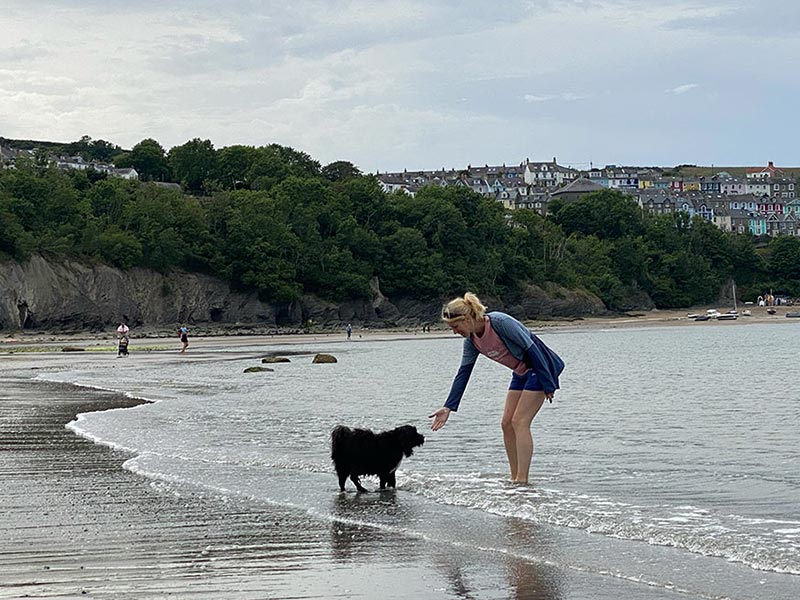 June 27, 2022
July 31, 2019
May 27, 2014