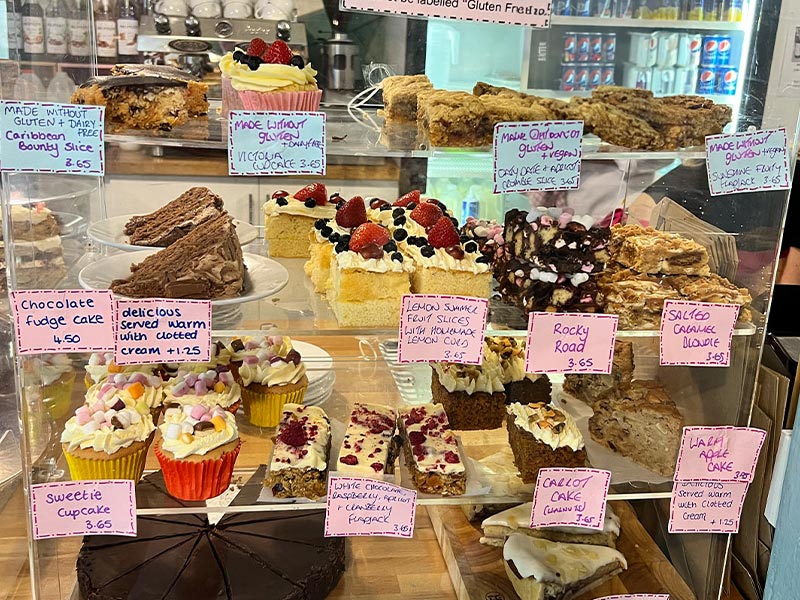 Melanie's Monthly News in August
September 5, 2023
Welcome to Melanie's monthly news in August and I have to admit to being extremely behind on this months blog. There just seems to be something happening all the time. There is either something to do, somewhere to go or an appointment to keep every other day at the moment. Don't you just find months just disappear when your life gets chaotic? I never understand how some artists manage to juggle everything. Some can seemingly do a full days work, look after kids and manage to post on social media regularly with ease. It seems beyond my capabilities! I think the older I get the shorter my attention span is too! Anyone else find this?
Pencil Drawing of Leon
Although we have had a chaotic month, despite this we have still been working hard. This one below is one of my favourites this year. It's from a returning client in Brazil and its of a gorgeous Frenchie called Leon. I absolutely loved every minute drawing him. The portrait was 14 x 11 size and I hope you like him too!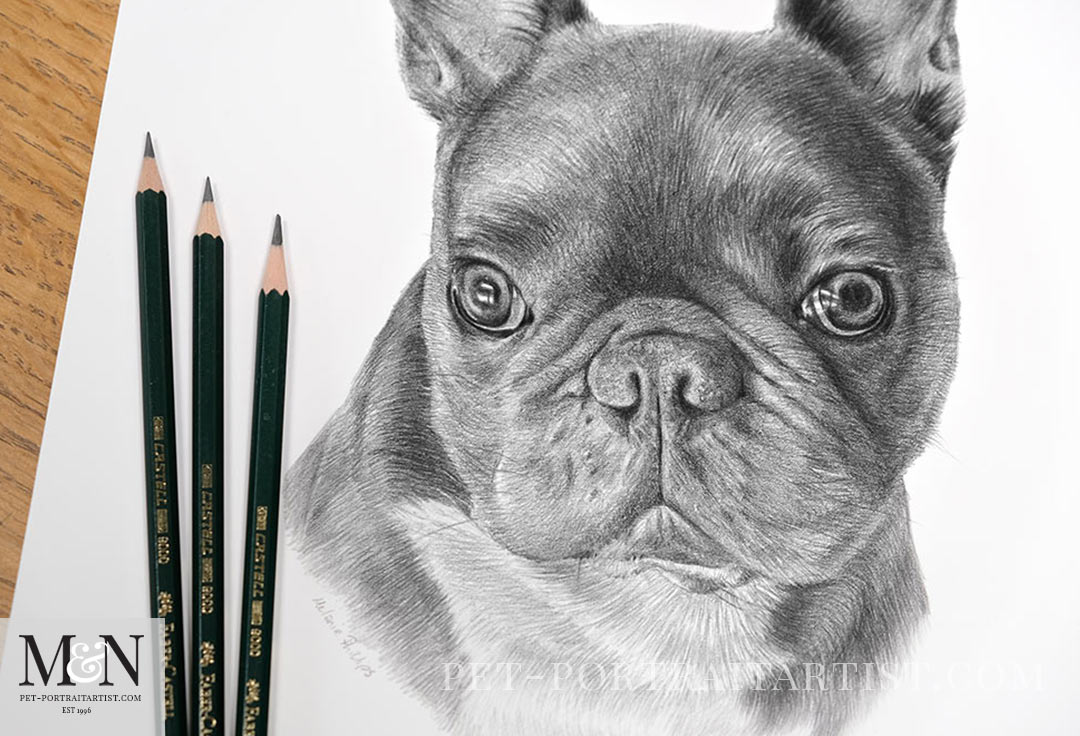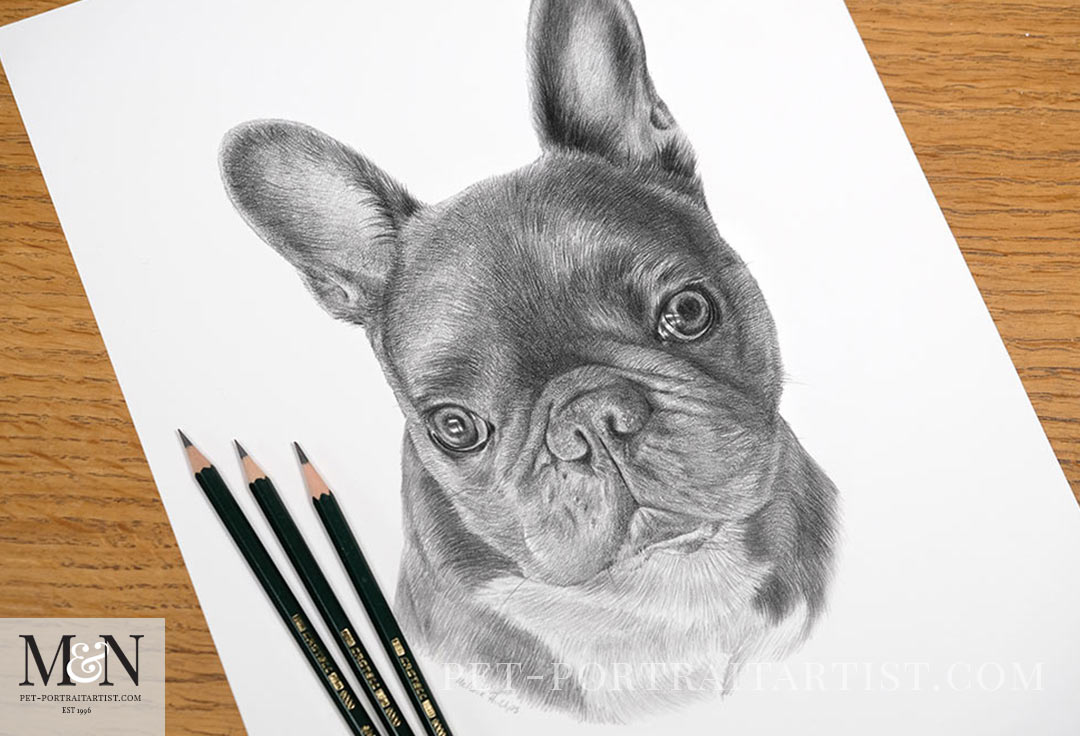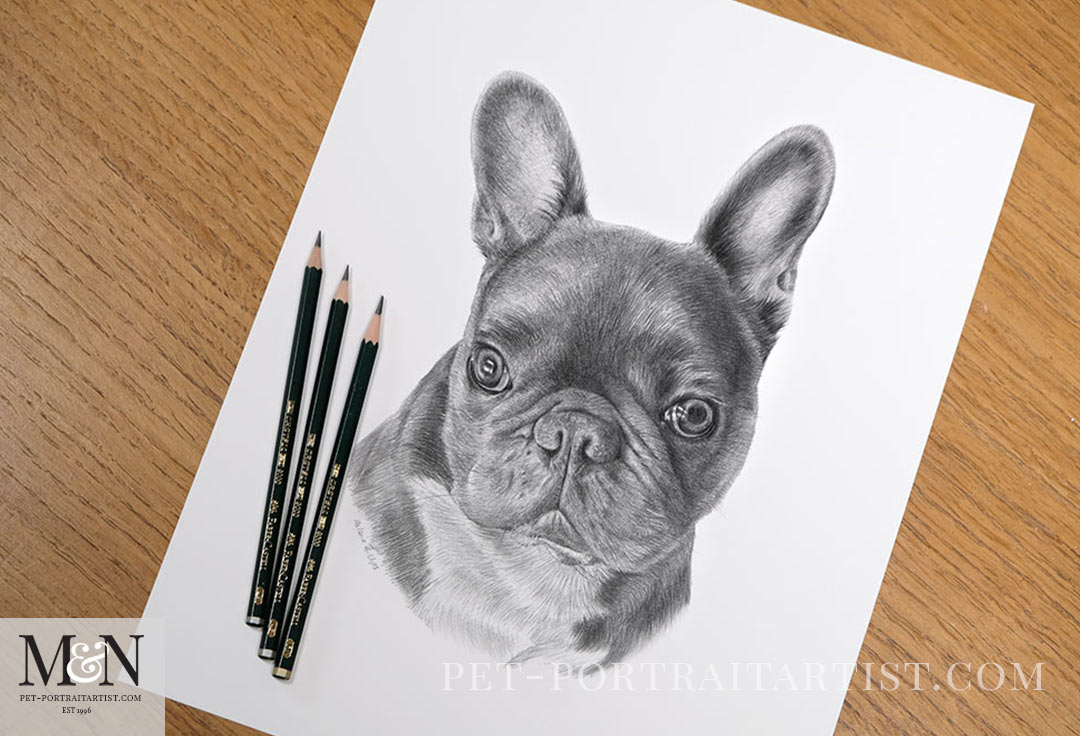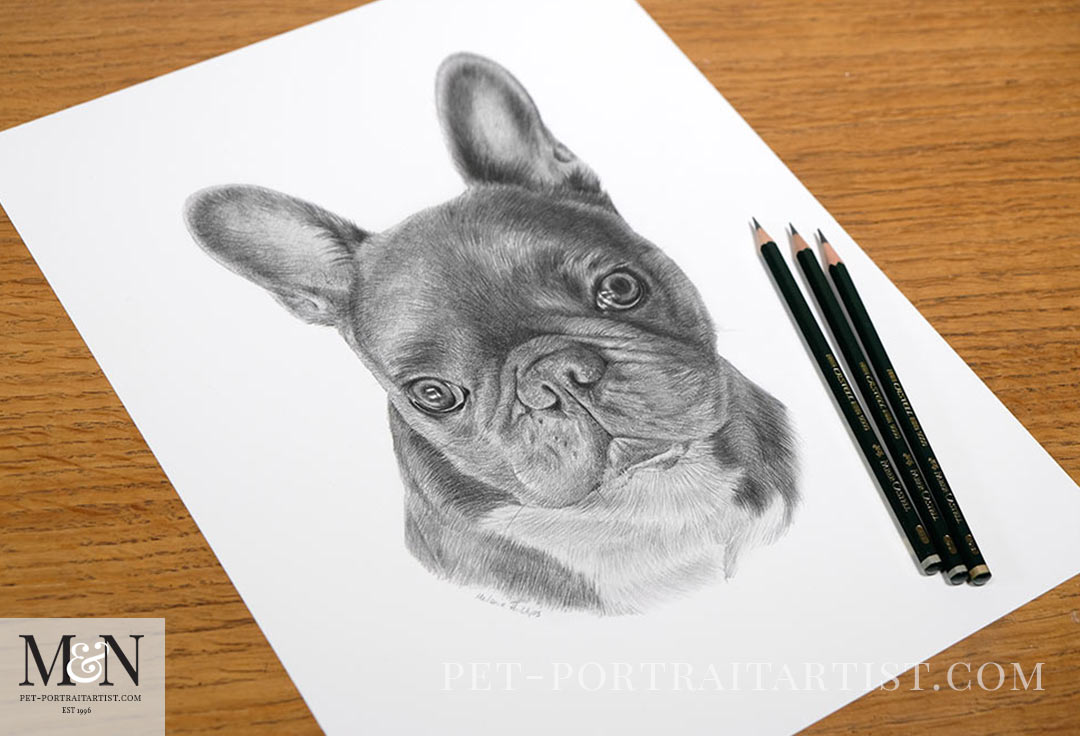 Melanie's Monthly News in August – Colby Woodland Gardens
When friends came to visit on holiday this month, we took them to Colby Gardens which is a National Trust property. It was absolutely fantastic! We had never been before and it's somewhere we really must go back to. The walks were beautiful with the mature trees and well kept gardens.
Lily loved it and our friends daughter was allowed to walk Lily and she very kindly decorated Lily's coat with flowers. The food and cakes in the cafe were out of this world, as you can see in the photos! We started off with lunch at the cafe when we arrived. After our walk we finished the day with tea and cake. It was the perfect day and a great place to meet up with friends. Definitely worth a visit if you find yourself in Pembrokeshire!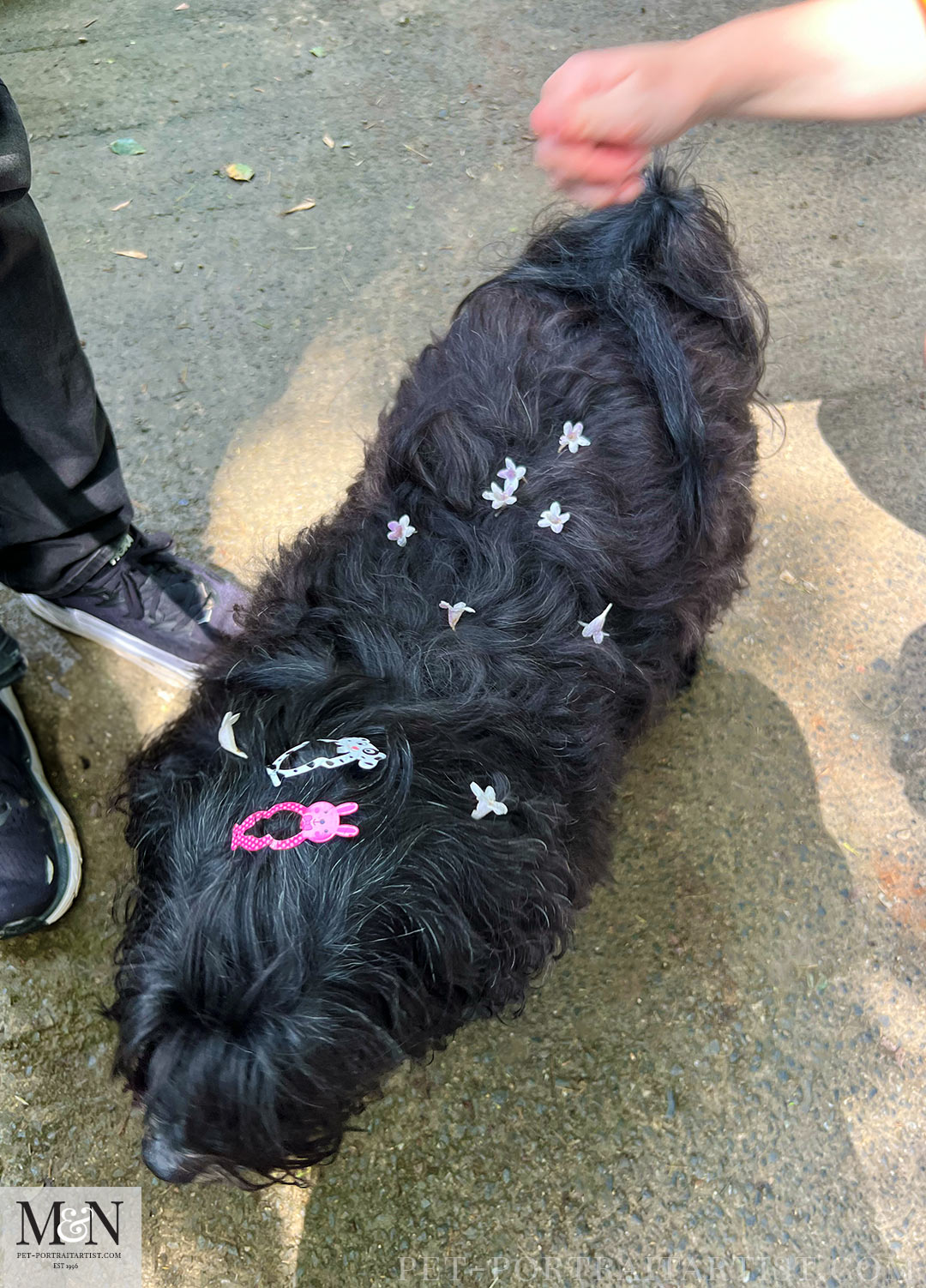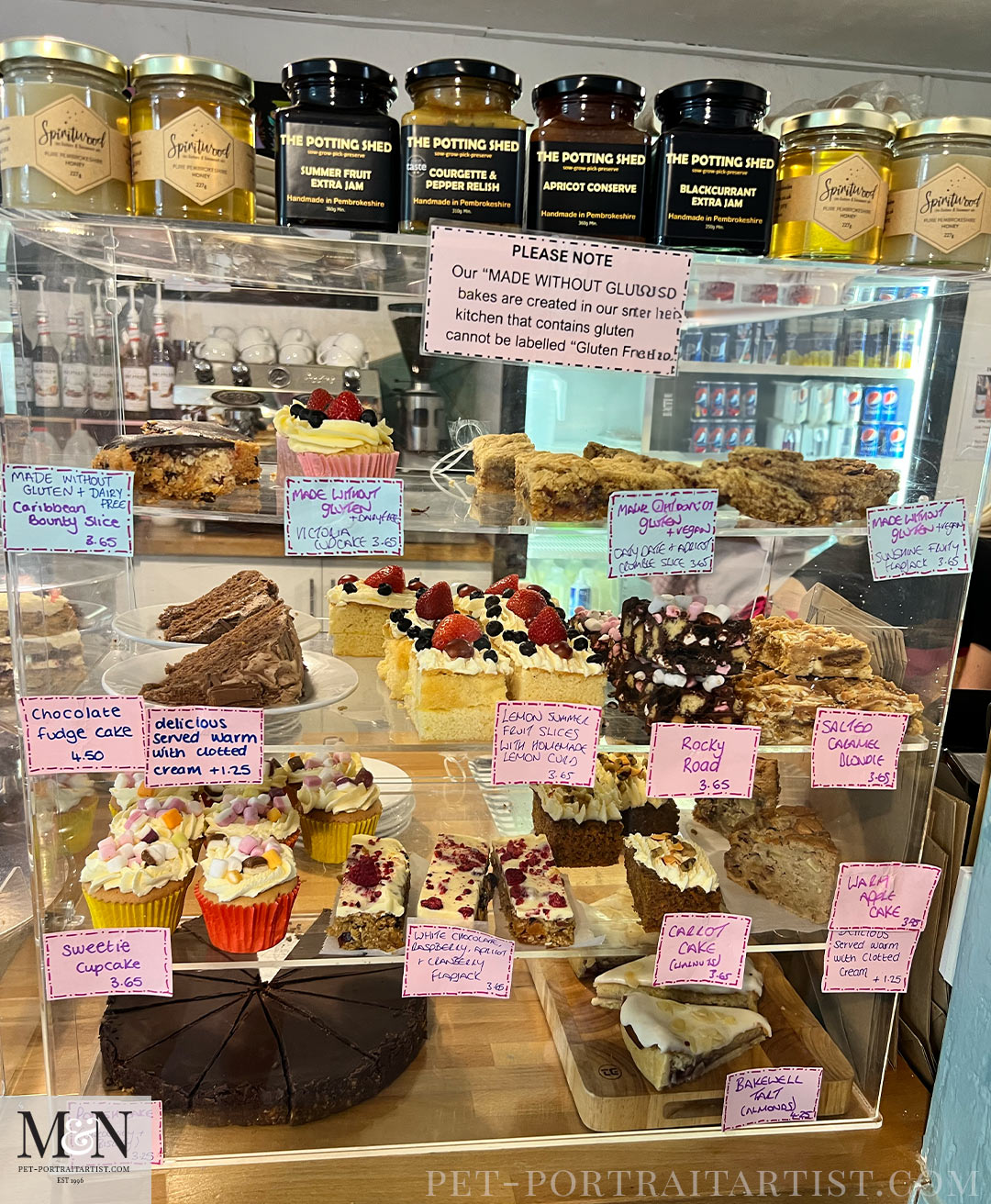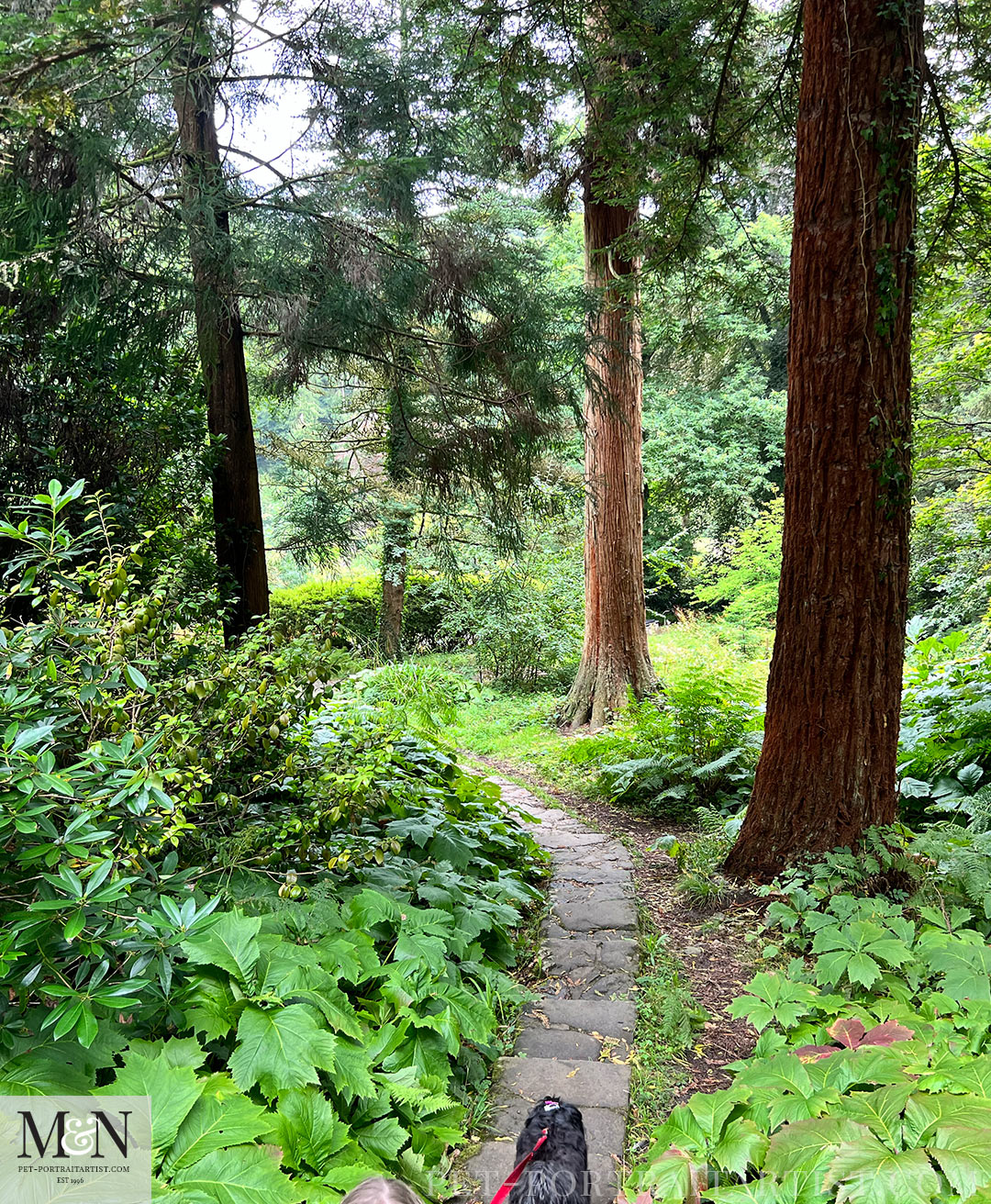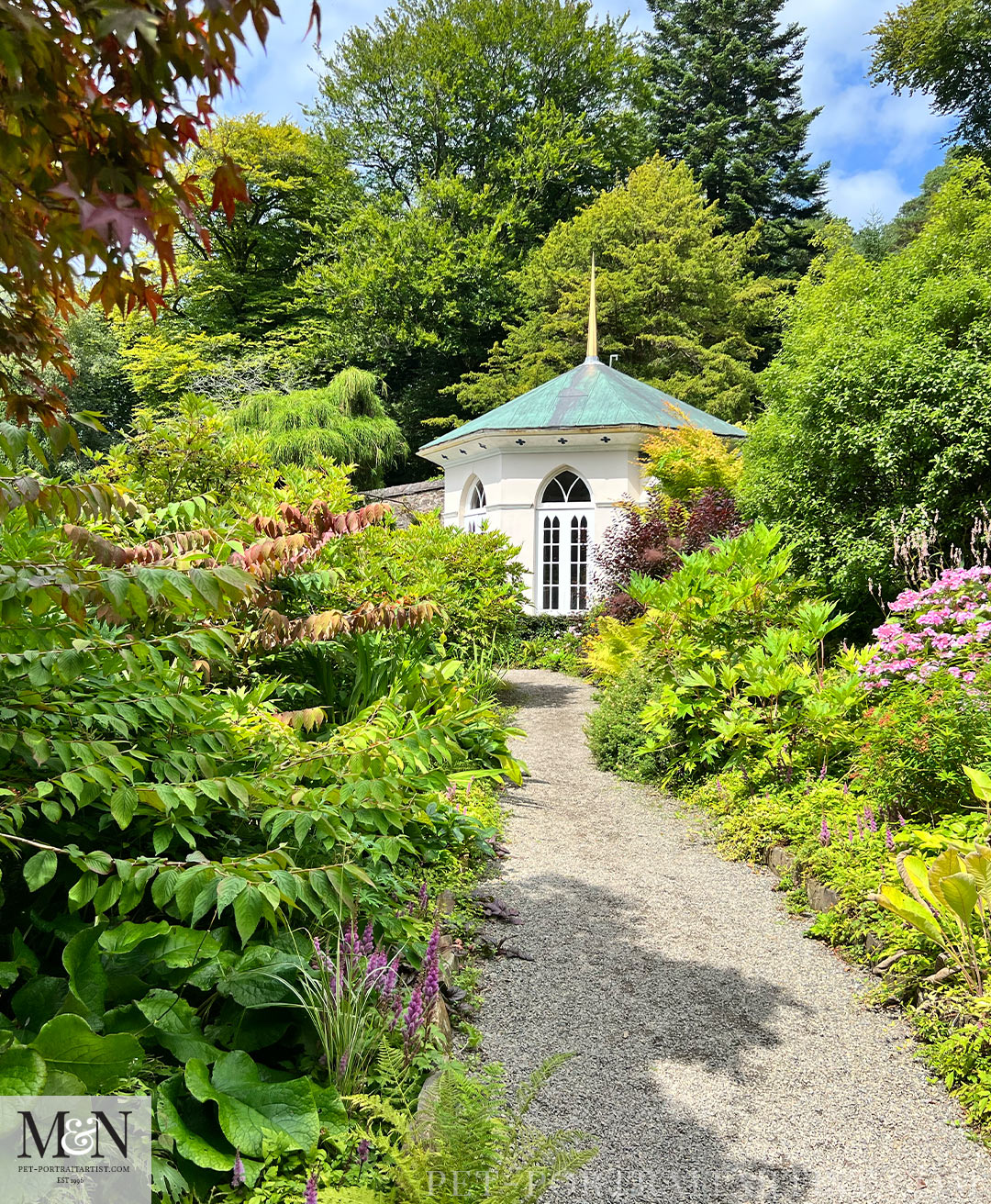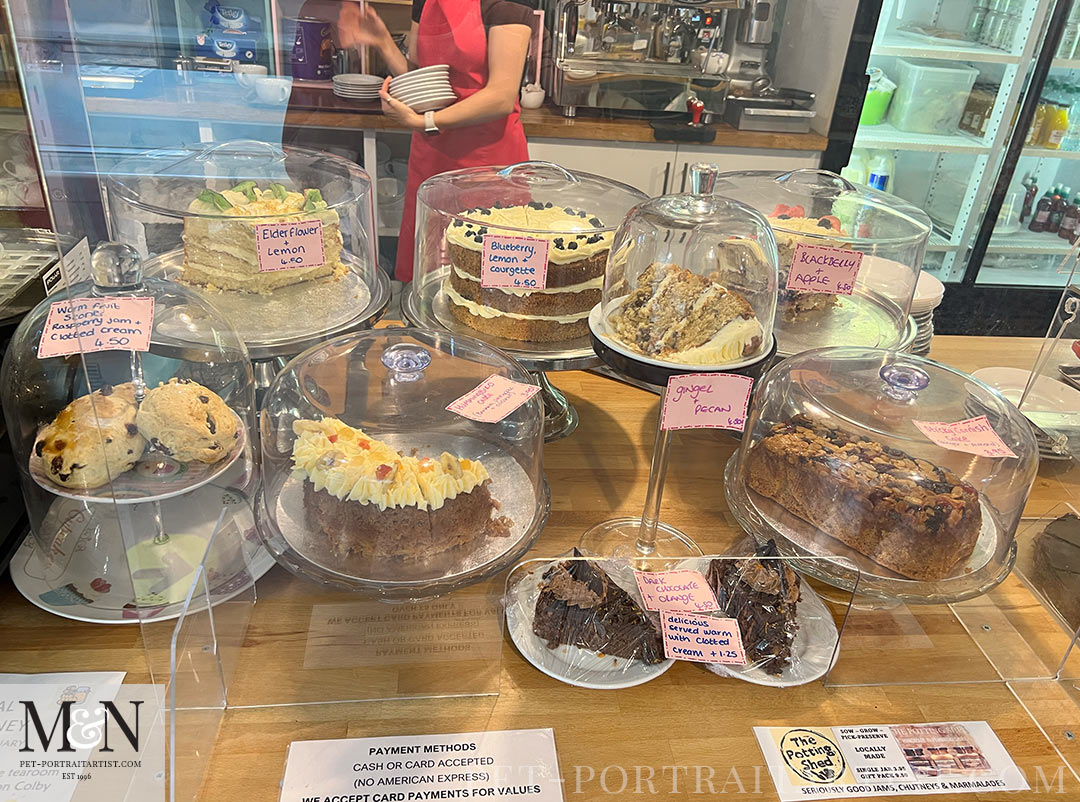 Oil Portrait of Shadow
Nicholas completed this beautiful oil painting of a dog called Shadow for a client in the UK. Shadow is holding a strawberry very delicately in his mouth. How absolutely adorable! He was painted at our 18 x 14 size which is a really lovely size for a head study portrait.
Story behind my latest 10k for Kidney Wales Cardiff
One of my running friends Jo, has a young daughter (17) who needed a kidney transplant. Having been poorly since a tiny baby, Jo and her family have been preparing for this moment their whole lives. Thankfully Jo was a donor match. So in the last few years has been making sure she keeps well and fit to be able to donate her kidney when the time came. Jo runs, sea swims and cycles. She has entered races and duathlons. Cycled 100's of miles and has recently done the Dragon Ride here in Wales and also the London to Brighton race.
Every year Jo does the Cardiff 10k in support of Kidney Wales and had her place booked. So when the news came through that her daughter couldn't wait any longer for the transplant, the day came in August when it was time for the op to be done. This meant that Jo wouldn't be able to run the Cardiff 10k. As a result, I was happy to step in and take her place and help raise money for Kidney Wales.
I have managed to raise £570 for the event and so the page is still open for more donations. If this cause is close to your heart, please feel free to donate. Even the price of a cup of coffee and cake from your local coffee shop would make all the difference. It has for Jo and her family. It means the world of difference for those waiting for a kidney, being on dialysis or much needed after care. Jo's daughter now has a new lease of life. We look forward to seeing her go out into the world, live her life and have fun.
https://www.justgiving.com/page/melanie-phillips-kidney
Kidney Wales 10k Photos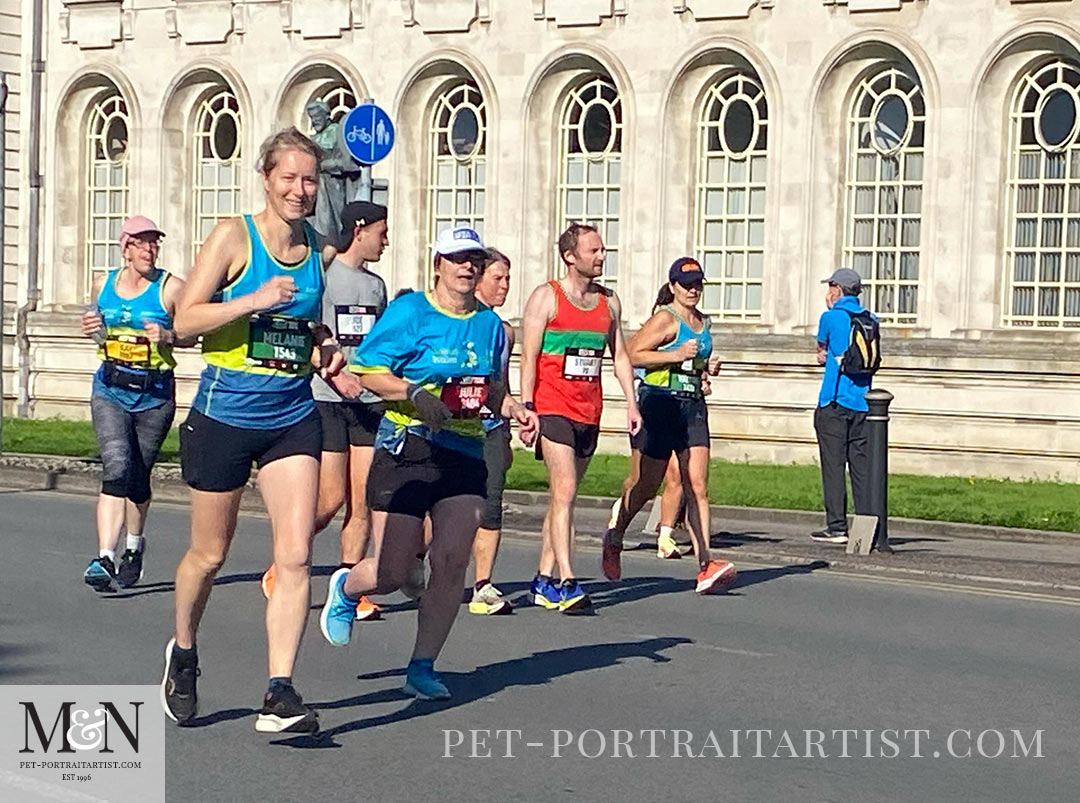 The photo above is a few of us wearing our Kidney Wales tops on a pre race jog. The photo below is of myself and Julie, a close friend of Jo's who I ran with on the day.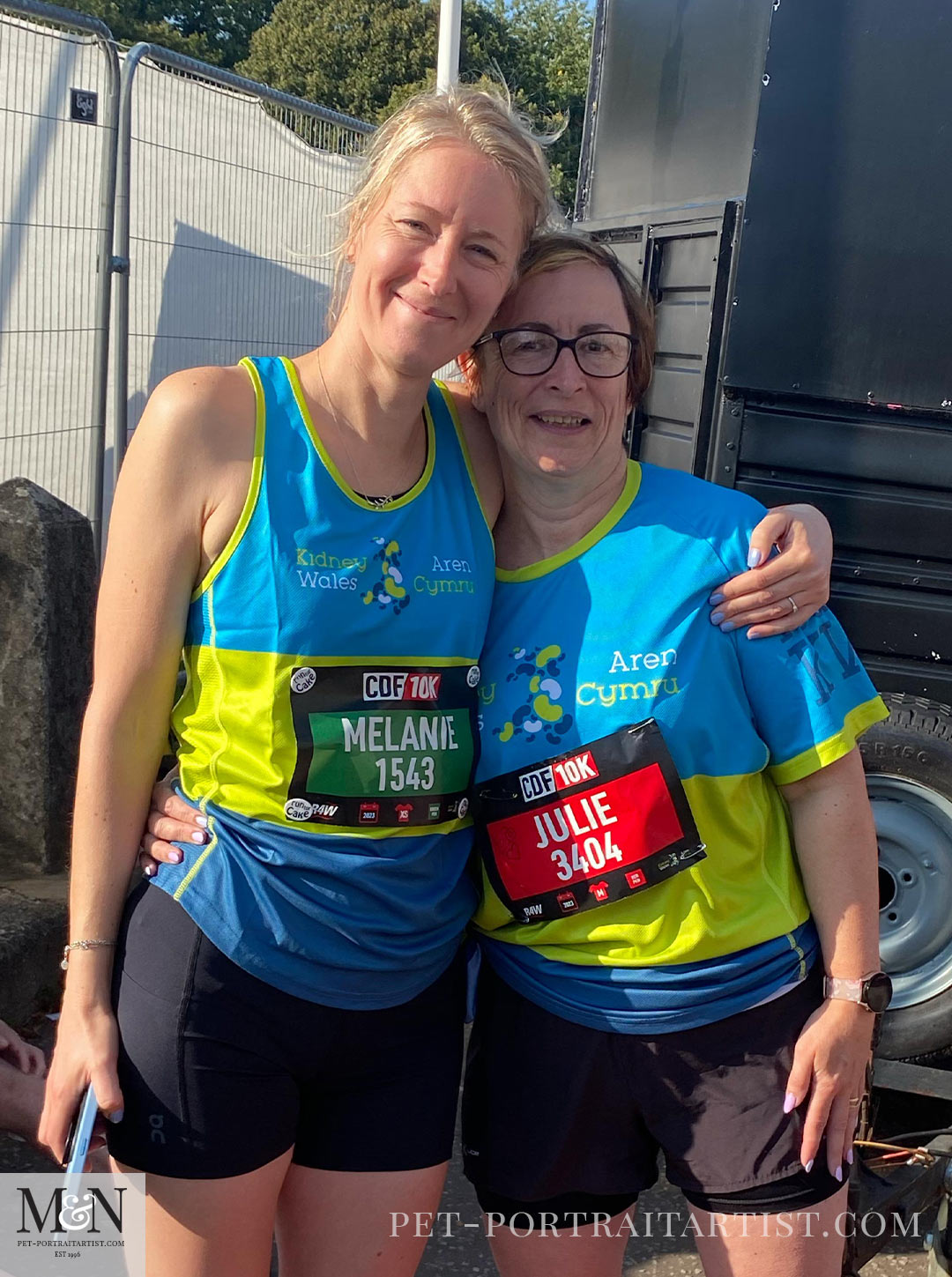 The ladies at the Kidney Wales stand made sure they had a photo of us all when we had finished. You can see it below, us with our t-shirts and medals in front of the Kidney Wales backdrop. We managed well on our run considering it was an extremely hot day, full sunshine and blue skys. We have been training in the grey, overcast and rainy weather all summer!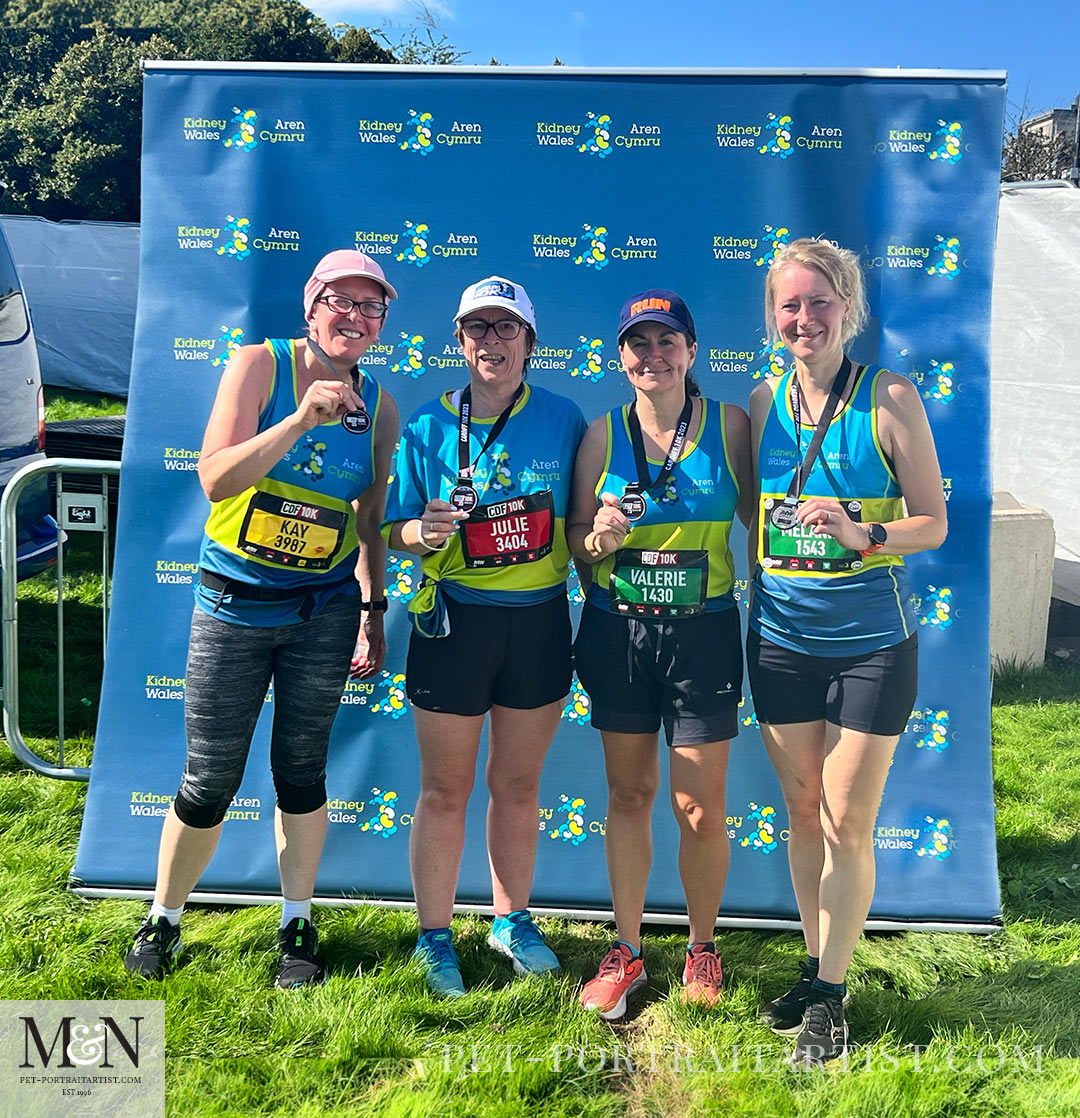 A group photo which only got half of us in, but I'm sure you can spot me in there!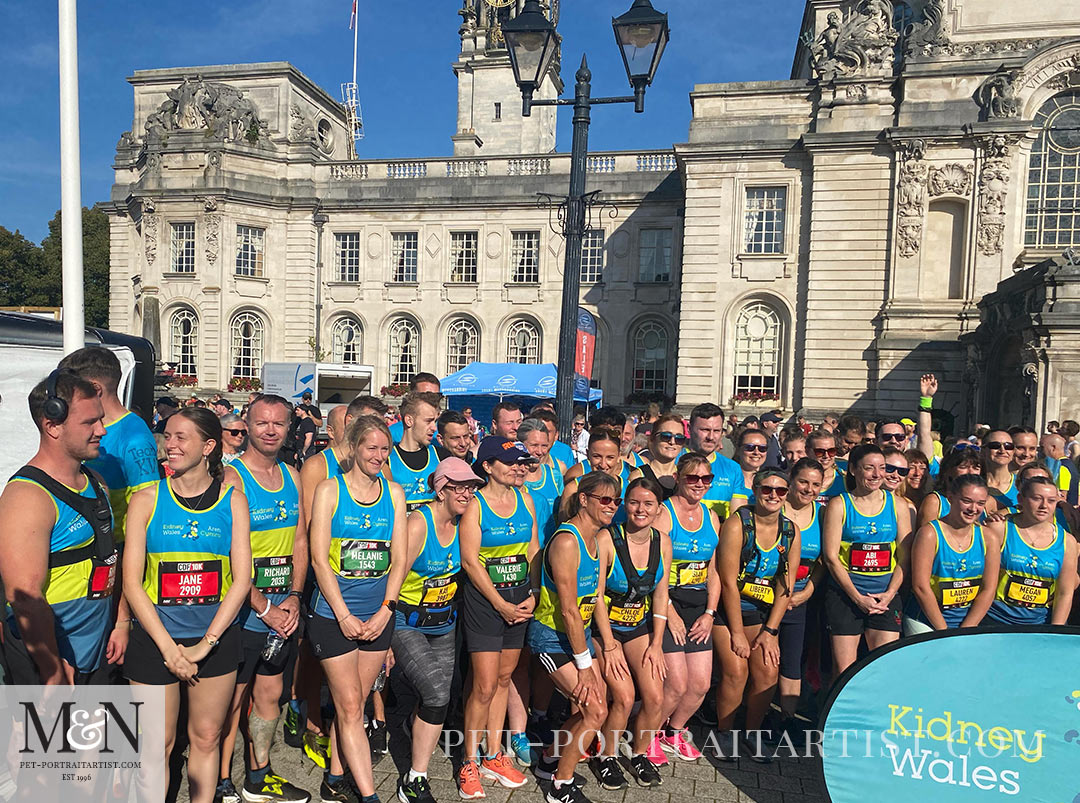 A few of us were selected to have our photos taken at the start of the race for Kidney Wales and you can spot me centre front. Afterwards, once the photo was taken we all filed back to start the race. This was and will be the only time I will be at the very front of the start of a race haha!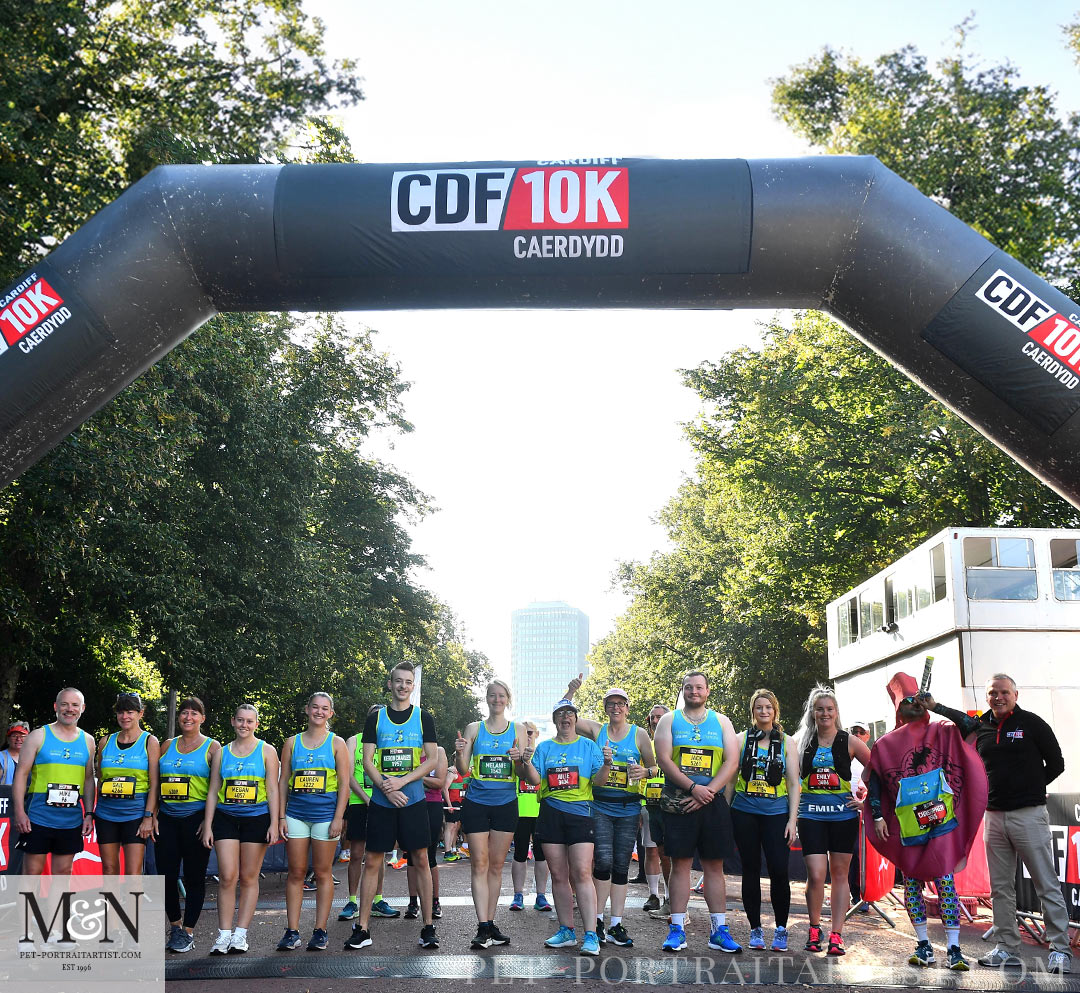 Melanie's Monthly News in August – Copper's Drawing
And finally another drawing I have completed is the pencil drawing of 'Copper the Brave'. It was an 24 x 18 pencil drawing of a beautiful Rhodesian Ridgeback. I hope you like it!
Lily Grooming and Walks!
Lily has been groomed this month and Dylan did an amazing job for us as usual. She has been photographed on a fabulous under the sea backdrop too!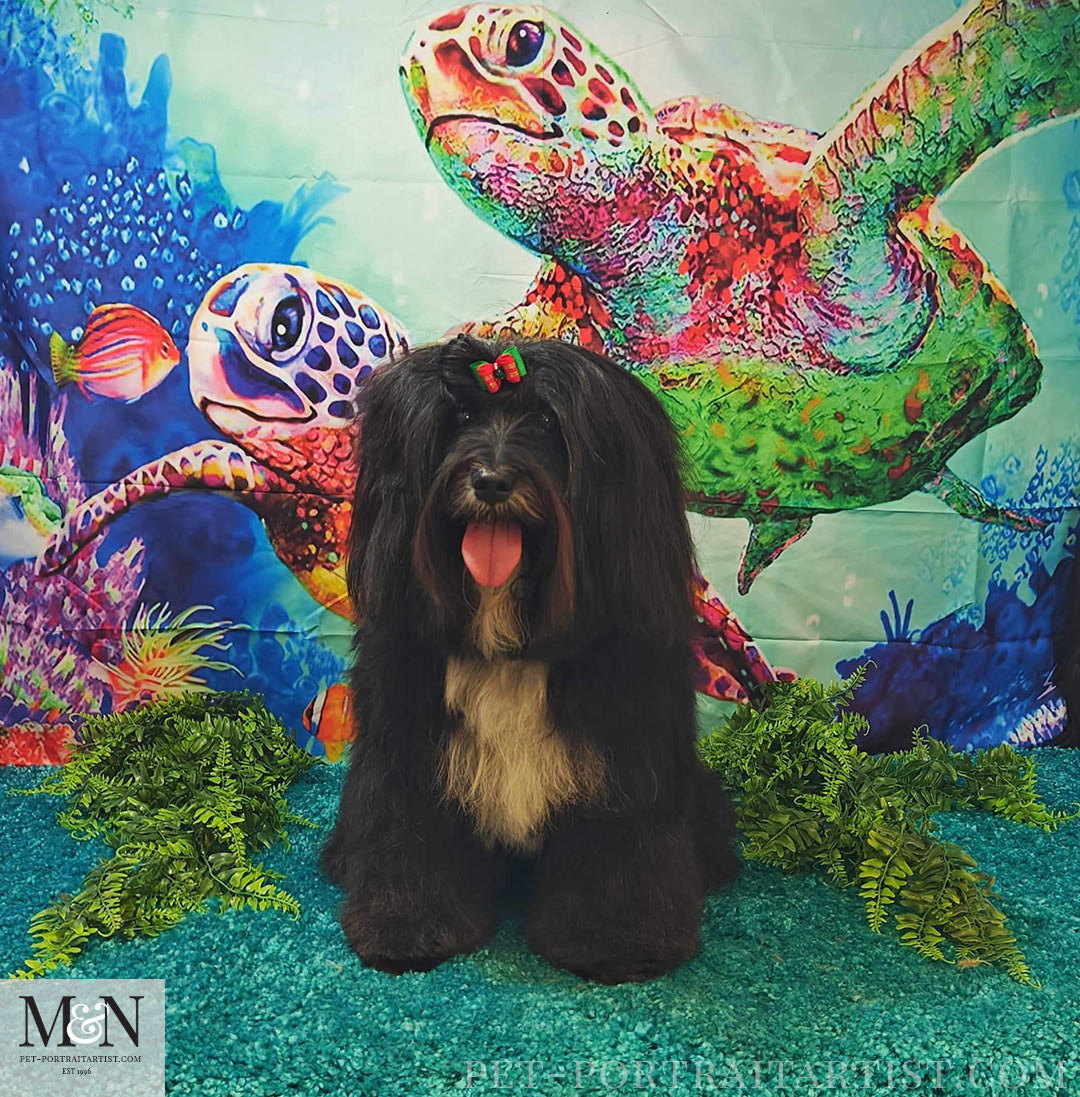 Although the weather has been overcast and grey most of the summer, we have had a few lovely days. This was one of our recent walks along the track, beautiful blue sky which made a real change!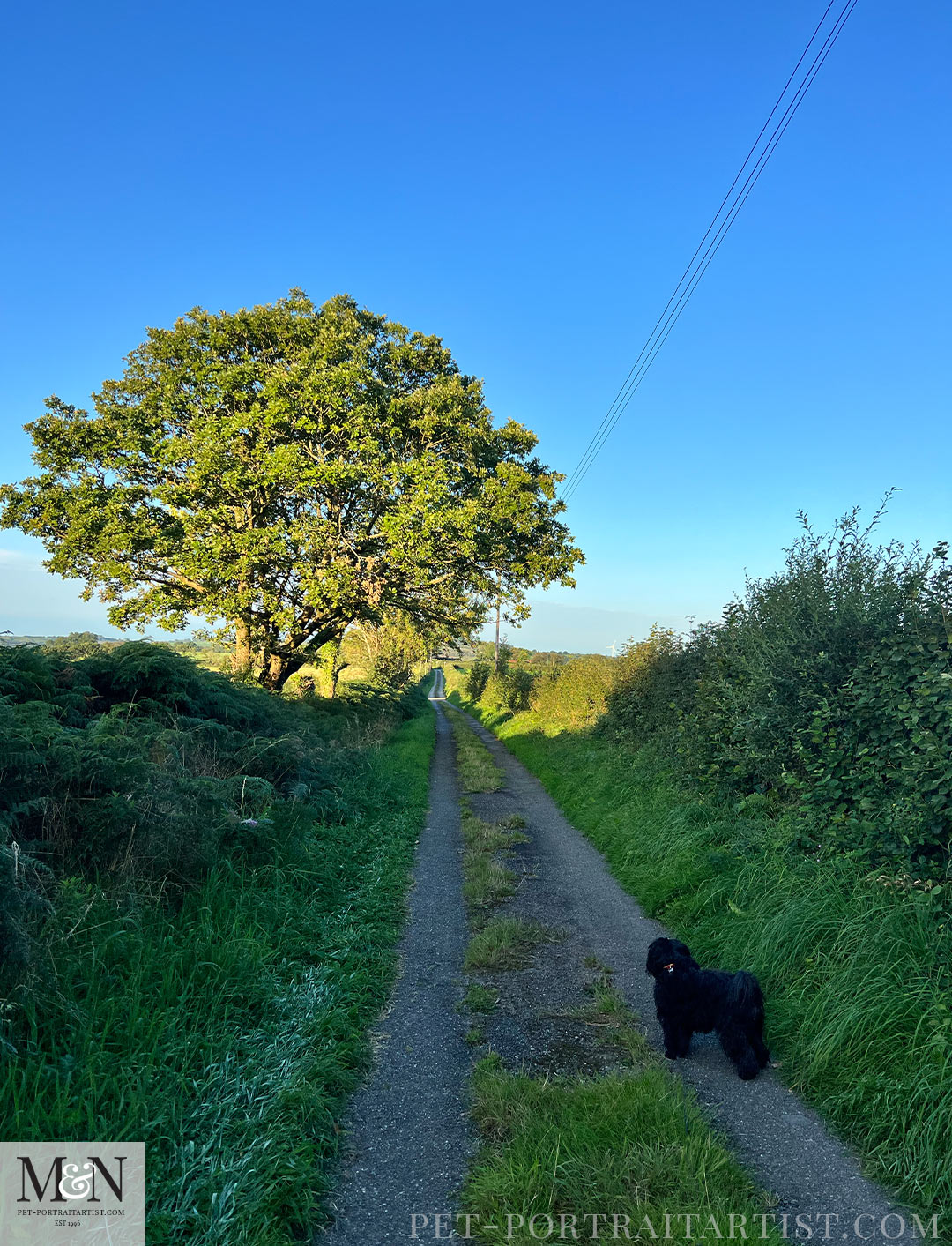 I hope that you have enjoyed reading Melanies August Monthly news. If you missed last months blog post, you can check it out on Melanie's July Monthly News. Most importantly, we hope that you all have a wonderful September!
Why not sign up to our Monthly newsletter accessible at the bottom of our website which comes out on the 1st of each month. Catch up on news from our Art Studio! Please don't forget to subscribe to our YouTube Channel too, follow our Instagram @petportraitartists and Facebook @petportraitartists . You are more than welcome to comment below too, we love hearing from our readers!

You May Also Like
May 3, 2017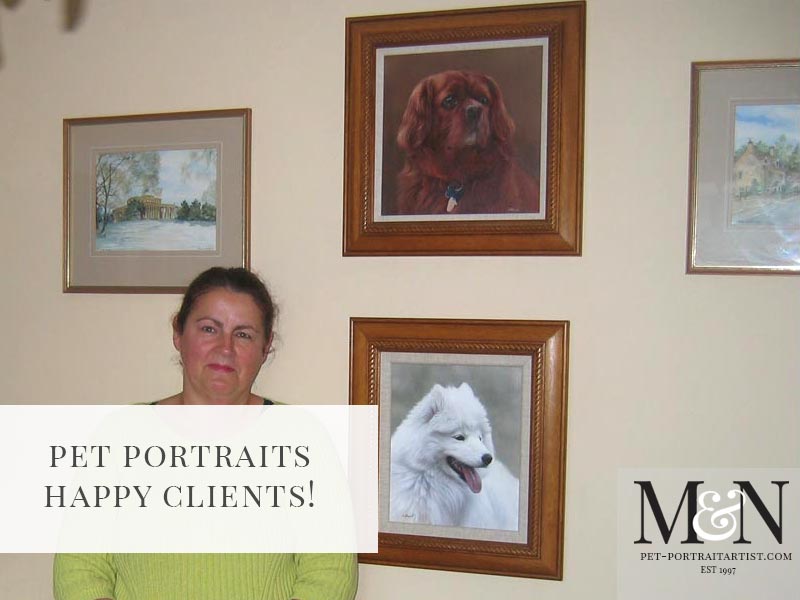 March 15, 2015
September 30, 2019