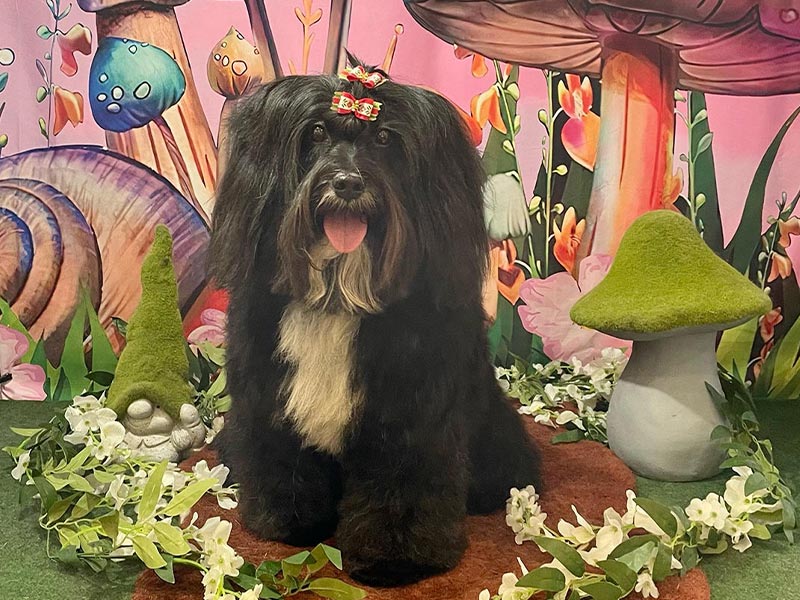 Melanie's Monthly News in July
August 1, 2023
Welcome to Melanie 's Monthly News in July, where yet again time has flown. We have had a busy month, I haven't taken any video this month, but I promise to try in August! The weather here hasn't been all that great. Where Europe and parts of the USA have had scorching temperatures and wildfires, we have had rain, rain and more rain!
Tenby Day Trip
We started the month off with a day trip to Tenby as we had dome items to take to charity and we like to take it to the Cancer charity shop there. We combine it with a day out and having a traditional Cornish Pasty, plus if it's warm, an ice-cream. Well why not when you are at the beach!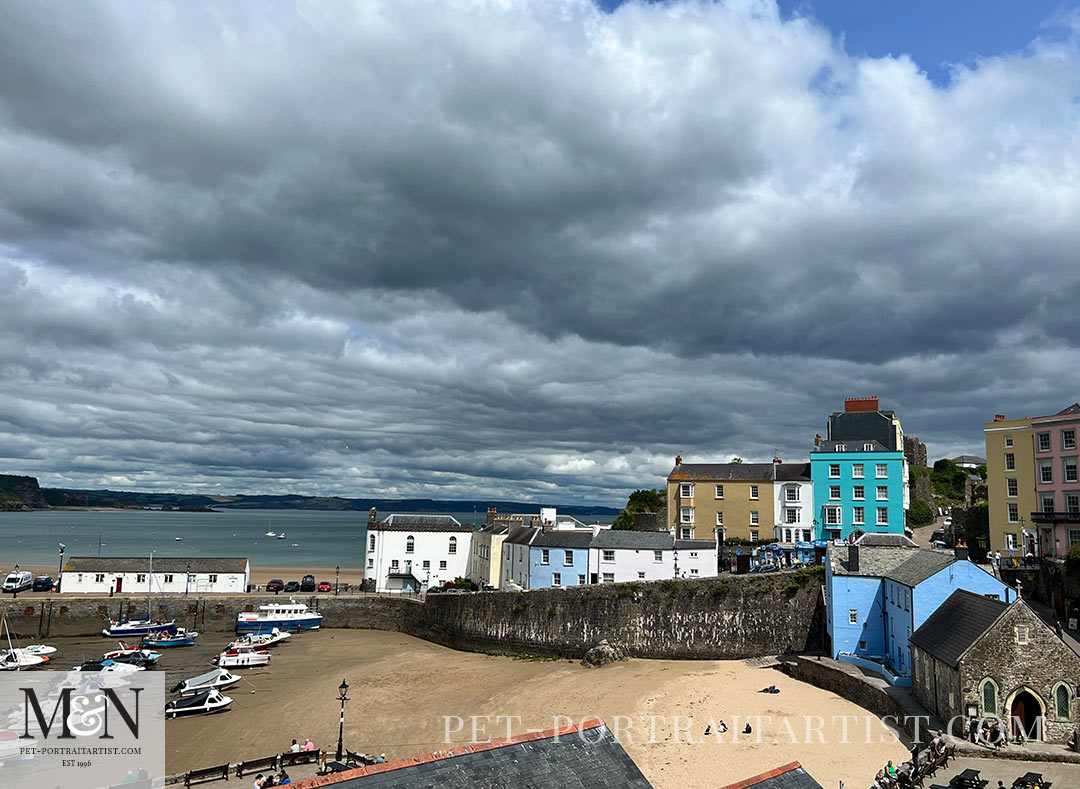 As you can see from the photos, the sky was full of rain and it was coming across from Ireland, heading inland. We were very lucky and it didn't rain while we were there. It was quite warm so at least we could enjoy sitting out and looking at the view.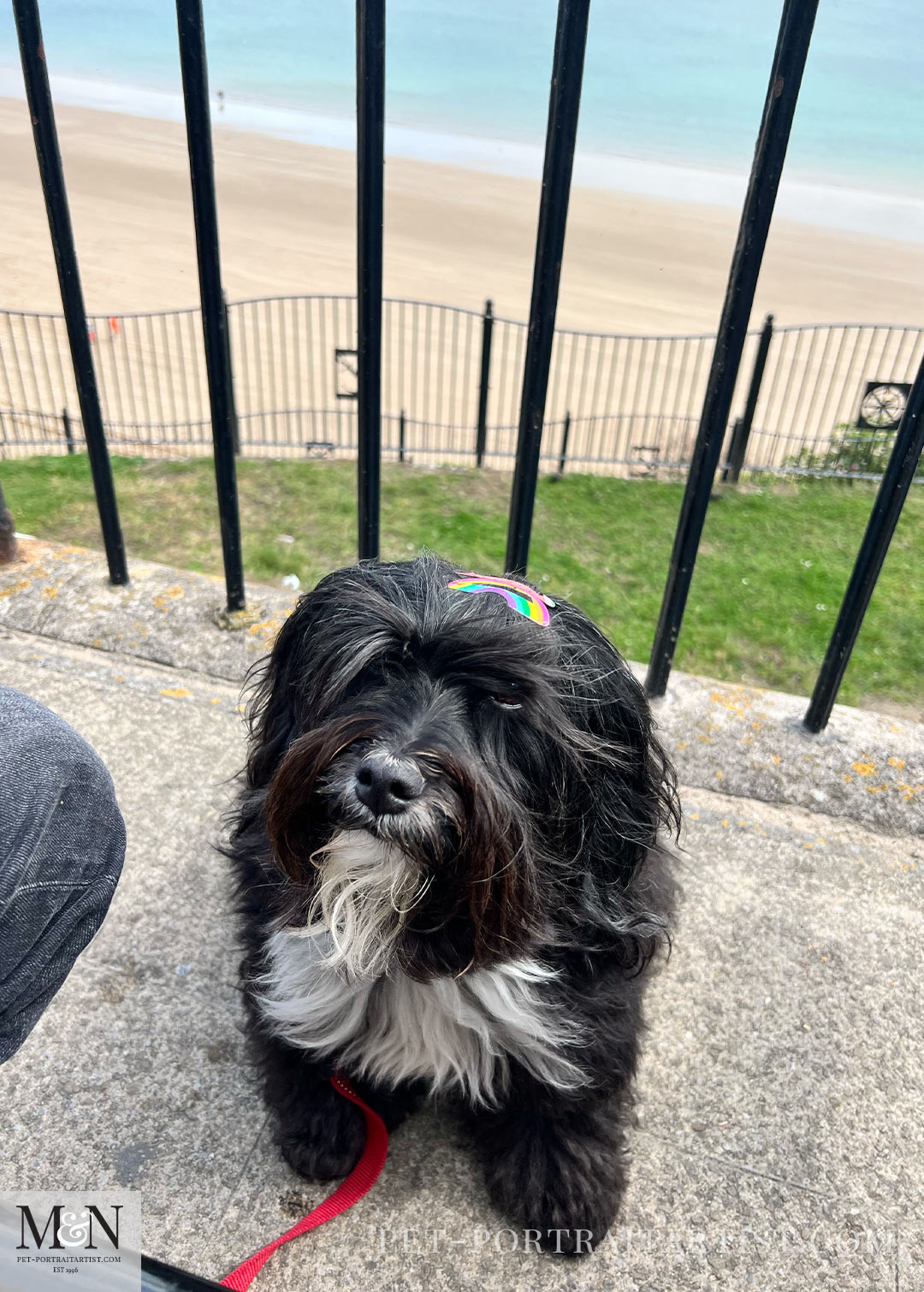 As you can see Lily had been looking intently at us while we were eating our ice creams. She always get the very end of the cone! How could anyone resist that beautiful face!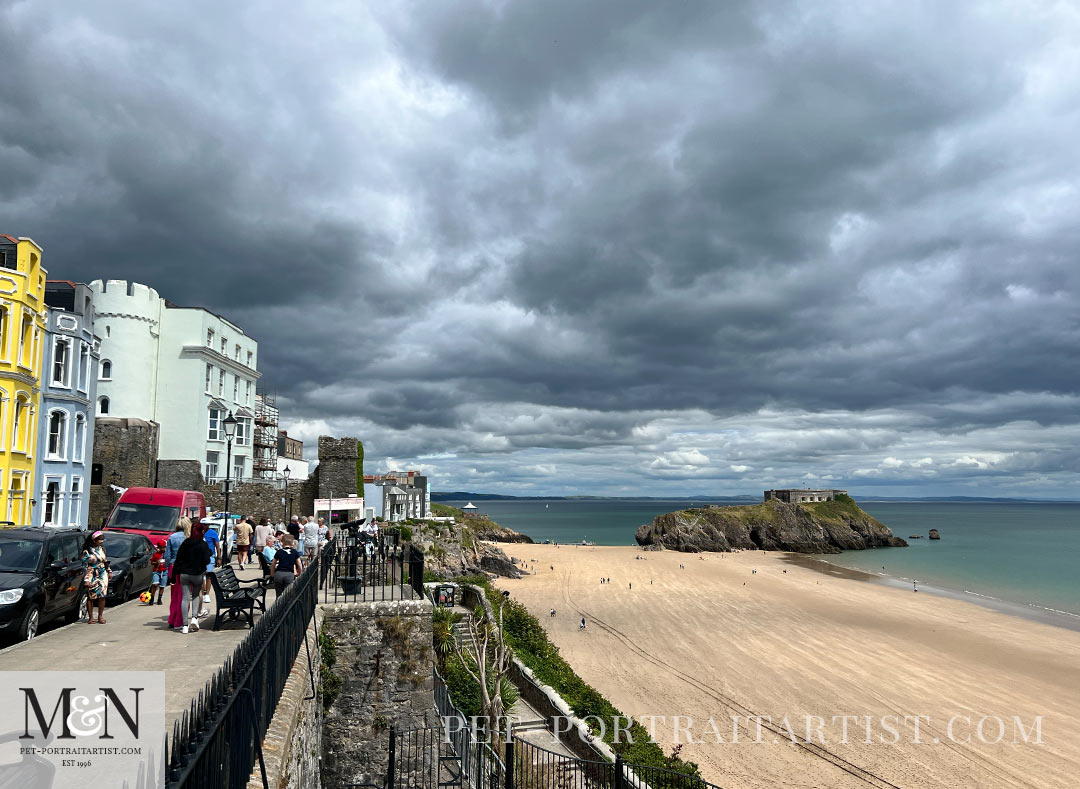 Although the clouds were coming overhead, the beach looked beautiful! Quite empty as the kids hadn't broken up from school, but im sure it's much busier now. You can see St Catherines island on the right, scroll down to find out more about it.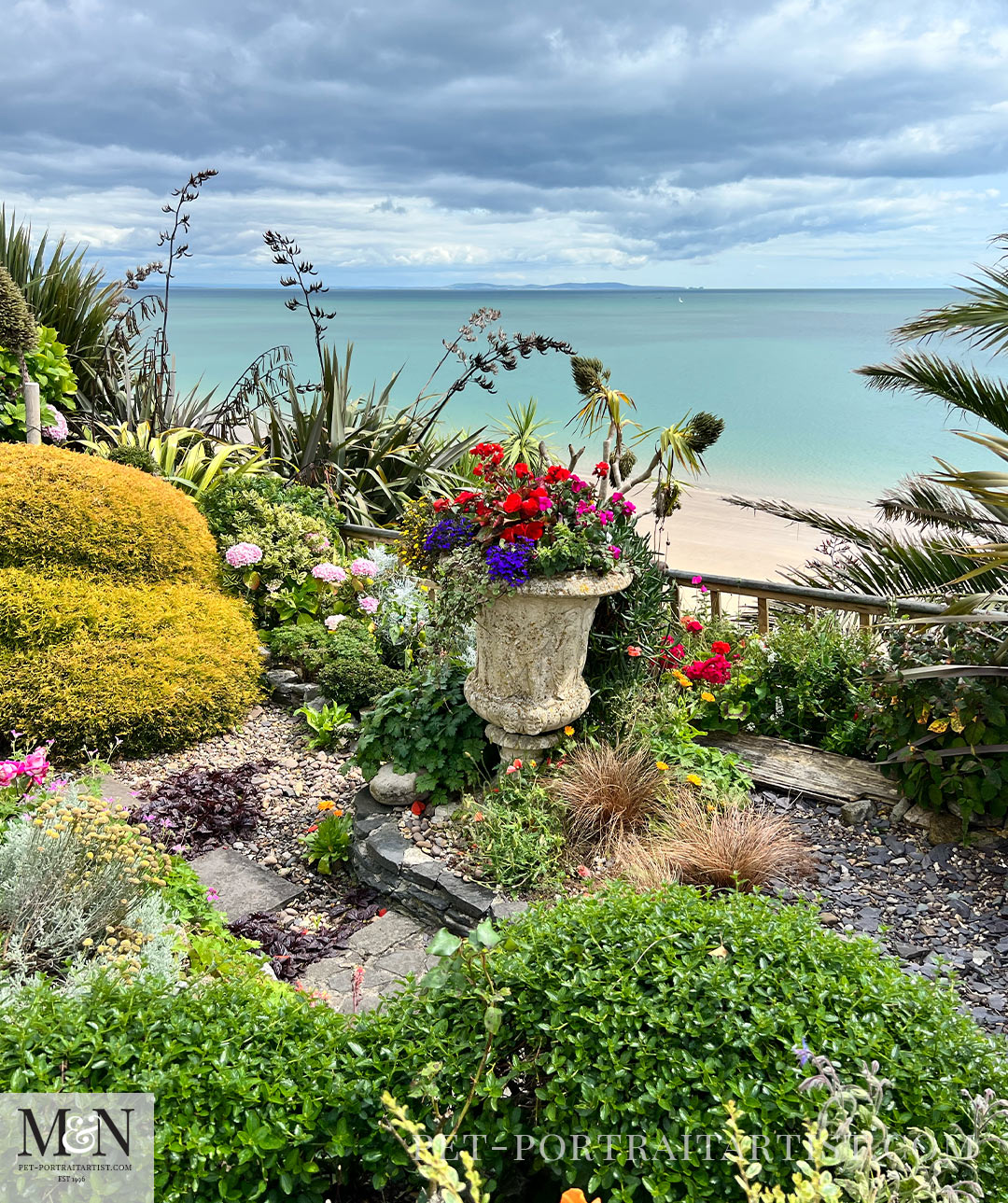 They have some lovely garden areas with plenty of pretty flowers along the seafront, such a beautiful view too.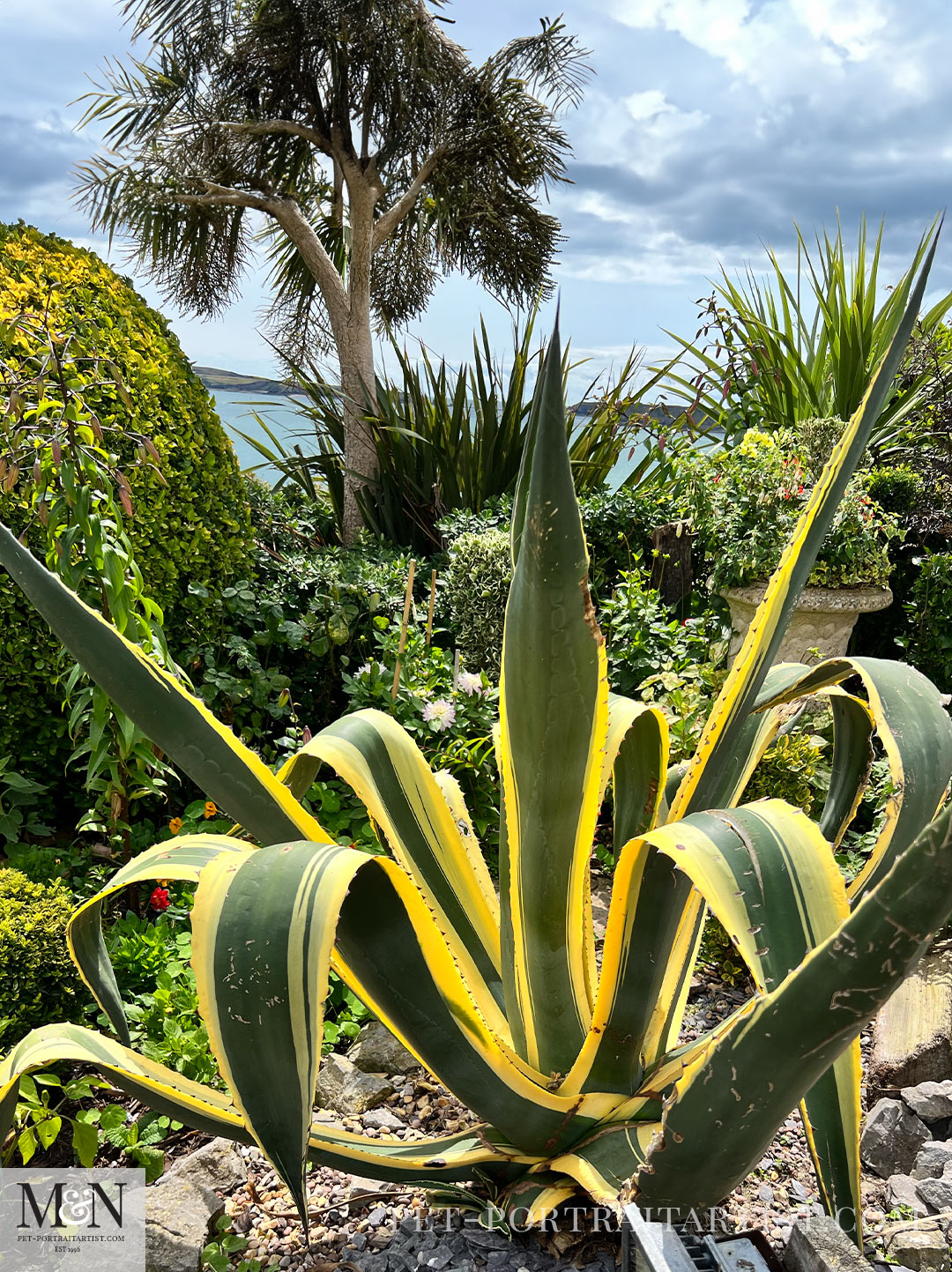 The climate is slightly different in Tenby, perhaps a lot warmer than where we live as they are on the coast, so can grow many more delicate plants and trees than we can. I doubt they get the hard frosts in the winter!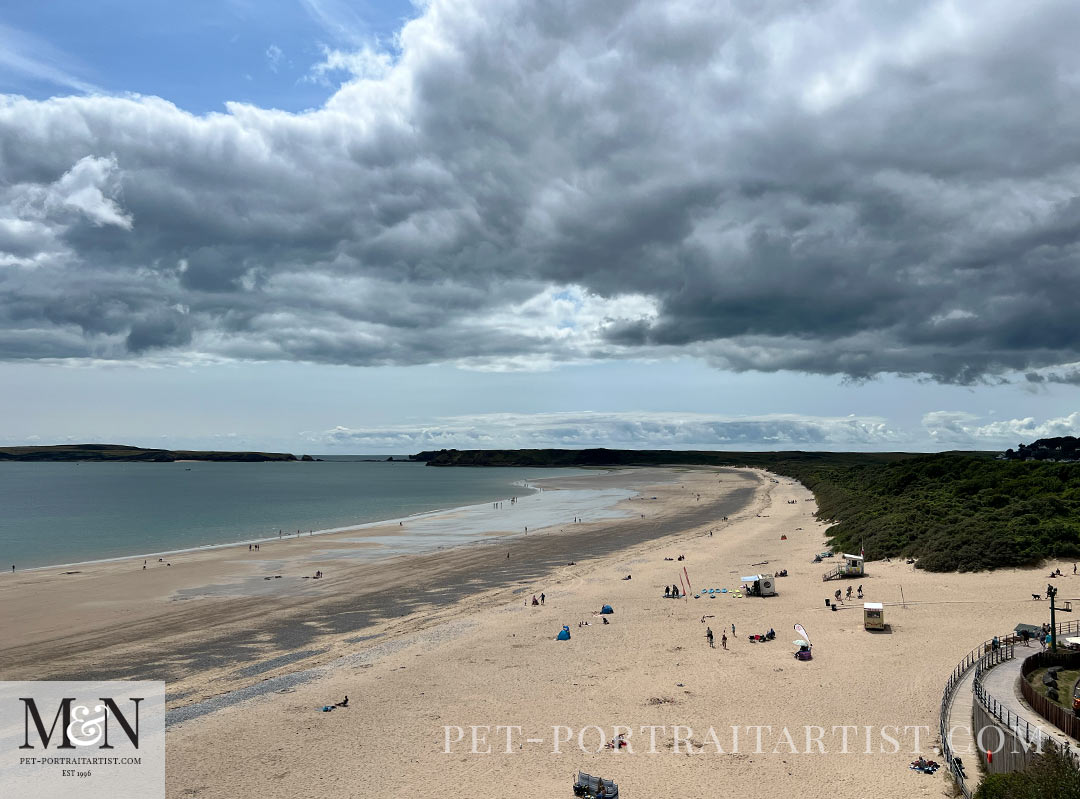 This is the beach view, taken from the other direction looking north. There were a few people enjoying the day there which was lovely to see.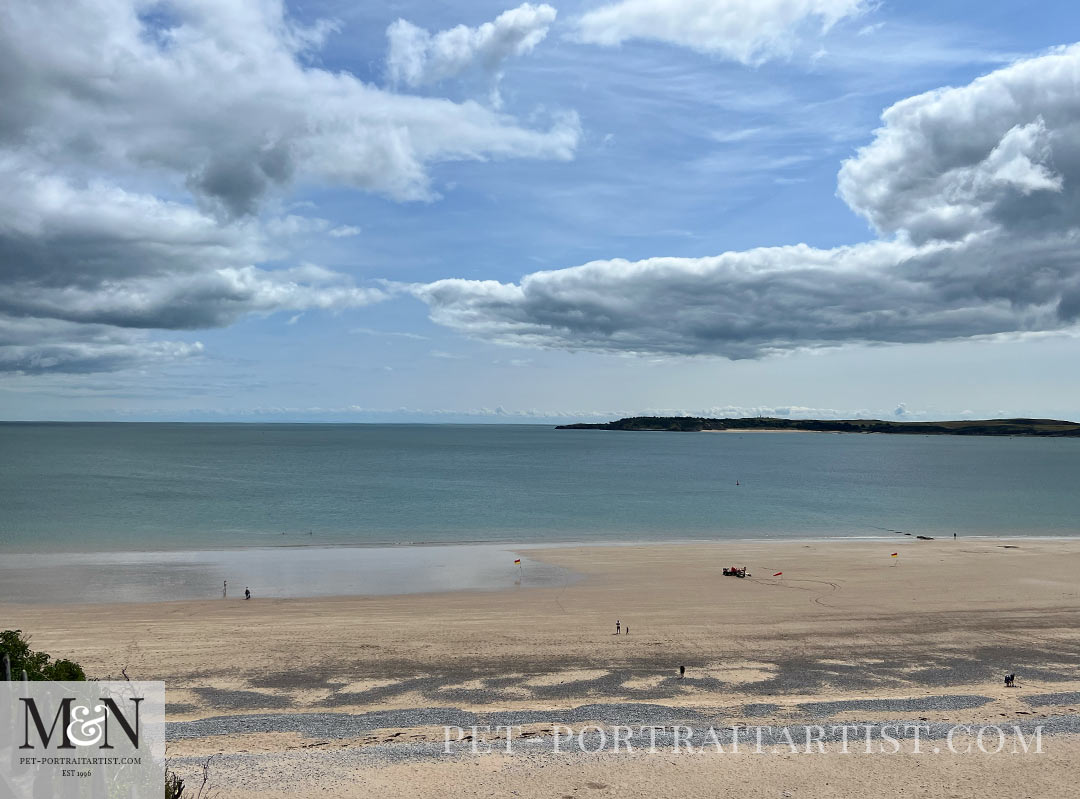 When you look north and you see the slight peninsular there, the Island beyond it is called Caldey Island. If you ever get a chance to visit Wales, put this on your to do list. We have yet to visit, but we want to, and it is dog friendly. It is an historic island with a Catholic monastery dating back more than 1,000 years.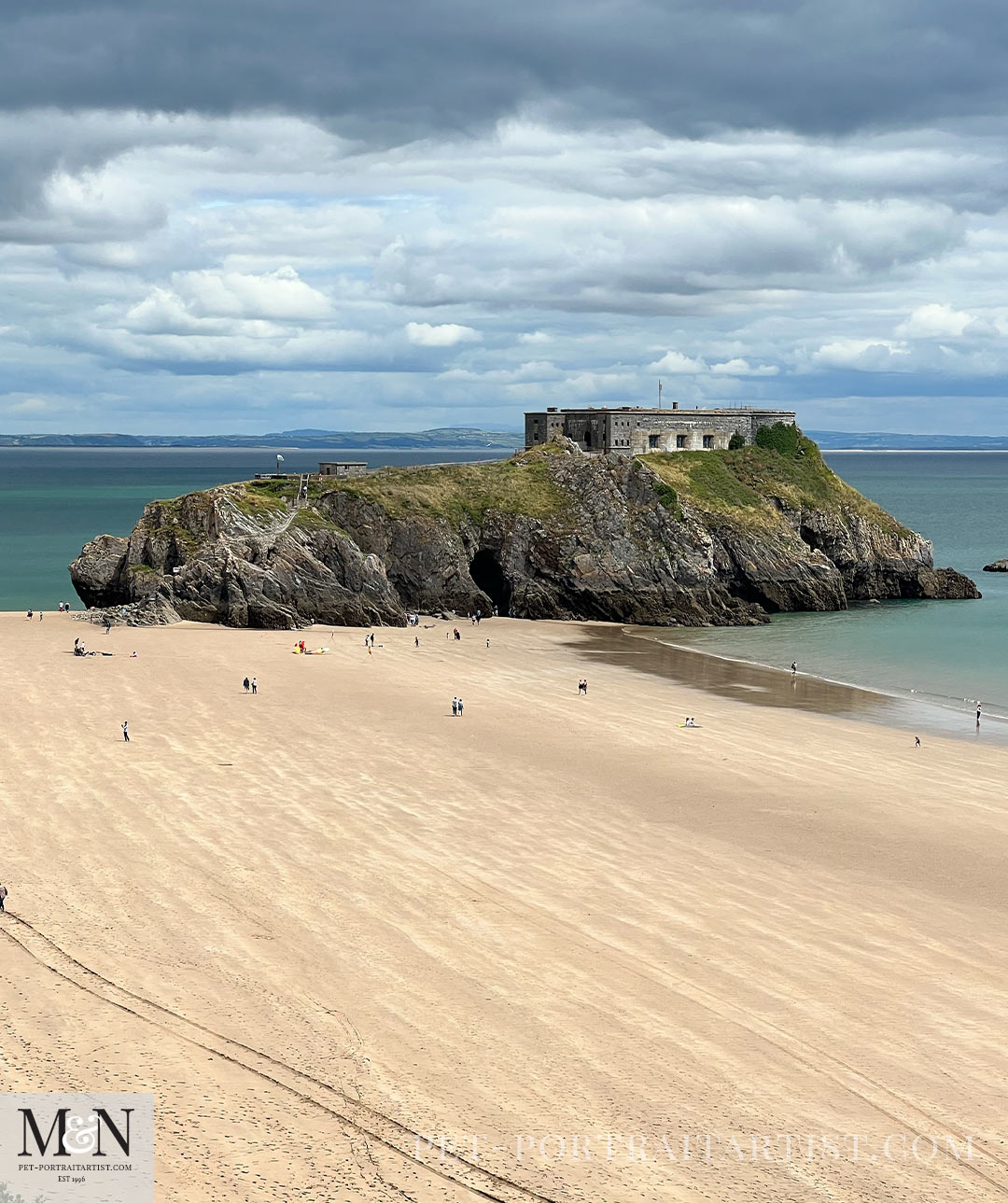 Finally a closer up photo os St. Catherine's Island. It dates back to the 19th century when the building was built on there as a defensive fortification. It was built by the British government and was constructed to protect the shores of Wales during a period of unrest and potential invasions. The construction began in the mid-1800s, and its strategic location made it a valuable defensive asset at the time. We have yet to visit it, but it's on our to do list!
Horse and Foal Oil Painting
Here is a photo of Nicholas with one of his latest paintings that he completed last month. It has already reached its destination and we can't wait to see photos of it framed. I think it has to be one of the most beautiful and dramatic horse paintings he has created to date. Our client loved it and we are both overjoyed.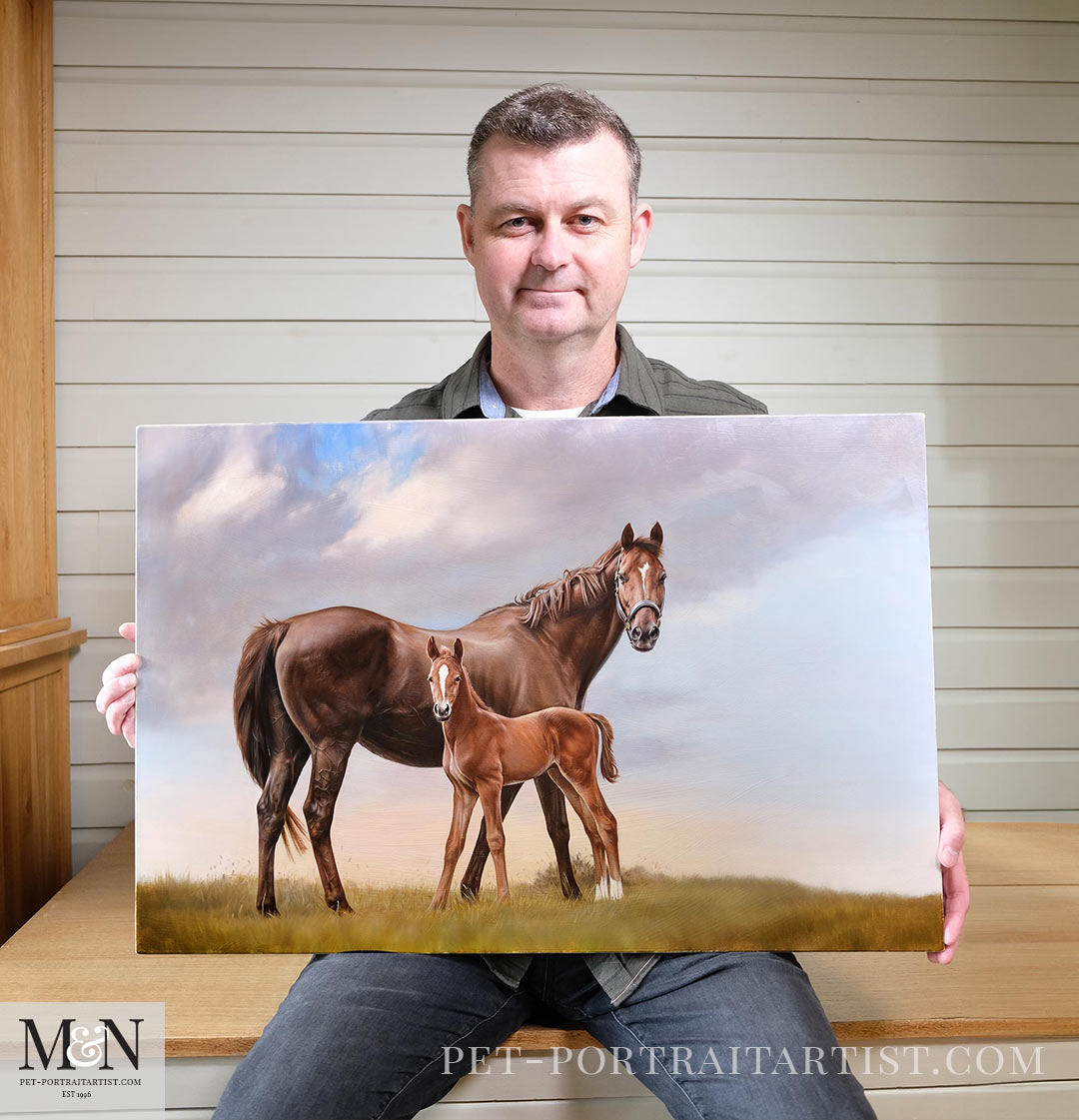 This is a close up of the horse and foal, we love this photo in particular as it looks as though the horse is looking over Nicholas's had while he is painting.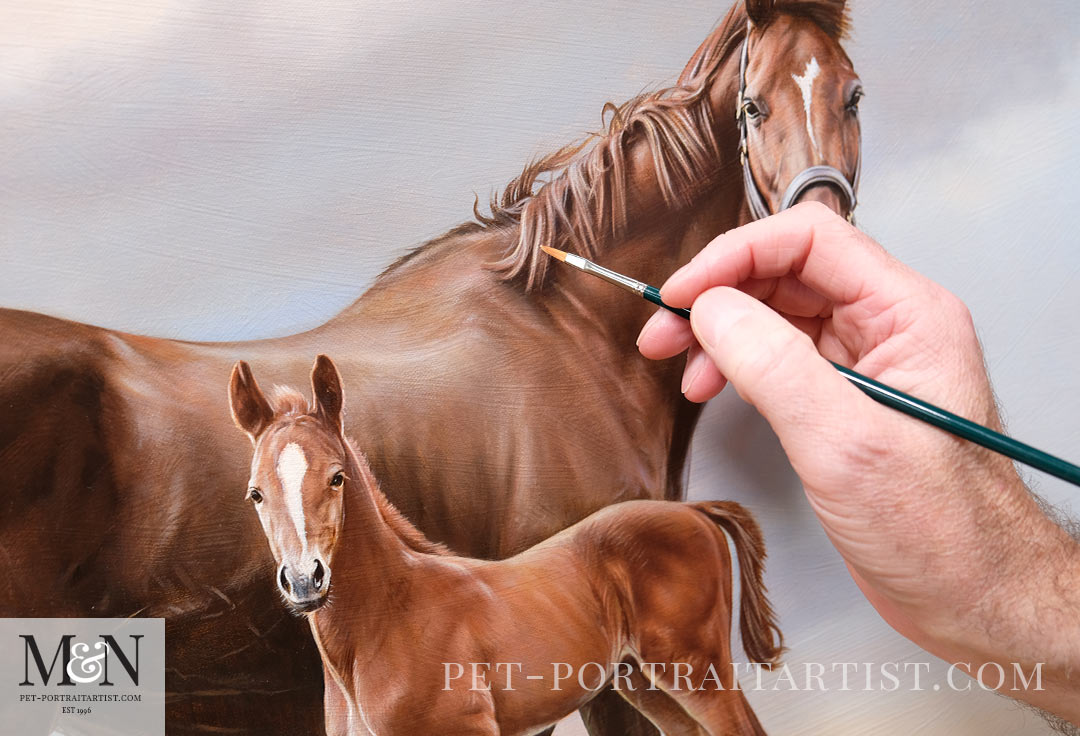 Another photo below of the full painting, on a slight angle with Nicholas's had and brush to give scale.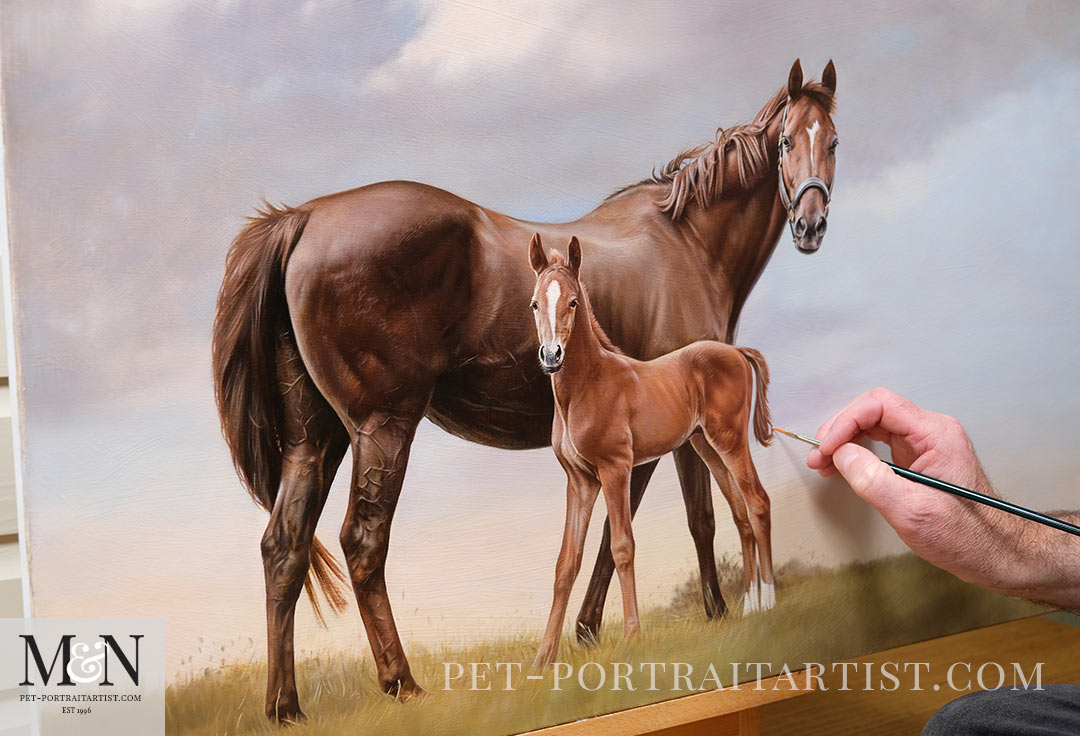 Here is the final painting all complete. Scroll down to watch a video and see some close ups of the real thing!
Horse and foal video with close ups!
Lily Grooming
How utterly delightful and gorgeous does Lily look after being groomed this month. Her coat is growing quite long now and we have little clips to hold back her fringe. She does tend to take them out when she gets fed up with them… but hey I do that in my hair too! Here Dylan (Cwtsh y Ci) has added two bows to hold her fringe back. Extremely cute with a very cool background this time too.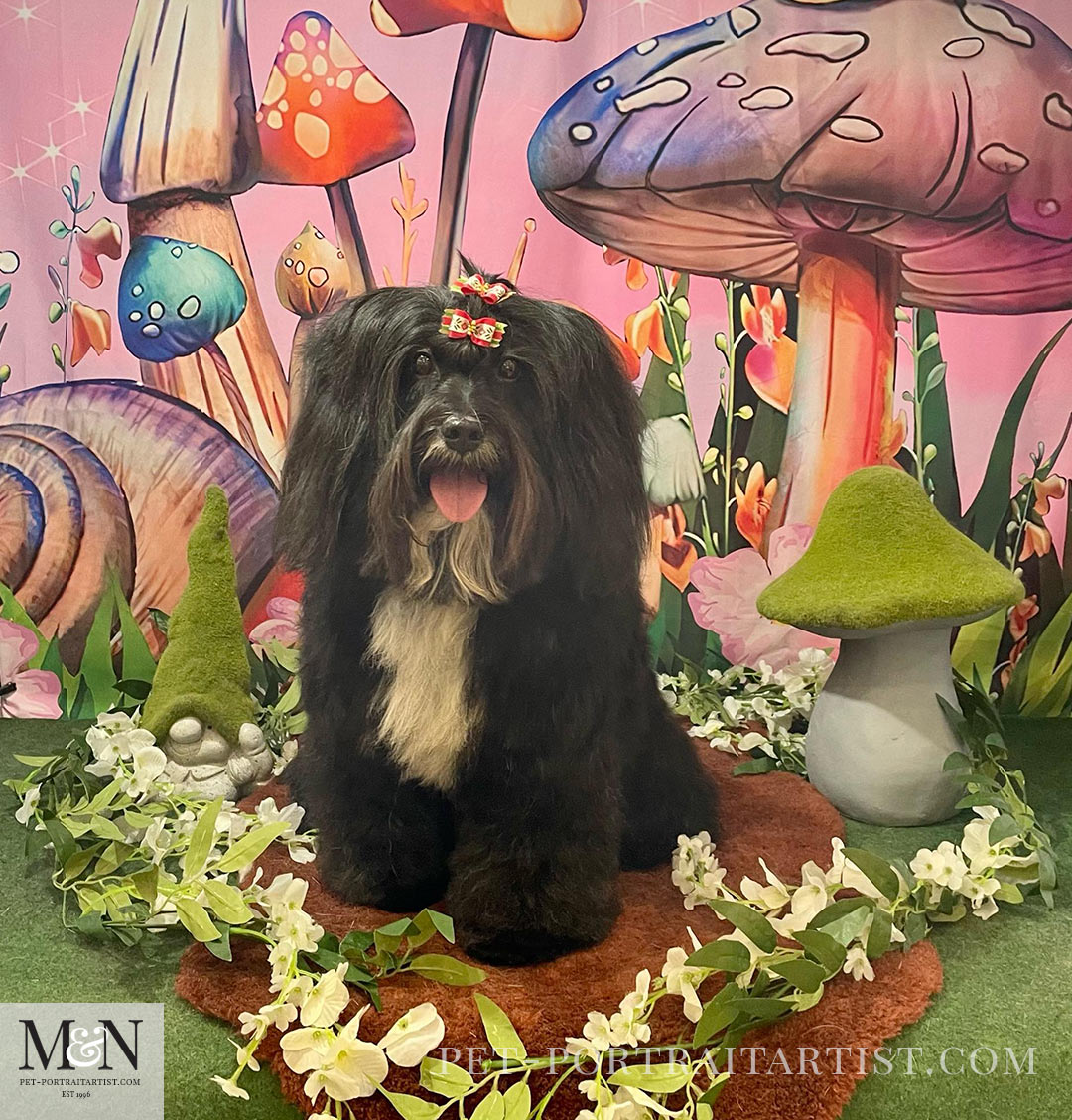 Melanie's Monthly News in July – Steve's Visit
An old college friend comes to stay with us once a year for a few days, who hails from the south of the UK. He cuts our hedges and in return we take him out and about here. Our first day trip was to have lunch at the Teifi Waterside hotel, which you can see below. The weather wasn't all that great but we could eat outside which was a bonus with Lily. It seems very dog friendly so recommended and the food was delish!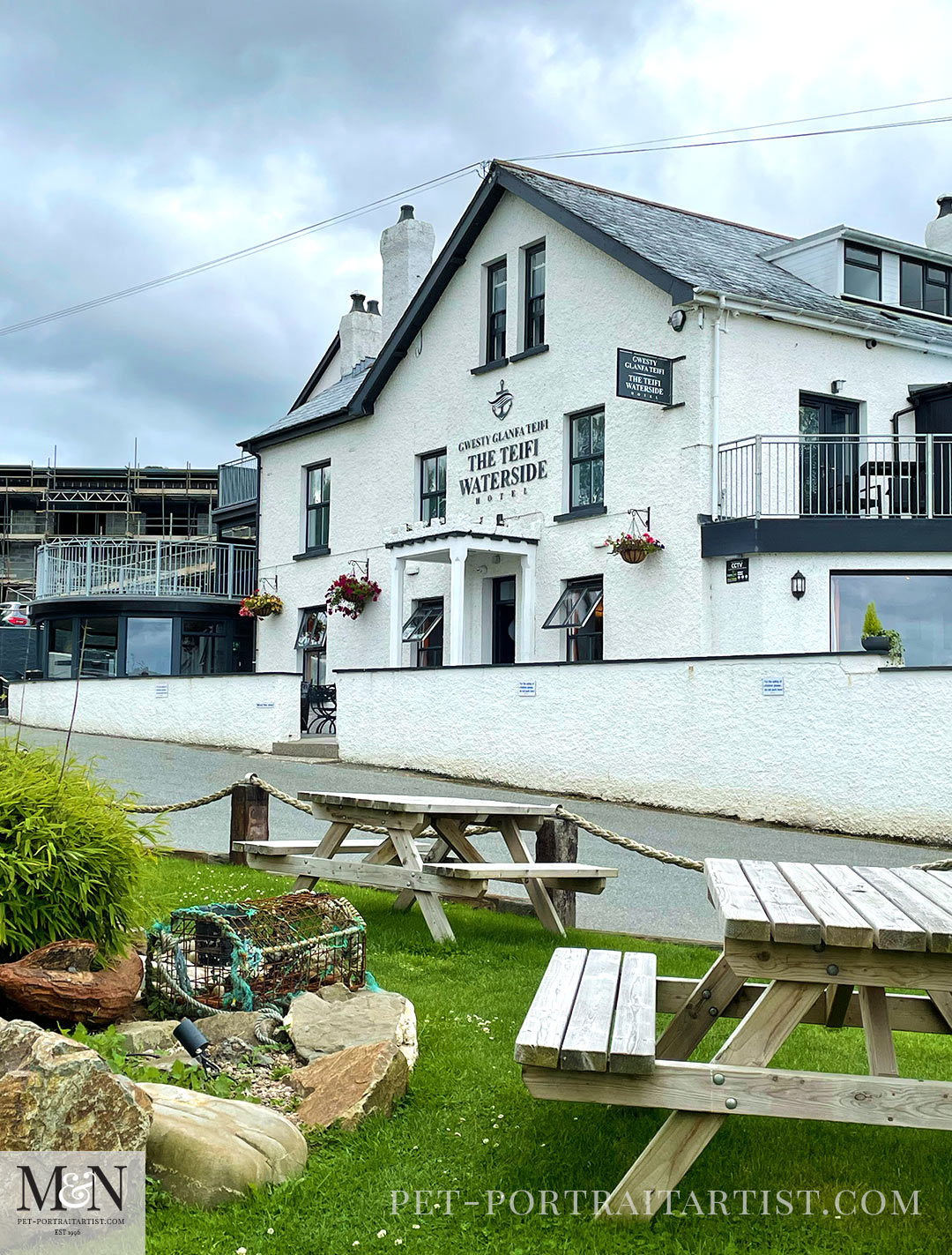 We sat opposite the hotel as they have a series of picnic tables overlooking the estuary. A perfect view to watch the boats going in and out.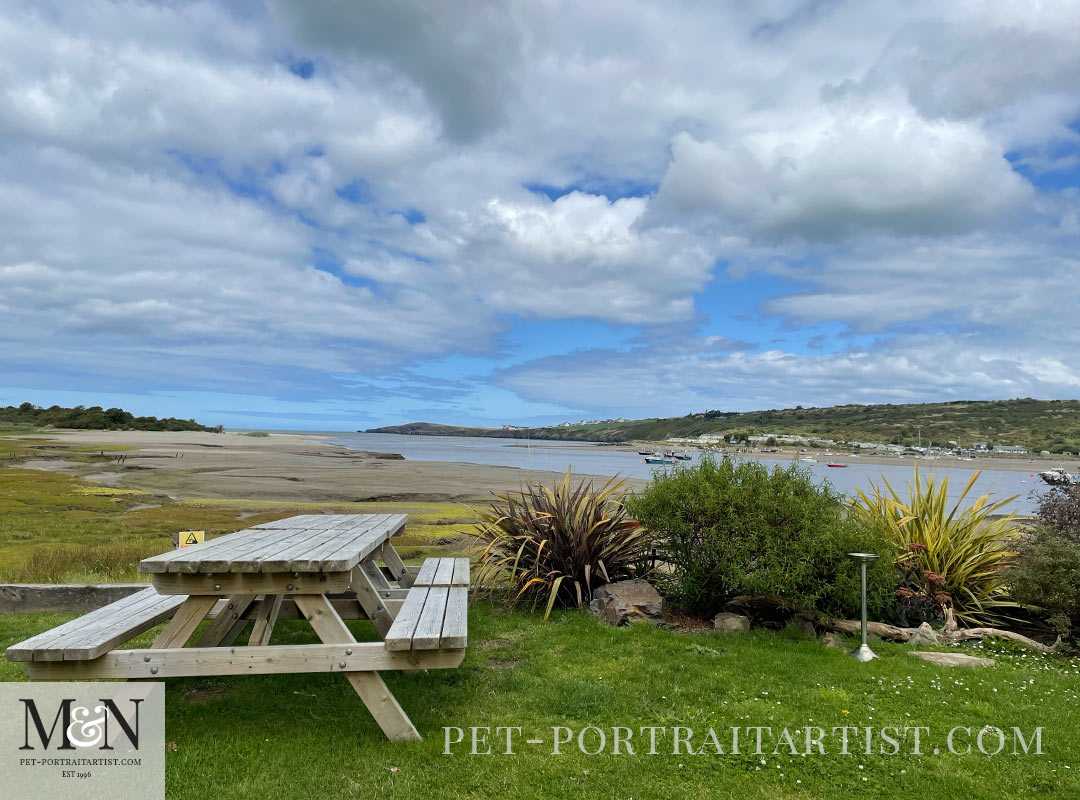 Melanie's Monthly News in July – Cilgerran Wildlife Park
After lunch we followed on down to the Cilgerran Wildlife Park where you can sit in hides and watch the birds and they have a lovely boardwalk too. Steve and Nicholas were looking at the fish in the stream on one of the little bridges.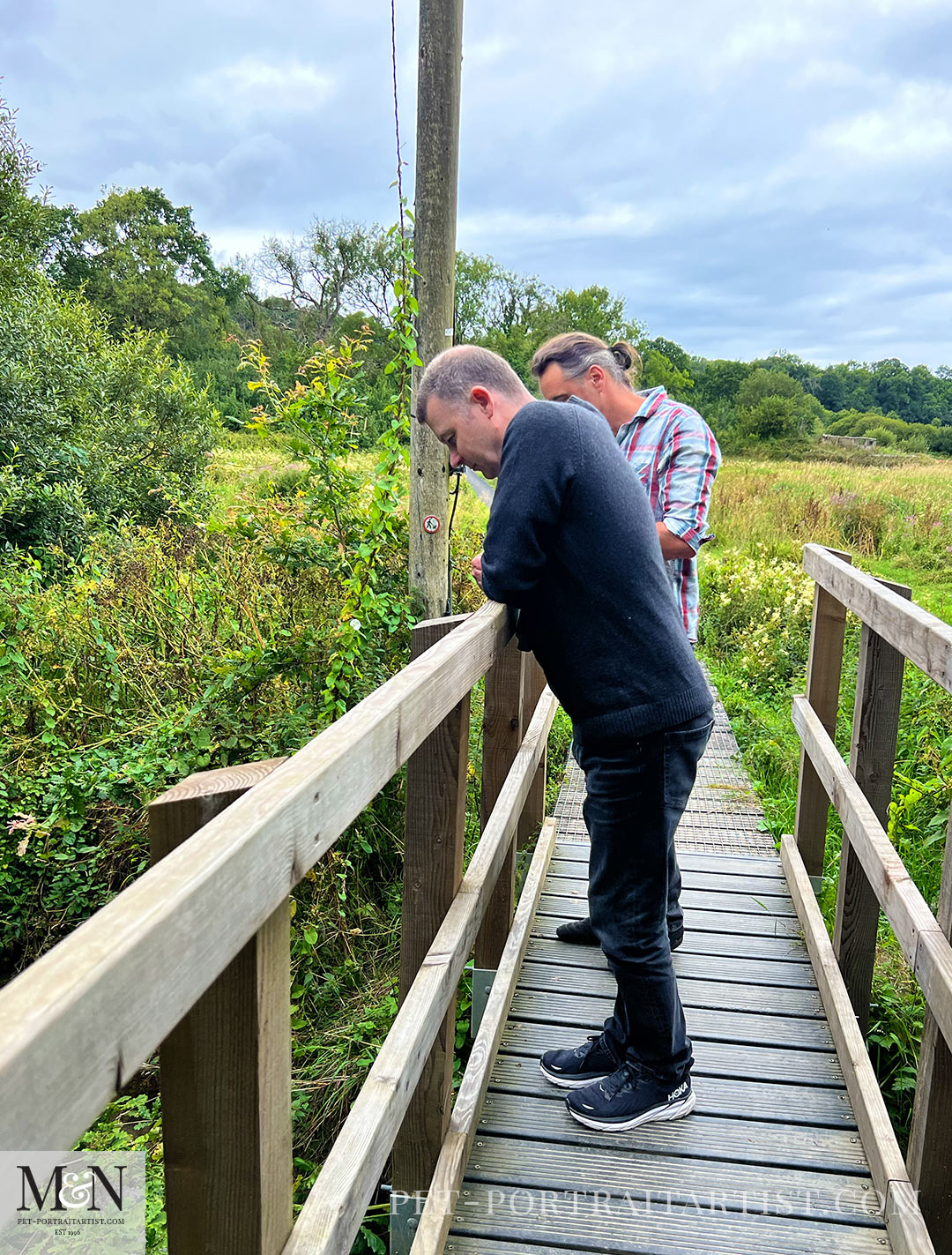 It's a really lovely sheltered walk in places too and you can go under the trees, all safely on the wooden walk. Highly recommended!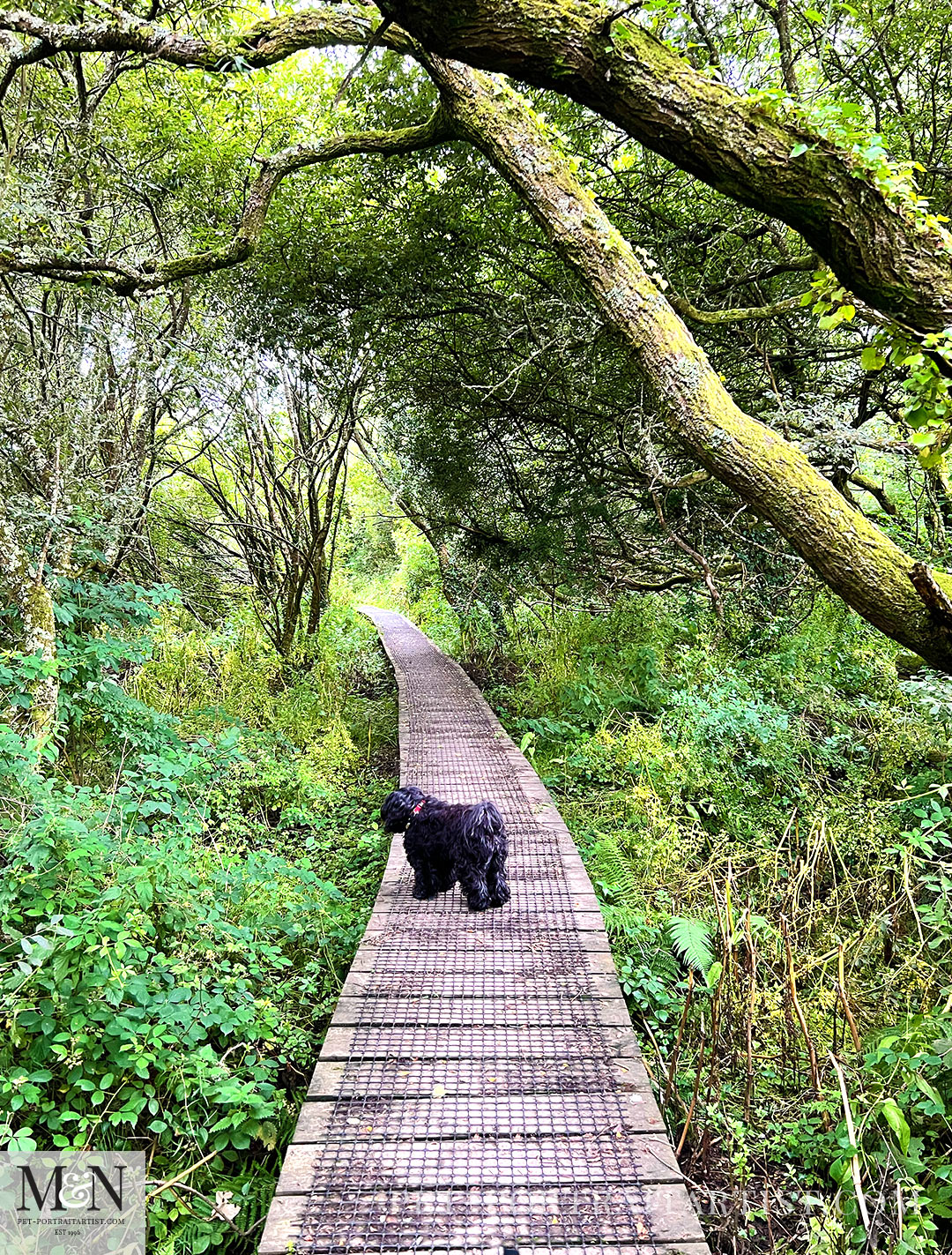 This was taken in one of the hides. We didn't see any exciting birds… mainly ducks, but I don't have a great deal of paitence.. neither does Lily, so the boys didn't get to stay in there that long ha!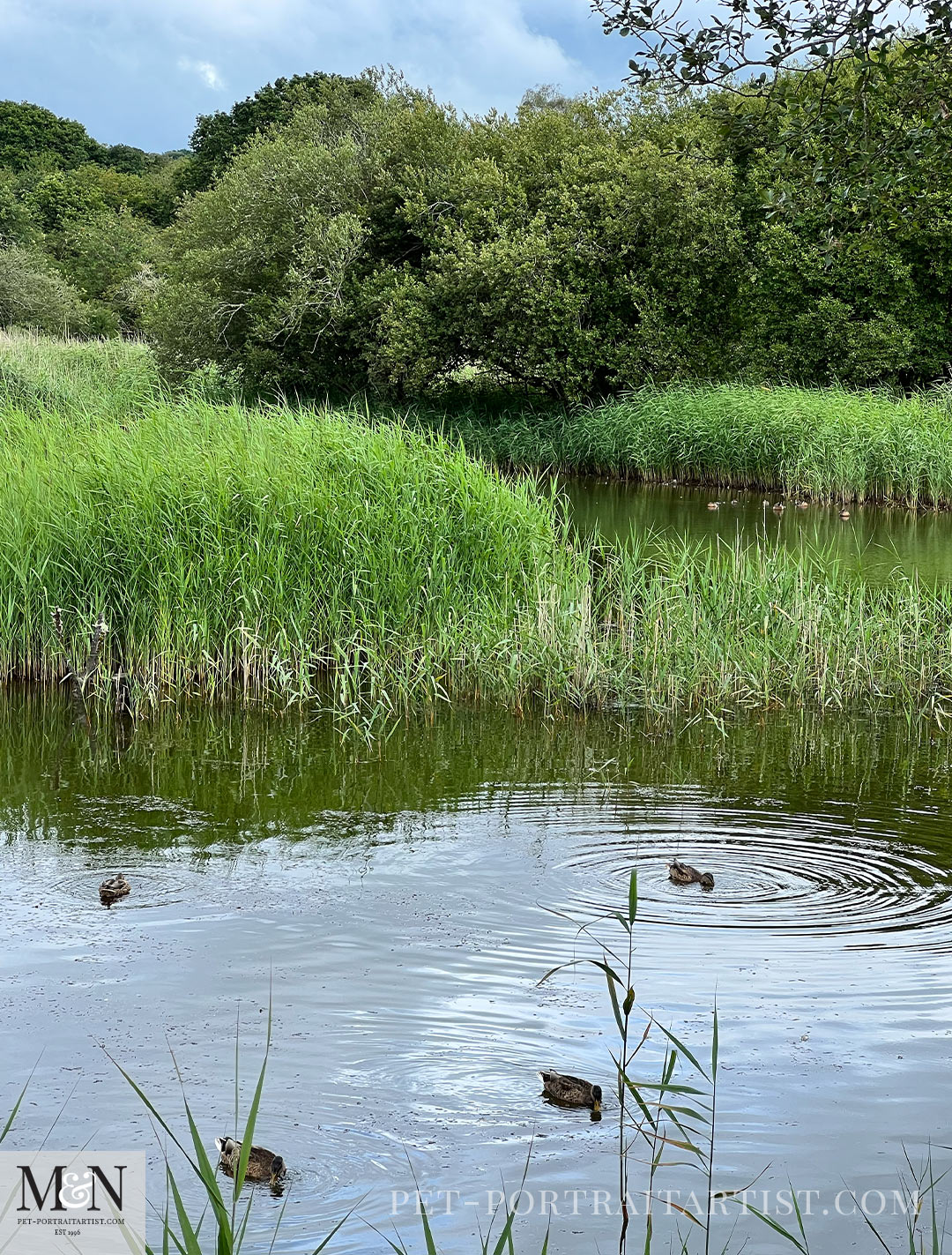 I did take plenty of photos of the ducks though….!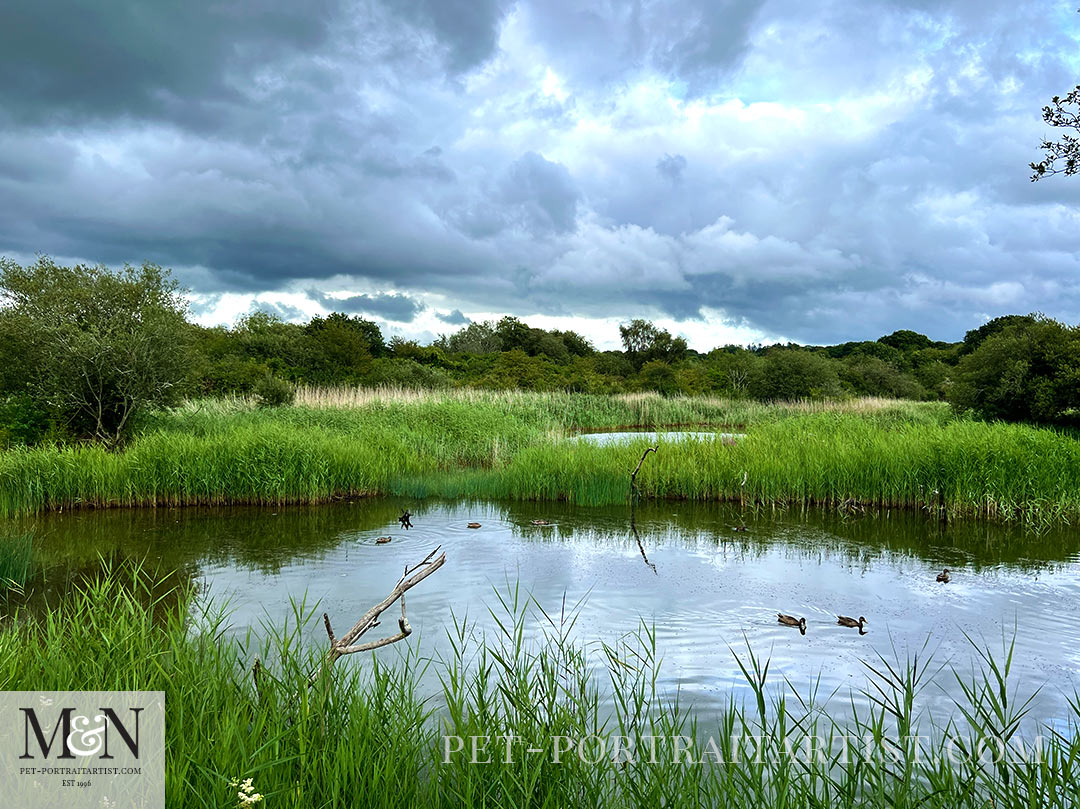 Melanie's Monthly News in July – Aberaeron 6 mile Walk!
The next day we went and did a very slow 6 mile walk from the National Trust Carpark at Llanaerchaeron along the old railway line to Aberaeron. Here is a photo of the boys deep in conversation with Lily following behind.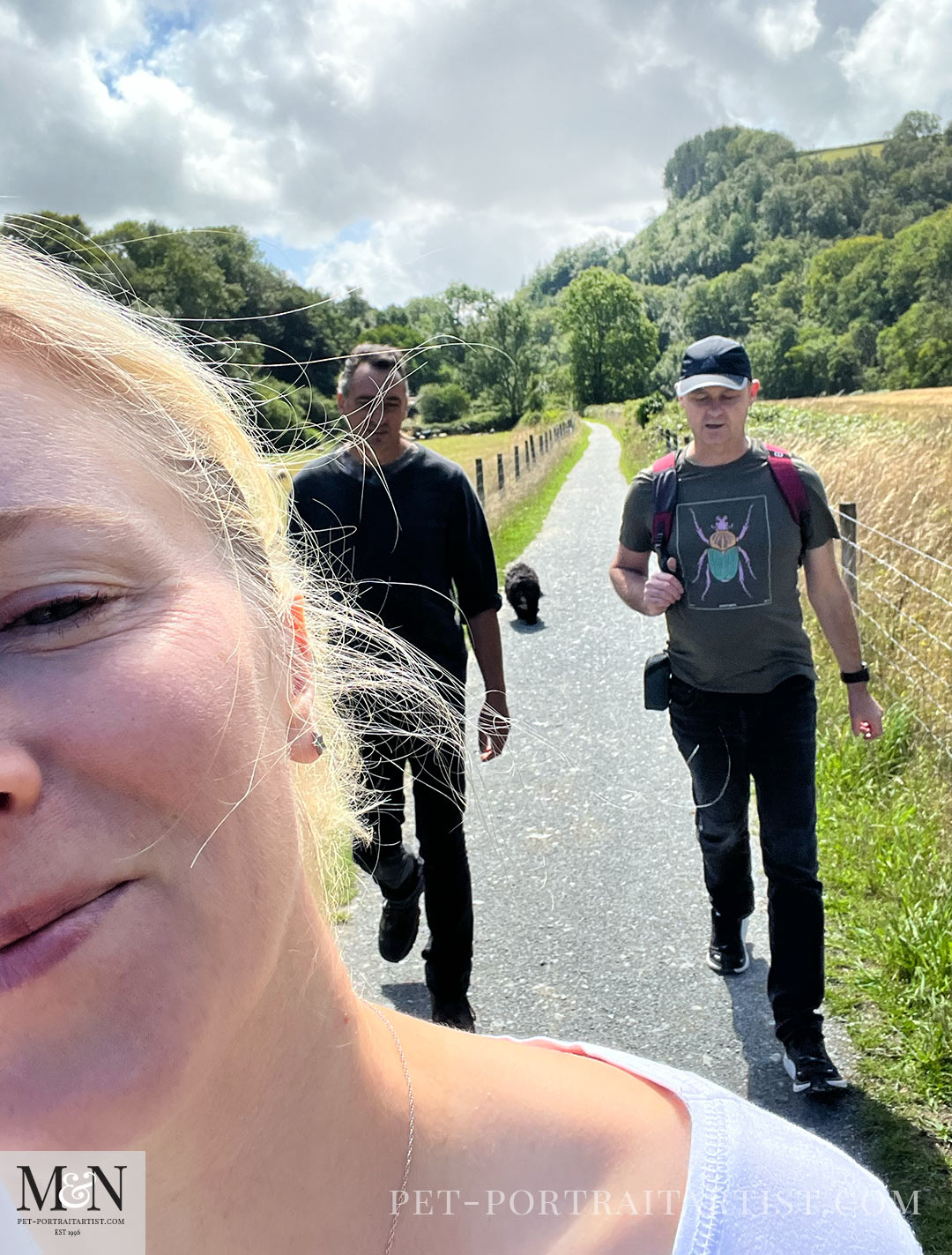 The path is varying where it's open at some points, but there are covered walkways with beautiful trees in other places. I am not quite sure where Lily was at this point as she should have been in the photo. I think she was probably by my feet!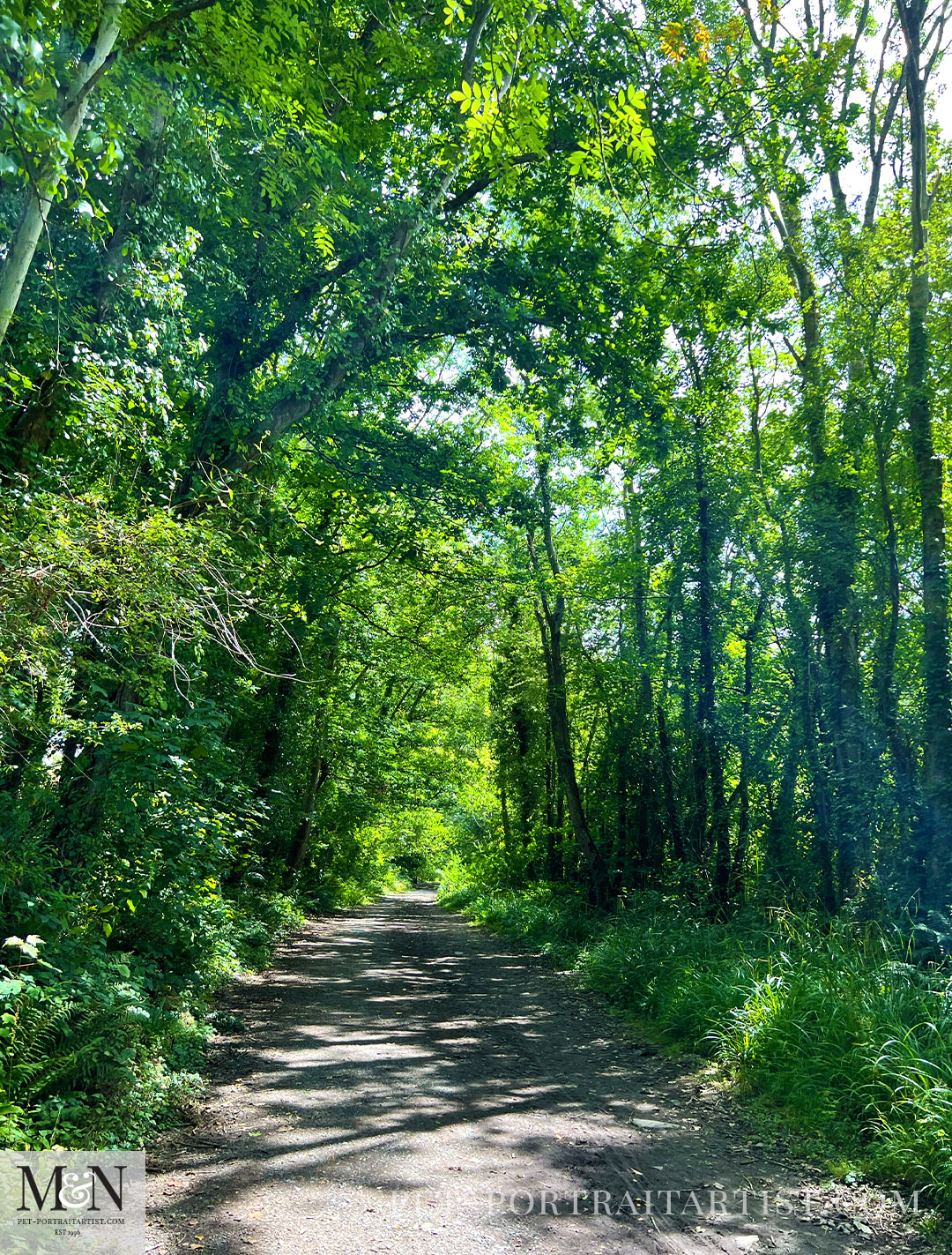 When you get to the start of Aberaeron, you can walk along the river to get to the little town. It is a pretty walk as you can see.
There are plenty of benches to while away the morning watching the world go by.. and the ducks!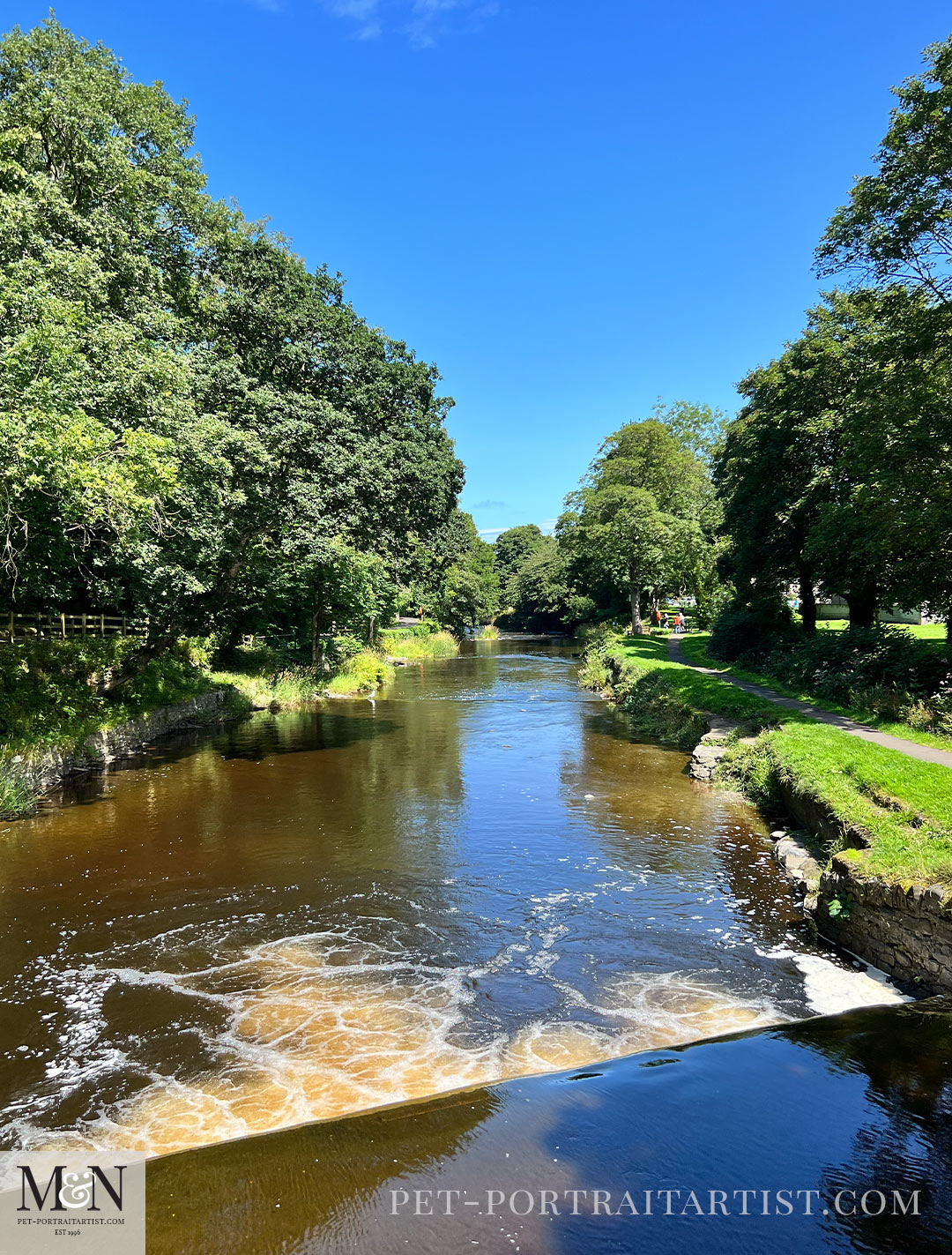 It is completely idyllic, especially as we had a lovely warm, but breezy day.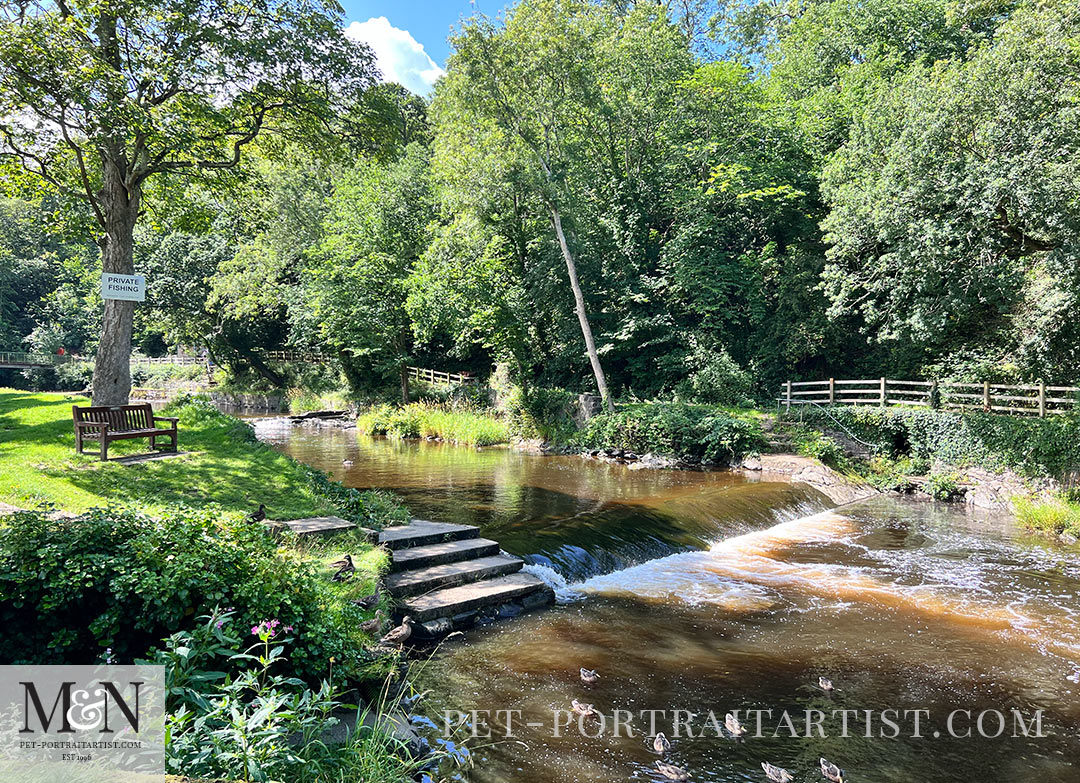 Along the river, over the fence there were community vegetable plots run by the locals and they had veggies for sale along with sweet peas too. I loved their very beautiful scarecrow with their children scarecrows too!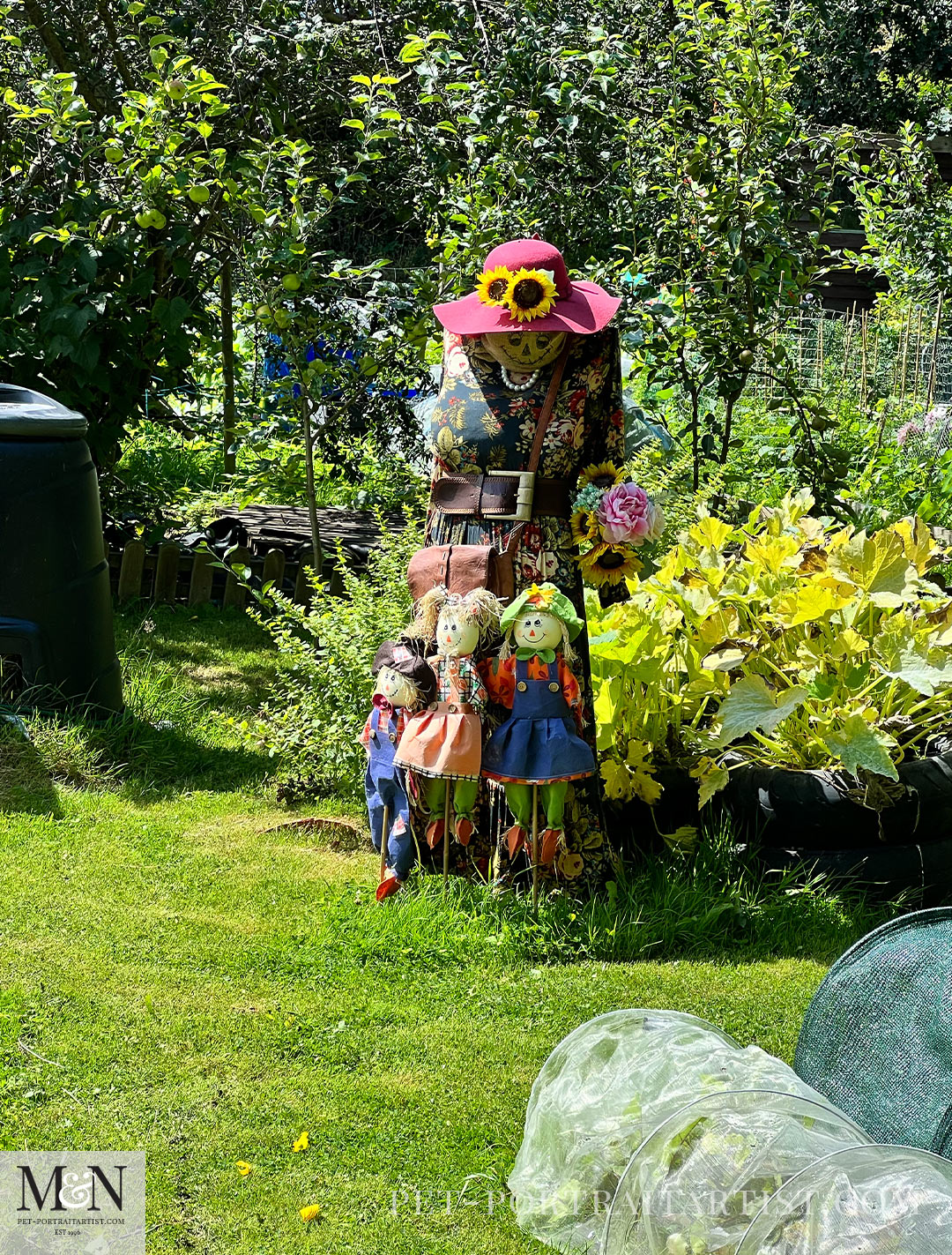 When you get to Aberaeron you can see the harbour fill of boas this time of year. We stopped for lunch so Nicholas wasn't too tired and could have a rest before we headed back.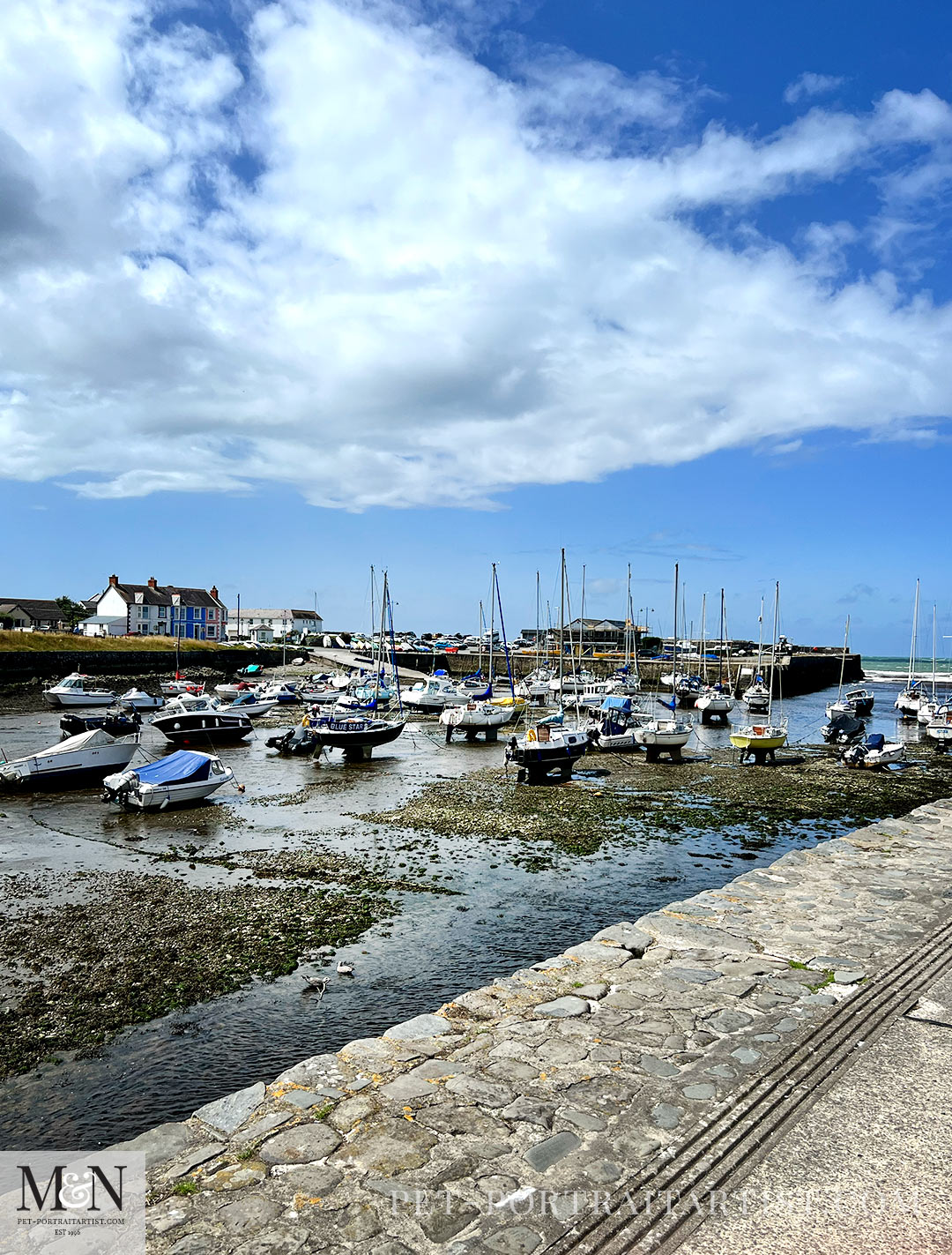 It's a pretty little coastal town where I went to school so it was nice to go there as a tourists! Definitely worth a visit if you are in Wales.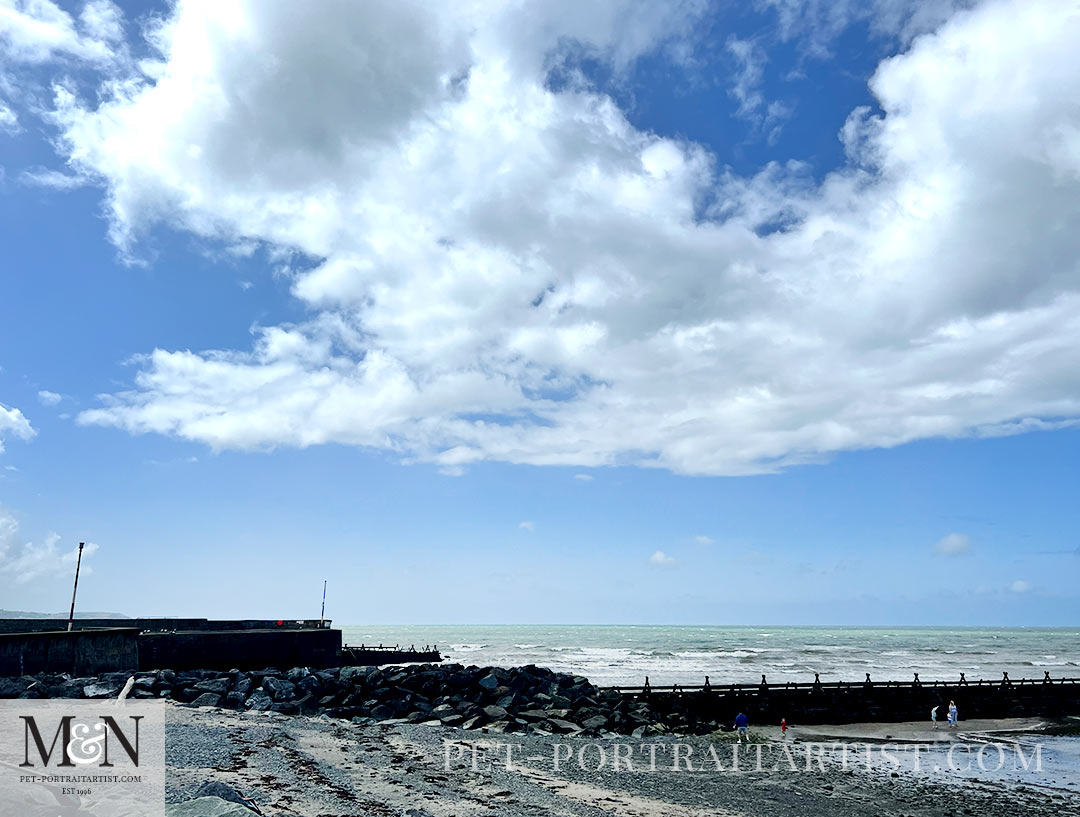 Harvey's Birthday Walk and Pancakes!
It was my running buddy Harvey's 79th birthday last week and so we did a lovely birthday walk and then I had arranged a surprise pancakes at our local cafe. Photo of the pre birthday walk below overlooking Llandysul….
On pancake day early this year our favourite cafe did special pancakes called Mars Attacks, full of ice-cream, whipped cream, caramel and chocolate sauce, chocolate drops and mars bar pieces. It was delicious and so I knew it would be the perfect birthday treat. The ladies at Ffab Cafe really spoilt him and put candles on the pancakes and sang happy birthday too! It was so wonderful!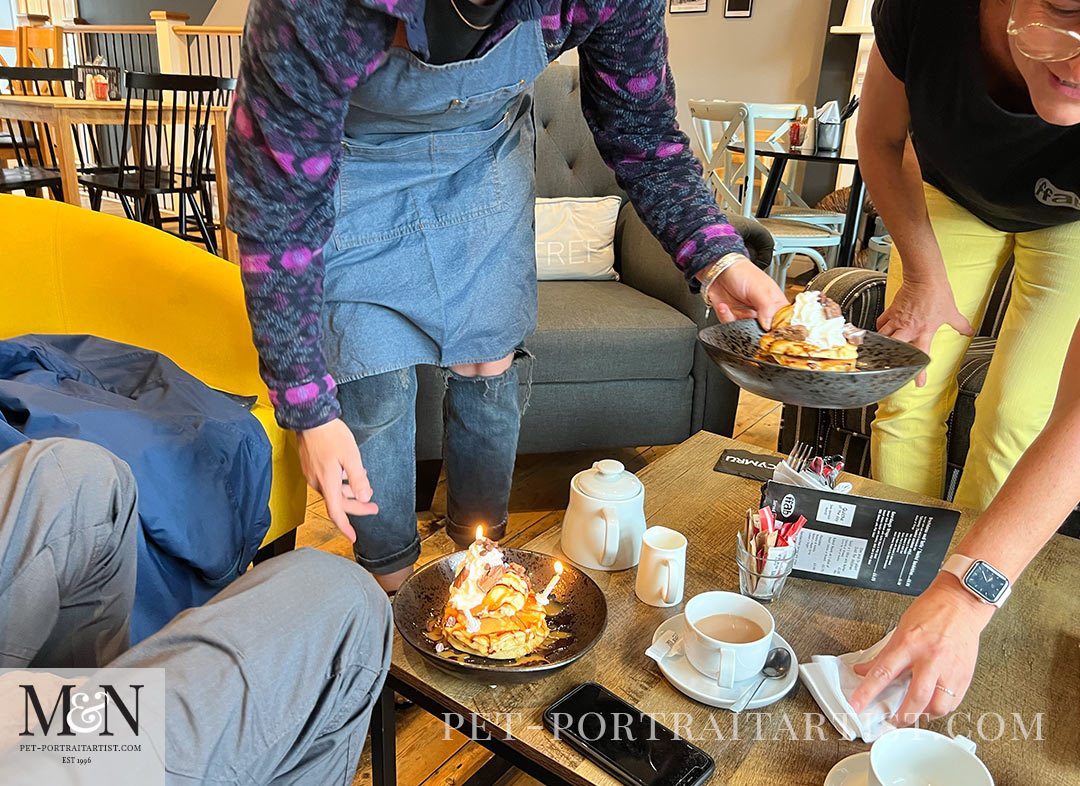 Here is Harvey with his pancakes!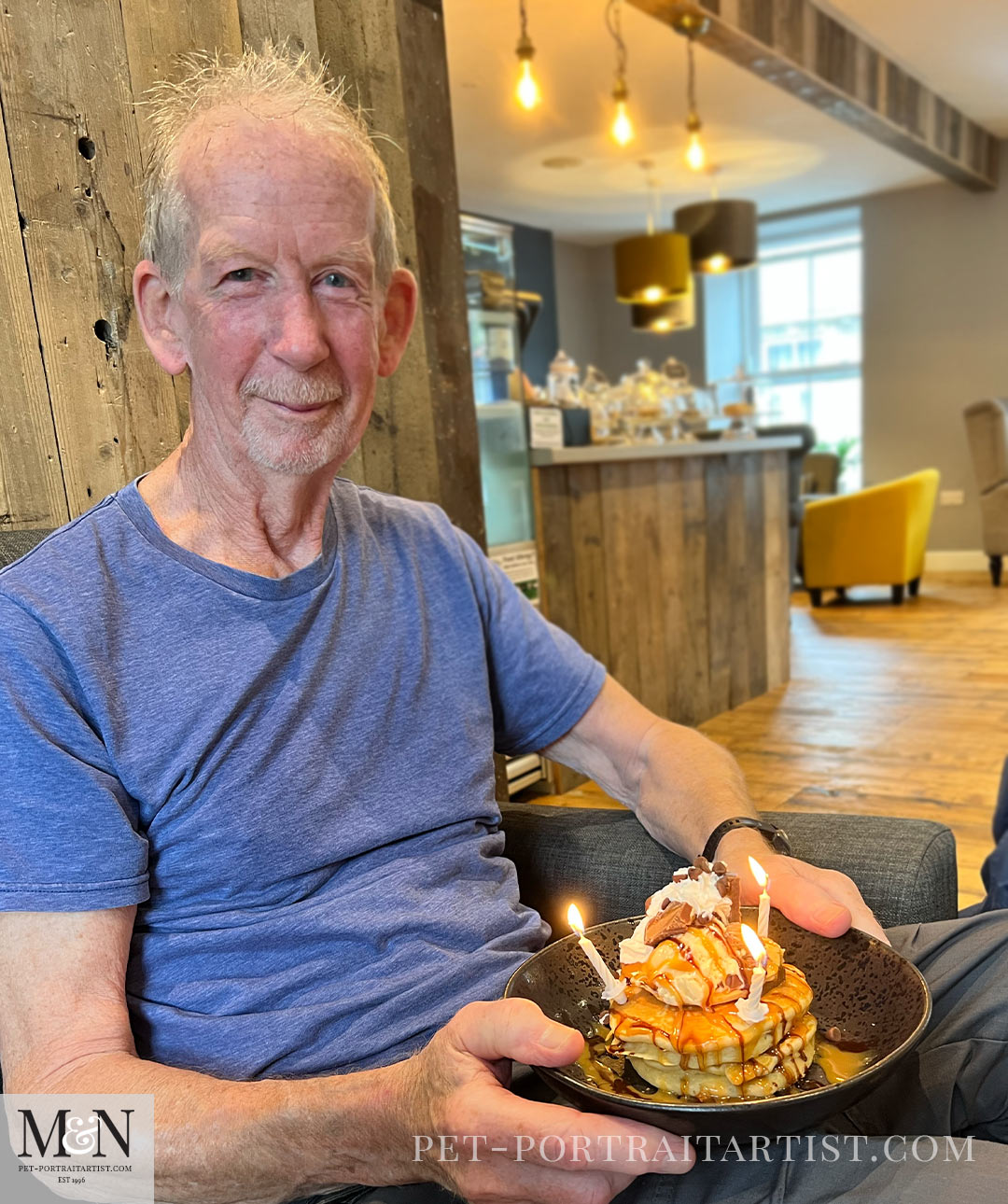 Close up of the dish. If you want to make someone a special birthday treat, this is defining the way to go.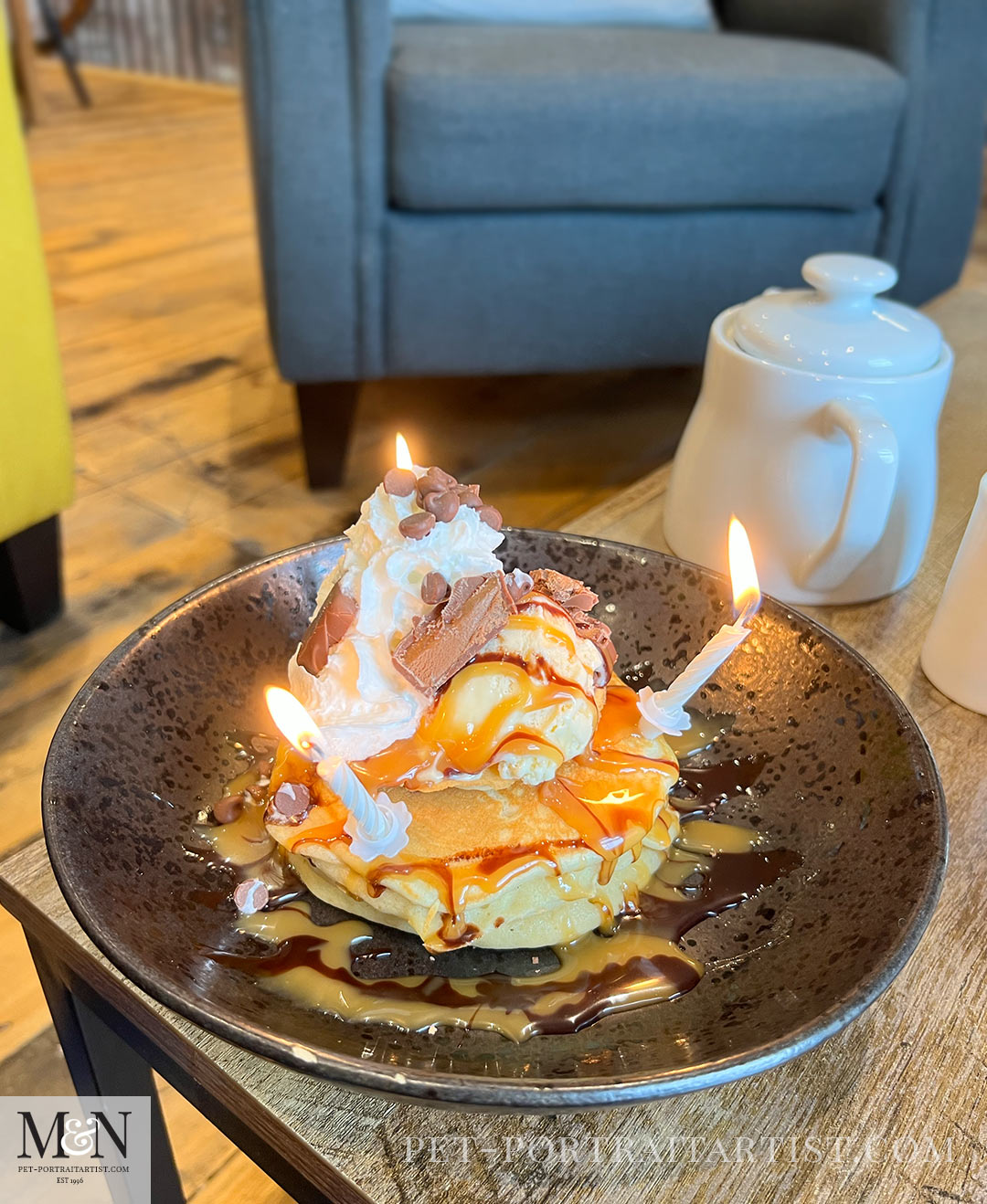 Melanie's Monthly News in July – Dirty Dancing
Another outing I just have to mention below finishing this blog is the theatre trip my friend and I took to Cardiff to see Dirty Dancing. If you have a chance to see it, please do! it was absolutely fantastic! I wasn't able to take photo in the performance of course but they allow us to pre starting. I think the whole of the theatre took this photo!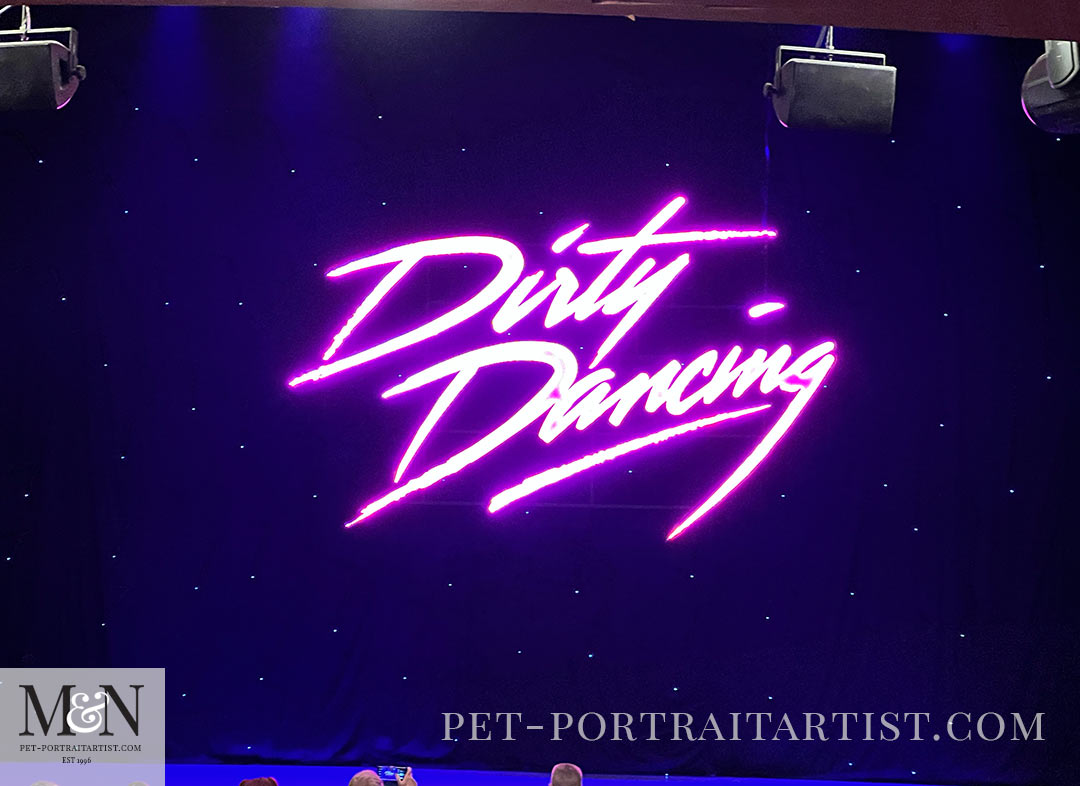 This view was just as we sat down. It was so true to the film, the actors were incredible. The singing, dancing and the musicians were simply amazing. I cant fault any of them and yes they did the lift at the end! They got a standing ovation.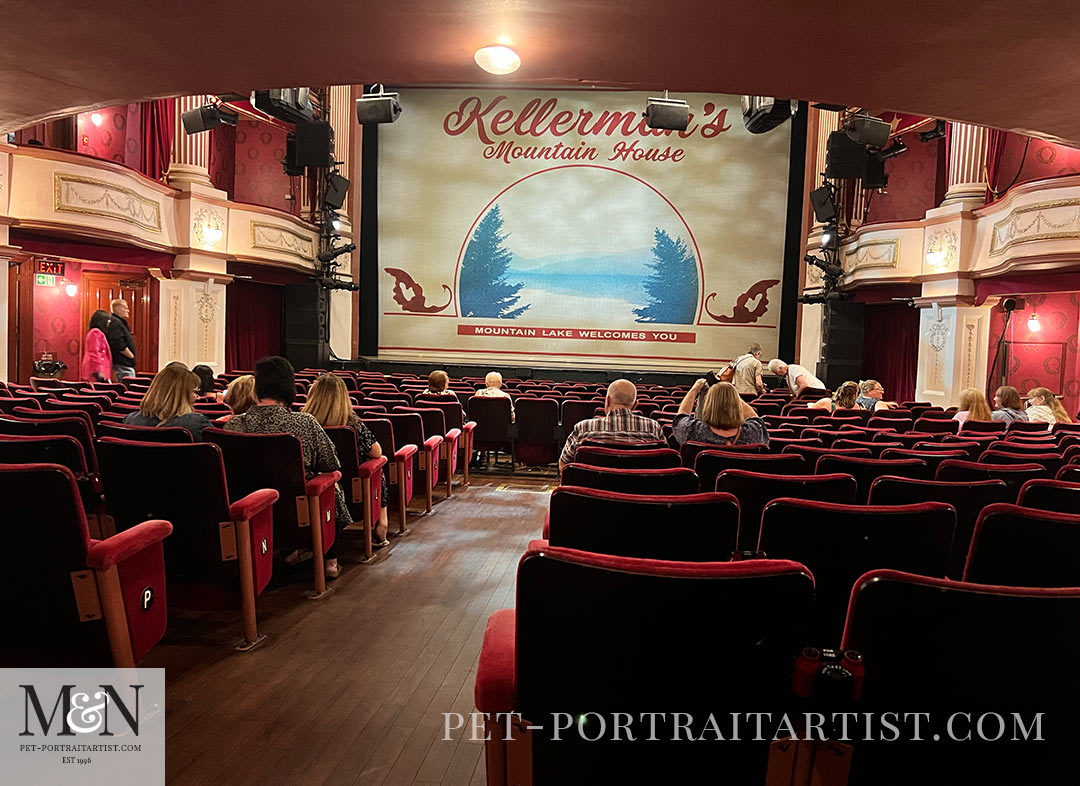 We had a meal prior to the show, Cardiff has such a pretty merry go round which we past on the way…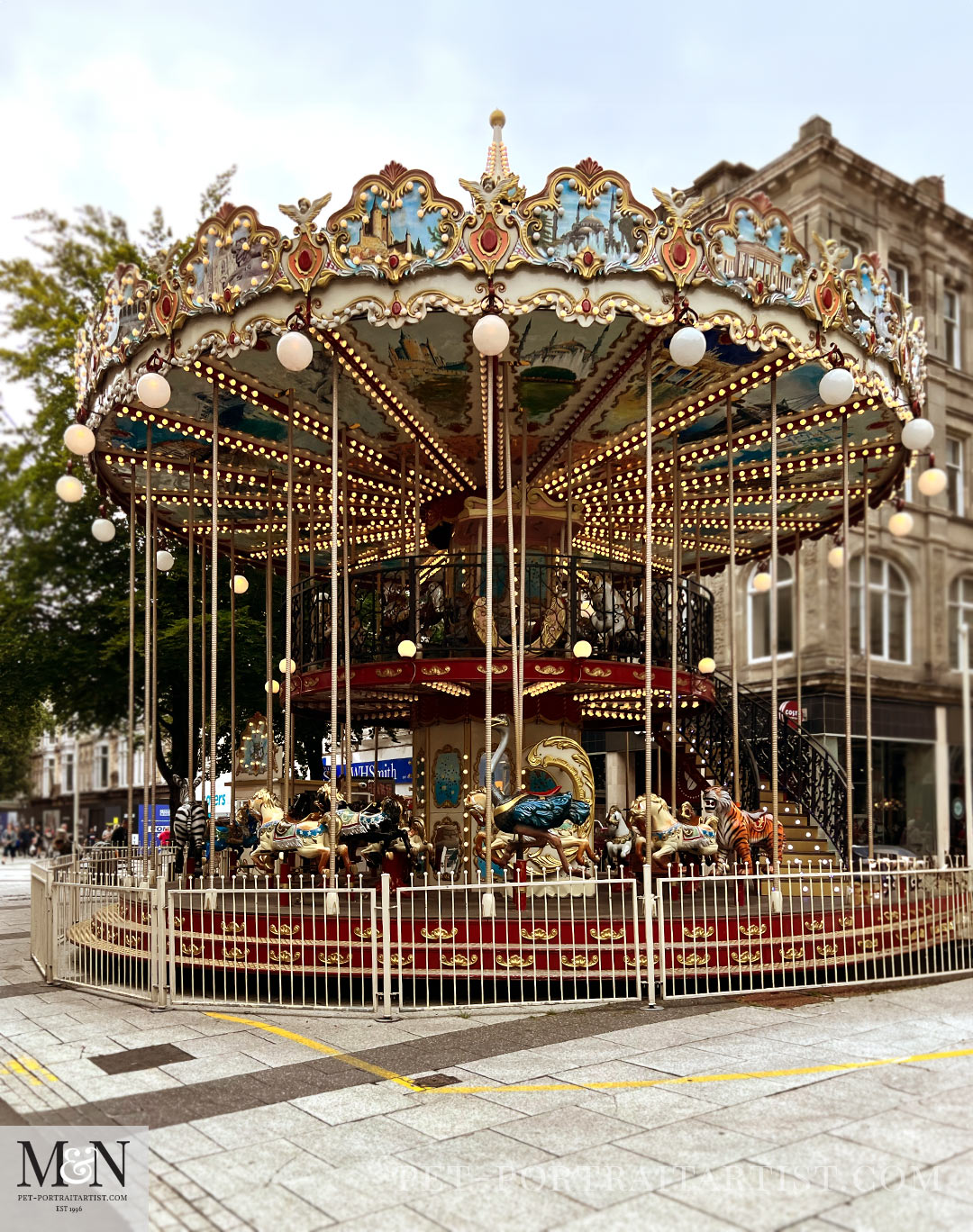 … and we filled ourselves in an Italian restaurant, finishing off with profiteroles. I know that there might be a theme running through this blog… but I do love my food! Again, simply delicious.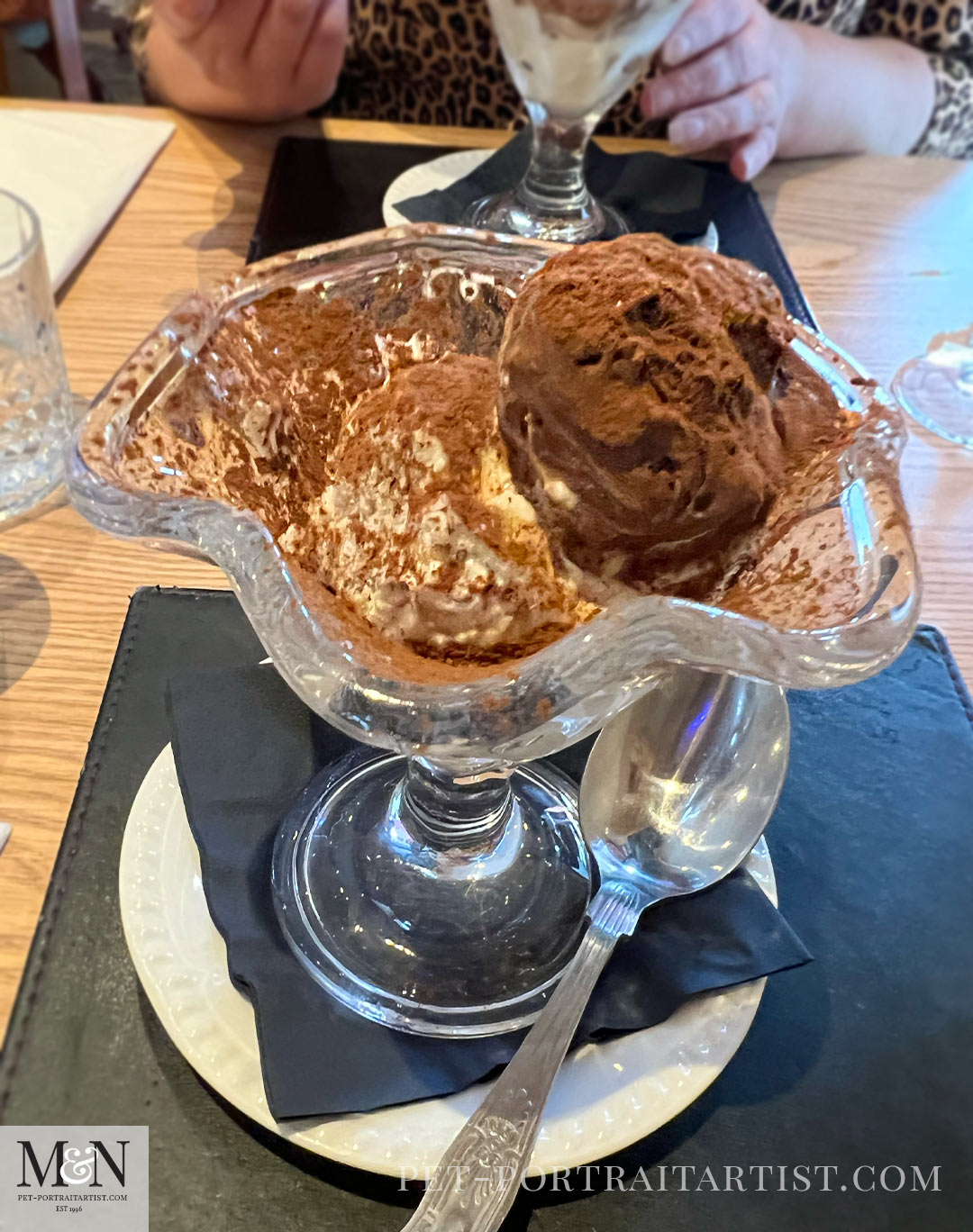 I really hope that you have enjoyed Melanies Monthly News in July. If you missed our antics and holiday video from last month, do pop over there and see it – Melanie's Monthly News in June. I will of course see all of you here next month, have a lovely August and keep well and keep safe!
Why not sign up to our Monthly newsletter accessible at the bottom of our website which comes out on the 1st of each month. Catch up on news from our Art Studio! Please don't forget to subscribe to our YouTube Channel too, follow our Instagram @petportraitartists and Facebook @petportraitartists . You are more than welcome to comment below too, we love hearing from our readers!

You May Also Like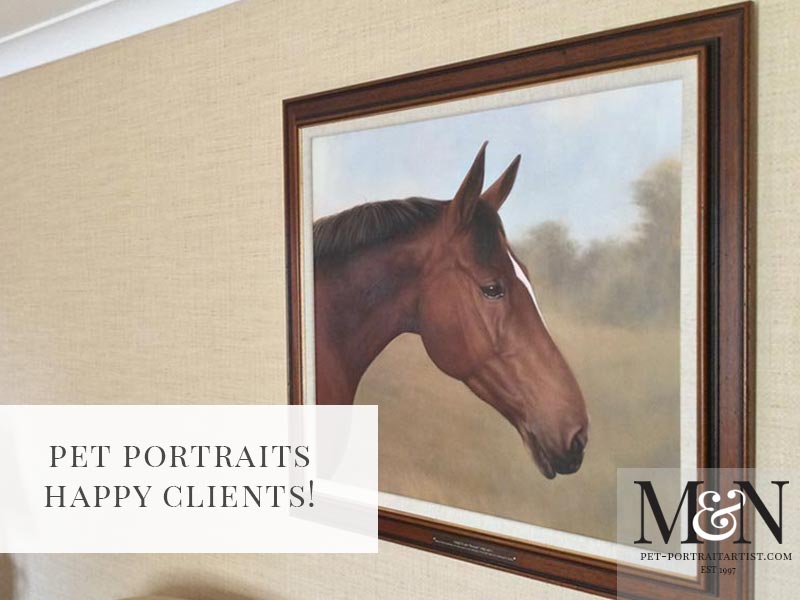 May 13, 2015
June 18, 2017
October 3, 2015