Welcome to my latest pencil pet portrait of Chloe! Returning client Bob commissioned the pencil pet portrait of Chloe. We have also actually met Bob and Jennifer! They came over to the UK visiting family and took a trip around Wales and came to see us. It was wonderful! They previously commissioned the oil portrait of Lance which you can see here – Oil Portrait. Bob commissioned Chloe as a surprise for Jennifer. He emailed when the portrait arrived…
Melanie,
Chloe arrived today a few days early. It was great because I don't leave until tomorrow for a trip. I surprised Jennifer tonight. She loves the drawing! She actually began to cry a little. It looks amazing. We've got Chloe sitting next to Lance on the mantle until the new house is finished.
Thank you so much!
Bob
I have added some photos of the portrait below with my pencils to help show the scale. I like to take a few photos of the portrait on angles so that clients can really get a feel as to how the drawing looks. Just in case they require any tweaks at the end. The portrait was a 15 x 13 inches drawing which of course is a bespoke size.
Pencil Pet Portrait of Chloe Framed
The drawing was also framed in a brand new moulding that we have called Warwick. It's beautiful and a really pretty colour, almost a green grey colour. Consequently it would match in many different home decor situations from traditional to contemporary.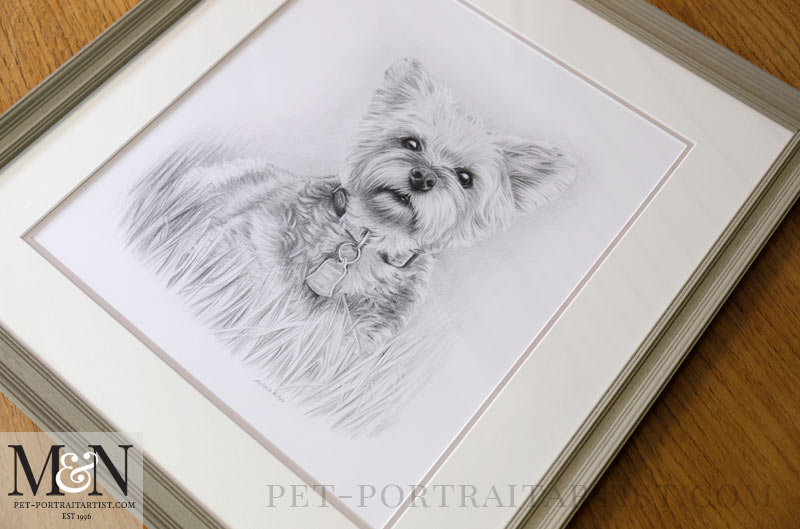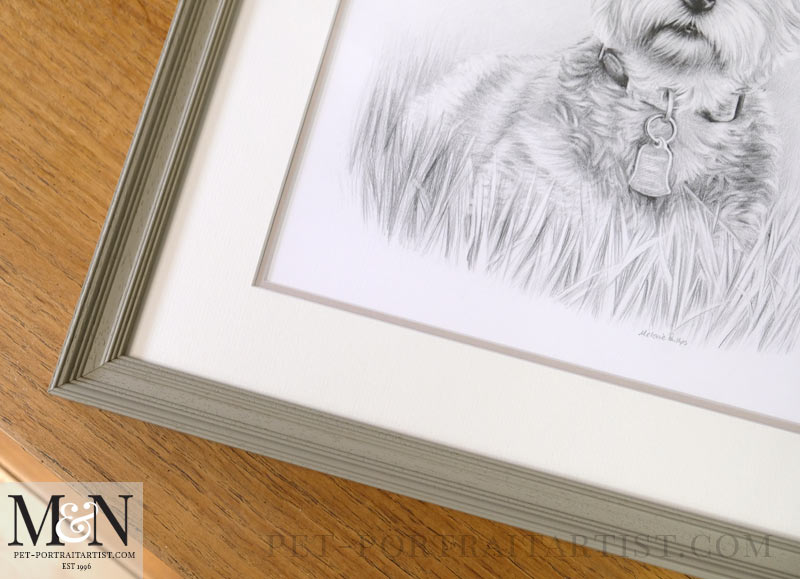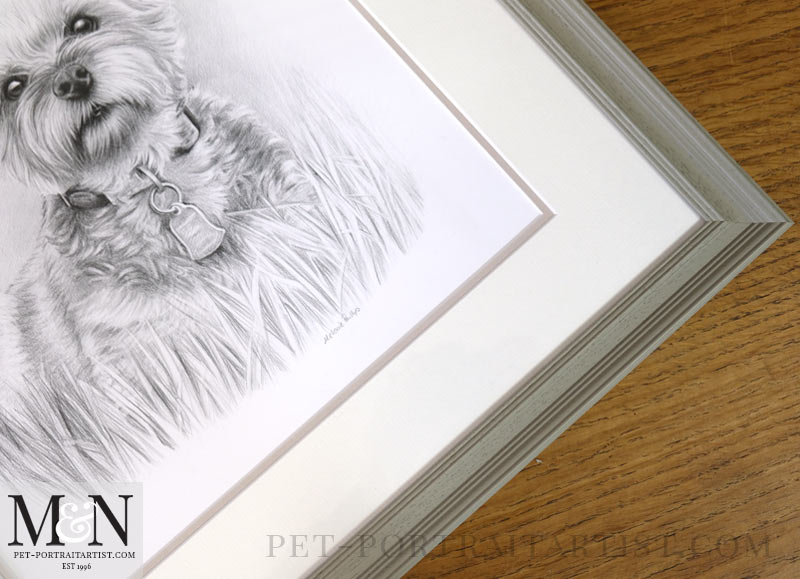 Finally, we hope that you have enjoyed viewing our Art Studio Blog. Why not sign up to our Monthly newsletter accessible at the bottom of our website which comes out on the 1st of each month. Consequently this means, you can catch up on all of the portrait stories and news from our Art Studio! Please don't forget to subscribe to our YouTube Channel too, share, like and follow our social media and you are more than welcome to comment below, we love hearing from our readers!