Dog Portraits – Beagle Oil Pet Portrait
February 17, 2014
Welcome to Dog Portraits – Beagle Oil Pet Portrait which is now completely finished. Christopher the Beagle passed away at the great age of 16. Owners Dwayne and Jo Floyd (USA) wanted to remember their Beagle every day by having an oil portrait of him for their family room in their home. Furthermore, they wanted their whole family to enjoy the painting as a lasting tribute to their Beagle. They also wanted something that they could pass down to their son too. We feel the oil painting has come out beautifully and Nicholas is thrilled that his clients are delighted!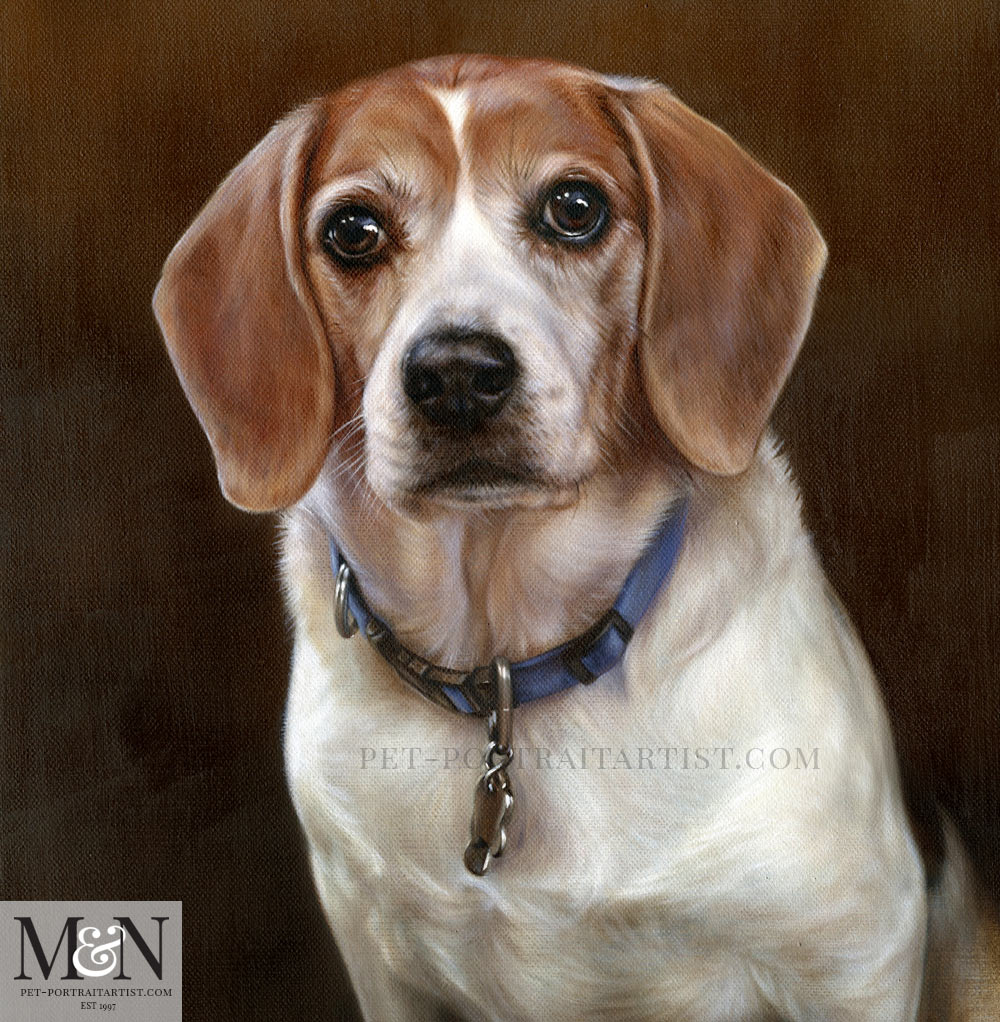 Dog Portraits – Beagle Oil Pet Portrait
Nicholas is a professionally trained artists studying realistic painting and drawing in the south of the UK for 4 years. Here he studied to paint wildlife, pets and flowers and also to be a professional illustrator. This high quality, bespoke tutoring gave him a superb grounding in 'how to paint' and 'how to draw'. Which is essential for creating paintings of dogs, particularly Beagles.
You can see in the Beagle oil portrait below, with his attentional to detail within Christopher' eyes and face. As a result this is a key feature in Nicholas's work. He paints important detail where required in the oil painting to create the realism and allows the paint and canvas to enable him to soften other important areas of the oil painting, therefore creating further realism. For instance, we don't want a sharp top line on the top of the Beagles head as we know that his head curves over the top. By allowing this area to be soft, it creates a feeling that the top of the Beagles head is receding into the background.
Perhaps this is something that perhaps a client looking for a dog portrait artist wouldn't necessarily pick op on. However when you look at the painting you will never question these areas – they are 'just right'. Ultimately this is why it is important for a client to choose a professionally trained dog portrait artist. Why not visit our website and view more photos, the oil portrait in progress then head on over to our dedicated page all about Christopher the Beagle. Read some lovely testimonials from owners Dwayne and Jo Floyd – Dog Portraits – Beagle Oil Pet Portrait.
Dog Portraits – Beagle Oil Pet Portrait Happy Clients
The portrait of Christopher arrived at its destination safely and our clients very kindly too some photos of the portrait when it was hanging in situ. Would you like a dog portrait painted of your beagle? All we need are a few good quality photographs. You are more than welcome to email them to us along with your ideas for a dog portrait. We will create you a mockup to show you how your portrait could look.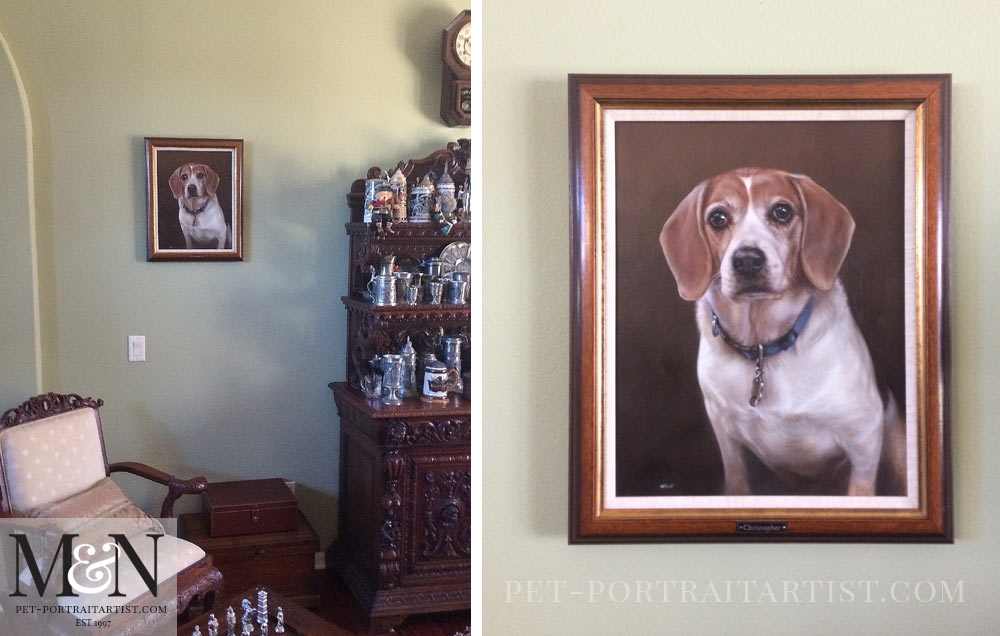 Beagle Pet Portrait Framed
Here is the beautiful painting all framed and ready to send to our cleints. We hope you like it!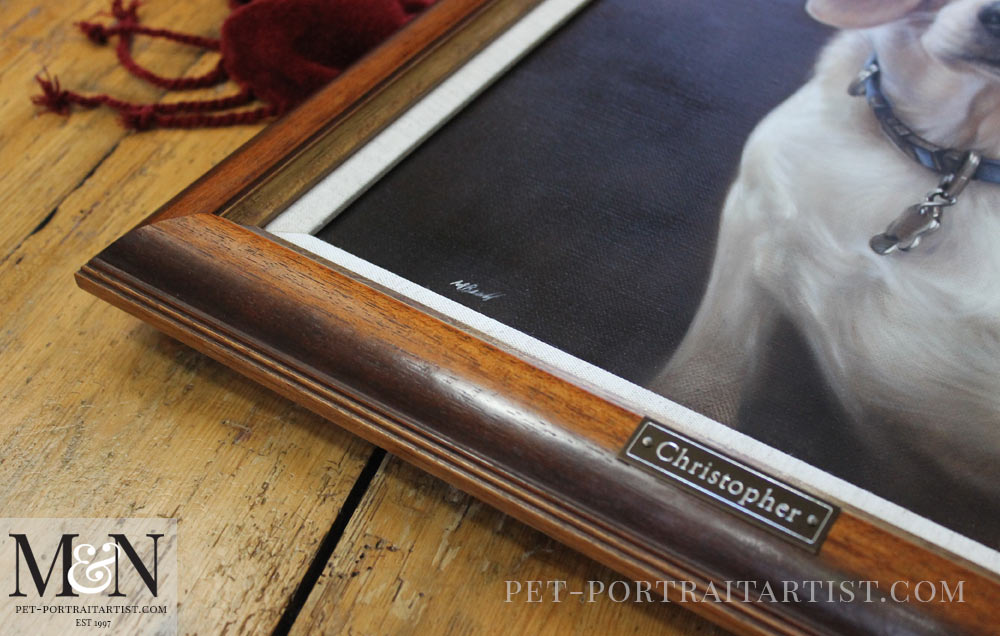 We hope that you have enjoyed viewing our Art Studio Blog. Why not sign up to our Monthly newsletter accessible at the bottom of our website which comes out on the 1st of each month. You can catch up on all of the portrait stories and news from our Art Studio! Please don't forget to subscribe to our Youtube Channel too, share, like and follow our social media and you are more than welcome to comment below, we love hearing from our readers!
You May Also Like
September 20, 2017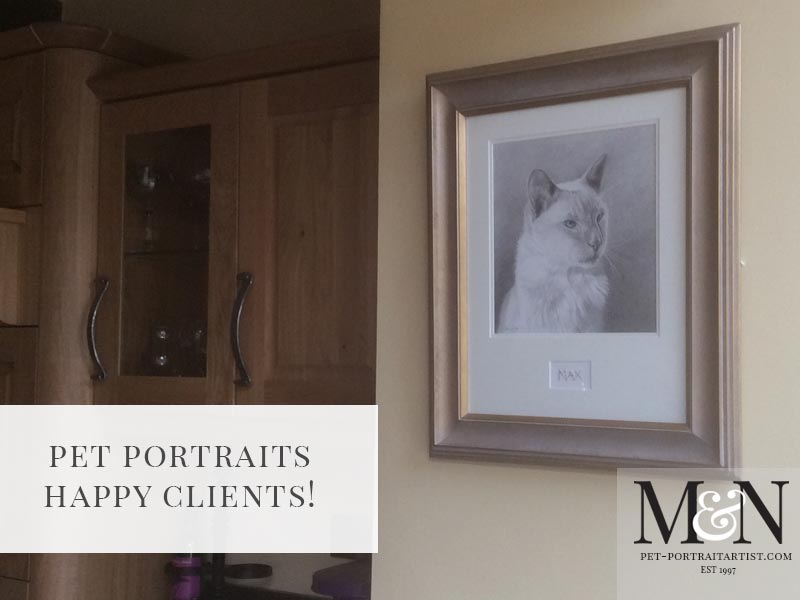 January 16, 2017
November 2, 2015