Horse Oil Portrait of Amosite
October 31, 2014
Here is the horse oil portrait of Amosite. Mark commissioned an oil painting of their horse Amosite, to give his wife as a birthday surprise. The oil painting is 20 x 16 and was painted in oils on linen canvas by Nicholas. I have collated below the final scan, the framed images and a few of the stages of the painting are below that. I have also added a video I took it just before I packed the portrait up. Mark sent a fantastic email when he saw the final scan.
Hi Guys
Wow! Looks great! I really think it captures the character of the horse & the alertness of her in the photo. Magic hands, Nicholas!
Thanks very much- my wife is going to love it!
Best Regards
Mark
Horse Oil Portrait of Amosite – Framed
The portrait was all ready to send to our client at this stage. The frame is our Gold dots frame which is now sadly discontinued, however we have plenty more frames for clients to choose form similar to this.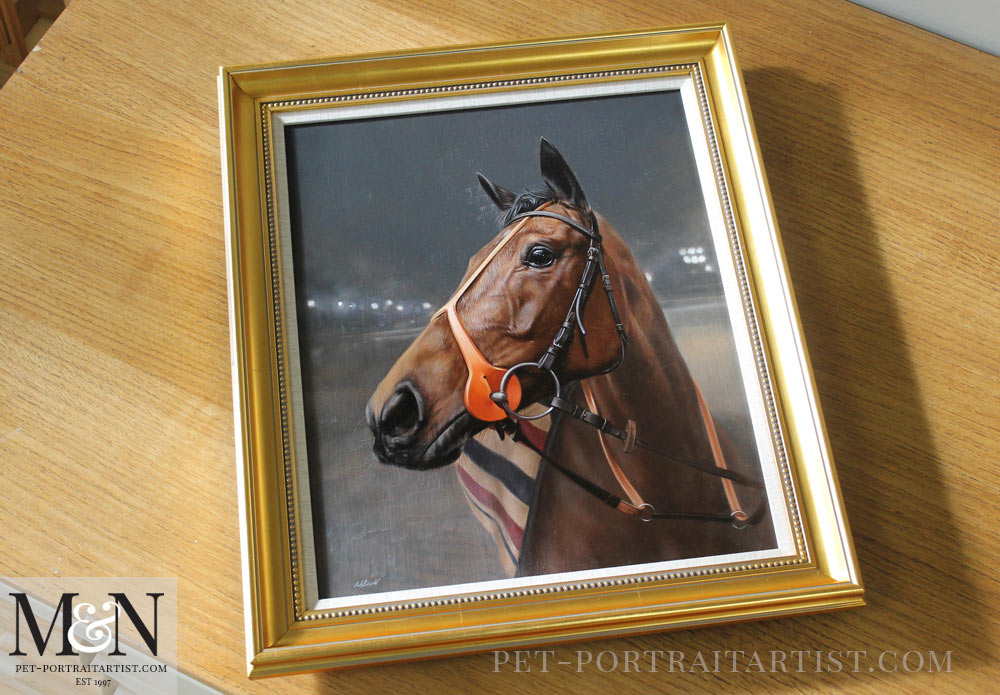 Horse Oil Portrait of Amosite – Video
I took some video of the portrait of Amosite just prior to packing it up and sending it on its way home to our clients.
Horse Oil Portrait of Amosite – Stages
All of our clients received the stages of their portrait via email. We then like to show a few here to help tell the story of the portrait. Also he often shows the scale of the paintings as Nicholas is usually working on them so you can see the scale of the painting too.
Finally we hope that you have enjoyed viewing our Art Studio Blog. Why not sign up to our Monthly newsletter accessible at the bottom of our website which comes out on the 1st of each month. Consequently this means you can catch up on all of the portrait stories and news from our Art Studio! Please don't forget to subscribe to our Youtube Channel too, share, like and follow our social media and you are more than welcome to comment below, we love hearing from our readers!
You May Also Like
March 31, 2022
September 20, 2017
February 18, 2016