Sheltie Pet Portrait
November 26, 2014
Here is the beautiful Sheltie Pet Portrait of Joey. Nicholas put the final touches to it yesterday and it was dry enough to scan this morning. The painting is an 18 x 14 oil on linen canvas. It has also been painted on our new brand of canvases that we are using. They are beautiful, high quality canvases and perfect for our bespoke pet portraits.
Sheltie Pet Portrait
Kimberly, based in the USA, commissioned the Sheltie Pet Portrait of Joey. She will be giving it as a surprise gift for her partner. Nicholas has pained a number of Shetland Sheepdog portraits over the years however this one is definitely our favourite. The deep dark tones of the background really allow Joey to stand out from the canvas. Nicholas has used a fairly limited pallet on the sheltie painting and kept everything very soft, hence the beautiful outcome of the painting.
Kimberly was thrilled with the portrait and emailed us when she saw the final scan which you can read below.
I've shown all stages to a couple of family members and friends. All are blown away by how beautiful it looks. Just wanted to share! Thanks! Kim
Kimberly has chosen to have the portrait of Joey framed using our Traditional Flat frame. We will have photos of the completed portrait here in the coming days for everyone to see. You can also check out Joeys Sheltie page on our dog pet portraits website.
Italian Linen Canvas for our Pet Portraits
Our pet portraits will last more than a lifetime. In fact many of our clients who order from us intend to hand them down through the generations.  Consequently the materials Nicholas used on this Shetland Sheepdog portrait, needed to be long lasting, archival and of extreme high quality. This is why we constantly try to source the best materials available to us here in the UK.
Harris Moore hand make the new canvas we are sourcing here in the UK. Using high quality extra wide stretcher bars, we have opted for the Professional Artists Canvas range. The hardwood, which is Tulipwood, is perfect for the stretchers. So, as a result this gives the canvas strength and solidity – you definitely know you are holding them due to the weight. In addition, they use the best Italian linen and are 25mm deep. They are extremely good quality and lovely to paint on as you can see.
Consequently, we will be using the new canvas for all future paintings. It will be available to all of our clients.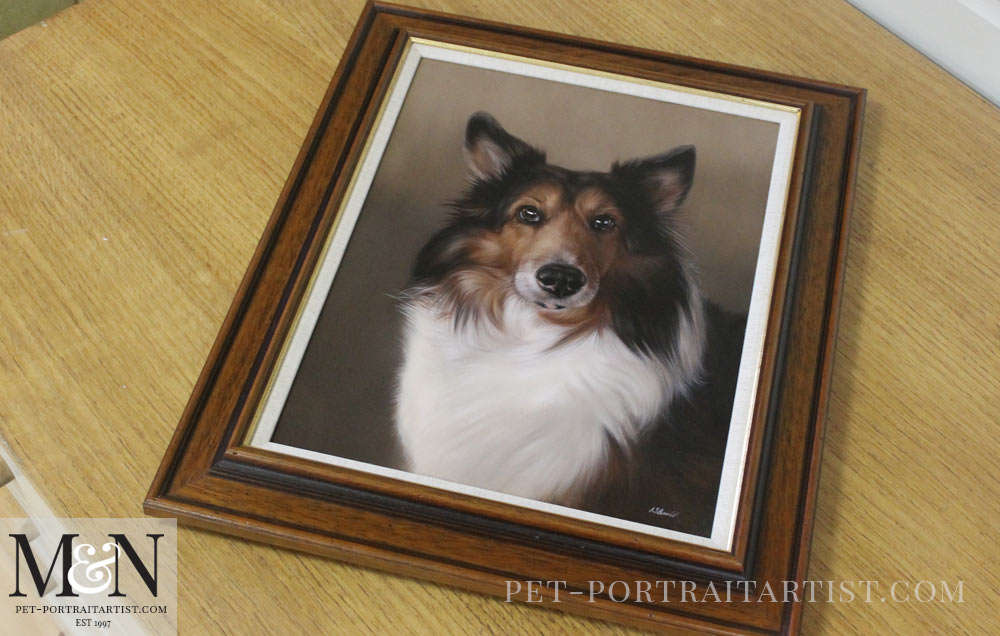 Shetland Sheepdogs (Shelties) – Portrait of Joey below.
Here are the final photos of Joeys portrait framed and the close up photos of Nicks hand on the portrait to give scale. Joey's portrait was an 18 x 14 oil on canvas and it was the first time Nick had used the amazing new canvas we have found, such beautiful quality and the hardwood (tulipwood) is superb. The portrait was then framed by our lovely framer Jane in the Traditional Flat frame with a wheat inner linen slip. The cream colour of the slip really brings out the lighter tones in Joeys coat.
I have already added Joey to our website along with the in 'Up close and detailed' photos and the video too 🙂 Joey is on his journey now to the recipient in the US and we hope that it will be a lovely surprise this christmas.
We hope that you have enjoyed viewing our Art Studio Blog. Why not sign up to our Monthly newsletter accessible at the bottom of our website which comes out on the 1st of each month. You can catch up on all of the portrait stories and news from our Art Studio! Please don't forget to subscribe to our Youtube Channel too, share, like and follow our social media and you are more than welcome to comment below, we love hearing from our readers!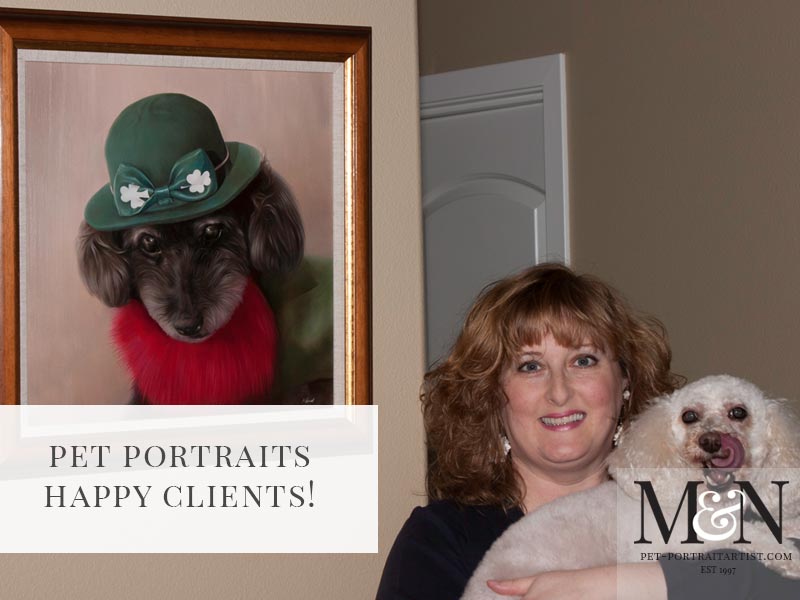 You May Also Like
December 6, 2018
March 31, 2022
December 23, 2017