Horse Oil Portrait of Schnapps
December 14, 2014
Here is the Horse Oil Portrait of Schnapps! Iain got in tough as you can read from the email below asking if they could commission a portrait of their stunning horse Schnapps who sadly they lost the previous year.
Hello – we are looking to have an Oil Portrait commissioned of a beloved horse which we lost last year. Unfortunately and as is often the case we do no have any really high quality close up photos of her. We have plenty of distance shots of her in competition but few without tack. She was always very full of herself and would show off her paces even whilst out on a hack – why just trot when you can extend?
My wife would like the portrait of her shown without tack against a neutral background.
Regards,
Iain
Iain and his wife initially wanted the portrait of their horse without tack. However sadly when they sent all of the photos they had, none of the ones without tack were suitable. It is extremely difficult to remove tack when painting or drawing. As soon as you start changing things, there is a possibility the artwork can move away from 'your horse' and not feel right or structured.
This is imporant when a horse is wearing wearing tack as to the position of the mouth, to when the tack is removed. There are changes in the structure of the face, only slight, but its there. So in this instance, without other reference, we were unable to create a portrait without tack. The photo that they loved however, the one Nicholas used as reference, was a wonderful photo and perfect for a portrait. It was a good compromise I think and I hope you all agree too.
Horse Oil Portrait of Schnapps
The portrait was a 16 x 12  oil painting, traditionally painted by Nicholas. It was also framed and you can see photos below. Iain emailed us a beautiful email when the oil painting arrived home to them…
Hi Melanie and Nicholas,
She arrived safe and sound, has been hung and looks beautiful thank you. Maybe a little emotional when she emerged from the bubble wrap. We might be in touch with a view to having one of your pencil drawings of Molly (dog we lost a couple of years ago) commissioned in the New Year.
Regards,
Iain
Here are the close up photos of Schnapps along with photos of her framed! She looked beautiful here in the studio. Framed in the Subtle bronze with inner linen slip, this really bought out her white blaze. We hope that you like her!
We hope that you have enjoyed viewing our Art Studio Blog. Why not sign up to our Monthly newsletter accessible at the bottom of our website which comes out on the 1st of each month. You can catch up on all of the portrait stories and news from our Art Studio! Please don't forget to subscribe to our Youtube Channel too, share, like and follow our social media and you are more than welcome to comment below, we love hearing from our readers!
You May Also Like
November 30, 2014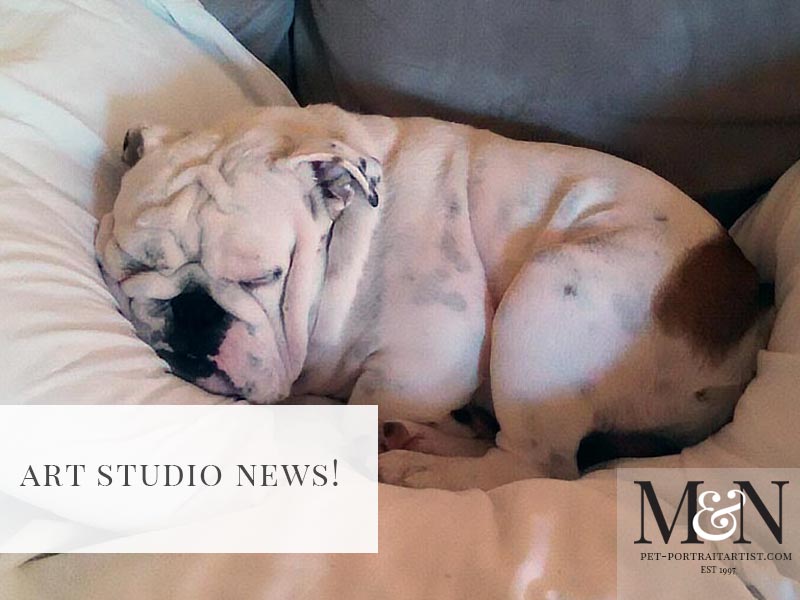 August 12, 2015
January 9, 2017