Pencil Drawing of Bea
January 23, 2015
Welcome to my Pencil Drawing of Bea. Elizabeth emailed me along with beautiful photos of Bea, their families black labrador. Elizabeth wanted to commissioned a pencil portrait of Be a for her husbands birthday. I was delighted and the photo was perfect for a portrait.
I drew Bea at 12 x 10 inches which was the perfect size for her.  In addition, I have added not only a final scan below, but also photos of the drawing when complete.
If you would like to see a photo of Bea with her portrait head on over to our dedicated page Bea's Portrait. You can also read a lovely testimonial from Elizabeth too!
Pencil Drawing of Bea – Photos
I find that taking photos of my portraits, shows them much closer to the original artwork. As you can see form the photos below it gives a much softer feel which is more how they look in real life. I add a few of my pencils along side them to show scale. I hope you enjoy viewing the photos of beads pencil drawing.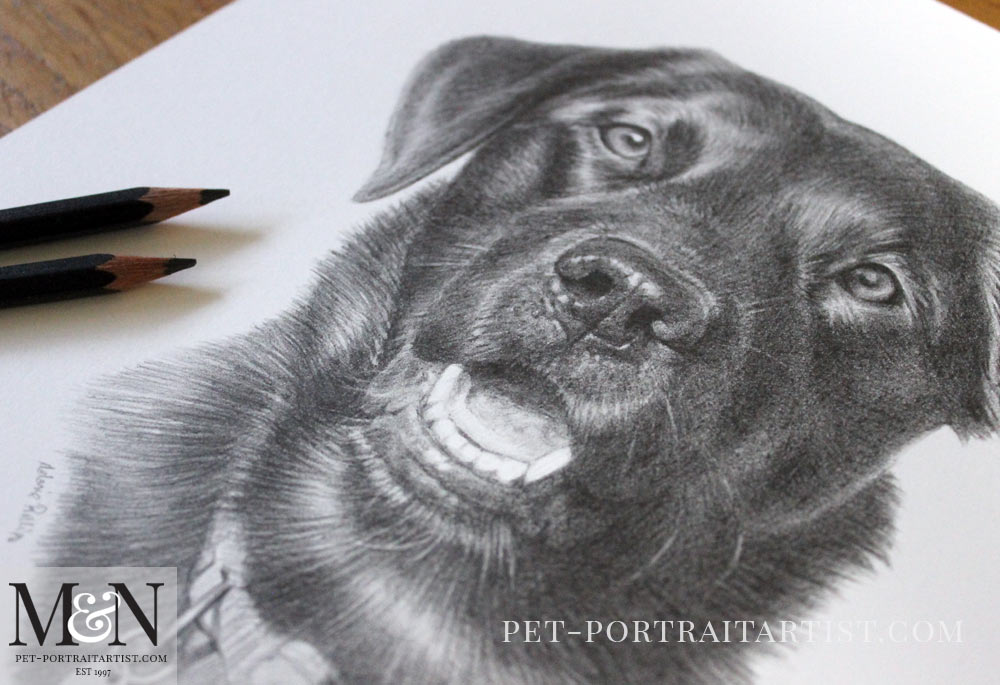 Finally, we hope that you have enjoyed viewing our Art Studio Blog. Why not sign up to our Monthly newsletter accessible at the bottom of our website which comes out on the 1st of each month. You can catch up on all of the portrait stories and news from our Art Studio! Please don't forget to subscribe to our Youtube Channel too, share, like and follow our social media and you are more than welcome to comment below, we love hearing from our readers!
You May Also Like
October 29, 2018
March 8, 2014
November 14, 2018