Oil Pet Portrait of Boomer
March 25, 2015
Welcome to our Oil Pet Portraits – Dog Portraits Oil painting of Boomer. The oil painting of Boomer was traditionally hand painted by Nicholas Beall on professionally stretched gallery wrapped linen canvas.
Oil Pet Portraits – Dog Portraits Oil
It took a while to scan the oil painting as Boomer is a large portrait of 24 x 18 inches in size in oil on linen canvas. We can our oil paintings using an iMac and an Epson Scanner, and then use Photoshop for all of our photo editing. It is really very easy to use once you know your way around and we would thoroughly recommend using it. Thankfully it helps tremendously when scanning in large oil paintings like Boomers.
Close up of the Pet Portrait
I have also added a couple of close up photos of Nicholas' hand on the pet portrait to help give the oil painting scale. We have a dedicated gallery on our dog portraits website for the detail photos of our oil paintings. It is a very popular area of our website and we hope you enjoy viewing them. You can find it here dog portraits in detail. The can show the paintings detail really well. Although you wouldn't normally be standing or sitting this close to an oil painting, its walls great to be able to go right up close to take a peak at the detail. This is what we like our website and blog visitors to be able to see through these photos, as of course only the recipients of the paintings will be able to see them that close.
About our Oil Pet Portraits – Dog Portraits Oil
If you would like Nicholas to paint an oil pet portrait of your dog, you are more than welcome to email us. Nicholas works full time on his oil paintings and is dedicated to his craft. Clients commission him to paint dogs from all around the world. As you can see from the oil portrait of Boomer, his paintings are not just a copy of a photograph. They are much more than that. A work of art that truly captures the spirit of your dog.
Why not email your photos and ideas to us today and we can chat about your requirements. If you wish to subscribe to our newsletter, don't forget you can do so on every page of our website. We look forward to hearing from you soon!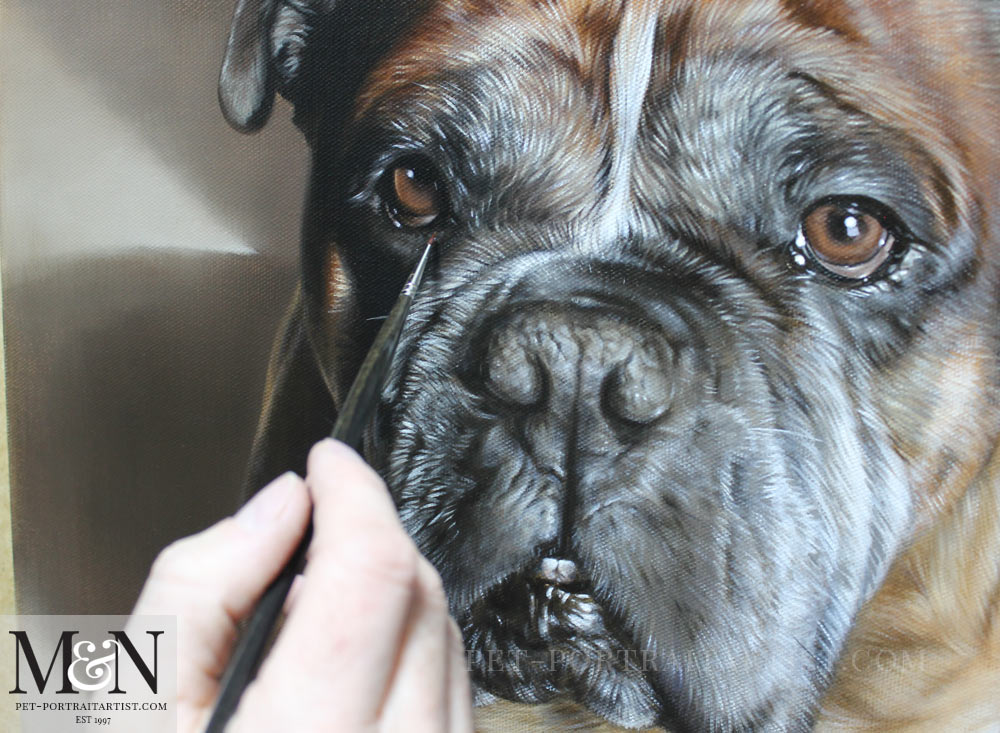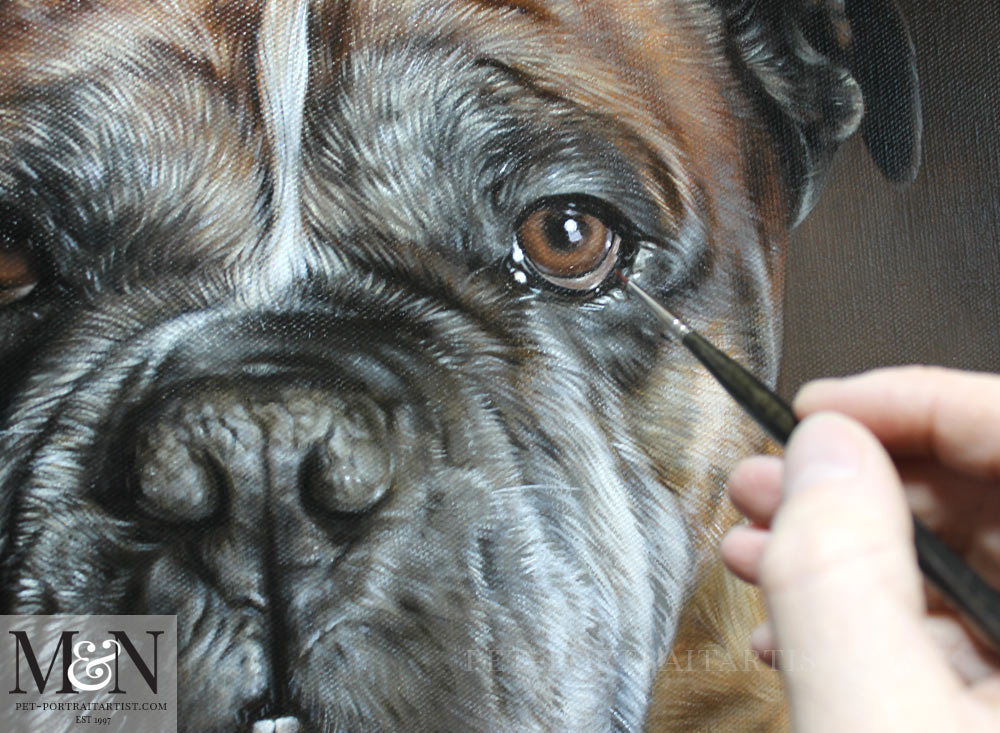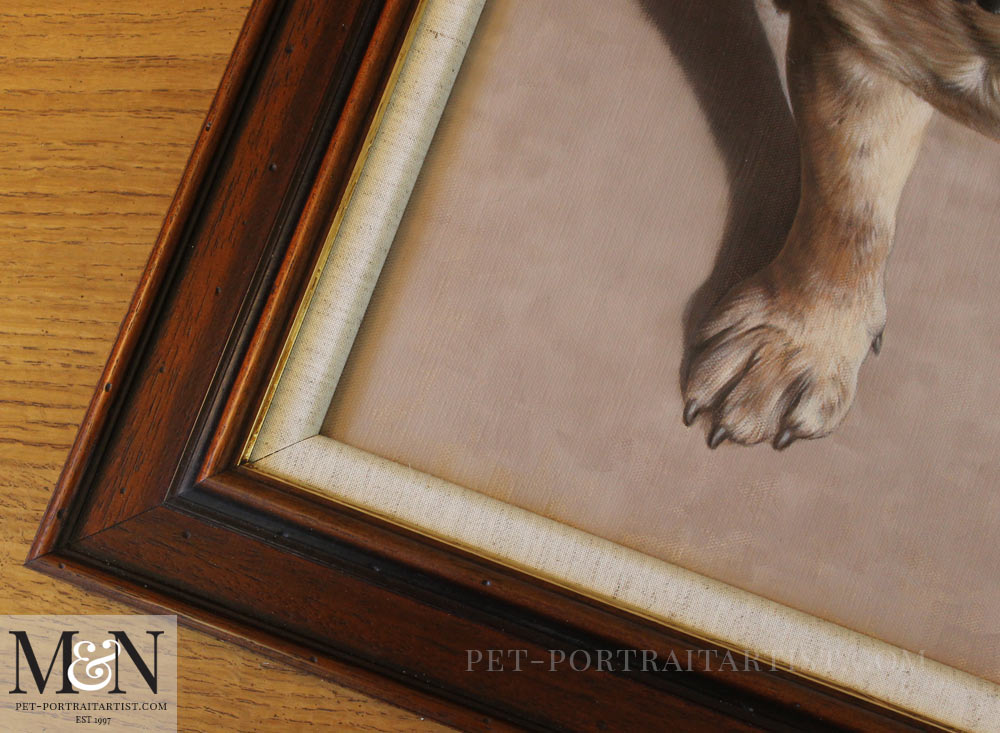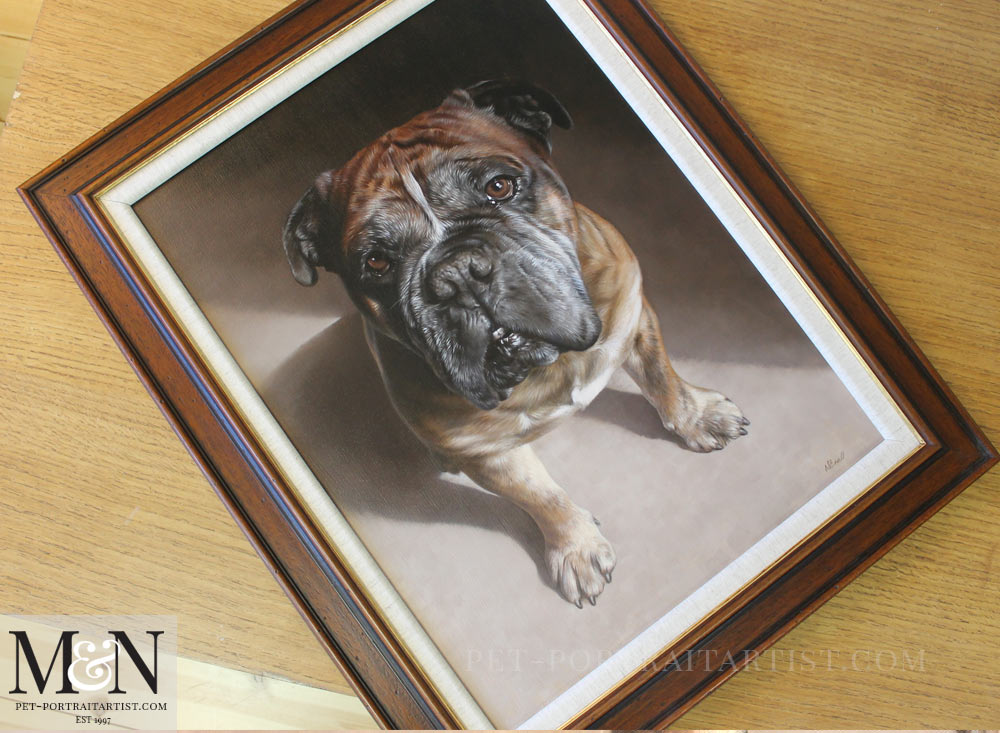 Boomers portrait is framed and has all been packed and sent, its heading off to Canada as we speak. I took some photos and video of the painting before we packed it up and here are the photos, some of which i have added to the framing page and Boomers webpage too.
Boomers portrait is a 24 x 18 oil on Italian Linen canvas on a hardwood, tulipwood stretcher. The frame is our Traditional Flat frame with an inner linen slip.
Are you enjoying our blog? Why not sign up to our Melanie's Monthly News, which comes right into your inbox each month! You can sign up at the bottom of our website or at the top of the blog. Please don't forget to subscribe to our YouTube Channel too. You are more than welcome to comment below, we love hearing from our readers!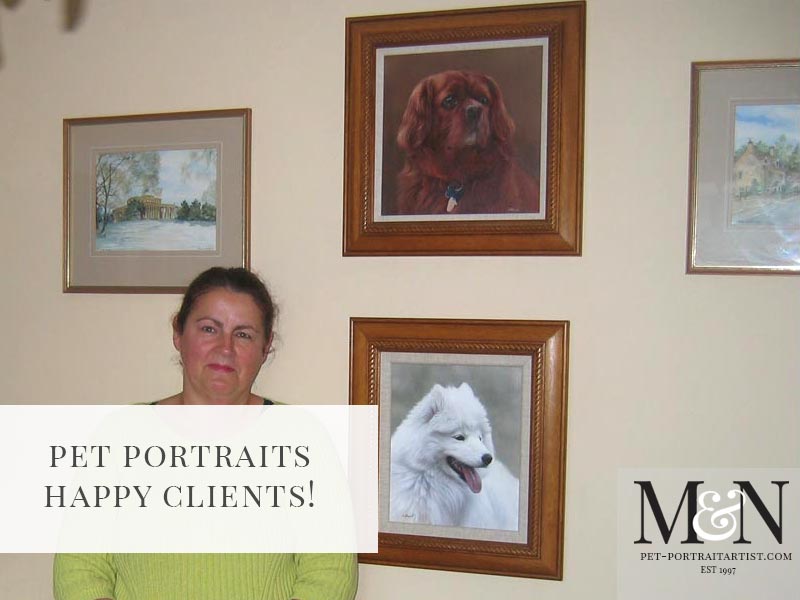 You May Also Like
May 4, 2019
November 1, 2017
January 17, 2017