Dog Oil Portrait of Maggie and Max
September 11, 2015
Welcome to the Dog Oil Portrait of Maggie and Max. We received this wonderful initial email form Kevin, which laid out his requirements extremely well. We love it when clients have an idea of the kind of portrait they would like. It gives us a much better idea as to how to create a design for them upon our reply.
Melanie and Nicholas,
First off, your work is spectacular, and beautiful. I am committed to having an oil portrait done of our dogs for my wife's 50th birthday. I am interested in the 16 x 12 oil size. Also I want to ensure that will be a landscape orientation, and not a portrait orientation. It would be for two dogs, so landscape would be preferred, as I believe you would agree. Also, will the work be completed by early December of this year. I plan to have it delivered to my home, which is in Pennsylvania, in the United States. Please let me know how quickly I need to act. I do also plan to have this framed using your framing partner. I've attached several photos, the first of which is probably the basic pose or idea for a pose, that I would like. I also have several others to help provide multiple angles and colors to which to work from.  As I'm sure you hear often from your clients, I believe this will bring such joy to my wife, as our dogs are getting older now.
Best Regards,
Kevin
There wasn't one single photo that was perfect for a portrait, however Kevin emailed lots of photos of the dogs. So I set about the task of amalgamating photos to create a scene so that Nicholas could work from one design when painting. We used two photos for the dogs, another for extra reference for the sofa and the windows behind.
Nicholas has spend a lot of time not only on the dogs, but on the background too, getting the correct tones and colours. This helps to create a very natural feel to the room with the light pouring through the window. I love the way the dogs are looking out of the scene. Keeping their eye on everything around them but in a very relaxed way.
I have not only added the final scan below, but also a photo of the portrait on Nicholas' easel as it really shows off the portrait well. Kevin and his family were thrilled with the portrait and you can see a lovely photo of them all with the portrait on our blog post here – Happy Pet Portrait Clients. We hope you like  the dog oil portrait of Maggie and Max too!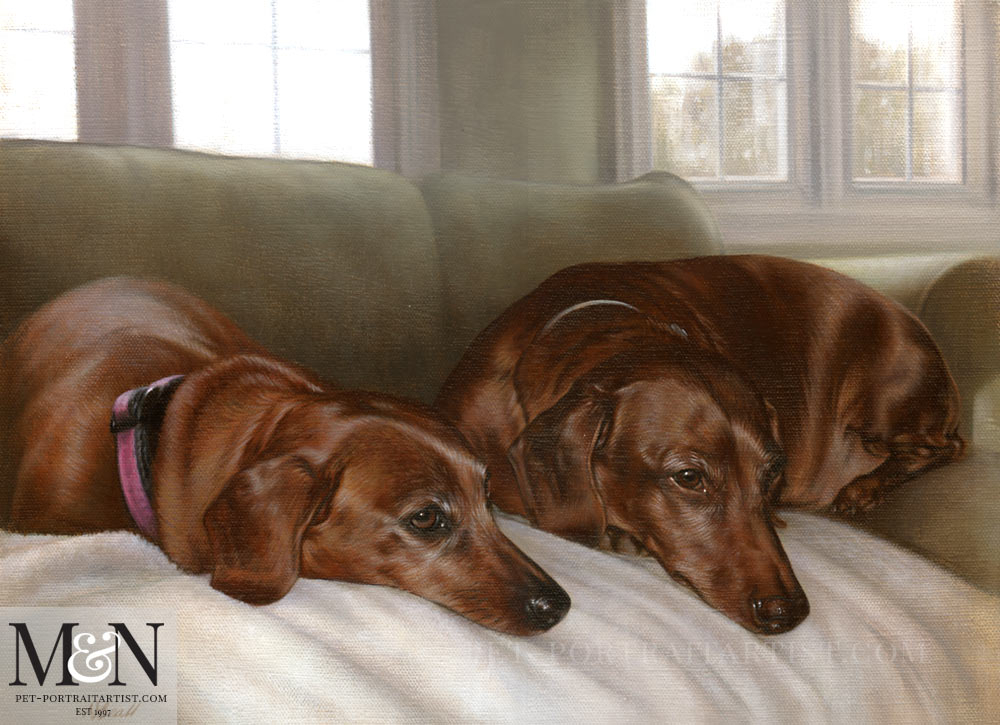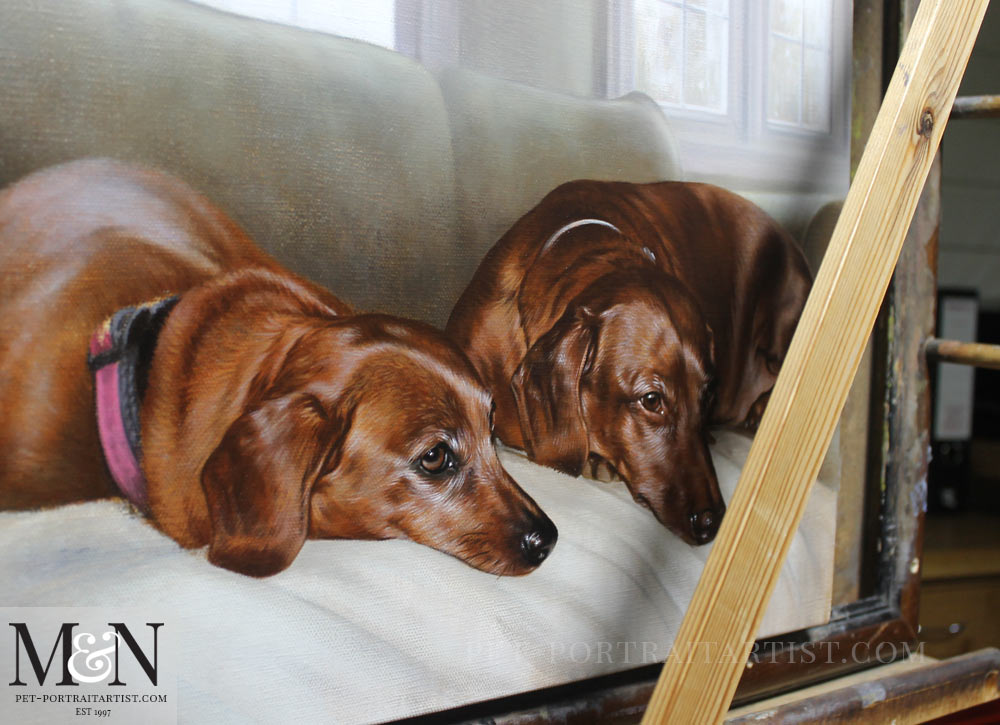 Dog Oil Portrait of Maggie and Max – Framed
Here are photos of Maggie and Max as promised. They look so serene within the painting and the colour of the frame works beautifully with their coats. The frame is our Traditional Flat frame and you can find it on our website in our Framing Gallery Oils section along with many other frames available!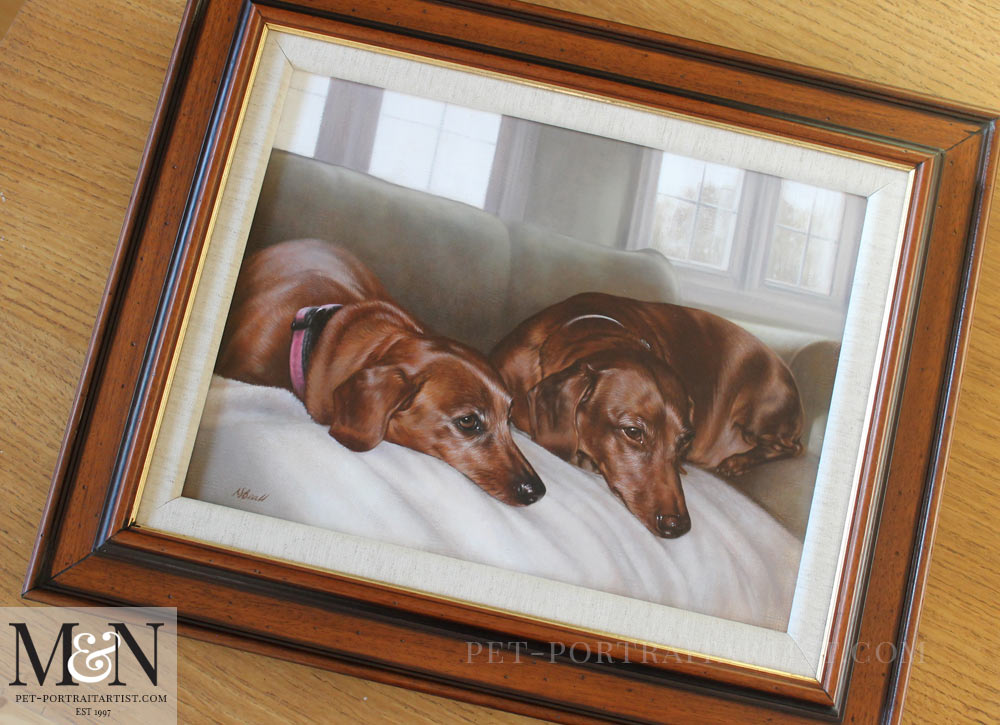 We hope that you have enjoyed viewing our Art Studio Blog. Why not sign up to our Monthly newsletter accessible at the bottom of our website which comes out on the 1st of each month. You can catch up on all of the portrait stories and news from our Art Studio! Please don't forget to subscribe to our Youtube Channel too, share, like and follow our social media and you are more than welcome to comment below, we love hearing from our readers!
You May Also Like
January 18, 2017
January 30, 2022
May 4, 2019