Oil Dog Portrait of Zizou, Gingko & Rover
October 20, 2015
Welcome to the Oil Dog Portrait of Zizou, Gingko & Rover. Nicholas completed a stunning painting at 30 x 24 in oils on Italian Linen canvas late last year. The dogs are Rover, (grandfather now deceased), Zizou, 8yrs (son of Rover and uncle of Gingko) and finally Gingko, 3yrs, (grandson of Rover and nephew of Zizou). All are working gundogs of a very high standard. Rover has produced several Field Trial Champions including the Champions of France and Belgium.
Nicholas was commissioned to paint all three dogs in their back garden in November last year. John had some lovely photos of the dogs sitting in dappled sunshine in his garden. They were perfect for a portrait. He also had one particular photo he wanted us to use showing the bridge, pampas grass and the seating area.
We framed the portrait for John using the bespoke hand made swept frames that we commission a framing company to make especially for our clients and it worked really well with the colours in the painting.
I haven't been able to scan this painting due to its size, however I have taken some high resolution photos today which work well for the blog and website. The photo below is perhaps a little less intense colour wise than the original painting, however it should give our readers a good overview of what the painting is like.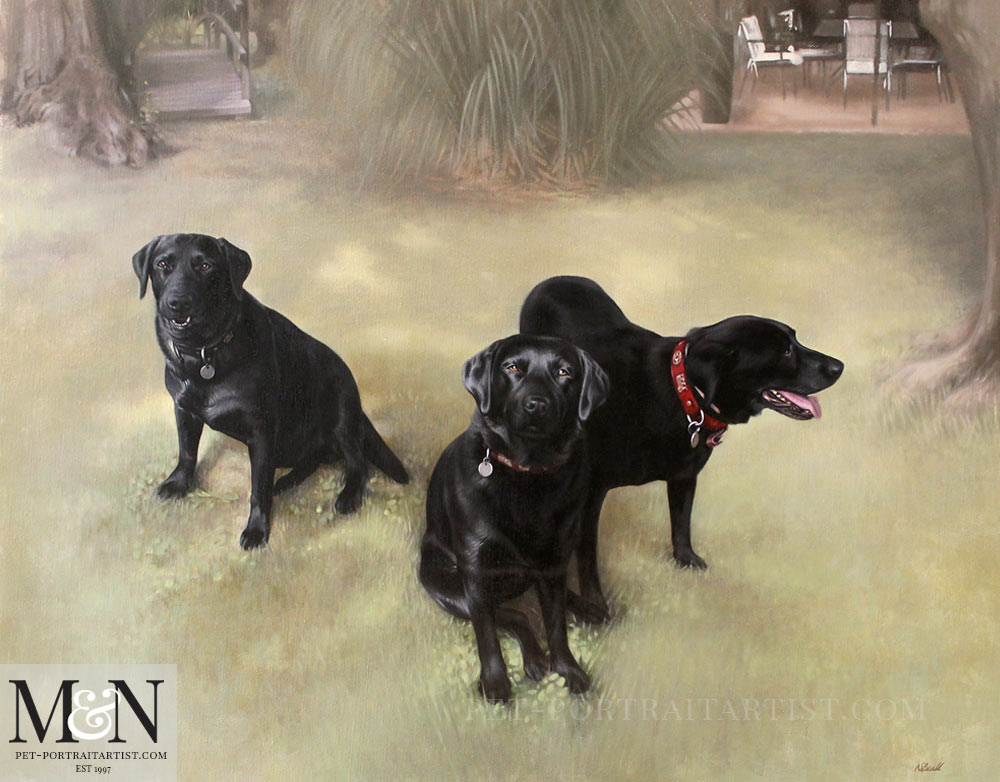 Oil Dog Portrait of Zizou, Gingko & Rover – Framed
Here is the painting of Zizou, Ginko and Rover framed in our Knightsbridge Gold Frame . It is stunning in every way and for the painting of Zizou, Gingko & Rover it works incredibly well. Particularly with the green grass tones within the painting. The grass and the frame seem to shimmer due to the dappled light Nicholas has painted. We are hoping it will look beautiful displayed in our clients home.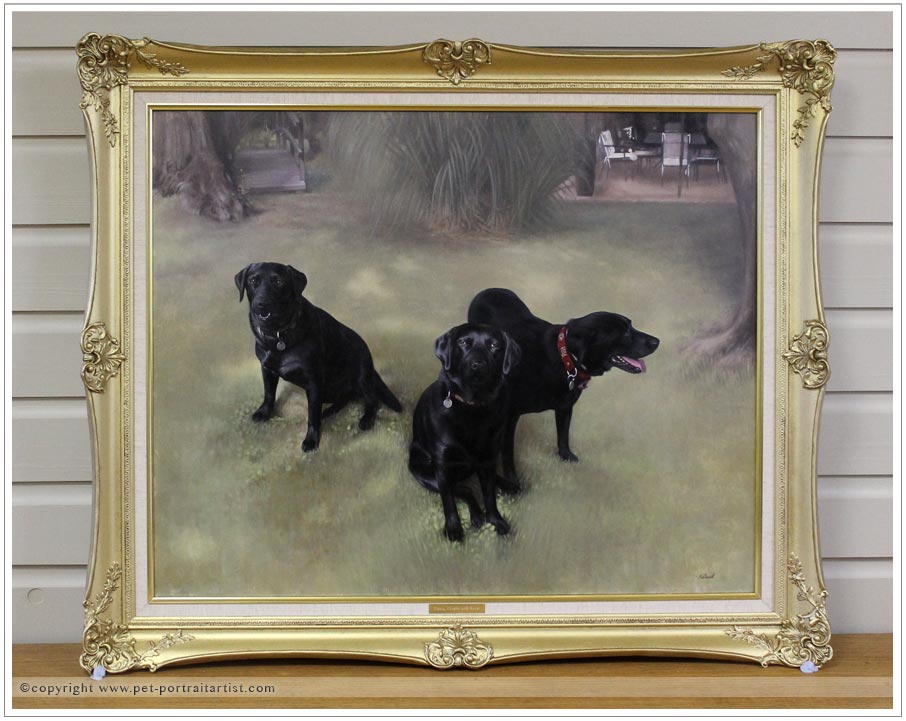 Oil Dog Portrait of Zizou, Gingko & Rover – Happy Clients
John emailed us some fantastic photos of when the painting was displayed in their home in Switzerland. They sent us a lovely email which you can read below. We think that the frame works beautifully with the wooden walls. We just love the gong too!
Dear Melanie,
Here is the painting hung in our Swiss home. Everyone in the family loves it and many of our friends love it too.
Big thank you to you and Nicholas
Best wishes
John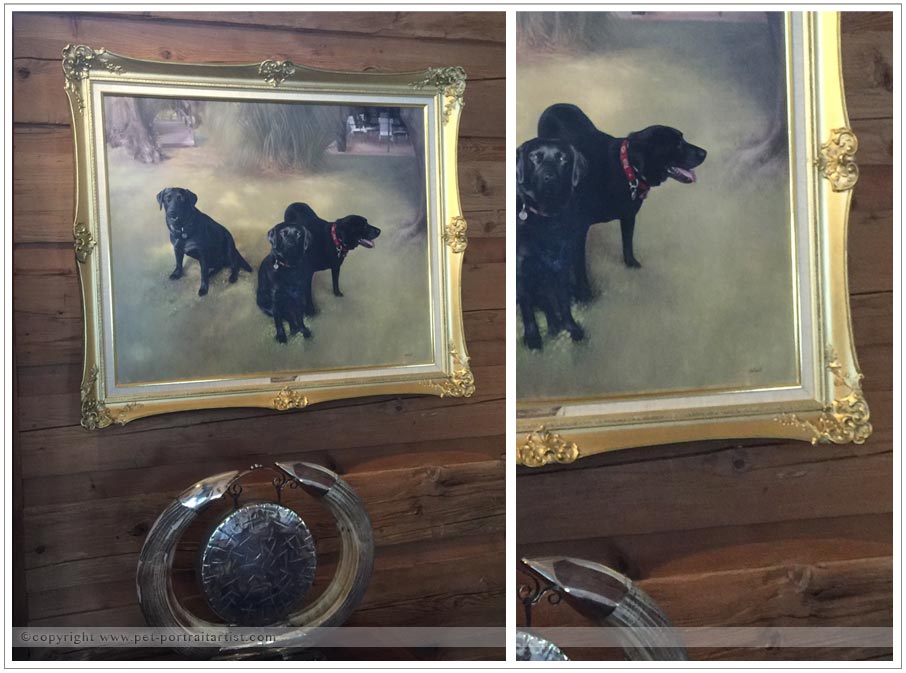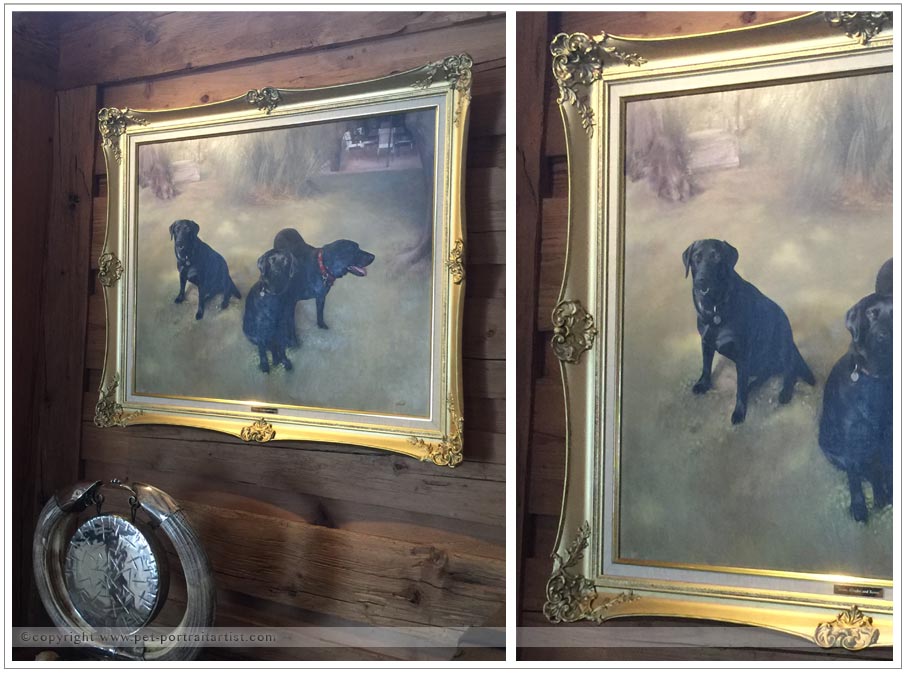 We hope that you have enjoyed viewing our Art Studio Blog. Why not sign up to our Monthly newsletter accessible at the bottom of our website which comes out on the 1st of each month. You can catch up on all of the portrait stories and news from our Art Studio! Please don't forget to subscribe to our Youtube Channel too, share, like and follow our social media and you are more than welcome to comment below, we love hearing from our readers!
You May Also Like
August 7, 2016
January 28, 2019
June 5, 2014