Dachshund Pencil Portraits
July 20, 2016
Welcome to my latest Dachshund pencil portraits. Its funny how things are with the animals we paint and draw. This year we had two 'Gypsy's' in a row – a horse and a dog. Now we have two Lily's in a row, a painting and a drawing!
This is Lily the Dachshund and I drew her a few months ago as a surprise birthday present. Sue rang me from London enquiring about my Dachshund Pencil Portraits. She had emailed a range of photos for me to see. One particualr photo was perfect and captured Lily well, however Lily was laying on Sue's daughter, Josephine. Lily loved to be covered up with her blanket laying in her bed, so I drew Lily under her favourite paw patterned blanket and made it look as though lily was laying in her bed instead of on Josephine.
Dachshund Pencil Portraits – Photo
The portrait photographed with my pencils to show viewers scale.
Dachshund Pencil Portraits – Happy Clients!
Sue rang me here in the studio as soon as the portrait was delivered. Josephine was arriving the following day and it was to be presented to her then. Sue very kindly took a photo of Lily with her portrait once it was presented to Josephine! I love seeing photos of  the pets with our portraits, as a result it really makes me smile.
Hi Melanie,
A great success lily loves it and so does Josephine.
Sue
Dachshund Pencil Portraits – Framing
Finally our lovely framer Amanda framed the portrait of Lily. Sue requested a silver coloured frame and we offered the choice of 6 different mouldings. Three widths in two different silver colours, a lighter silver and a darker pewter. We all agreed that the pewter version would work really well with Lily and we also opted for the medium width version of the frame. It's called Allerton Pewter and you can see it in my framing gallery on my website.
Amanda used the Hayseed cream coloured mount along with a Pale Grey inner mount which really adds a special touch to the frame.  It is a beautiful frame, in different light it shines in varying tones and colours which you can see in the close up photo of the framed portrait below.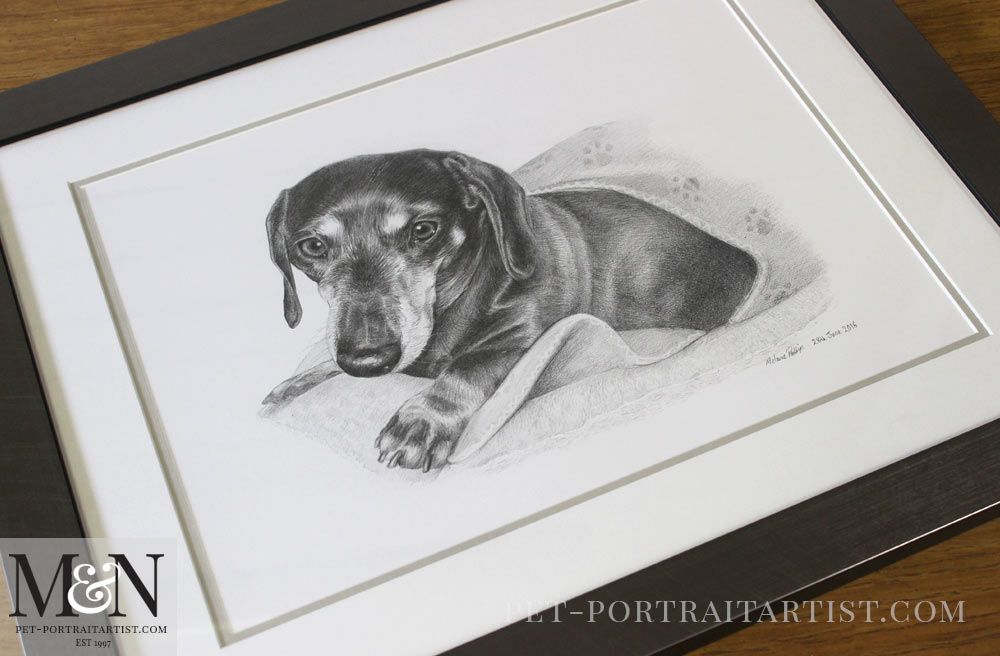 We hope that you have enjoyed viewing our Art Studio Blog. Why not sign up to our Monthly newsletter accessible at the bottom of our website which comes out on the 1st of each month. You can catch up on all of the portrait stories and news from our Art Studio! Please don't forget to subscribe to our Youtube Channel too, share, like and follow our social media and you are more than welcome to comment below, we love hearing from our readers!
You May Also Like
July 17, 2014
February 13, 2018
May 17, 2017