Husky Pencil Pet Portrait
February 7, 2017
Welcome to my Husky pencil pet portrait, commissioned just prior to Christmas 2017 by a client in the USA. Stephen wanted me to draw his three Huskies – Sasha, Bear and Punky. it was to be a large portrait for a special birthday gift for his wife at 40 x 30 inches.
We chatted about how amazing his Huskies were and that their eyes were a beautiful blue. It would be a shame not to try to capture them in colour. So I created the eyes using watercolour, as you can see from the photos below. They really shine out and it feels as though they follow you around the room.
The portrait was framed by my framer Amanda. We went with a Driftwood style frame with a blue tinge to the frame to bring out the colours of the Huskies eyes. It's a lovely frame, really quite rustic and has lovely wood colour undertones. Using a double mount with a pale grey inner colour, really helps to bring out the Huskies eyes.
To complete the portrait we commissioned our engraver to create a silver plaque for us. You can see the a close up photo below. I have had a photo of me taken with the portrait so that you can see the scale. I also took some video with me in to help show scale which I will add below.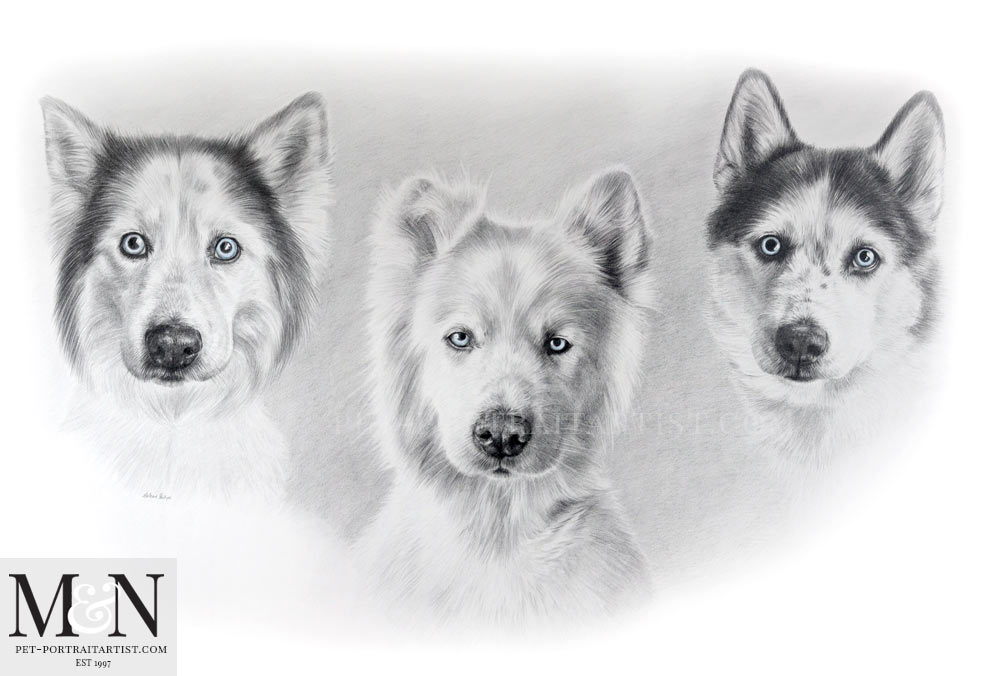 Husky Pencil Pet Portrait – Happy Clients
My clients Sara and Stephen very kindly took photos of the portrait in situ and the one below shows the portrait with Sara. The drawing was 40 x 30 inch plus a double mount, plaque and frame. The frame contain blue and brown colours and it works with their wall colouring beautifully! I have added a testimonial below and I am hoping to be able to add it to my website in the coming weeks!
Melanie,

Both Sara and I would love to thank you for the wonderful piece of artwork you have created. Capturing the beauty and souls of each Sasha, Bear, and Punky. The talent you possess is unbelievable, and the completed portrait is more than we could have ever asked for. Also, I want to thank you for your professionalism, quick responses to questions I had, as well as making this process enjoyable and so very rewarding.

From Nashville, TN over the Atlantic to you, Sara, Sasha, Bear, Punky, and myself want to send you and your family much gratitude and appreciation for your hard work on this large project.

Best,

Stephen & Sara Humes and the 3 pups who send some slurps your way!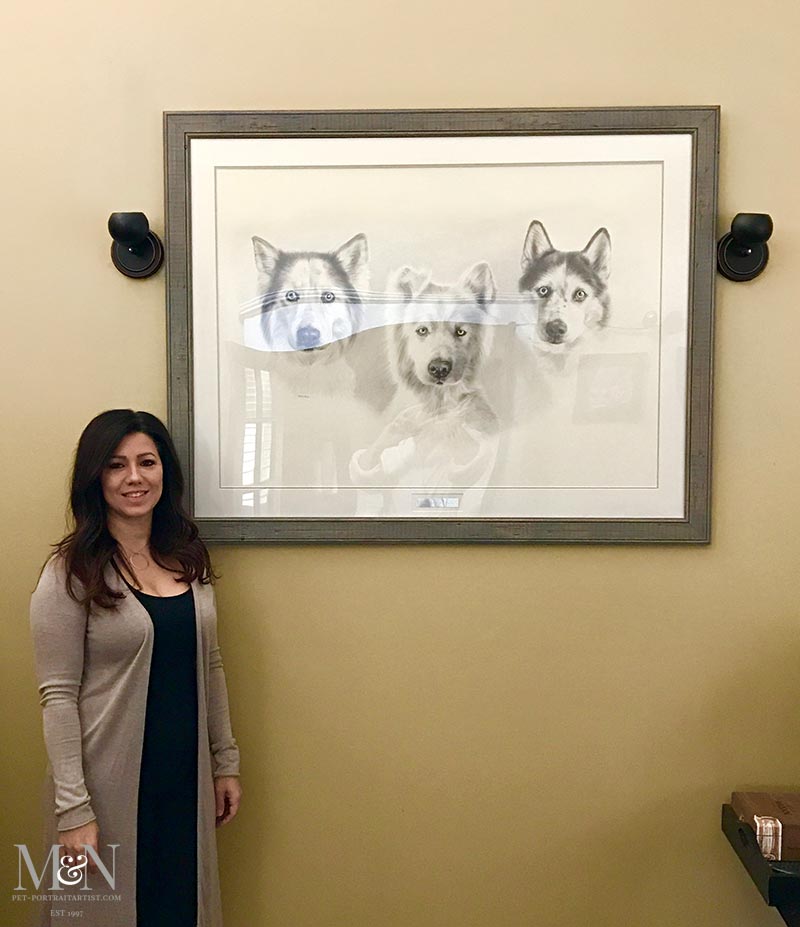 Husky Pencil Pet Portrait – Video
Here is a video I have taken of the completed Husky portrait. This is my first video with me in the video itself! I wanted to show the scale of the portrait, but also I want to be in more of the videos to make them a little more personal. We are always trying to improve on our tech and as you will see the camera is a little shaky and the gimbal I was using was an old style with counter weights. My newly ordered a new one is mechanised! Amazing. So hopefully the next video will be much smoother and im looking forward to testing it out when it arrives.
Husky Pencil Pet Portrait – Framed
Here are some photos of the portrait framed, including a close up of the engraved plaque too. We love adding engraved plaques to our portraits as they really make the whole commission feel very personal.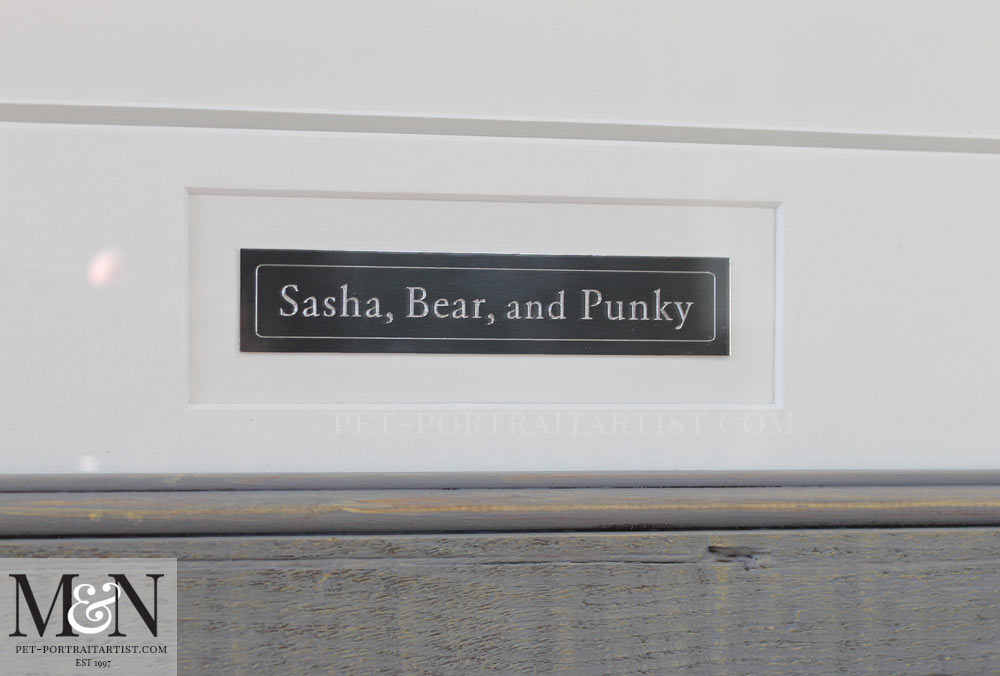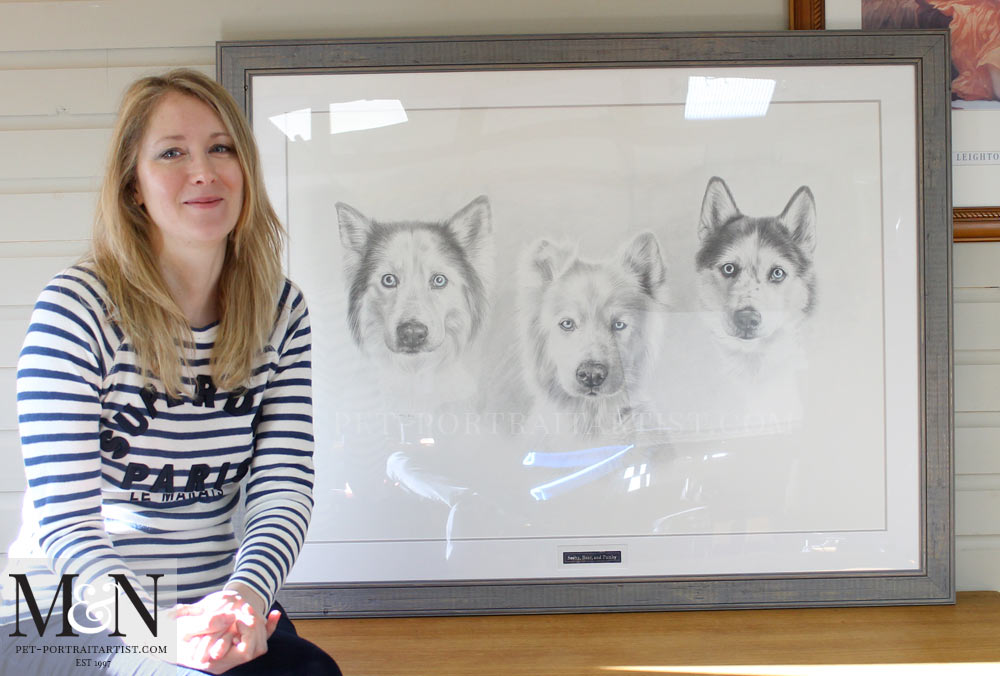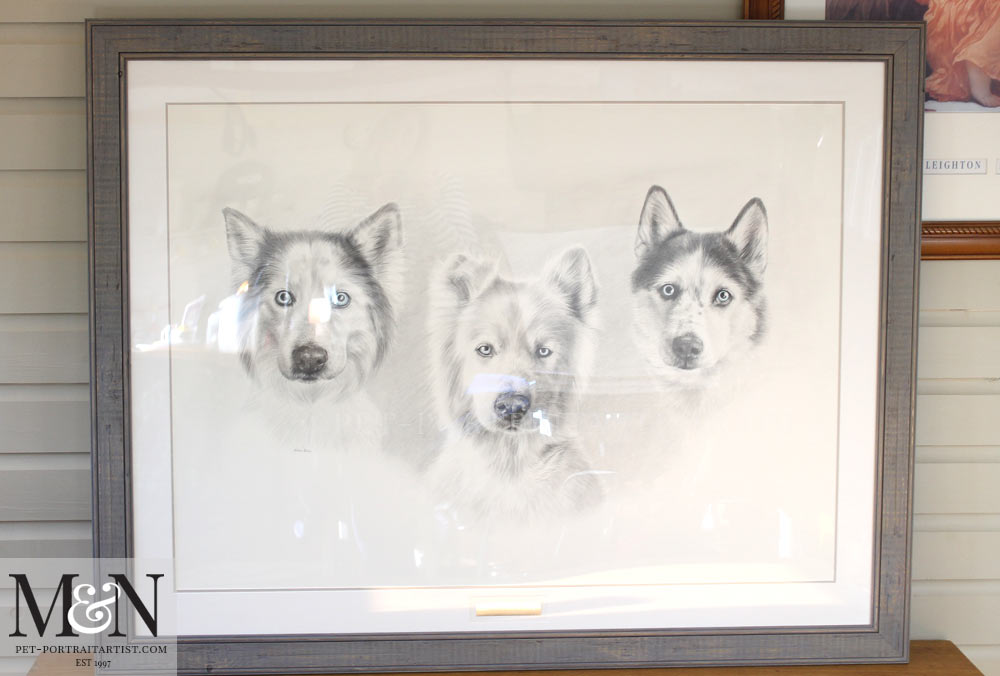 We hope that you have enjoyed viewing our Art Studio Blog. Why not sign up to our Monthly newsletter accessible at the bottom of our website which comes out on the 1st of each month. You can catch up on all of the portrait stories and news from our Art Studio! Please don't forget to subscribe to our Youtube Channel too, share, like and follow our social media and you are more than welcome to comment below, we love hearing from our readers!
You May Also Like
January 29, 2017
October 7, 2016
April 30, 2015