Cat Portrait of Max
October 7, 2016
Welcome to my Cat Portrait of Max. Rebecca got in touch after loosing her much loved cat called Max. Max was a siamese cat and the photos Rebecca sent me were stunning. Rebecca ideally wanted a pencil drawing of Max, however she loved his blue eyes. So I suggested that I shade those in blue where as the rest of the portrait cool be in pencil. Rebecca was thrilled with the idea. I have used this before, including the lovely pencil drawing of the three huskies which you can see here – Husky Pencil drawing. 
Rebecca also had one of Max's whiskers and also his ashes. She wanted me to somehow include them in the portrait. The initial ideas was to write his name in the ashes and have the whisker underneath, however it wasn't really visible. So I gently glued his whisker on the portrait as an actual whisker. The ashes were then mixed with PVA glue and used to write his name which was surrounded by the mount.
The drawing is a 12 x 10 portrait with a fully shaded background to allow Max to stand off of the paper. This commission has to be one of the most interesting I have created to date. I am always happy and willing to work with my clients and their ideas. Its always very exciting.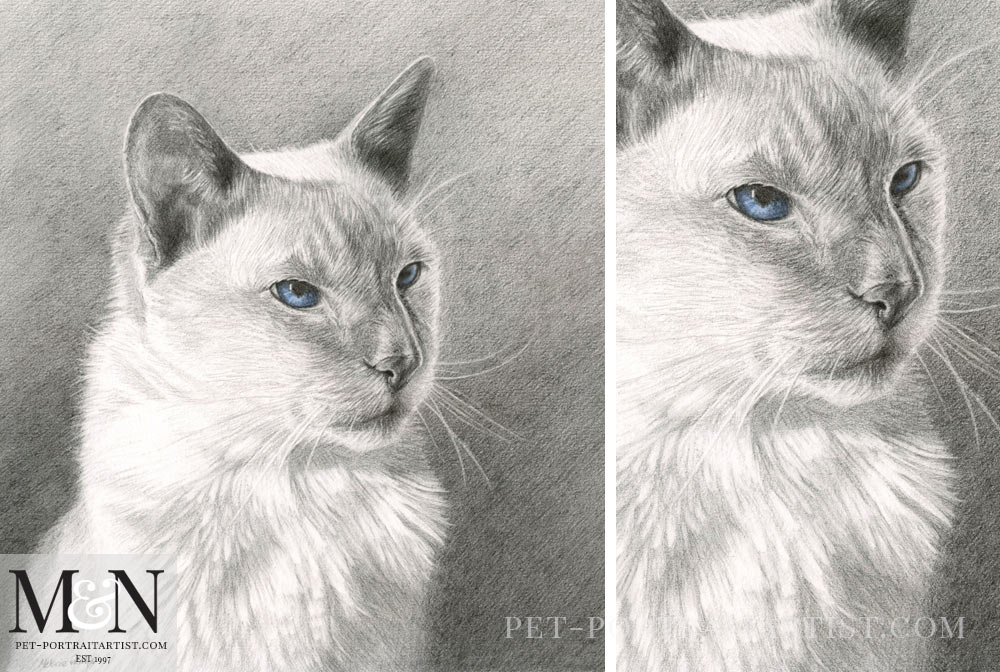 Cat Portrait of Max – Photos
Here are a few photos of the cat portrait of Max on my plan chest in the Art Studio. Showing my pencils in there too so you can get an idea of the size of the portrait.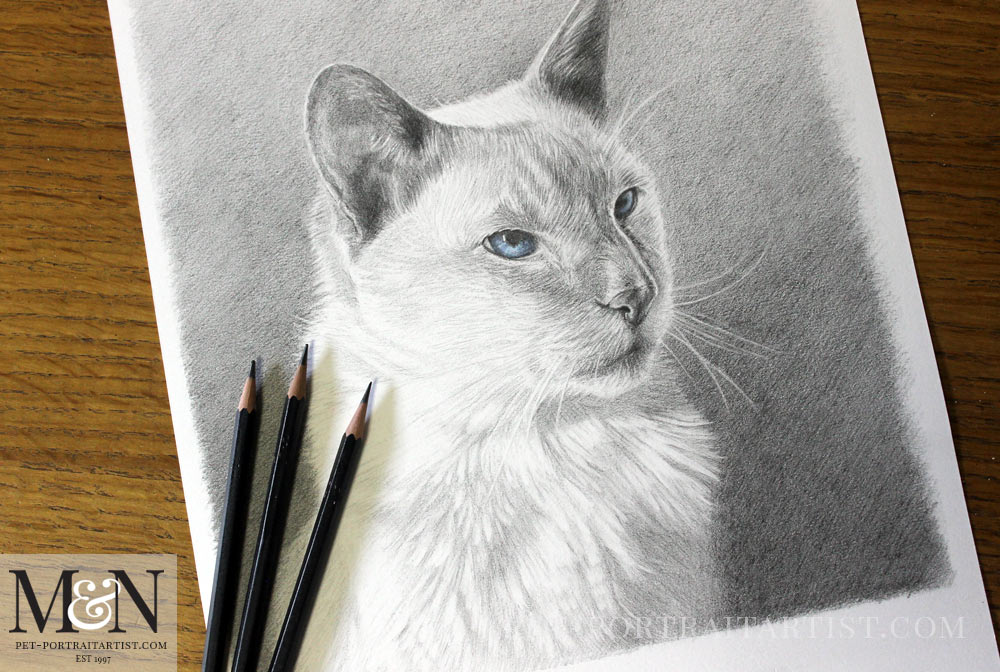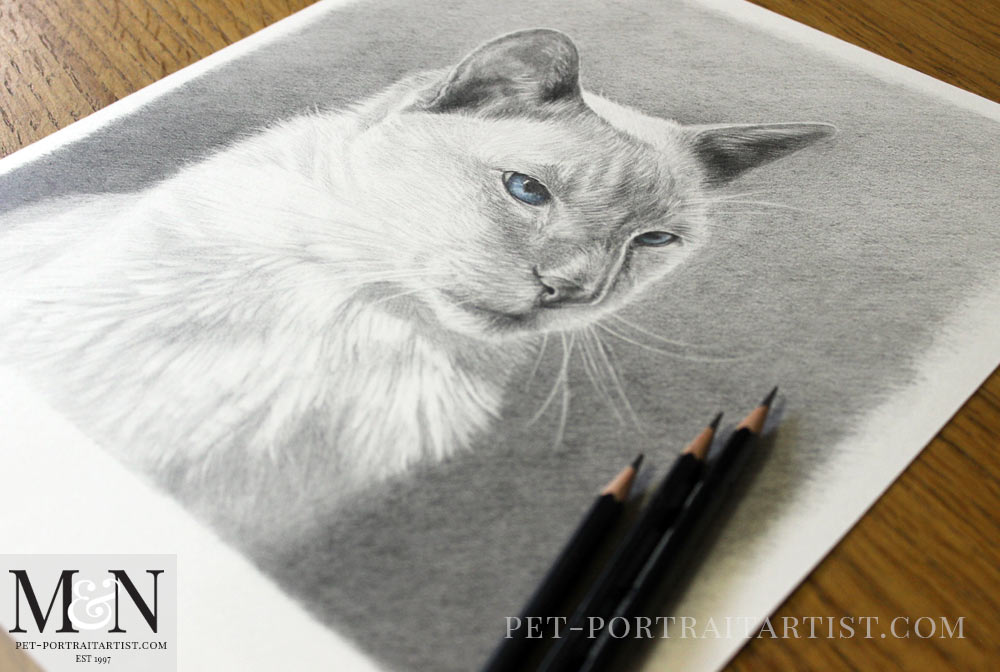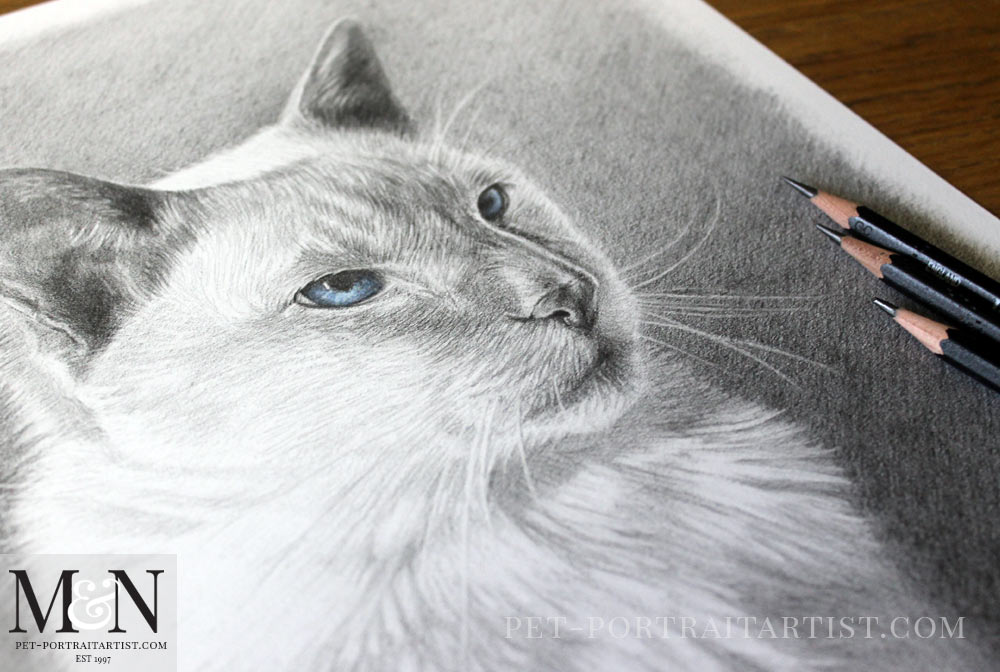 Cat Portrait of Max – Framed
Here are some close up photos of the portrait framed, however you can see more of them and read about the portraits frame in more detail on its own blog post… Cat Portrait Max Framed
Cat Portrait of Max – Happy Clients
Rebecca very kindly took some photos of the portrait when it was displayed in their kitchen. She said that he was in the perfect place..on the way to the sun room. This was where he loved to bask in the warmth. We cant thank Rebecca enough for taking the photo for us and allowing us to use it on our website and blog. Thank you!!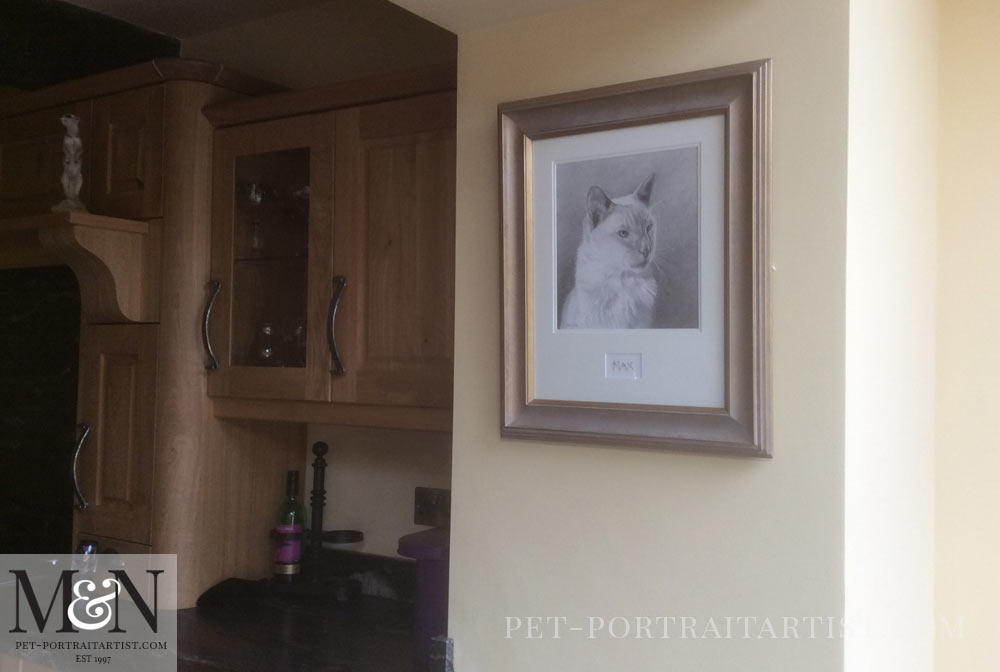 We hope that you have enjoyed viewing our Art Studio Blog. Why not sign up to our Monthly newsletter accessible at the bottom of our website which comes out on the 1st of each month. You can catch up on all of the portrait stories and news from our Art Studio! Please don't forget to subscribe to our Youtube Channel too, share, like and follow our social media and you are more than welcome to comment below, we love hearing from our readers!
You May Also Like
December 3, 2015
May 11, 2015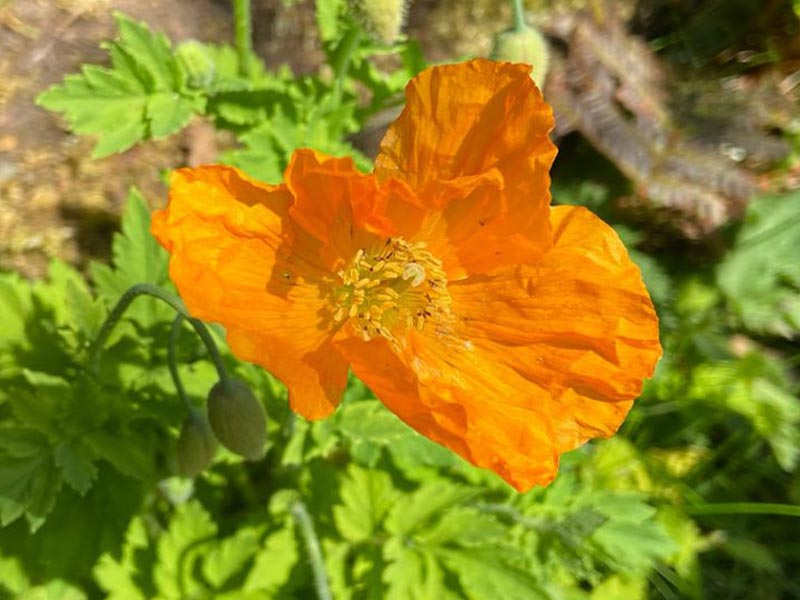 May 1, 2020