Lily the Tibetan Terrier – We Passed our bronze!
October 19, 2016
Lily the Tibetan Terrier has passed her Bronze Kennel Club Certificate. Lots of things have been happening here over the last few weeks. From doing lots of small jobs on our little cottage like painting the chimneys, painting and fixing our old sash windows. We have been getting quotes from builders for the our sitting room renovations next year. Also getting quotes for drainage around the side of our cottage. Generally sorting things out before the winter sets in.
The drainage job is all complete as of yesterday. Which is hopefully one of the main things that will stop water seeping under the floor in our cottage. Our cottage is very old, possibly around 350 years old, so we don't have any foundations or footings. We are literally built on bedrock with huge stone walls. We are next to, what possibly is the remnants a very ancient building, from many many years prior. So we are gradually renovating everything sympathetically and have been for the last 10 years.
Yesterday we had a lovely digger chap to carefully lay drainage pipes. This will allow the water to run away from our cottage instead of towards it. Hopefully this will help the cottage keep dry. Next year we will have a whole new flooring system installed into the sitting room and kitchen. The living room has been taking the brunt of the water. It has been quite an exciting week!
Just prior to this Lily and I, with our local dog club, took our Bronze Good Citizens test with the Kennel Club and passed! We were delighted, Lily was excellently behaved and the examiner was thrilled. I took some photos of Lily when we got home with her rosette, certificate and bronze coloured dog tag…which she is now proudly wearing! Well done Lily!
I think thats all of our HQ news! I am now getting back to my easel and I will have more photos of artwork very shortly!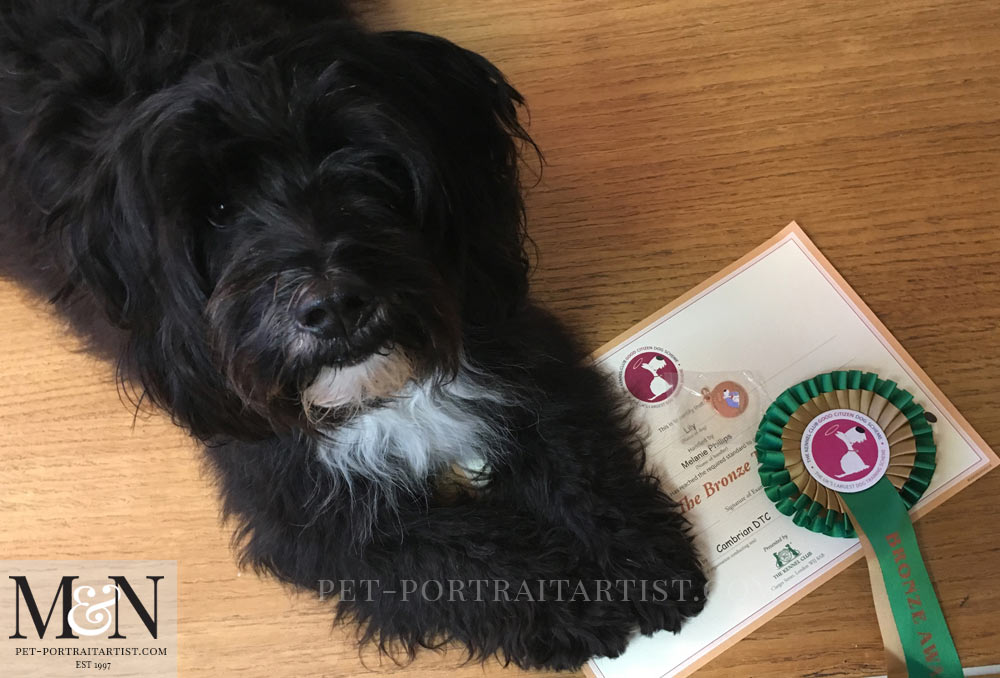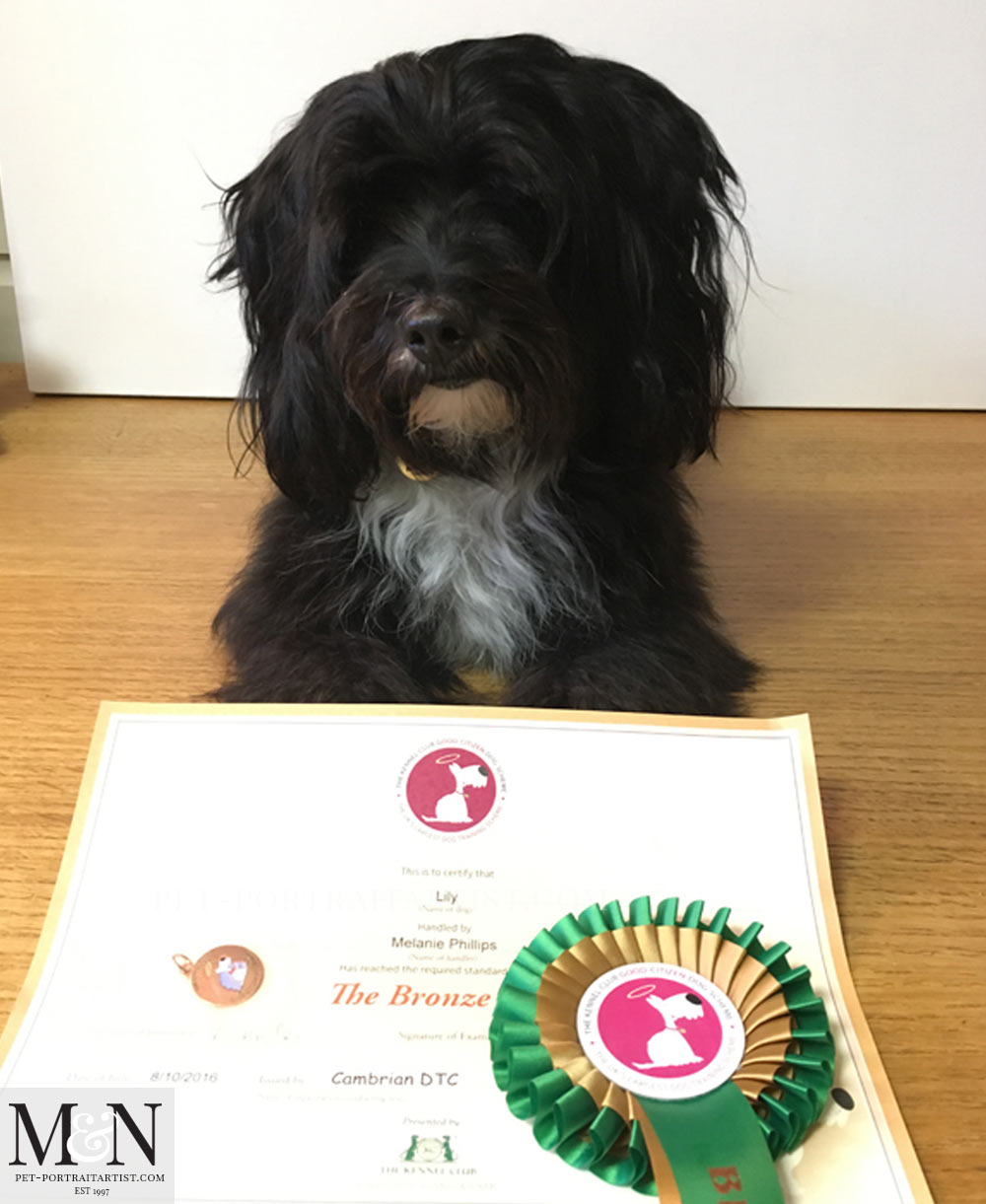 We hope that you have enjoyed viewing our Art Studio Blog. Why not sign up to our Monthly newsletter accessible at the bottom of our website which comes out on the 1st of each month. You can catch up on all of the portrait stories and news from our Art Studio! Please don't forget to subscribe to our Youtube Channel too, share, like and follow our social media and you are more than welcome to comment below, we love hearing from our readers!
You May Also Like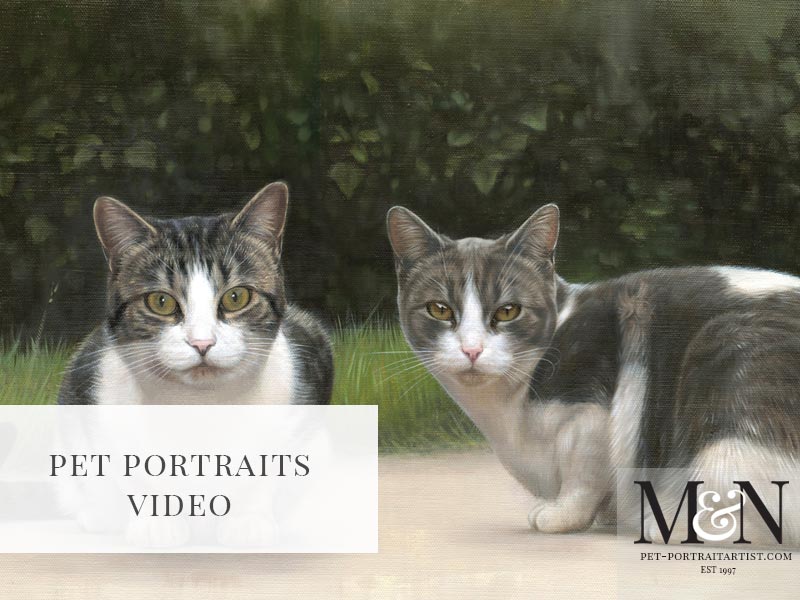 September 14, 2014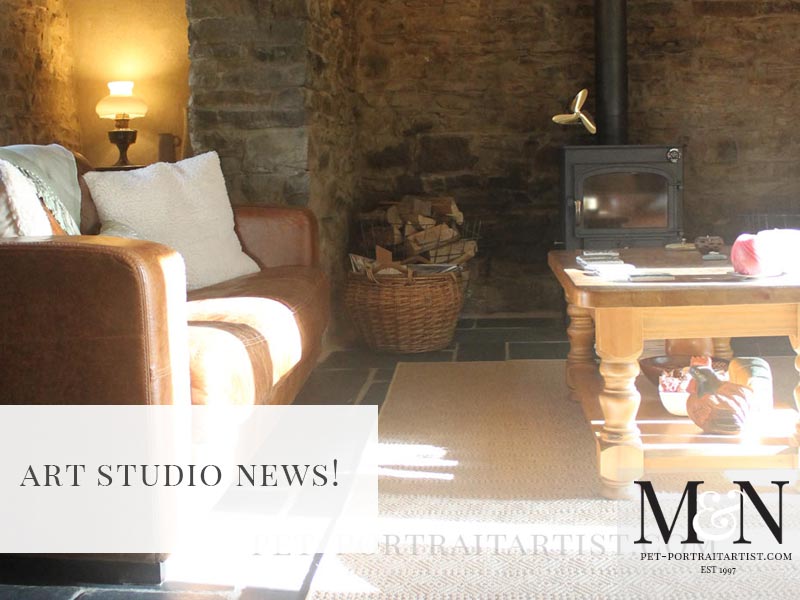 October 1, 2017
December 22, 2017