Pencil Pet Portrait of Ziggy
February 6, 2017
Welcome to my Pencil Pet Portrait of Ziggy!Steven emailed to find out how to commission a pencil drawing of their dog Ziggy. Many clients have never commissioned a portrait before so we have lots of information on our website to help. Most of the time clients like to get in touch and chat about their specific requirements though and I am always on hand to help answer any questions they may have. Steves first initial email was as follows….

I have recently found your website and I am really impressed by the work you have shown on your gallery. I am new to the process of commissioning a picture so I am afraid I am a little unsure at present exactly what it is I would like, but I do know that I would like to commission you to produce a pencil drawing of our dog Ziggy!

Steve decided that he wanted a 16 x 12 pencil drawing, which is a great size for a dog like Ziggy. He wanted it framed and also sent in time for a birthday surprise for his wife. Steve sent us a lovely email when he saw the finished scan. If you scroll further down the page you can see more photos from the commission.

Hi Melanie
Wow, that is amazing! You have really captured him, thank you. My wife's birthday is on Sunday and I am sure she will love it.
Thanks
Steve
Pencil Pet Portrait of Ziggy – Photos
Here are some photos of my portrait on my plan chest. I love taking photos as they are much more natural than the final scans. I take photos with my pencils on to show scale and this really adds to the authenticity of them!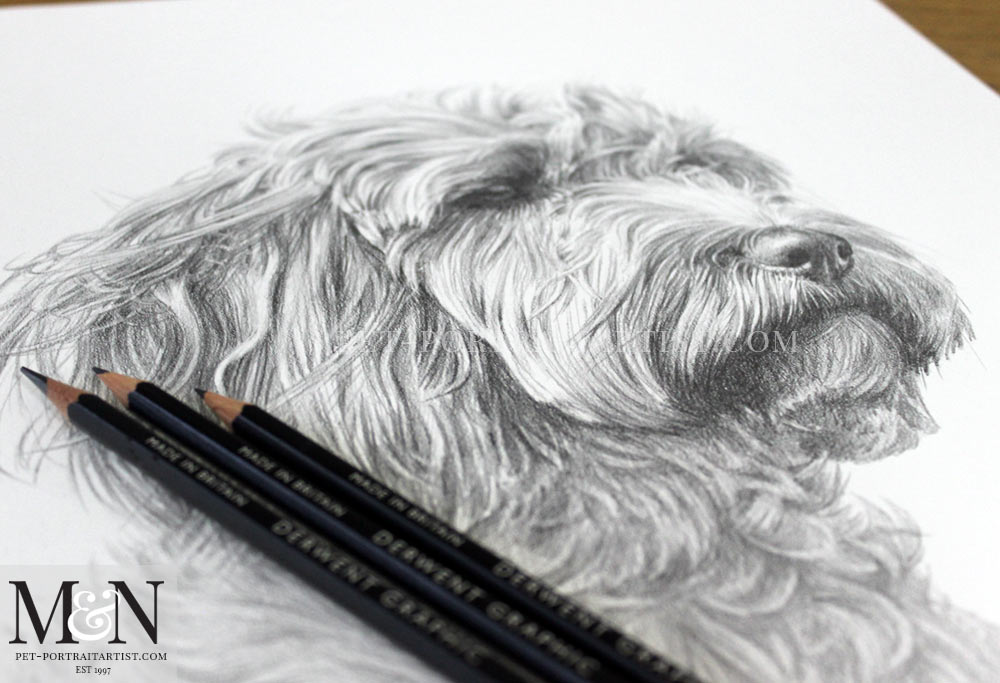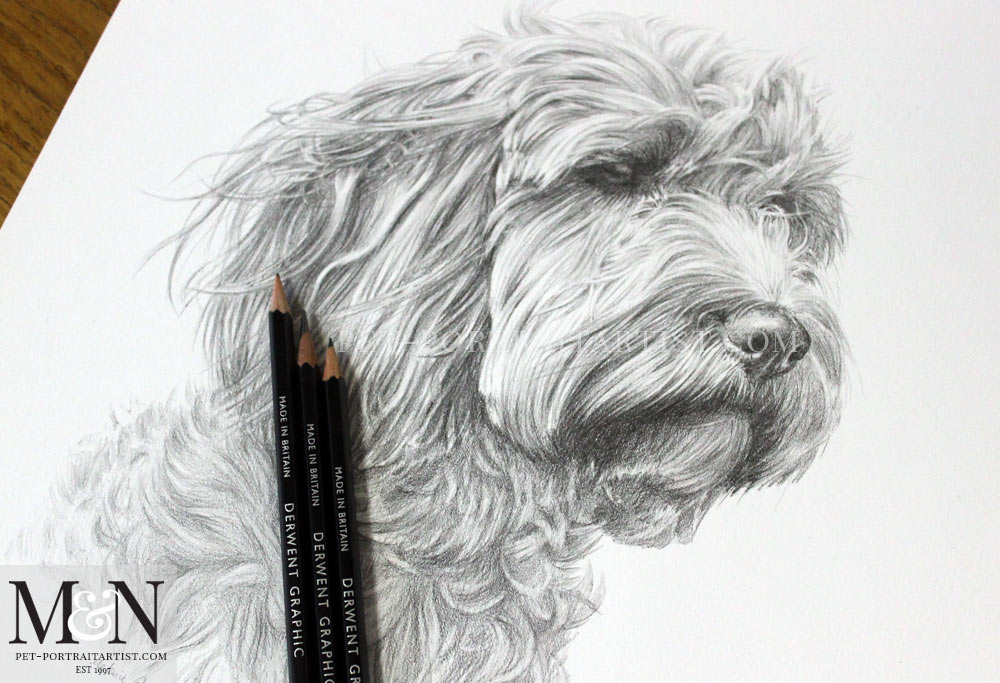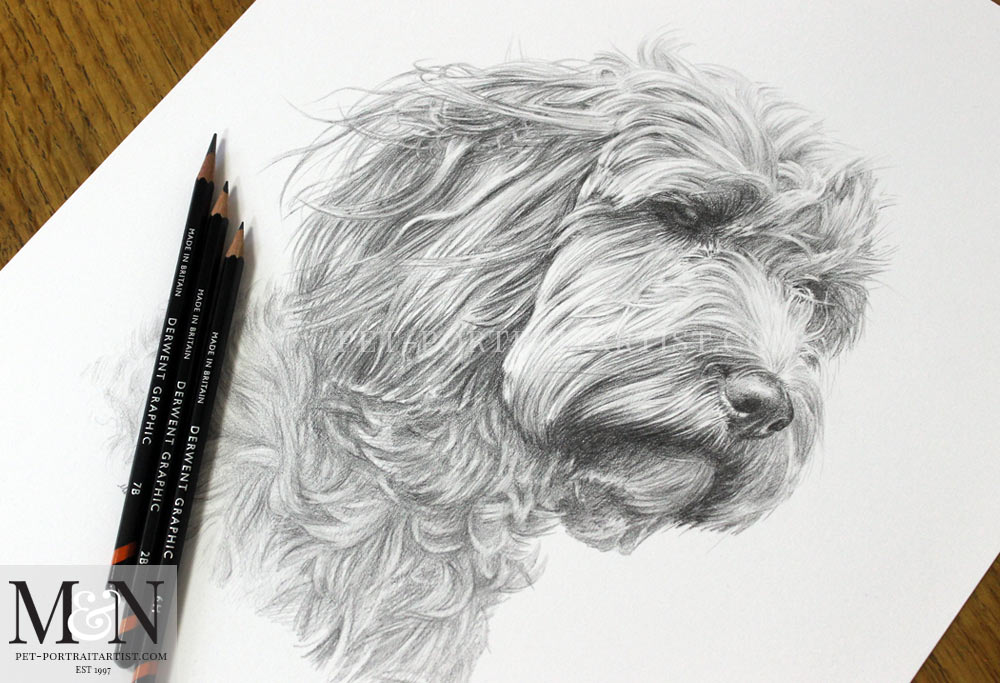 Pencil Pet Portrait of Ziggy – Framed
I am loving this frame! It has to be one of my favourites to date. It's called Windsor Wash and it's so popular with my clients. Obviously all of us pet lovers have extremely good taste! Not only was the Pet Portrait of Gus framed in it, Ziggy is below…along with two more of my portraits which will be revealed this week. My framer Amanda is amazing and she deserves a special shout out on my blog today for being so fab.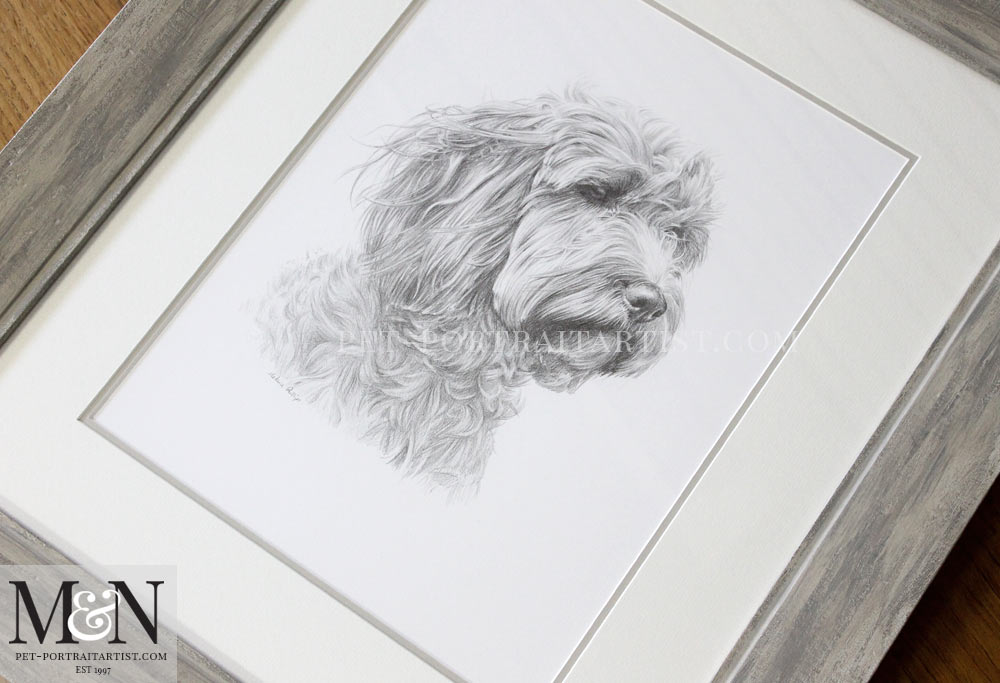 We hope that you have enjoyed viewing our Art Studio Blog. Why not sign up to our Monthly newsletter accessible at the bottom of our website which comes out on the 1st of each month. You can catch up on all of the portrait stories and news from our Art Studio! Please don't forget to subscribe to our Youtube Channel too, share, like and follow our social media and you are more than welcome to comment below, we love hearing from our readers!
You May Also Like
March 8, 2015
November 5, 2018
October 28, 2019