Tibetan Terrier Pet Portraits
March 10, 2017
Welcome to my latest Tibetan Terrier pet portraits is now complete. The portrait was commissioned by Caroline and her family as a surprise for their mums 60th birthday. Unfortunately, Hollie past away last year at 15 and half. The portrait will be a wonderful reminder of Hollie and hopefully bring back lovely memories for them all.
Caroline emailed when she saw the final scan ….
She looks amazing! Thank you so so much, I actually had a little tear in my eye because it's just Hollie completely!
Our TT
As some of our readers may know, we have a Tibetan Terrier called Lily. They are such special dogs, once you have owned one, no other dog will match them. TT's are so lovable and kind and gentle…yet have a very playful and naughty streak. It will make you laugh (or cry!) constantly.
They also love being chased and they will 'steal' something of yours and make you chase them. Its their favourite game. You will find Tibetan Terrier owners will refer to them as 'Little People' as thats just what they are. They have such a big personality and its often like having a toddler in the house at all times.
They can be aloof with strangers (which is good) but are very social and love being with people. The are very loyal and incredibly amazing with children. Lily is astonishingly patient and calm with them.  Whenever we see another Tibetan terrier owner – and this is the same for all Tibetan Terrier owners,  they will make a bee line to talk to you. There really aren't that many of us TT owners!
I very much enjoyed drawing Hollie. Owning a Tibetan Terrier myself, it was lovely to be able to study Hollie and bring her to life on paper. Scroll down to see more photos and very happy clients!
Pet Portraits – Happy Clients
We have received the most fabulous photos from my client Caroline with her mum. So I'm thrilled that Caroline's mum loves her portrait. I was so pleased to be able to draw Hollie – one of my favourite commissions to date. I will also be adding Hollie to my website in the next round of updates on there soon. Caroline emailed the following….
Hi Melanie,

My mum picked Hollie up today from the framing shop! She's so happy, thank you so much. Hollie is in the living room above the TV looking over at the front door which is what she used to do. Just waiting for someone to walk past for her to bark at! Haha 😀

Caroline X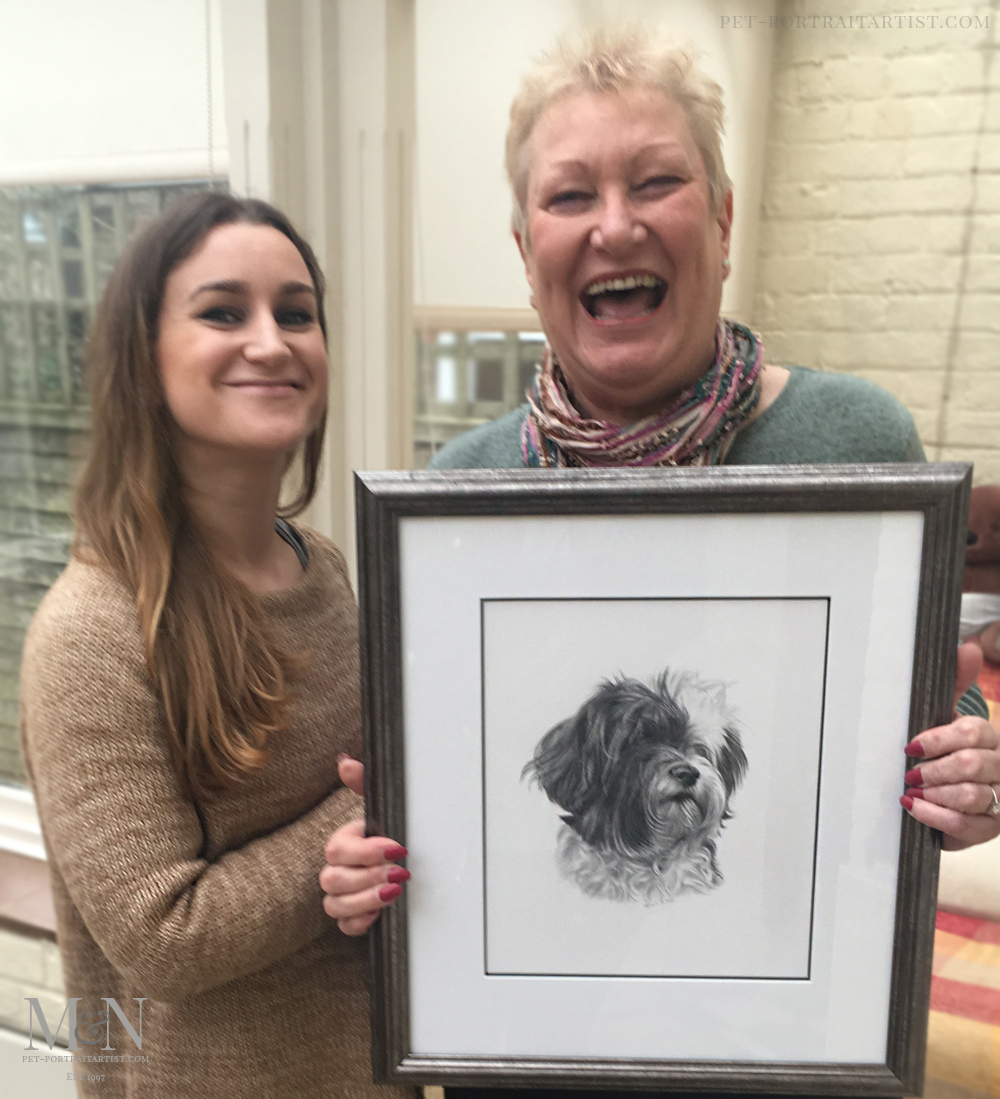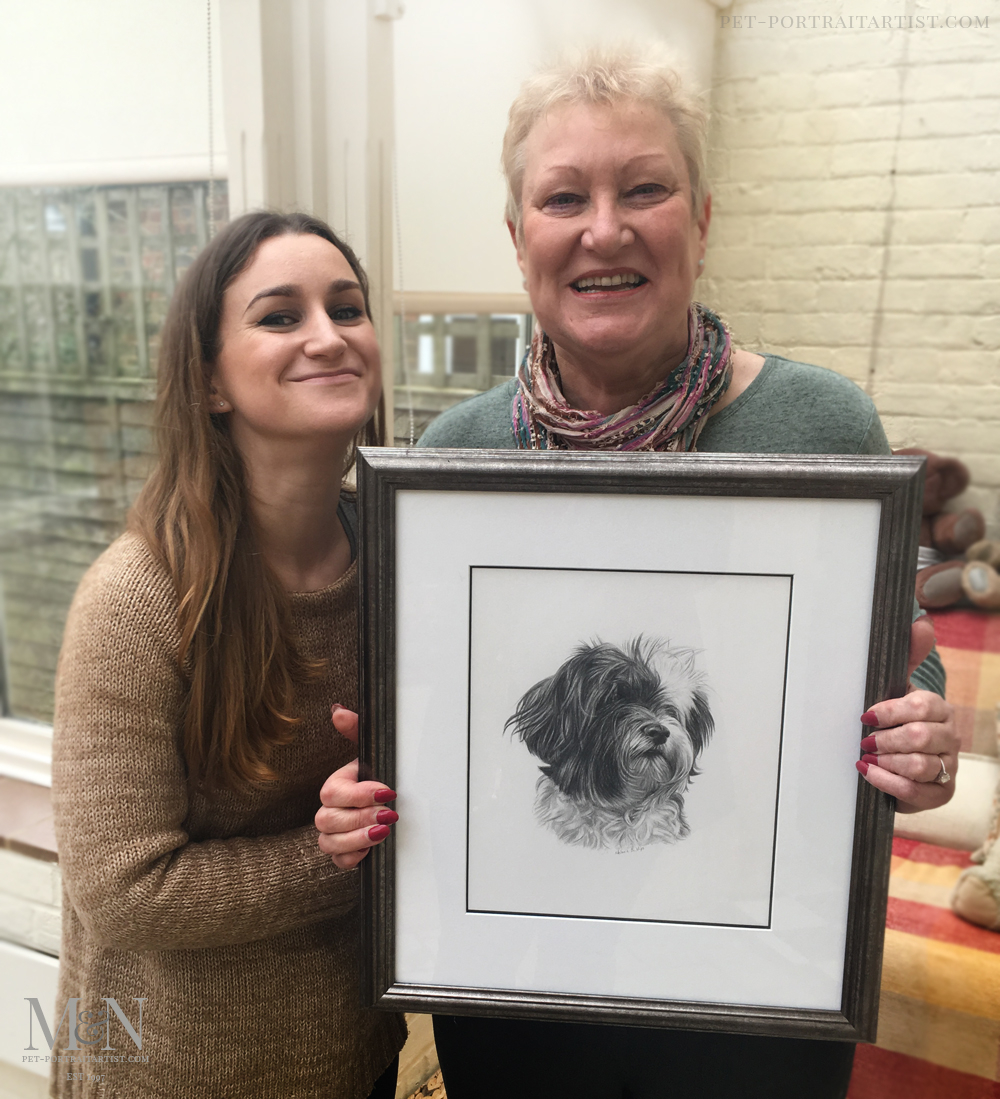 Tibetan Pet Portraits – Photos
Here are a few photos of Hollies drawing with my pencils to show scale. I often take photos of the drawings while they are on my plan chest as they photos often show the drawings better than final scans.
Video
Here is the little video I took of Hollie just before I packed her up and sent her to the client. I hope you enjoy the video.
We hope that you have enjoyed viewing our Art Studio Blog. Why not sign up to our Monthly newsletter accessible at the bottom of our website which comes out on the 1st of each month. You can catch up on all of the portrait stories and news from our Art Studio! Please don't forget to subscribe to our Youtube Channel too, share, like and follow our social media and you are more than welcome to comment below, we love hearing from our readers!
You May Also Like
October 11, 2017
March 25, 2015
March 28, 2016