Dog Pet Portrait of Yogi
March 17, 2017
Welcome to our Dog Pet Portrait of Yogi. Client Shane from Canada, emailed to ask if we would paint a portrait of their Bernese mountain dog called Yogi. We were thrilled and Nicholas was really looking forward to putting brush to canvas. Shane wanted to surprise his wife with the painting as a special gift for her and his family.
We asked Shane to email us some photos and he did a special photoshoot for us early one morning on his favourite walk. This was great as we were able to include some of the beautiful scenery and backdrop into the painting. We worked with Shane on a bespoke size for Yogis portrait to fit in with the composition of the photo. The canvas was made to 16 x 14 size which worked really well. We have our canvases made bespoke for each client and so we can work to any size.
The overall colour scheme is one beautiful aspect to the painting, not just how well Nicholas has painted Yogi. Overall it is simply amazing. Nicholas has excelled himself and I think its one of his best paintings to date.
Shane emailed the following when he saw the final scan and we are over the moon with his comments!
Hi Melanie and Nicholas,
I have to say that my breath was taken away when I laid eyes on the photo. Especially the video! Our boy is a super star! Nicholas has captured this perfectly for us. Words can not describe how much having this portrait of Yogi in our home means to our family! Thank you and Nicholas so much for everything as we are truly touched!
Shane and Family
I have added lots of photos of the portrait below, along with a final scan. The photos are very close up, but we wanted to try to show the detail of the painting. We hope you all like it too!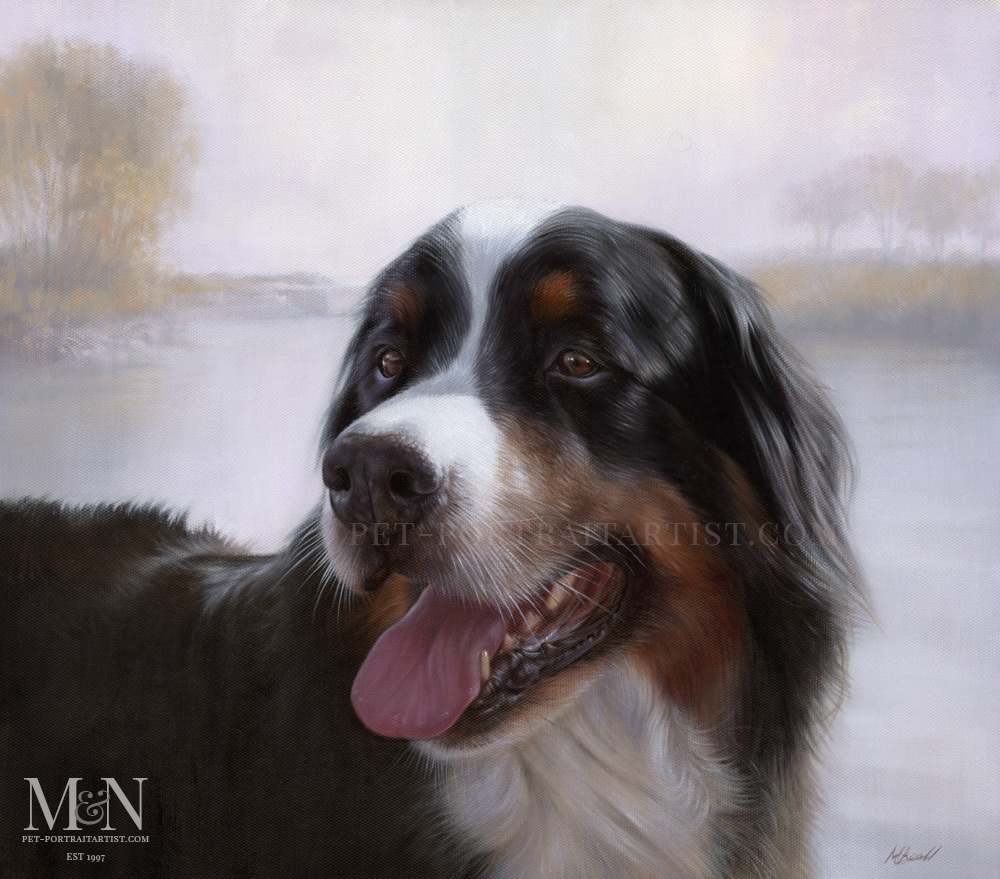 Pet Portrait of Yogi – Happy Clients
We have received the most wonderful testimonial from Shane's wife Nikki when she received the portrait of Yogi. Nikki very kindly also took photos of Yogi in situ. Nicholas and I are so grateful for Nikki and her family for allowing us to use them, along with the testimonial, on our website and blog. Also simply thrilled that the entire family love the painting that Nicholas created for them. We hope that you enjoy reading the testimonial below too. Thank you Nikki and Shane!
Hi Melanie and Nicholas,

Yogi arrived two weeks ago and I have been trying to come up with the words to say Thank you but I don't feel Thank you is enough. I have tears in my eyes, and I cannot believe how absolutely stunning his painting is. You have captured his beauty magnificently.

You have not only produced a work of art but you have touched my heart in a way that words just can't describe.

Yogi is very special to me and we have had our ups and downs many times. I know there will be a day when he will no longer be with us and to have that painting of him on the wall, will bring much comfort to us.

Shane has really out done himself with this gift, this will keep him out of the "dog house" for years to come lol.

I just want to say Thank you so much from the bottom of my heart for the beautiful painting. You two are extremely talented and it has not gone unrecognized, I have told many people about how amazing you are.

Please take good care and If ever we find ourselves out your way we will be stopping in on you I hope you don't mind.

Nikki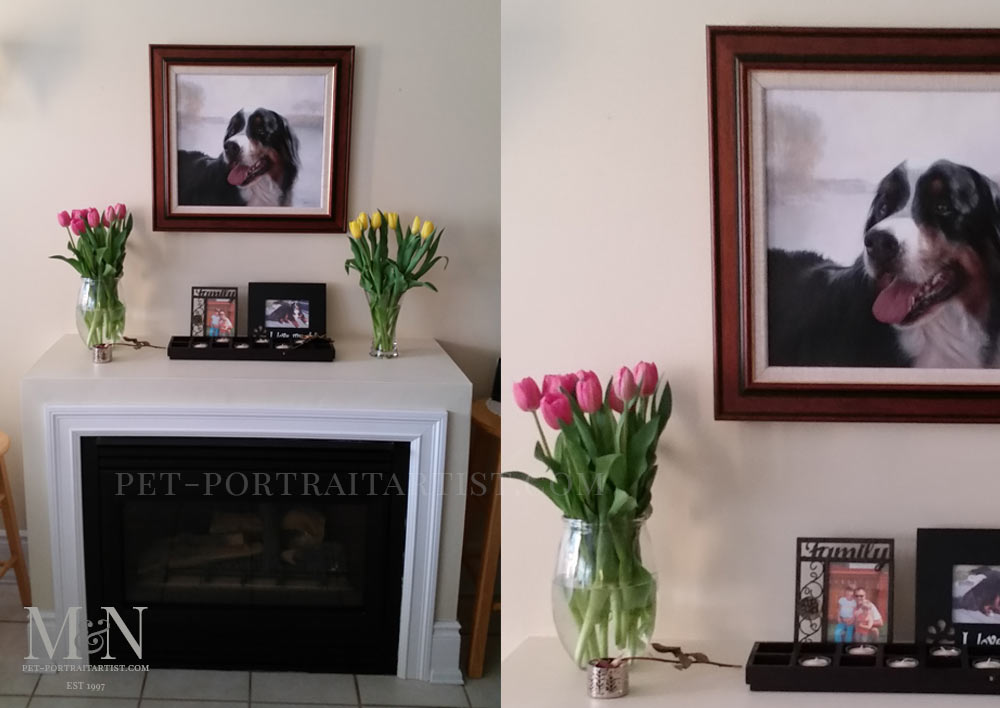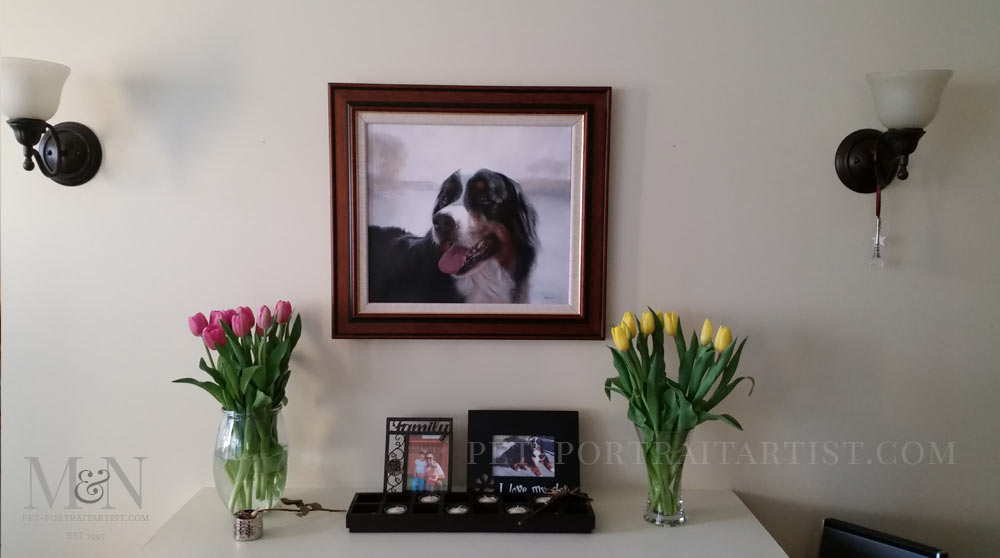 Pet Portrait of Yogi – Photos
I have added some up close, in detail photos of the Dog Pet Portrait of Yogi. They also have Nicholas' hand and paintbrush in to show scale.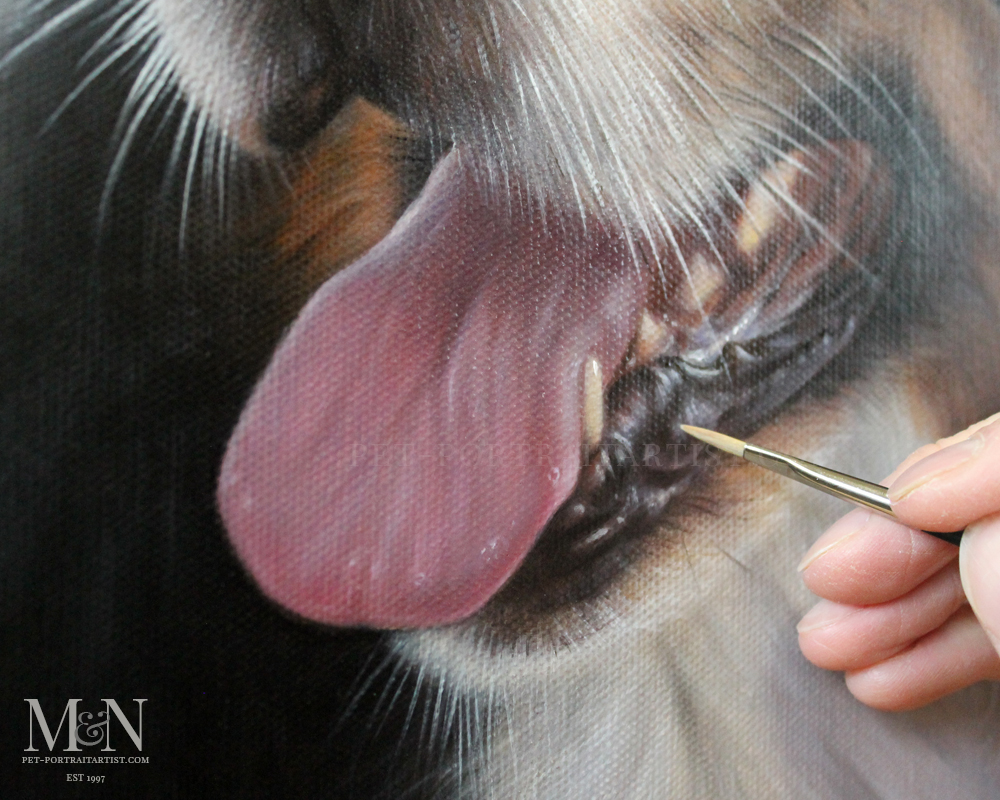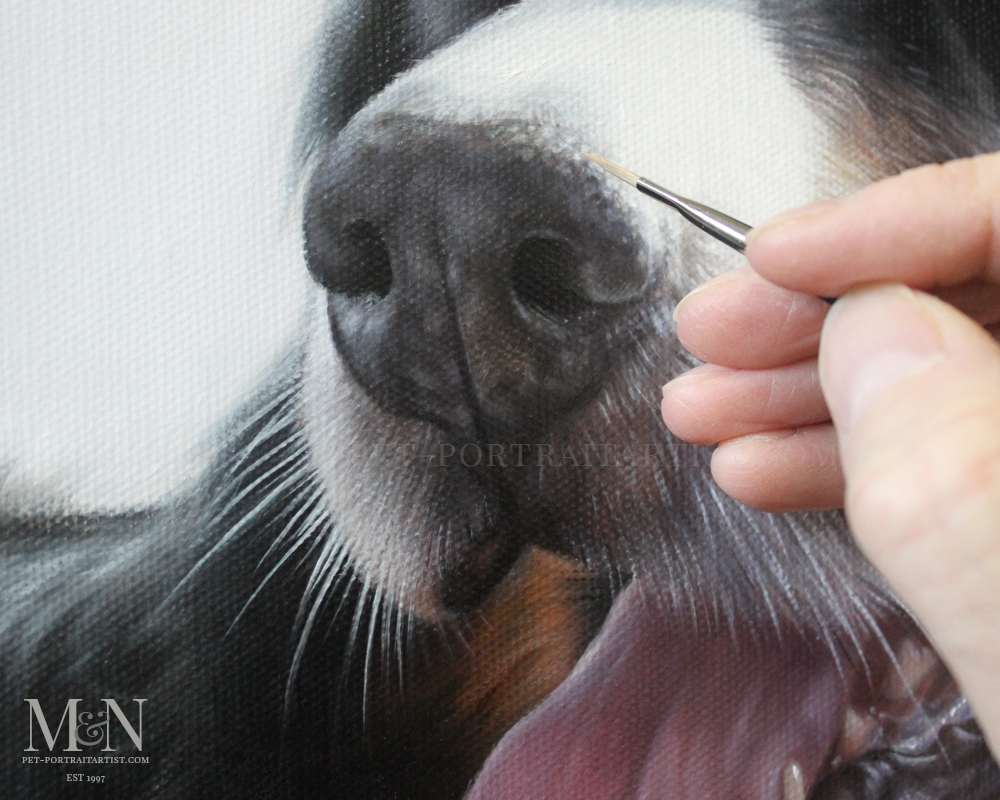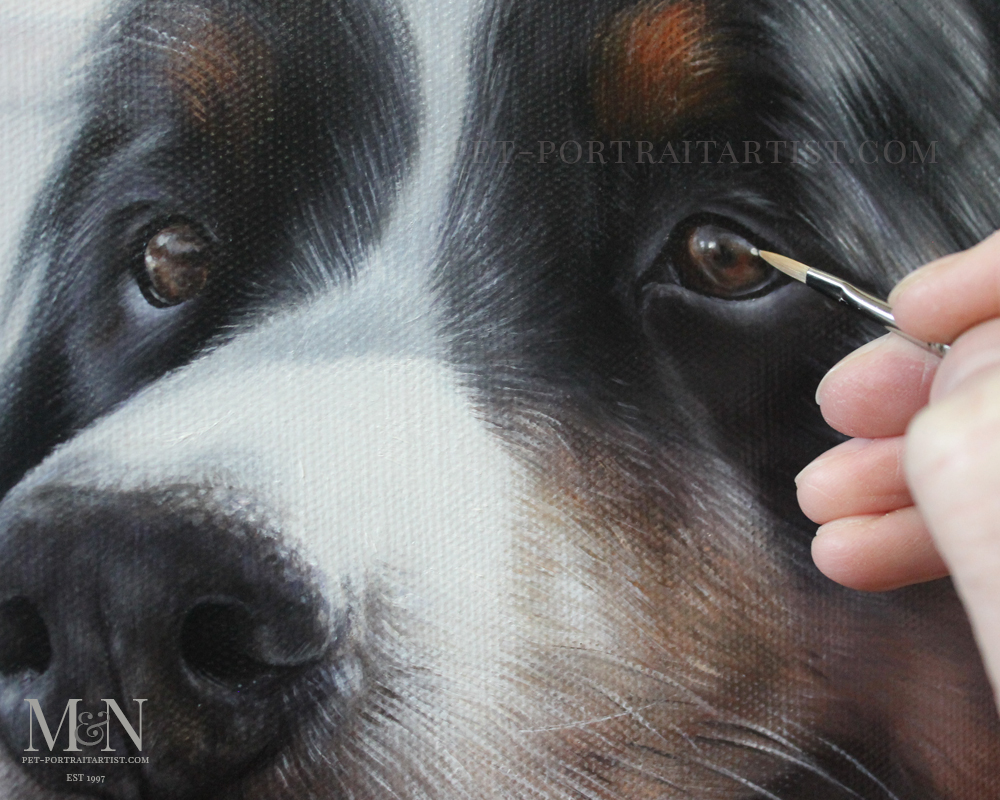 Are you enjoying our blog? Why not sign up to our Melanie's Monthly News, which comes right into your inbox each month! You can sign up at the bottom of our website or at the top of the blog. Please don't forget to subscribe to our YouTube Channel too. You are more than welcome to comment below, we love hearing from our readers!

You May Also Like
August 31, 2019
February 22, 2017
August 30, 2018