Cat Pencil Drawing of Mungo
May 3, 2017
Welcome to my cat pencil drawing of Mungo. Charlotte emailed me to ask if I would be able to draw their beautiful cat called Mungo. Charlotte emailed the following…
I am based in Hong Kong, and my first year wedding anniversary is approaching. I was hoping to get my husband a portrait of our darling kitten, Mungo. Would you have the time to be able to undertake this piece? The size I was thinking is 14 x 11 inches. There is no need for a frame – just shipping to Hong Kong.
The portrait was going to be kept a secret until it was presented to Charlottes husband on their 1st wedding anniversary. Consequently, the 1st anniversary is a popular choice for my pencil drawings as its Paper!
Charlotte took some wonderful photos of Mungo. In fact she was very patient with me asking for lots of new photos! I had Charlotte taking photos over a period of time to get the perfect photo of him for a portrait. The lighting was great and it picked up all of his markings beautifully.
Cat Pencil Drawing – Happy Clients!
The scan below doesn't do the portrait justice, but hopefully it will give you a good idea of what the final drawing was like. Charlotte emailed me when she received the final scan which you can read below. It headed off to Hong Kong to it's owner and recipient. I hope they enjoyed their 1st wedding anniversary too!
Hi Melanie,

Thank you so much for your email, and confirmation that the portrait is done, in super quick time! Your portrait of Mungo is absolutely gorgeous, and it also captures him perfectly. I am thrilled. If the original is even better, wow! I can't wait to surprise Bill with this! Thank you very much once again, especially for the quick turnaround.

Best regards,

Charlotte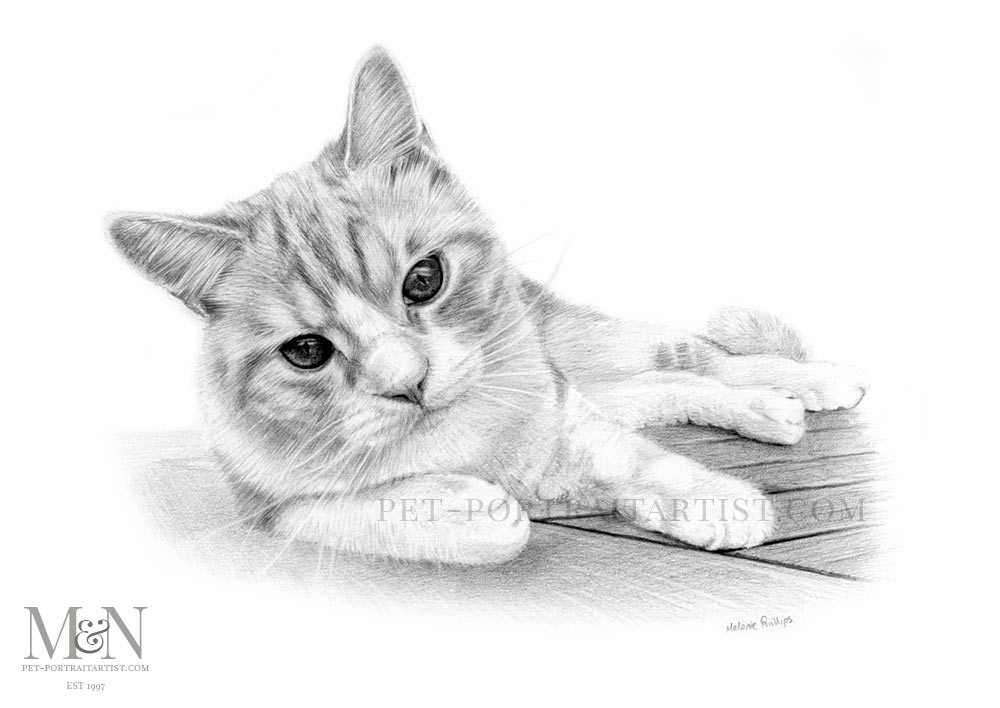 We hope that you have enjoyed viewing our Art Studio Blog. Why not sign up to our Monthly newsletter accessible at the bottom of our website which comes out on the 1st of each month. You can catch up on all of the portrait stories and news from our Art Studio! Please don't forget to subscribe to our Youtube Channel too, share, like and follow our social media and you are more than welcome to comment below, we love hearing from our readers!
You May Also Like
July 1, 2016
January 2, 2017
January 28, 2019