Cat Portrait of Frankie Blue Eyes
May 17, 2017
Welcome to our cat portrait of Frankie Blue Eyes. You can see immediately why Frankie was called Frankie blue Eyes. He was a Snowshoe Siamese Cat and was commissioned by returning clients. Sadly Frankie passed away and so we are honoured to be able to portray him. Our clients can remember his wonderful character and personality along with his beautiful colouring and eyes.
Their painting is a 18 x 14 on Italian Linen canvas and Nicholas has included Frankie's Toy – Winnie the Pooh, in with the portrait. It really looks as though Frankie is grabbing hold of the toy with his paws and claws! Nicholas has kept the overall colours very natural and created a muted mottled background so as not to draw the eye away from the main focus of the painting which is Frankie and his toy. Full focus is on Frankie's eyes for sure!
I have also added some photos below of Nicholas' hand on the portrait with his paintbrush to help show scale. The colours do vary between the photos and the scan due to the differences in the lighting in the studio, however hopefully it will give our readers a good idea of what the overall feel of the painting is like. We hope you like it!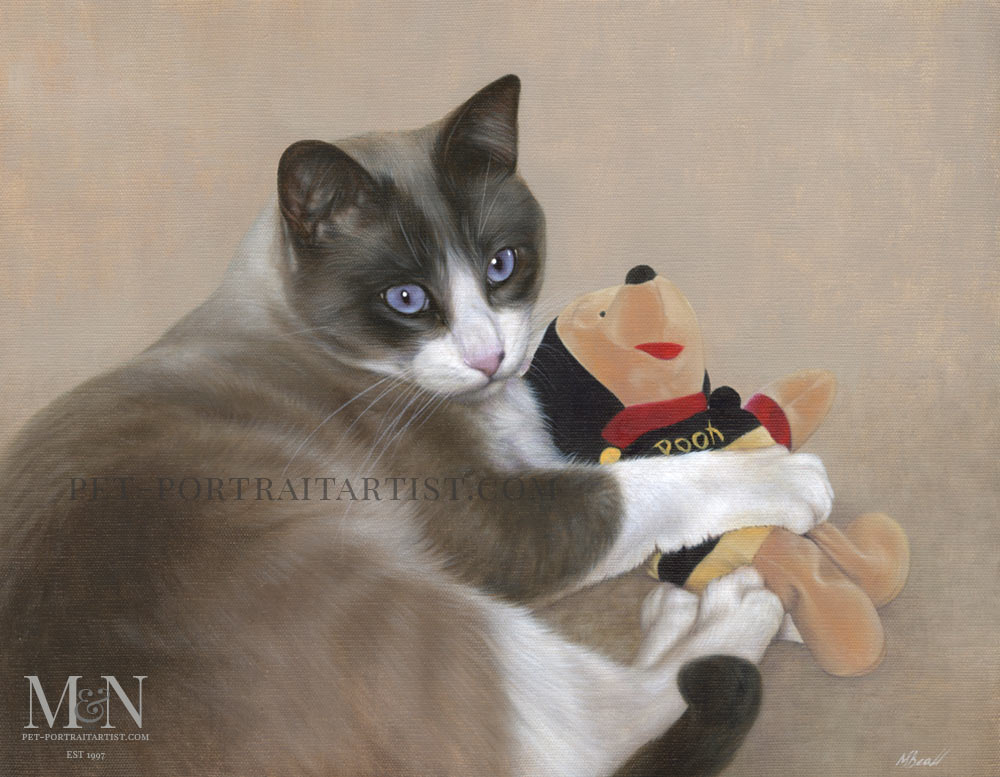 Cat Portrait of Frankie Blue Eyes – Happy Clients
We absolutely love it when clients share photos with us of their paintings and drawings framed. This is a painting that Nicholas created a couple of months ago of a very handsome cat called Frankie Blue eyes. Some of our regular readers may remember the work in progress of Frankie.
Our clients have now had the painting framed and emailed us a photo for us to see. We are thrilled with the overall look and feel of the frame and love the gold plaque too. A beautiful way to remember Frankie by. I have added a quote from one of our clients emails below. Gary has commissioned us a number of times over the years and has a lovely collection of our work.
Melanie,

Tell Nick that Frankie is getting rave reviews from all who see him. Hard for me to pick a favorite but Frankie may be it.

Take care, Gary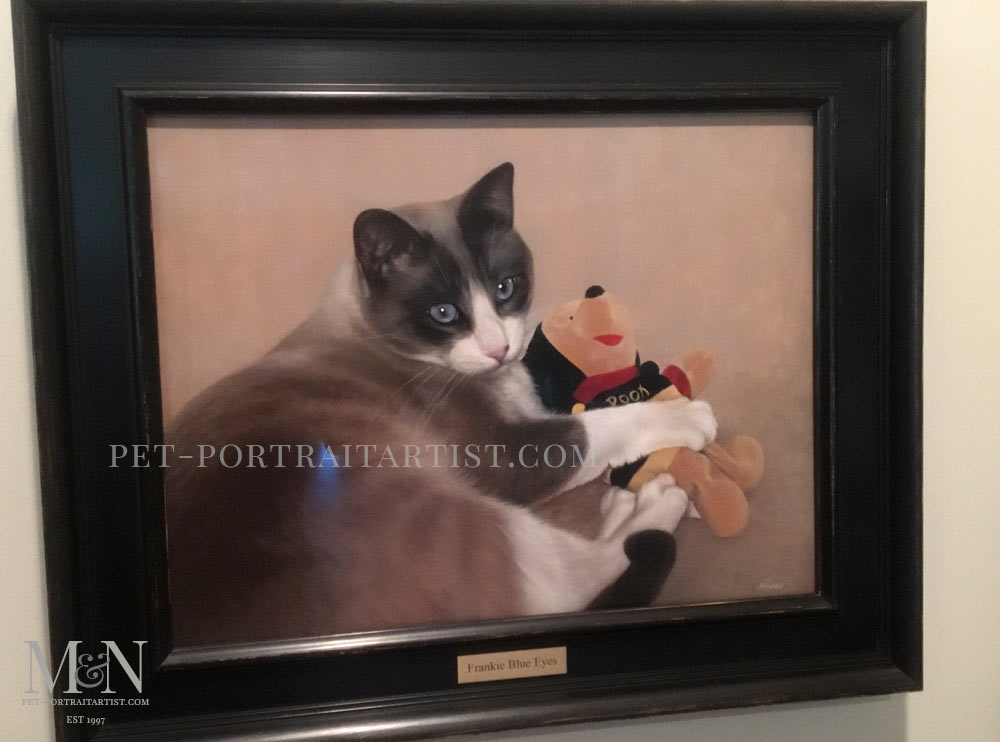 Cat Portrait of Frankie Blue Eyes – Photos
Here are are some close up photos of the oil painting with Nicholas and his paintbrush so you can see the scale of the painting. Normally we wouldn't be standing this close to the oil painting, however we like our clients to be able to see the detail and Nicholas amazing skill!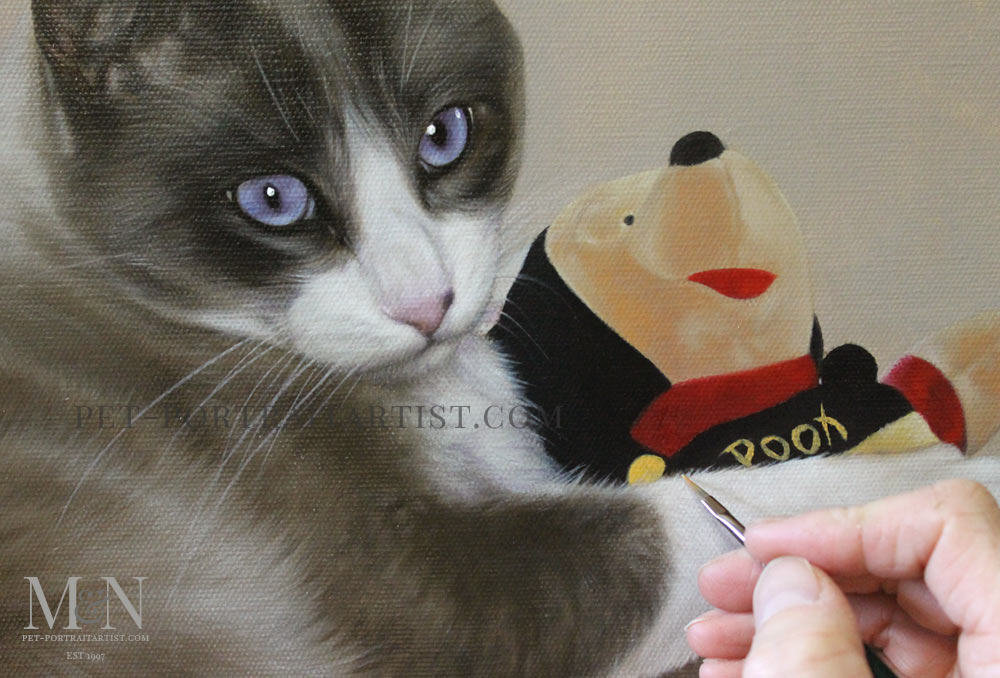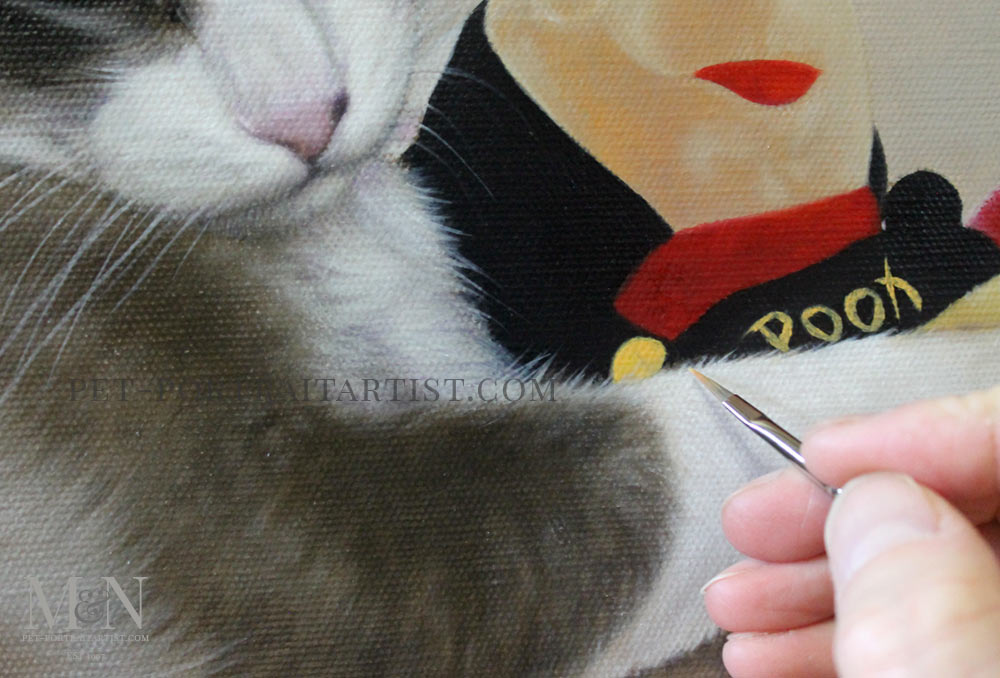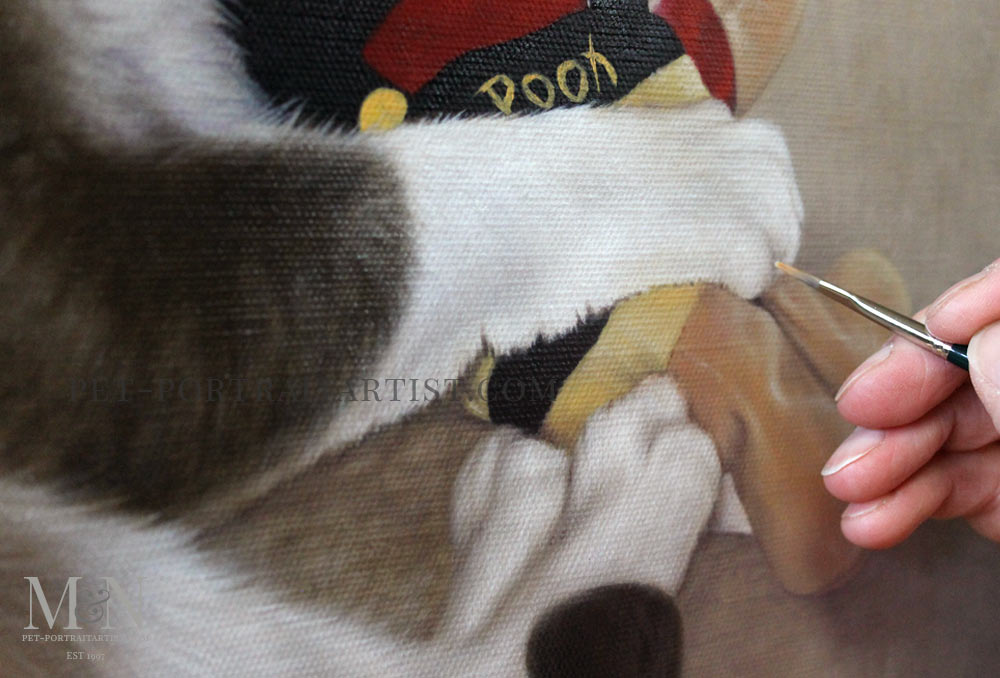 Are you enjoying our blog? Why not sign up to our Melanie's Monthly News, which comes right into your inbox each month! You can sign up at the bottom of our website or at the top of the blog. Please don't forget to subscribe to our YouTube Channel too. You are more than welcome to comment below, we love hearing from our readers!

You May Also Like
October 31, 2018
January 4, 2017
October 19, 2016