Melanie's Monthly News in June
June 30, 2018
Welcome to Melanie's monthly news in June! It has been an extremely busy month here, which isn't all that surprising as our lives are just generally busy all year around anyway, there is never a dull moment here!
The garden has really flourished now summer is here and the weather is absolutely beautiful. This has to be the warmest weather we have had here in Wales since I was a child. Remembering the very long dry, sunny summer holidays have been a bit of a distant memory in recent years. We have experienced some very rainy summers lately. A few years ago it pretty much rained in every day of August. Hopefully this will be a record year for sun sunshine. It is certainly lovely to have the studio door open and listen to the birds everyday.
I have taken a couple of photos of the garden as I know some of our readers enjoy viewing the garden and the trees. We have just realised from viewing the photos that the naughty ivy has grown up the tree trunks of the old sycamore trees again. We will pull it down. If you also look closely you can see Lily in the photo below….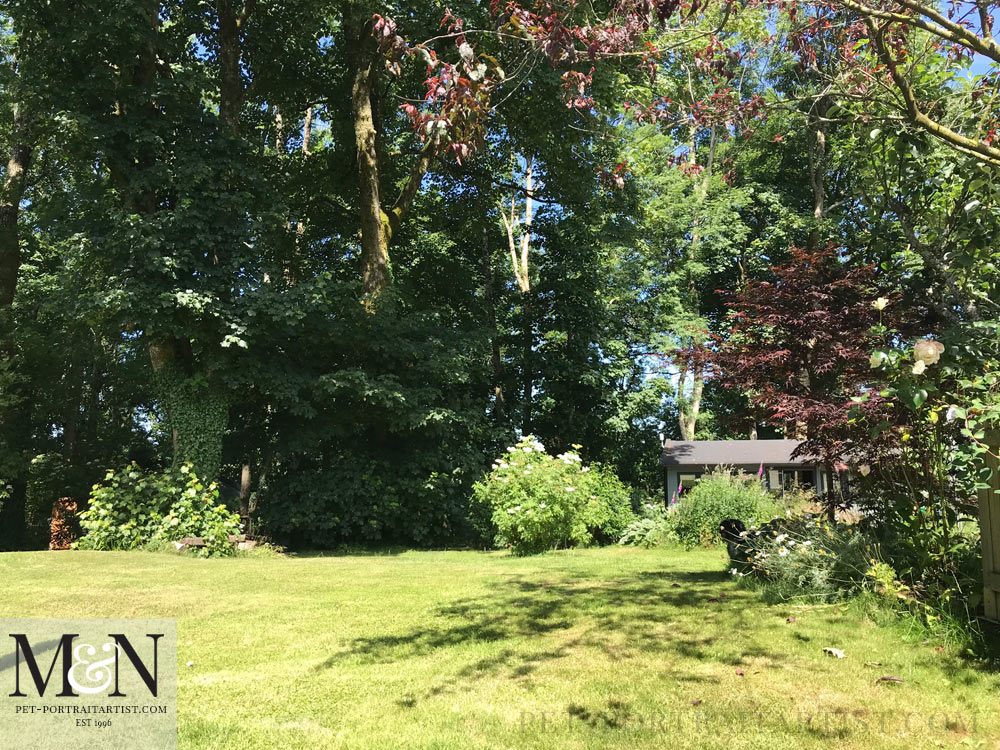 It is very difficult to see but there is a divide between the lawns as we are on a bit of a slope. It's not too much of a drop however its a lovely divide with sleepers in the middle. Lily of course has got in the photo again. How does she do it!!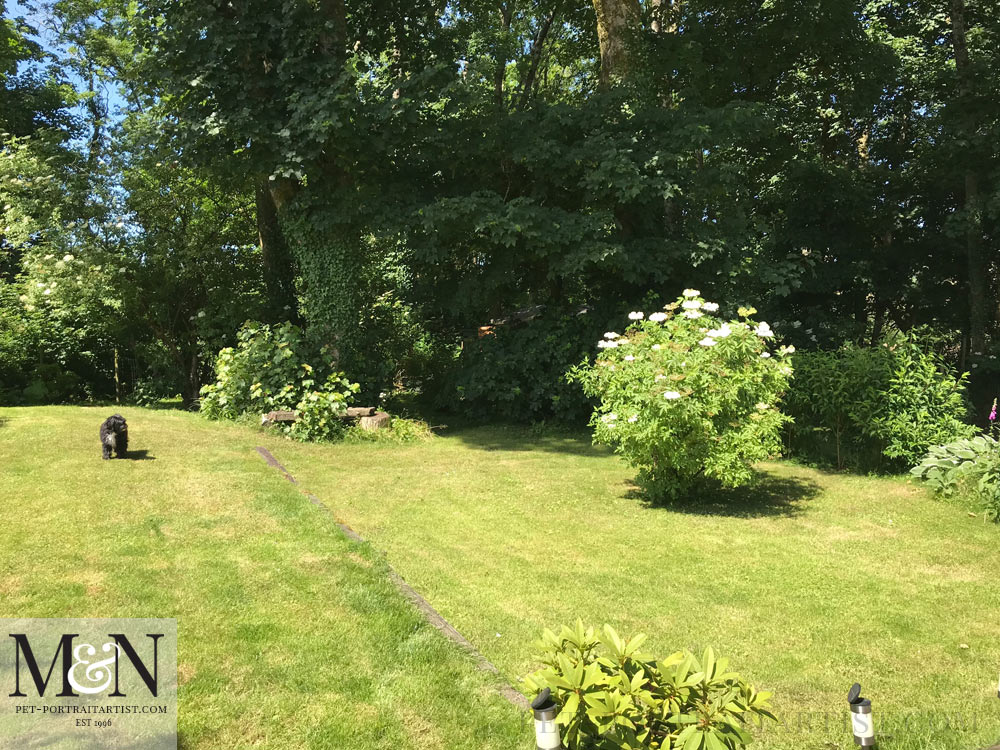 The run of spring flowers have finished so things are mainly just green, however the purple alpine plants are out and look lovely in the dappled light.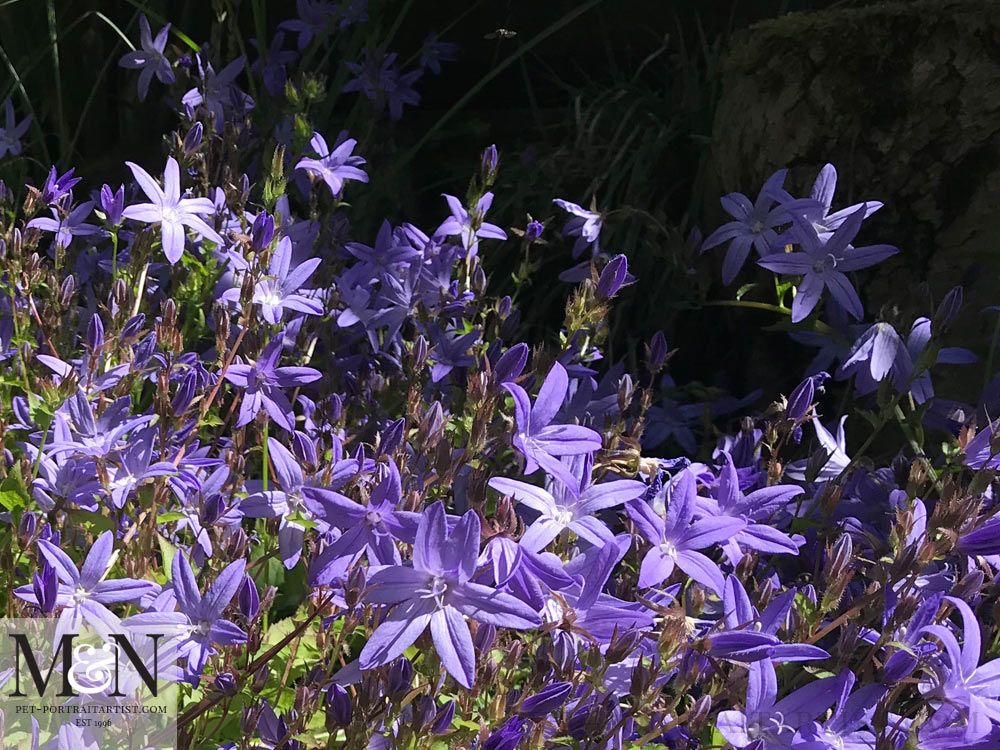 The elderflower trees are flowering, they are in mid flow between flowers and forming their beautiful berries. I'll photograph them next month when they are getting ready to pick. The juice is lovely when cooked, squeezed and poured over vanilla ice-cream!
The wildlife are keeping us amused as usual, we have some very naughty squirrels who keep eating our chicken corn and bird food! The woodpeckers have their first set of youngsters and are busily feeding then on the trees along with the nuthatches and general garden birds.
This little fellow below was sitting late one evening in the top cottage garden on the gravel. Lily wasn't too sure of him and kept her distance. I took photos as he happily sat there and let us admire him. He was probably wondering whats was going on. One moment it was dark, the next the back door opened and lily walked out putting the light on. I think he just sat still thinking we wouldn't see him….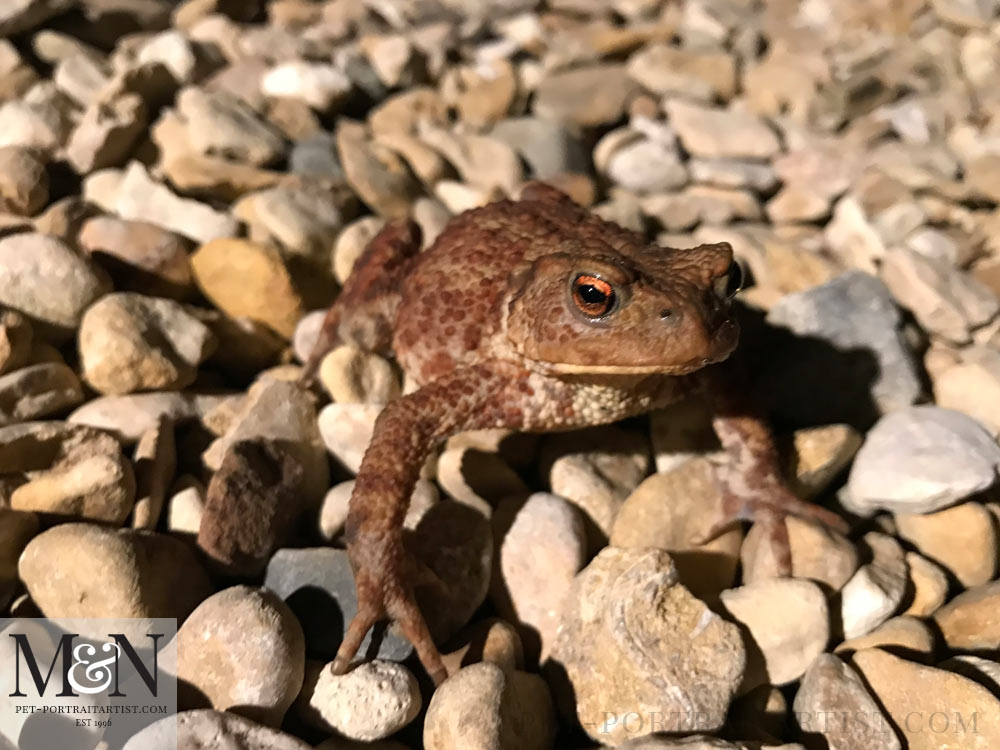 We have been to a few bbq's this year and hosted some bbq's too in this beautiful weather. Its alway wonderful to get together with friends and neighbours. One particular bbq was with a very good friend of ours who has recently been adopted by a cat. It spends its days in his garden and is now being very well fed. Lily was rather bemused as she had never encountered a cat in our friends garden before, all of the other times it has been 'her' domain. In one fail swoop the cat took complete control and told Lily that it was now her garden! Lily could stay, but only by her command! Lily took the hint but was still intrigued as you can see in the photo below!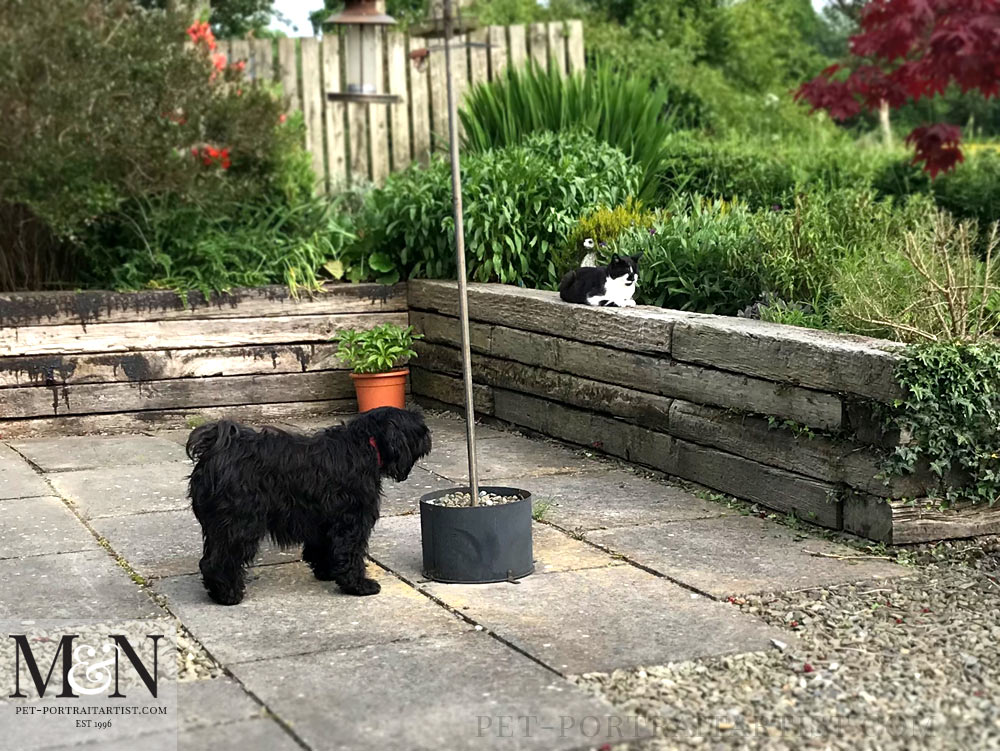 It's been a busy month artwork wise. So we haven't been on any outings other than work trips to photograph horses etc but next month we will have lots more photos to view as we are visiting another castle in the next few days when a friend is visiting! Stay tuned!
Are you enjoying our blog? Why not sign up to our Melanie's Monthly News, which comes right into your inbox each month! You can sign up at the bottom of our website or at the top of the blog. Please don't forget to subscribe to our YouTube Channel too. You are more than welcome to comment below, we love hearing from our readers!

SaveSave
SaveSave
You May Also Like
August 11, 2015
March 10, 2018
December 21, 2017