Horse Pencil Drawing
December 29, 2018
Welcome to my latest horse pencil drawing. My pencil drawing of Duker was commissioned by Lizzie as a surprise for her mum Jane. Lizzie ordered a gift voucher as Jane's birthday was fairly soon after Lizzie's initial contact. She also felt it would be lovely for her mum to be able to choose which photo to use as the basis of the portrait.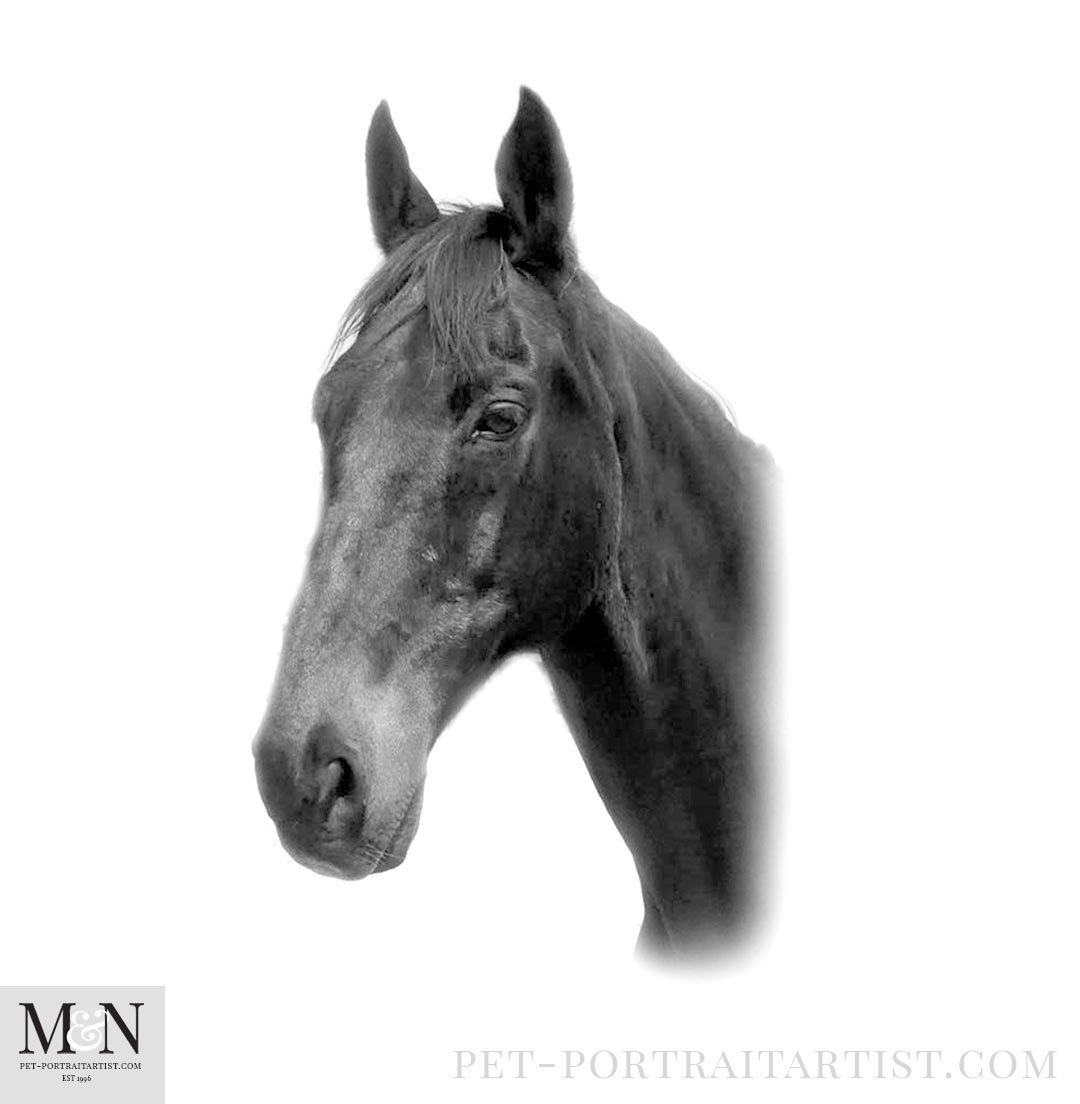 When Lizzie gave her the Gift Voucher, Jane was thrilled with her birthday present! She didn't hang around, I had received photos of Duker the horse the following day!
Jane sent lots of lovely photos so that I could get an idea of what Duker was like. One photo in particular was perfect for a pencil portrait and luckily was Jane's favourite. I used the photo which you can see on the left as the basis of the portrait and others for detail.
The horse pencil drawing of Duker was a lovely big size of 20 x 16 which was perfect for a drawing of this nature. Janes photos were excellent quality and showed good detail. I can only really create larger drawings, if the clients photos are of good quality. It allowed me to create a really details and stunning pencil drawing, just like Duker's drawing below.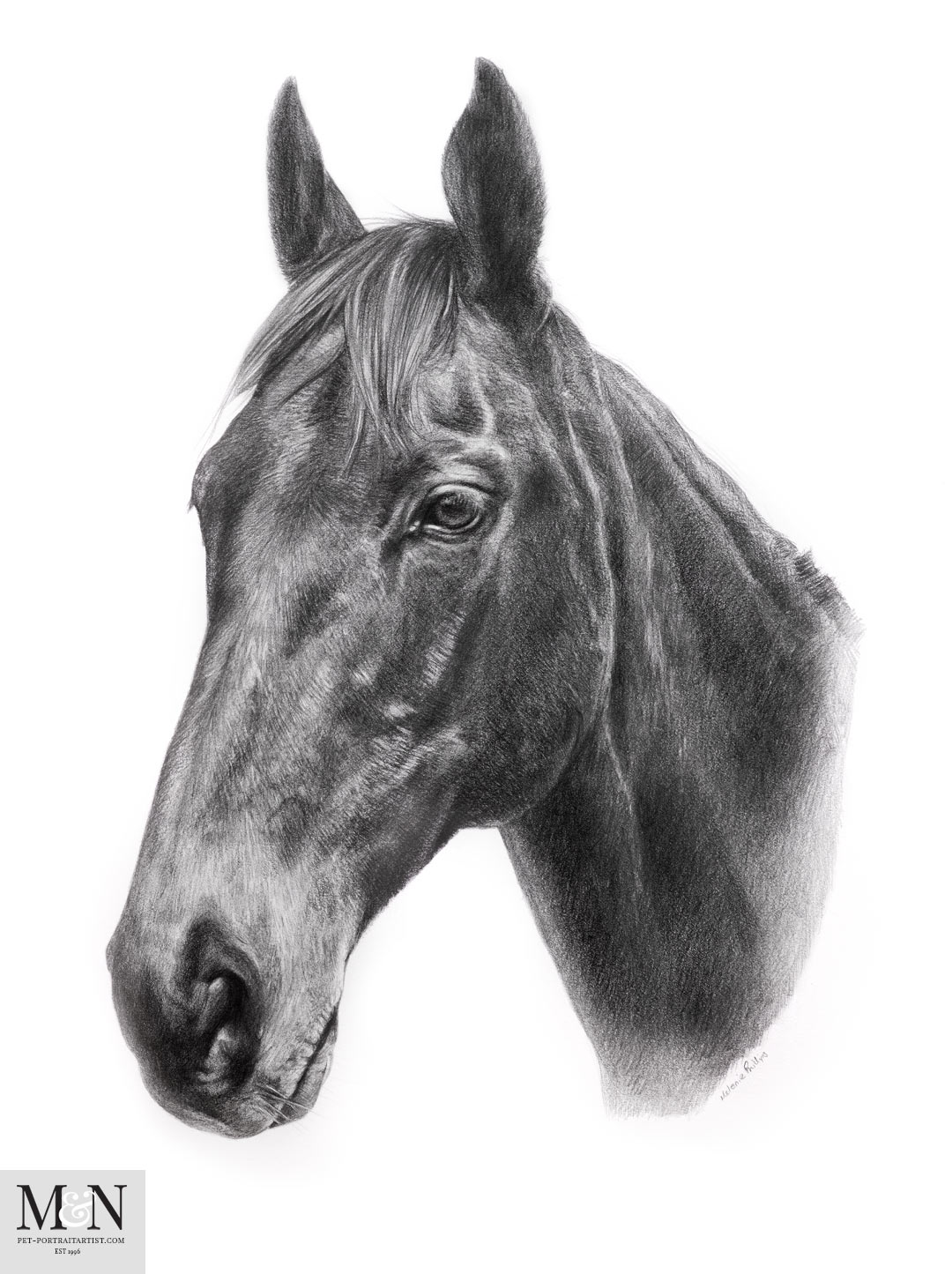 Horse Pencil Drawing – Candid Shots
The photos I have taken below show Duker's portrait in my studio on my plan chest. I also took photos from an angle for you to see the portrait a little more clearly and close up. Because of the size of the portrait I have added my pencils in there for scale too. Lizzie emailed when she saw the final photos of Duker.
Hi Melanie,
Wow! Amazing!!
Thank you so much.
Many thanks and Happy Christmas 
Lizzie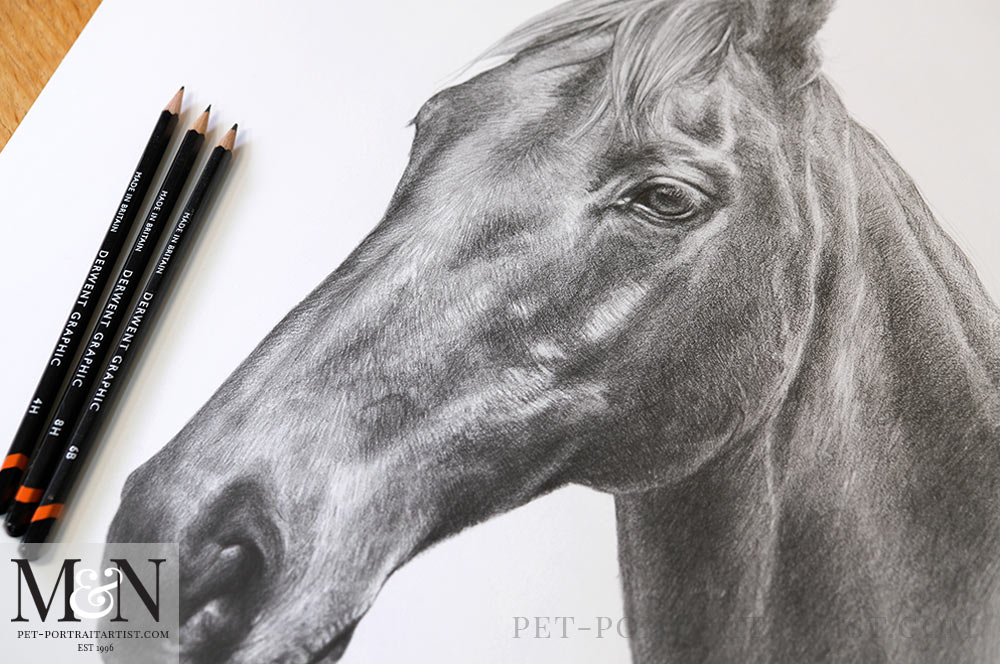 If you are a follower of our website and blog you will know already that I specialise in pencils drawings and Nicholas specialises in oil painting. Here for Duke's portrait I used graphite pencils of different grades to create the details and shading. I love using pencil as a medium as I feel this really creates not only a very classic portrait, but you can create realism within drawing Duker look more realistic and dimensional.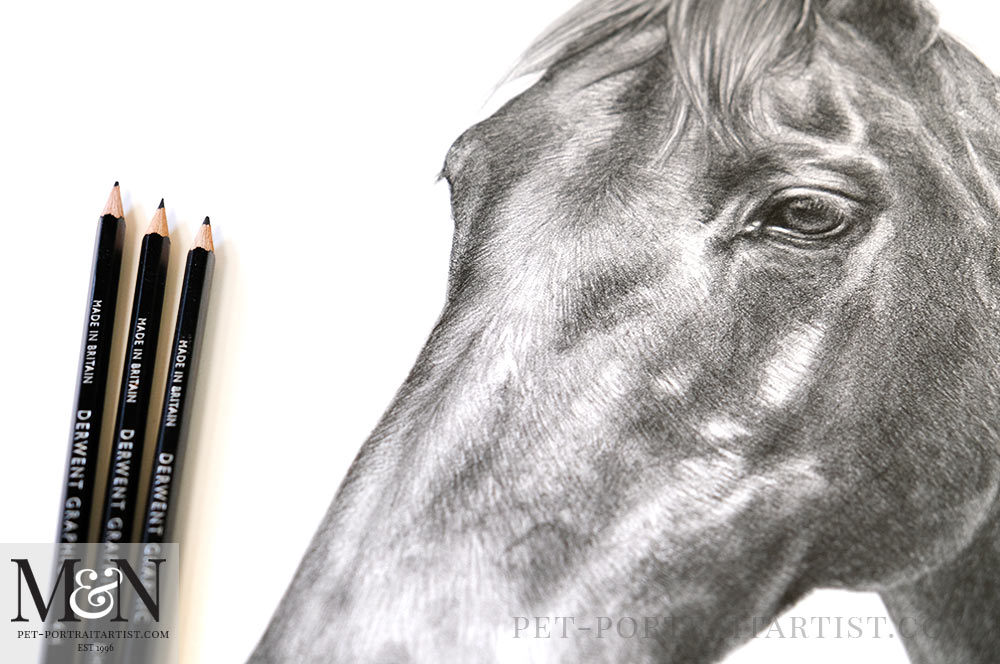 How long do Horse Pet Portraits Take?
I worked on the drawing for about two weeks, seeing Jane updated along the way. She was very happy with the progress. When I finished the drawing, I photographed it as you can see from the lovely candid shots here it and emailed it to Jane for her approval.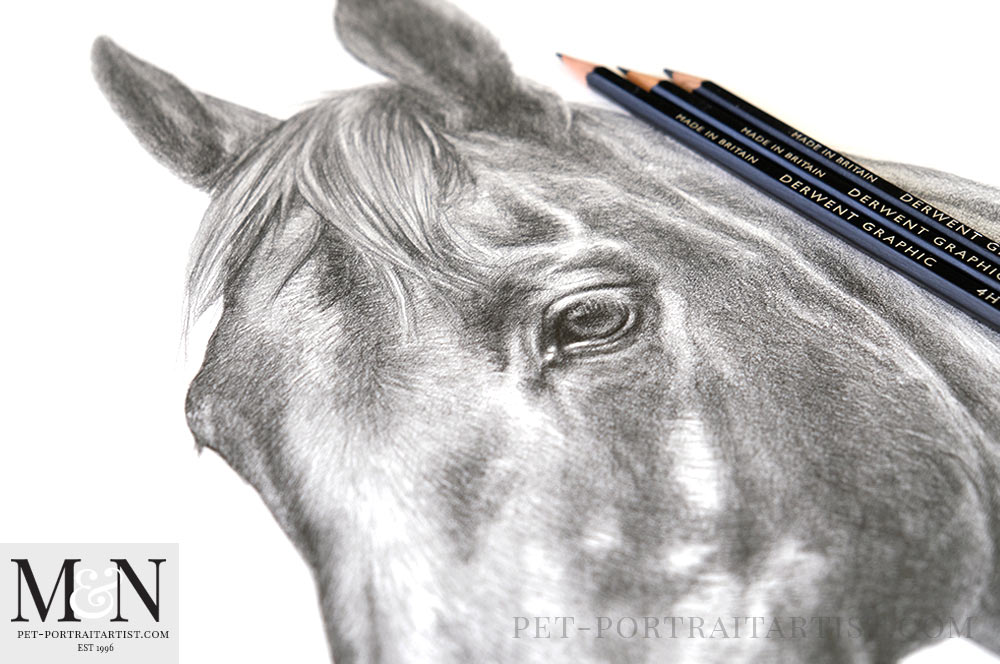 Hi Melanie,
It is fantastic. You have captured his eye perfectly. I am also so pleased you enjoyed him. I will send you a photo and I can't wait to hang him.
May I take this opportunity to wish you a very happy Christmas.
Jane.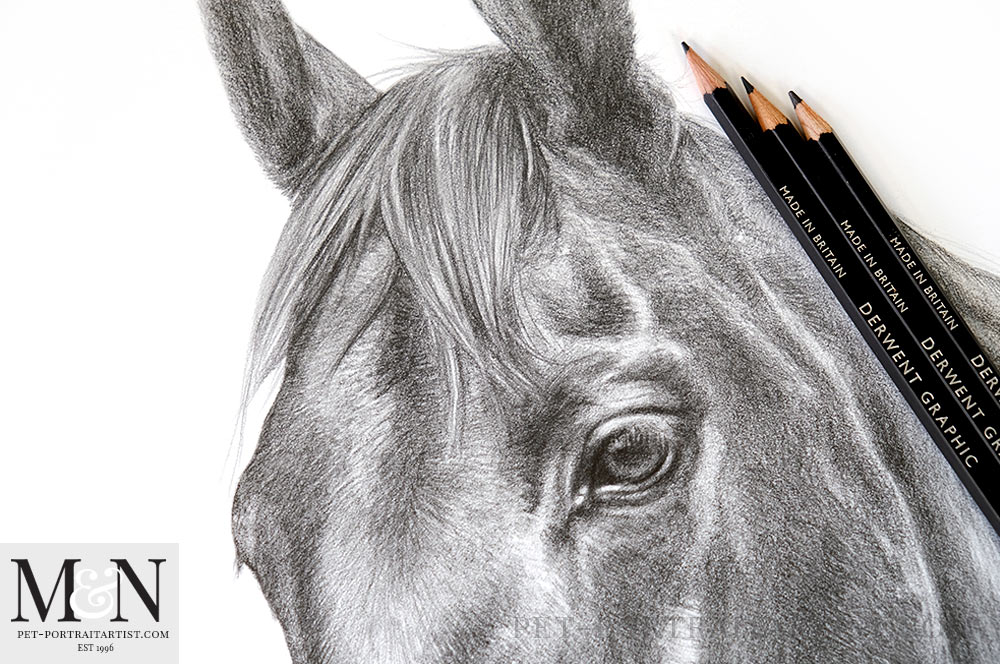 I was thrilled to read that Jane was delighted with the portrait. Also that I was able to create a meaningful portrait for her and her family. I hope that Jane will cherish the portrait of Duker for years to come.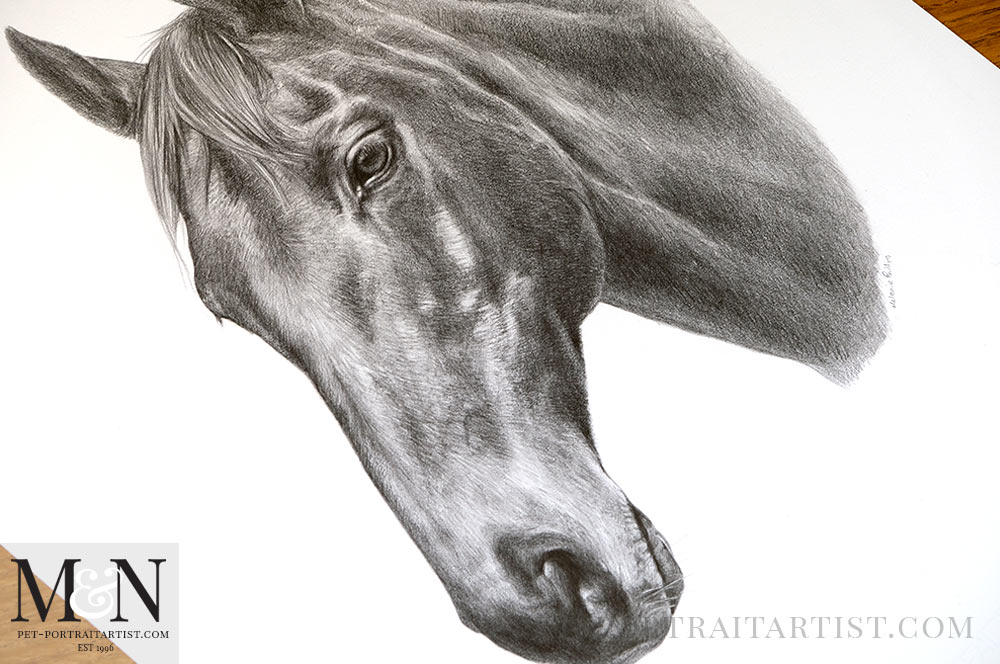 If you have an interest in commissioning a horse pencil drawing or any other pet portrait from me, please visit my website. Head over to my contact page or WhatsApp me at any time. I would love to hear from you and work with you on your own horse pencil portrait just like Duker.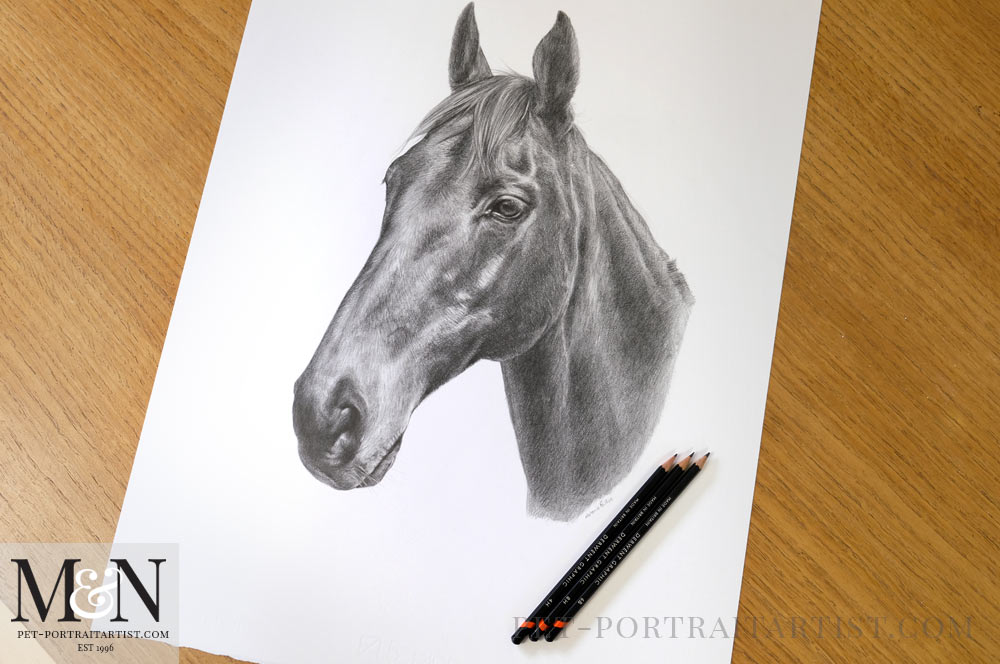 Are you enjoying our blog? Why not sign up to our Melanie's Monthly News, which comes right into your inbox each month! You can sign up at the bottom of our website or at the top of the blog. Please don't forget to subscribe to our YouTube Channel too. You are more than welcome to comment below, we love hearing from our readers!

You May Also Like
May 29, 2018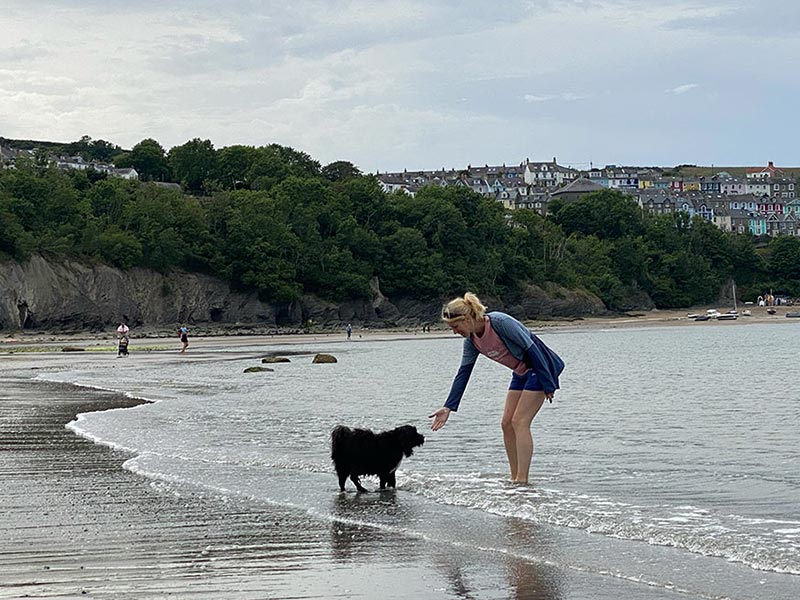 June 27, 2022
December 16, 2015